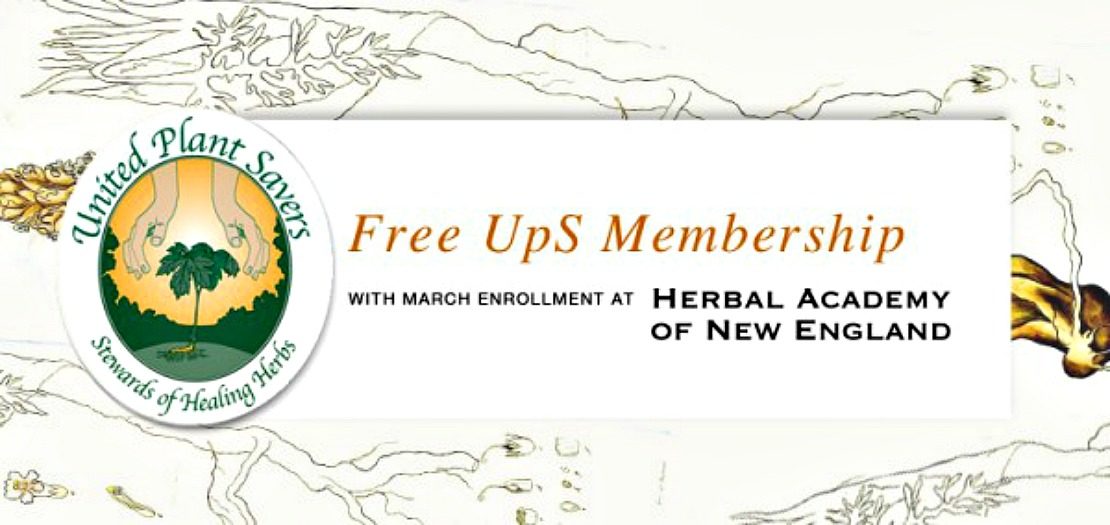 Support Herbs and United Plant Savers with Your Herbal Studies
The Herbal Academy of New England is a proud supporter of United Plant Savers, which is why we have joined with them in their Partners in Education (PIE) program. Formed in the spirit of hope, UpS is a group of plant enthusiasts committed to raising public awareness of the plight of wild medicinal plants and to protecting these plants through organic cultivation, sustainable agricultural practices, and the replanting of native medicinal species back into their natural habitats. The goal of UpS is to ensure that these valuable medicinal plants will be preserved for our grandchildren and our grandchildrens' grandchildren. You can read even more about the UpS mission over on their website: http://www.unitedplantsavers.org
Herbal Academy Student Deals
Because we have partnered up with UpS in their PIE program, all of our current members and students can enjoy $15 off UpS membership, dropping the price to just $20! 
Also, for the month of March, we are offering our new students a FREE UpS membership as part of our Support Herbs promotion. If you have been interested in signing up in one of our online herbalism programs, now is a great time! Register for either the Introductory Herbal Course or Intermediate Herbal Course, and we'll pay for your UpS membership.
So what exactly does a United Plant Savers membership include? We're glad you asked!
United Plant Savers Membership
UpS members receive the annual Journal of Medicine Plant Conservation by mail, access to all UpS Educational Publications and back issues of their exclusive newsletters. Members also get opportunities to participate in the Spring and Fall Dispersals of seeds/plants for replanting purposes as well as complete access to Directory Of Nurseries, seed sources, and farms that supply "at-risk" herbs. You will have the opportunity to receive a number of discounts to Planting the Future conferences as well as other events in your area. And lastly, along with a Thank You gift by mail, members will become eligible for Community Grants and other benefits.
With your membership (your purchase of one of our online programs), you'll be supporting UpS in funding research on "At-Risk" medicinal plants and subsidizing the Medicinal Plant Conservation Certificate Program. Your funds will also support "Planting the Future" events and workshops, general UpS operating costs, and the ongoing habitat restoration and preservation at the Goldenseal Botanical Sanctuary. The purpose of Goldenseal is to provide a place for people to enjoy and learn from the plants found on the land without disturbing them in their habitat. Learn more about the Sanctuary and their mission over on their website! 
If you are interested in starting your studies and your United Plant Savers membership, enroll in one of our online programs. The Introductory Herbal Course is for learners new to herbal medicine and the Intermediate Herbal Course is intended for more advanced students with some experience in herbalism.
The last day to enroll with the Support Herbs promotion is March 31, 2015. New students will receive a membership email and welcome packet from United Plant Savers in early April.