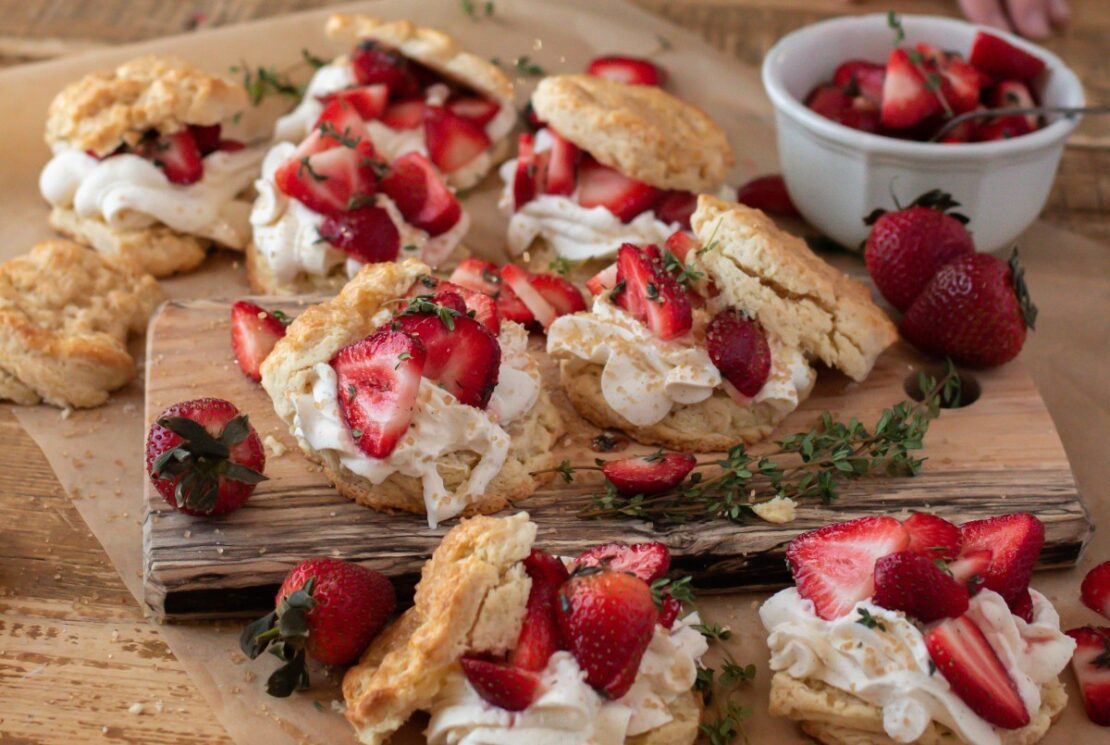 Strawberry-Thyme Shortcake Recipe With Whipped Crème Fraîche
The following Strawberry-Thyme Shortcake recipe excerpt is eprinted with permission from The Prairie Kitchen Cookbook by Kayla Lobermeier. Page Street Publishing Co. 2023. Photo credit: Kayla Lobermeier. Kayla Lobermeier is the creator of Under A Tin Roof, an organization focused on gardening, preserving, and cooking food with real ingredients. Kayla has been featured in Willow and Sage magazine, Where Women Cook, Heirloom Gardener, Folk magazine, In Her Garden, Beekman 1802 Almanac and Gardenista. Kayla lives in Iowa with her husband, children, and parents on their family farm.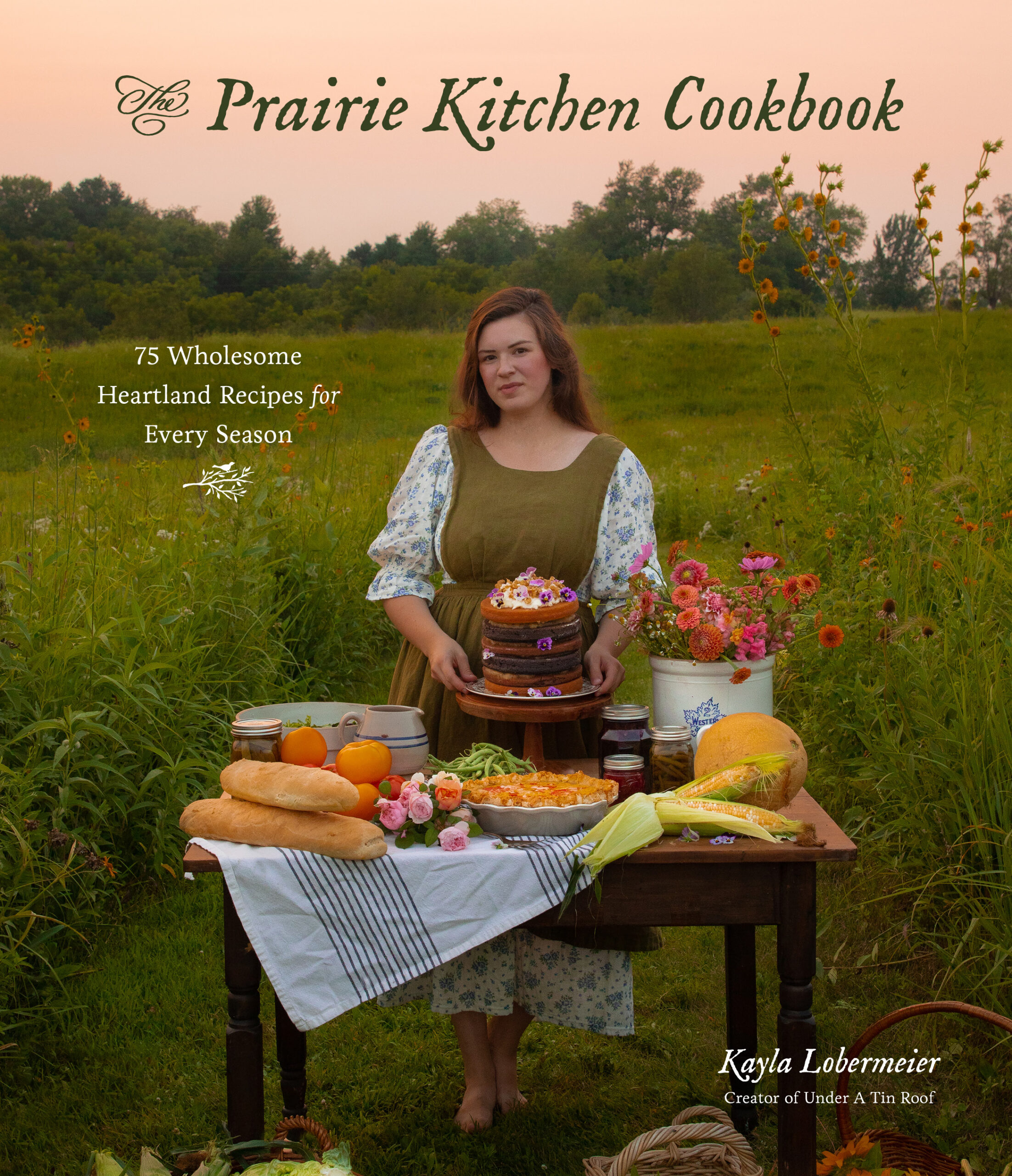 Strawberries are ripe and ready to pick in mid- to late June here on the farm. I have so many wonderful memories—most of them involving chubby baby fingers and little chins dribbling with sweet, red juice—around strawberry picking with my children. They are a favorite to munch on as a snack or to use in summery desserts. Strawberry shortcakes are a lovely sweet to make for after lunch or a midafternoon treat. The addition of fresh thyme creates an herbal flavor that feels like your dessert came straight out of the garden. While most strawberry shortcake recipes use plain whipped cream, I love the addition of whipped crème fraîche, which is a version of sour cream with a higher fat content. It is tangy, rich, and thick, which makes it an ideal ingredient to combine with a sweet and syrupy fruit.
SERVES 8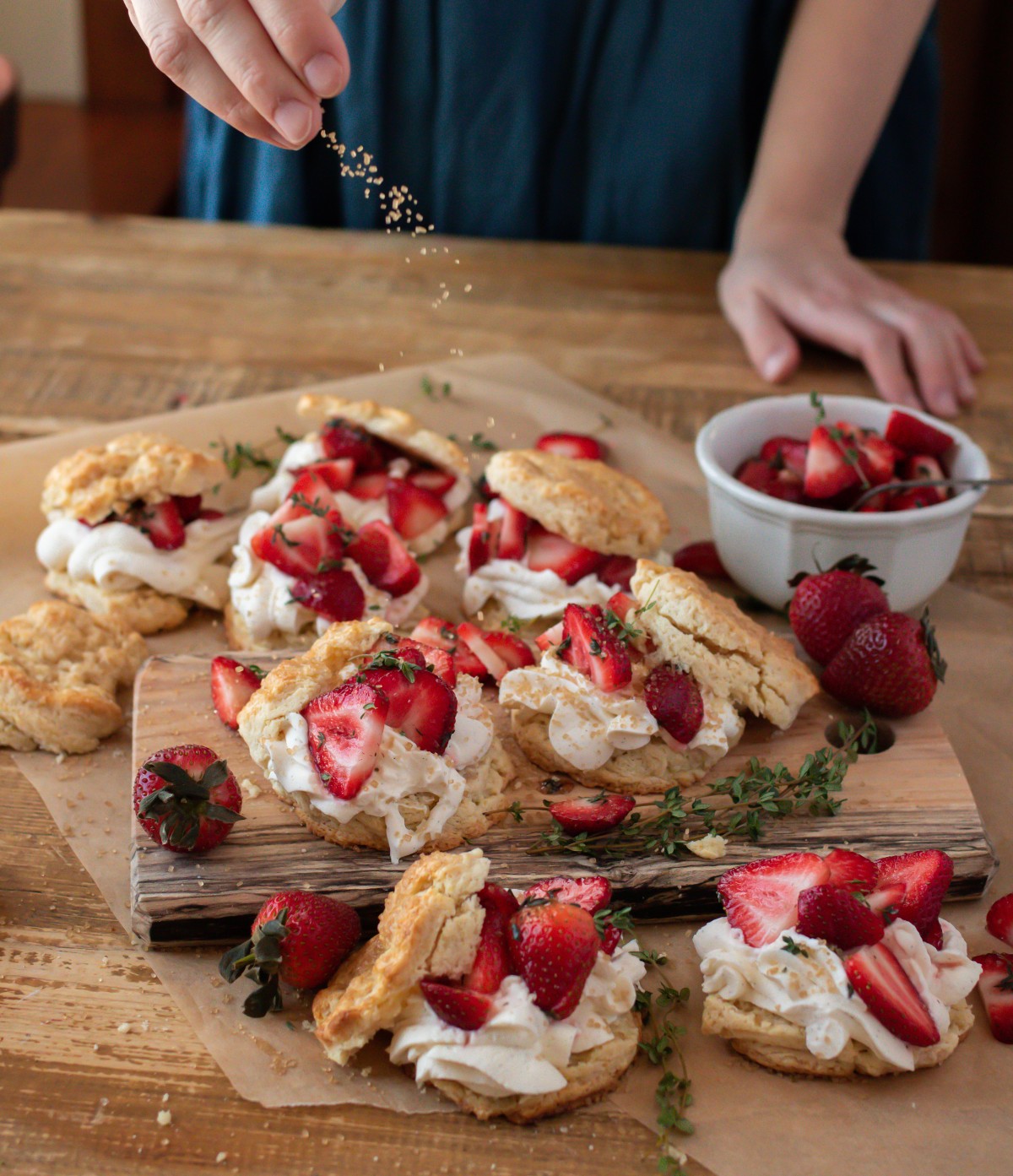 Shortcake Biscuits
Ingredients
2 cups (250 g) all-purpose flour
4 tsp (18 g) baking powder
3 tbsp (39 g) granulated sugar
½ tsp fine sea salt
½ cup (112 g) salted butter, cold and cut into ½-inch (1.3-cm) cubes
⅓ cup (80 ml) buttermilk
⅓ cup (80 ml) heavy cream, plus more for brushing
1 tbsp (14 g) turbinado or coarse sugar, for sprinkling
Whipped Crème Fraîche
1 cup (240 ml) heavy cream
1 cup (240 ml) crème fraîche
¼ cup (30 g) powdered sugar
1 tsp vanilla extract
Strawberry Filling
2 cups (332 g) sliced strawberries
¼ cup (50 g) granulated sugar
1 tbsp (2 g) fresh thyme leaves
Directions
For the biscuits, preheat the oven to 425°F (220°C). Line a baking sheet with parchment paper. Put the bowl of an electric stand mixer in the refrigerator.

In a large bowl, combine the flour, baking powder, sugar, and salt. Cut in the butter with a pastry blender or fork until the mixture forms coarse crumbs, about the size of a pea. Stir in the buttermilk and cream with a wooden spoon, until a shaggy dough forms, 2 to 4 minutes.
Gently knead the dough, using your hands, until there are no longer any dry bits remaining in the bowl. On a lightly floured surface, evenly press out the dough to about a ½ inch (1.3 cm) thickness. With a 3-inch (8-cm) round biscuit cutter, cut straight down into the dough to cut eight shortcakes. You may have to gather the dough back together, press the dough into a ½ inch (1.3 cm) thickness, and cut shortcakes a couple of times to make eight cakes.
Place the shortcakes on the lined baking sheet. Brush them with heavy cream, then sprinkle the tops with the turbinado sugar. Bake the shortcakes for about 16 minutes, or until they are golden brown on top and no longer raw in the middle. Set aside the shortcakes.
Next, make the Whipped Crème Fraîche. Put the chilled bowl on the electric stand mixer, and add the heavy cream, crème fraîche, and powdered sugar. Whip the ingredients, using the whisk attachment, until stiff peaks form, 4 to 6 minutes. Stiff peaks are formed when a peak holds itself up and retains its shape when you lift the whisk from the cream. Stir in the vanilla. Chill the Whipped Crème Fraîche until you are ready to assemble the cakes.
For the filling, in a medium bowl, mix together the strawberries, sugar, and thyme. Let the strawberries stand for 15 to 30 minutes to macerate, or begin to release some water and become syrupy.
To assemble the cakes, slice the shortcake biscuits in half. Top the bottom half of the shortcakes with some of the Strawberry Filling and Whipped Crème Fraîche. Close the shortcakes with the top half of the biscuit. Serve the shortcakes cold.
You can purchase a copy of The Prairie Kitchen Cookbook on Amazon.