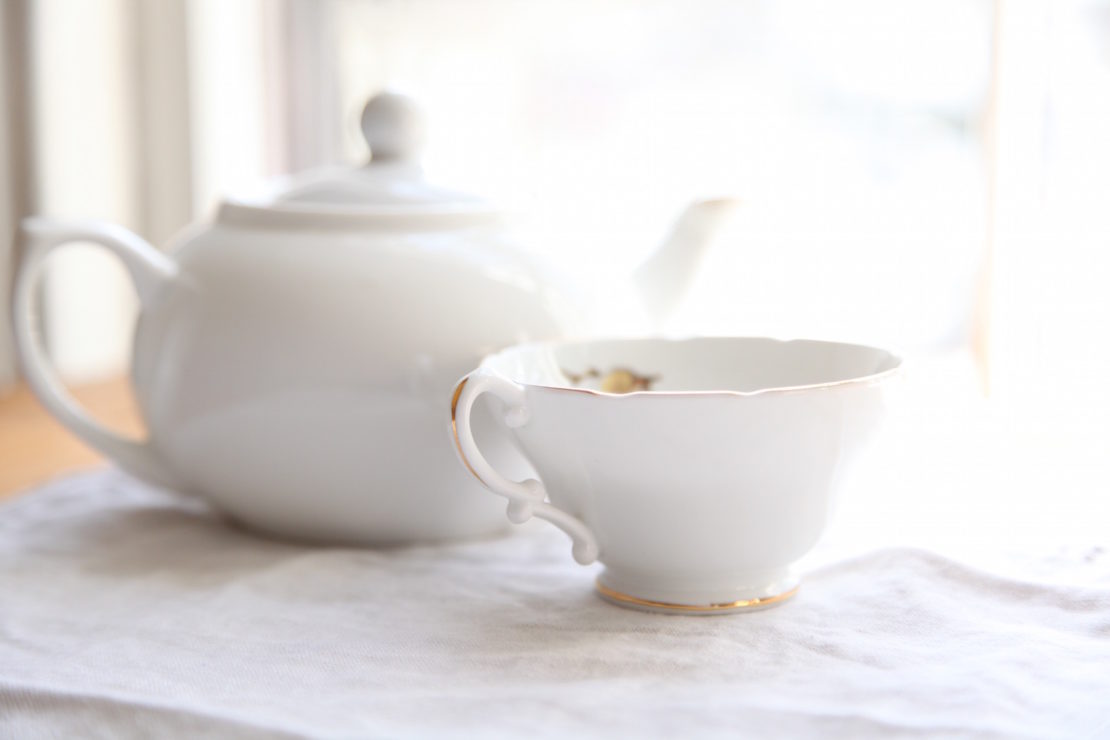 7 Tips That Will Help You Stay Cool During Menopause
Summer can be a particularly rough time for menopausal women who experience menopause symptoms such as hot flashes. Fortunately, there are many things you can do to cool down if you are in this season of life. Below you'll find several tips that can help you stay cool during menopause and an herbal hot flash tea that's perfect for hot summer days!
Menopause is a period of transition and metamorphosis, like puberty. It consists of three stages: isolation, meltdown, and emergence. Each stage calls forth new energies and new perceptions of ourselves. Each stage has different demands, different tasks, and different needs (Weed, 1992).
Hot Flashes: A Common Symptom of Menopause
Have you experienced a hot flash? Because of menopausal hormonal changes, up to 75% of women experience hot flashes, and it's one of the most, if not THE most uncomfortable menopausal symptom reported (Romm, 2010).
While hot flashes are not dangerous, they can be very uncomfortable and embarrassing depending on when they occur. Hot flashes typically last from one to several minutes. Frequency varies from one to two per week to several times a day.
What does a hot flash feel like? To be honest, if I have to describe it, you probably have not had one. But, you may not recognize some of the other symptoms that vary by individual.
Key Symptoms (Romm, 2010)
Sensation of intense heat creeping over the face, neck, and upper chest
Progresses to a generalized feeling of being overheated
Additional Symptoms of Menopause (Romm, 2010)
Rapid heart beat
Dizzy, light headed or faint feelings
Cold sweats
Sensation of insects crawling on skin
Pins and needles
7 Tips To Help You Stay Cool During Menopause

1. Eat Cooling Foods
Avoid hot, spicy food and eat cooling foods that are in season. Eat small, light meals incorporating cooling foods such as:
Watermelon
Cucumbers
Peaches
Strawberries
Apricots
Lemon
Broccoli
Corn
Spinach
Salads
Fish
Duck
Mint
2. Wear Light Weight Clothing
Cotton and wicking fabrics help to absorb sweat and keep help you stay cool during menopause. Wear layers to control heat and keep an extra dry shirt to change into in case of drenching sweat.
3. Avoid Alcohol and Caffeine
Alcohol and caffeine can increase dehydration in the body. Drinking the "Easy Herbal Hot Flash" tea (recipe below) throughout the day as well as lots of water can keep your body hydrated and cool.

4. Essential Oils
Another way to stay cool during menopause is to incorporate the use of essential oils into your daily routine.
The hormone balancing effects of Salvia sclarea (clary sage) essential oil are used by many aromatherapists to help with common menopausal symptoms. Clary sage is used to support the nervous system, especially when stressed (Shutes, 2016), and helps to relax the mind, body, and spirit as does lavender (Lavandula angustifolia) essential oil. Use a diffuser or make a spray (be sure to shake well before every use) to cool the skin and experience the stress relieving aromas.
5. Manage Stress and Anxiety
Try deep, slow breathing techniques, meditation, yoga or another exercise.
6. Stay Cool Indoors
Use air conditioning and fans, especially in the bedroom to reduce night sweats (hot flashes that occur while sleeping). If all else fails, when experiencing a hot flash, open your freezer and put your face close to the cold air until it passes. Sound crazy to stick your head in a freezer? Try it. Once you feel the relief, you'll do it, too!

7. Use Herbs
Of course, our herbal allies are always there waiting to help us in all seasons of life, including menopause. The Easy Herbal Hot Flash tea recipe below contains sage, black cohosh, and red clover to aid the body during these heated times. For more information on staying cool with herbs see our post How To Stay Cool Using Herbs.
Sage
Common sage (Salvia officinalis) is one of the most popular herbs for common menopausal symptoms such as hot flashes. A 2011 study by Bommer, Klein and Suter showed that after 8 weeks of treatment, the number of hot flashes per day significantly decreased in the women that participated (Bommer et al., 2002).
Black Cohosh
Black cohosh (Cimicifuga racemosa) is also used to balance the hormone related symptoms of menopause. It is one of the best-studied traditional herbs for menopause and the most widely-used natural alternative to hormone replacement therapy (Romm, 2010).
Red Clover
Red clover (Trifolium pretense) is another herb that is often used during menopause due to its high mineral content which can be extremely beneficial once a woman enters menopause (Romm, 2010).
Spearmint
Spearmint (Mentha spicata) is cooling and refreshing. It adds a nice flavor to the tea, as well.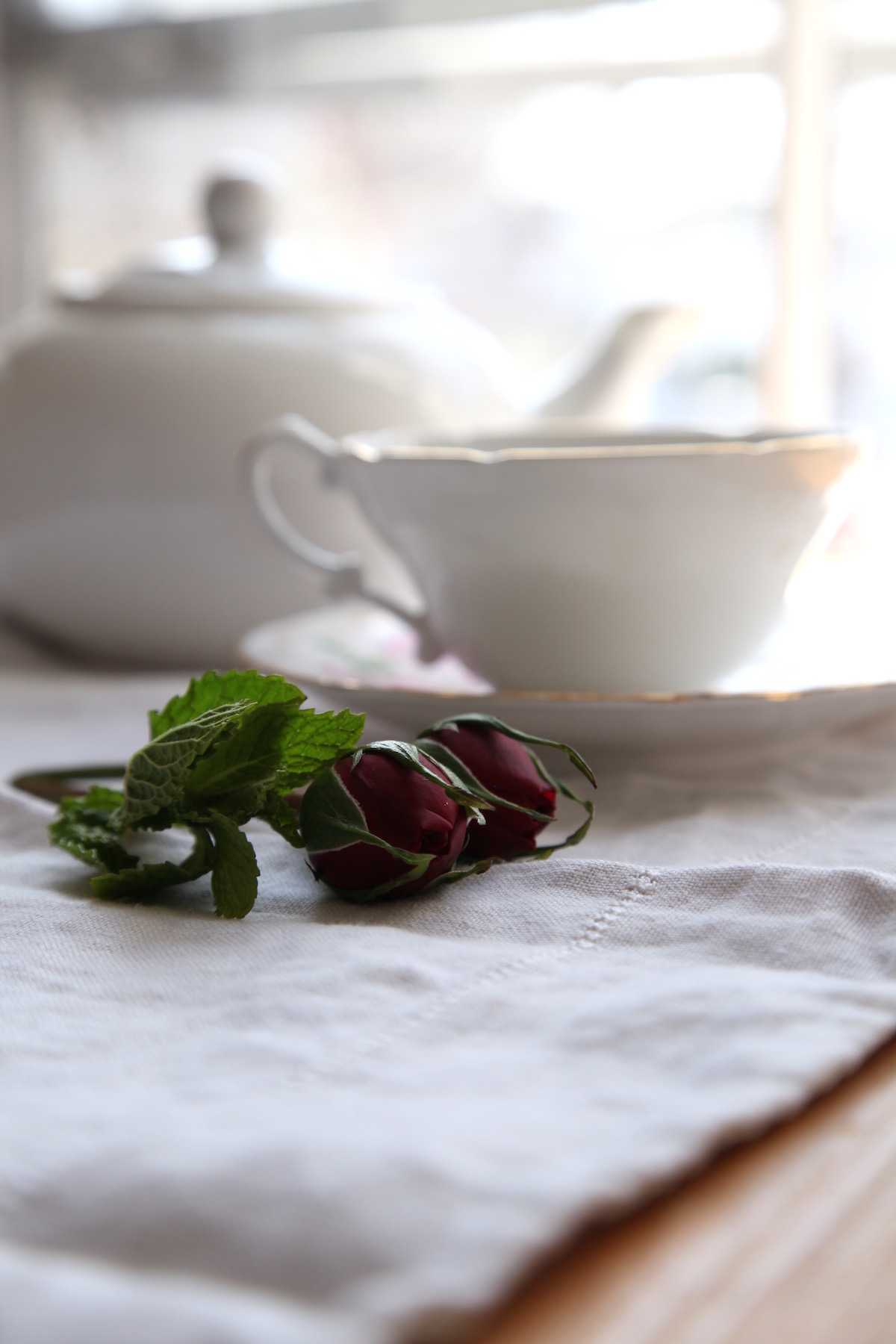 An Herbal Hot Flash Tea To Help You Stay Cool During Menopause
Easy Herbal Hot Flash Tea
Ingredients
4 parts dried sage
2 parts dried black cohosh
2 parts dried red clover
1 pinch of dried spearmint or more to taste
Honey (optional and to taste)
Directions
Add 1 – 2 tablespoons of the herbal blend to 8 ounces of water.
Steep for at least 30 minutes, strain and drink.
This tea is best drunk at room temperature or chilled in order to further cool the body. Drinking 2-3 cups throughout the day is recommended.
Please consult with your doctor before drinking this tea if you are on medications or have chronic healthy conditions. This tea is not recommended for pregnant or breastfeeding women.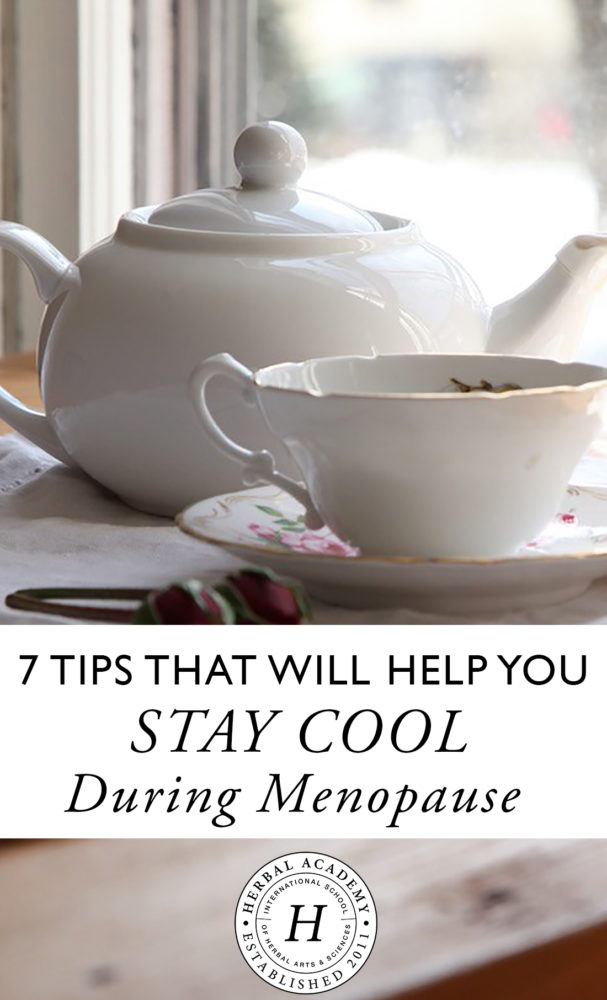 REFERENCES
Bommer, S., Klein P., Suter, A. (2011). First time proof of sage's tolerability and efficacy in menopausal women with hot flushes. American Botanical Council, HerbClip. http://cms.herbalgram.org/herbclip/431/pdfs/081151.pdf.
Romm, A. (2010). Botanical Medicine for Women's Health. St. Louis, MO: Churchill Livingstone.
Shutes, J. (2016). The School for Aromatic Studies, Aromatic Scholars: Aromatherapy Certification Program.
Weed, S S. (1992). Menopausal Years The Wise Woman Way Alternative Approaches for Women 30-90. New York, NY: Ash Tree Publishing.