Tea Blending 101 Workshop
Tea Blending 101 Workshop
Enrollment is closed for the season. Join our waitlist, below, to be notified when doors reopen in 2024!

Making your own custom tea blends by combining leaves, petals, roots, seeds, and other plant parts is a foundational skill for all herbalists. With time and experience, you can gain the confidence to mix and brew your own teas that not only taste delicious but are also tailored to support your unique physical and emotional wellbeing!
Imagine waking up and knowing exactly which herbs to grab for your morning mug. Feeling stressed? You'll have a soothing blend at the ready. Heard there's a heatwave rolling in? You'll confidently toss your favorite cooling herbs into your sun tea jar. Hosting a tea party? Your guests are in for a treat.
In this 3-part online workshop, we will share everything you need to know to start blending and brewing custom herbal tea blends at home, today! 
You'll learn which supplies you need to get started, how to best source and store your plant material, exactly how to brew each type of tea, and how to create safe, effective, delicious tea blends that are 100% custom to you. We'll explore 12 of our favorite herbs for teas—along with safe substitutes—and you'll learn a reliable formula that the experts use to create well-balanced tea blends. Finally, you'll gain access to 12 never-before-seen tea recipes that support common upsets, from digestion to mood, plus a collection of beautifully created videos, charts, and downloads to set you up for success.
As an added bonus, upgrade your enrollment with our Tea Blending Booklet, a beautiful spiral-bound publication that's designed specifically to accompany this workshop and includes blending tips, formulation worksheets, and recipe cards to further your tea-filled journey.
Get your mugs ready as we blend, mix, and taste our way to creating unique herbal tea blends from the comfort of home! 
Description
There's more to tea blending than tossing a few random herbs together and steeping them in a cup of hot water. With a bit of skill and intention, you can make herbal tea blends that bring joy to your life and magic to each moment. As you sip your iced rose tea in summer or serve warm chai to your friends in winter, you'll know that you're creating moments to remember—infused with the power of plants. 
Making your own tea blends is a personal, unique process that can address a particular need or satisfy a creative urge. 
The Tea Blending 101 Workshop is here to combine both of these benefits together by showing you how to make safe and effective herbal tea blends in a way that supports the whole person and allows you to express yourself creatively.
If you're ready to explore the art of tea formulation using tea-friendly herbs and a simple tea-blending method that will help you put all the pieces of a complete tea blend together, join us in this fun, hands-on workshop.

Enjoying a cup of tea should be a flavorful, pleasurable experience—one that doesn't require a lot of special equipment or supplies. Not only that but making and drinking herbal teas is one of the easiest ways to begin using herbs!
As you learn how to take various plants and formulate them into something tasty, pleasing to the senses, and good for the body, you will find that you fall more and more in love with the art of tea blending. Before you know it, you will find the act of creating unique blends comes easier to you, and it will become a natural part of your daily tea ritual.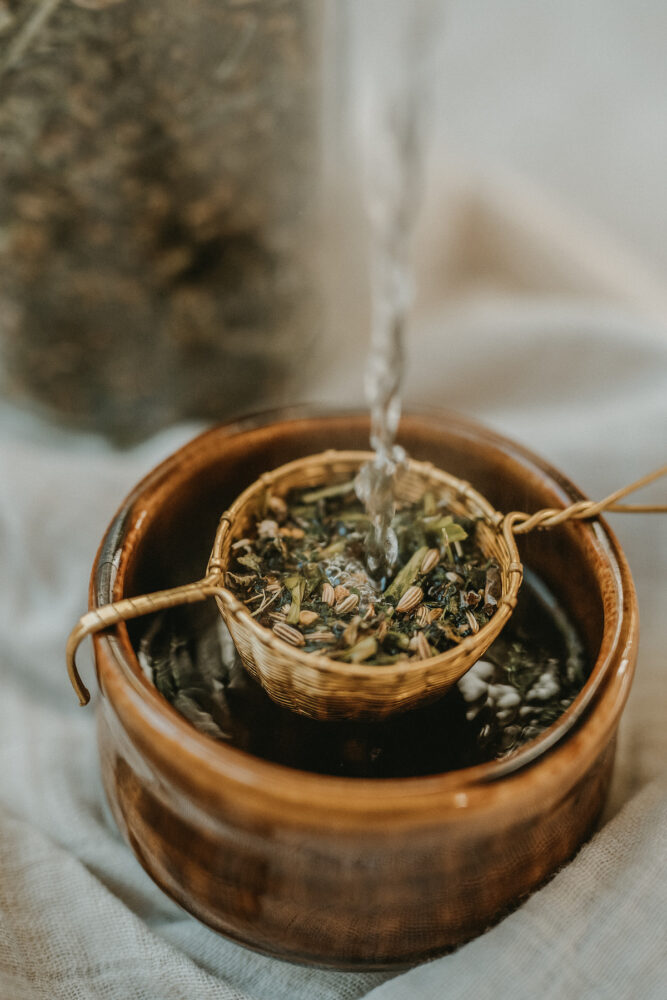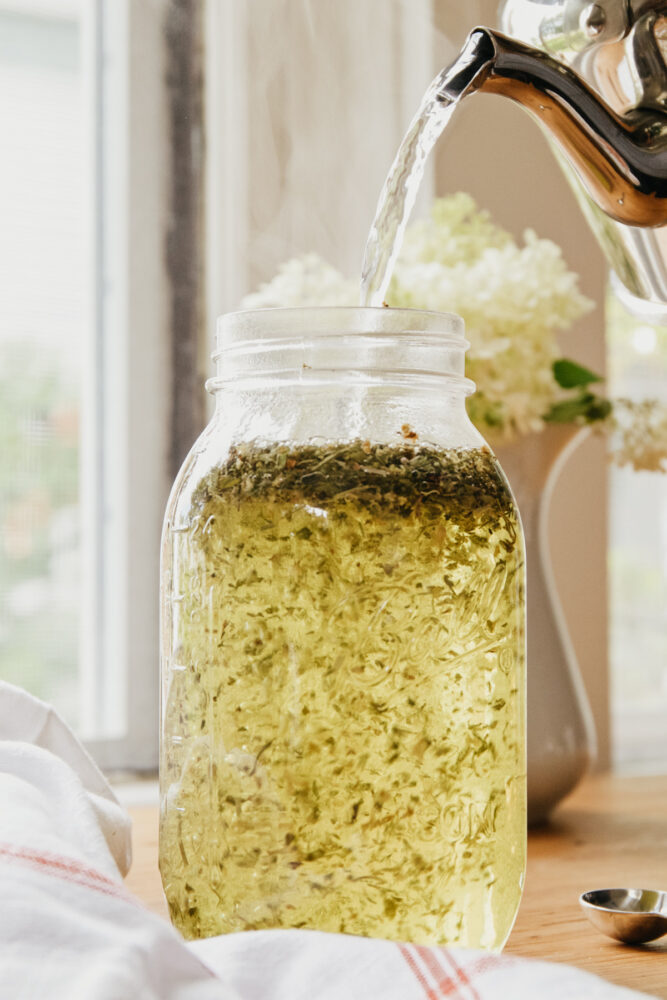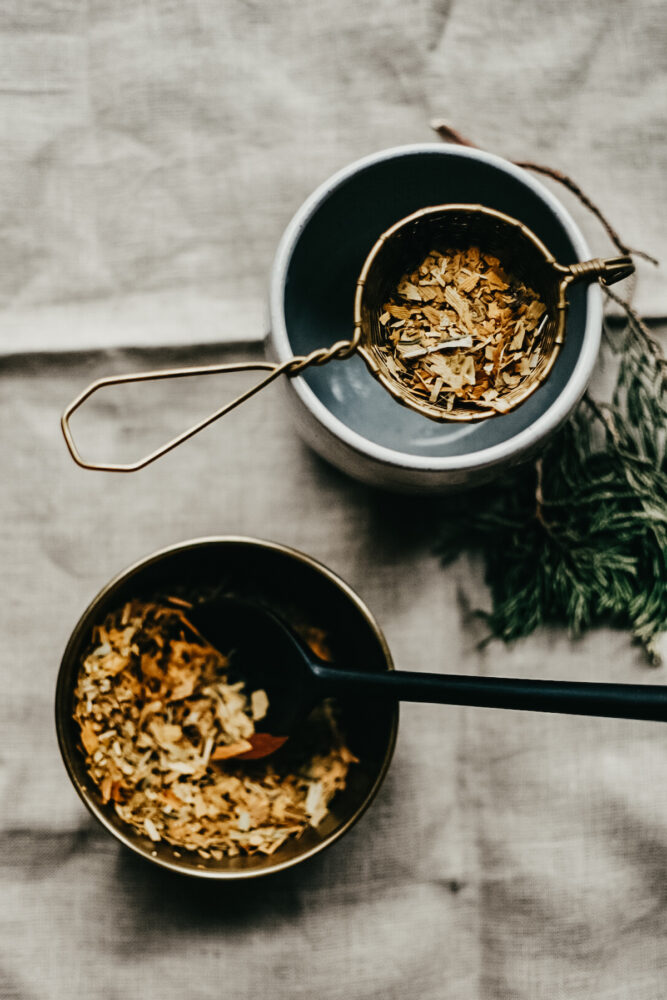 UPGRADE YOUR ENROLLMENT WITH A BEAUTIFUL
TEA BLENDING BOOKLET 
This beautifully designed Tea Blending Booklet is the perfect companion for your tea-filled journey, here to assist you in creating your own unique herbal tea blends from the comfort of home. Complete with helpful informational charts, worksheets, recipe cards, and an easy-to-follow tea-blending formula, you will have a compact guide right at your fingertips as you blend, mix, and taste your way to formulating your own herbal teas.
With pages about the benefits of herbal tea, lists of supplies to have on hand, instructions for how to make various types of tea preparations, and charts featuring common herbs used for tea blends (and their best substitutes), this 6-by-8-inch spiral-bound booklet is the ideal accessory to our Tea Blending 101 Workshop!  
In addition to the aforementioned materials, this lovely booklet also contains 31 blank blending worksheets that will help direct you through the process of formulating your own herbal tea blends. We've also included an example blending worksheet so you can see how this entire process looks before you get started. After your tea blend is finished, you will find 31 beautifully designed blank recipe cards where you can write down your personal recipes. Feel free to remove these perforated cards from your booklet and store them in a recipe box, binder, or in your materia medica for future reference.

WHAT'S INCLUDED IN THE TEA BLENDING 101 WORKSHOP:
This workshop will provide a basic overview of creating your own herbal tea blends that you can use for wellness or pleasure.

LESSON 1 | GETTING STARTED WITH HERBAL TEA
In this lesson, you will learn about the difference between true tea and herbal tea (and the ideal steep times for each), as well as some of the benefits tea can have on the mind, body, and spirit. We'll share several ways to source herbs for your tea blends, including how to sustainably forage for herbs and how to properly store them for future use. In an informative video, herbalist Meagan Visser shows how to easily dry fresh botanicals and fruits to preserve flavor and color for your teas. Finally, we'll cover a list of tea-making supplies to have on hand, and we'll walk you through exactly how to make various types of herbal tea preparations, including infusions and decoctions. 

LESSON 2 | MAKING HERBAL TEA BLENDS
The foundation of a good tea blend comes from knowing your herbs well so you can pair the right plants together—giving your tea the flavor and effect you desire. In this lesson, we will discuss the things you need to know about the herbs in your blends, from their actions and energetics to plant constituents and preparation techniques. We will review plant characteristics, such as flavor, aroma, texture, and color, for you to consider as you put the final touches on your tea blends. You will also learn an advanced tea-blending technique in a video featuring herbalist Meagan Visser as she shares a safe and effective way to incorporate certain essential oils into your tea blends to enhance flavor and aroma when needed. In this lesson, you will discover 12 of our favorite tea-friendly herbs (as well as potential substitutes), along with information on their actions, energetics, and flavors, to help narrow your focus as you get started. Lastly, we'll share a unique tea-blending formula that you can use to make well-rounded herbal tea blends from the comfort of your home, and we'll even walk you through the entire process on video so you can get a sense for what this blending technique looks like. 

LESSON 3 | EVERYDAY TEA RECIPES
What better way to turn information into knowledge than some hands-on activities to put your learning of tea blending on a practical level? In this lesson, you will get the chance to take what you've learned and put it into practice as you begin working toward making your own herbal tea blend using the tea-blending formula from Lesson 2. Not only that but, we have included 12 original herbal tea recipes that you can make and enjoy right away as part of your learning process. From Sweet & Spicy Adaptogenic Chai to Gut Check Tea and Hibiscus Rose High-C Iced Tea, these blends are exclusive to this workshop and are not included in other Herbal Academy offerings. With an assortment of wellness blends—from those that support various body systems and mindsets to those that will impress your friends and family at your next afternoon tea gathering—get ready for plenty of new favorite tea recipes for year-round sipping! Additionally, you'll learn some tips and tricks to encourage those not too keen on herbal tea to enjoy and drink the blends you make, as well as additional ways to use your tea blends apart from sipping them from your favorite mug!
How the Workshop works:
The Tea Blending 101 Workshop is a 3-part series designed for you to complete over a two to three day period, such as a weekend. Begin when you wish (registration closes Monday, September 4th).
This is a seasonal offering, so sign yourself up for the Tea Blending 101 Workshop while it's "In Stock" to gain access!

You can begin when it's convenient for you. Click the "Start Course" button on this workshop anytime, to trigger your 6-month access. 

PDFs of the workshop text, charts, and video transcripts can be downloaded to keep on hand for your continued reference.

After you complete the Tea Blending 101 Workshop, you will gain a badge of completion in your Student Dashboard.
Grow your herbal knowledge, expand your palate, and release your creativity as you learn how to create your own herbal tea blends inside the Tea Blending 101 Workshop.
Register now at the top of the page
Additional Information
| | |
| --- | --- |
| Weight | 0.38125 lbs |
| Dimensions | 8 × 6.3 × 0.5 in |
| Enrollment Type | Workshop Only, Workshop with Booklet |