Pantry Herbalism for Cold and Flu Support Intensive
Pantry Herbalism for Cold and Flu Support Intensive
Cold and flu season is never fun—however, you may be more prepared than you think to handle sickness when it strikes! In the Herbal Academy's Pantry Herbalism for Cold and Flu Support Intensive, you'll discover that you don't have to have a strategically stocked apothecary to find just what you need when a scratchy or sore throat, sniffly nose, or fever take hold in your family! Just head to your spice cabinet, pantry, or even your backyard to find many helpful herbs that can be supportive during a case of the flu or other respiratory viruses. 
In fact, a resourceful herbalist makes the most of what they have at hand when the need arises, be that thyme from the kitchen, onions from the pantry, or pine from the yard. Not to mention several of our other favorites which are discussed in this hands-on, helpful 3-part series on pantry herbalism when you need it most.
From informative plant profiles to simple, effective herbal recipes and engaging instructional videos, the Pantry Herbalism for Cold and Flu Support Intensive will help you respond to cold and flu season with natural approaches quickly, and with confidence!
This 3-part intensive series is republished from The Herbarium, an annual membership space for herbalists and plant enthusiasts. (Members get access to this intensive, and many more, as part of their membership – learn more here.)
Description
Cold and flu often come knocking at inconvenient times, and you might feel caught off guard if your apothecary doesn't happen to be well-stocked when someone in your family comes down with a scratchy throat or fever. 
Luckily, your spice cabinet, refrigerator crisper drawer, and perhaps even your backyard can likely supply you with many of the herbal actions that are supportive during a case of the flu or other respiratory viruses!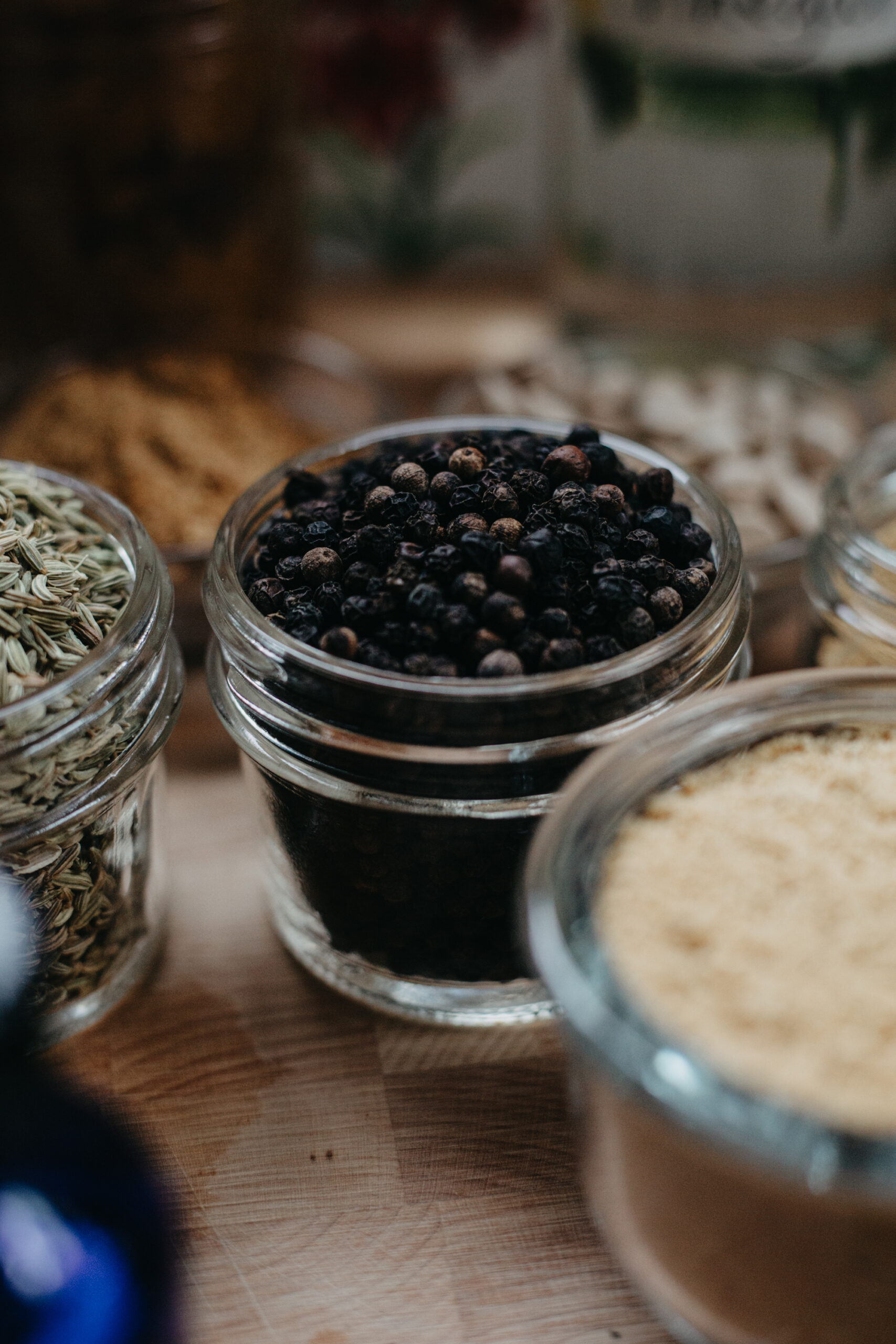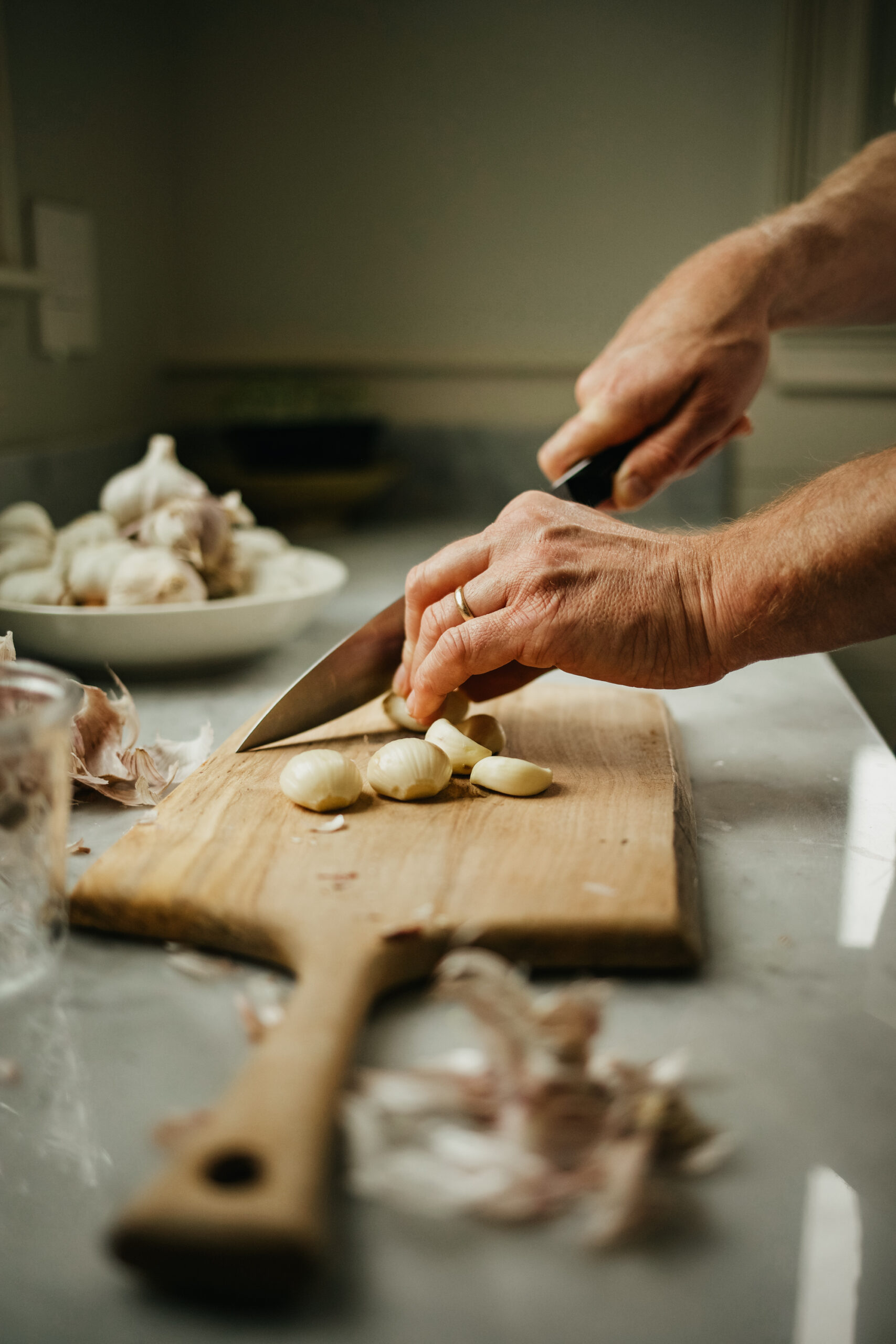 Embrace the wisdom of folk herbalism, turning everyday kitchen staples into reliable companions for cold and flu season!
Being a well-rounded herbalist means making the most of the supplies you have on hand, and this intensive will share some ideas on doing just that with some everyday kitchen herbs and spices, as well as a few common wild herbs. You just might find that these herbs become your new favorite go-to support for cold and flu season! 
In this popular Pantry Herbalism for Cold and Flu Support Intensive, delve into common folk traditions and herbal recipes for overcoming sickness. You'll find additional information on herb quality, safe and ethical foraging practices, video tutorials, and a number of recommended resources to further your herbal studies!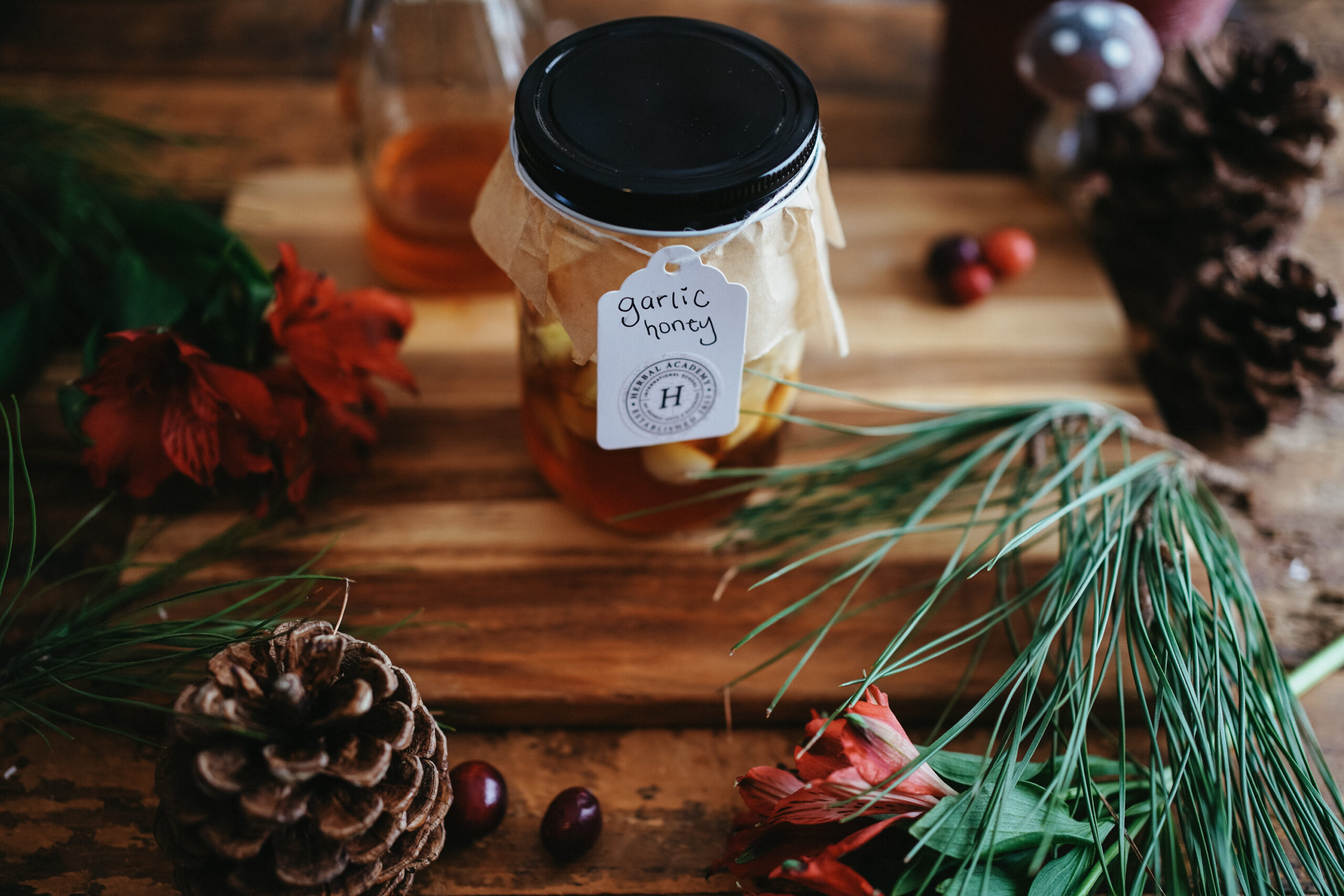 WHAT'S INCLUDED IN THE PANTRY HERBALISM FOR COLD AND FLU SUPPORT INTENSIVE
Lesson 1: From the Spice Cabinet
Using kitchen spices as herbs is often not in the forefront of people's minds when thinking about herbalism, but there is much potential quietly waiting in those small jars and tins in your spice cabinet! 
Discover how everyday herbs commonly used to enhance flavor—from the black pepper found on nearly every kitchen table to aromatic favorites like oregano and thyme—also offer the gift of herbal support. Herbal Academy team member Hannah Lasorsa delves into a video discussion on assessing herb quality through organoleptic testing and shares helpful tips for herb storage.
Lesson 2: From the Pantry
There is quite a bit of crossover between food and herbs, and many plants can be used in both ways! 
From old folk traditions such as using an onion poultice to break up coughs (Herbal Academy team member Stacy Kalisz presents a video demo of this easy preparation) to modern research on the antiviral properties of citrus peel, you'll learn how to make the most of staple food plants as important cold and flu allies.
Lesson 3: From the Wild
Wild plants offer a multitude of benefits, from their freshness and potency to their affordability. Developing your wildcrafting skills means that you won't have to go far to find herbal support when it's needed! 
Get to know three beloved, widespread plants that grow in many regions worldwide that you can add to your home preparations for respiratory support — with Herbal Academy team member Sarah Baldwin leading you on a plant walk to observe and learn about these three wild allies!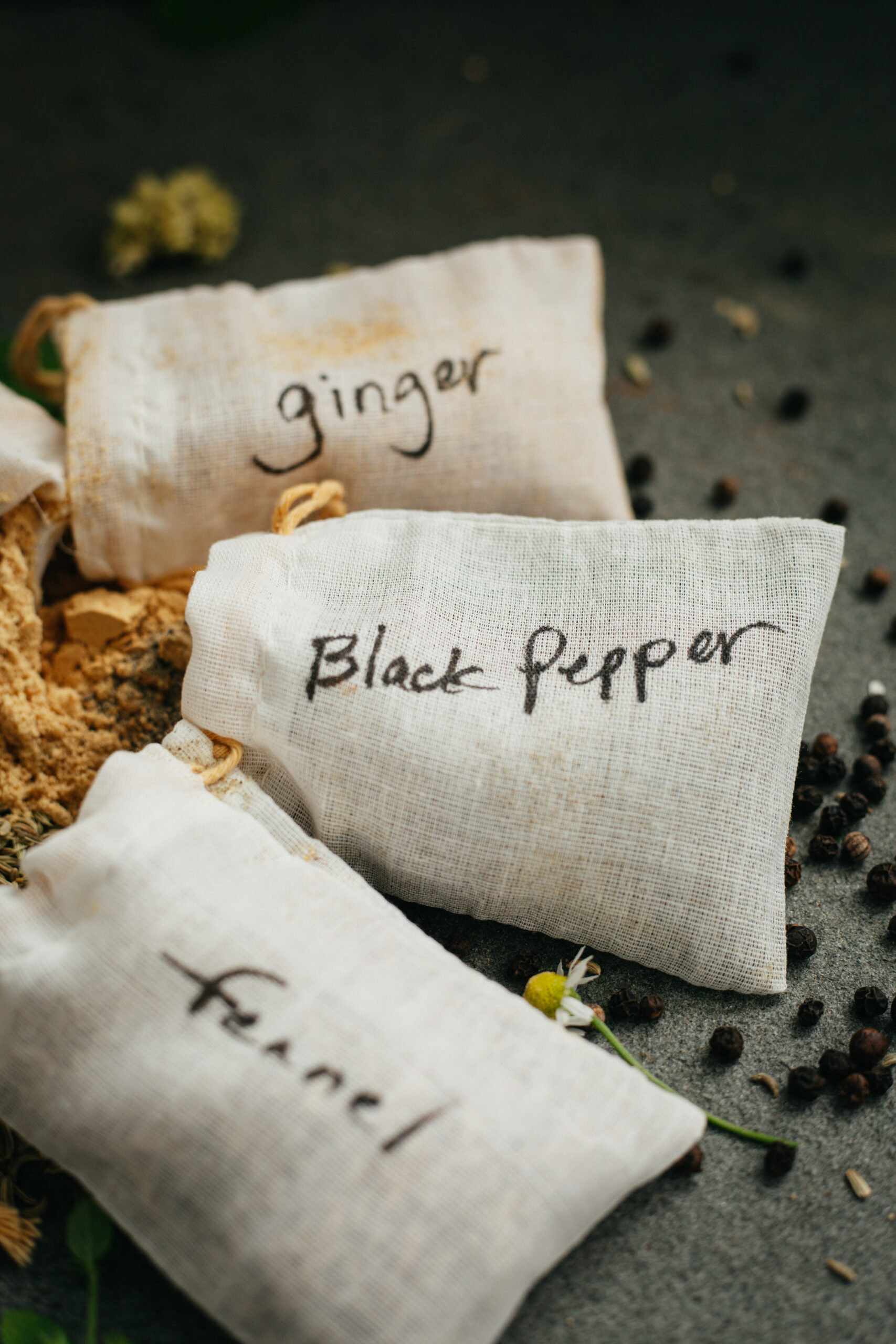 How the Intensive works:
The Pantry Herbalism for Cold and Flu Support Intensive is a 3-part herbal course series. You will get immediate access to the lessons with your registration. Begin when you wish, and get access for 6 months after starting the course.
Sign yourself up for the Pantry Herbalism for Cold and Flu Support Intensive.

You will get immediate access to class, but begin only when it's convenient for you! Click the start course button on this program to trigger your 6-month access period. 

PDFs of the intensive, recipes, and video transcripts can be downloaded to keep on-hand for your continued reference.

Once you complete the Pantry Herbalism for Cold and Flu Support Intensive, you will gain a badge of completion in your Student Dashboard.
Dealing with colds and flu is never a pleasant experience, but let's face it, sickness is bound to strike come fall and winter, especially following back-to-school activities and amidst the busy holiday season! From the spice cabinet to the pantry to the backyard, unlock a myriad of ways to combat colds and flu using affordable and accessible, powerful plant allies! 
So join us! The Pantry Herbalism for Cold and Flu Support Intensive is open for a limited time! With your enrollment into this workshop, you gain access to this entire 3-session series for only $35!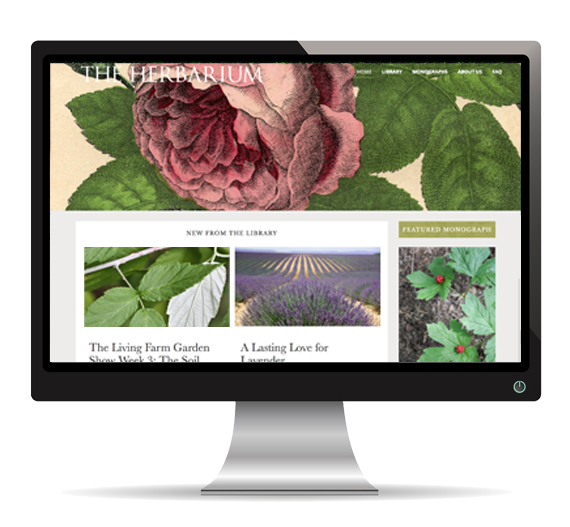 SPECIAL OFFER!
The Pantry Herbalism for Cold and Flu Support Intensive is available on the Herbal Academy during limited time windows. You can also get this full Intensive along with a library of Intensive Short Courses included in your membership to The Herbarium! The Herbarium currently boasts of several exclusive Intensive Workshops – a growing collection!
For a $79 annual membership
you will get:
---
✔ A Holistic Approach to Fertility
✔ Botanical Nootropics, Herbs for Animals
✔ The Clinical Practice: Supporting Clients with Stress Intensive
✔ Natural Approaches to the Management of PCOS: Finding Balance Intensive
✔ And so many more PLUS privy to all future Intensive offerings
Along with access to:
---
✔ The Herbarium's exclusive Plant Monograph Database boasting over 200 herbal profiles
✔ Herbal ebooks and media offerings valued up to $9.99 each
✔ An ever-expanding collection of in-depth herbal resources including articles, presentations, videos, and podcasts from brilliant herbal minds from around the globe.
"I love the herbal intensives as I've been able to expand my learning so much. The monographs and downloads have also helped me so much. This has been my first year with a membership and I now know that I won't be going without one! – Hailey, The Herbarium member
Stop by The Herbarium to subscribe to our annual membership website, and get this Intensive along with all these exclusive resources and many more coming to you each month for only $79/year.
---
Please note refunds will not be issued for customers who register for this intensive and then later purchase a membership.