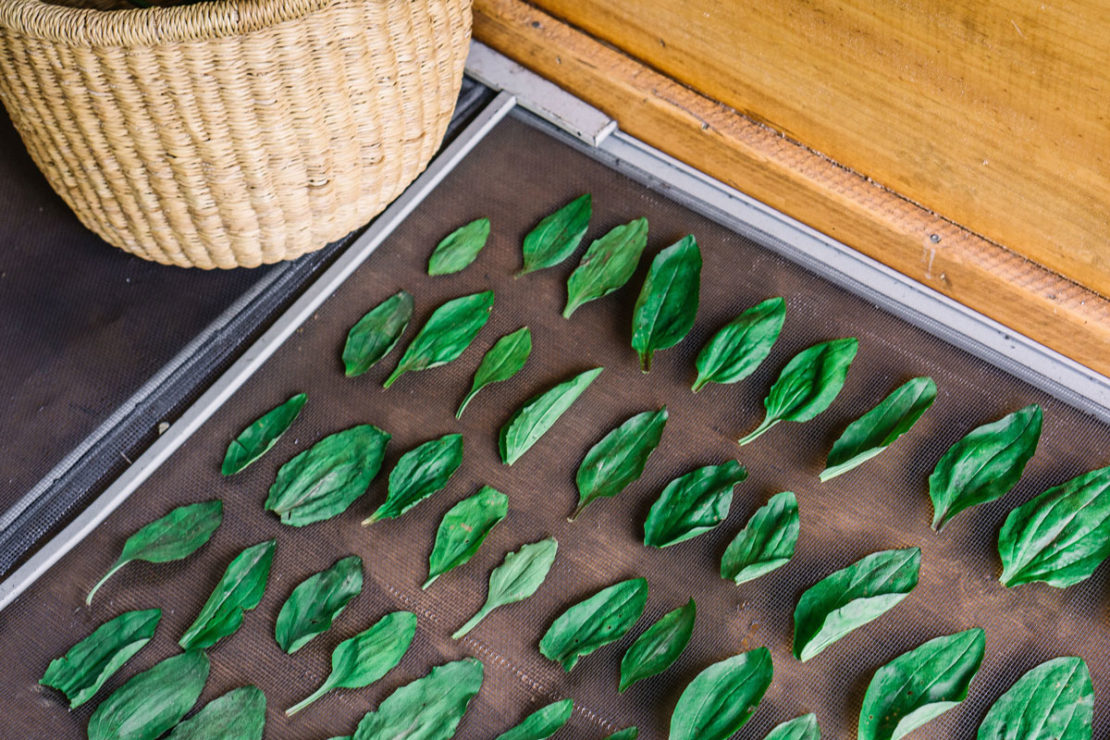 Plantain Leaf Benefits and Recipes
Since the launch of The Foraging Course, we've had a renewed interest in the humble, helpful herbs that grow right outside our doors. Plantain leaf (Plantago spp.) is one such wonder "weed" that's found all over the globe. Two of the most common species, broadleaf plantain (P. major) and ribwort plantain (P. lanceolata), have followed human migration from Europe and Asia and are now naturalized in most temperate and subtropical regions of the world (CABI, 2020a; CABI, 2020b). Plantain is often considered invasive, and thrives in disturbed or compacted soils.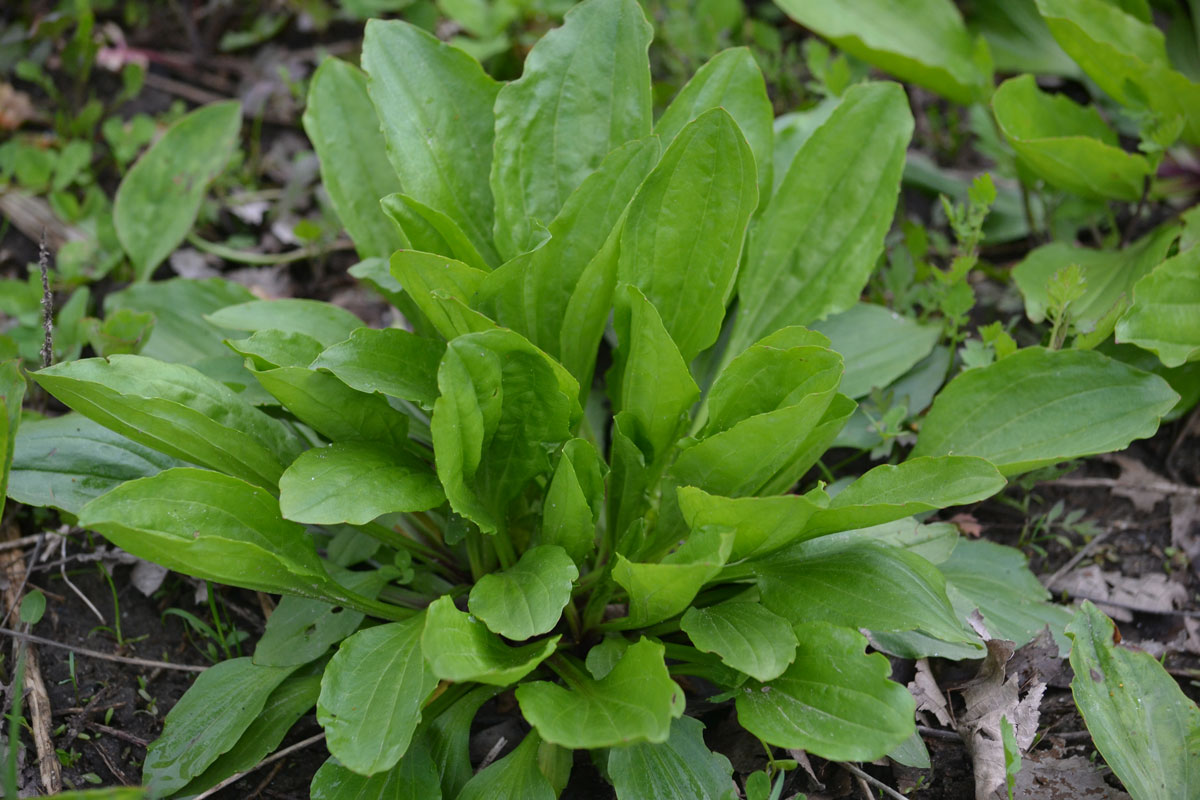 Plantain's Topical Use
Many herbalists are familiar with the use of plantain leaf for first aid in the field, where fresh plantain is chewed and applied directly to the skin to ease stings, bites, and minor burns or cuts. This is also an excellent way to draw out splinters, tiny shards of glass, or other bits of unwelcome debris! The folk medicine practice of the plantain "spit poultice" teaches us some important things about plantain. First, that plantain is everywhere—in fields, gardens, backyards, hedgerows, and woodland borders throughout Europe, North America, Asia, and North Africa; you'll find some species of plantain growing almost anywhere there's a temperate climate. One reason this folk remedy is so well-known (in addition to the fact that it really works!) is simply because plantain is so widespread. 
We also see some of plantain's primary actions in this simple example: cooling, soothing, anti-inflammatory, vulnerary, and drawing or astringent properties are all at work in a simple plantain poultice. And, of course, you're not limited to using a fresh-chewed poultice, if that's not your thing! Plantain leaf also works well as an infused oil or salve, and can be applied as a wash or compress.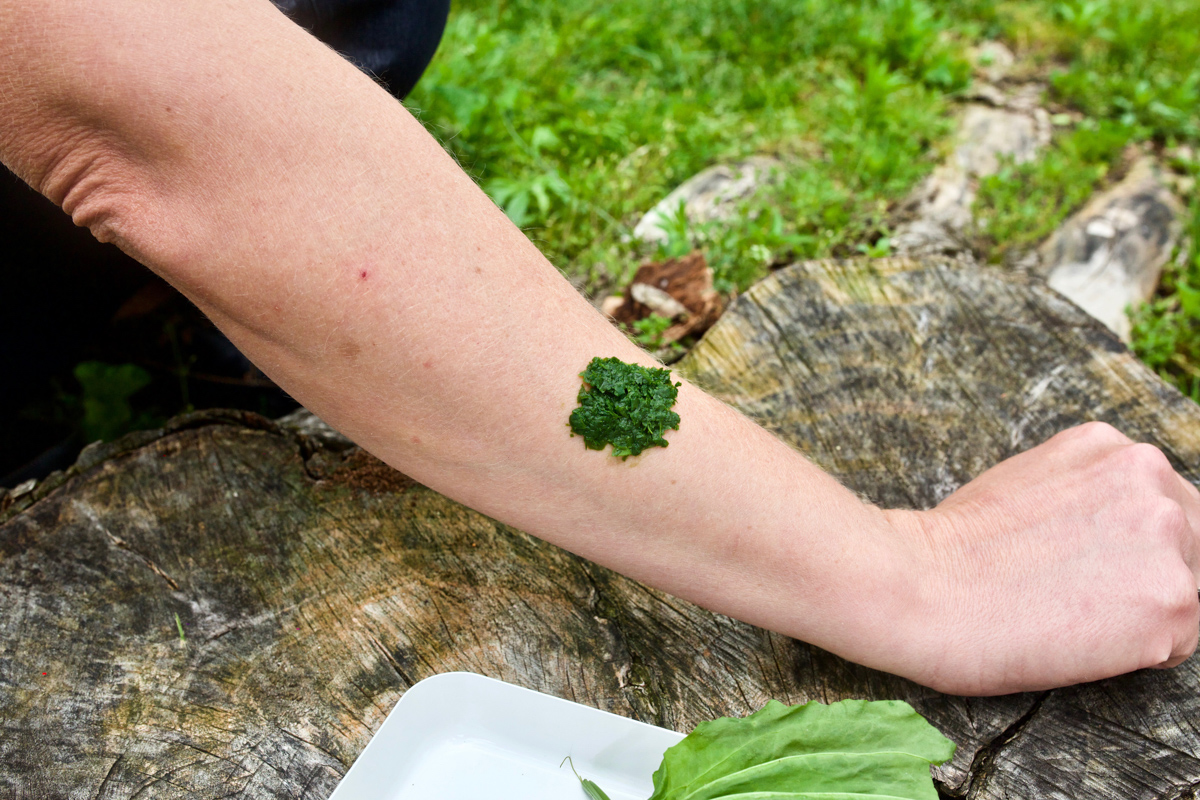 Any way you prepare it, plantain is a premier wound-mending herb; it's high in mucilage and a number of inflammation-modulating compounds (Adom et al., 2017), which give it a moistening, soothing, emollient quality. It contains allantoin, a constituent that promotes tissue regeneration, which is also found in comfrey (Symphytum spp.)—but plantain is much milder and can be used to help resolve all types of minor superficial wounds without comfrey's safety concerns. Plantain has antimicrobial or antiseptic properties, and can help to stave off infection as wounds heal.
Plantain's Internal Use
Plantain can also be used internally to both draw out heat and support healing of damaged tissues. The tea is particularly useful for calming gastrointestinal inflammation and supporting restoration of damaged mucosa, and, because it has both astringent and demulcent properties, plantain is also useful for helping to ease diarrhea. When you put these qualities together, you can see why plantain is often used to support conditions such as IBS, leaky gut or intestinal permeability, colitis, esophagitis, and gastrointestinal ulcers.
The seeds and seed husks of plantain, specifically P. ovata, are sold in commerce as psyllium, and are used as a source of soluble fiber to promote bowel regularity. The seeds have an even higher content of mucilage, which is what creates the gel-like matrix that soothes the gastrointestinal lining. In effect, when we take plantain seed powder or plantain leaf tea to soothe and support wellness in the gastrointestinal tract, we're still using them as topical vulneraries—we're just using them to restore the lining of the gut—rather than the skin on the outside of the body!
Because of its inflammation-modulating properties, plantain also works well to soothe respiratory allergies and asthma. It contains compounds that help to inhibit mast cell degranulation and histamine release, which is what drives the classic allergy symptoms of redness, irritation, and itching (Najafian et al., 2018). This is really just another way to describe plantain's ability to resolve heat and calm irritated tissues! Plantain is ideal for an allergic presentation that involves red, dry, or itchy eyes or dry throat with irritated cough. It can also be used for other respiratory tract irritations, such as a dry cough or mucosal irritation from inhaling smoke or dust.
Plantain leaf also has diuretic properties, and is sometimes classed as an alterative, an herb that helps promote the elimination of metabolic waste, thus acting to restore general health. Its cooling, vulnerary actions can also be used to support the urinary tract, and it can be included in formulas to address urinary tract infection and interstitial cystitis.
Harvest and Process Plantain Leaf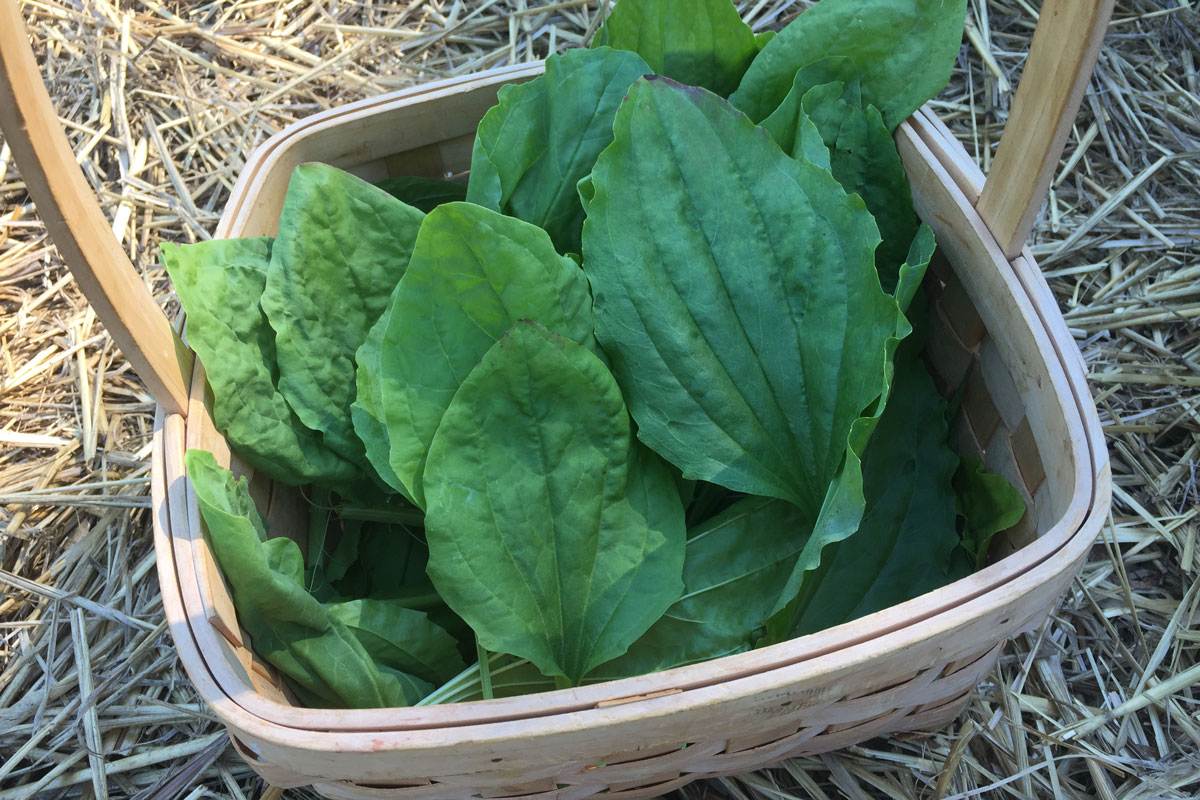 Ideally, plantain leaf is harvested in the spring or early summer before the plant begins to flower—but if this herb is around when you need it, don't hesitate to harvest the leaves at any time of year, even if it's not peak season! When making tincture, salve, oil, compresses, and other first-aid preparations from plantain it's best to use the fresh leaf, which also makes a wonderful infusion. Dry plantain leaf is slightly less moistening but still very useful as an infusion.
Now that you understand why plantain leaf is beneficial and how to harvest it, here are two super simple recipes that will make it easy to incorporate plantain into your herbal routine.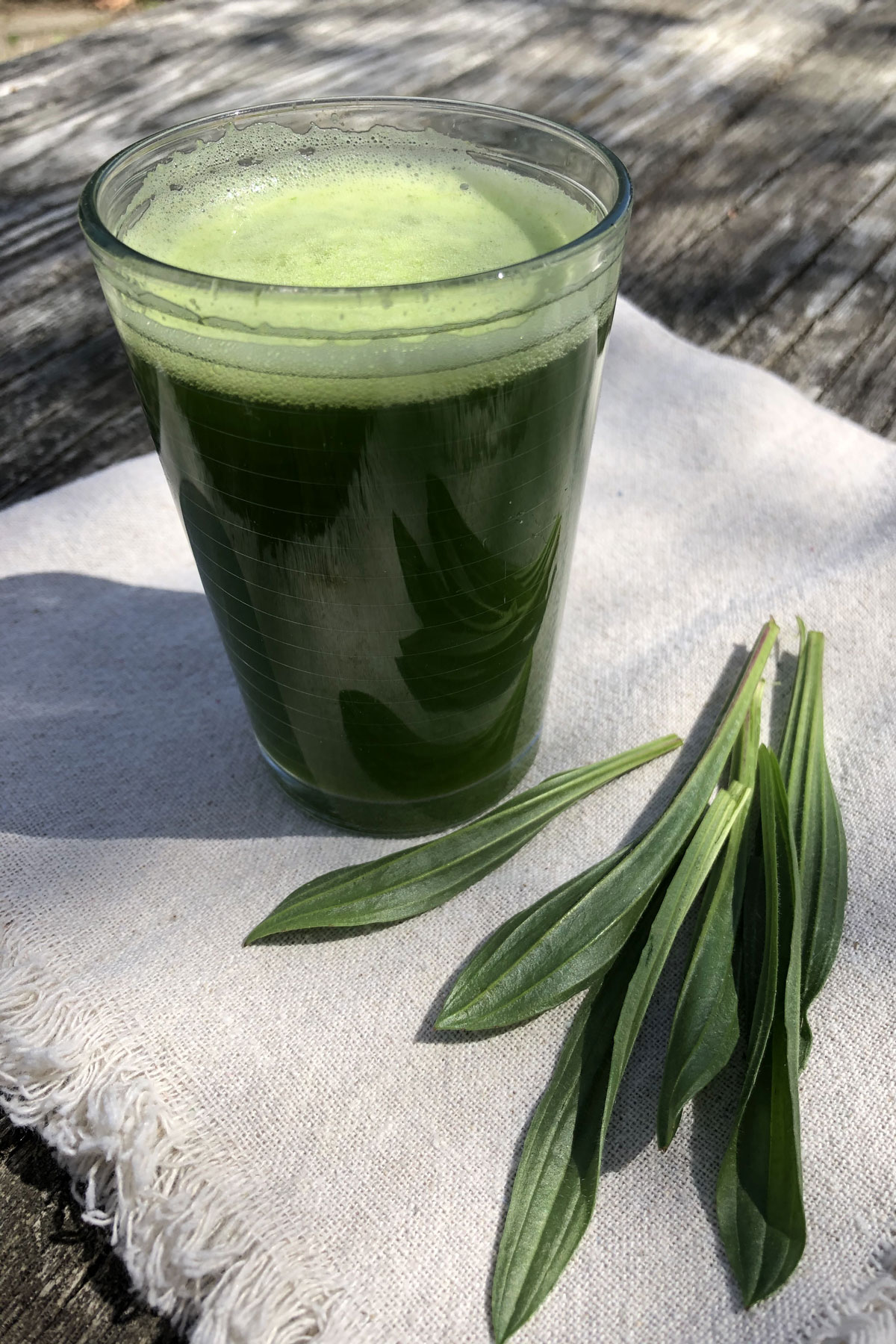 Plantain Leaf Green Juice
Adapted from
The Wild Wisdom of Weeds
by Katrina Blair (Blair, 2014) and featured in
The Foraging Course
. 
This hydrating, mineral-rich green juice is a fabulous way to start the day! No need to limit yourself to plantain—purslane (Portulaca oleracea), chickweed (Stellaria media), nettle (Urtica dioica), or other wild, edible leaves can be added or substituted in any combination. This recipe makes 2 servings.
Ingredients
2 cups fresh plantain (Plantago spp.) leaf
3 cups water
Directions
Place plantain leaf and water in a blender and blend on high for 1-2 minutes.

Strain out the juice and compost the fibrous plant material (or use it for the Plantain Face Mask recipe below!).

Enjoy as-is or on ice!
Plantain Leaf Face Mask
Adapted from The Wild Wisdom of Weeds by Katrina Blair (Blair, 2014) and featured in The Foraging Course. 
What better way to utilize the "pulp" left over from your morning green juice? Add a little extra self-care to your morning routine with this anti-inflammatory and vulnerary face mask! (Avoid using the "pulp" if you've included nettle (Urtica dioica) leaf in your green juice.)
Ingredients
Plantain (Plantago spp.) leaf pulp (recipe above)
Directions
Apply plantain pulp in a generously thick layer to freshly washed and dried facial skin. Leave on for 10-15 minutes (mask will still be slightly damp).

Rinse face with warm water. Gently pat skin lightly with a towel to dry.
This entire blog post is a sneak peek inside The Foraging Course. Featuring 24 in-depth plant monographs, 48 recipes, and guided videos, this 5-lesson roadmap is a crash course into foraging—nothing lightweight about it! We will guide you all the way from planning a foraging adventure to preparing your wild harvest. Absolute beginners, we've got you covered, and experienced foragers there's plenty here for you, too!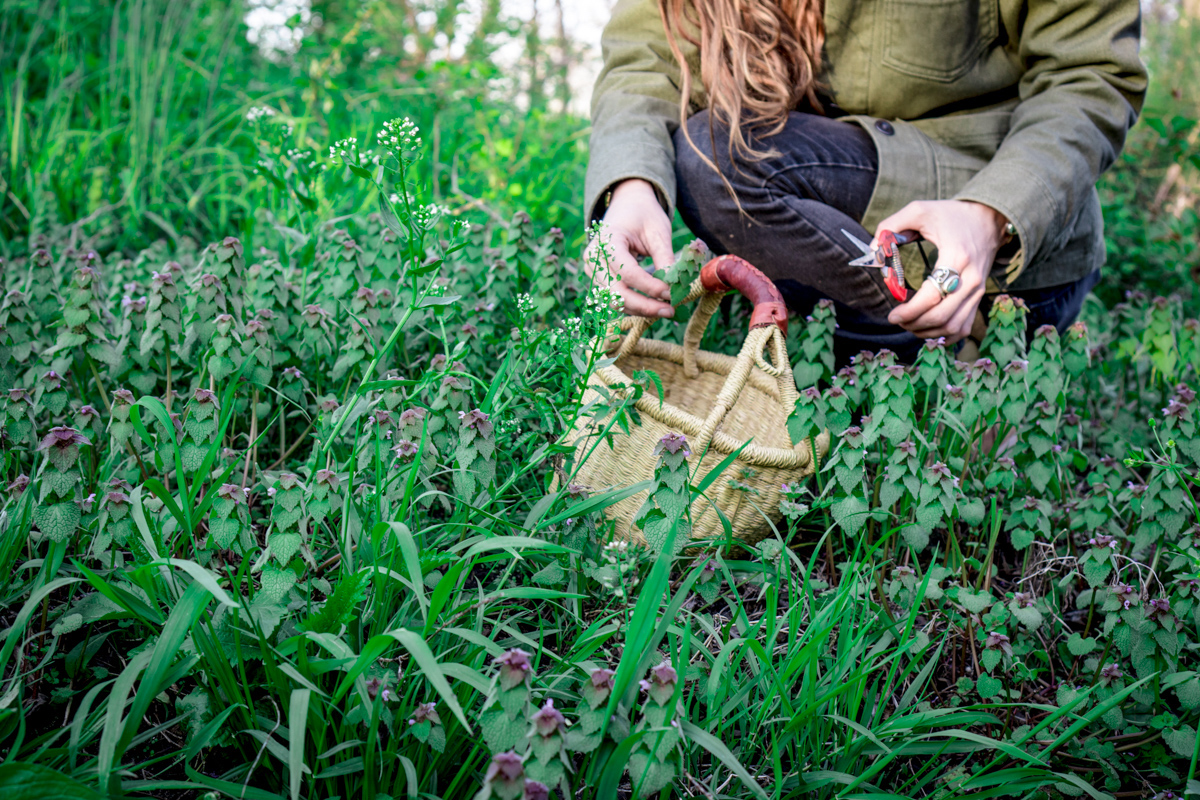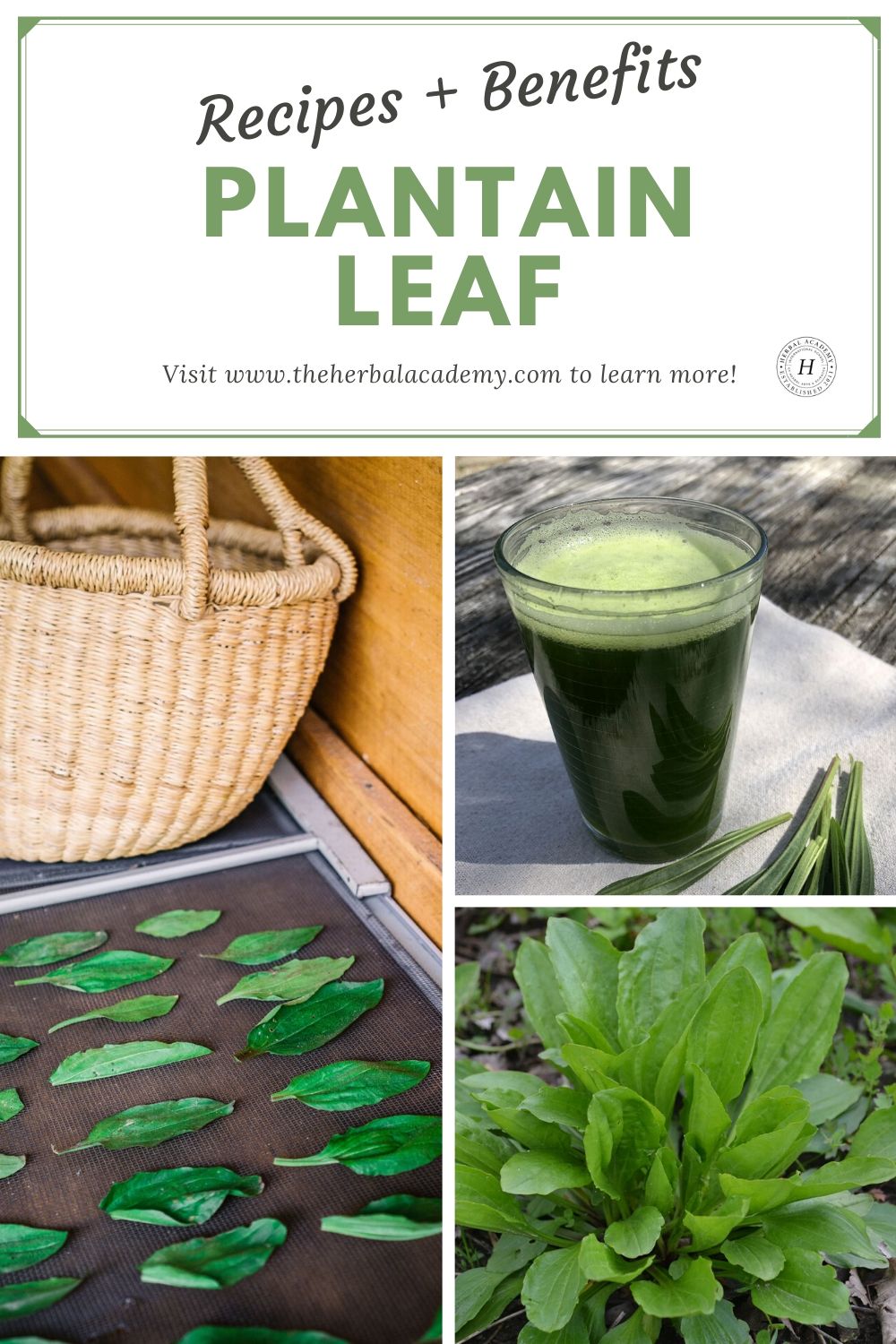 REFERENCES
Adom, M.B., Taher, M., Mutalabisin, M.F., Amri, M.S., Abdul Kudos, M.B., Wan Sulaiman, M.W.A.,… Susanti, D. (2017). Chemical constituents and medical benefits of Plantago major. Biomedicine & Pharmacotherapy, 96, 348–360. http://doi.org/10.1016/j.biopha.2017.09.152 
CABI. (2020a). Plantago lanceolata. Invasive Species Compendium. Retrieved from www.cabi.org/isc
CABI. (2020b). Plantago major. Invasive Species Compendium. Retrieved from www.cabi.org/isc