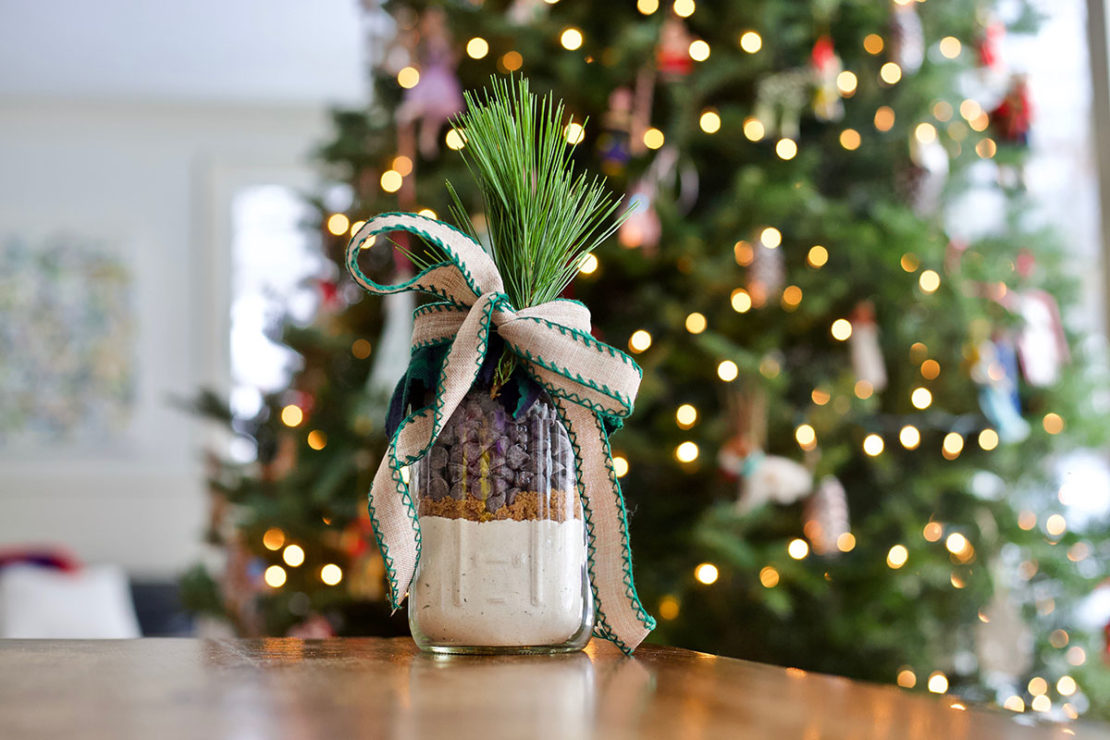 4 DIY Edible Herbal Gifts To Make At The Last Minute
The holidays are truly in full swing! Hanukkah celebrations are well underway and Christmas is right around the corner, with Kwanzaa right on its heels! If you are still looking for the perfect gift to share with loved ones and friends during this season of giving, we have got your back! 
For some fast, last-minute gift making, we suggest using what you have on hand to create edible herbal gifts such as delicious salts and sugars and yummy treats like electuaries and herbal cookies-in-a-jar. Pack up your creations in pretty containers and bags, and voilá, you have created a unique and lovely gift!
Edible Herbal Gift #1 & #2: Herb-Infused Culinary Salts And Sugars
Herb-infused culinary salts and sugars are such simple gifts to create, and often, so appreciated, especially because a tasty culinary salt or sugar is immediately useful, adding to the fun of everyday meals! All you need to do to create your own is blend dried herbs with salt or sugar and package up your creation.  
Take a quick search through your cupboard for salt or sugar and an herb or two (or more) to use for your creation. You can make your herbal salts and sugars with one herb or a combination of a  few—enjoy creating a combination from the herbs you have on hand that appeal to you. Find supply ideas below!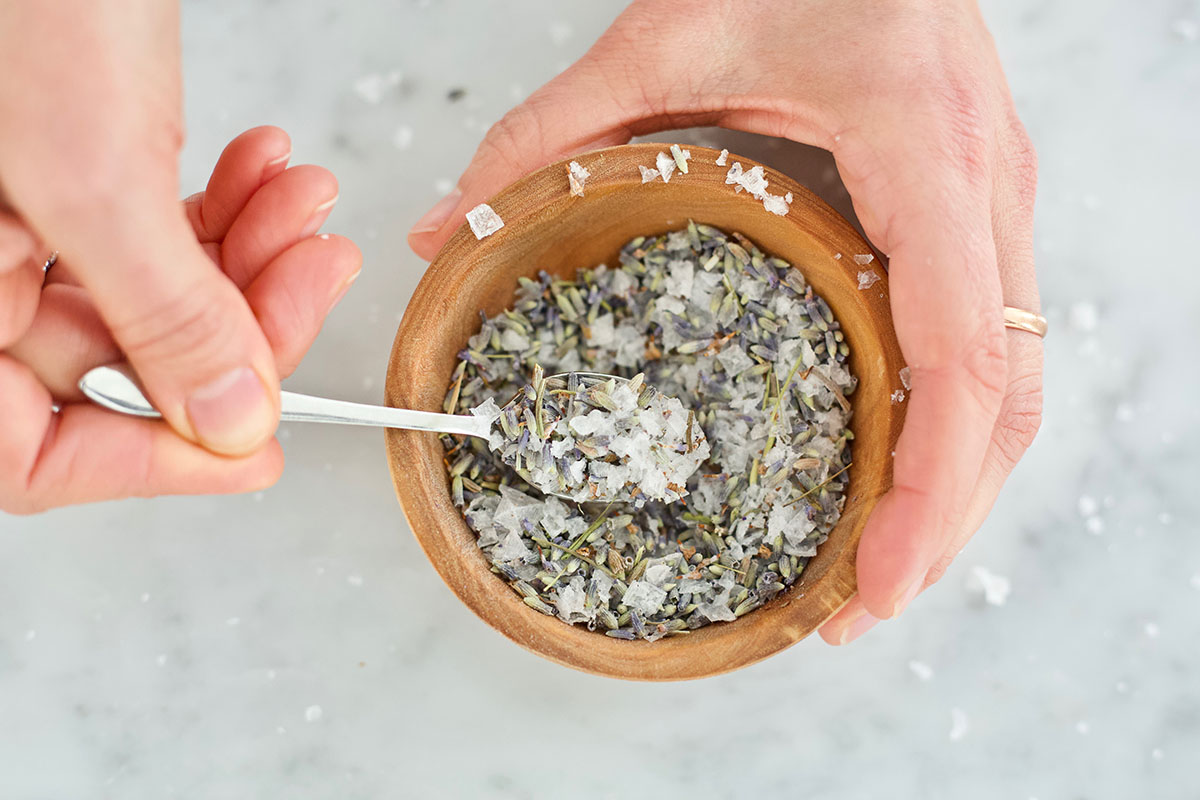 Choose Your Salt
When choosing your salt, use what you have at hand! If you have a few different types of edible salt, you can even combine them if you wish. A few examples to choose from include, table salt, sea salt, pink Himalayan salt, kosher salt, and coarse salt. 
Choosing Dried Herbs for a Savory Salt Blend
Culinary salts pair extremely well with savory herbs, such as sage (Salvia officinalis) leaf, oregano (Origanum vulgare) leaf, garlic (Allium sativum) bulb, thyme (Thymus vulgaris) leaf, rosemary (Rosmarinus officinalis) leaf, small amounts of black pepper (Piper nigrum) fruit, cumin (Cuminum cyminum) seed, fennel (Foeniculum vulgare) seed, and ginger (Zingiber officinale) rhizome.
They also pair well with nutritive herbs, such as: nettle (Urtica dioica) leaf, kelp (Nereocystis luetkeana), dandelion (Taraxacum officinale) leaf, alfalfa (Medicago sativa) leaf, chickweed (Stellaria media) aerial parts, borage (Borago officinalis) leaf, Shiitake (Lentinula edodes) fruit,  raspberry (Rubus idaeus) leaf, and strawberry (Fragaria spp.) leaf.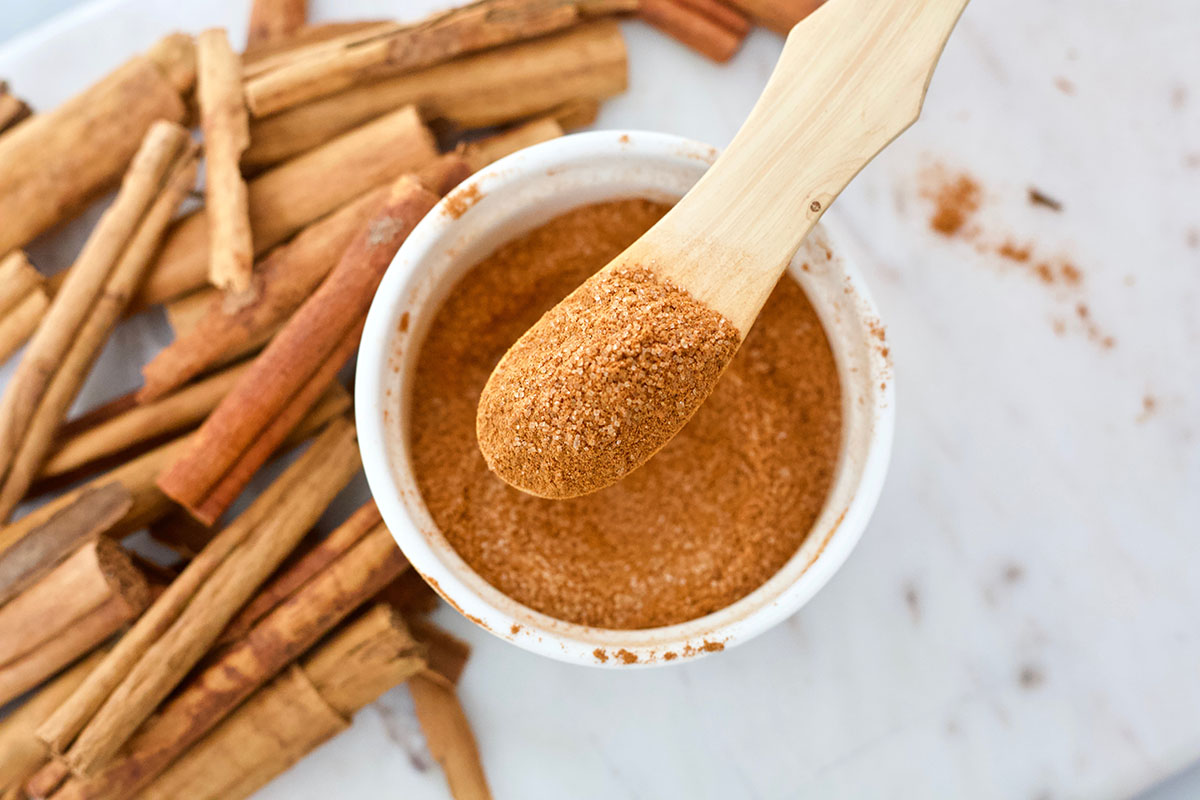 Choose Your Sugars
When putting together a last-minute herb-infused sugar, feel free to choose from any sugar you have on hand, such as coconut sugar, sucanat, turbinado, and of course, white sugar! They're all good choices when creating a sweet herbal treat for gifting.
Choosing Dried Herbs for a Sweet Sugar Blend
Sweet herbal sugar blends pair well with sweet spices, such as cinnamon (Cinnamomum verum) bark, ginger rhizome, cardamom (Elettaria cardamomum) seed, anise (Pimpinella anisum) seed, and vanilla (Vanilla planifolia) seed.
You can even incorporate flavorful herbs like spearmint (Mentha spicata) leaf, peppermint (Mentha × piperita) leaf, rose (Rosa spp.) petals, lavender (Lavandula spp.) bud, and lemon balm (Melissa offinicalis) leaf into your herb-infused sugars as well!
How To Make Herb-Infused Salts and Sugars
To make herb-infused salts and sugars, combine 2-4 tablespoons of dried herbs with 1 cup of salt or sugar depending on which one you are using. Give the mixture a quick stir and taste to see if you like the flavor. Add more herbs to the blend as needed until you get the flavor you are looking for! 
Package your herb-infused salt or sugar in small jars or food-safe plastic bags topped with a ribbon, and finish off with a label complete with the ingredients you have included in your herbal salt or sugar. Be sure any jars you use are sterile and very dry to prevent spoilage.
Tips And Tricks
If using coarse salt,

you may want to grind it with your herbs in a food processor to help break up the salt a bit and also grind the herbs into smaller pieces. 

If you are using nutritive herbs

be sure to include a culinary herb or two to add some extra flavor to your blend. 

To use a vanilla bean in your herbal sugar

, cut it lengthwise and open the bean to expose the tiny seeds inside. Scrap the seeds out of the pod and into the sugar. Mix the sugar well to disperse the seeds evenly and then place the vanilla pod in the sugar, and leave it there when you give your gift. The pod will continue to flavor the sugar and provide visual appeal to your edible herbal gift!
You can find two beautiful recipes to inspire you and get you started on your own herbal salt creation here! 
Edible Herbal Gift #3: Herbal Electuaries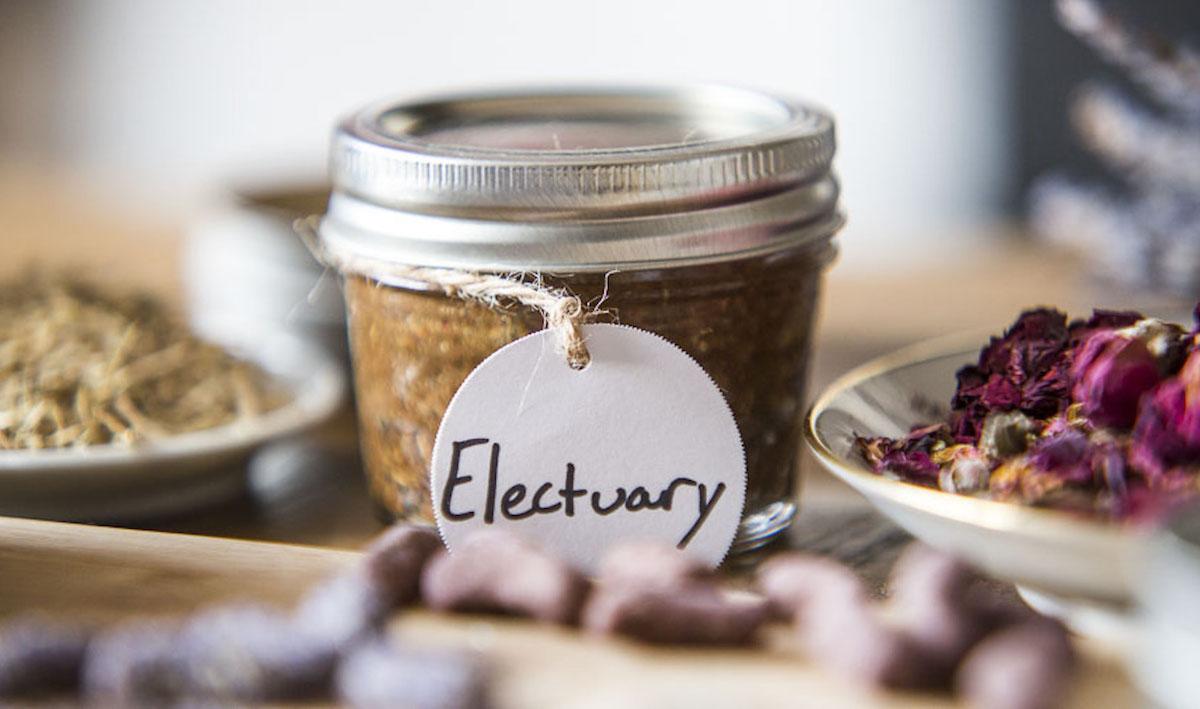 Herbal electuaries are a delectable treat! This preparation is lovely spread over toast and biscuits, added by the spoonful to hot water for an instant tea, or simply enjoyed right off the spoon. And it is not too late to make your own electuary to giveaway this holiday season! 
The simplest electuary is a thickened cinnamon honey electuary made with two ingredients: cinnamon and honey! However, there are many other herbs to choose from when making an herbal electuary. Here are some options below!
Choosing Herbs for Delicious Herbal Electuaries
Sweetly Spiced Electuaries: cinnamon, ginger, cardamom, seeds from vanilla pods

Herb-Flavored Electuaries: chamomile (

Matricaria chamomilla

), sage, thyme, spearmint, peppermint, tulsi (

O. tenuiflorum

), rose petal, lavender (use in small amounts), lemon balm, turmeric (

Curcuma longa

)

Adaptogenic Electuaries: eleuthero (

Eleutherococcus senticosus

), ashwagandha (

Withania somnifera

), astragalus (

Astragalus membranaceous

), licorice (

Glycyrrhiza glabra

), codonopsis (

Codonopsis pilosula

), maca (

Lepidium meyenii

Walpers

, L. peruvianum

)
How To Make An Herbal Electuary
Begin by choosing the powdered herbs you would like to use in your electuary. Mix your powdered herbs with honey, adding just enough honey to make a paste. Start with 5 teaspoons of dried powdered herbs and 6 tablespoons of honey. If you want your electuary to be sweeter and less dense with herbs, add more honey to taste. Finish by placing your electuary in a clean, dry jar, and adding a label and ribbon if desired! 
Tips And Tricks:
If you are not sure about how to pick your herbs,

choose 2 to 3 herbs (try choosing 1 herb from each of the above categories) to start with, and combine a very small amount, such as a teaspoon or less total. Add the honey and taste. Adjust the blend until you find one that you like! 

Quickly powder dried herbs yourself

in a

coffee grinder

or mesh strainer. To powder leafy herbs and petals in a mesh strainer, place the mesh strainer over a bowl. Measure the herbs into the strainer and use the back of a spoon to rub the dried herbs against the insides of the strainer. This will help break up the herbs up allowing only the small pieces to fall through into the bowl.

What size jar should I use?

This really depends on how much electuary you want to make. Keep in mind that this is a dense herbal preparation and so smaller jars, 2 to 4 ounces, seem to work best as an edible herbal gift! 
Edible Herbal Gift #4: Herbal Cookies-In-A-Jar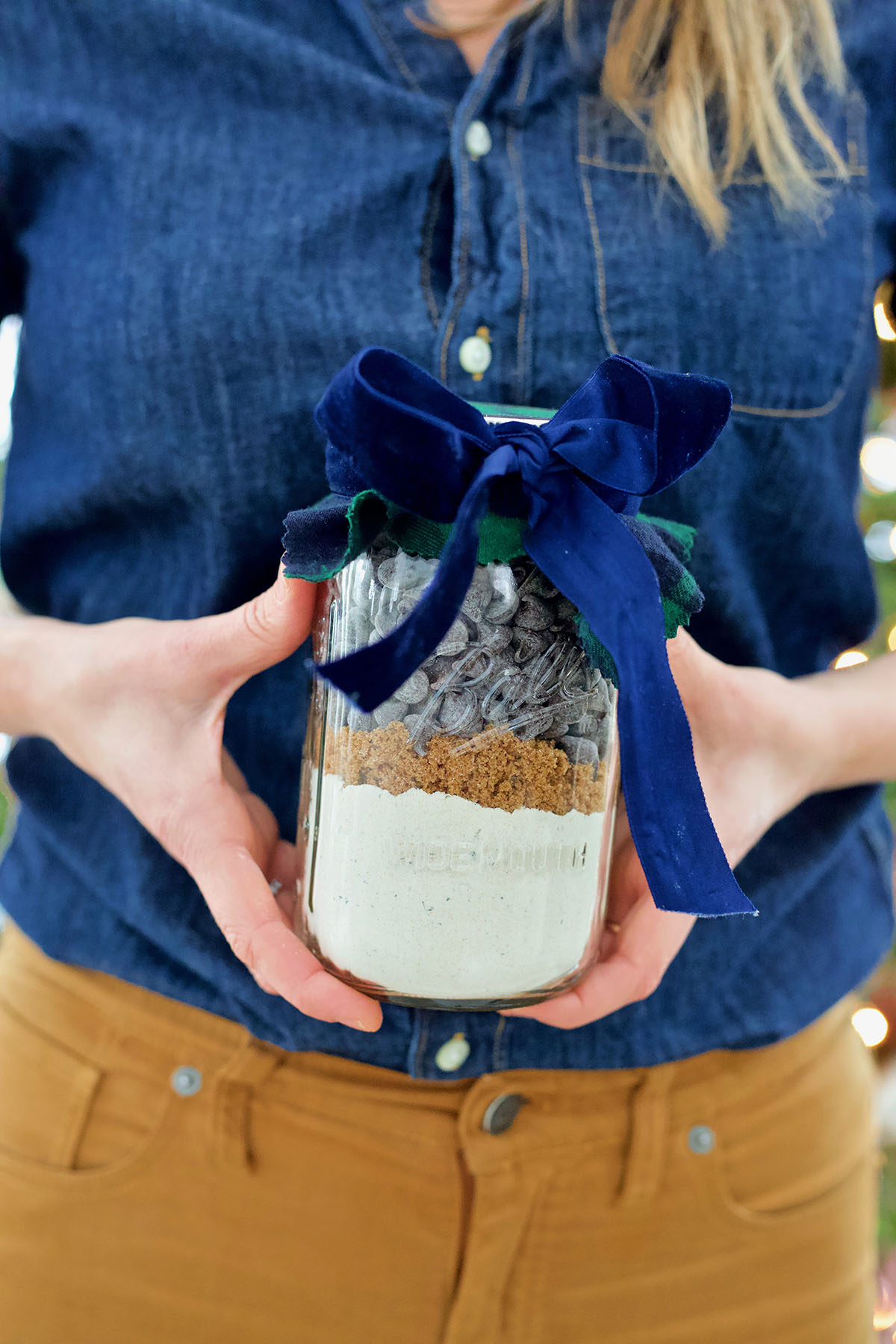 Warm cookies from the oven are almost always welcome and will please any cookie monster. Herbal cookies-in-a-jar are the next best thing to delivery cookies fresh from the oven to loved ones—a perfect last-minute edible herbal gift for the holidays! 
Choose Your Herbs
When choosing herbs for your cookies-in-a-jar gift, it's a good idea to choose classic cookie spices like cinnamon, ginger, cloves (Syzygium aromaticum), and nutmeg (Myristica fragrans) and then take it up a notch with herbs like peppermint, spearmint rosemary, or a pinch of lavender. You can even add adaptogens like maca and ashwagandha if you wish!
How To Make Herbal Cookies-In-A-Jar
Here is a base recipe for creating your own herbal cookies-in-a-jar adapted from Food & Wine's Classic Chocolate Chip Cookie recipe by Emily Farris, with tips from Christmas Cookies are for Giving by Kristin Johnson and Mimi Cummins. This recipe makes enough for a 1 quart-sized canning jar. You will also find some cookie combination ideas to try below!
Create Your Own Cookies-In-A-Jar
Ingredients
1¾ cups flour (I like a combo of 1 ¼ cup whole wheat pastry flour + ½ cup almond flour)
⅔ teaspoon baking soda
⅔ teaspoon salt
1 teaspoon to 2 tablespoons of your chosen herbs
1 scant cup sugar (coconut sugar is a great option and the rich color looks pretty layered in the jar!)
1¾ to 2 cups of your favorite treats, such as nuts, dark chocolate chips, raisins, crystallized ginger, dried papaya chunks, dried cherries or dried cranberries
Directions
Combine the flour, baking soda, salt, and herbs in a bowl. 

Whisk these together to ensure they are fully combined. 

Place in a quart-size jar and lightly tap the jar to settle the flour mixture. Then, use the back of a spoon to further pack the mixture down. 

Place the sugar in the jar. Again pack this down as tightly as you can. 

Layer the goodies at the top of the jar until full. 

Add your lid and a label with the contents and instructions for baking.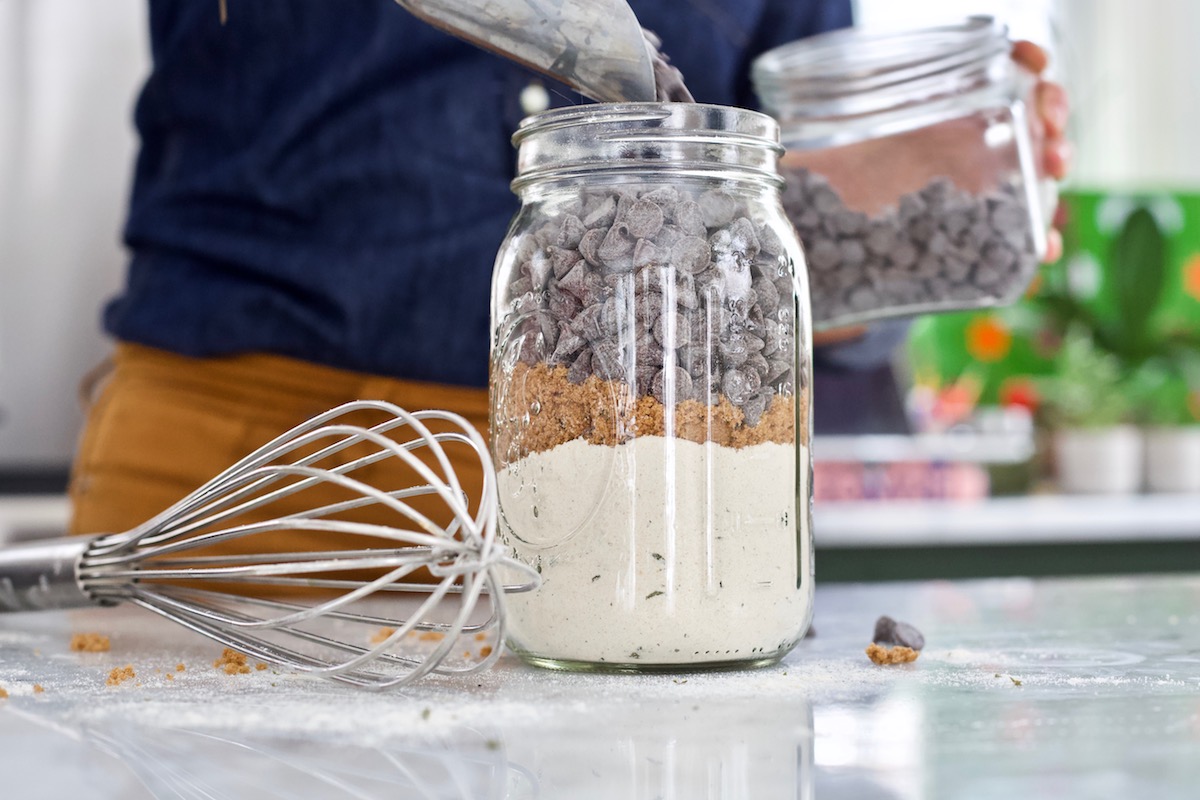 Combinations To Try!
Ginger Chocolate Chunk
Include ⅛ teaspoon ground cloves, ⅛ teaspoon ground nutmeg, 1 heaping teaspoon ground cinnamon, ½ teaspoon ground ginger in the flour layer. For the goodies, use 1½ cup dark chocolate chunks and ½ cup roughly chopped crystallized ginger. 
Cherry Nut Maca
Include 1 heaping teaspoon ground cinnamon and 2 tablespoons powdered maca in the flour layer. For the goodies, use ¾ cup dried cherries and ¾ cup pecans. 
Mint Chocolate Chip
Include 2 tablespoons of dried, powdered mint leaves (a combination of half peppermint/half spearmint is nice!) plus a small pinch of lavender in the flour layer. For the goodies, use 1½ cups dark chocolate chips and ½ cup nuts such as walnuts or pecans.
Have a favorite recipe you want to use? Not a problem! Quart-size canning jars hold 4 cups (or 4½ cups of packed ingredients), so if your recipe is 4 ½ cups or less of dry ingredients you can simply use your recipe. Be sure to pack the ingredients tightly to fit more in the jar, and add extra nuts, dried fruit, or chocolate to fill in any leftover space. 
Tips And Tricks
To layer successfully,

start with the finer, powdery ingredients such as flour on the bottom of your jar and end with the chunkier ingredients at the top. Pack each layer down as tightly as possible before adding the next layer.

Add visual appeal by alternating light/dark or colorful ingredients.
Put A Tag On It!
To make things even more festive, attach this printable holiday tag, complete with baking instructions, to your cookies-in-a-jar. Simply print the front of these tags on a sheet of white cardstock, flip the paper over and put it back in your printer, and print the back of the tags. You can then cut the tags out using a pair of sharp scissors, punch a hole in the top of the tag, and attach them to your cookies with a ribbon or string. Download your free cookies-in-a-jar tags below!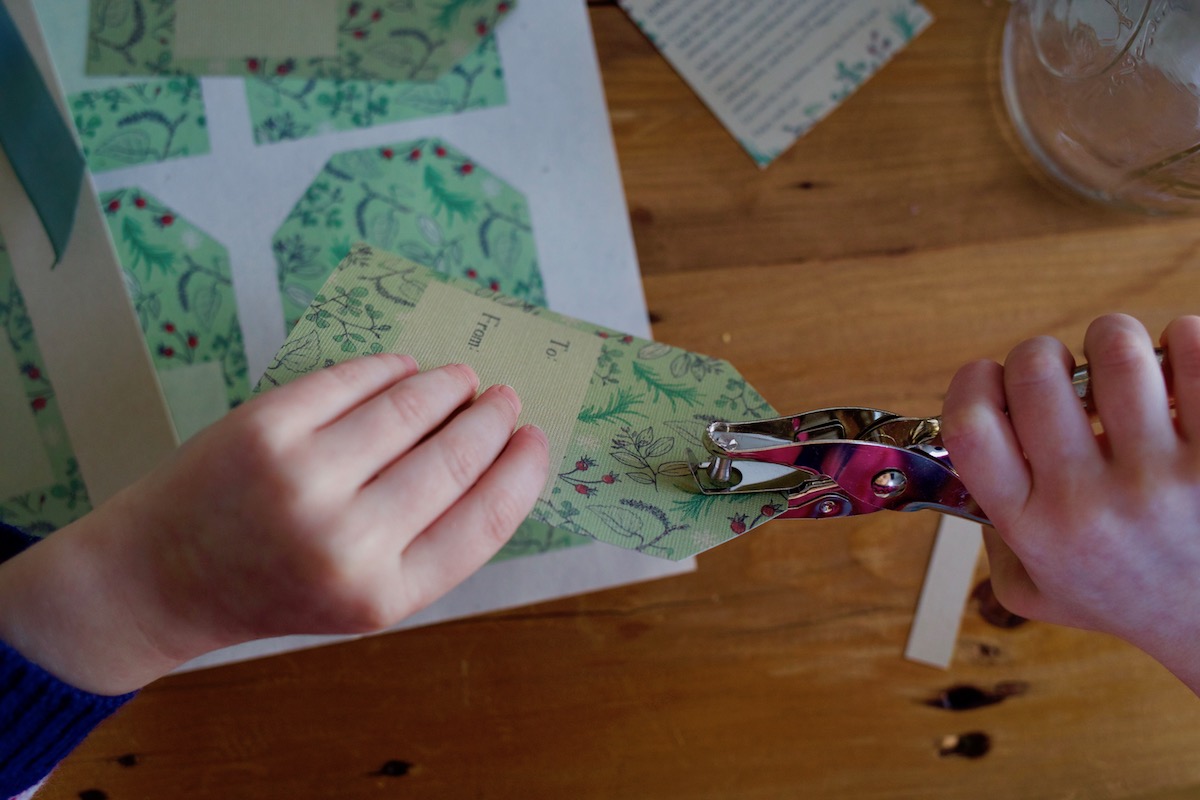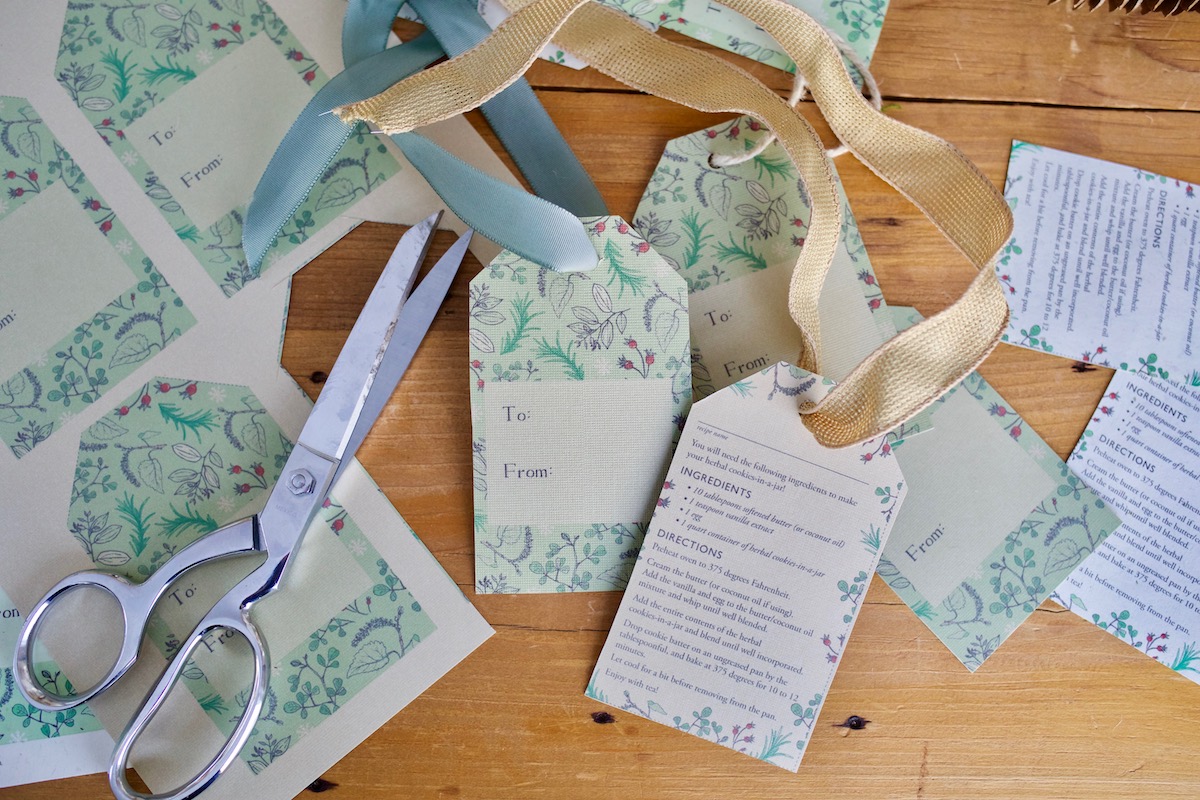 Cookies-In-A-Jar Tag Download
Herbal Course Gift Certificates!
Not edible, but a gift that will most definitely keep on giving (including delicious, good-for-you edible creations), one of the best last minute gift ideas can be ordered online in just minutes and delivered same-day. There's no better gift than the gift of education, and you can find Herbal Academy Gift Certificates for nearly all herbal courses on our website! Select the program that fits your loved one's interests, and print out a certificate download to fill out and package, or deliver the certificate via email.
Shop Herbalism Course Gift Certificates here.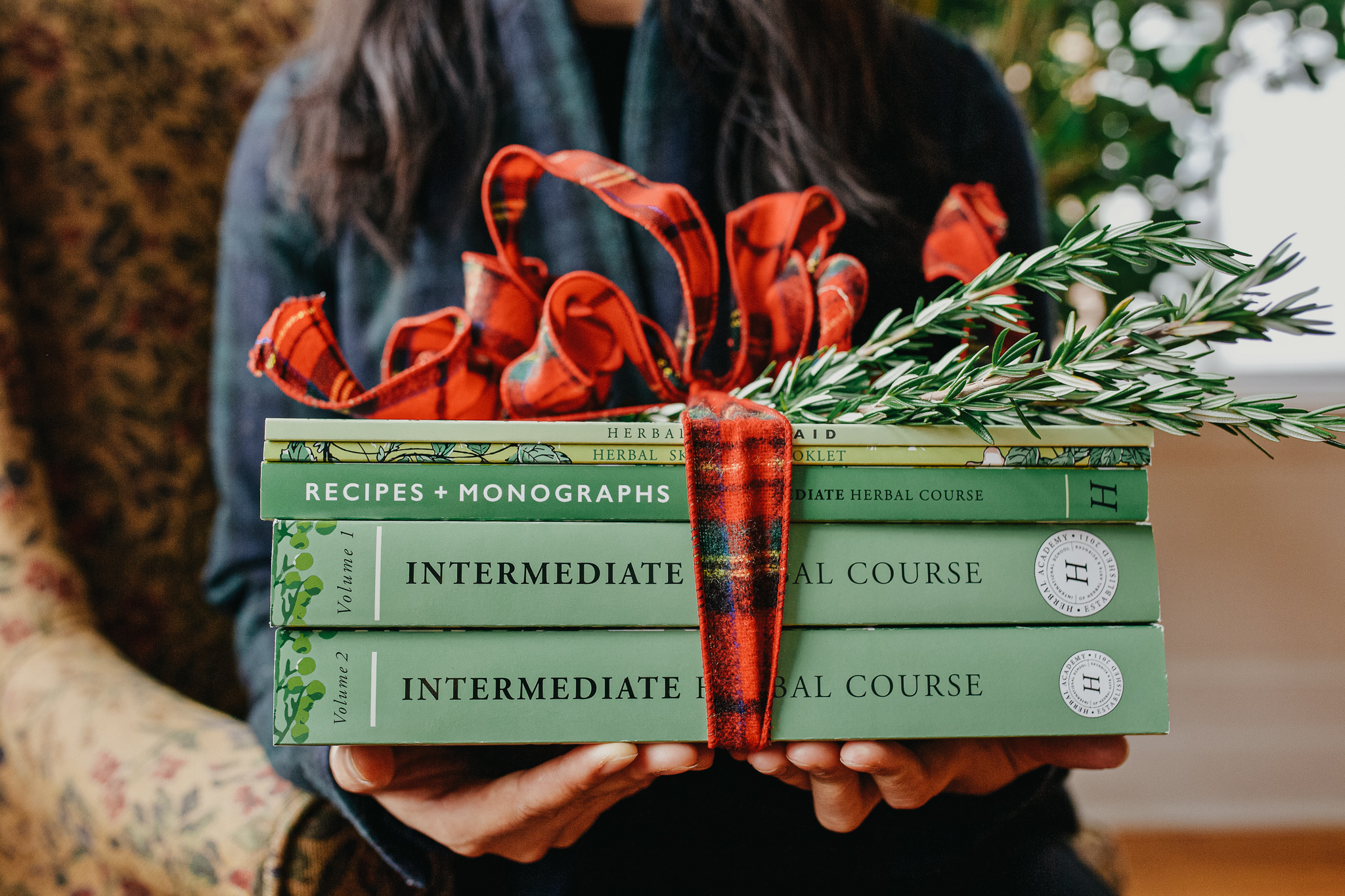 I hope you now feel inspired to handle the last moments of the holiday rush with ease! Enjoy these handy ideas for pulling together some wonderful, uniquely edible herbal gifts to share this season!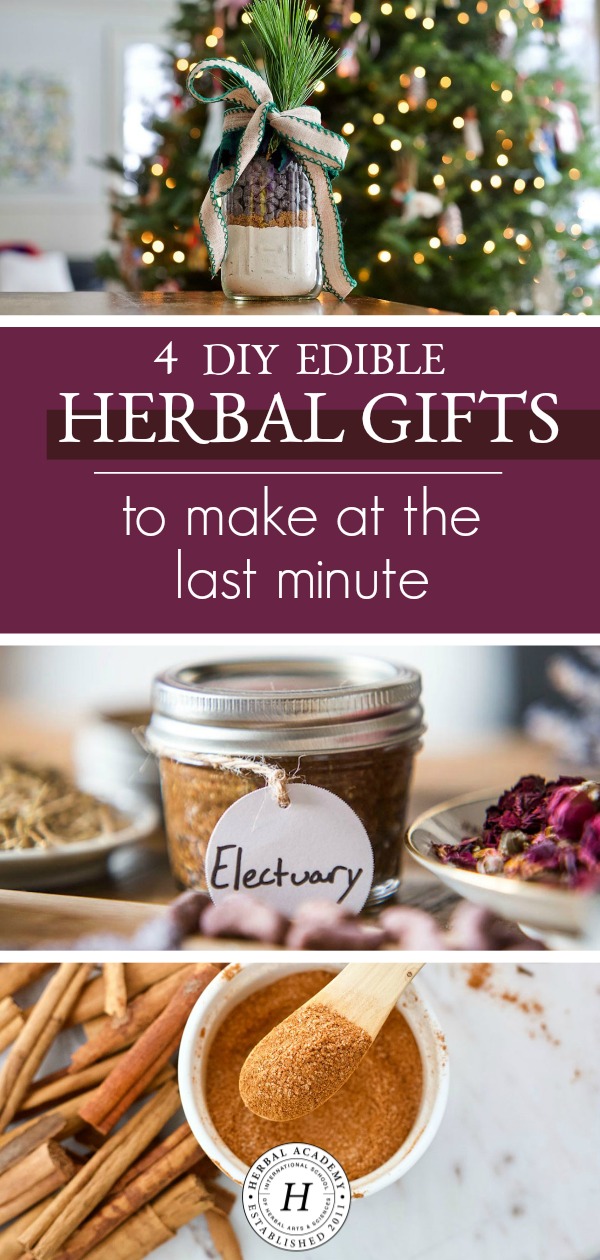 REFERENCES 
Farris, E. (2014). Classical chocolate chip cookies. Retrieved from https://www.foodandwine.com/recipes/classic-chocolate-chip-cookies
Johnson, K., & Cummins, M. (2010). Christmas cookies are for giving: Recipes, stories and tips for making heartwarming gifts. Santa Rosa, CA: Tyr Publishing.