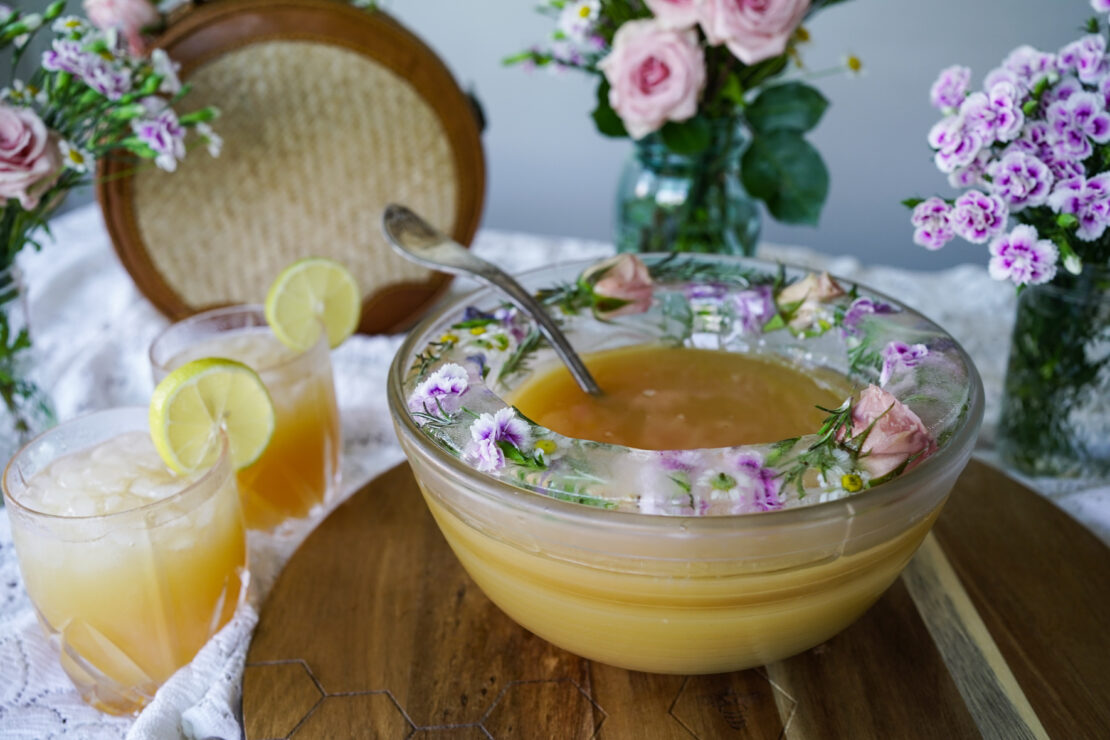 DIY Floral Ice Ring for Punch
We look forward to spring and summer garden parties all year, and with the upcoming release of our new Botanical Mixed Drinks Recipe Book, we're dreaming of all the ways we can serve creative herbal cocktails and mocktails to our guests. In our new book, we share a recipe for Lavender and Citrus Rum Punch served with a floral ice ring for punch bowls. Our team was so enchanted by the whimsy of this herbal display that we had to share this sneak peek into the book so you can make it yourself!

(Make sure you're subscribed to our newsletter so you'll be the first to know when this new book is available!)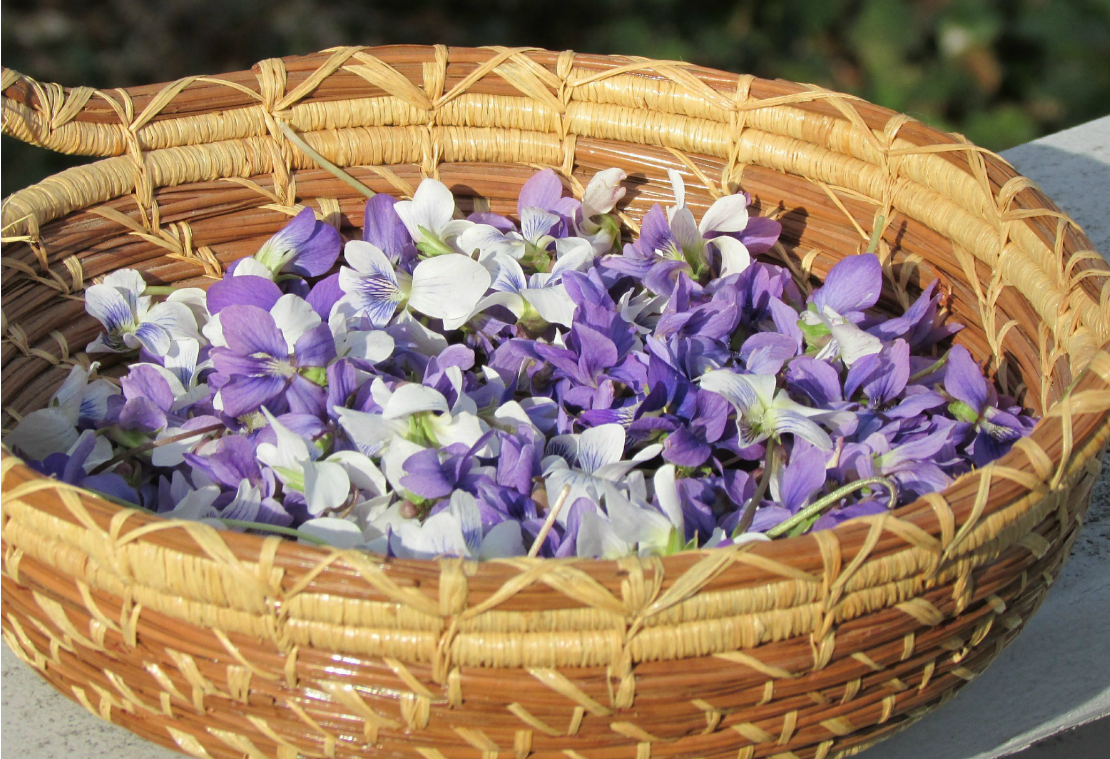 Edible Flowers and Leaves
You will want to use edible flowers and leaves in your homemade floral ice ring because as the ice melts, your flower petals and herbs will float in your punch bowl.

Anytime you're using edible flowers, make sure that you've properly identified your botanical and that you're using blooms that have not been sprayed with chemicals (or exposed to pet waste!).
A few of our favorite edible options for this project are: 
Borage (Borage officinalis) flowers
Calendula (Calendula officinalis) petals
Chamomile (Matricaria chamomilla) flowers
Dandelion (Taraxacum officinale) flowers
Elder (Sambucus nigra) flowers
Hollyhock and mallow (Althaea spp.) flowers
Lavender (Lavandula spp.) flower buds
Lemon balm (Melissa officinalis) leaves
Nasturtium (Tropaeolum majus) flowers and leaves
Peppermint (Mentha x piperita) leaves
Red clover (Trifolium pratense) blossoms
Rose (Rosa spp.) petals
Thyme (Thymus spp.) flowers and leaves
Violet (Viola spp.) flowers and leaves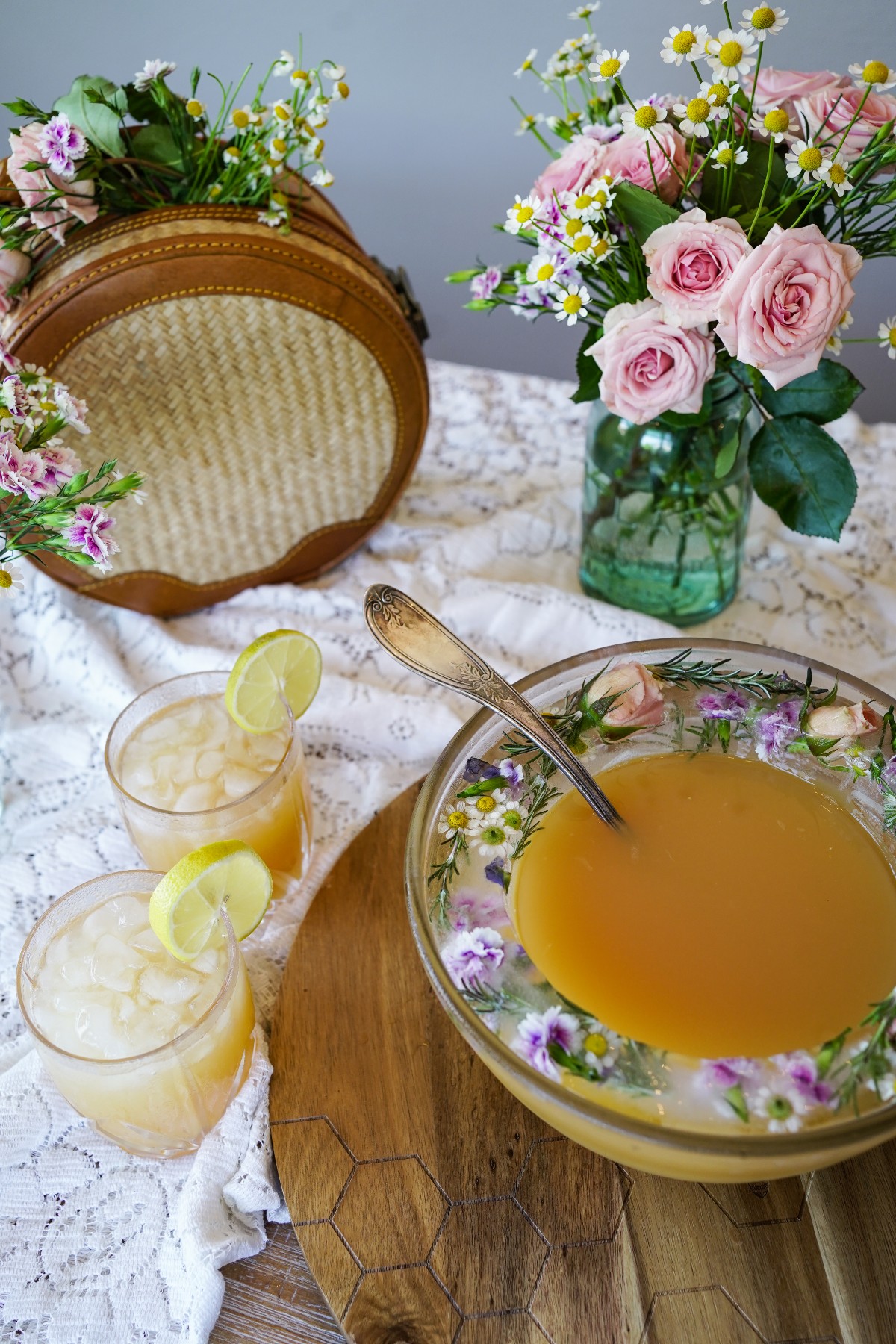 DIY Floral Ice Ring for Punch Bowls
It's best to make this beautiful floral ice ring the day before your event so it has plenty of time to set in the freezer.
Ingredients
1 bundt pan
Enough edible flowers to fill the bundt pan at least halfway
Water to fill
Access to a freezer
Directions
Fill a bundt pan ¼ full of water and place as many fresh, edible flowers and leaves in it as you'd like—the more the better!
Place the bundt pan in the freezer; when frozen, the flowers will be at the top of the ice ring.
Once frozen, fill the remainder of the pan with water and freeze again.
Shortly before your guests arrive, fill your punch bowl with the drink of your choice.
To remove the floral ice ring from the bundt pan, place the pan in a bowl of warm water until the ice ring releases.
Place the ice ring in the punch bowl, flowers side up, which will keep your punch cool while also providing a whimsical dose of herbal fun.
More Resources
If you love the idea of making fun herbal cocktails and mocktails for you and your guests, then we encourage you to join us in our Botanical Mixed Drinks Workshop, which opens for enrollment on April 24 and will only remain open for new registrants through the summer. 
As an extension of the workshop, our upcoming Botanical Mixed Drinks Recipe Book features 82 herbal cocktail and mocktail recipes—along with step-by-step instructions for making herbal syrups, infused alcohol, bitters, and other DIY drink ingredients—so you can whip up flavorful herbal drinks year-round!
Both the workshop and the book contain plenty of non-alcoholic drink recipes, so you do not need to drink alcohol to enjoy this book. Get ready to fill your day with seasonal, herb-infused mocktails or cocktails!