Botanical Mixed Drinks Recipe Book
Botanical Mixed Drinks Recipe Book
With our penchant for soothing herbal teas, refreshing botanical shrubs, warming winter cocoas, and tasty before-dinner apéritifs, it's safe to say herbalists know drinks! The Botanical Mixed Drinks Recipe Book – a second installment of the Herbal Academy's delightful Recipe Book Collection and companion to the Botanical Mixed Drinks Workshop – infuses herbal whimsy into 82 flavorful botanical cocktails and mocktails, shares step-by-step guidance for crafting a well-stocked herbal bar, and enchants beginner and sage mixologists with an inspiring, functional keepsake collection.
From peppermint and pine to cinnamon and cardamom, the Herbal Academy's time-tested botanical mixed drinks recipes invite you to uniquely incorporate herbs and spices to tantalize your taste buds, tune into seasonal rhythms, and enjoy botanicals in exciting new ways!
Botanical Mixology Recipes from the book include:
Elderflower Champagne
Spring Dandy Whiskey Sour
Late Summer Wellness Cordial
Raspberry Thyme Tonic
Autumn Apple Sangria
Pear and Ginger Blitz
Heart's Ease Gin and Tonic
Perch on Bedford Common Cocktail
Woodland Gimlet
and many, many more including 33 mocktail variations!
Herbal cheers!
In stock (can be backordered)
Description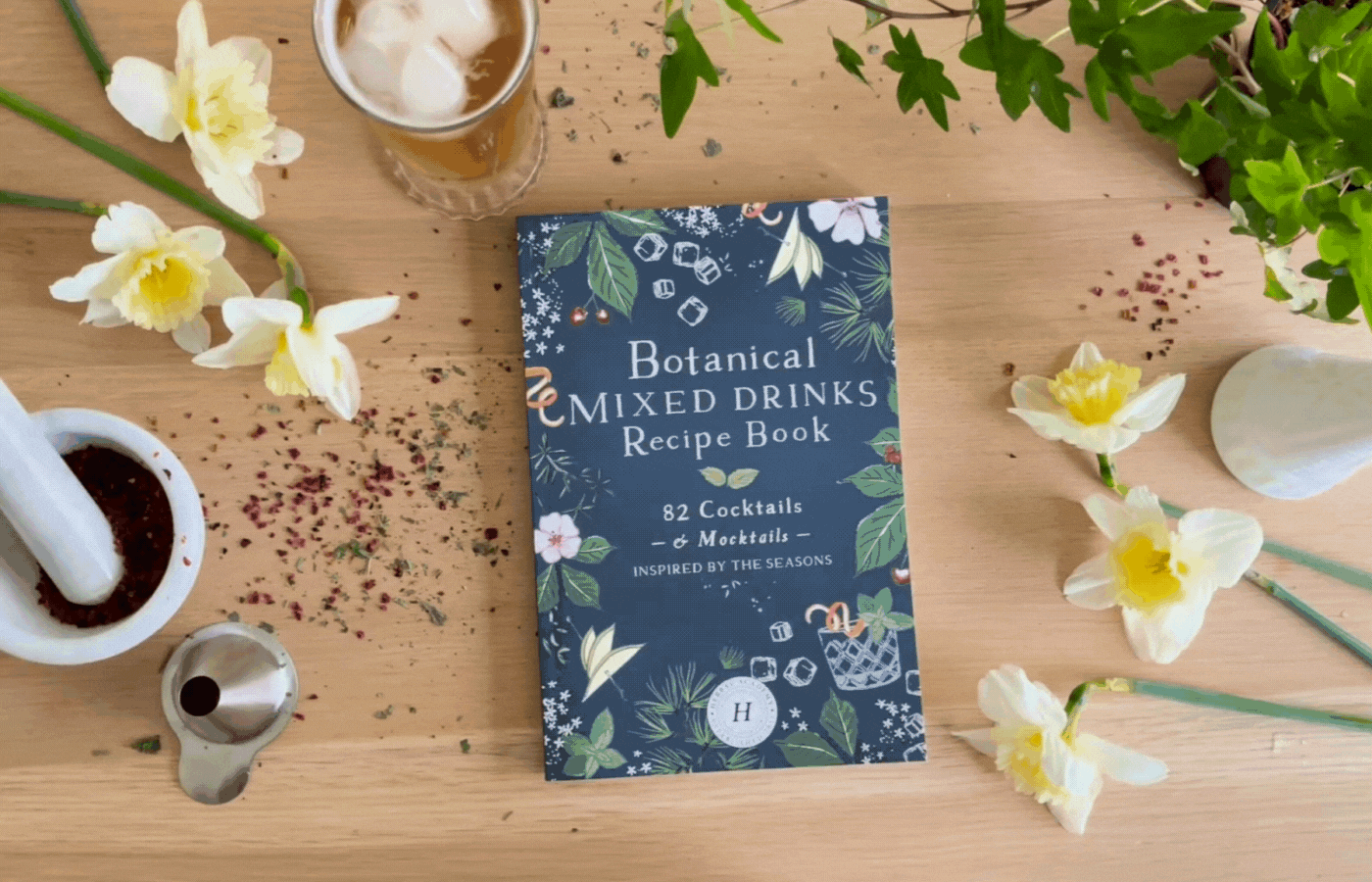 Here's what our others are saying about the Botanical Mixed Drinks Recipe Book: 
From Elderflower Champagne to Lemon Balm Martinis, in Botanical Mixed Drinks, the Herbal Academy has put together a comprehensive and easy to use recipe book to supercharge your cocktails into dazzling drinks full of herbs and spices. This delightful resource full of intriguing herbal infused drinks will bring new meaning and enthusiasm to the word 'cheers'!
– Kami McBride, author of The Herbal Kitchen and teacher of herbal medicine since 1988
"The Herbal Academy team assembled this delightful book to inspire you in your herbal journey through the joyful and experiential lens of botanical cocktails. As someone who really enjoys approaching herbs and the kitchen in a seasonal manner, I especially like the way the book was assembled by season – each recipe adorned with gorgeous artwork that captures the vibe of the cocktail and entices you to help you decide which drink to whip up next. This is the perfect book to help make your next gathering extra special or simply to embody and celebrate each season with a classy, unique herbal drink."
– Maria Noël Groves, RH (AHG), Clinical Herbalist and Author of Body into Balance and Grow Your Own Herbal Remedies
---
"The Botanical Mixed Drinks Recipe Book is a wonderful guide for making your own cocktails and mocktails with herbs, flowers, and plants. This book will definitely be one that I turn to time and time again to make up beautifully crafted drinks for celebrations big and small!"
– Colleen Codekas, Author of Healing Herbal Infusions and blogger at Grow Forage Cook Ferment
---
"Herbal Academy's Botanical Mixed Drinks Recipe Book is truly inspired in its creativity and inventive way of incorporating plants into your everyday. While it is deeply rooted in it's herbal foundations, I adore the step by step instructions, the fun, delicious beverages mixed from its pages will have you wanting more."
– Alyson Morgan, Author of Our Kindred Home
---
"Botanical beverages can be some of the simplest ways to engage our senses and experience the wealth of plants for fun, health, and wellbeing. Whether it's for a season of the year or a favorite ingredient, Botanical Mixed Drinks Recipe Book gives you the inspiration to create something wonderful and delicious."
– Bevin Clare, LDN MS RH, Professor, Herbalist, and Nutritionist at the Maryland University of lntegrative Health and Author of Spice Apothecary
---
"What herbal enthusiast doesn't love to put together a delicious botanical cocktail or mocktail to impress friends and family? I have been looking for new inspiration for my drinks cabinet for a while now – and I've just found it! With their gorgeous signature style, packed full of wonderful recipes and tips, this is my new go-to guide. Cheers!"
– Pamela Spence, M.A. (Hons), B.Sc. (Hons), M.N.I.M.H., Medical Herbalist
Additional Information
| | |
| --- | --- |
| Weight | 0.5625 lbs |
| Dimensions | 9 × 6 × 0.25 in |