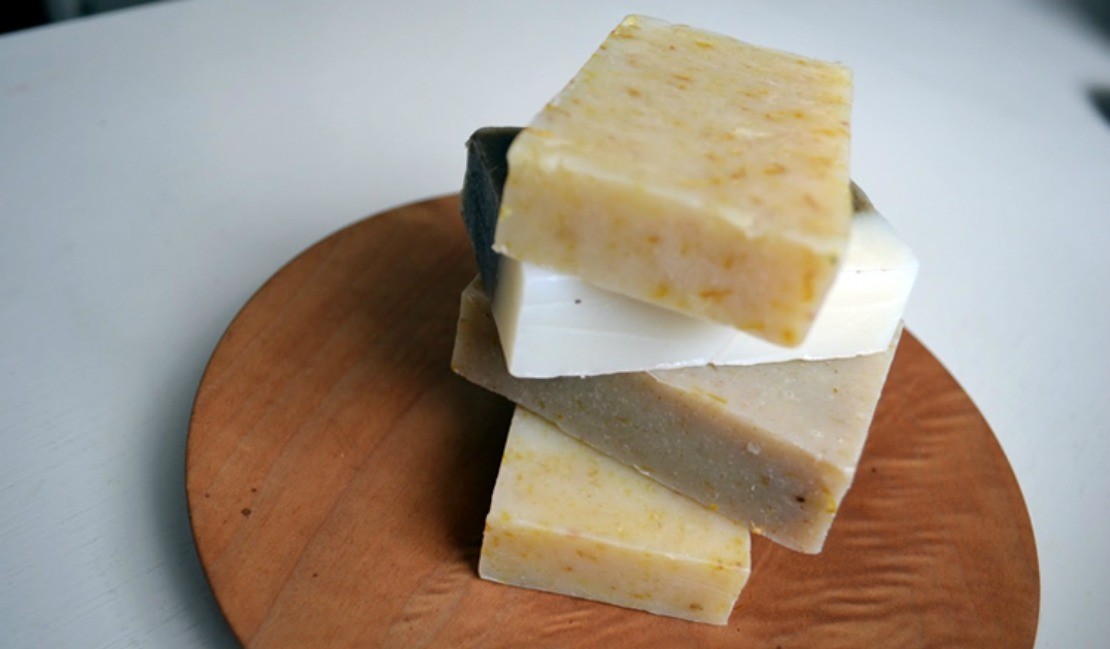 How to Make Your Own Soap + Herbal Recipes
One of my favorite ways to utilize herbs and essential oils is by adding them to my handmade soap. Soapmaking is a great skill to learn on your journey to a healthier life, as you control what goes into it so you know exactly what you're putting on your skin. It can also be a very sustainable option, as you can choose oils that were produced with organic farming methods. Learning how to make your own soap and other home products also lessens the amount of waste from packaging and shipping.
Soapmaking can also be a wonderful outlet for creativity, as you explore the many combinations that are possible with botanical ingredients. With a basic recipe as your framework, you can create artisan quality soaps that smell wonderful. In addition, you can put your herbal knowledge to good use by adding ingredients that offer nourishment for the skin as well as the soul!
To begin, you will need some basic equipment. Designate this equipment to be used solely for soapmaking. Since they will contain very strong ingredients like lye and essential oils, it is best not to use them for food after they have been used for soapmaking. If you don't have these items to spare in your kitchen, the can often be found at thrift shops or garage sales for reasonable prices. There's no need to purchase brand new items if you don't want to- I've been mixing my soap in the same pot for 13 years; a pot retired from kitchen use when it lost a handle! The items that are worth purchasing new if you can't easily find them used are the immersion blender and the scale. The blender will save you much time and effort, as without it you would be stirring for much longer. The scale will help accurately measure your ingredients to ensure you have the correct ratio of lye to oils.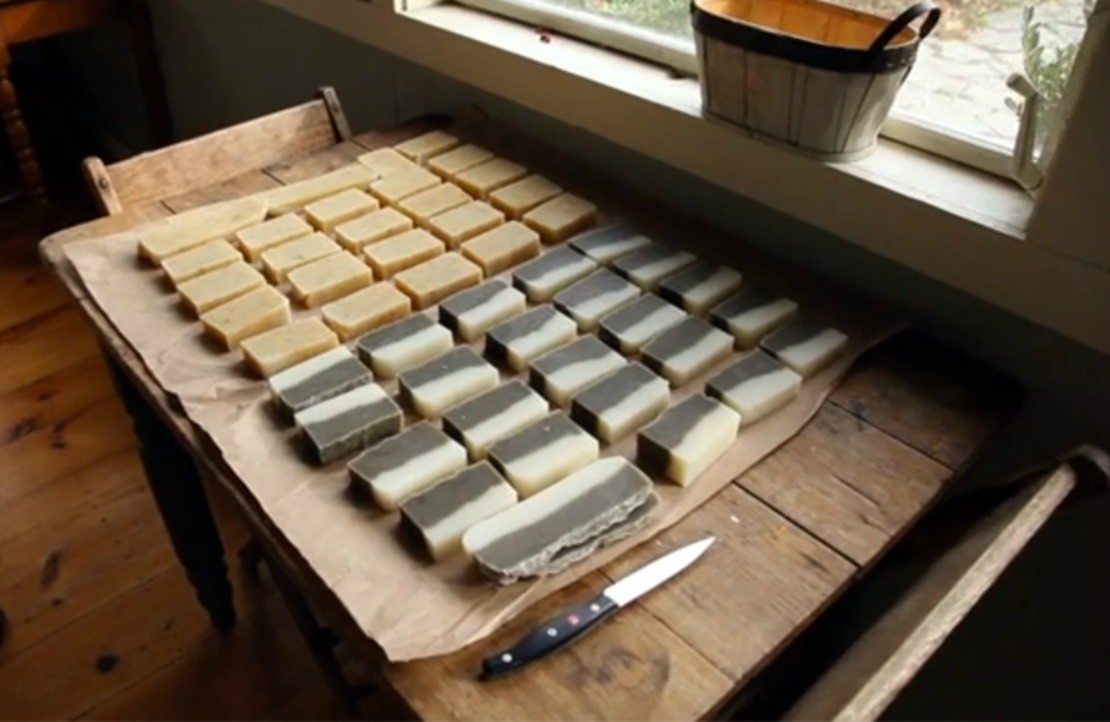 Soapmaking Equipment:
Large glass or plastic bowl (use thick, heavy duty plastic as weaker plastic will wear out quickly)
Spoons-wooden or plastic (if you use wooden you will need to replace it more often as the lye will wear it out. I use wooden and I compost the spoon once it starts to wear out.)
Digital thermometer (such as those sold for candy making)
Mold (this can be an actual soap mold, or a box that is approximately 9×12 inches and at least 5 inches deep. Shoe boxes and canning jar boxes work well.)
Liner for mold, if needed. (Silicone molds will not need this. Wooden or cardboard molds can be lined with freezer paper or plastic. This is a good way to reuse plastic grocery bags or similar items.)
Large kitchen knife or a pastry cutter
Notes on Working with Lye:
I speak with many people who are interested in soapmaking but hesitant to use lye. These concerns are valid, as lye is caustic and can cause burns if handled incorrectly. However, with some simple precautions you can greatly reduce the risk of that and enjoy safe soapmaking.
I recommend wearing old clothes, as there is a chance raw soap could splatter and ruin nicer clothing. Keeping vinegar nearby is a good idea too, in case lye or raw soap gets on your skin. Splash some vinegar on it to neutralize the lye. Wearing long sleeves will help protect skin, and be sure to put on safety glasses before handling the lye! Wearing a dust mask as well will prevent you from inhaling lye fumes as you're mixing it. Keep young children and pets away from the soapmaking area, and let other adults in the household know that you will be using lye. Lye can be ordered from soap supply shops, or purchased locally at hardware stores. It is sold as a drain cleaner, so be sure you find a brand that says "100% lye". If it does not say this, it might contain other ingredients that aren't safe to use in soap so it is very important to make sure you get pure lye, also known as sodium hydroxide.
Soapmaking Supplies and Ingredients
This recipe will make a four pound batch of soap.
Mountain Rose Herbs is a good source for finding quality herbs!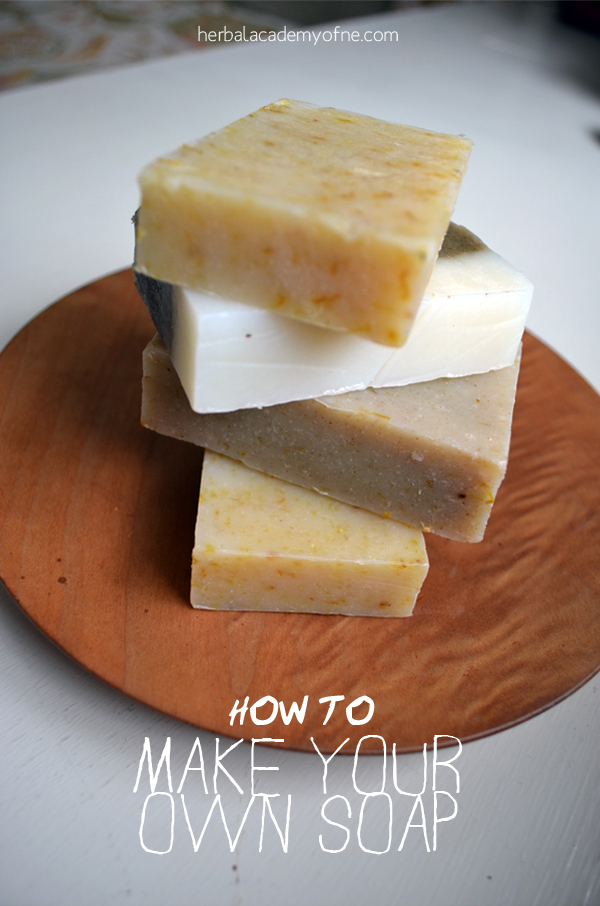 Directions for Making Your Soap:
1. Put on safety gear and slowly stir lye into water in the glass or plastic bowl. It is important to always pour lye into water; never the other way around. If you were to pour water into lye instead, there is a chance you could cause a volcano effect in the bowl and this is dangerous. After you have poured in the lye, stir gently until lye crystals are dissolved. If you have access to a well ventilated area such as a patio or porch, that can be a good place to stir the lye mixture. Otherwise leave it on a kitchen counter where it can sit undisturbed while you melt the oils.
2. Measure oils into your stainless pot, and put on medium heat until they are melted. Remove from heat and let cool to 80-100 degrees Fahrenheit. You will be waiting for the lye to cool to the same temperature range, so keep testing both mixtures with the thermometer until they read within this range. While you are waiting, prepare mold by adding a liner (if needed).
3. When both the lye/water mixture and the oils are within the proper temperature range, it is time to mix your soap. Once again, put on your safety gear. Plug in your immersion blender near your work space, and slowly pour the lye/water into the oils. Pulse the blender a few times to thicken the mixture, and then start stirring while the blender is turned on. Stir thoroughly to ensure all lye reacts with the oils. Alternating a figure eight stir, clockwise, and counter clockwise is a good way to get it mixed well. After a few minutes (generally 5-15) the mixture will get thicker and arrive at a stage called "trace". When soap has reached trace, it will be thick and creamy, almost the texture of pudding. A drizzle of the soap allowed to fall back into the pot will sit on the surface for a moment.
4. When it reaches trace, you're ready for the next step. Working quickly, add your chosen essential oils and dried herbs.
Blend until these are mixed in well, and carefully pour mixture into the prepared mold.
If desired, you can top the soap with more dried herbs. Allow soap to sit overnight undisturbed. The next day, gently remove it from the mold if it is firm enough. If not, allow it to sit longer. Once it has been removed from the mold, use the knife (or pastry cutter) to cut it into bars and allow the bars to cure for 4-6 weeks. After this period of time your soap will be gentle and ready to use! A four pound batch will last a while, and handmade soap makes a wonderful gift as well. Well cured soap may be stored for months, and sometimes a year or longer depending on factors such as ingredients and humidity. Store extra bars in a dry, dark place. They may wrapped in freezer paper or plastic wrap if desired.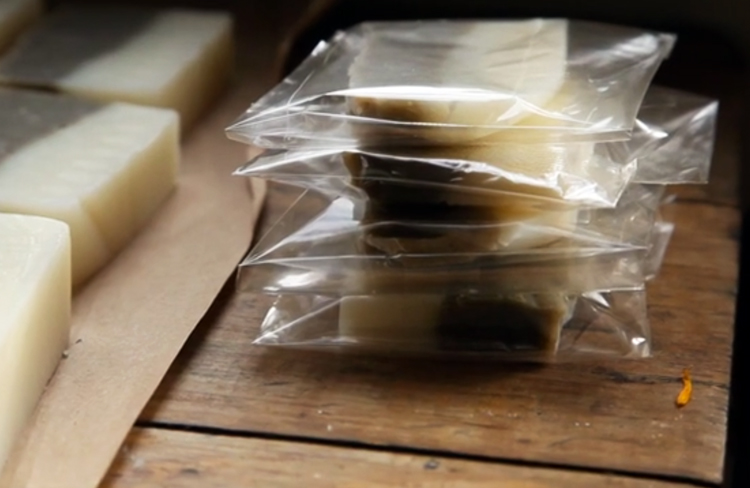 Incorporating Herbs and Essential Oils into Soapmaking
Now that we've covered the basics of making a batch of soap, let's take a deeper look into using herbs and essential oils in soapmaking.
As anyone studying herbalism knows, many plants benefit the body and mind in various ways. When we make soap, it gives us one more opportunity to use these valuable materials. You can put together unique combinations to address your own skin care needs or personal preferences. Some combinations to consider are listed below, but use this as a starting point and dream up your own customized soap!
| | |
| --- | --- |
| Refreshing | Sweet orange essential oil, lime essential oil, calendula petals |
| Grounding | Lavender essential oil, patchouli essential oil, lavender flowers |
| Invigorating | Spearmint essential oil, rosemary essential oil, dried mint and rosemary |
| Calming | Lavender essential oil, dried lavender flowers, dried rose petals |
| Energizing | Lemongrass essential oil, eucalyptus essential oil, powdered lemongrass |
We purchase most of our dried herbs and essential oils from Mountain Rose Herbs.
And finally, let's look at our options for choosing the main oils (fats) we will use to make our soap. The recipe I've shared here uses olive oil, coconut oil, and palm oil. There are organic, sustainable options for purchasing all of these. Mountain Rose Herbs offers palm oil from South America, which does not contribute to the loss of orangutan habitat.
For those looking to make their soap with local ingredients, consider animal fats. While at first some people are puzzled by this suggestion, animal fats have traditionally been used in soapmaking throughout the history of many cultures. In modern times it is a good way to utilize a product that might otherwise be wasted. From an economical viewpoint, it generally costs less than imported tropical oils. Ask your local farmers if they render and sell lard or tallow for soapmaking.
The beauty of making your own soap is that no matter which ingredients you prefer, you can make a wonderful product that fits your needs well.