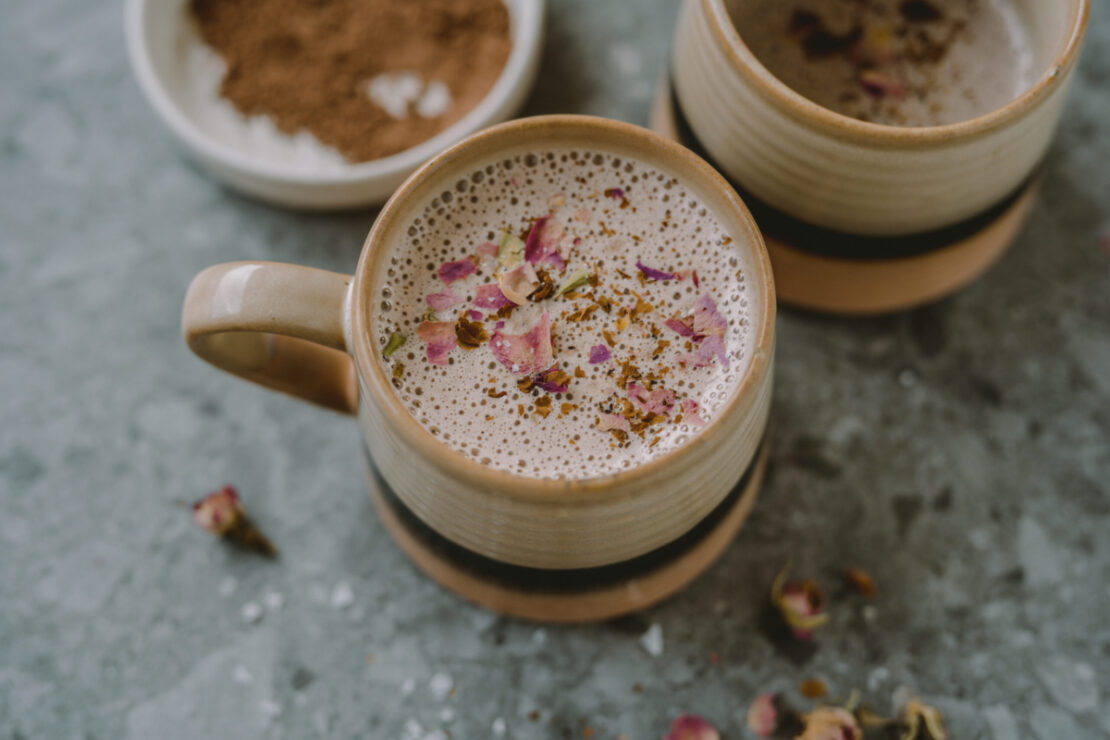 Mood-Boosting Hot Cacao Recipe
The dark season is approaching, a time of inner reflection and tranquility. As the days become shorter, the decrease in daylight hours may dampen one's mood. Especially in the months of late fall and winter, it is helpful to create rituals that promote our sense of strength and cheer. Even if it is not always inviting, spending a lot of time in nature can still be very energizing and satisfying. And then it's even nicer to come in from the cold and get cozy with a warm bath, herbal body care, and a comforting meal as well as this mood-boosting hot cacao recipe. Feeling better immediately guaranteed!
Our psychological well-being has a direct impact on the body's immune response, which is so essential when the flu season approaches. A poor mood can be hard to beat during the dark time of the year, so let's call upon our plant allies to assist us in accessing joy more often. The following hot cacao recipe will open your heart for more positivity!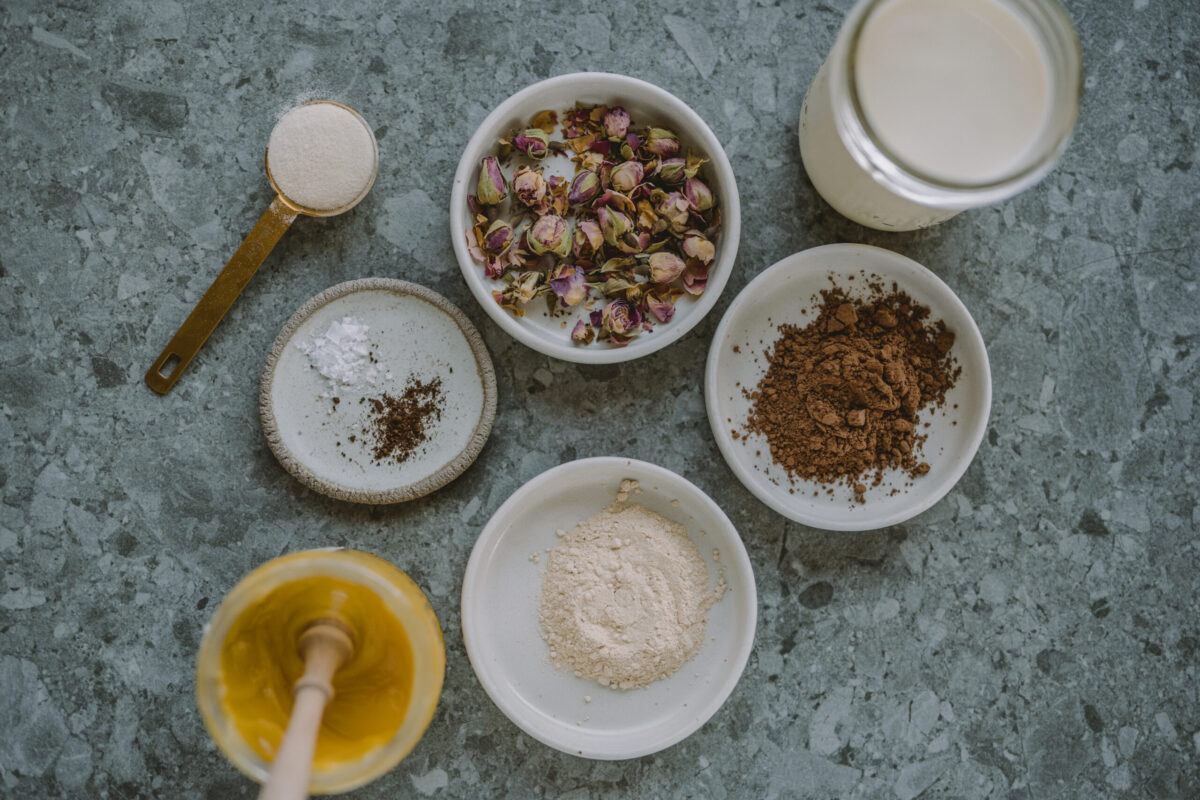 Ingredients for Mood-Boosting Hot Cacao Recipe to Enhance the Dark Season

Raw Cacao
(Theobroma cacao)
Pure, high-quality raw cacao (not comparable to processed cocoa products) is markedly high in antioxidants and flavanols. It also contains minerals, such as copper and magnesium, that are used in a number of essential processes in the body (Scapagnini, 2014). Besides small amounts of caffeine, cacao contains theobromine, and while molecularly similar to caffeine, it produces less of a stimulating effect but comes with its own range of beneficial actions. These two uplifting agents work synergistically to prevent a steeply rising and just as quickly falling energy curve. Instead, the effect is a stable feeling of vitality and enthusiasm.
Cacao, which contains tryptophan, may also boost mood and promote the release of endorphins. Tryptophan, an essential amino acid that is now used in many psychotropic drugs to stabilize depression, is a natural component of cacao and shows its mood-balancing effect when taken in the appropriate dosage. In addition, cacao contains GABA and a range of other amino acids (Dala-Paula et al., 2021).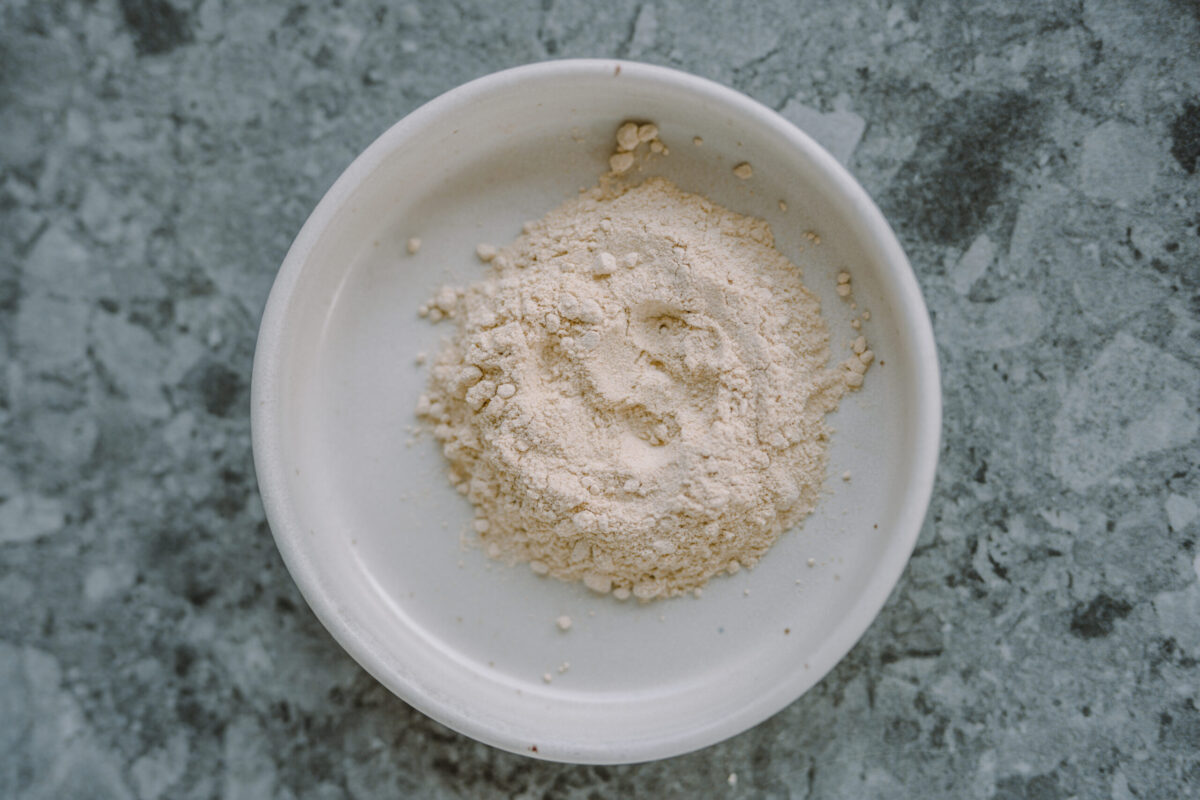 Maca (
Lepidium meyenii
)
Maca root is a nutrient-dense food that is supportive of overall vitality and is often used to alleviate fatigue. Its traditional use as a food with tonic properties for energy, stamina, and mood is consistent with the modern concept of an adaptogen (Balick et al., 2014). It can support the body in being more resistant to external stressors such as negative emotions.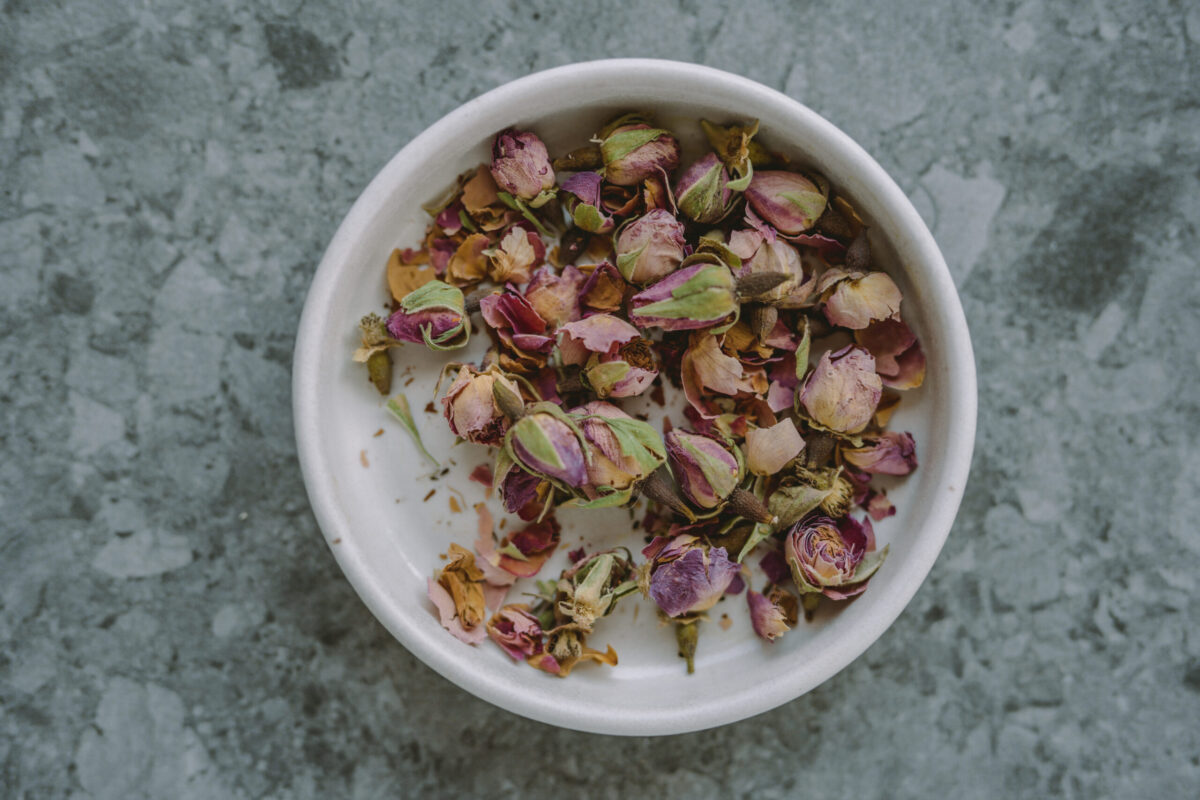 Rose (
Rosa
spp.)
Roses have been used in herbal traditions around the world for many thousands of years. The Chinese use the petals as a Qi or energy regulator that functions by way of the liver and spleen channels to move stagnant energy involving the liver, spleen, and stomach (Yin Yang House, n.d.). In Western herbalism, roses are also used for the nervous system, to soothe stress, anxiety, and help uplift a heavy heart (Tobyn et al., 2016). In the following cacao recipe, the dried petals are also added for a pop of color. The pleasing aroma, taste, and color of rose petals will help uplift your spirits.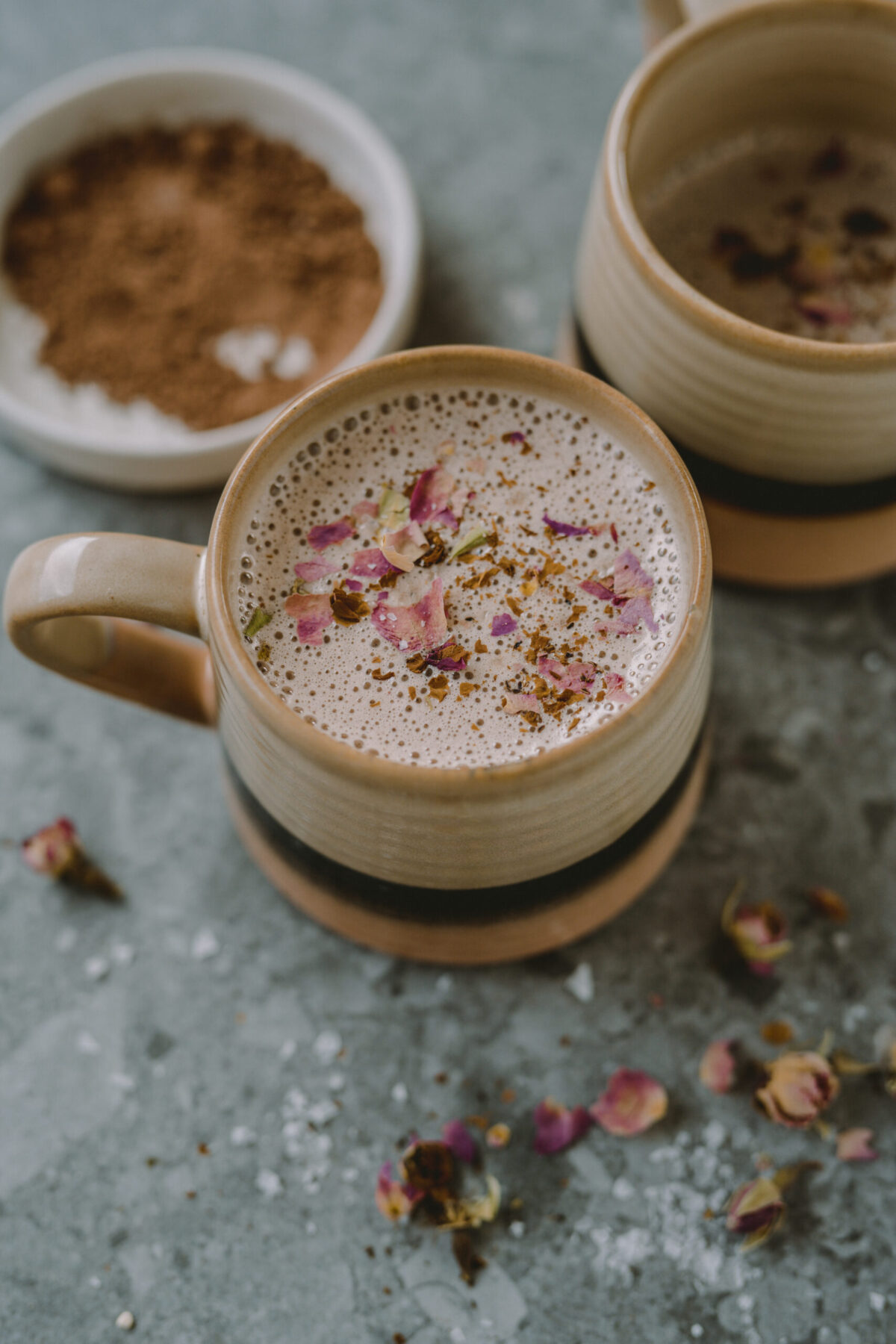 Mood-Boosting Hot Cacao Recipe
Since the inception of early civilizations in the Americas, cacao has been revered as a sacred plant and a valuable food, enchanting human taste and uplifting the spirit. Combined with the adaptogenic support of maca and the loving energy of rose, this becomes a true mood booster and delight for your body, mind, and soul! Yield: 2 portions.
Ingredients
2 cups milk of choice
2 heaped tablespoons raw cacao (Theobroma cacao) powder or block (broken down)
2 tablespoons collagen powder (optional)
1 teaspoon gelatinized* maca (Lepidium meyenii) root powder
1 tablespoon raw honey
¼ teaspoon vanilla (Vanilla planifolia) powder or extract
a pinch of salt
½ teaspoon rose (Rosa spp.) petals, dried 
Directions
Combine milk, cacao, maca, collagen (if using), raw honey, and vanilla in a pot or milk frother. Gently heat the mixture, but keep it below 140°F to preserve the qualities of the ingredients.
Pour the warm cacao into your favorite cup and sprinkle with a pinch of salt and rose petals.
Enjoy immediately and mindfully embrace this sacred moment of your day.
Tips:
Use full-fat milk or extra added cacao butter to make it more delicious and nourishing. The collagen in the recipe is optional, but it's recommended for the added health benefits such as gut and immune support as well as balancing the blood sugar with its protein content.
*The process of gelatinization of maca is an extrusion process that breaks down the starch molecules, making it more water soluble and thus more absorbable.
In Closing,
Unless you live in a warm climate zone or travel to sunnier places during the winter time, this time of year can have a depressive effect on your mood. This mood-boosting cacao can be a great holistic pick-me-up, as it not only tastes fantastic but its ingredients support mood and mental well-being. But even if it's not chilly outside, this hot cacao recipe is always a great choice when you feel a bit low and need a hug from inside!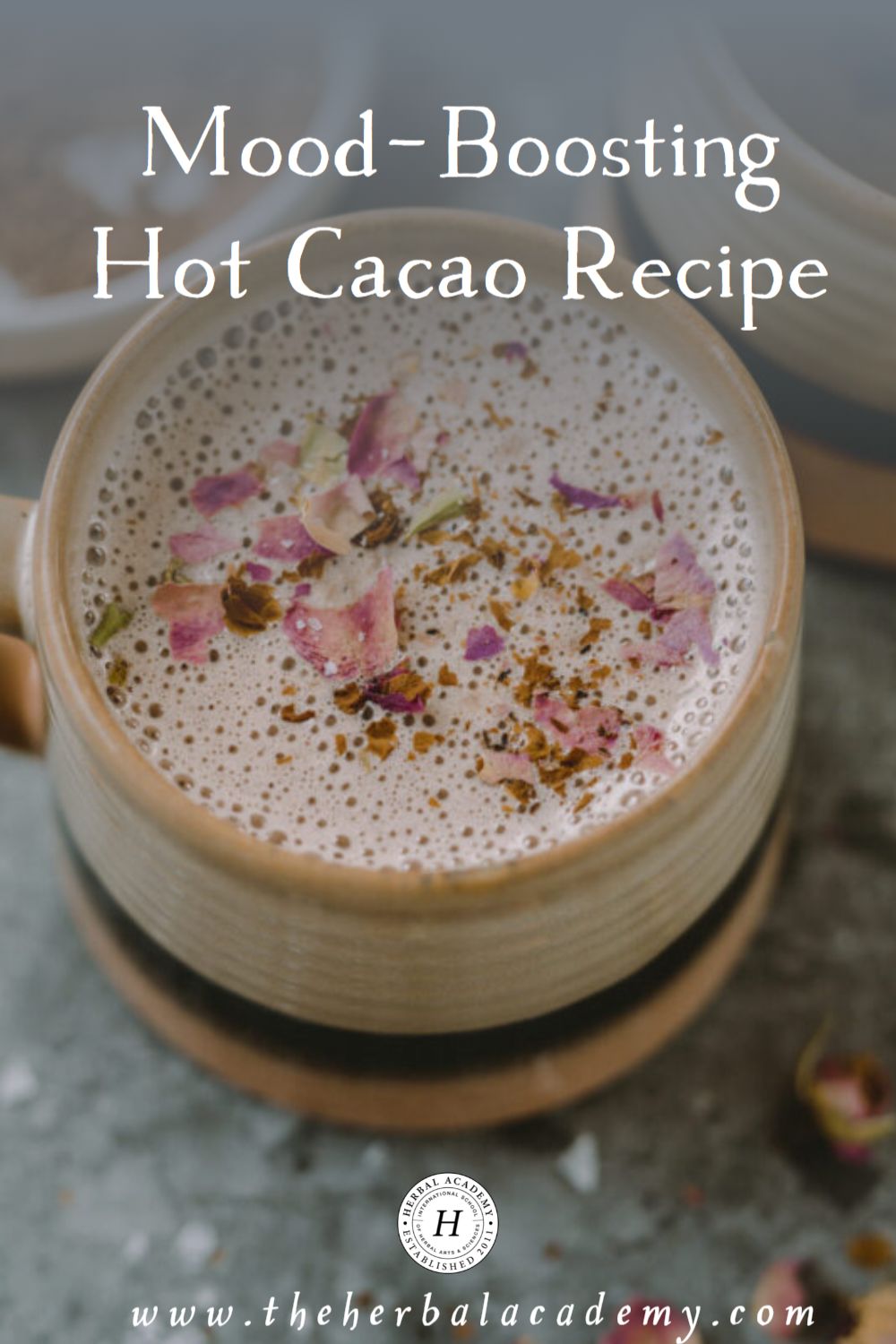 REFERENCES
Balick, M. J., Weil, A., Mattern, V., & Low, D. T. (2014). Rodale's 21st-century herbal: A practical guide for healthy living using nature's most powerful plants. Rodale.
Dala-Paula, B. Deus, V., Tavano, O., & Gloria, M.B. (2021). In vitro bioaccessibility of amino acids and bioactive amines in 70% cocoa dark chocolate: What you eat and what you get, Food Chemistry (343). https://doi.org/10.1016/j.foodchem.2020.128397
Mei Gui Hua – Young Flower of Chinese Rose. (n.d.). Yin Yang House.  Retrieved October 22, 2022, from https://theory.yinyanghouse.com/theory/herbalmedicine/mei_gui_hua_tcm_herbal_database
Scapagnini, G., Davinelli, S., Di Renzo, L., De Lorenzo, A., Olarte, H.H., Micali, G., … Gonzalez, S. (2014). Cocoa bioactive compounds: Significance and potential for the maintenance of skin health. Nutrients, 6(8), 3202–3213. https://doi.org/10.3390/nu6083202
Tobyn, G., Denham, A., & Whitelegg, M. (2016). The Western herbal tradition: 2000 years of medicinal plant knowledge. Singing Dragon.