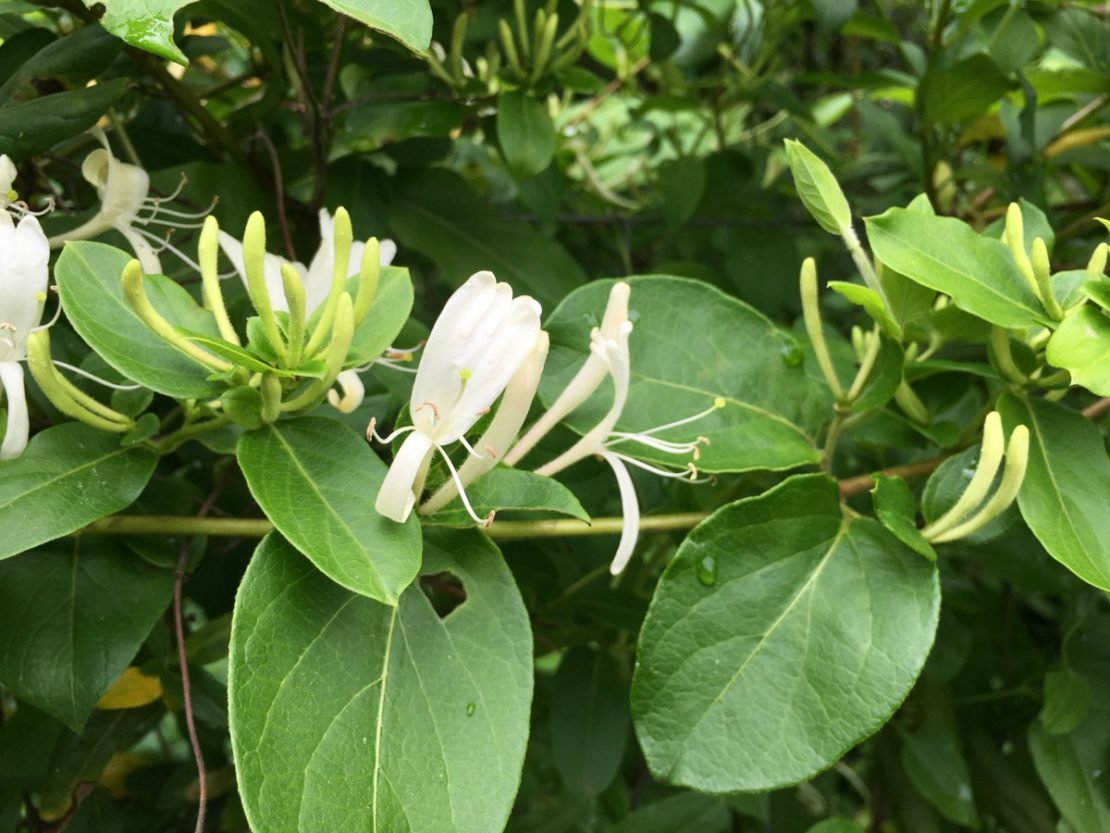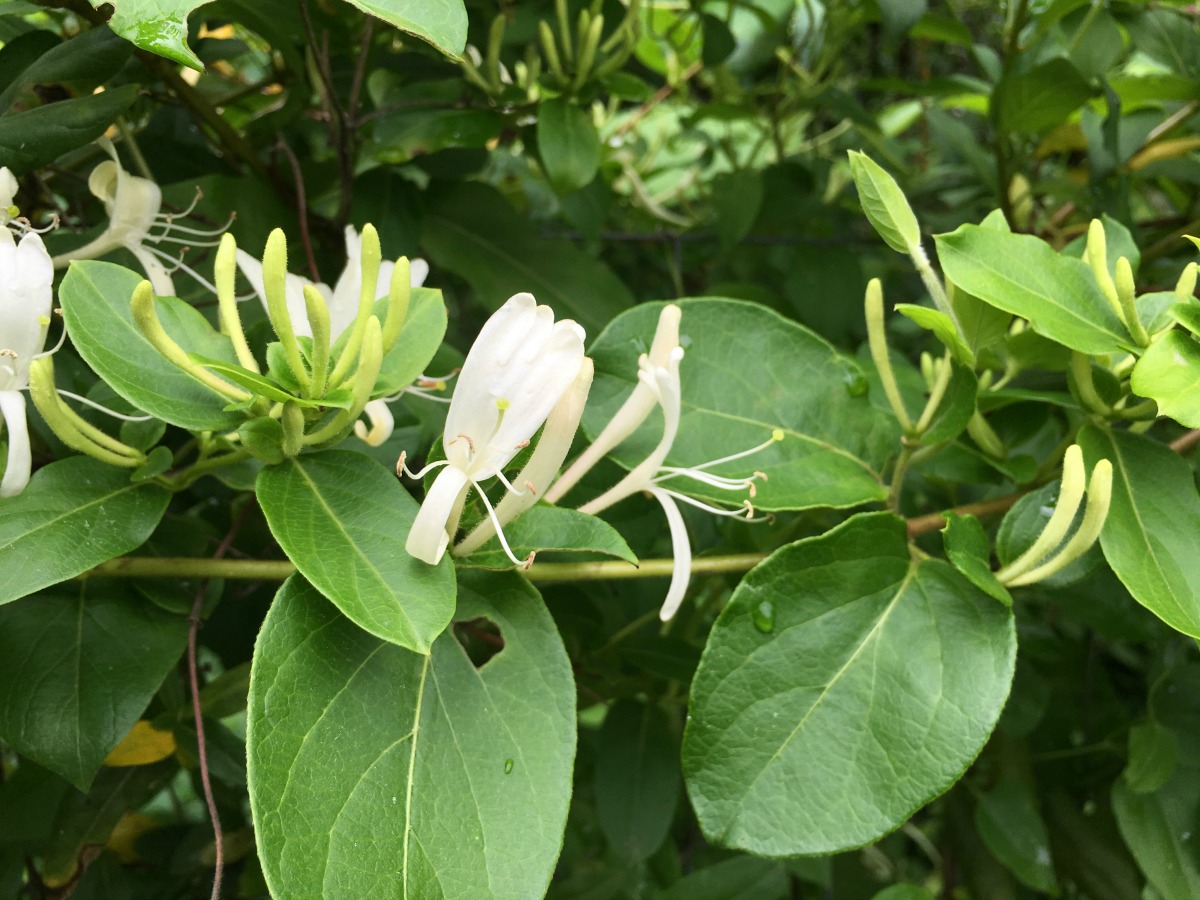 Homemade Honeysuckle Syrup & 6 Ways To Use It
Honeysuckle. Nothing signifies summer to me like seeing thousands of honeysuckle blossoms along the creek bank here in the South. Honeysuckle not only smells and tastes great, but it can be used to create herbal remedies that are good for your body, too.
Honeysuckle flowers are the most commonly used part of the plant. They are most often used to adorn food or added to beverages, but they can also be used in a variety of herbal preparations. Today, I'd like to talk to you about one honeysuckle preparation in particular—homemade honeysuckle syrup!
Not only am I going to give you a recipe for a simple homemade honeysuckle syrup so you can make it yourself, but I'm going to share six ways you can use it, too! Now, before we get to the recipe and uses, let's take a brief look at some of the health benefits of honeysuckle… just in case you're curious.
Health Benefits of Honeysuckle
Honeysuckle (Lonicera spp.) comes in a lot of varieties, but most varieties have similar properties and uses. It's considered a mild, safe herb and is often used for children and the elderly.
Honeysuckle energetics are cool and dry. It's cooling in that it is often used to clear built up heat in the body (specifically with fevers, infections, and skin inflammations), to aid the liver and lymphatic system in detoxification, and to relax the nervous system and decrease inflammation in and on the body. It's drying in that it helps to thin mucus so it can be coughed up easily, to increase urine production, and to tone tissues to prevent water loss (Hardin, 2007; Tierra, 1998).
Honeysuckle is more commonly used in Traditional Chinese Medicine than it is in Western herbalism. It's often used for infections, specifically those in the respiratory, digestive, and urinary tracts as well as the skin. In fact, Michael Tierra has referred to it as the "Echinacea of Chinese Medicine," and it's even thought to be a mild immune stimulant (Hardin, 2007).
Honeysuckle is also useful in soothing spasms in the digestive and respiratory tract. Waller specifies this use of honeysuckle for spasms associated with asthma (Grieve, n.d.). It is used to stimulate the uterus (Hardin, 2007), and has even been used in Eastern cultures for cancers of the lung and breast (Harden, 2007; Tierra, 1998).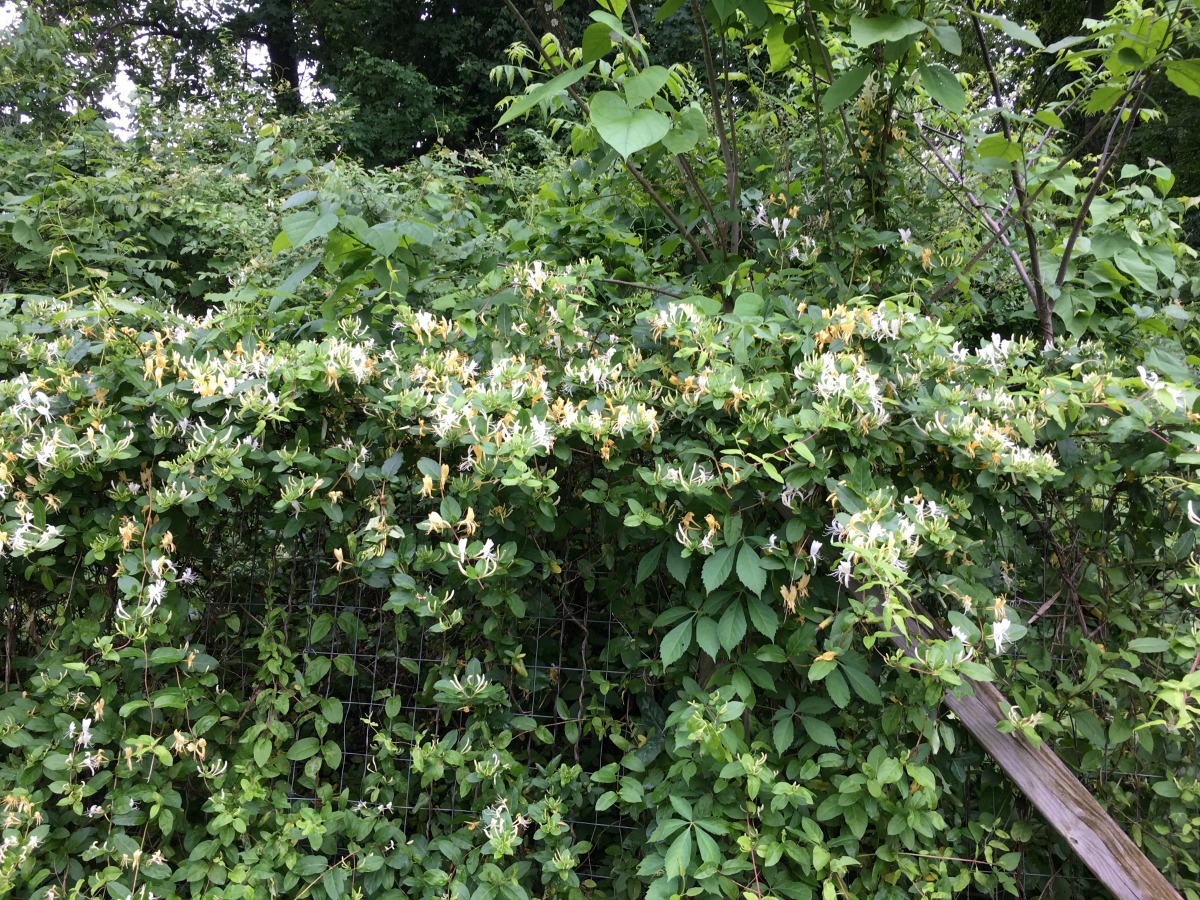 How To Make Homemade Honeysuckle Syrup
Homemade honeysuckle syrup is so easy to make! It has a light, sweet flavor, and if you're familiar with sucking the nectar from the base of a honeysuckle flower, you'll definitely notice that familiar flavor in your finished syrup.
Syrups can be made in a variety of ways, but today's recipe is for a basic syrup that uses sugar. Feel free to substitute honey, a sugar-free alternative, or even food-grade vegetable glycerin in place of the sugar if you want to avoid it.
Homemade Honeysuckle Syrup
Yields 1 cup of finished syrup
Ingredients
1 cup fresh honeysuckle flowers
2 cups water
1 cup sugar
Directions
Add water and honeysuckle flowers to a small saucepan. Turn heat to high and bring to a boil. As soon as the water boils, turn the heat down to low or medium-low and allow the mixture to gently simmer until the liquid is reduced by half.

Strain the honeysuckle flowers from the liquid and compost them. Combine the honeysuckle flower water with the sugar and stir until the sugar is completely dissolved. Feel free to place this back on the stove and heat it a bit, if needed.

Pour your honeysuckle syrup into a glass jar. Put a lid on and label the jar. Store it in the refrigerator. This syrup should last up to 6 months with the amount of sugar it contains, but it's always a good idea to keep an eye out for mold and to use it quickly.
6 Ways To Use Honeysuckle Syrup
Okay, so now that you know how to make a simple homemade honeysuckle syrup, let's look at some way to put that syrup to good use.
Use it as a pancake syrup

Substitute it for honey in a recipe

To flavor carbonated water

Use it to soothe dry, scratchy throats

To sweeten herbal teas
To sweeten herbal tinctures for children
Now, I don't know about you, but summer never tasted so good to me!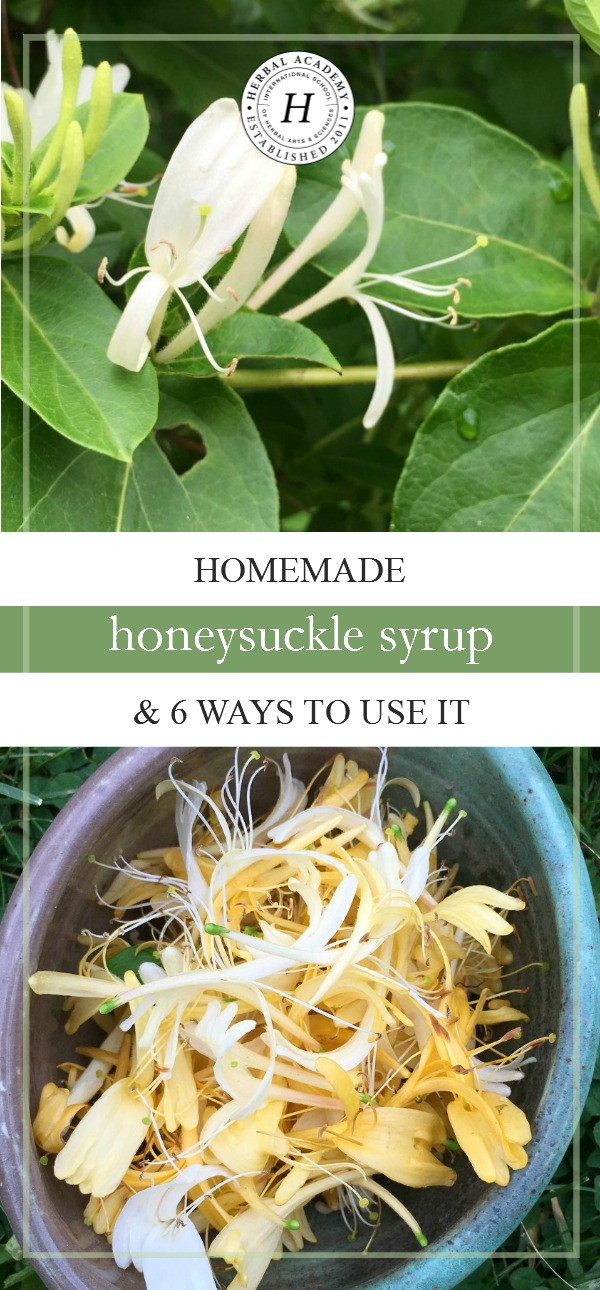 REFERENCES
Grieve, M. (n.d.). Honeysuckles. Retrieved May 18, 2017, from http://www.botanical.com/botanical/mgmh/h/honeys31.htm
Hardin, K. (2007). A New Infatuation: Wild Honeysuckle. Retrieved May 18, 2017, from http://bearmedicineherbals.com/a-new-infatuation-wild-honeysuckle.html
Tierra, M. (1998). The way of herbs. New York, NY: Pocket Books.