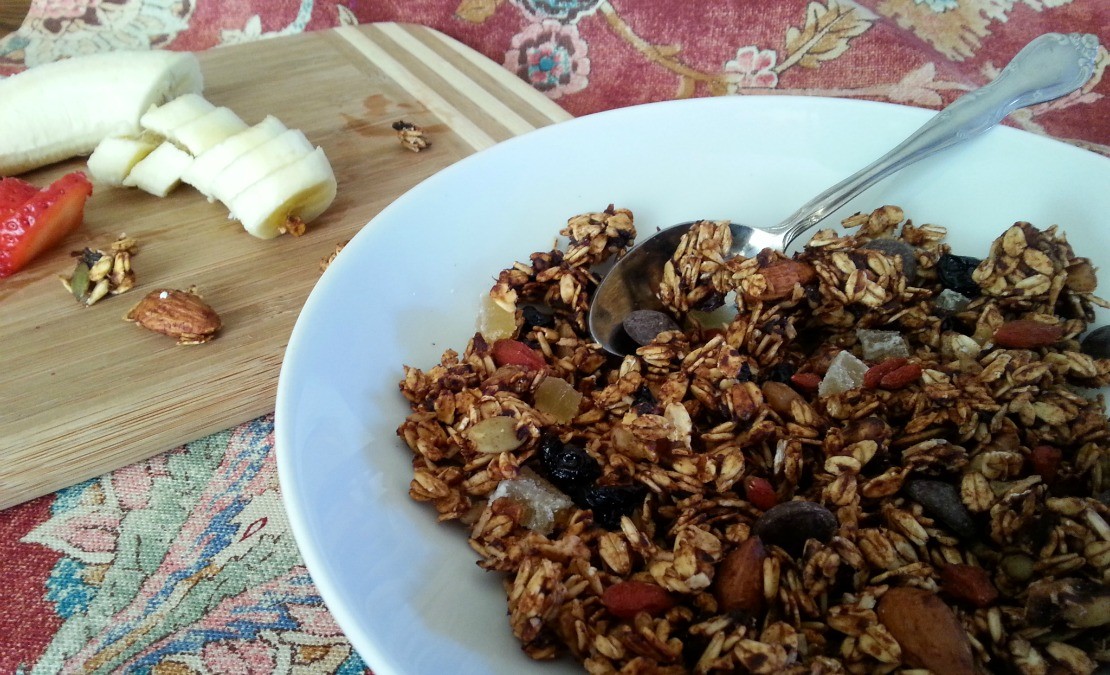 Herbalicious Homemade Granola
Crafting a big batch of homemade granola is such a treat. Pans thinly layered with the goodness of rolled oats and nuts slowly roasting in the oven is wonderful and homey. This not-to-sweet recipe uses only dried fruits along any goodies that you choose to include for sweetness. It is rich in fiber, whole grains, herbs, vitamins and minerals, and makes a fast breakfast for the whole family on those crazy weekday mornings. If you have little ones in your home, invite them to bake with you! Making homemade granola with all the measuring, pouring, and stirring is lots of fun!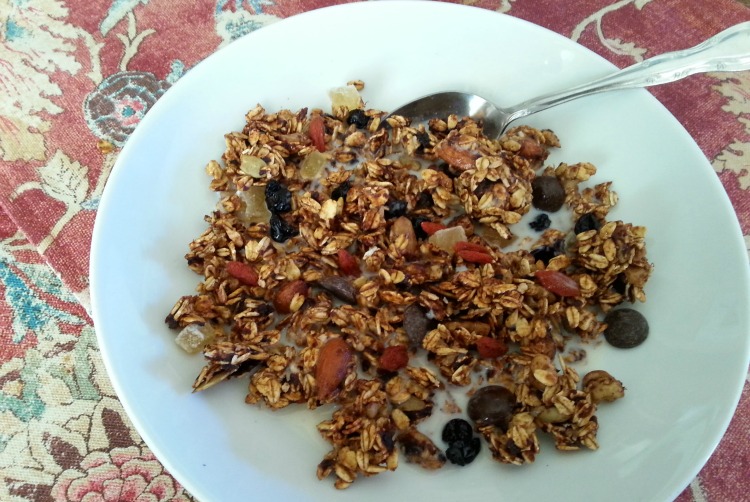 Adapted from Wildflower Community Bakery
Ingredients
3 ½ cups of pitted prunes, dates, or a mix of the two
Boiling water
1 tablespoon of vanilla extract
3 tablespoons ground cinnamon
1 scant tablespoon ground ginger
1 ½ teaspoon anise seeds
½ scant teaspoon nutmeg
1 big sprinkle of salt
Zest of one big organic orange
8 cups of thick rolled oats, or create a mix of rolled oats with other whole grain flakes such as barley, rye, or triticale
1 cup of shredded coconut
2 cups of nuts and seeds, such as walnuts, pecans, almonds, cashews, sunflower seeds, and pumpkin seeds
¼ to ½ cup of ground flax seeds, hemp hearts, or a mixture of the two
2 to 4 tablespoons of optional herbal boosts: beet root powder, cacao or carob powder, astragalus root powder, elderberry powder, hawthorn berry powder, maca root powder, rose hips powder.
Your choice of tasty goodies: crystallized ginger pieces, lycium (goji) berries, dried fruit such as papaya, blueberries, cherries, apples, or cranberries, and my personal favorite, dark chocolate chips
Directions
Pre-heat the oven to 300 degrees.
Place the dates/prunes in a bowl and cover with boiling water. Let sit for at least 30 minutes or until the fruit has softened.
Blend the softened fruit in a food processor, it will become a paste.
Add the spices, vanilla, orange zest, salt and any powdered herbal boosts you have decided to use. Whip until well blended.
In a big bowl mix together the whole grain flakes, coconut, nuts/seeds, flax-seed/hemp hearts.
Combine the herbal paste with the dry whole grain mixture and stir well, coating the dry whole grain mixture with the herb paste.
Transfer to oiled cookie sheets spreading into thin layers.
Bake for 40 to 60 minutes or until the granola starts to become crisp on the edges, stirring every 10 minutes to avoid burning. The granola will become crispy as it cools.
When the granola has completely cooled add in your chosen goodies and stir well.
Serve with high quality grass-fed milk or yogurt or your favorite vegan alternative.
Store in airtight containers.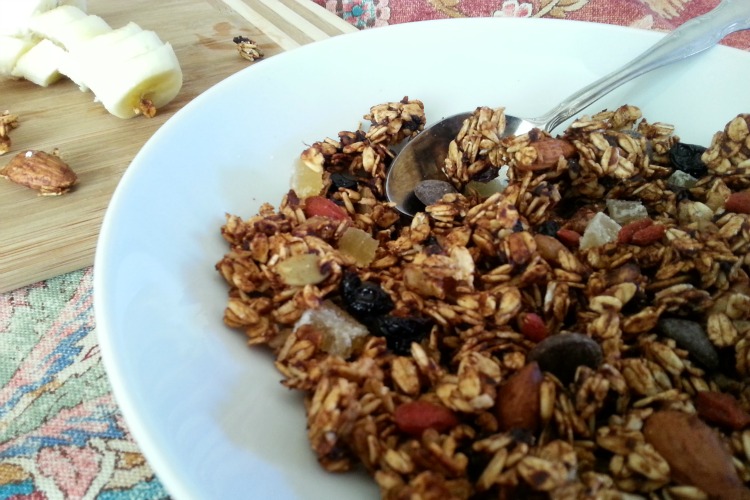 If you enjoy baking with healthy ingredients including herbs check out some of these recipes:
Pear Crisp With Blackberry Sage Sauce
Zucchini Summer Squash Chocolate Chip Muffins
Cacao Dusted Peanut Butter Cookies
REFERENCES:
Cooperative Whole Grain Educational Association. (1993). Uprisings, the whole grain baker's book. Ann Arbor, MI: CWGEA.