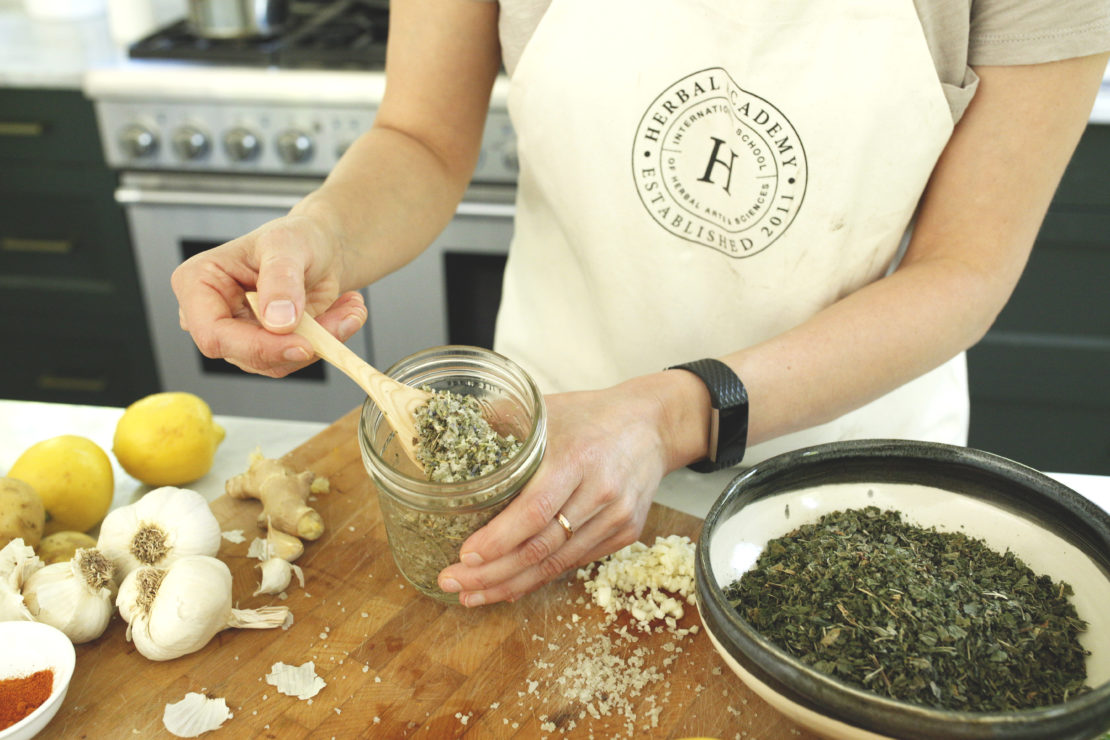 How To Make DIY Herbal Culinary Salts
So many recipes instruct you to "add salt and pepper to taste" or "finish with a sprinkle of sea salt." But what if we could add herbs with every finishing touch? And what if this practice made the flavor of our dishes all the more complex and delightful? Herbal culinary salts are incredibly easy to prepare and widely underused! In this article, I'll share all the basics that you'll need to know to make your own DIY herbal culinary salts and start stepping up your game at mealtime.
2 Steps To Making Your Own Herbal Culinary Salts
1. Picking Your Salt
Before we dive into the herbal details, first consider the base of your blend: salt! Depending on the type of salt you use, the flavor and nutrient profile of your blend could vary substantially. Although traditional white sea salt is always a great and simple go-to, consider the different properties, benefits, and flavors that other types of sea salts have to offer as well.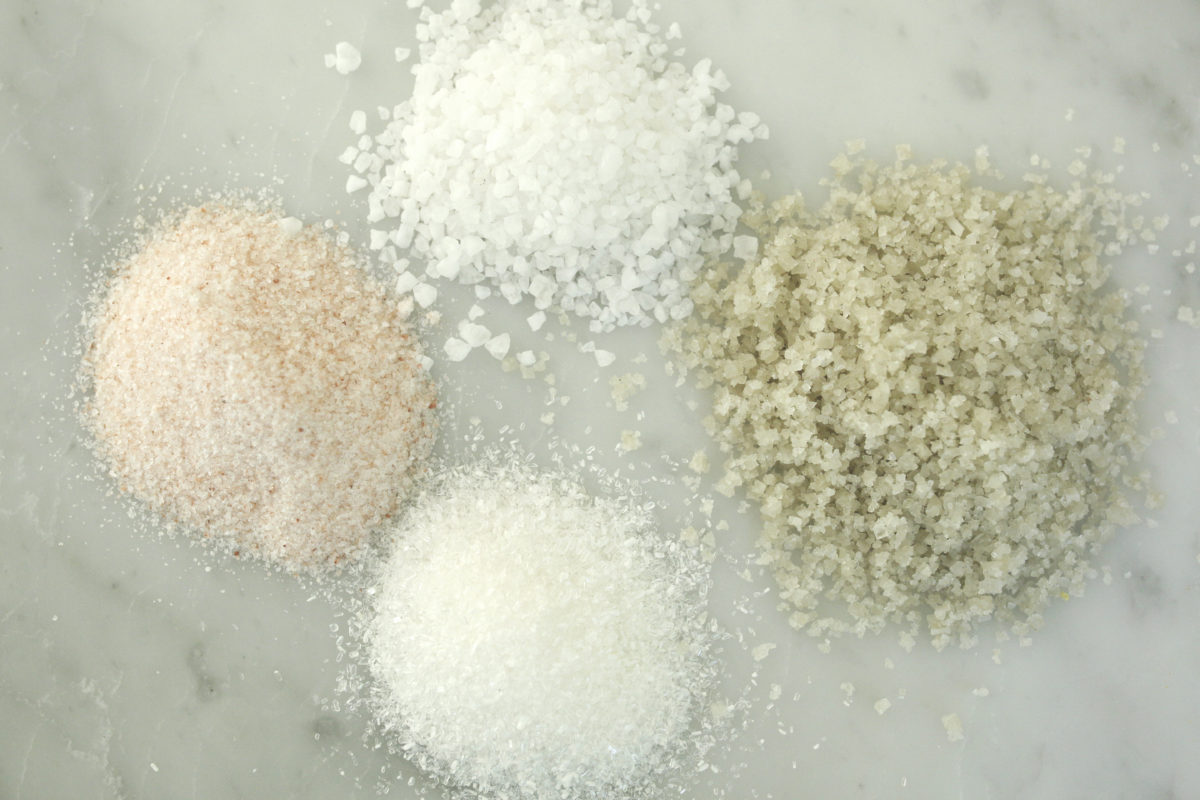 Here are some details on a few of the more commonly found varieties:
Himalayan Pink
The color hues of this sea salt range from light pink to dusky rose to deep red. Formed about 600 million years ago when a great inland sea evaporated, Himalayan Pink salt's gorgeous palette comes from a variety of trace minerals including iron, magnesium, copper, and potassium, among others, which have been trapped in the salt crystal matrix (Bitterman, 2013).
Celtic Gray
Celtic gray sea salt is blue-gray in color and carries a distinctly mineral-rich flavor. Derived from Brittany, France, this salt gets its distinct color from the earthen clay from which it is harvested. Its traditional uses in cooking range from finishing on savory dishes to being finely ground and added to baked treats to create a "richness" in other flavors (Bitterman, 2010).
Black Hawaiian
Jet black in color, black Hawaiian sea salt actually gets its unique hue from activated charcoal added during or after the drying process is complete. Although it is traditionally derived through evaporation over volcanic soils (hence its other common names, "volcanic" or "lava" salt), this aspect does not impact the color of the sea salt (Bitterman, 2010). The flavor is earthy and slightly tannic.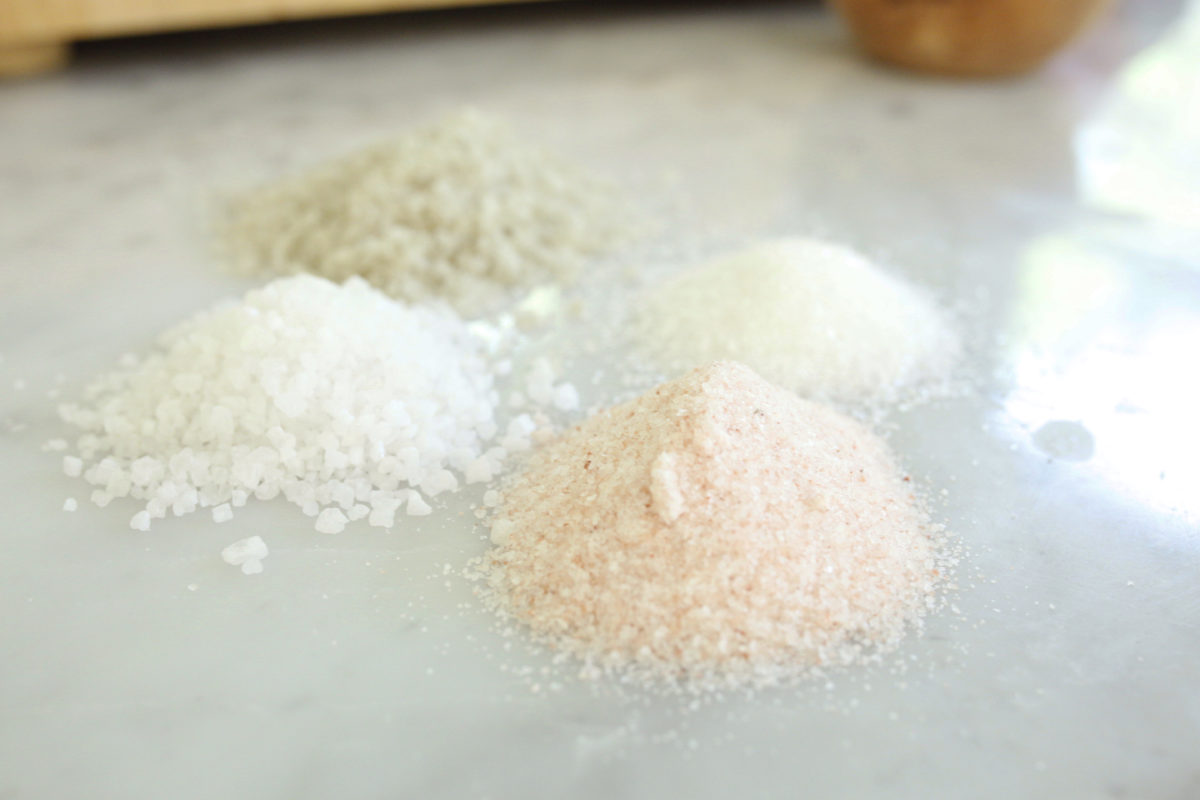 Fleur de sel
Translated as "flower of the salt," this unique sea salt is made by evaporating saline water in the open air with energy from the wind and sun (Bitterman, 2010). Since these salts already have a high about of moisture in them, the crystals are able to resist instantly dissolving when sprinkled over a plate of steaming food. This means that the flavor profile will be more pronounced and the salt will maintain a slight crunchiness.
Red Hawaiian
There are several different types of red Hawaiian sea salt ranging from brick red to pale or dark salmon in color. As the red color implies, red Hawaiian sea salts are rich in iron. Like black Hawaiian sea salt, the color is not derived from the salt itself but from the red volcanic clay, called Alaea, that is mixed with the salt during natural evaporation in tidal pools. The flavor of these salts is oceanic with a mineral undertone (Bitterman, 2010).  
Persian Blue
The pale sky blue color of Persian blue sea salt alludes to its mild, silky, and slightly sweet flavors. Although it is rich in trace minerals, its distinctly blue color is derived from the natural compression of the salt over long periods of time. Considered one of the more rare sea salts available on the market, Persian blue sea salt also carries a high price tag (Bitterman, 2010).
Smoked
While smoked sea salt does not lend any additional nutritional content, the smoky flavor is rich, distinct, and favored by chefs all over the world. The process of smoking sea salt is typically done over hot coals at a low temperature. Through this process, the salt takes on a slightly tan or gray color (Bitterman, 2010).
2. Herbal Inspiration
After considering your sea salt base, it's time to choose your herbs! You can formulate the herbal portion of your culinary salt blend using the tips in my article How To Build A Nutritive Tea in a similar way. Let me encourage you to stay creative as you create your formula as you know your own palette best!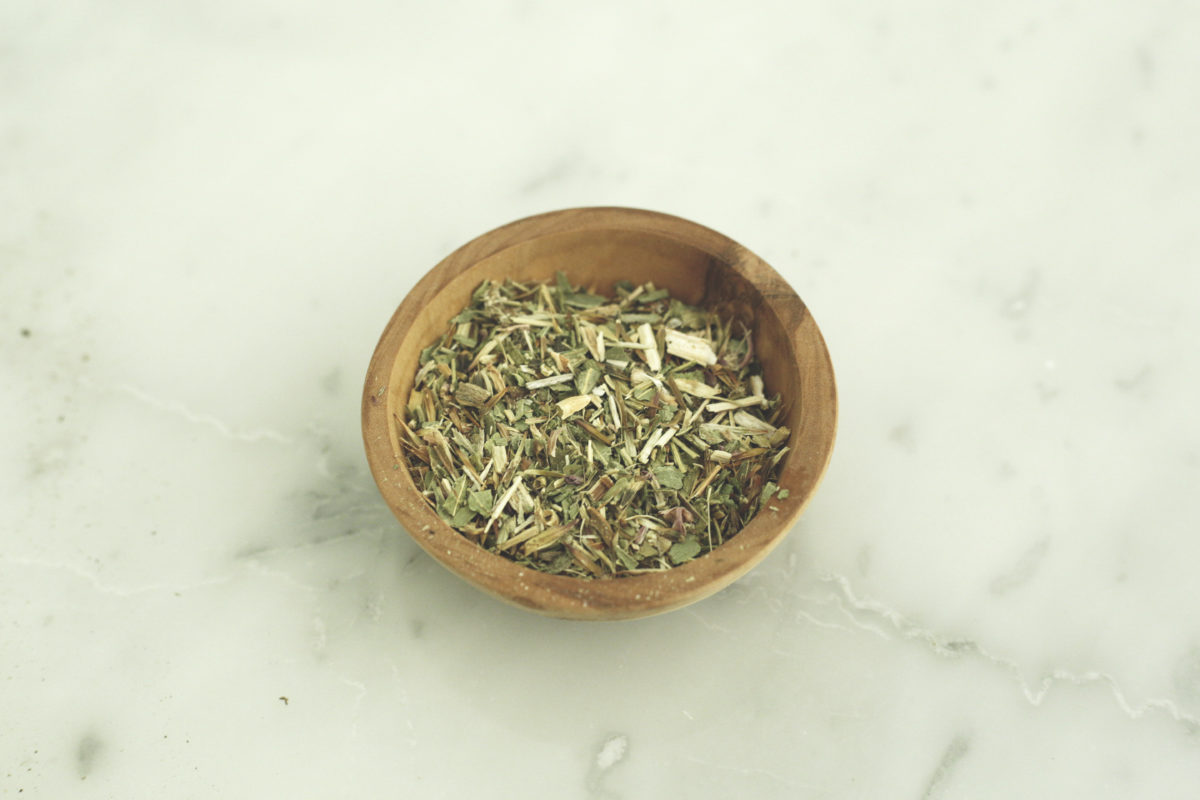 Here is a list of herbal pairings and simples you can use or draw inspiration from:
Nettles (

Urtica dioica

)

Rosemary (

Rosmarinus officinalis

), oregano (

Origanum vulgare

), thyme (

Thymus vulgaris

), and sage (

Salvia

spp.)

Turmeric (

Curcuma longa

)

Moringa (

Moringa oleifera

) and spirulina (

Arthrospira platensis

)

Dandelion leaf (

Taraxacum officinale

) (pairs well with nutritional yeast too!)

Blend of different algaes and seaweeds such as bull kelp (

Nereocystis luetkeana

), nori flakes (

Porphyra umbilicalis

), bladderwrack (

Fucus vesiculosus

), etc.

Lavender (

Lavandula officinalis

) and spearmint (

Mentha spicata

)

Juniper berries (

Juniperus communis

), rosemary, and sage

Fennel seeds (

Foeniculum vulgare

), chopped ginger (

Zingiber officinale

), lemon peel (

Citrus limon

), coriander (

Coriandrum sativum

), and caraway (

Carum carvi

)

Rose petals (

Rosa

spp.)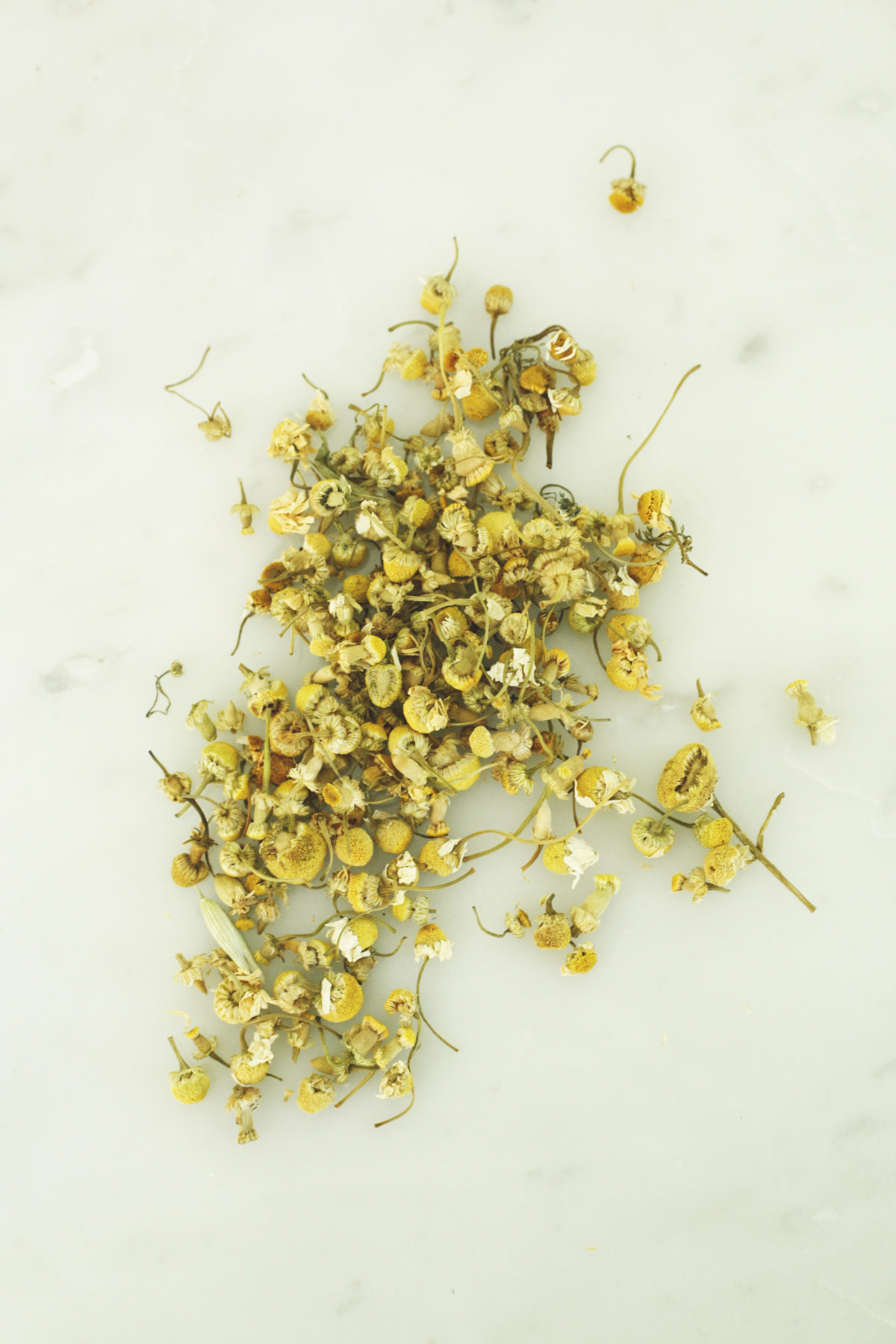 DIY Herbal Culinary Salt Tips
Building your own herbal culinary salt is a fairly intuitive process but having a couple tricks up your sleeve can make things a lot easier.
Start With Less Salt:

Herbal culinary salts are a great way to cut back on your salt intake without compromising flavor in your favorite dishes. When preparing your blend, a general ratio to guide your blend is 1 part powdered or roughly ground dried herb to ½ – 1 part sea salt. When you are first blending your mixture, use approximately ⅓ part sea salt to start then taste and adjust the amount of salt as desired. Remember: you cannot take salt out of the mix once you have already added it in, but you

can

add more to taste!
Pick An Herbal Focus:

A great idea when you are deciding which herbs to use for your DIY herbal culinary salts is to pick an herbal focus. This could be an herbal action such as nutritive boost, digestion support, or inflammation soothing. You could also focus your formula on a certain color such as the emerald green salt blend recipe below.
Use Fresh Or Dry Herbs:

You can use either fresh or dry herbs when making your DIY herbal culinary salts! Read the two recipes below to learn two different methods of preparing herbal culinary salts, then apply those techniques with your own herbal and sea salt formula. Shelf life should stay about the same regardless of whether you choose to use fresh or dry herbs.
Mix & Match Your Salts:

If you are intrigued by several different types of sea salts, feel free to mix and match your salts together in one batch! Or divide your recipe in half and use half with one type of salt, half with the other.
Experiment With Different Consistencies:

You can play around by blending your herbs and salts either together or individually. Both your herbs and salts can be left on the roughly chopped and "coarse" end of the texture spectrum, or can be finely powdered and added to a shaker.
Stay Curious & Creative:

With most at-home herbal experimentation, it's a good idea to stay curious about how things will turn out! If the herbs you chose don't end up pairing as well as you thought they would, take note, then consider if there is any way you could amend your formula to make it more balanced and palatable. At the same time, don't be afraid to try those seemingly wild pairings you've been dreaming of, too! Stay creative with your herbal culinary salt preparations. Make smaller batches at first as you are experimenting and refining your recipes so there is less waste involved if one formula cannot be re-balanced.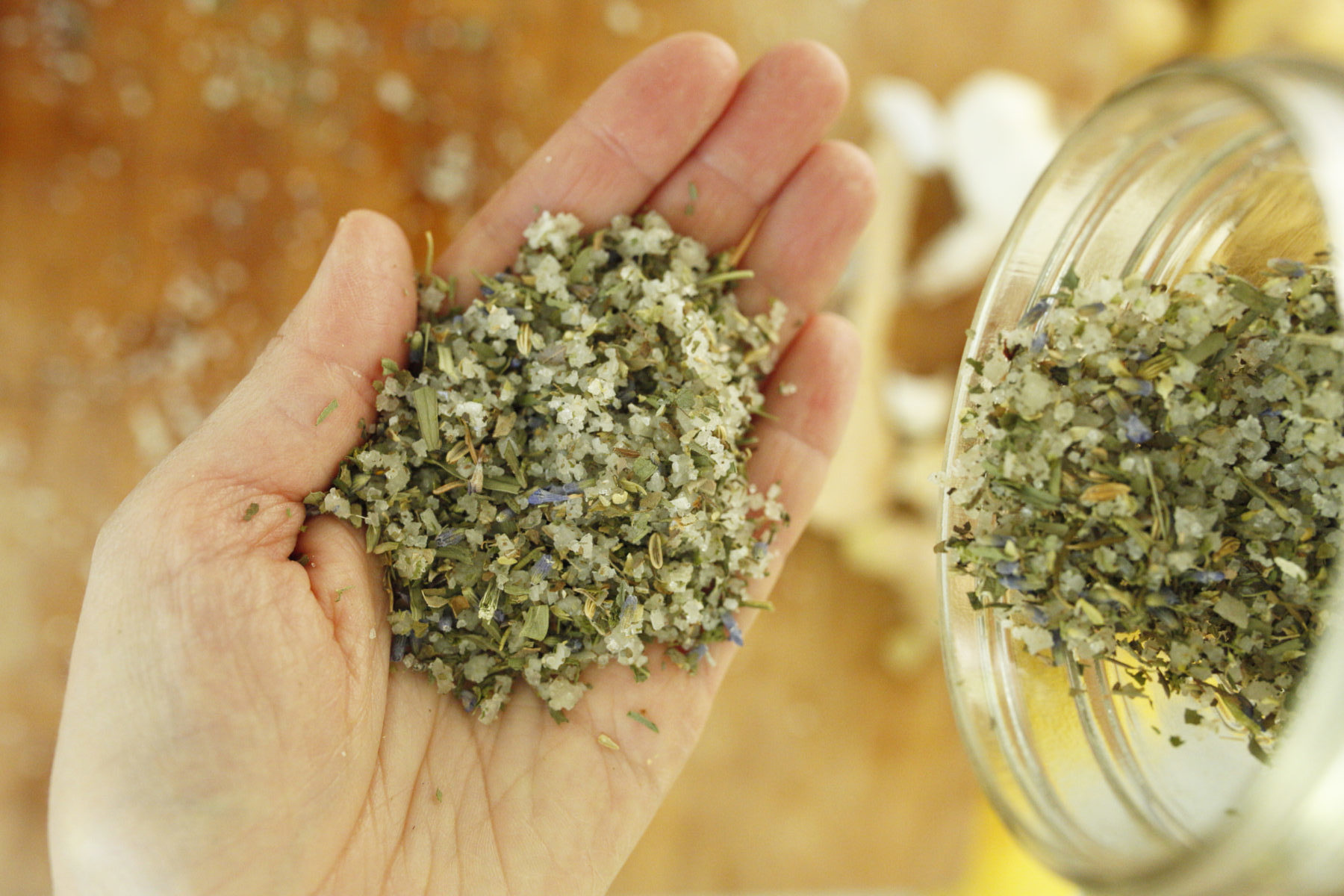 2 DIY Herbal Culinary Salt Recipes To Try
Need a little inspiration to get started? Here are two different methods and recipes to make your own DIY herbal culinary salts at home.
Emerald Salt Blend
Recipe adapted from Mountain Rose Herbs.
Ingredients
1 part dried nettle leaf or seeds
2 parts dried rosemary leaf
1 part dried alfalfa (Medicago farfara) or oatstraw (Avena sativa)
1 part dried thyme or oregano leaf
½ part coarse Himalayan pink or Celtic gray sea salt
Directions
Measure the amount of each herb (each "part" could be a teaspoon, tablespoon, cup, etc.) and in a mortar and pestle or coffee grinder, powder each herb individually before combining all of the herbs in a bowl.
Use a measuring cup, spoons, or kitchen scale to measure the quantity of the herbal mixture. Divide this measurement in half. The result is the amount of sea salt you will add to your recipe. (For instance, if you end up with about ½ cup of powdered herbs, then you will need about ¼ cup of sea salt.)
Combine the sea salt with the herbal powder mixture.
Add this mixture back to the grinder and pulse so the herbal powder and salt granules are well combined. You can leave the salt blend on the coarser side or finely grind it, depending on your preference.
Pour the mixture into an airtight glass container, a salt grinder, or a salt shaker.
Lemon-White Sage Finishing Salts
Recipe adapted from The Healing Kitchen by Holly Bellebuono
Ingredients
1 handful of whole fresh sage (Salvia spp.) leaves (use any variety of your choice)
1 cup coarse pink Himalayan sea salt
2 tablespoons grated fresh lemon zest
Directions
Combine all ingredients in a medium bowl and mix until well combined.
Option 1: Lay the mixture out to dry on a tray or baking sheet with good airflow for 2 to 4 days. Placing your tray under a ceiling fan is ideal if possible. The salt quickens the drying process while absorbs the flavor of the herbs along with the moisture (Bellebuono, 2016).
Option 2: For faster drying, use the oven method. Turn on your oven and heat to the lowest setting. Pour the mixture on a baking sheet and spread evenly. Put the baking sheet in the oven, keeping the door open slightly with a prop if needed (such as a wooden spoon with a long handle). Let the mixture heat for a couple hours, stirring frequently. The herbs should be dry and crisp when they are ready. Take the baking sheet out of the oven, leaving it to cool completely. (Note that although this method is faster, some of the essential oils in the herbs will evaporate, which reduces the overall flavor and aroma.)
Once the mixture is dried, you have the option to grind your herbal culinary salts in a coffee or herb grinder before storing to reach your desired consistency.
Store your herbal culinary salts in an airtight glass jar and use as needed on your favorite dishes!
Time To Get Blending!
Are you feeling inspired to try your hand at blending your own DIY herbal culinary salts? With an abundance of different sea salt and herbal options, the possibilities are endless!
Looking to try herbal salt-blending experience in body care recipes? Check out our posts on Tips For Creating A DIY Floral Body Polish and DIY Lavender Bath Salts.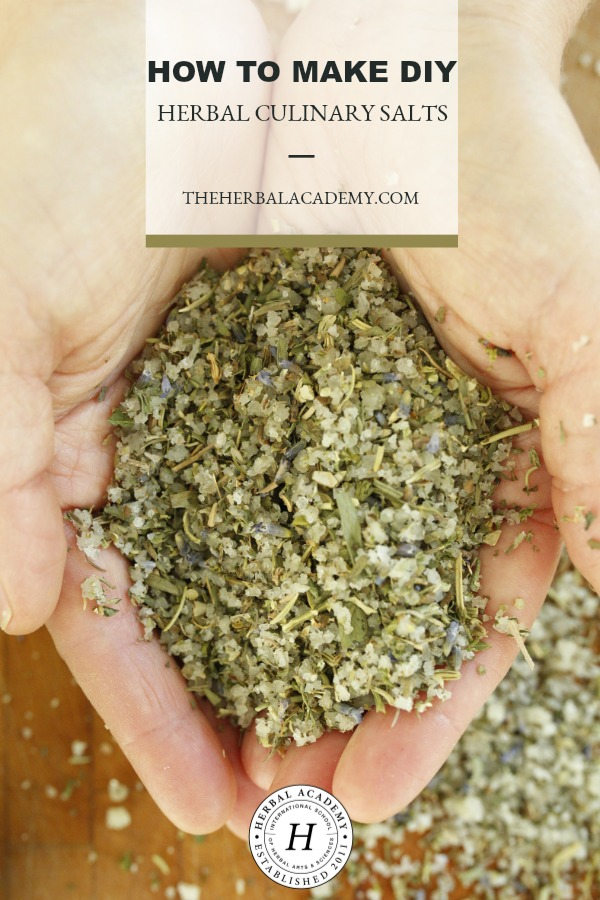 REFERENCES
Bitterman, M. (2010). Salted: A manifesto on the world's most essential mineral, with recipes. New York, NY: Crown Publishing Group.
Bitterman, M. (2013). Salt block cooking: 70 recipes for grilling, chilling, searing, and serving on himalayan salt blocks. Kansas City, MO: Andrews McMeel Publishing.