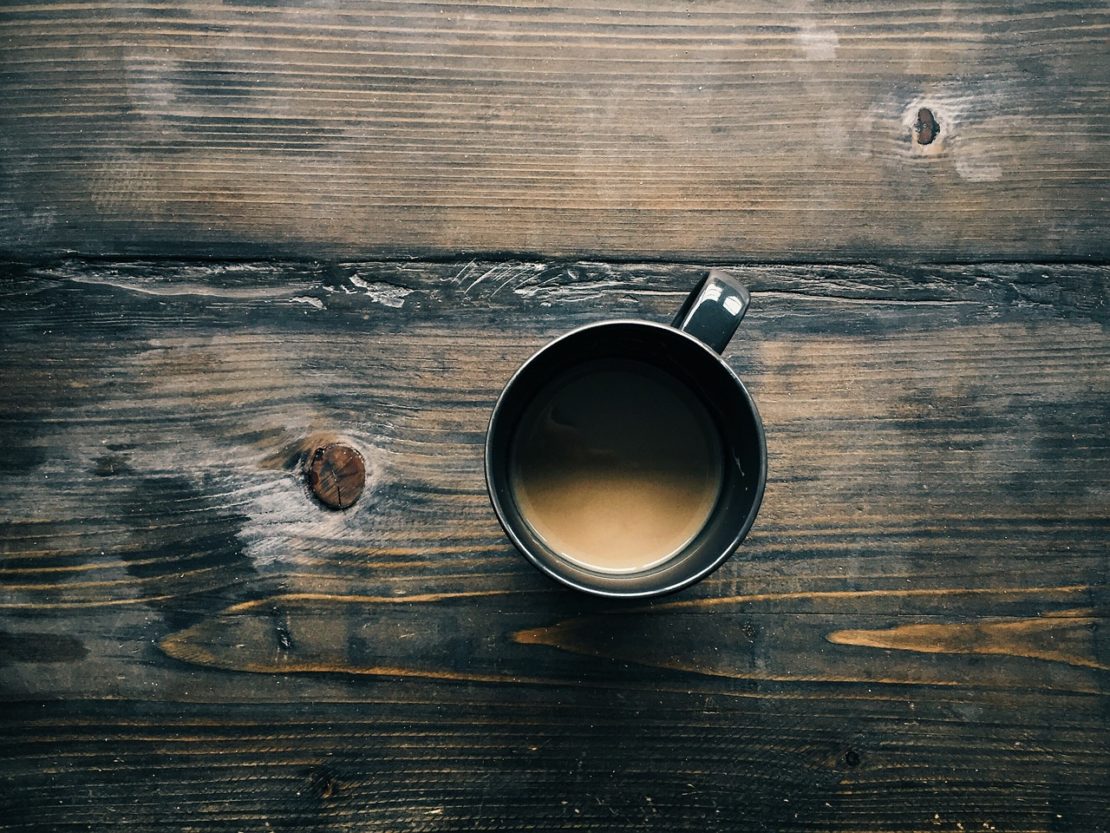 How To Roast Herbs For An Herbal Coffee Substitute
If you're anything like the majority of people in the U.S., you drink coffee on a regular basis—maybe even every day. This isn't always a bad thing, especially when coffee is consumed in moderation, as it is known to have some health benefits (Liang & Kitts, 2015).
But according to the Harvard University Chan School of Public Health, coffee drinkers consume an average of 3 cups per day which can add up to a lot of caffeine, along with some potential downsides, like nervousness and sleep disruption (Harvard University Chan School of Public Health, n.d.). An over-dependence on caffeine is even classified as a DSM-5 disorder (Meredith et al., 2013).
If you're looking for an alternative to a caffeinated brew, the world of herbs offers some great options. There are several commercially-available herbal coffee substitutes, but for the price and the taste, nothing beats roasting your own herbs to make your own personalized herbal coffee substitute. And it's easier than you might think!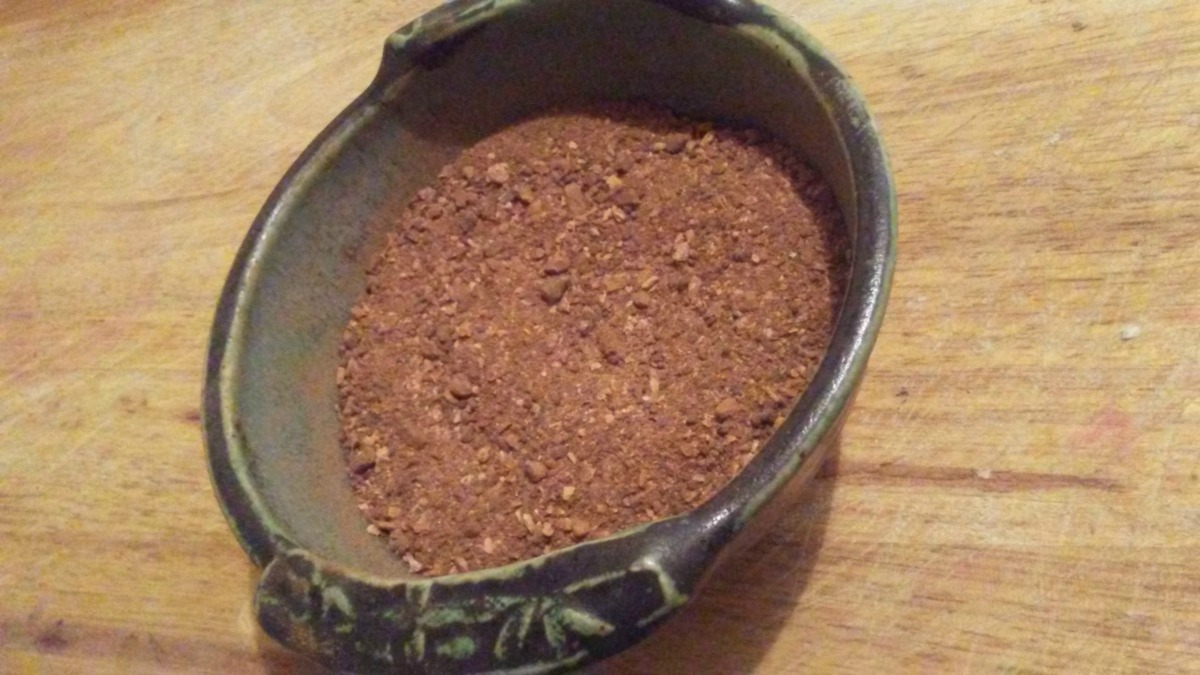 Herbs Used for an Herbal Coffee Substitute
The herbs most commonly used for an herbal coffee substitute share some of the same characteristics.
First, they're generally roots.

Second, most ingredients are slightly bitter, which not only mimics a key taste in coffee, but also gives the liver a boost.

Third, when decocted these herbs actually look a lot like rich, dark coffee—and adding milk or cream to them works beautifully!
My favorite roots to roast for a coffee substitute are burdock, dandelion, and chicory. Depending on your taste and wellness needs, you can also add other ingredients, like maca or ashwagandha. To these base ingredients, I tend to add other herbs for flavoring, like cacao nibs, cinnamon bark, or vanilla beans. I've also tasted some beautiful herbal coffee substitute blends that include orange peel and cardamom.
3 Steps To An Herbal Coffee Substitute
An herbal coffee substitute tastes best when roasted twice before brewing—but don't roast your aromatic flavoring herbs along with the base roots or else you'll lose the volatile oils that give them their flavor!
Step 1: Roasting Herbs (The 1st Roast)
For the first roast, you can use an oven or stovetop.
How To Roast Herbs In The Oven
Preheat oven to 375° F.

Spread equal parts of burdock, dandelion, and chicory root on a baking sheet and bake for 20-25 minutes. The roots should turn a darker brown and be a little "crunchy."

Allow to cool.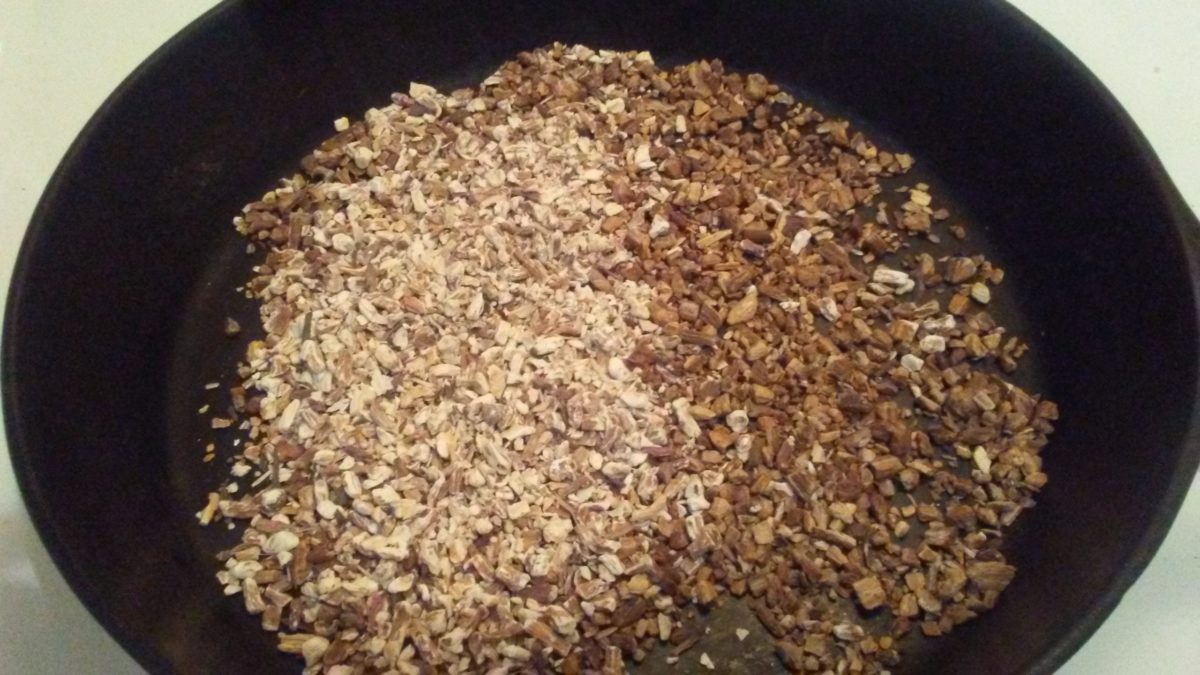 How To Dry Roast Herbs On The Stovetop
My favorite method is to dry-roast my roots on the stovetop in a large cast-iron skillet, but you can use stainless steel or another kind of pan as well (avoid non-stick surfaces, because these will not roast your herbs as effectively and the flavor just isn't the same).
Warm the skillet over medium heat.

Add herbs to the dry pan, stirring them occasionally to avoid burning.

Once the roots have darkened in color to a rich brown (about 30 minutes), remove them from the heat and allow to cool.
Step 2: Grinding Herbs
Once your roasted roots have cooled, grind them finely in a coffee grinder (or if you have the stamina, with a mortar and pestle).
Step 3: Roasting Herbs (The 2nd Roast)
Spread the ground roots on a baking sheet and bake at 325° F for five minutes.

Grind any aromatic additions in a coffee grinder and blend with the roasted herbal "grounds" before storing in an airtight container.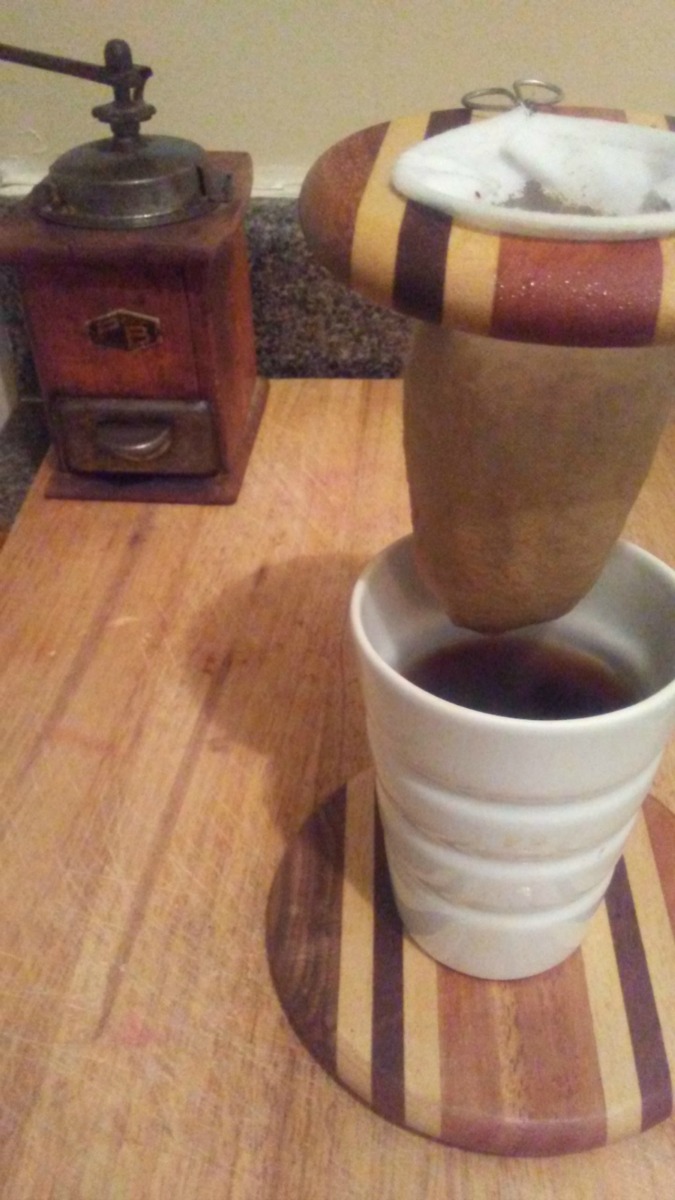 You can brew this coffee substitute in the same way that you would ordinary coffee, using a French press or coffee maker, or you can decoct for 7-10 minutes and strain. I actually prefer a traditional Costa Rican chorreador, as pictured above. Sweeten or add creamer if you like, and enjoy!
REFERENCES
Liang, N. & Kitts, D. D. (2015). Role of chlorogenic acids in controlling oxidative and inflammatory stress conditions. Nutrients, 8(1), 16. doi: 10.3390/nu8010016. Retrieved from https://www.ncbi.nlm.nih.gov/pmc/articles/PMC4728630/pdf/nutrients-08-00016.pdf.
Meredith, S. E., Juliano, L. M., Hughes, J. R. & Griffiths, R. R. (2013). Caffeine use disorder: A comprehensive review and research agenda. Journal of Caffeine Research, 3(3), 114-130.
Harvard University T. H. Chan School of Public Health (n.d.). Retrieved from https://www.hsph.harvard.edu/news/multimedia-article/facts/.