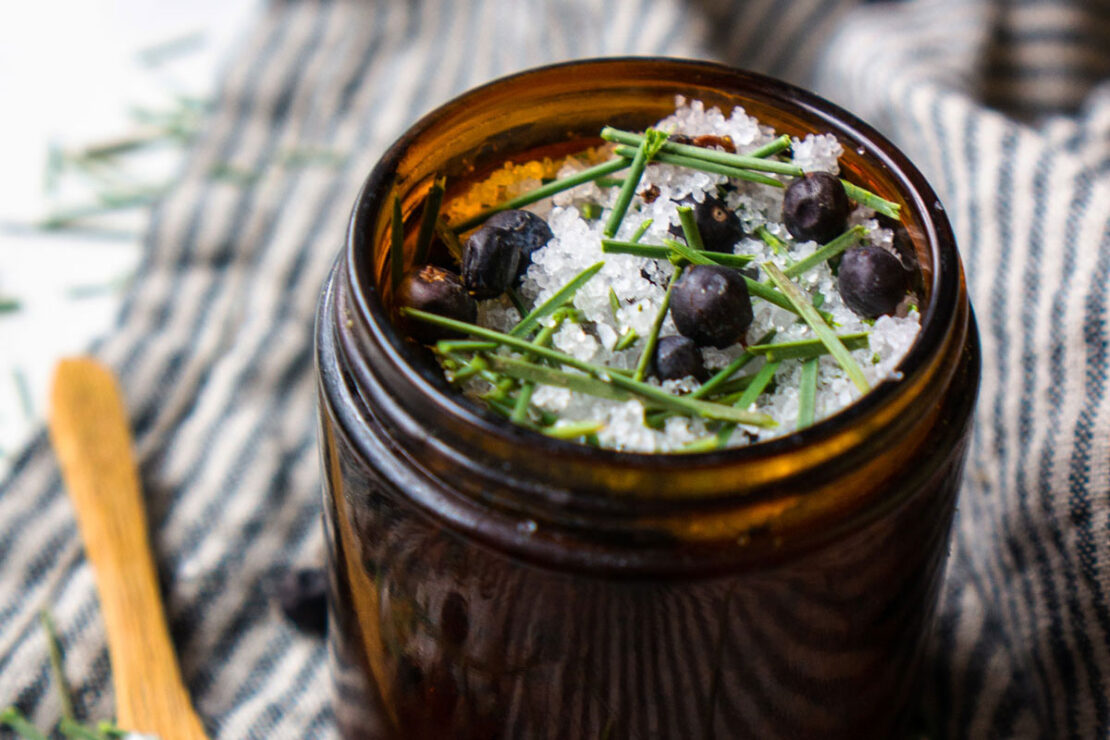 Evergreen Forest Bath Salts Recipe with Juniper and Pine
As we head into the new year, winter has deeply enveloped many parts of the country. Most plants and animals are dormant or hibernating, and the people have wrapped themselves in their thickest wools. (The lucky ones are reading herbals by the fire while sipping spiced cider!) This time of year calls for an extra special treat to lift our moods and gently push us outdoors for fresh air and exercise. With that in mind, we've officially released our FREE Winter eBook as a New Years' gift! This 54-page download includes this Evergreen Forest Bath Salts recipe along with lifestyle tips for winter wellness, in-depth monographs for our six go-to winter herbs, and 10 wonderfully wintery herbal recipes.
Download your copy of our FREE eBook, Herbal Support for Winter Wellness, here.
This time of year, herbalists and foragers turn to evergreens, like pine, spruce, juniper, and fir, because they continue to share their vibrant colors, flavors, and uses throughout even the coldest of months. This Evergreen Forest Bath Salts recipe features two of our favorite evergreens available throughout vast expanses of the United States: juniper (Juniperus spp.) and pine (Pinus spp.).
Next time you take a winter walk, keep your eyes open for juniper berries and pine needles—harvest a handful to make the recipe below! When you get home, run a hot bath while you combine your foraged plant materials with Dead Sea salts, nourishing oils, and evergreen essential oils. This simple recipe only takes a few minutes to mix up, offers inspiration for a brisk winter walk, and then rewards you with a warming, relaxing soak at the end. How's that for a winning combination?!
When foraging your juniper and pine for this recipe, make sure you're harvesting from clean trees that have not been sprayed with pesticides and are not located near train tracks, factories, or other potentially polluted spaces. Bring along an ID guide so you can be 100% sure that you've harvested the proper plant material. Check out our Guide to Winter Foraging for more helpful tips and inspiration.
Juniper (
Juniperus
spp.) berries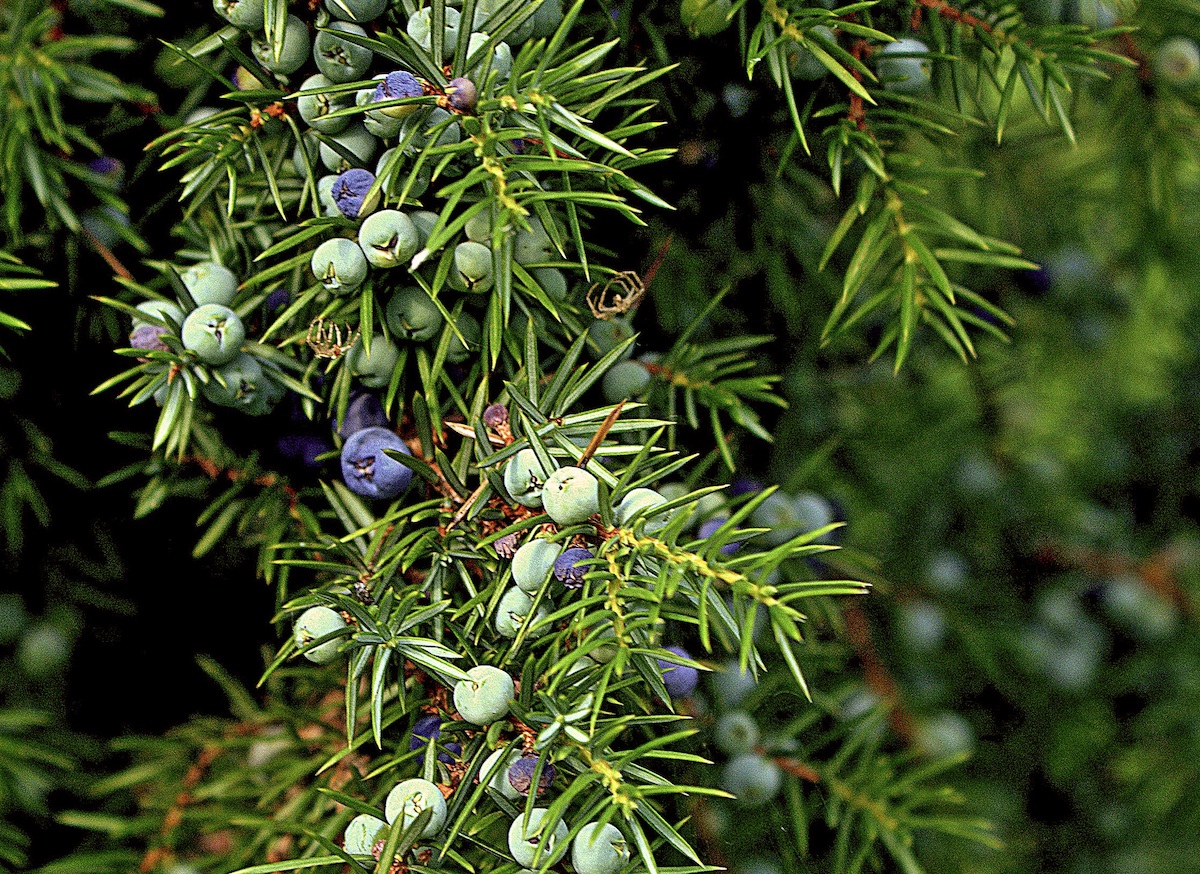 The two most common types of juniper used for herbal preparations are Juniperus communis and Juniperus virginiana.  Make sure to properly identify the juniper that you harvest from. Some juniper species, especially those used for ornamental purposes, are toxic and should be avoided.
The part of juniper most commonly used in herbalism is the berry, which is not a berry at all but rather the small, fleshy cone. Herbalists often employ the berries as an anti-inflammatory, using it to ease stiffness and pain associated with arthritis, gout, neuralgia, and rheumatism (Herbal Academy, n.d.).
The berries are often used in skin care preparations and may be infused in oil, which is then used in lotions, butters, and creams. Fresh or dry berries can also be added to bath salts for a warming and relaxing soak. 
For another wintery recipe that features juniper berries, check out 3 Conifer Cordial Recipes for Winter Wellness. 
Pine (
Pinus
spp.) needles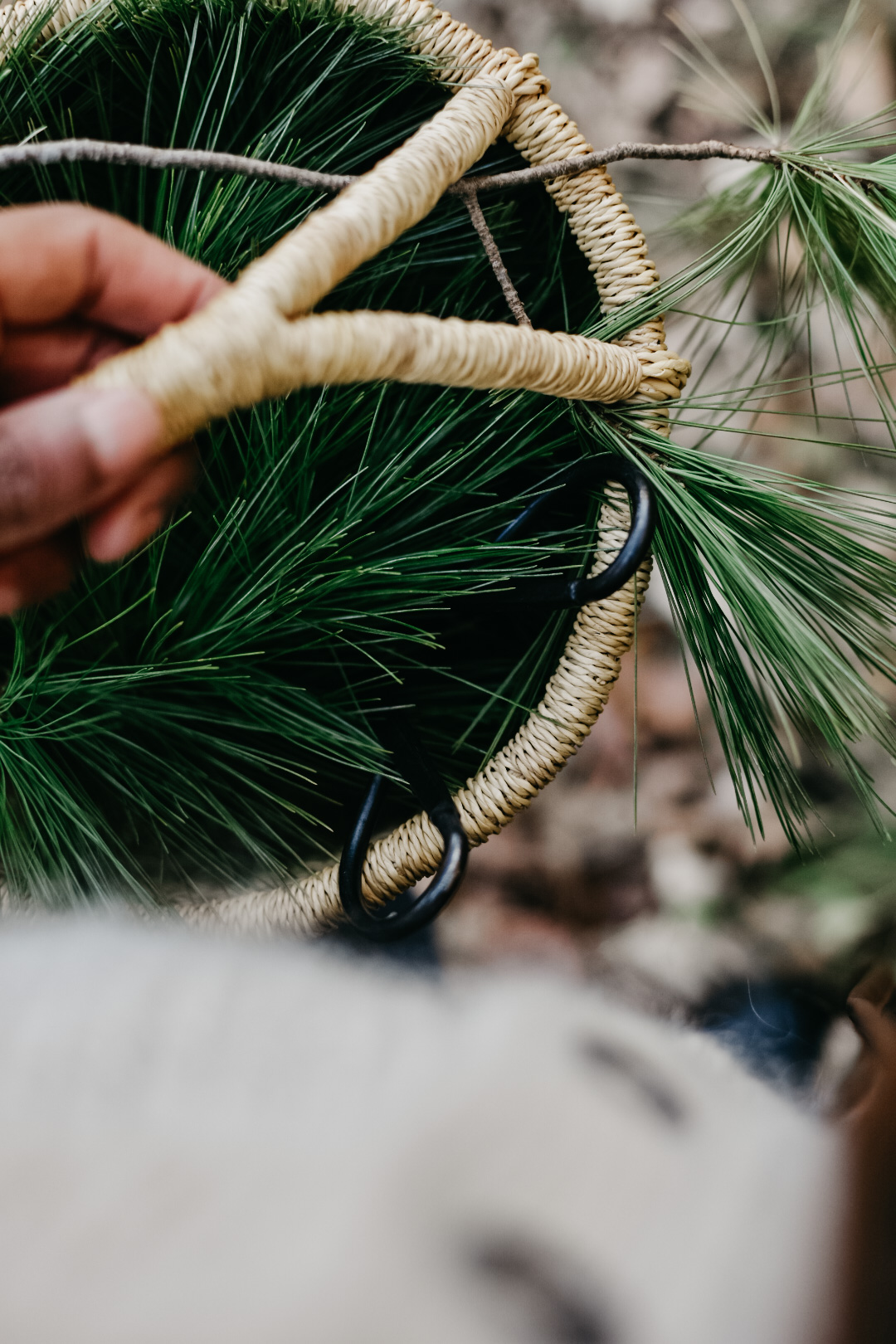 Pine trees are a common tree native to the northern hemisphere and some tropical regions of the southern hemisphere. There are many different varieties with useful properties. Pines are so widespread that they may be foraged in most regions and types of habitat, including urban environments. 
High in vitamin C, herbalists often use pine needles in winter infusions, syrups, and vinegars. Pine needles have some pain-soothing and anti-inflammatory properties that make them perfect for use in salves. They are also antiseptic, antibacterial, and antifungal (Walker, 2015). Find more ideas for using pine needles in 8 Terrific Ways to Use Pine Needles Right Now.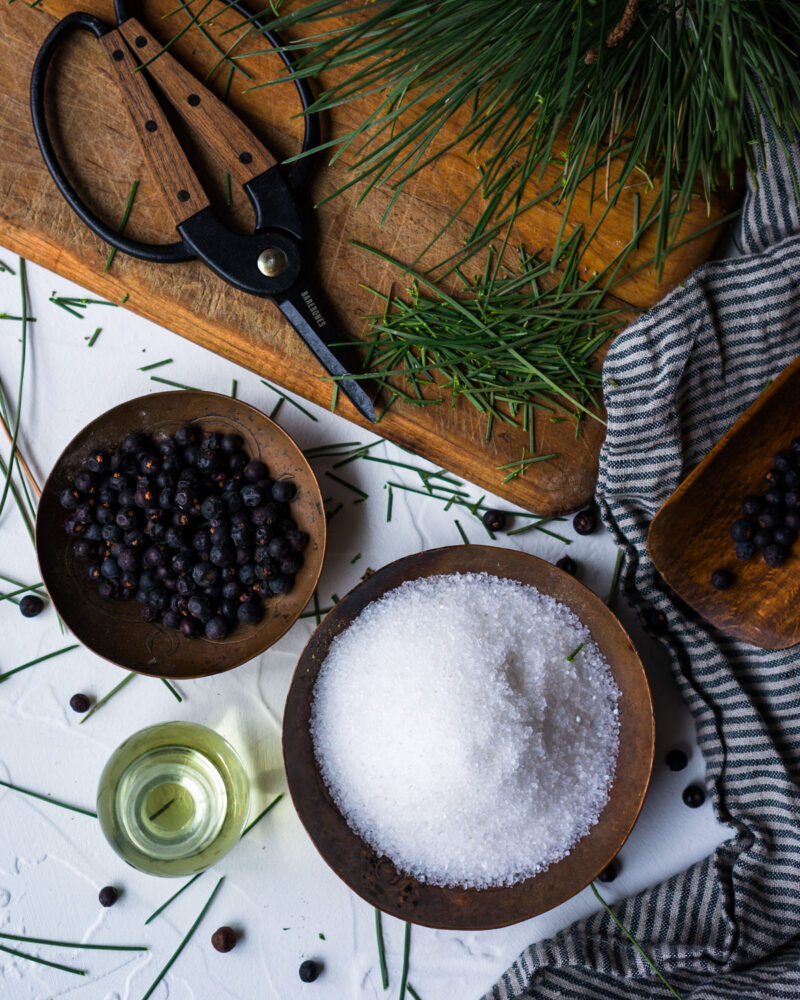 Evergreen Forest Bath Salts
A favorite among our Botanical Skin Care Course students, luxurious Dead Sea salt is combined with the grounding and antimicrobial nature of pine needles for a relaxing bath. Fir or spruce needles can be substituted.
Ingredients
3 cups Dead Sea salt (or any sea salt)
½ cup pine (Pinus spp.) needles, finely chopped
½ cup juniper (Juniperus spp.) berries, crushed
2 tablespoons sweet almond, grapeseed, or olive oil
6 drops fir (Abies balsamea) essential oil (optional)
6 drops Virginia cedarwood (Juniperus virginiana) essential oil (optional)
Directions
Combine salt, pine needles, and juniper berries in a medium-sized bowl and mix thoroughly.

Combine essential oils with base oil (sweet almond, grapeseed, etc.) and stir to combine.

Add the oil mixture to the salt mixture. Stir thoroughly.

Place mixture into a glass jar, label, and store in a cool, dark place for 6-12 months.

Use 1-2 handfuls of salt per bath. Before draining, place a sink/bath strainer over the drain to catch the herbal material. Alternatively, place salts in a muslin bag and hang over the faucet while filling the bath.
Note: Baking soda is commonly used to calm irritated skin. Feel free to add 1 cup to this mixture, if desired.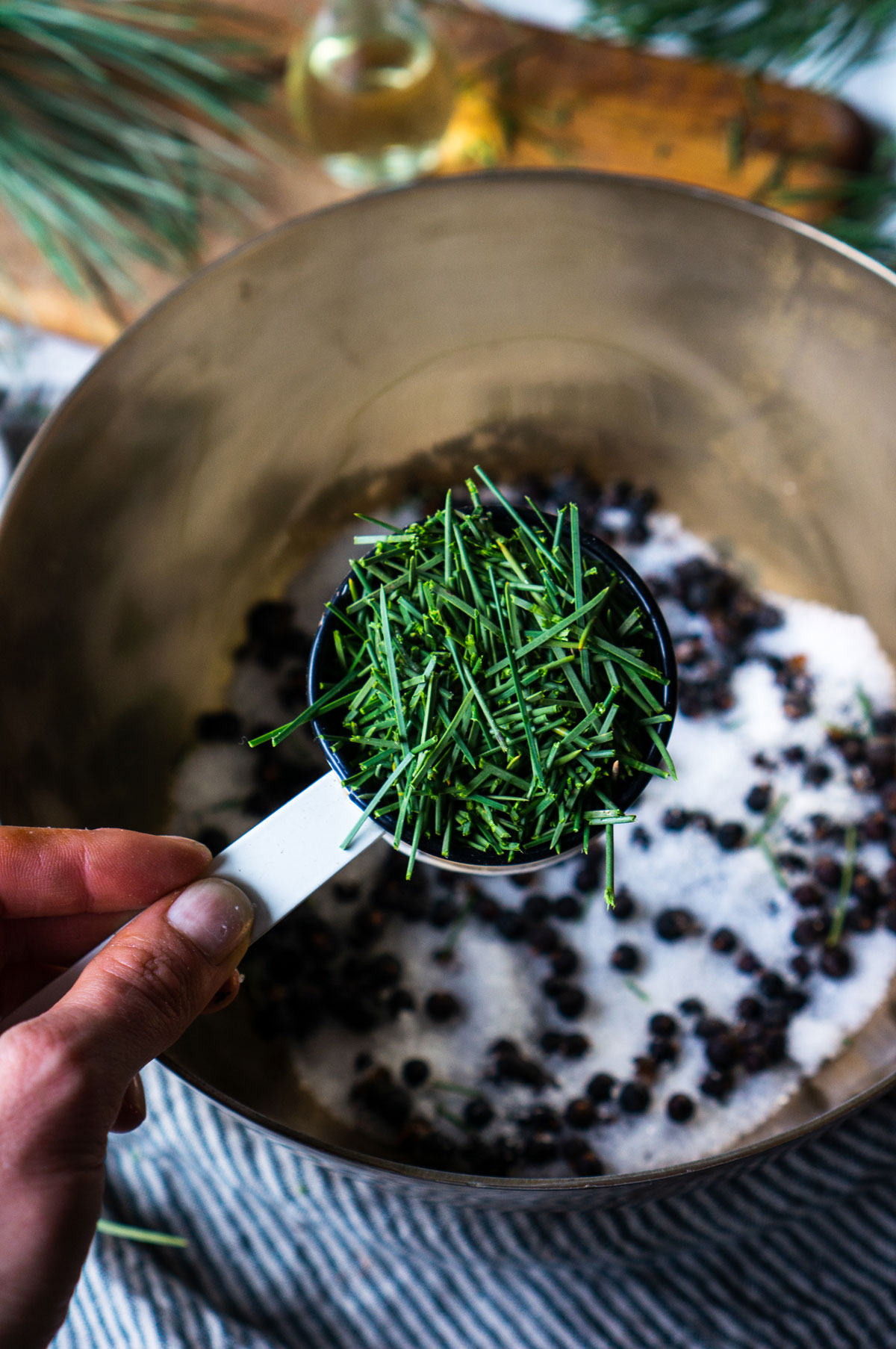 In Closing, 
This Evergreen Forest Bath Salts recipe is a lovely reminder that our herbal practices can continue through winter. We do not need to be limited by the fact that there are fewer plants available. Instead, we can truly explore and deeply understand the plants that are standing strong through snow, frost, and ice.

Unlock even more wintery herbal inspiration by downloading our FREE Winter eBook. This carefully curated resource includes:

Lifestyle and dietary practices for staying balanced in winter.

In-depth monographs for six must-have herbs for winter wellness, including cinnamon (

Cinnamomum

spp.), marshmallow (

Althaea officinalis

), ginger (

Zingiber officinale

), ashwagandha (

Withania somnifera

), and more.

10 essential herbal recipes for winter nourishment, including a super-moisturizing Marshmallow Root Lip Balm, a warming and delicious Ginger Carrot Soup, our favorite Winter Tonic Tea, an Adaptogen-Rich Chai, and more! 

BONUS: A coupon code for 20% off the

Herbal Self-Care for Stress Management Course

(with journal!) through February 28, 2021.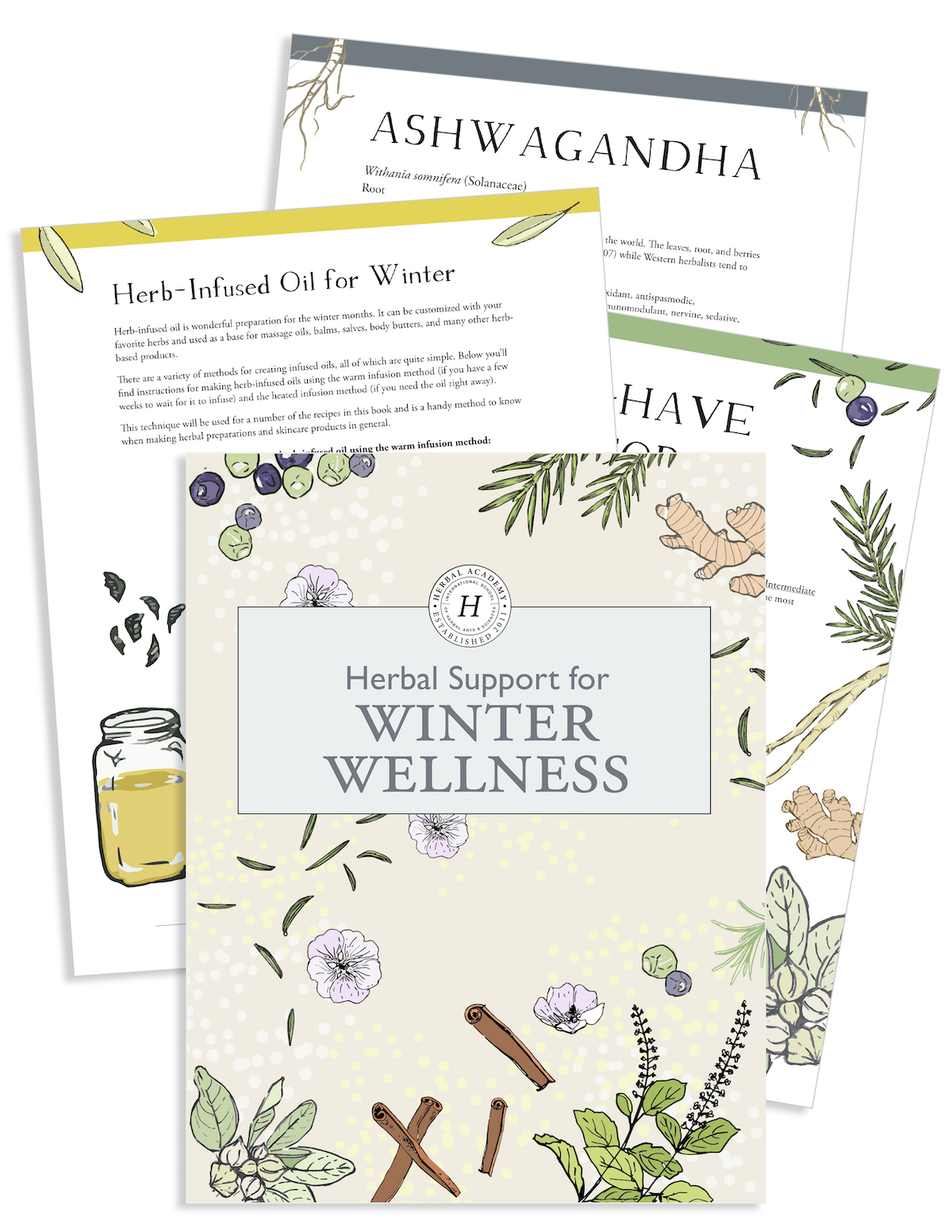 REFERENCES

Herbal Academy (n.d.). Juniper monograph. Retrieved from
https://herbarium.theherbalacademy.com/monographs/#/monograph/5089Walker, B. (2014).
The amazing all-purpose pine needle tea [Online article]. Retrieved from http://davesgarden.com/guides/articles/view/3126/