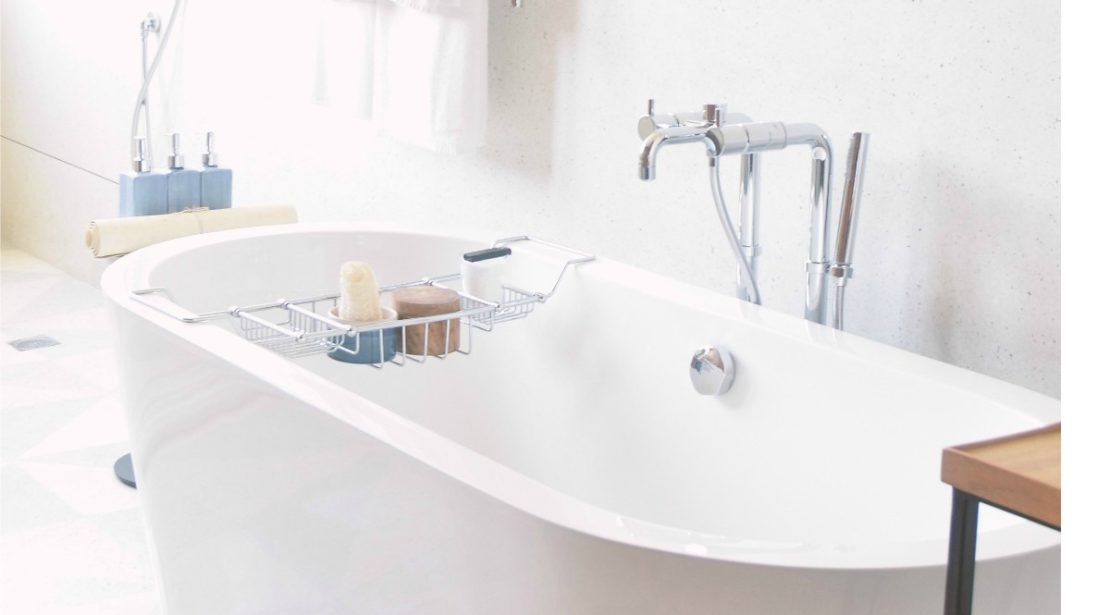 Essential Oil Bath Safety: What To Do & Not Do
We are all well aware that the modern American lifestyle is very stressful. When you look up stress management techniques, you will find that a soothing evening bath is frequently on the list. As herbal practitioners, we may use a full, soaking bath, or we may use a smaller version of the bath such as a foot bath, hand bath, or sitz bath. We can then add herbal products to the bath to address the aforementioned stress or a wellness concern, or even just to enjoy a soothing, herbal experience.
We often like adding aromatic herbs or extracts to a bath, and one category of those preferred aromatic extracts is essential oils. Regardless of how large of a bath we draw or how much of the body is immersed in that bath, the primary ingredient in any bathing situation is water. Seeing how water and essential oils do not mix, how does one approach essential oil bath safety in an appropriate manner?
4 Essential Oil Bath Safety Tips
There are several approaches to enjoying the wellness or aesthetic benefits of aromatics, especially essential oils while taking a bath. Not all of these approaches include adding the essential oils to the bathwater itself. Below we will discuss several essential oil bath safety options you can choose from.
1. Diffuse Essential Oils
The first, and simplest, essential oil bath safety tip is to run a diffuser in the bathroom while you soak. This allows you to benefit from the essential oils without any of the safety concerns of topical applications.
Learn more about diffusing essential oils in, How To Make Your Home Smell Good With Essential Oil Diffuser Blends.
2. Adding Essential Oils To Lotions, Creams, and Oils
If you wish to apply the essential oils directly to your skin to control where the essential oils will touch your body, the next essential oil bath safety tip is to create a lotion-, cream-, or oil-based blend which you can massage into your skin before you enter the tub or after you get out. If you massage lotion or oil onto your body before you enter the tub, the warmth of the water will cause the essential oils to absorb more quickly and more thoroughly than they would otherwise. You will also smell their aroma as your skin warms.
This technique would be excellent in cases where you have a specific physical need you wish to address such as dry skin, a sore joint, tight muscles, or in cases where you may wish to use an essential oil that might not be appropriate for whole tub use such as peppermint (Mentha x piperita).
3. Essential Oils In Wash-Off Products
You might also use essential oils in your wash-off products such as shampoo and conditioner. Keep in mind, though, that if these products already have fragrance in them their emulsification capacity may be overwhelmed if you add more essential oils. You should add your essential oils to individual applications of these products, not to a full bottle unless it is a bottle of an unscented product designed to have your personal fragrances added.
4. Essential Oils In Salts, Soap, and Oil
Finally, for direct tub use, you might include the essential oils in bath salt recipes that contain a carrier oil, in liquid soap to make a bubble bath, or in bath oil. However, this method requires special considerations both for selecting appropriate essential oils and how to blend them in order to make them safe for bath use. Understandably, this also applies for smaller applications such as foot baths, hand baths, and definitely sitz baths.
When using an essential oil blend in the bathwater, one must consider which essential oils one chooses (your intention and safety), which carrier oil to use (safety), how much essential oil to use (dilution), and what to do if you experience a negative reaction (irritation). You will find suggestions and guidelines for these considerations below.
Essential Oils To Avoid In The Bath
When you choose essential oils for your bath, your first consideration will be your purpose or intention. Do you want to sleep better? Do you wish to feel more cheerful? More relaxed? Do you have sore muscles? Do you wish to relieve some congestion or breathe more easily? Or, do you just want everything to smell wonderful? It is easy to find many lists of appropriate essential oils for various applications, so we will not address each issue here. Instead, we will look at the types of essential oils you may wish to avoid or use in moderation.
Potentially Irritating Essential Oils
There are several essential oils that can be very irritating when used on the skin, so having them come in contact with your most sensitive areas can be downright painful. With this in mind, it makes sense to avoid those essential oils often called "hot" oils, such as cinnamon bark (Cinnamomum zeylanicum), cassia (Cinnamomum cassia), oregano (Origanum vulgare), and thyme ct. thymol (Thymus vulgaris) altogether. Thyme also has a linalool chemotype, so if you will want to use thyme, this chemotype would be preferable. Still, be sure to keep it a very low dilution as it does contain some thymol. However, finding an alternative is the safest choice.
Another essential oil that is often recommended in bath salt recipes around the winter holidays, but is really not a good idea to use in a bath, is peppermint (Mentha x piperita). When you consider how peppermint can sometimes produce a burning sensation when you apply it to your tougher skin, you can imagine how much it would burn when contacting your most sensitive tissues. This particular oil would be better used in a diffuser or in a massage blend where you can control the area of application.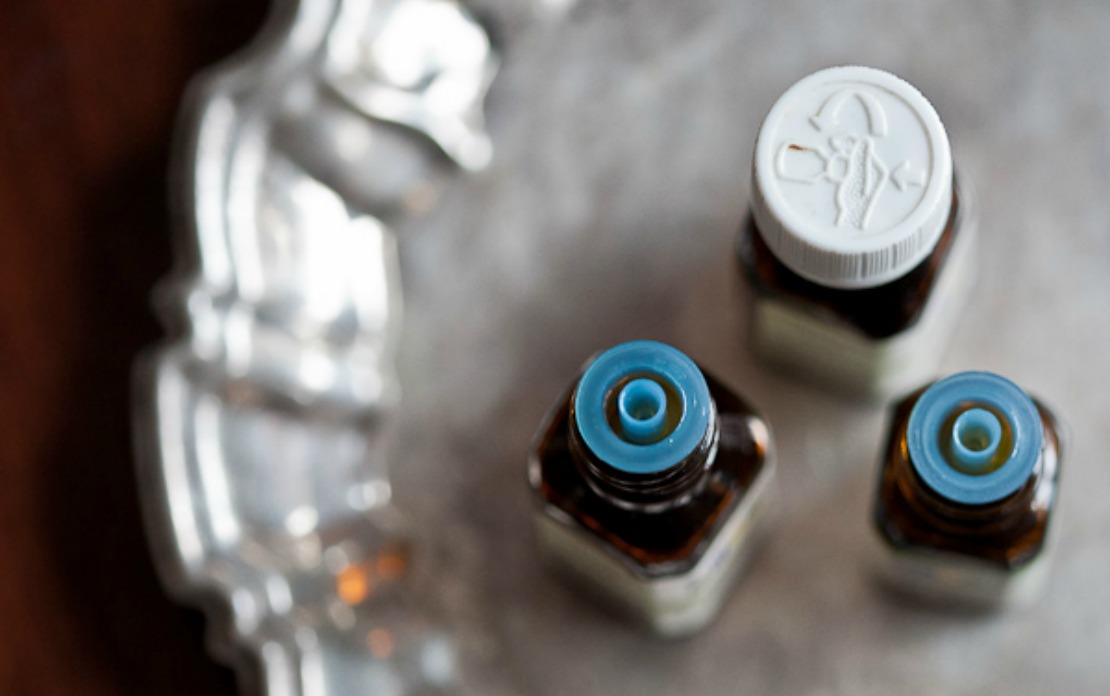 Low Dilution Essential Oils
There are also a couple of classes of essential oils that can be used in the bath but should only be used in very low dilutions, sometimes even less than one drop per bath. The first category would be essential oils that can be somewhat irritating such as those containing high percentages of some aldehydes. These might be oils like lemongrass (Cymbopogon citratus) or melissa (Melissa officinalis). As peoples' skin sensitivities differ, some may not be able to use these oils at all, while others may be able to use them in small amounts.
Strong Floral Scented Essential Oils
The second category to limit would be the strong florals like ylang ylang (Cananga odorata) and rose otto (Rosa damascena). For some people, the aroma produced by even one drop in a bath can be overwhelming and lead to nausea or headaches.
For those essential oils that may be aromatically or topically problematic, the latter two classes mentioned, it can be easiest to create an essential oil synergy first, thereby balancing the amount of the stronger essential oils with more soothing oils within the blend, before mixing them into the final bath product. In this manner, one could create blends that would provide even less than one drop per bath of these particular essential oils.
It is important to understand that although there are a relatively small number of essential oils one should avoid entirely in bathing situations, as mentioned above, any and all essential oils in the bath can be sources of skin irritation, including those oils you may consider to be relatively "safe" oils, such as the citruses like mandarin (Citrus reticulata) or sweet orange (Citrus sinensis). Therefore, be sure to use a safe carrier in all bath situations, not just when using somewhat more irritating oils.
What To Do When Essential Oil Irritations Occur
If you develop an irritation reaction to an essential oil in the bath, immediately get out of the water, wash the area with a gentle soap, rinse, and dry off well. If the irritation persists, apply a neutral fixed oil to the area, such as fractionated coconut oil, olive oil, or jojoba wax, to the area.
What About Phototoxic Essential Oils In The Bath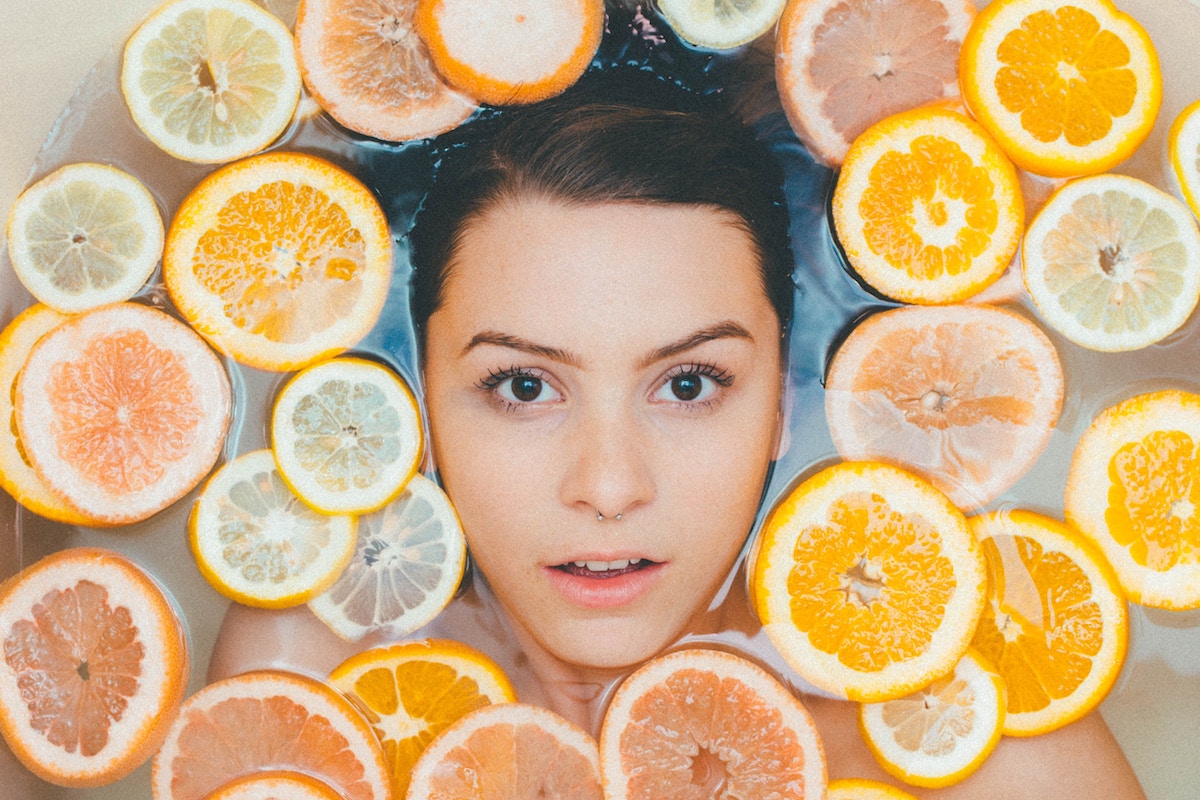 One final concern about essential oil selection is that of phototoxicity. While one can use higher concentrations of phototoxic essential oils in wash-off products, it is not the same for a bath. Because one soaks in a bathtub for a longer amount of time, phototoxic essential oils may be absorbed into the skin if used directly in the bath water. If there is any chance that skin will be exposed to UV radiation, whether in sunlight or a tanning bed, within the 24 hours following the bath, it would be prudent to find other ways to use these essential oils, especially expressed bergamot (Citrus bergamia) and lime (Citrus aurantifolia).
One alternative option would be to use the diffuser. Another option would be to be sure you adhere to safe dilution ratios for these oils. Finally, one might also choose to use furanocoumarin-free and distilled versions of these oils instead of their expressed counterparts.
Learn more about phototoxic essential oils in, The Truth About Phototoxic Essential Oil Safety.
What About Using Essential Oils In Children's Baths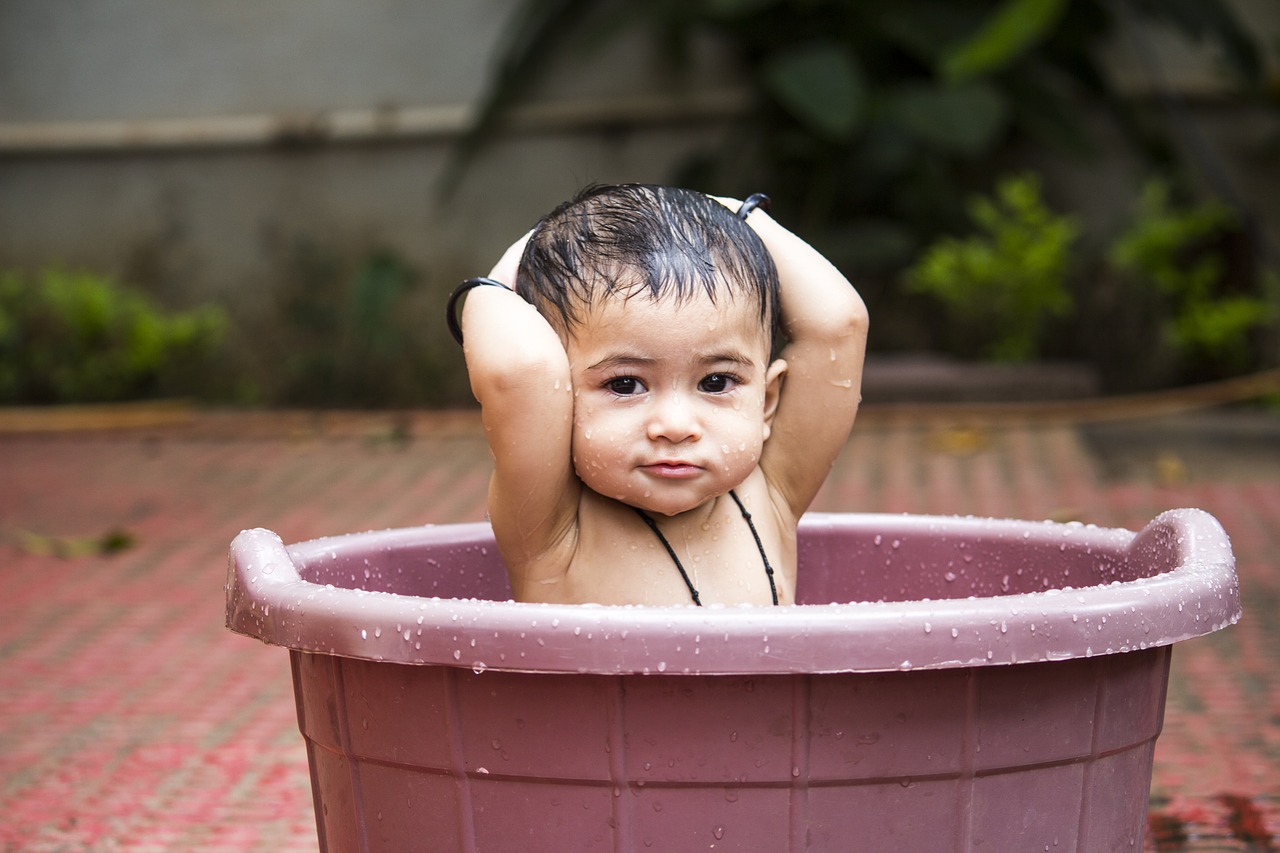 One must remember that children have more sensitive skin than adults, so essential oil bath safety is of prime importance when using essential oils in a child's bath. If you do choose to use essential oils in a child's bath, use only half as much as you would for an adult, be sure to keep the water out of the children's eyes and mouth, and be more cautious in your essential oil selection.
What can work better would be for the child to bathe normally, then an appropriately diluted essential oil blend can be incorporated into a lotion or cream and massaged into the child's skin after the bath. This way there is no worry about a child getting essential oils splashed in his or her eyes or irritating ultra-sensitive body regions.
Hydrolats (hydrosols) can also be used in a child's bath water with few to no concerns. When using hydrolats, you still experience wellness benefits and lovely aromas, yet avoid the irritation essential oils can cause.
Learn more about using essential oils with children, proper dilution guidelines, and using hydrolats in these posts, Safely Using Essential Oils in Children, A Guide to Essential Oil Safety, and How To Use Hydrolats for Babies & Young Children.
How To Blend Essential Oils For The Bath
The philosophy behind essential oil bath safety is constantly evolving. This means that the recipes you find from just a couple of years ago may not be in keeping with current safety standards. However, you can easily modify these recipes to make them safer, so they are still valid to use as starting points.
The key problem with using essential oils in the bath is the immiscibility of oil in water. Essential oils cannot be dissolved in water, and many carrier claims are not realistic. Salt, milk (even whole fat milk), honey, glycerine, and various recommended powders (e.g., baking soda, cornstarch, powdered milk) do not emulsify essential oils in bath water. That means that if you mix essential oils into Himalayan pink salt, then mix the salt into your bath water, you get little globs of essential oil floating around on the surface of your bath. These little globs will adhere to your skin the same as any other neat (undiluted) application. This can result in an uneven application of essential oil as well as increased risk of skin irritation, which is the greatest safety concern with essential oils in the bath. The simple solution to this problem is to use an appropriate solvent or carrier.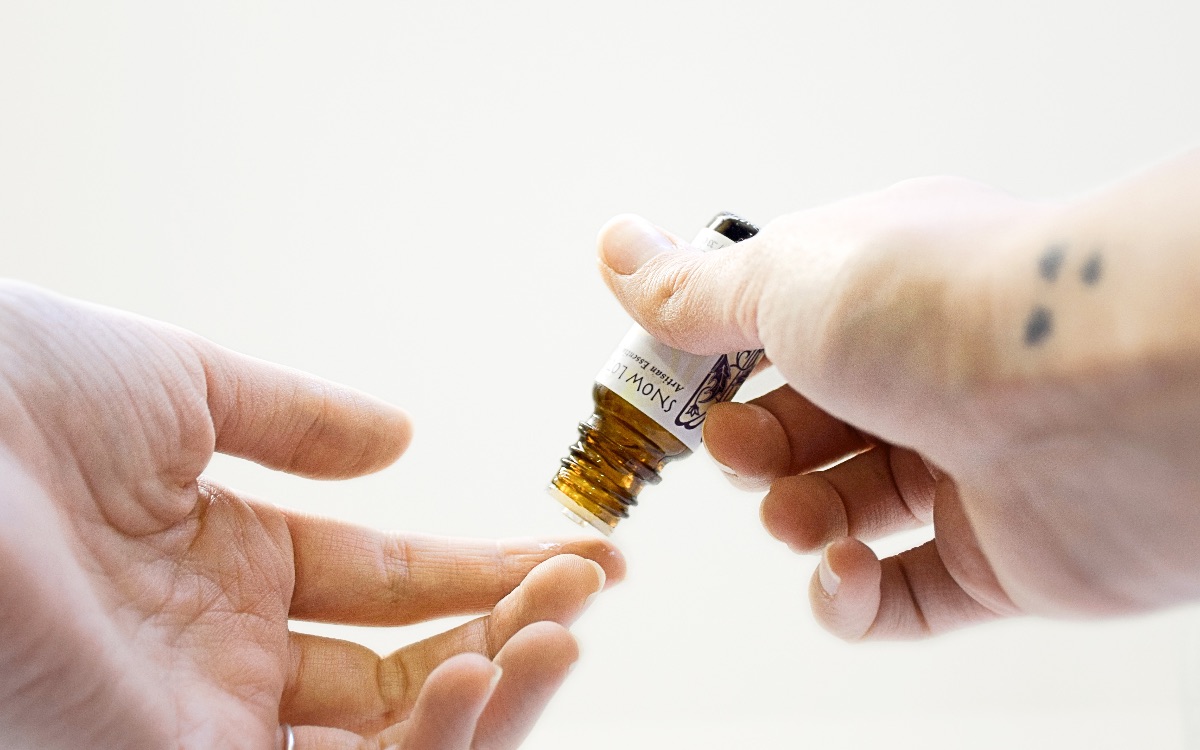 Example solvents and carriers are as follows:
Fixed or vegetable oil
Aloe jelly (not aloe gel)

An emulsifier such as Castile soap

A dispersal agent such as Solubol
Each of the above solvents and carriers has its own advantages and disadvantages which are discussed below.
Pros and Cons of Essential Oil Solvents and Carriers in the Bath

SOLVENT/CARRIER

PROS

CONS

Vegetable oil (fractionated coconut oil and jojoba wax are less "greasy" in the bath)

Essential oils are diluted and less likely to cause skin irritation

Can make a slippery mess in the tub

Aloe jelly

Easy to use; be sure to blend essential oils into the jelly thoroughly

May be confused with aloe gel, which is not an appropriate carrier; cannot be mixed in larger batches and stored for later; some may not like the added thickeners and preservatives in aloe jelly

Castile soap

Emulsifies the essential oil so that it mixes with the water; makes a nice bubble bath

Can be more drying to the skin; you may not want a bubble bath

Dispersal agent

Disperses the essential oil appropriately in the water

Can be expensive (be sure to follow directions regarding essential oil : dispersant ratios)
Two other ingredients you can add to a bath product in order to render it safer when including essential oils are the surfactants Natrasorb and Polysorbate 20 or 80. They are included as additional ingredients to the primary bath product carrier and will not work in all situations.
Learn even more about how to choose appropriate carrier oils here.
Blending Guidelines For The Bath
When creating essential oil bath blends for an adult, you will want to use about
5-10 drops of essential oil per 1/2-1 ounce of bath base for a full tub of water
, regardless of the carrier you choose.
To use a favorite blend for multiple baths, first, create a synergy (a blend of pure essential oils) in a 5mL amber glass bottle with an orifice reducer cap. Next, add five drops from this bottle to the bath product or appropriate carrier of your choice such as bath salts, bath oil, 1/2 ounce of after-bath lotion, bath bomb, or herbal bath soak. With the myriad bathing options available, both in the bath and in combination with pre- and post-bath treatments, you can use your appropriately diluted essential oil blends in a variety of ways.
Essential Oil Bath Recipes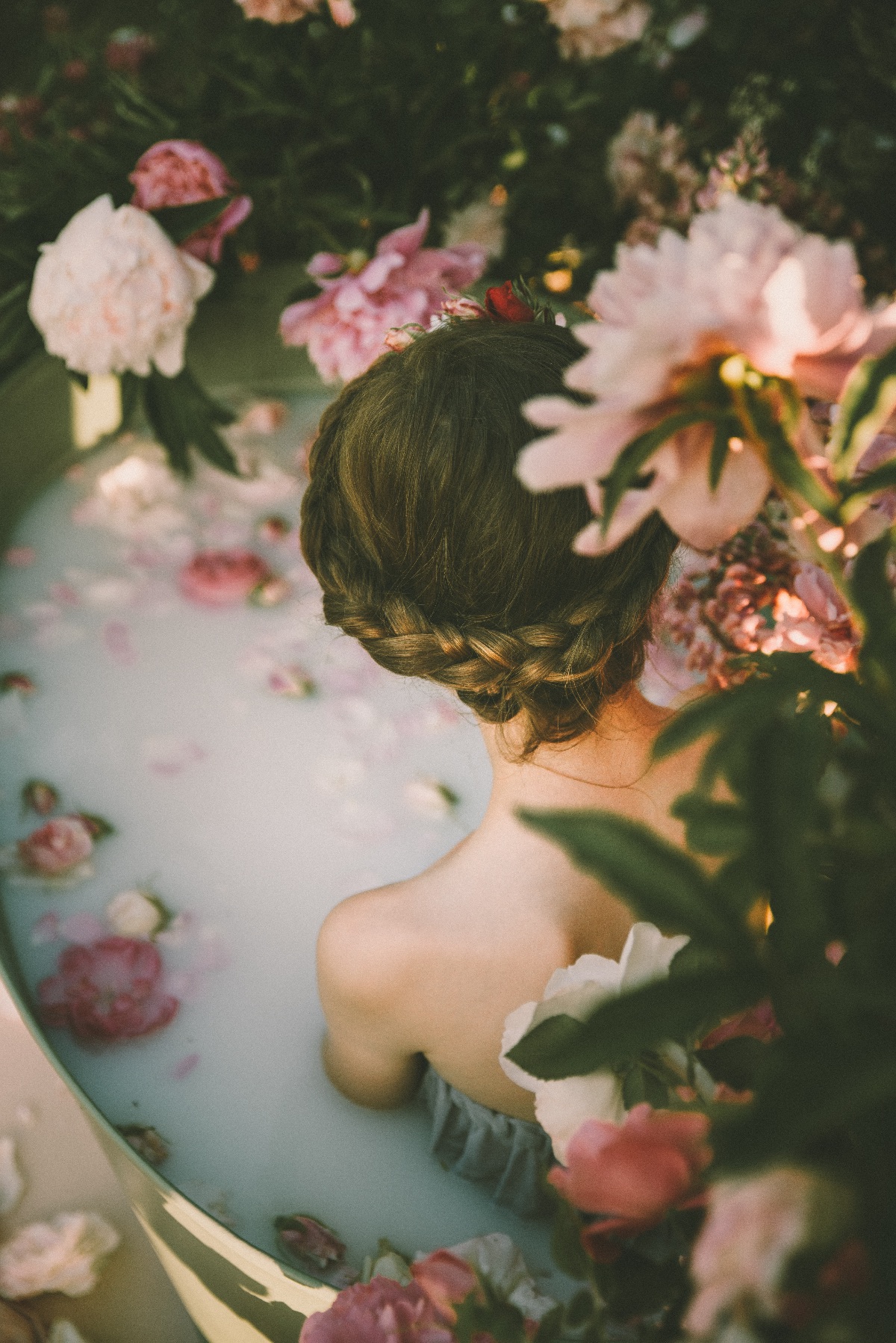 The following essential oil bath recipes will provide you with enough product for one bath. You can multiply any of the recipes and store them in larger containers, using 1 ounce (approximately 1/4 cup) for each bath.
Transitions Bubbly Bath Salts
This blend may help you relax and transition from a hectic day's worries to a peaceful night's sleep.
Ingredients
1 tablespoon liquid Castile soap
1 drop vetiver essential oil (Chrysopogon zizanioides)
3 drops lavender essential oil (Lavandula angustifolia)
1 drop marjoram essential oil (Origanum marjorana)
1/2 ounce Epsom salts
1/2 ounce pink Himalayan salt (fine to medium grain)
Directions
Blend the essential oils into the Castile soap. Then mix the soap blend into the bath salts.
Healthy Systems Bath Salts
Use these bath salts when you feel you need that little extra support to fend off the germs floating around your workplace.
Ingredients
2 teaspoon jojoba wax
1 drop cardamom essential oil (Elettaria cardamomum)
1 drop ginger essential oil (Zingiber officinale)
1 drop frankincense essential oil (Boswellia fereana)
1 drop lemon essential oil (Citrus limon)
1 drop tea tree essential oil (Melaleuca alternifolia)
1 ounce pink Himalayan salt
Directions
Blend the essential oils into the jojoba wax. Then mix the blended jojoba into the bath salts.
Easy Breathing Bath Salts (Ages 6+)
These bath salts are good for when you feel a bit stuffy or congested.
Ingredients
10-15 drops Solubol (follow directions on the bottle for any dispersal agent)
2 drops black spruce essential oil (Picea mariana)
2 drop eucalyptus essential oil (Eucalyptus radiata)
1 drop distilled lime essential oil (Citrus x latifolia, or C. x aurantifolia)
1 ounce pink Himalayan salt
Directions
Blend the essential oils and the Solubol together. Then mix the blend into the bath salts.
Essential oils can make a simple bath into a luxurious spa-like experience. To ensure the experience remains a positive one, choose the essential oils with care, avoiding those oils known to be irritating, use small amounts (5-10 drops per bath), and use an appropriate carrier (i.e., oil, emulsifier, dispersal agent) in your bath product. If you follow these simple essential oil bath safety guidelines, using essential oils in the bath may become a regular part of your stress management or wellness routines.