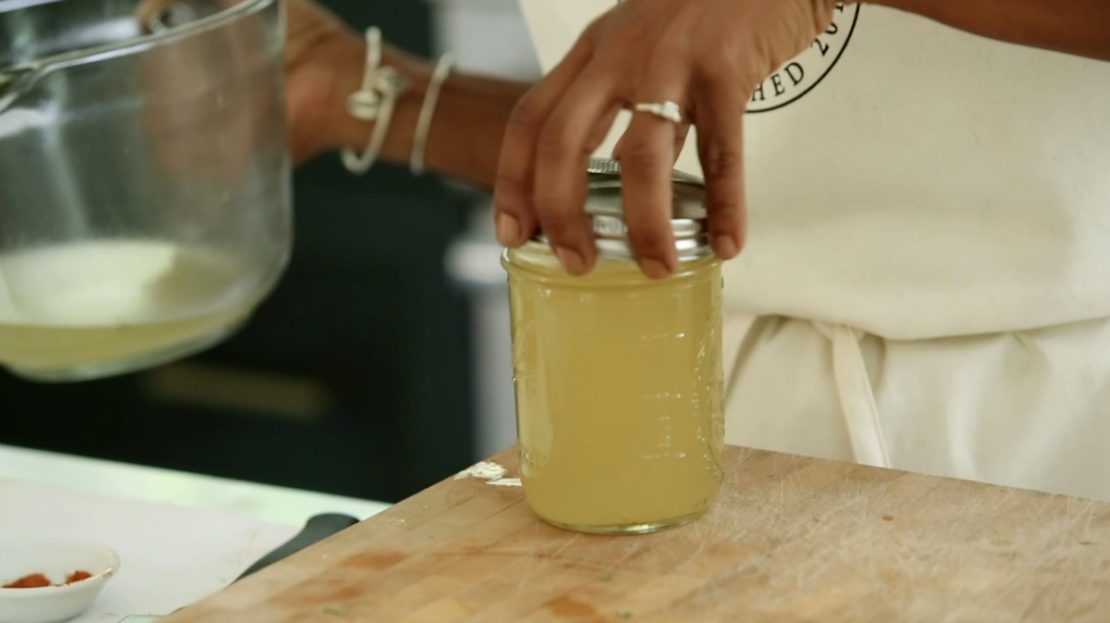 How To Make A DIY Herbal-Infused Broth
Are herbal-infused broths the new tea?! Although nothing can truly compete with a nourishing cup of herbal tea, an herbal-infused broth is a tasty alternative way to enjoy your herbs and add a nutritious boost to your meals all year long. Herbal-infused broths can be incorporated into soups and other dishes or enjoyed on their own as a savory sipping broth on a crisp, cool day.
In this article, I will show you how to make your own DIY herbal-infused broth at home including a couple of easy recipes to get you inspired.
3 Steps to Making an Herbal-Infused Broth Formula
Step 1: Decide Your Focus
When making your own DIY herbal-infused broth, the first step is to decide your focus. Why are you making the broth? Is there a specific wellness-supporting reason you have in mind? Or perhaps a particular dish you would like to use it for? Choose no more than three core focal points for your broth so the formula does not become too complex or confused in action, energetic, and flavor.
For example, your three core focal points could be:
Creating a nutrient-rich broth to add extra vitamins and minerals to your diet.

Enhancing immune system function during cold and flu season.

Using the broth as a base for your favorite squash soup recipe.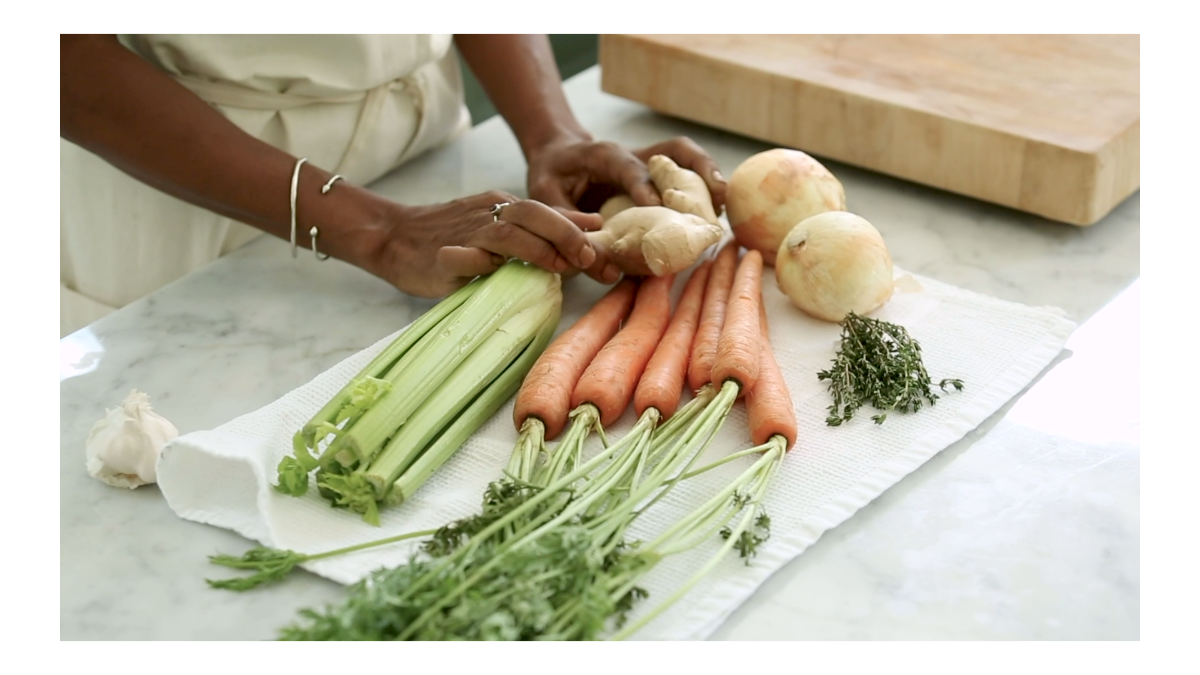 Step 2: Choosing Your Herbs & Base
After deciding your focus, you have the option to choose a base for your herbal-infused broth. This base can consist of animal parts and/or vegetables. Using a base in your herbal-infused broth is entirely optional. If you do decide to use one, make sure you choose the elements of your base at the same time you are deciding which herbs to use. This way the flavor profiles of your herbs and animal parts and/or vegetables can be well-balanced.
For example, a broth using fish bones will have a very different flavor profile than one using mushrooms! Incorporating a base of animal parts and/or vegetables can also offer added nutritional benefits and other wellness-supportive qualities depending on your reasons for making the broth.
Whether you plan on cooking with your herbal-infused broth or not, it is important to keep the overall flavor profile of your herbs in respect to your base in mind. This can take some experimentation to figure out which flavor pairings go well together. When starting out, try sticking to culinary herbs such as sage (Salvia officinalis), rosemary (Rosmarinus officinalis) and parsley (Petroselinum crispum) at first. Then you can choose another herb that you feel would pair well in the broth and would be balanced in flavor to add to the formula.
Looking for more creative herbal ideas? Here are a few of my favorite flavorful herbs and mushrooms to draw from when building an herbal-infused broth: sage, rosemary, parsley, thyme (Thymus vulgaris), oregano (Origanum vulgare), lemongrass (Cymbopogon citratus), reishi (Ganoderma lucidum), ginger (Zingiber officinale), fennel (Foeniculum vulgare), cayenne (Capsicum annuum), garlic (Allium sativum), astragalus (Astragalus membranaceus), hawthorn berries (Crataegus spp.), elderberries (Sambucus nigra), chaga (Inonotus obliquus), turmeric (Curcuma longa), anise (Pimpinella anisum), and clove (Syzygium aromaticum).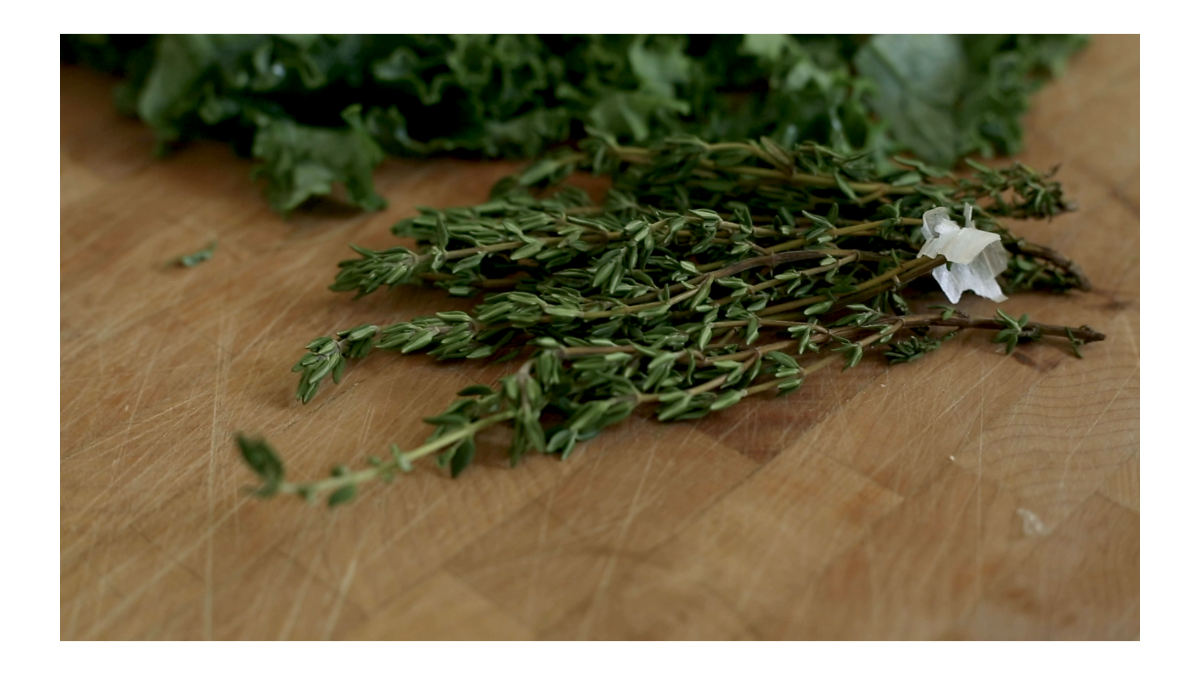 Let's use the example I gave in the previous section and build a DIY herbal-infused broth formula for it. Using vegetables and mushrooms as a base for the broth is a great way to boost the nutrient profile of the broth, but, since we are planning on using the broth as a base in a squash soup, we want to make sure that the flavor of the broth will pair well in that dish. In this case, it might be wiser to steer away from more pungent-flavored vegetables and herbs including most mushrooms.
Sage and rosemary are two great kitchen herbs we could use that complement both the flavor-profile of the soup and carry qualities that support the immune and respiratory systems. Incorporating fresh ginger and garlic could add a gentle kick of spice while lending a stronger antiviral property.
A good herb to experiment with adding into this herbal-infused broth would be astragalus (Astragalus membranaceus) root. Mostly neutral in flavor, astragalus is traditionally used for long-term immune support and is ideal to draw from before sickness has taken root (Bellebuono, 2016).
Step 3: Herb Proportions
After choosing your herbal formula, consider the proportions of the herbs you are using in relation to your base and/or the amount of broth you want to create. Figuring out the right proportions could take a little bit of experimentation over the course of several batches before you find the ideal balance for your taste palate.
Consider the intensity of flavor or spice in the herbs you chose when deciding how much of the herbs to add into your broth base. Keep in mind with many aromatic herbs and seeds, it is helpful to lightly chop or crush them to release more of their volatile oil content before adding them to your broth base.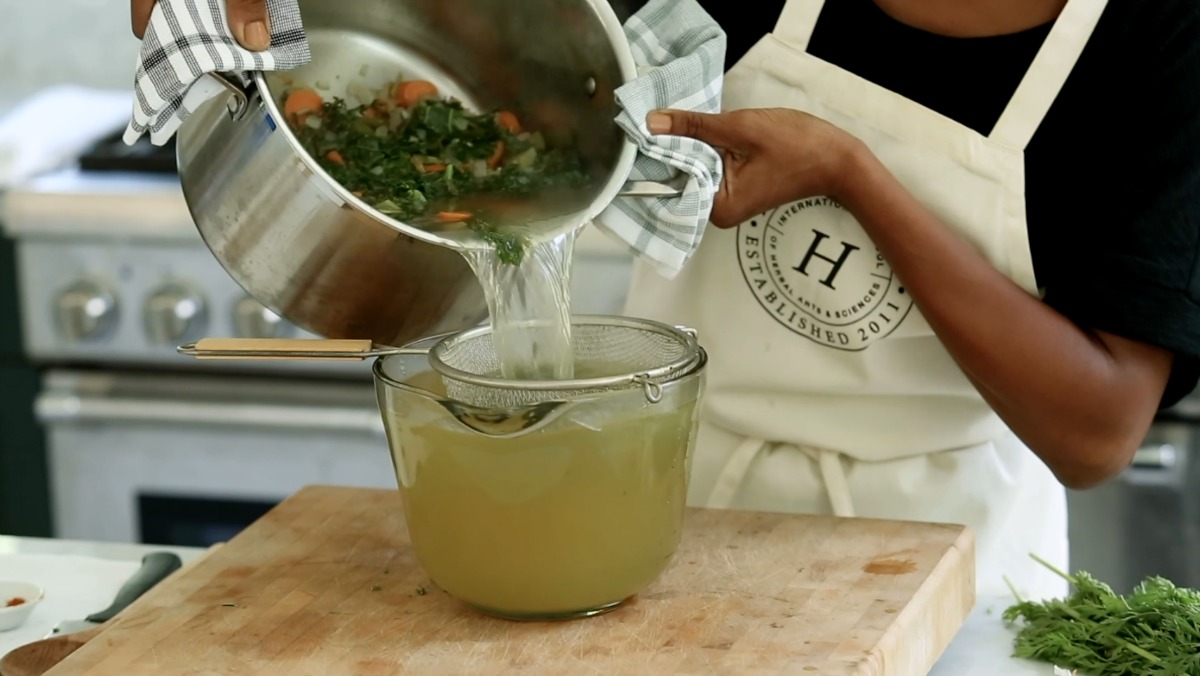 2 Methods & Recipes To Try
Here are two of my favorite herbal-infused broth recipes for you to try at home or to help inspire your own personal DIY broth. The first recipe uses a bone broth base and the second is vegetarian. They present two different methods you can use to prepare an herbal-infused broth at home. Feel free to try these recipes as they are or simply use them as a model to branch off from and create your own personalized DIY broth.
Herbal Bone Broth
Recipe adapted from The Herbalist's Kitchen by Brittany Wood Nickerson
Ingredients
1-gallon water (or whatever quantity your crock pot will carry)
4-6 fresh sprigs of parsley (Petroselinum crispum)
4-6 sprigs of fresh thyme (Thymus vulgaris) (or 1 tablespoon dried thyme)
2 sprigs fresh rosemary (Rosmarinus officinalis) (or 1 tablespoon dried)
2 sprigs fresh sage (Salvia officinalis) (or 1 tablespoon dried)
1 bay laurel (Laurus nobilis) leaf
¼ cup apple cider vinegar
2 pounds of animal bones (ex: lamb, beef, fish)
Directions
Add the animal bones and vinegar in a crock pot then cover with water until there is 1 inch of water above the bones. Turn on the crockpot to the high setting until the broth is simmering. Reduce the heat to low and cook for 48-72 hours. The water will reduce while the broth is cooking, check on the broth periodically and add hot water as needed to maintain the original water level. If the bones float to the top of the liquid, simply keep the crock pot relatively full with water.

Add the parsley, thyme, rosemary, sage, and bay laurel leaf when the broth is 2-3 hours away from completion.

Turn off the heat and let the broth cool slightly once it is done cooking. Strain the broth into a soup pot then discard the bones and herbs.

Allow the broth to cool completely before pouring into a container to store in the refrigerator or freezer. In the refrigerator, the broth will keep for up to 1 week and in the freezer, the broth will keep for up to 6 months.
Thai Lemongrass Broth
Recipe adapted from The Healing Kitchen by Holly Bellebuono
Ingredients
2 tablespoons extra virgin olive oil
10-15 medium-sized shiitake (Lentinula edodes) mushrooms (dried or fresh), chopped
5 garlic cloves, minced
1-inch piece of fresh ginger (Zingiber officinale), minced
1 teaspoon of dried chopped angelica (Angelica sinensis) root (optional)
2 teaspoons of dried chopped astragalus (Astragalus membranaceus) root (or two 2-inch slices of dried astragalus root)
1 tablespoon dried chopped lemongrass (Cymbopogon citratus)
2 quarts water
A handful of fresh parsley (Petroselinum crispum) leaves (or 2 teaspoons dried parsley leaves)
Sea salt and ground black pepper, to taste
2 teaspoons lemon or lime juice per serving
Directions
Add the olive oil in a large pot and warm over medium heat. Add the mushrooms, garlic, ginger, angelica (if using), astragalus, and lemongrass to the pot. Cook for about 5 minutes, stirring frequently.

Add the water and increase the heat to high until the mixture has reached a boil. Reduce the heat to low. Simmer the broth for 15 to 20 minutes, or until the roots have softened.

At the very end, add the parsley and salt and pepper to taste.

Strain the broth. Add the lemon or lime juice to each serving and enjoy hot.
Herbal-Infused Broth For All Seasons
While we are more inclined to enjoy broths and soups during the colder months of the year, you can incorporate an herbal-infused broth into your daily routine throughout all seasons! Herbal-infused broths can add a flavorful and nutrient-rich boost to cook grains in, sauté vegetables with, incorporate into gazpacho, blend into a creamy dip, and more.
Intrigued by herbal-infused bone broth? Learn more about the virtues of bone broth and try another recipe in our post here.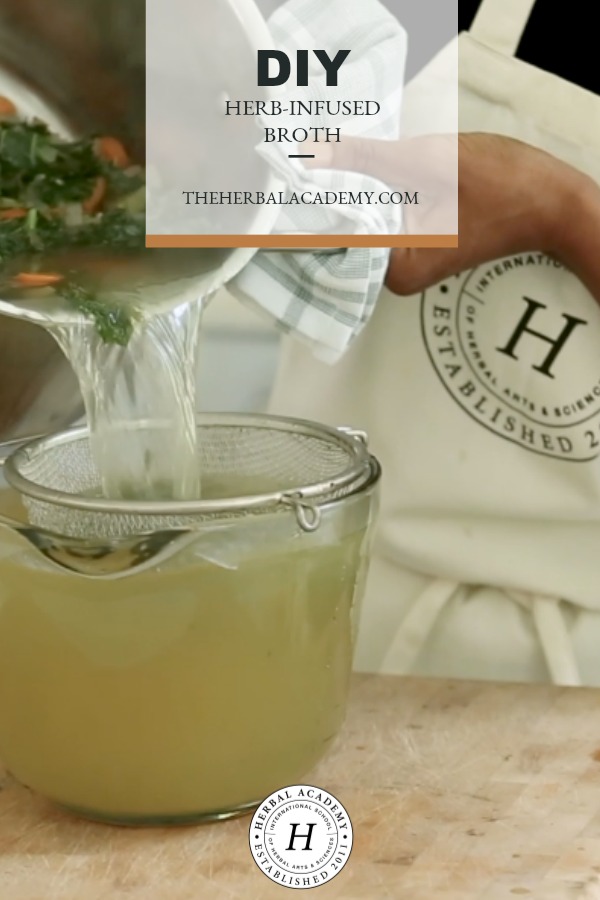 REFERENCES

Bellebuono, H. (2016). The healing kitchen. Boulder, CO: Roost Books.
Nickerson, B.W. (2017). The herbalist's kitchen. North Adams, MA: Storey Publishing.