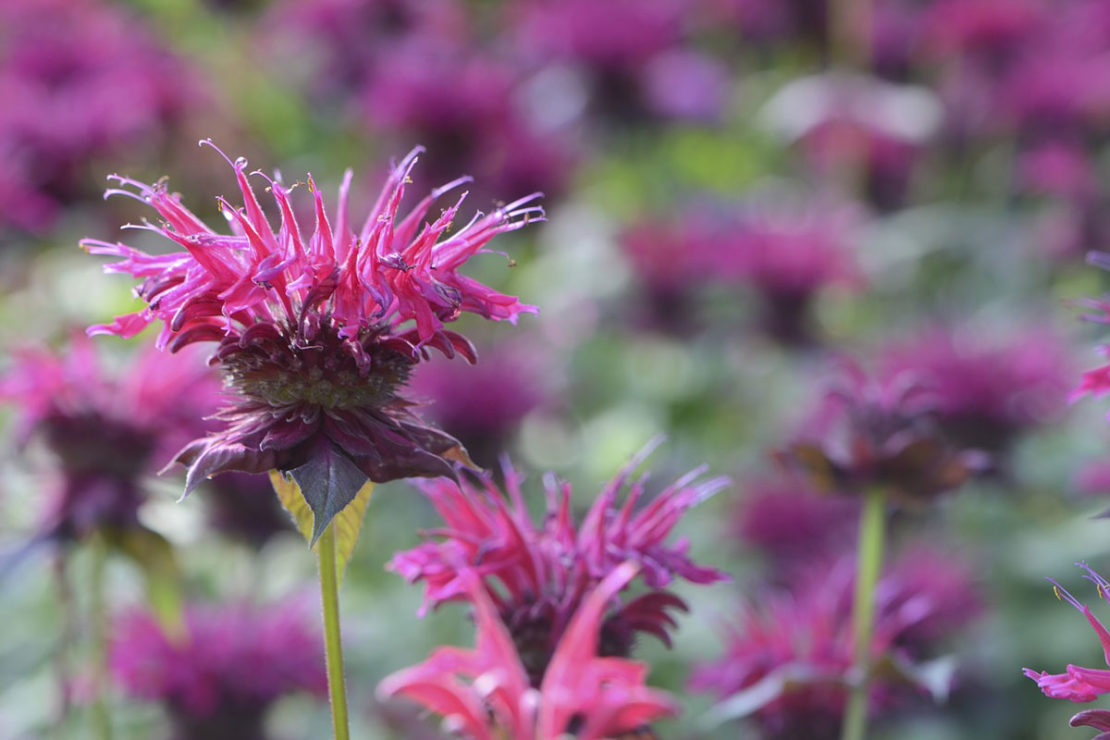 New eBook! Cooling Herbs for Hot Summer Days
Summer days are ripe with joyful pleasures, including fresh lemonade, cool mornings in the garden, and lazy afternoons by the pool or pond. While there are many uplifting moments and simple joys of summer, many parts of the country also endure soaring temperatures that can feel nearly unbearable. Whether you experience jungle-like humidity or bone-dry heat, chances are that you find yourself seeking shade, refreshment, and cooling herbs and foods during the hottest months of the year. 
Fortunately, Mother Nature has supplied us with seasonal foods and herbs that can help us stay hydrated and refreshed despite the heat. Many of these edibles, such as watermelon, cucumber, and lettuce are naturally in season during warmer months, and we find ourselves instinctively craving them—a natural sign that our body knows what's best! Other plants and herbs aren't as obviously cooling, like bee balm (Monarda spp.) aerial parts or St. John's wort (Hypericum perforatum) aerial parts, but with a bit of investigation we learn that they help the body deal with heat in subtle ways that are just as powerful. Although you may not be yearning for these cooling herbs quite yet, we're willing to bet you will start craving their refreshing nature after learning just how helpful (and delicious) they can be!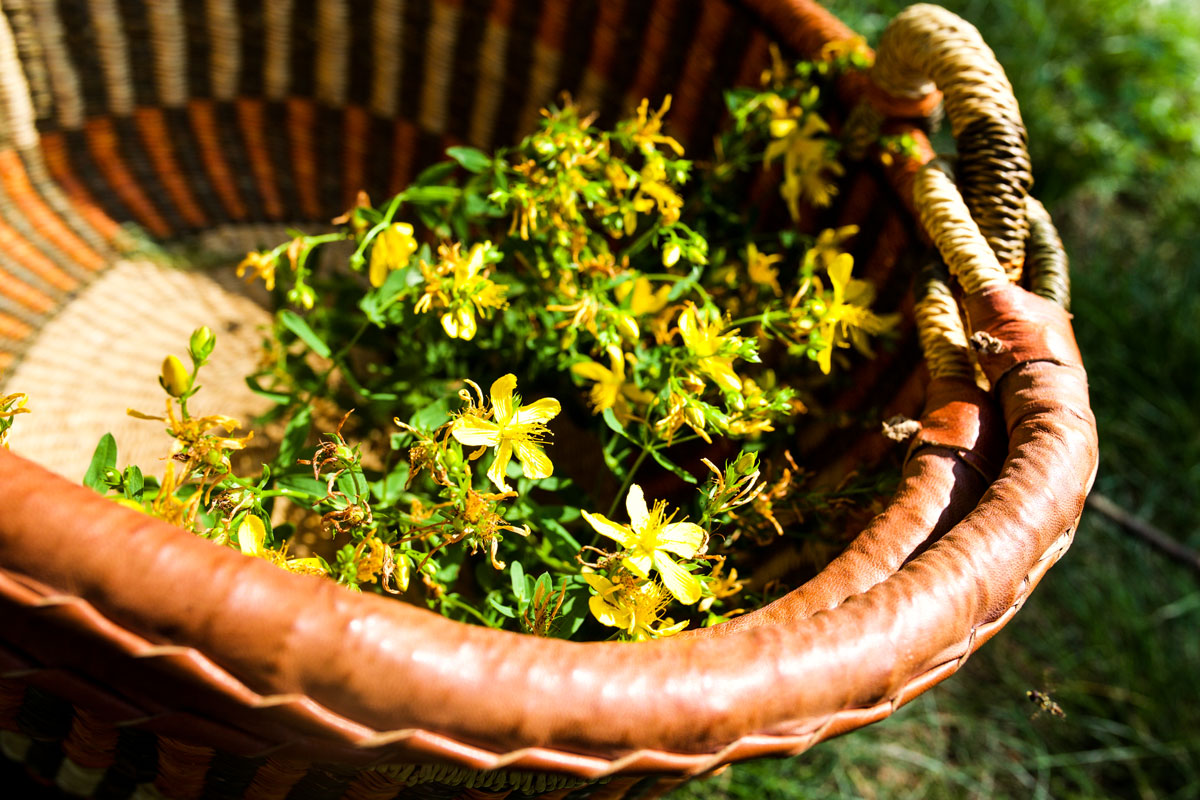 We dive deeply into this topic in our new (and free!) ebook, Cooling Herbs for Hot Summer Days. Beautifully designed and full of helpful information, this 48-page manual includes plant monographs for seven of the most widely available, cooling herbs of summer, including spearmint (Mentha spicata) leaf, hibiscus (Hibiscus sabdariffa) calyx, plantain (Plantago spp.) leaf, rose (Rosa spp.) petal, bud, and hip, and more. We've also compiled some of our favorite recipes starring these seven herbs, including an incredibly refreshing hibiscus sun tea, easy monarda-mint popsicles, and even a rose foot bath fit for the May Day Queen herself. We hope these simple herbal recipes will help you stay calm, cool, and collected on even the hottest of days, while simultaneously deepening your relationship with refreshing herbal allies of the season.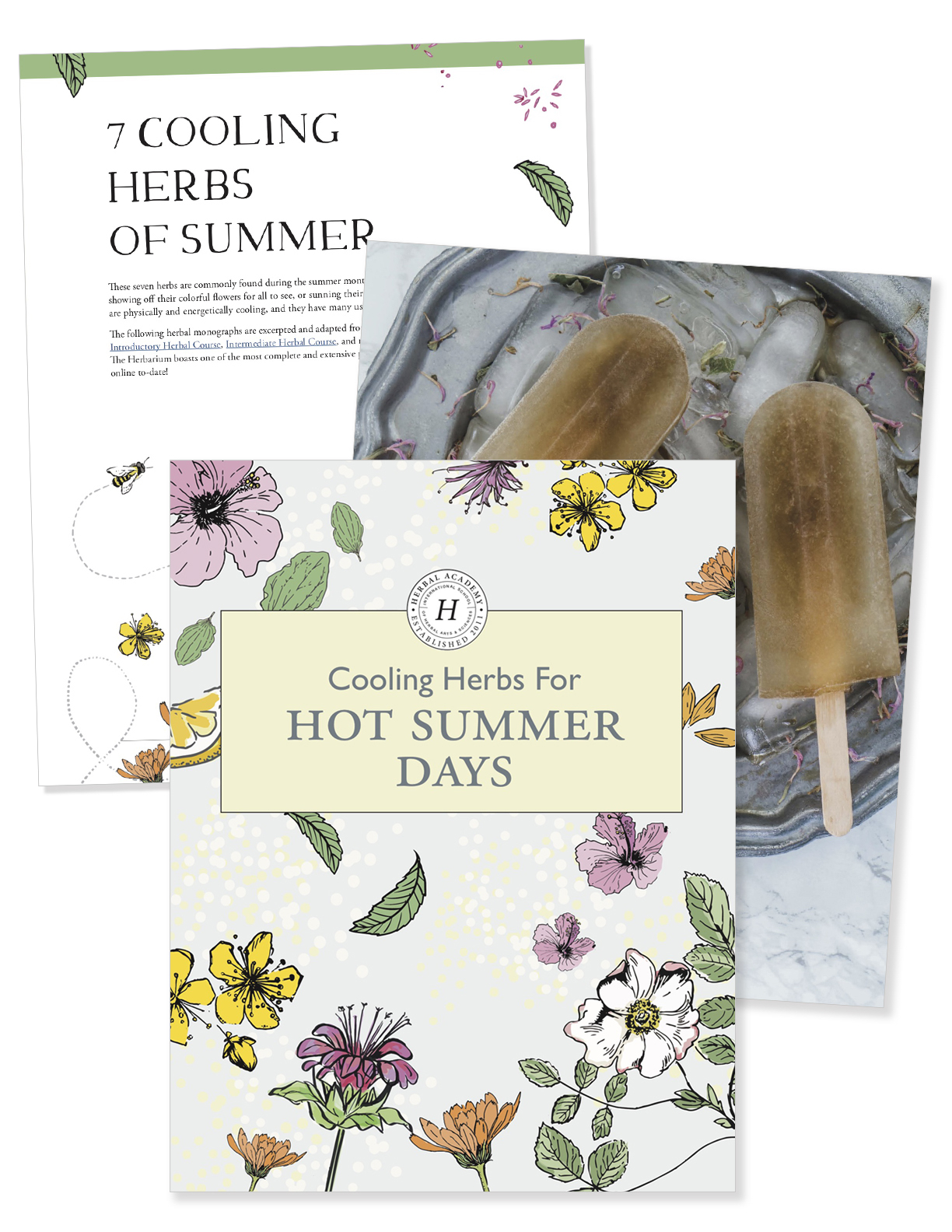 Because summer is such a wonderful time to forage—and we've certainly been hit with the foraging bug—we also filled this ebook with tips about which easy-to-find foraging herbs have cooling properties. We wouldn't want you to hit the fields unprepared, so we also added helpful foraging tips from the experts who created our Foraging Course, as well.
Learn more about The Foraging Course
Download our FREE eBook, Cooling Herbs for Hot Summer Days
If you aren't quite ready to access the free recipes and in-depth monographs in our ebook, then here's a quick and fascinating summary about how, exactly, herbs can help cool the body.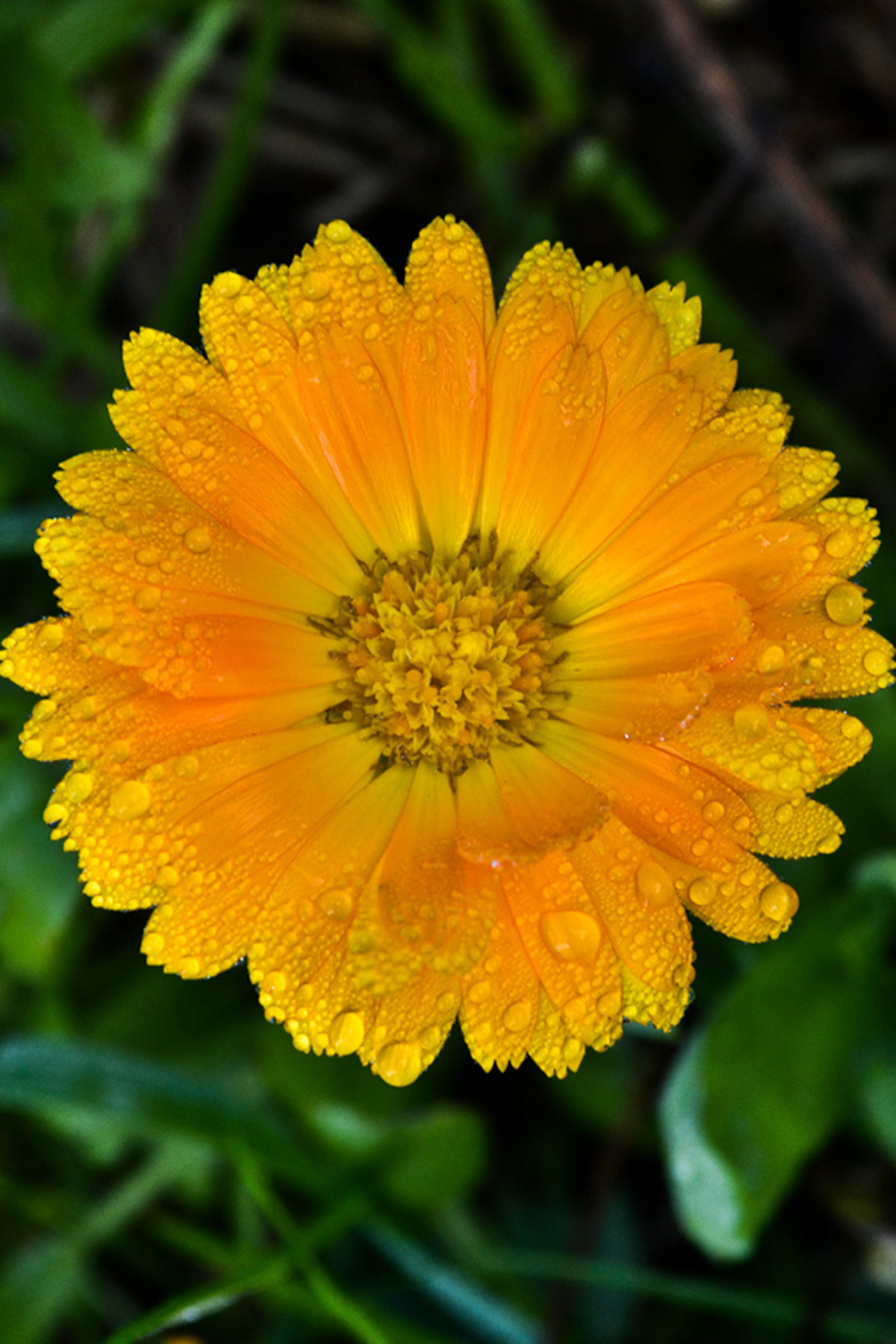 How Herbs Cool
Herbs and foods can be cooling to our bodies in multiple ways. 
One way herbs can cool is through their diaphoretic action. This particular action stimulates the pores in the skin to open so heat can be released, thus cooling the body. Herbs with this action include cayenne (Capsicum annuum) pepper, yarrow (Achillea millefolium) aerial parts, and elder (Sambucus nigra or S. canadensis) flower.
Many cooling herbs have a demulcent or moistening property, which helps to ward off the dehydration that can occur in the heat of summer. Cooling demulcents include marshmallow (Althaea officinalis) root and hibiscus (Hibiscus sabdariffa) calyx. Some astringent herbs also cool the body in this way—this may seem counterintuitive, as we often think about astringent herbs as drying, but as astringents work to tighten and tone tissues, they also help to preserve water inside the tissues. Thus, astringent herbs can also help to offset heat by keeping the body hydrated. Cooling astringents include rose (Rosa spp.) petal, raspberry (Rubus idaeus) leaf, and linden (Tilia spp.) bract and flower.
Speaking of hydration, foods like watermelon, cucumber, and many salad greens are also considered cooling to the body due to their high water content, making these foods perfect for hot summer days. 
One way to spot cooling herbs and foods is by their flavor. While cooling herbs can vary in flavor, many of them have a sour taste. Sour-flavored herbs that are cooling include lemon balm (Melissa officinalis) leaf, rose (Rosa spp.) hip, hibiscus (Hibiscus sabdariffa) calyx, and sour fruits like lemon, lime, blueberry, and more.
Pretty fascinating, isn't it? In our FREE ebook, we go into greater depth about how the seven cooling herbs, listed below, work in the body. 
7 COOLING HERBS FOR SUMMER
Bee balm (

Monarda fistulosa

or

M. didyma

) aerial parts

Calendula (

Calendula officinalis

) flower

Hibiscus (

Hibiscus

sabdariffa

) calyx

Plantain (

Plantago

spp.) leaf

Rose (

Rosa

spp.) petal, bud, and hip

Spearmint (

Mentha spicata

) leaf

St. John's wort  (

Hypericum perforatum

) aerial parts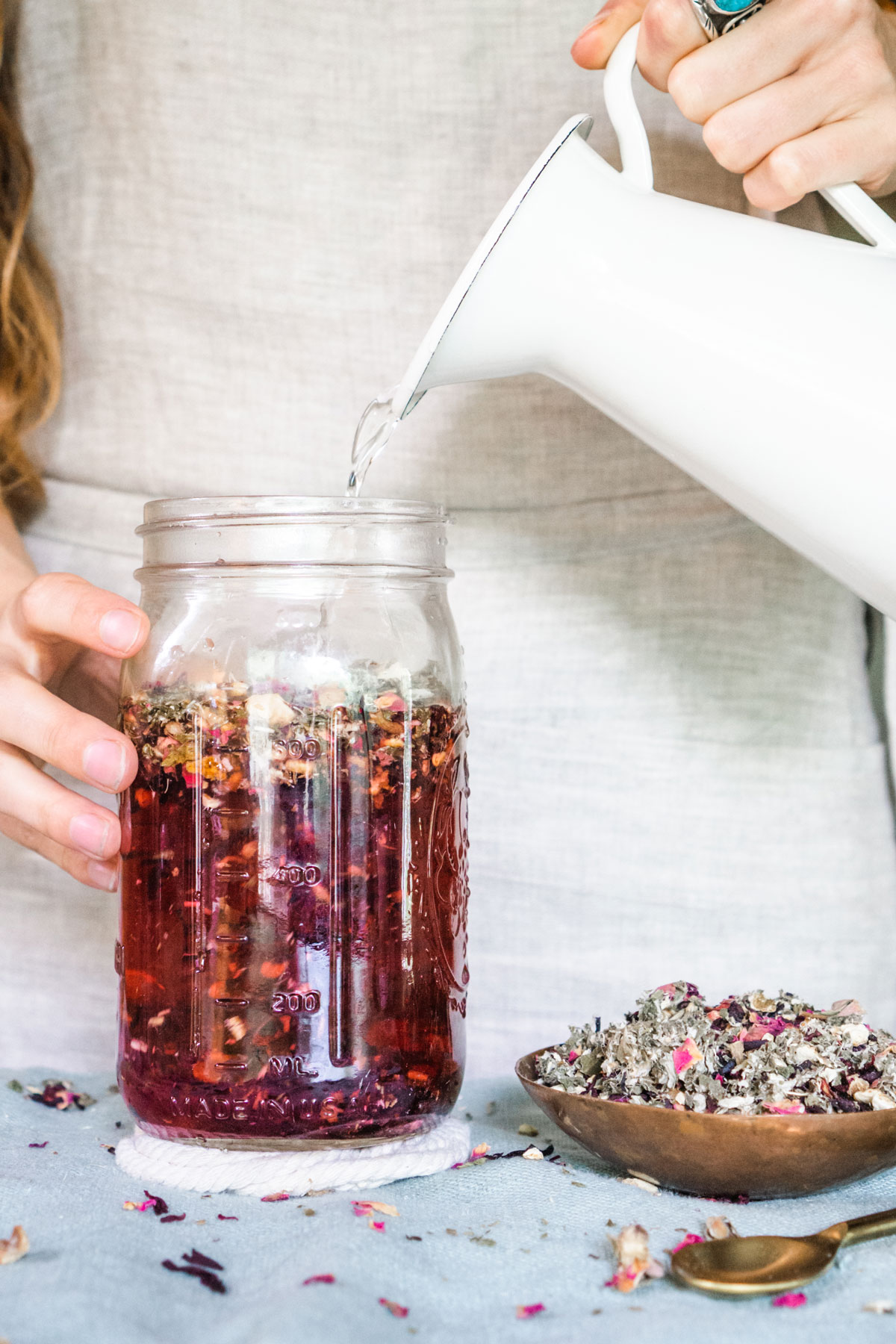 We then outline additional summer herbs with cooling properties that can be foraged nationwide. Finally, we share our seven favorite herbal recipes to help you stay cool. 
Including …
Cooling Rosy Spearmint Foot Soak

Hibiscus and Raspberry Leaf Sun Tea

Soothing Sunburn Spray

Refreshing Monarda-Mint Ice Pops

Simple Bug Bite Salve

Sore Muscle Infused Oil

Rose Petal Elixir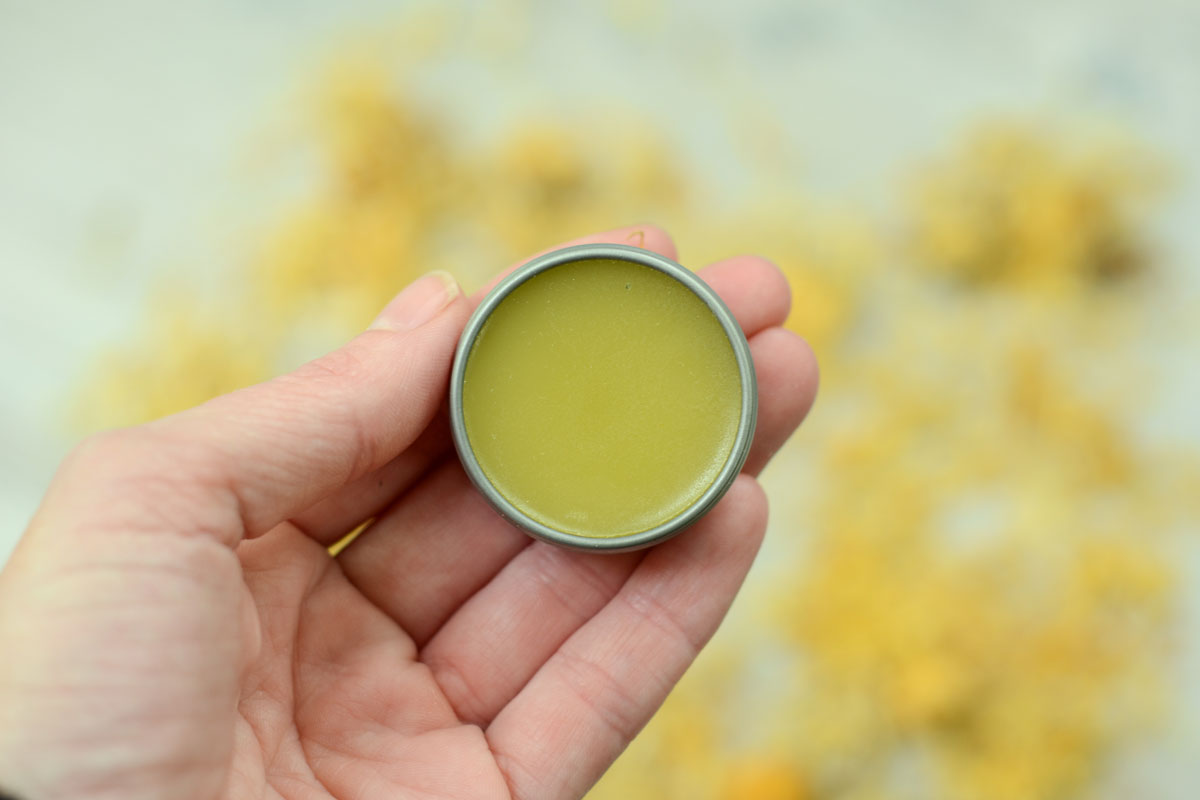 When you're ready to start harnessing the power of herbs for a naturally cool and refreshing summer, then you know where to find and download our FREE ebook, Cooling Herbs for Hot Summer Days. 
More Helpful Resources
3 Cooling Herbal Teas for Summer
Cooling Cucumber Mint Limeade for Hot Summer Days
Cooling Down with Summer Rose