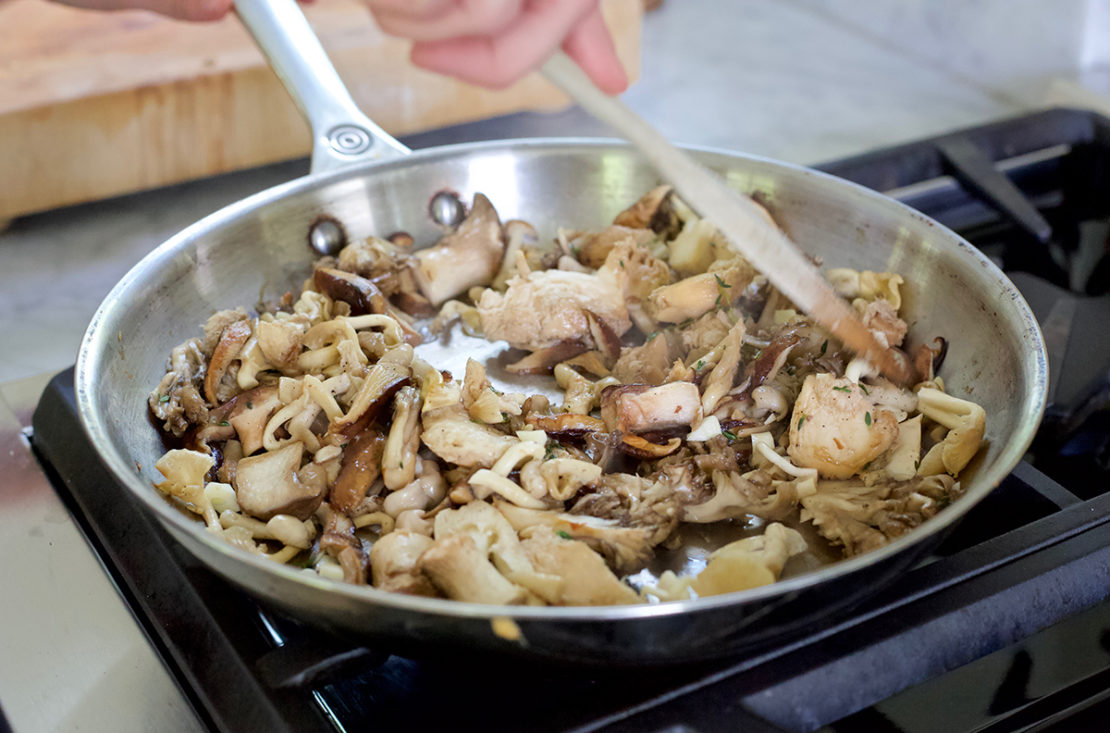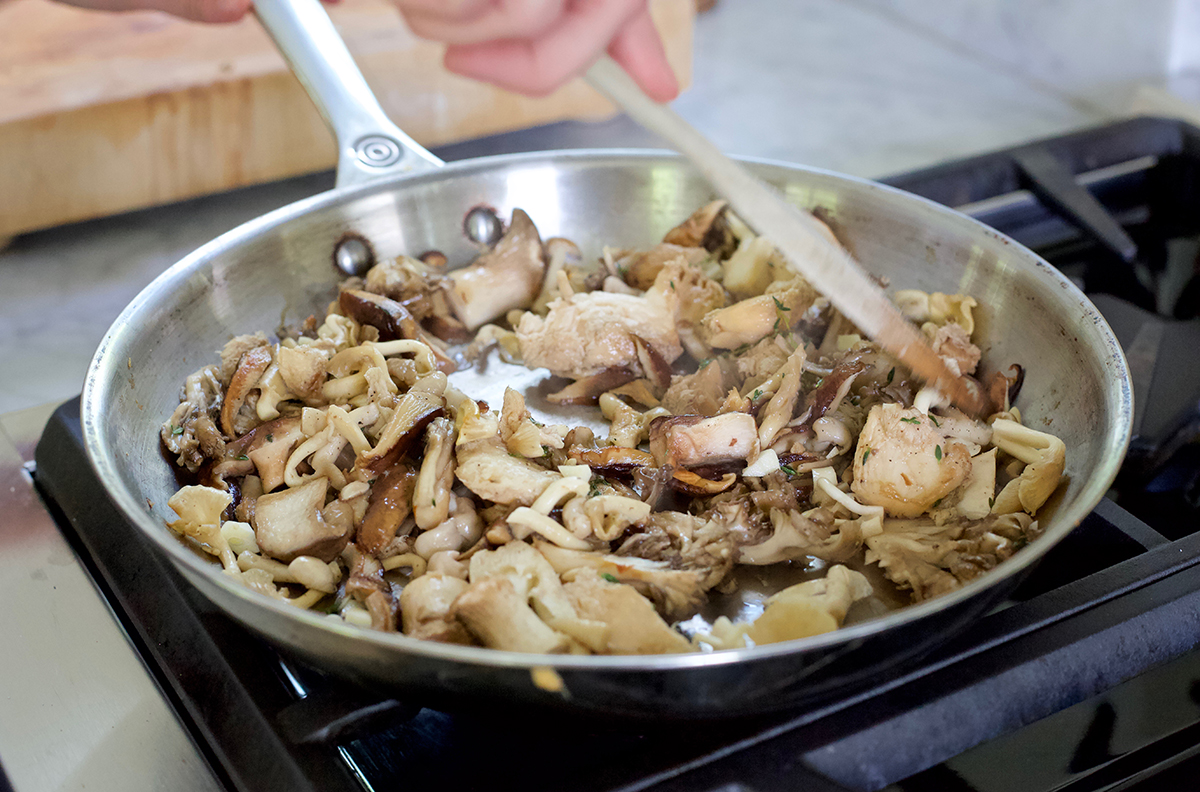 Cooking With Edible Mushrooms: A Beginner's Guide
When it comes to cooking with edible mushrooms, the options are exciting, creative, and vast. Even for the novice chef who is just dipping their toe into the world of edible mushrooms, culinary options span far beyond the common button mushroom. Curious looking fungi such as morel (Morchella esculentoides), enoki (Flammulina velutipes), porcini (Boletus edulis), and chanterelle (Cantharellus cibarius) can be incorporated into desserts, pastas, soups, and dumplings. Furthermore, there is good reason for the burgeoning popularity of edible mushrooms. These friendly fungi have the capacity to support good health while adding protein, texture, and flavor to sweet and savory dishes alike.
Cooking With Edible Mushrooms: Tricks of the Trade
There are a few tricks of the trade in regards to cooking with edible mushrooms. First of all, there is a difference between soft mushrooms such as shiitake (Lentinula edodes), maitake (Grifola frondosa), and chanterelles (Cantharellus cibarius) versus tough mushrooms such as reishi (Ganoderma lucidum) and chaga (Inonotus obliquus). The soft variety can easily be used in cooking—just a little oil is all you need. On the other hand, tough mushrooms require processing (such as pulverizing) and extraction to make them consumable. However, both genres of fungi can be easily incorporated into your diet.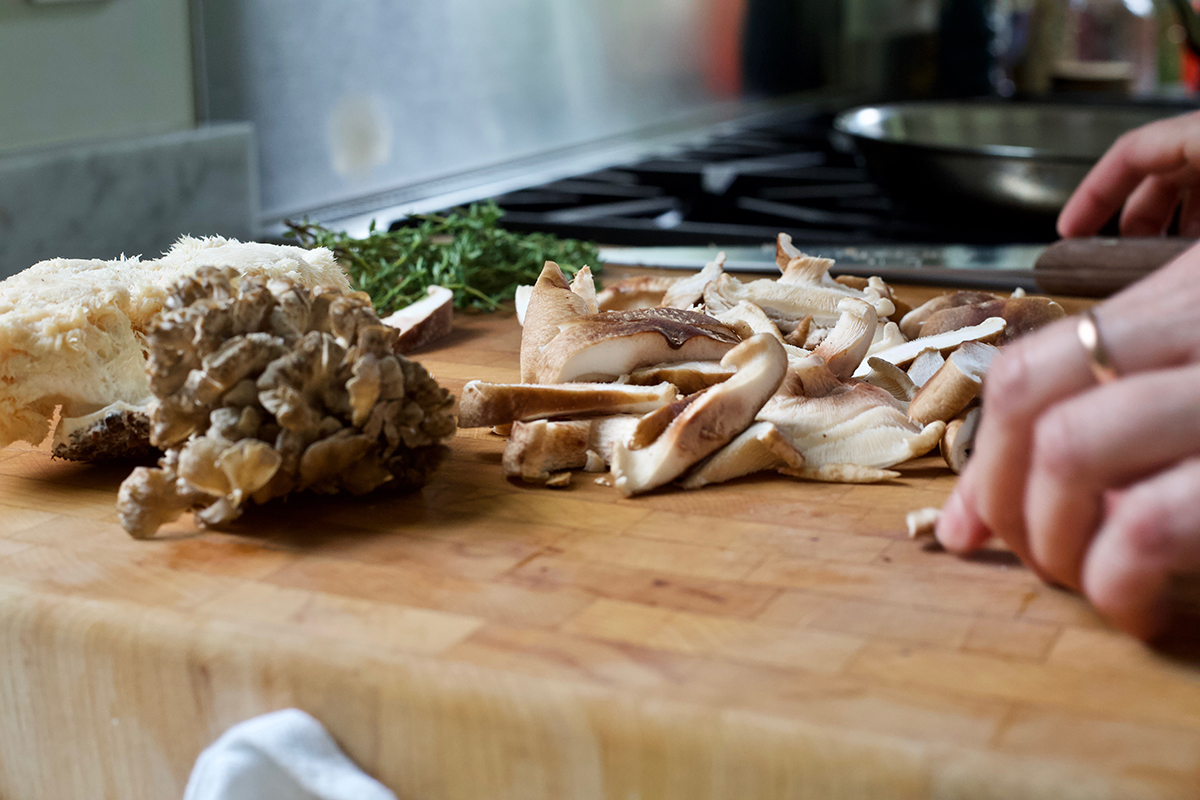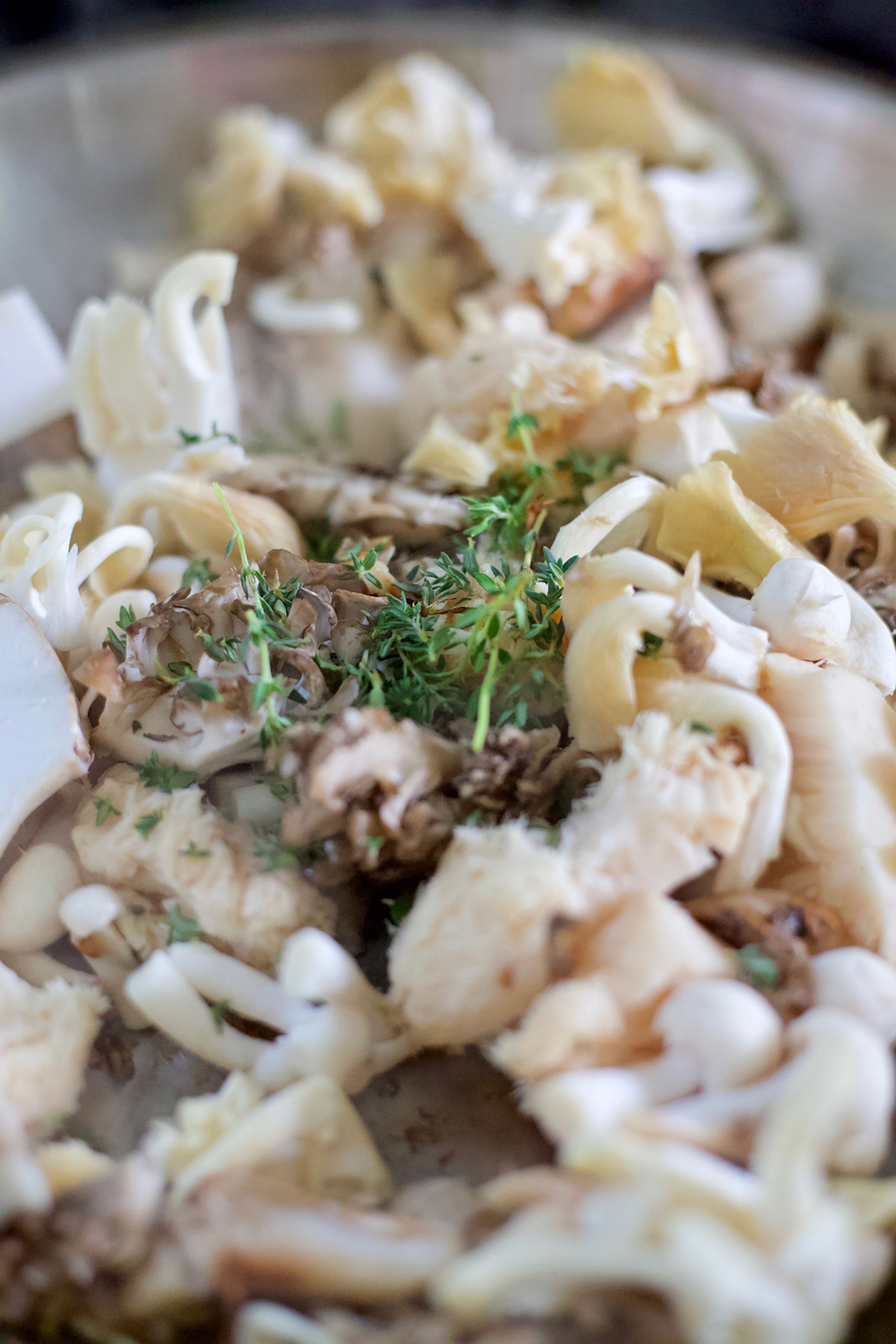 Stepfanie Romine is a health coach, yoga teacher, writer, and mushroom enthusiast who resides in Western North Carolina. Romine offers a handful of simple tips for preparing and cooking with edible mushrooms (S. Romine, personal communication, October 6, 2018).
Keep Your Mushrooms Dry
Mushrooms should never be slimy or give off a bad odor. If you detect an off-putting ammonia smell being emitted by your edible mushrooms, it is best to toss them in the compost. Mushrooms have a lot of natural moisture, so it is better for a mushroom to get slightly dehydrated as opposed to becoming too moist or slimy. Storing mushrooms in a paper bag in the refrigerator should do the trick.
Always Cook Your Mushrooms
Some mushrooms, such as shiitake and maitake can pose serious health risks if eaten raw, including rashes and severe gastrointestinal upset. Furthermore, mushrooms are rich in a fiber called chitin. Chitin can also be found in shrimp shells and in the exoskeletons of insects. Though beneficial, chitin is a tough substance that requires cooking to make it digestible. Breaking down chitin through cooking unlocks the nutritional content in the mushrooms.
Start With A Very Hot Pan
Using a cast iron or stainless steel pan, get your pan very hot and then add the mushrooms (no oil required). Sear your mushrooms by pressing them down and squeezing their natural moisture out. At this point, the mushrooms may make a funny whistling or squealing sound as the water escapes. After searing your mushrooms on both sides, add oil or butter and other ingredients such as garlic, onions, and shallots for flavor. Romine also recommends using wine to deglaze your pan, as alcohol assists in extracting the health benefits from edible mushrooms, but broth also works well for deglazing.
Less Is More
A small amount of mushroom goes a long way, so less is more when it comes to cooking with edible mushrooms. Chopping mushrooms helps further break down the chitin and assists in unlocking nutritional content. Cooking and chopping are two ways to get a head start on the digestive process before the mushrooms even enter your mouth.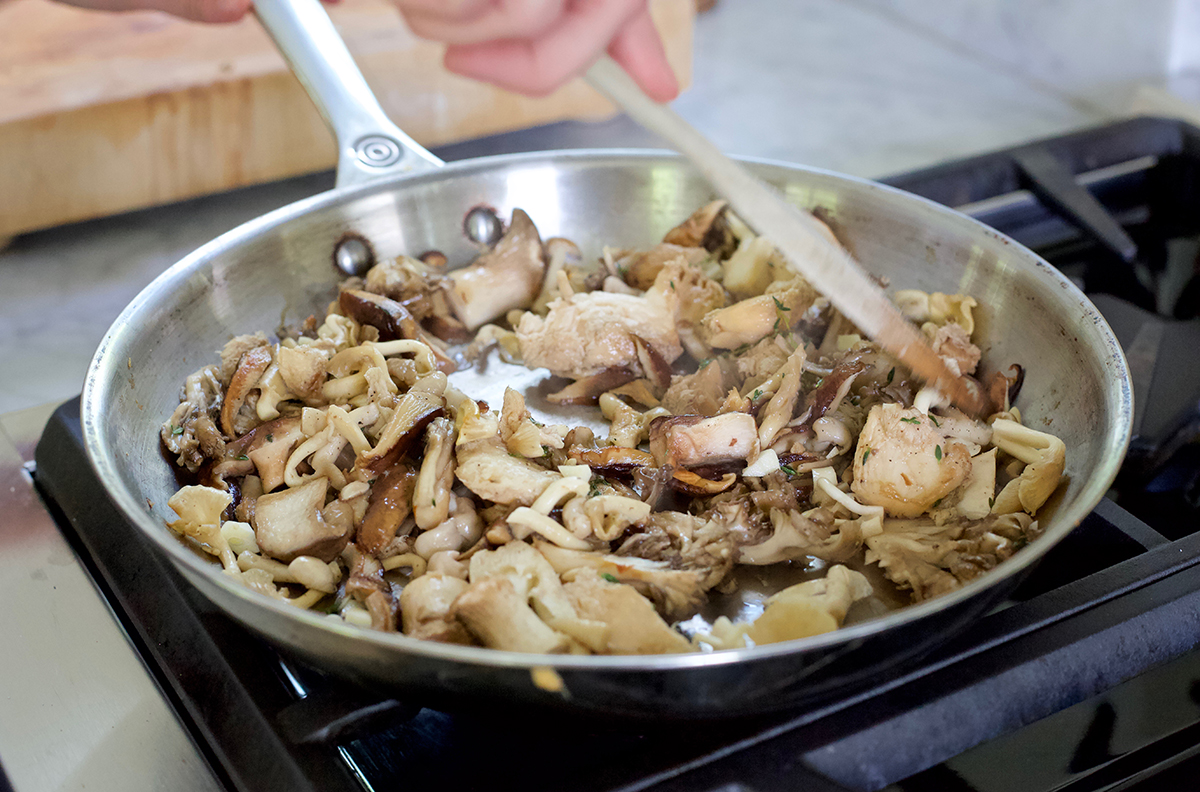 The Options are Plentiful
In terms of recipes, cooking with edible mushrooms can range from incredibly simple to quite complex. It all depends upon your comfort and interest level in the kitchen. Many edible mushrooms such as morels and portobellos (Agaricus bisporus) are excellent simply seared in butter or ghee and flavored with a bit of garlic, onion, and wine or broth. Mushroom grower Eric Christianson of Pisgah Gourmet likes to fry up lion's mane (Hericium erinaceus) with a couple of eggs for an easy breakfast scramble. Christianson reports that on days where he has his standard lion's mane scramble for breakfast, he feels more alert and energetic in comparison to the days he goes without(E. Christianson, personal communication, October 2018). Christianson's observation supports the understanding that lion's mane promotes memory and mental sharpness (Groves, 2016).
If you are looking for a purely plant-based savory dish you can try as you begin cooking with edible mushrooms, try this maitake stuffed avocado dish by Stepfanie Romine.
Spicy Maitake and Veggie Stuffed Avocados
Recipe adapted from "Cooking With Healing Mushrooms: 150 Delicious Adaptogen-Rich Recipes that Boost Immunity, Reduce Inflammation and Promote Whole Body Health" (Ulysses Press, July 2018) by Stepfanie Romine.
Serves 4
Ingredients
2 tsp safflower or avocado oil
1 (3.5-ounce) package maitake (Grifola frondosa), chopped
1 tbsp salt-free taco seasoning
¼ cup chopped red onion
3 cloves garlic, minced
1 red or yellow bell pepper, diced
½ cup corn kernels
2 avocados, sliced in half and pits removed
¼ cup cilantro, leaves only, chopped
2 tbsp pumpkin seeds
1 lime, cut into wedges
Directions
Heat a medium-sized cast iron or stainless steel skillet over medium-high heat. Add the oil, maitake, taco seasoning, and red onion.

Cook on medium-high heat, stirring occasionally for several minutes until the onions begin to soften.

Add ¼ cup of water and cook for about five minutes until the water mostly evaporates.

Add garlic, bell pepper, and corn and reduce heat to medium for another five or so minutes until all ingredients soften. Add salt and black pepper to taste.

Scoop each avocado half out of the skin and fill in with a scoop of maitake mixture. Garnish with cilantro, pumpkin seeds, and/or lime wedges.
What About Tough Fungi?
When it comes to cooking with edible mushrooms that are tough, such as reishi and chaga (Inonotus obliquus), some of the best ways to incorporate these edible mushrooms into your diet are through desserts and beverages. Both reishi and chaga pair well with chocolate and can be used to make delightful treats such as hot cocoa, lattes, and homemade truffles.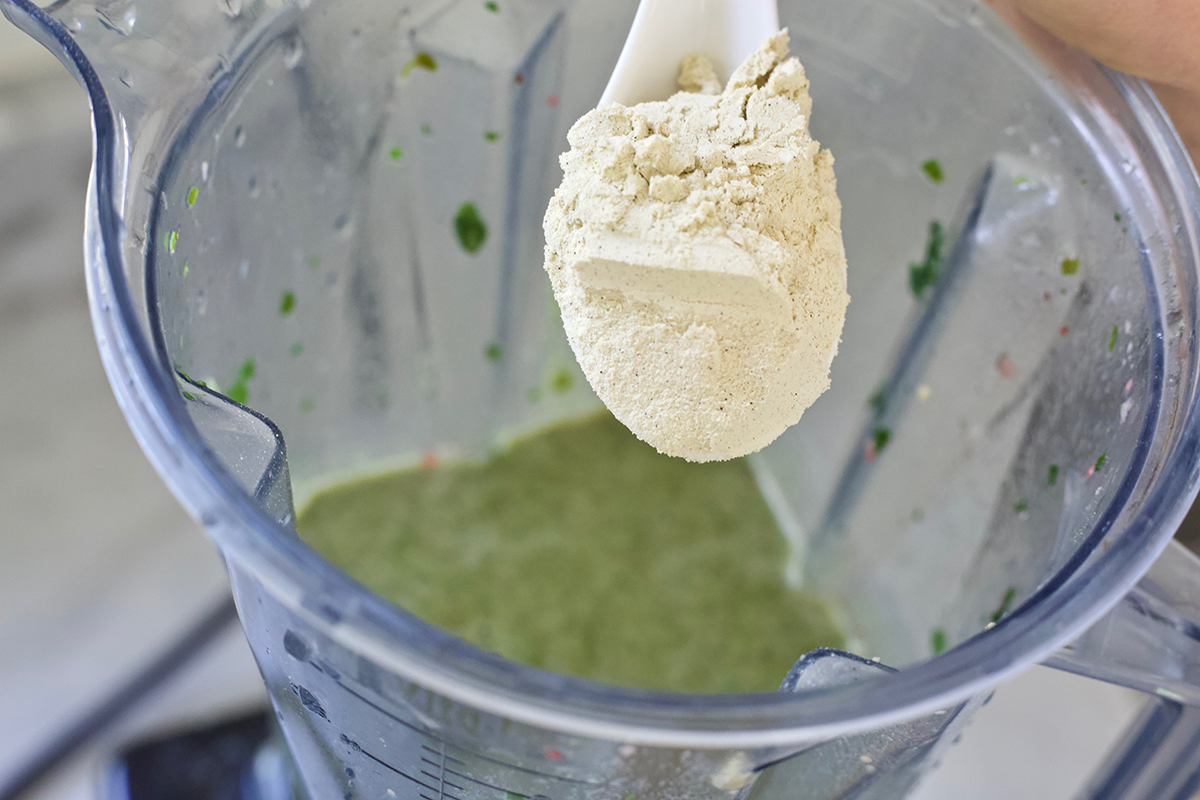 This mushroom coffee latte recipe is from the Minimalist Baker. It can be prepared according to the recipe or adapted to create a hot cocoa or tea latte.
Mushroom Tea Latte
Recipe adapted from the Minimalist Baker.
Ingredients
1 tsp dried powdered mushrooms (reishi (Ganoderma lucidum) or chaga (Inonotus obliquus) work well)
1 tsp maple syrup or coconut sugar
1 tsp cacao powder
1 pinch ground cinnamon (Cinnamomum zeylanicum) bark
1 pinch sea salt
¾ cup whole milk (or sub cashew, coconut, or almond milk)
¾ cup strong brewed black tea
Directions
Brew the black tea, steeping to taste.

Steam or heat the milk and put in a blender with the mushroom powder, tea, maple syrup, cacao powder, cinnamon and sea salt.

Blend for 30 seconds to a minute until mixture is smooth and frothy.

Pour into a mug and enjoy! A pinch of ground cardamom on top makes a pleasant garnish.
The Sky's the Limit
Another easy way to begin cooking with edible mushrooms is to add soft or hard mushrooms into soups. A quick and simple method is to combine a teaspoon of powdered, dried mushroom such a cordyceps (Cordyceps sinensis) or turkey tail (Trametes versicolor) with a teaspoon of miso. Stir into a cup of boiling water until all the ingredients dissolve and add a teaspoon of fine chopped green onion if you wish. Let this cool for a few minutes and enjoy.
As you can see, the sky's the limit when it comes to cooking with edible mushrooms. When working with fresh mushrooms, as long as you stick to the cooking guidelines provided in this article and choose mushrooms from trusted sources, let your imagination run wild and your taste buds be your guide. Also, if you are curious about experimenting with dried mushrooms, keep a few varieties on hand, and try incorporating them into soups, lattes, and other desserts and beverages.
You can learn more about the wellness benefits of edible mushrooms in our post, Edible Mushroom Benefits of Six Super Star Mushrooms.
Free Mushrooms for Wellness Download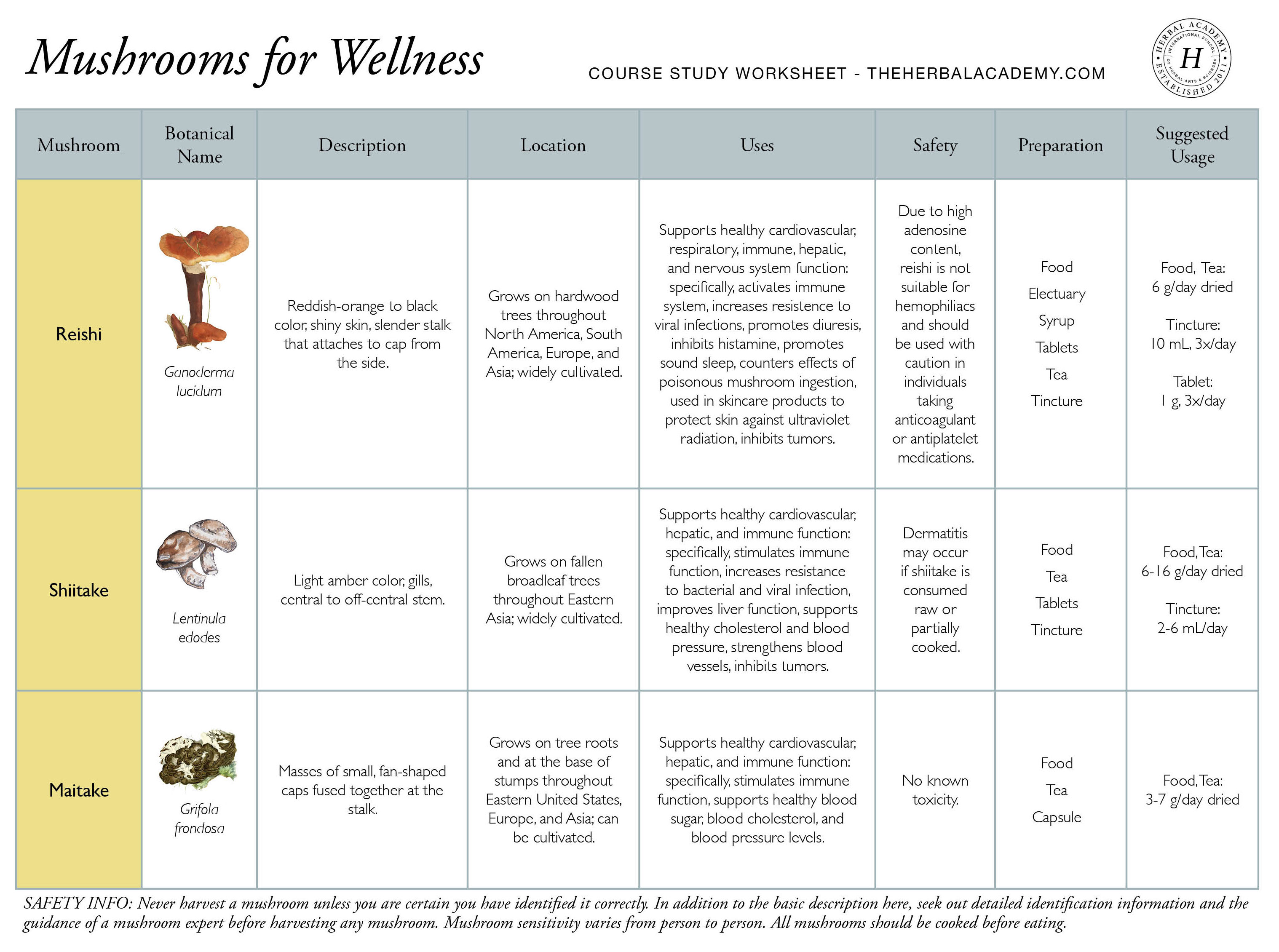 Learn more about these amazing mushrooms and their wellness benefits in this free Mushrooms for Wellness download from the Herbal Academy's Intermediate Herbal Course. This graphic highlights ten common mushrooms and sums them up into a simple chart that you can print and add to your herbal study notebook or materia medica.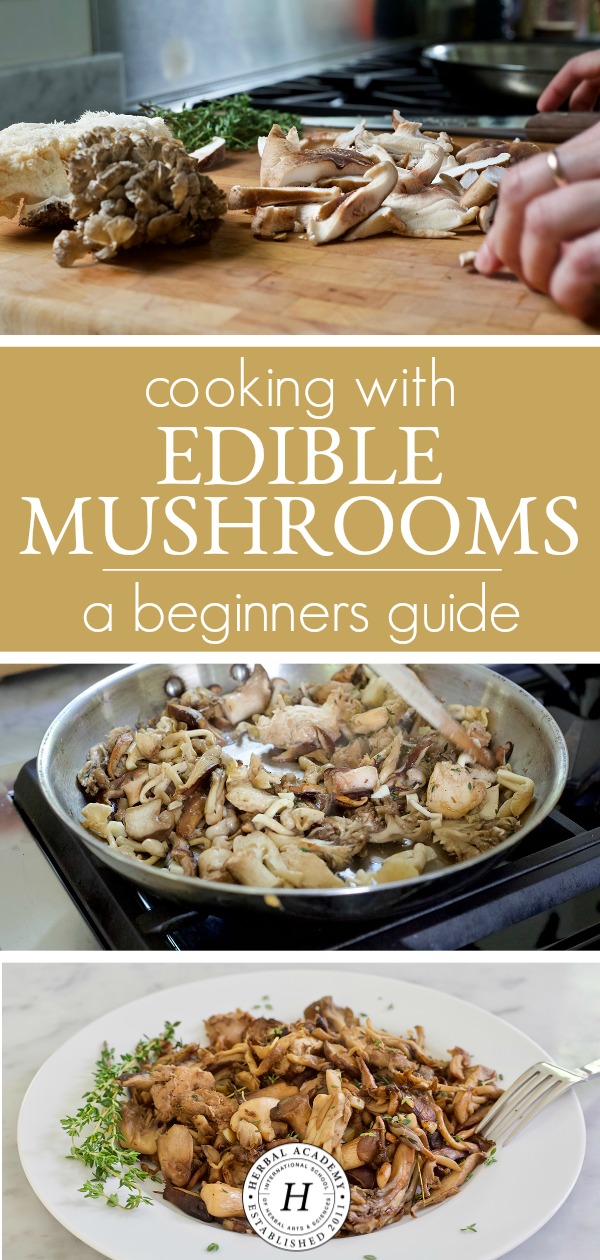 REFERENCES
Groves, M.N. (2016). Body in to balance: An herbal guide to holistic self-care. North Adams, MA: Storey Publishing.
Minimalist Baker. 5-Minute mushroom latte: 2 ways! Retrieved from https://minimalistbaker.com/5-minute-mushroom-latte-2-ways/
Romine, S. (2018). Cooking with healing mushrooms: 150 delicious adaptogen-rich recipes that boost immunity, reduce inflammation and promote whole body health. Berkeley, CA: Ulysses Press.