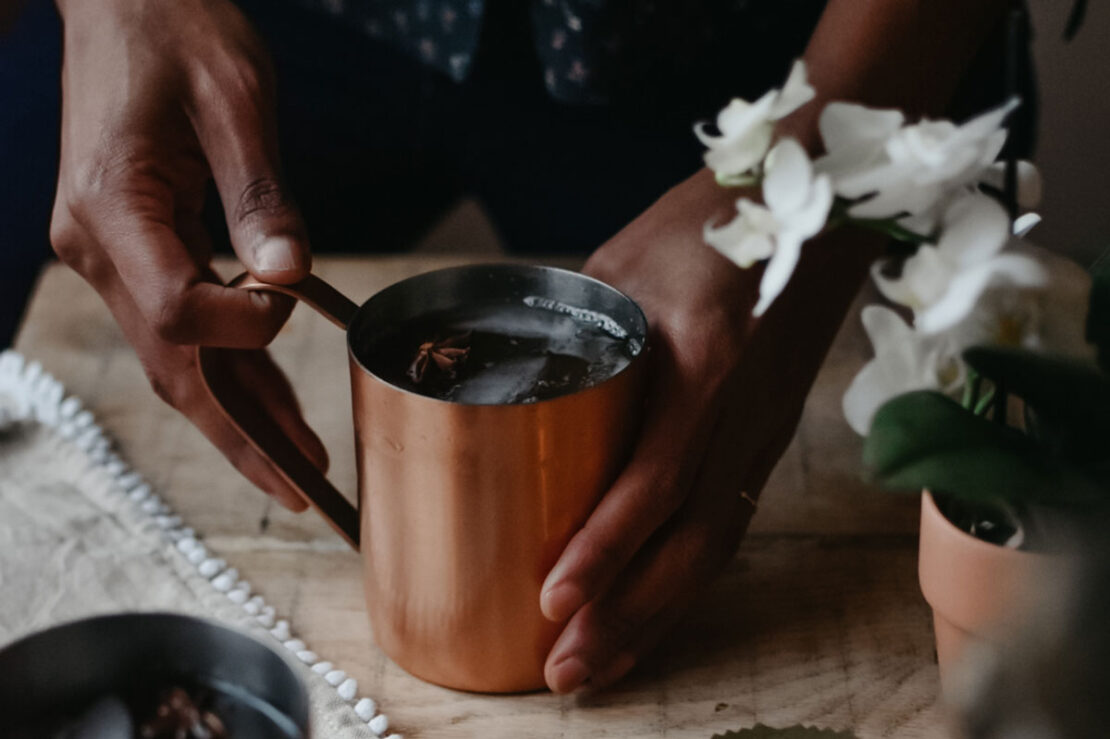 Chai-Spiced Apple Cider Mocktail Recipe
The flavor of chai is as festive as festive comes. This particular apple cider mocktail is a great make-ahead recipe if you're under a time crunch or want to prepare a big batch. The homemade chai concentrate will keep well for at least a week in the refrigerator.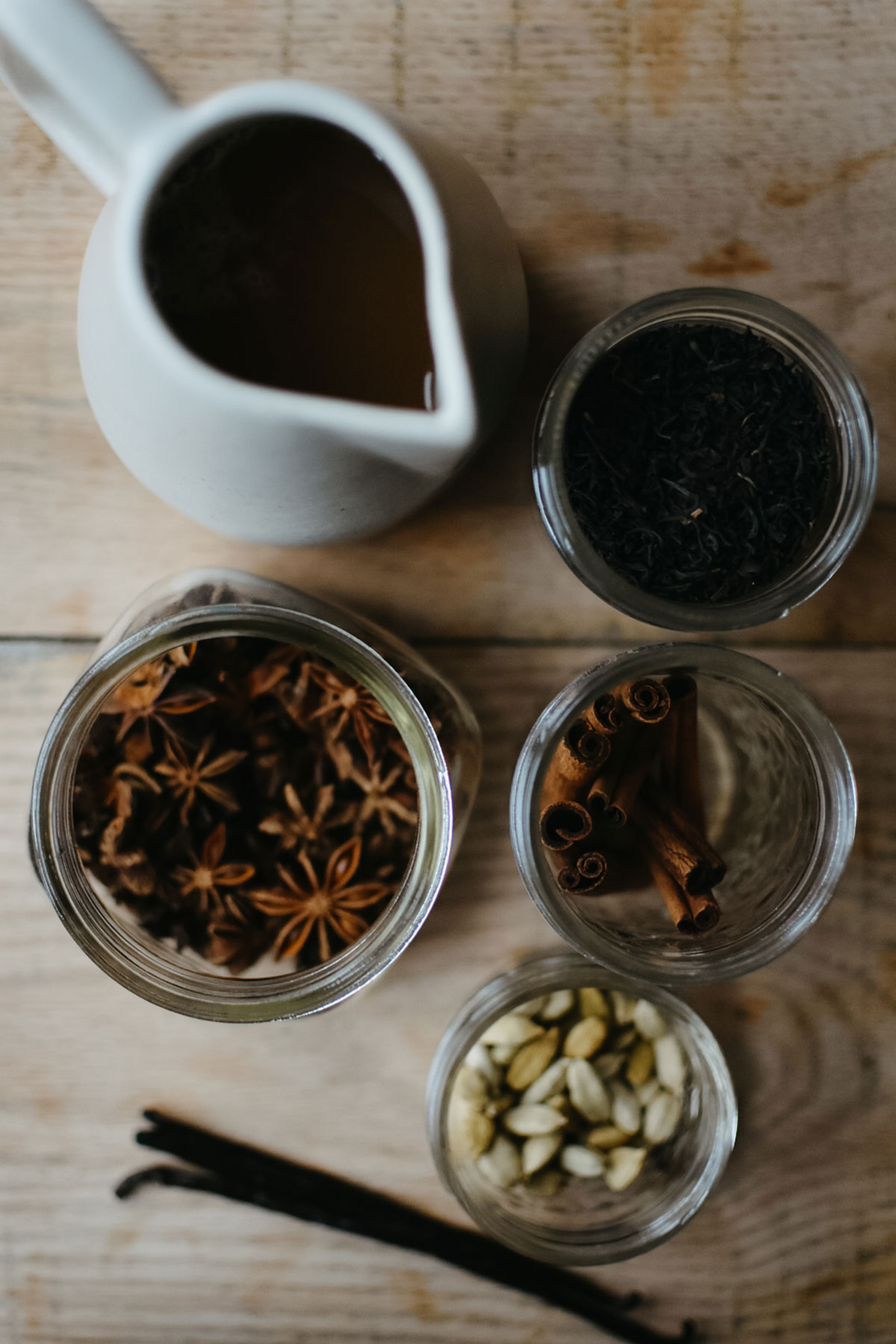 Chai-Spiced Apple Cider Mocktail Recipe with Alcoholic Variation
Packed to the brim with warming herbs like cloves, cardamom, peppercorns, and cinnamon, this apple cider mocktail is more herbal tonic than festive beverage, but we'll gladly enjoy the benefits of both with this recipe.
Yield: 4 drinks.
Ingredients
6 cardamom (Elettaria cardamomum) seed pods (adjust to be more or less depending on how fresh and fragrant your cardamom is)
6 whole peppercorns (Piper nigrum)
4 whole clove (Syzygium aromaticum) buds
2 star anise (Illicium verum) seeds, plus more for garnish
1-inch piece of fresh ginger (Zingiber officinale) rhizome, peeled and cut into small pieces
3 cinnamon (Cinnamomum spp.) bark sticks
2 teaspoons vanilla (Vanilla planifolia) extract
1 tablespoon honey
2 cups water
2 black tea bags (or 2 teaspoons black loose-leaf tea)
2 cups apple cider
Optional: 6 ounces spiced rum
Directions
Combine the cardamom, peppercorns, cloves, anise, ginger, cinnamon, vanilla, honey, and water into a small saucepan and bring to a boil over high heat. 

Once boiling, reduce heat to medium-low, cover, and simmer for 20 minutes. 

Remove from heat, add the black tea, cover, and allow to steep for 5 minutes. 

Strain the mixture and let sit at room temperature. This is your chai concentrate.

Add ¼ cup of chai concentrate and ¼ cup apple cider into each glass.

Optional alcoholic variation: pour 1.5 ounces of spiced rum into each of four glasses before adding ¼ cup each of chai concentrate and apple cider.
Note: If you prefer drinking these as warm cocktails, simply keep the chai concentrate warm on the stovetop and warm the cider in another saucepan on the stove before pouring and serving.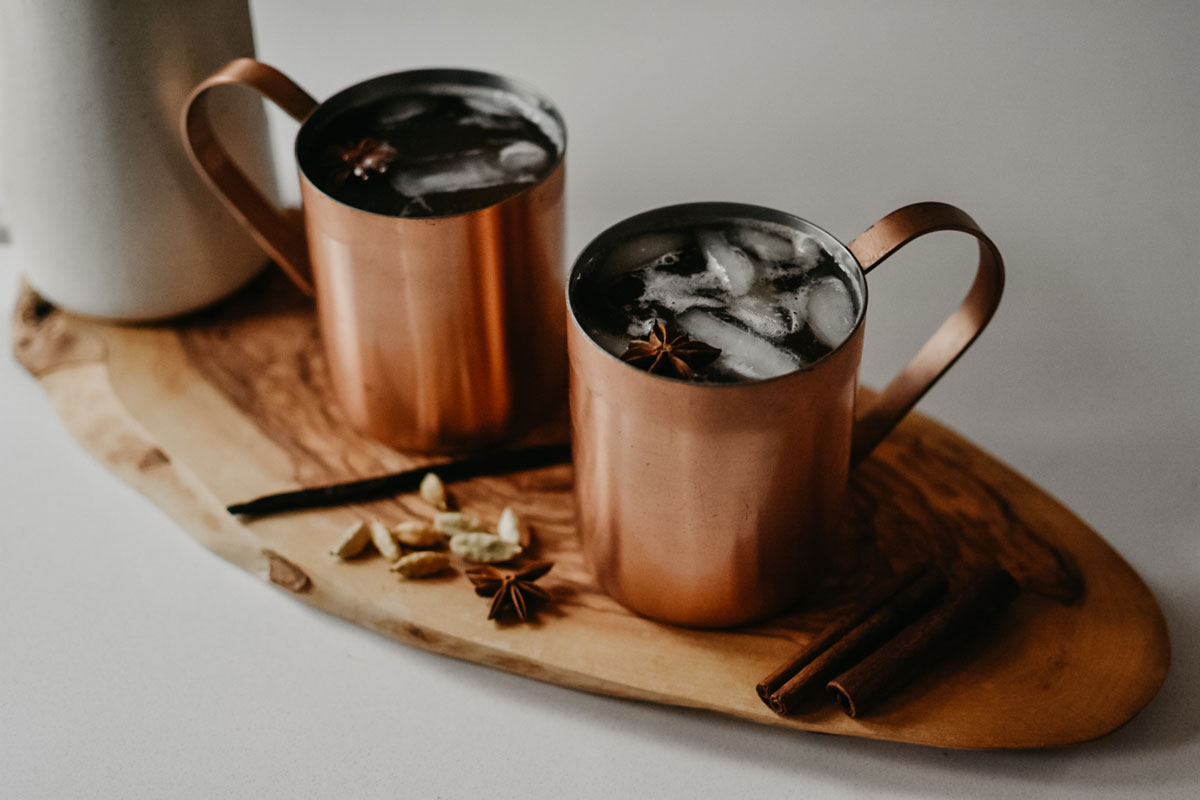 More Winter Herbal Cocktails
Cranberry Hot Toddy Recipe with Clove, Cinnamon, and Ginger
Herbal Hot Toddy Mocktail Recipe
Spiced Apple Cider Recipe with Orange, Ginger, and Cinnamon
Pine Needle Gimlet Recipe