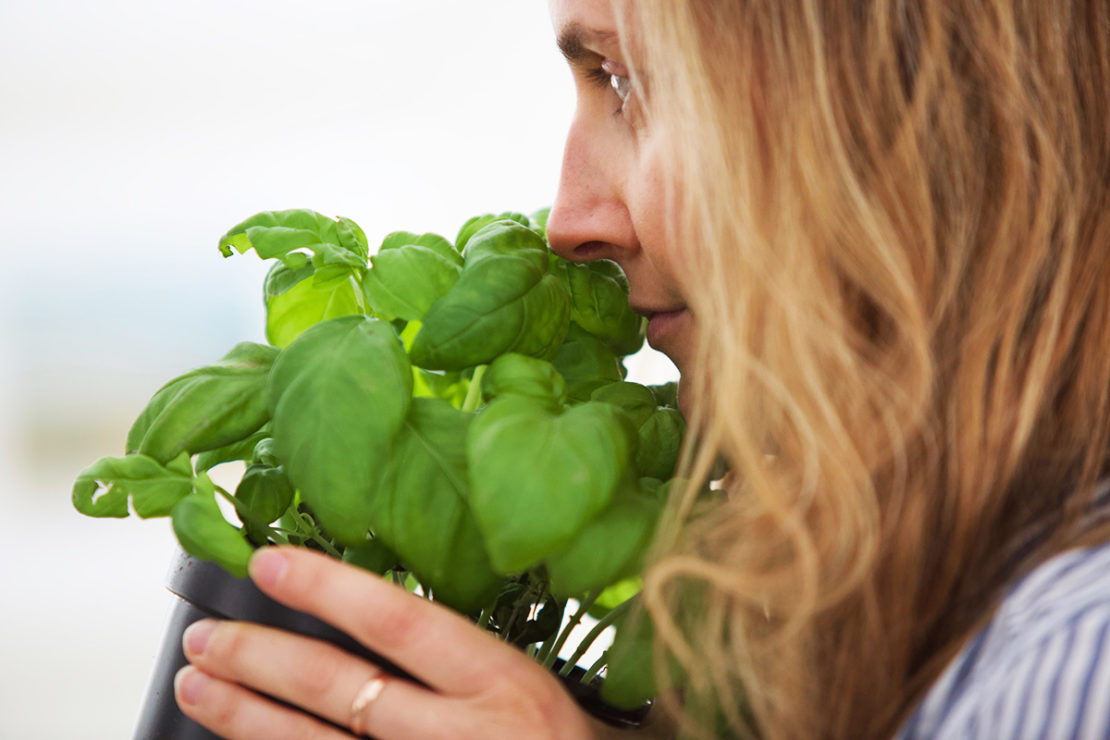 6 Basil Varieties & What You Should Know About Them
Few things compare to the fresh smell and flavor of basil pesto. Throw some basil leaves and pine nuts (or even less expensive almonds) in a blender with some olive oil, lemon, and salt, and you create a fragrant, herbaceous spread you can put on most anything. Just thinking about it makes my mouth water! Basil is a versatile herb, and one of the easiest to grow. In fact, there are over 40 basil varieties!
Basil comes from the herb family Lamiaceae, which is comprised of other edible herbs such as mint, lavender, and rosemary. The genus name of basil is Ocimum, and it includes many varieties and cultivars. These include basils that grow as annuals, perennials, and shrubs. They include varieties with a range of flavors — spicy, fruity, sweet, and licorice flavored. Basil leaves come in all shapes, sizes, and colors! Some are tiny and others get as big as lettuce leaves, and colors range from green to purple to black.
Needless to say, you have many options available if you want to incorporate basil into your herb garden or your cooking, and choosing from the large host of basil varieties is quite possibly the most challenging part of cultivating the herb! If you visit your local garden center they will likely have a few basil seedlings, however, if you're looking for more interesting basil varieties, you will have to start your plants from seed.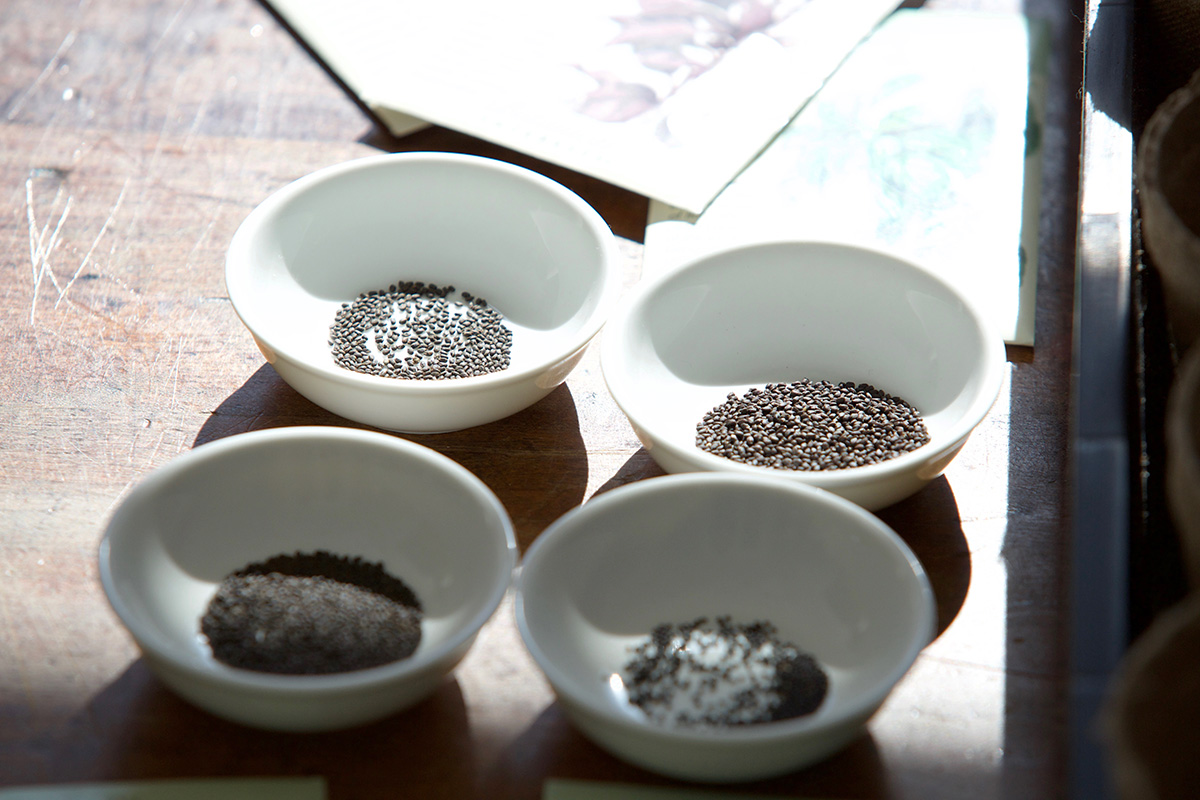 Basil is easy to grow but is frost-tender so in temperate regions can only be grown outdoors during the warmer months. In the cold months, you can grow basil indoors in pots. One great tip that I stumbled upon is to buy organic herbs from the grocery store and place their stems in some water so they will root. When they're ready, pot them, and voila, your own basil plant! If you need more tips about growing herbs indoors, check out our blog post: How to Plant Culinary Herbs Indoors During Winter.)
When harvesting basil, you can pinch off the top leaves periodically. This also serves to help the plant grow in a bushier habit.
The beauty of having such a diverse array of basil varieties is that you can use each plant for different needs. When you're trying to narrow your decision, consider what you want to use the basil for. Will it be used for cooking or for drinks? As a garnish? Maybe you're making a basil dish to freeze, or it may be that you're concocting a tincture.
In order to help make your decision a little easier, below is a sampling of 6 basil varieties and their uses.
6 Basil Varieties To Know & Use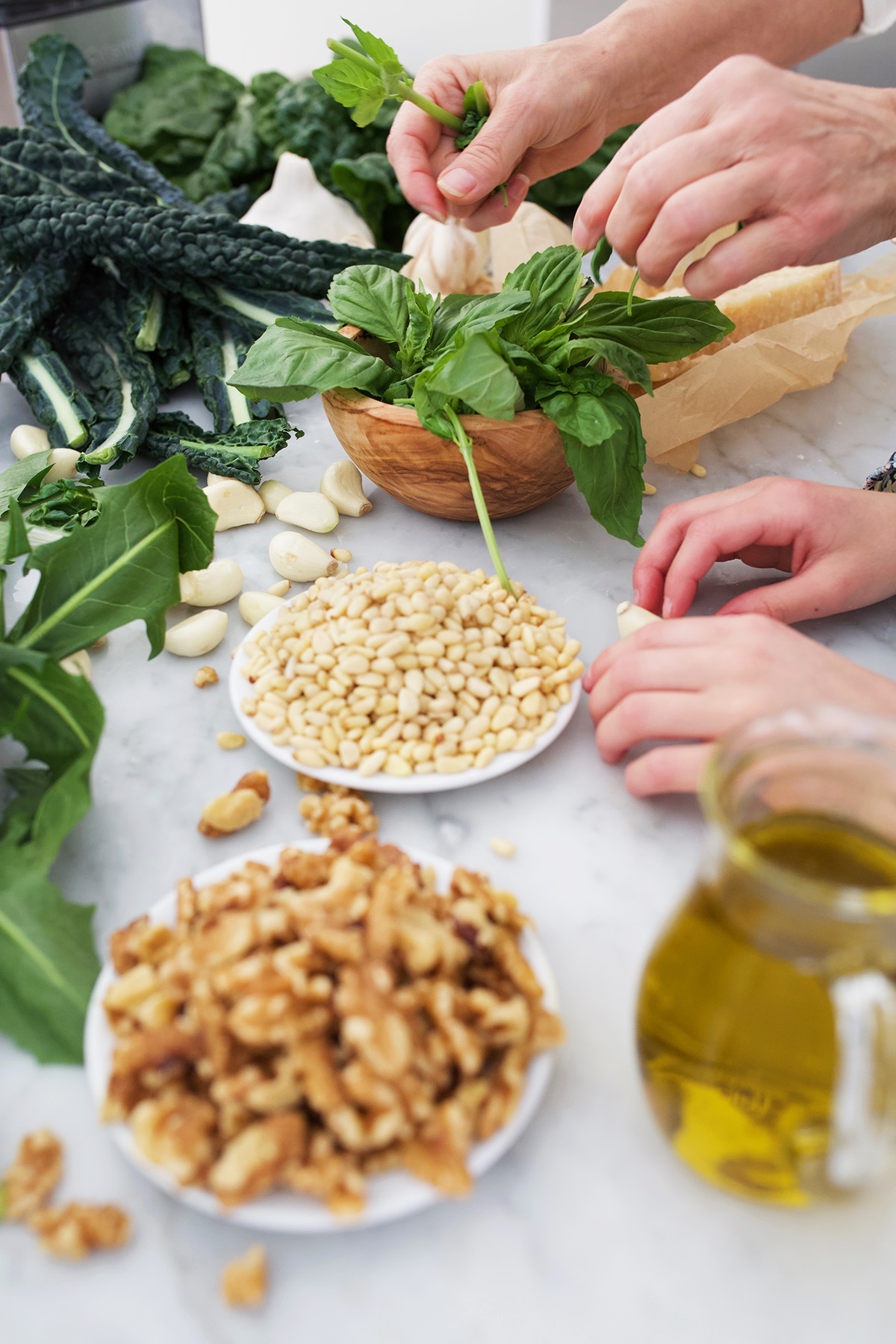 Genovese Basil (
Ocimum basilicum
'Genovese')
This type of basil is one that is most likely familiar as it is commonly found in the produce section at the grocery store. Some stores even sell it in pots so you can cultivate your own indoor basil plant. As the name suggests, this plant is often used to flavor popular Italian dishes. It can also be used as a beautiful garnish.
Eating real foods and herbs is one of the best ways to reap their health benefits. If you're looking to incorporate basil into your diet, try this delicious Spinach Pesto recipe on our blog — just substitute O. basilicum for the spinach and greens. You really can't go wrong, as pesto is a recipe that lends itself well to creativity.

Sweet Basil (
O. basilicum
)
A sweeter and more petite cousin to the Genovese variety, this basil is also a great choice for pasta dishes. Sweet basil is the most familiar basil used to make pesto. To keep the sweet flavor and to facilitate growth, prune the top four leaves of the plant regularly.
Sweet Thai Basil (
O. basilicum var. thyrsiflorum
)
Having a partner who manages a Thai restaurant has contributed to my strong love for this sweet basil with its light licorice flavor. Thai basil is a must-have in any Asian dish such as curry or noodle dishes like pho. My favorite way to incorporate it is to place whole leaves on top of a pad thai as an edible garnish. What can I say? It's a trick of the trade. Check out this Easy Vegan Pad Thai recipe from The Spruce and top it with delicious thai basil for a punch of flavour.
Lemon and Lime Basil (
O. basilicum x O. americanum)
These are two different basil varieties, although they fall into the same category. Both plants mimic the flavor and smell of their namesakes. Just this past spring, I made a delicious series of teas using lemon basil and some other herbs I had on hand. These light-tasting basil types can also be used in a variety of dishes to add a subtle hint of flavor. You can also use lemon and and lime basil in a basil cocktail in the afternoon (virgin of course!) instead of your usual coffee. Simply combine 3 or 4 mashed lemon or lime basil leaves at the bottom of a glass, add some ice and carbonated water, spritz with a squeeze of lime, and top with a couple more basil leaves. This tonic is sure to leave you feeling refreshed and uplifted!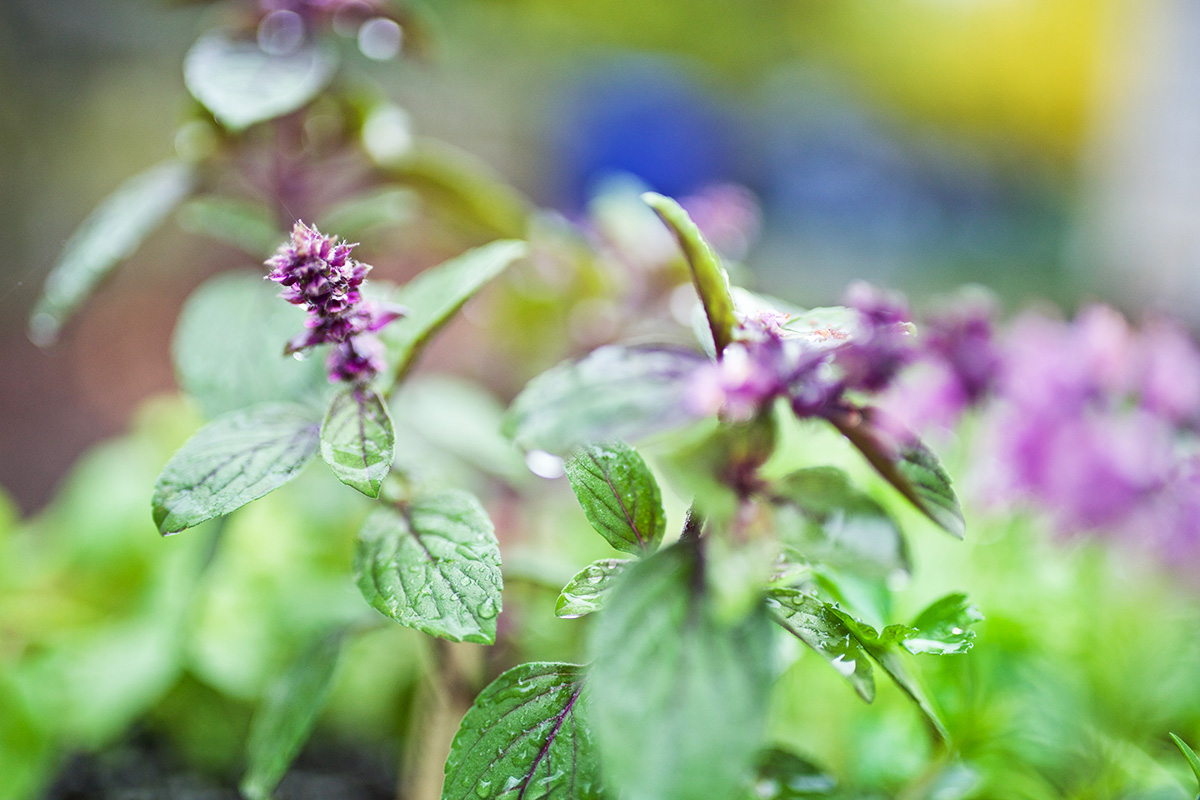 Holy Basil (O. sanctum or O. tenuiflorum)
Holy basil (also called tulsi) is a well-known herb used as a tea, tincture, and herbal supplement (Cohen, 2014).  You can read more about its uses here: Creating a Local Materia Medica: Holy Basil.
Tulsi has spiritual connotations as it is revered in India. According to the Hindu religion, tulsi is an earthly representation of the goddess Tulsi (Cohen, 2014).
Due to its pungent floral taste and smell, holy basil is also popular in homemade herbal teas or as potpourri. If you're interesting in learning more about the everyday uses of holy basil, check out our blog post: 7 Ways to Use Tulsi Everyday.
Spicy Globe Basil (
O. basilicum minimum
 'Spicy Globe')
If you're looking for a plant that will grow well inside or on your patio, this basil tends to be smaller than some of the other basil varieties. As the name implies, the leaves on this herb are small and spicy, which might add a punch to some of your dishes.
Health Benefits of Basil
Basil has a wide variety of health benefits. To begin, it's a cooling herb that is often used during fevers to open the pores and allow the body to cool itself (Wood, 2008). It's also a well-known digestive herb and is often used for digestive troubles such as indigestion, cramps, and constipation (Tierra, 1998). It has been shown to have antibacterial properties (Suppakul, Miltz, Sonneveld & Bigger, 2003), and is also an excellent herb for the nervous system, where it works to first stimulate and then relax the system (Wood, 2008). Tulsi is also used in traditional Ayurvedic medicine as an adaptogenic herb. Adaptogenic herbs help the body respond more effectively to stress by stabilizing the effects of the neuroendocrine system and supporting the immune system (Winston & Maimes, 2007).
Now that you know a bit about some of the diverse types of basil and basil's role in wellness support, how will you incorporate basil into your life? We want to know!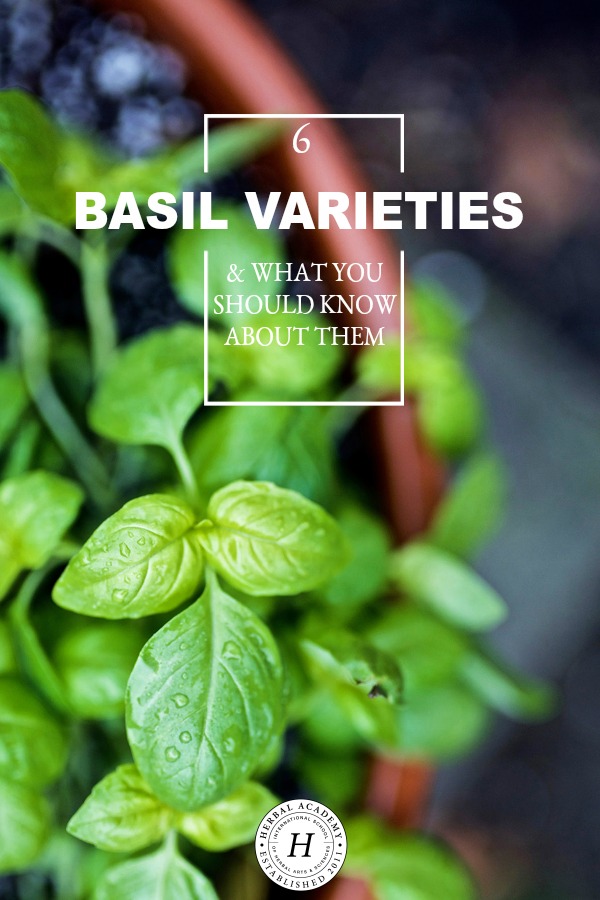 REFERENCES
Cohen, M. M. (2014). Tulsi-Ocimum sanctum: A herb for all reasons. Journal of Ayurveda and integrative medicine, 5(4), 251.
Suppakul, P., Miltz, J., Sonneveld, K., & Bigger, S. W. (2003). Antimicrobial properties of basil and its possible application in food packaging. [Abstract]. Journal of Agricultural and Food Chemistry, 51(11), 3197-3207.
Tierra, M. (1998). The way of herbs. New York, NY: Pocket Books.

Winston, D. & Maimes, S. (2007). Adaptogens: Herbs for strength, stamina, and stress relief. Rochester, VT: Healing Arts Press.
Wood, M. (2008). The earthwise herbal: A complete guide to old world medicinal plants. Berkeley, CA: North Atlantic Books.