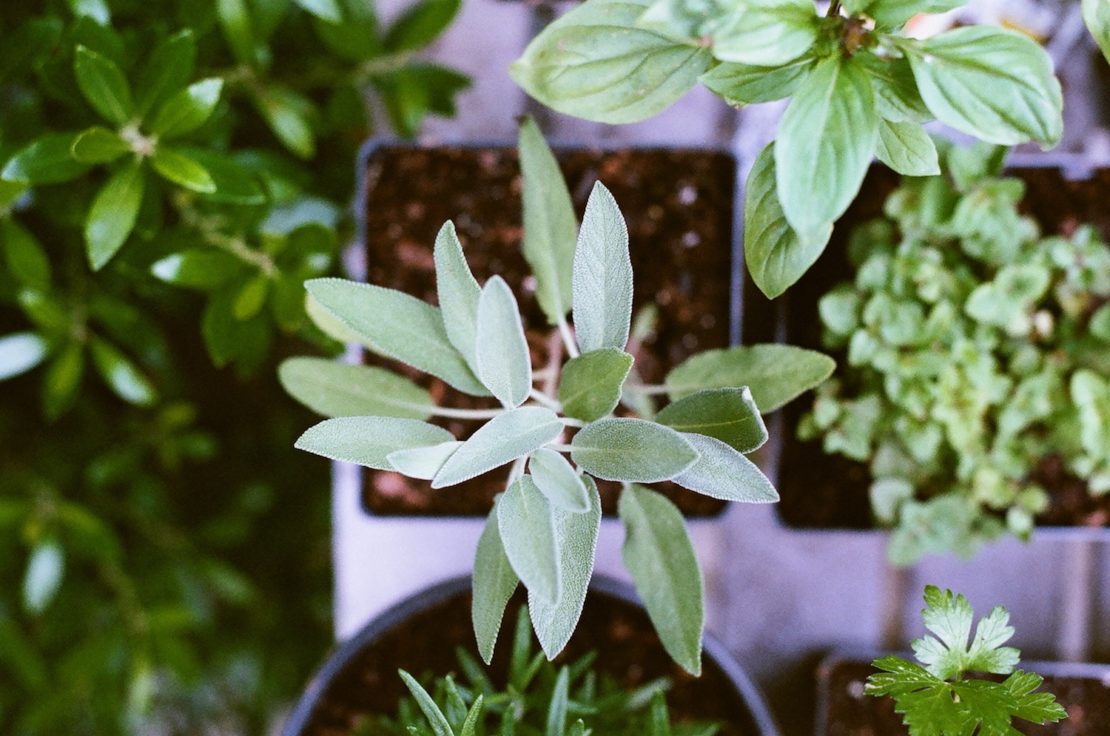 How To Grow Culinary Herbs Indoors During Winter
As I look out at the crisp, white blanket covering what once was a thriving patio garden through July and August, I feel fortunate to have my indoor garden to keep the freshness alive in my apartment. When the days grow colder and seem increasingly short and dark, knowing how to grow culinary herbs indoors can quell the winter blahs. Growing plants inside can help to cleanse the air, provide a little home project, add some greenery to the aesthetic of the space, and keep herbs on hand for fresh use.
Gardening indoors is accessible to most anyone, regardless of whether you live in an apartment or a larger home. Growing vegetables indoors is more difficult and requires more space so growing herbs inside is a more viable option for keeping a garden during the winter. If you are concerned about space, you can keep an herb garden small, on a window ledge, or window side table.
Growing culinary herbs indoors, like outdoor gardening, takes time and planning, but once things come together, it can be a welcomed addition to any home. There are a few specifics you will need to consider, prior to gardening inside during the winter.
The following is a step-by-step guide to walk you through the process of creating an indoor herb garden space that will keep your green thumb in action and your spirits high during the dim days of winter.
6 Steps To Grow Culinary Herbs Indoors During Winter
1. Space
The first step to grow culinary herbs indoors is to consider your space. If you have a south-facing window or sun patio that gets about 5 to 6 hours of sunlight a day, this is an ideal location. A southeast or southwest facing window could also work, as long as it gets an adequate amount of sun throughout the day.
2. Setting
Once you find the right spot, consider how large you want your garden to be. Fortunately, herbs do not take up much space, and they could be easily grown on a windowsill. Will you use a small side table or a more substantial table? Larger steel shelves can make an appropriate gardening area as they can contain multiple plants while making sure that light manages to hit every one. Because you will be watering your little garden, you may want to consider the flooring. Placing a tarp underneath your shelf or table can help to protect flooring from water damage.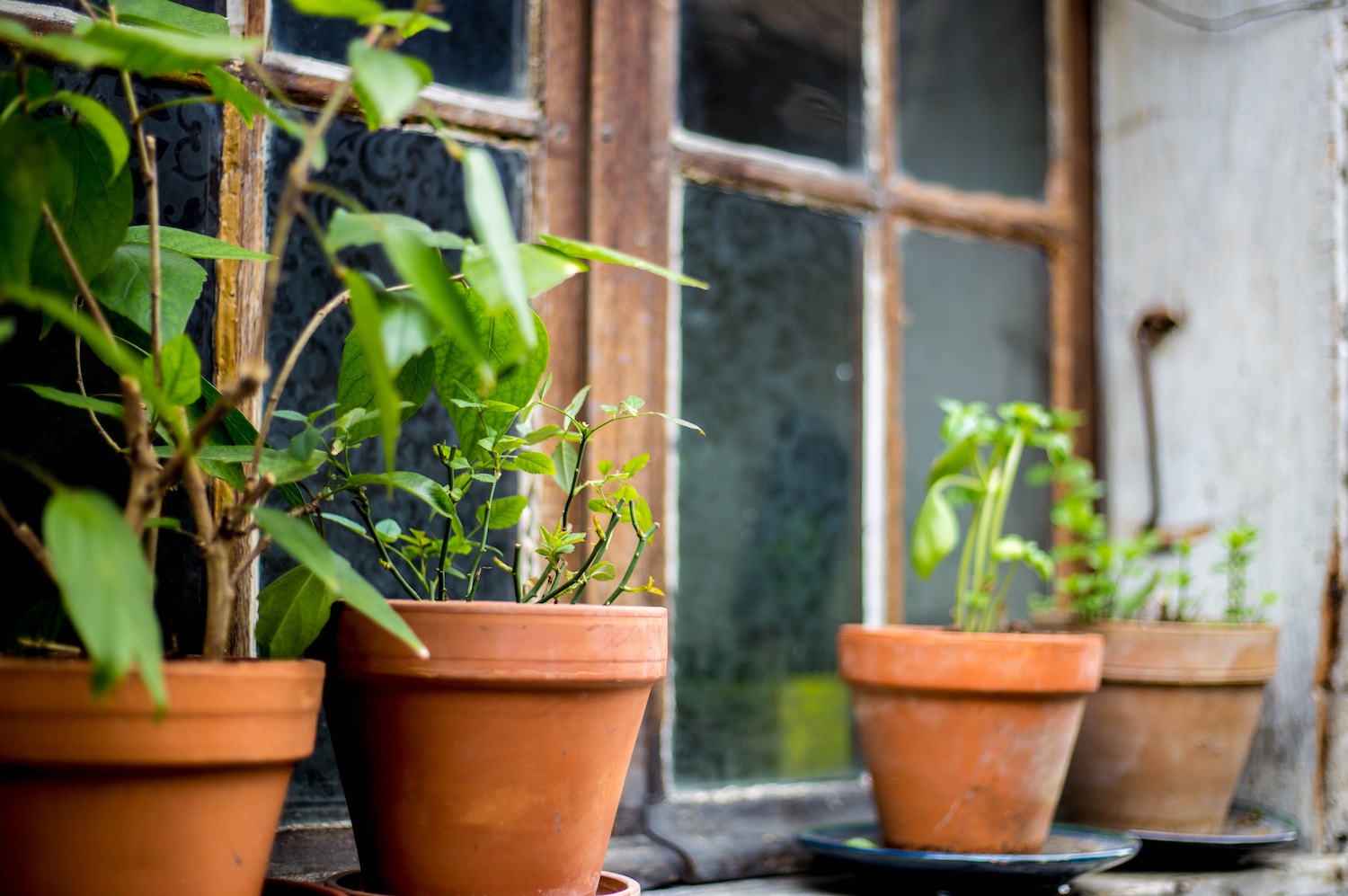 3. Light
Plants naturally have access to light when they are gardened outside, however, inside is a bit of a different story. To grow culinary herbs indoors you must be conscious of their light requirements.
Herbs, like all plants, need light to survive, without it the plant will grow tall and spindly. Although well-lit windows may be fine for indoor gardening, there is a possibility that during the winter months, they may not get enough light to thrive because of the shorter periods of sunlight during this time of year. In this case, you may want to consider purchasing grow lights.
There are a few considerations you will want to take into account when thinking about purchasing a grow light:
Regular bulbs will not work for growing plants. This is because plants require light that replicates the sun's wavelengths to grow properly. Grow lights, which mimic the sun, can be purchased in a hardware store or online.

You should attempt to place the light as close to the plant as possible, being careful that it is not so close that it will burn the leaves. This will ensure that the stems are sturdy, as the plant is not growing quickly to reach for the light.

To tell if a plant is getting enough light, observe it. If the leaves are small, the stems are thin, and the color is not as vibrant as usual, it may require more light, and you will want to consider purchasing a grow light.
4. Plots
When thinking about how to grow culinary herbs indoors, it is important to consider the amount of space plants require for adequate growth. If you are planting vegetables, they require at least 4 inches of root space to grow. Plastic growing trays are appropriate for lettuces and micro greens. Potting soil mixed with a nutrient-rich compost is best for indoor gardens. Stay away from using gardening soil as it is too dense, and it will compact within the containers. You want to make sure that your growing medium drains well and provides your plants with adequate support and nutrients for growth.
5. Maintaining Your Indoor Garden
The air during the winter tends to be dry in my area, especially with the radiators on full blast, so I find the indoor plants I have are quick to dry out. Be aware that although houseplants require less water in the winter because they are slower growing, they do still need some water to survive. Make sure to avoid letting them dry out and then dousing them with water. This can shock them and make them unhappy. Also be conscious of overwatering, as it is the most common reason for houseplant death. Attempt to be consistent and water when the soil is slightly dry to the touch, but not so dry that your plants have become parched. Houseplants also require fertilizing every 2 to 4 weeks, especially if you are growing vegetables and herbs. Time-release fertilizer pellets can be convenient for indoor planting as they last longer.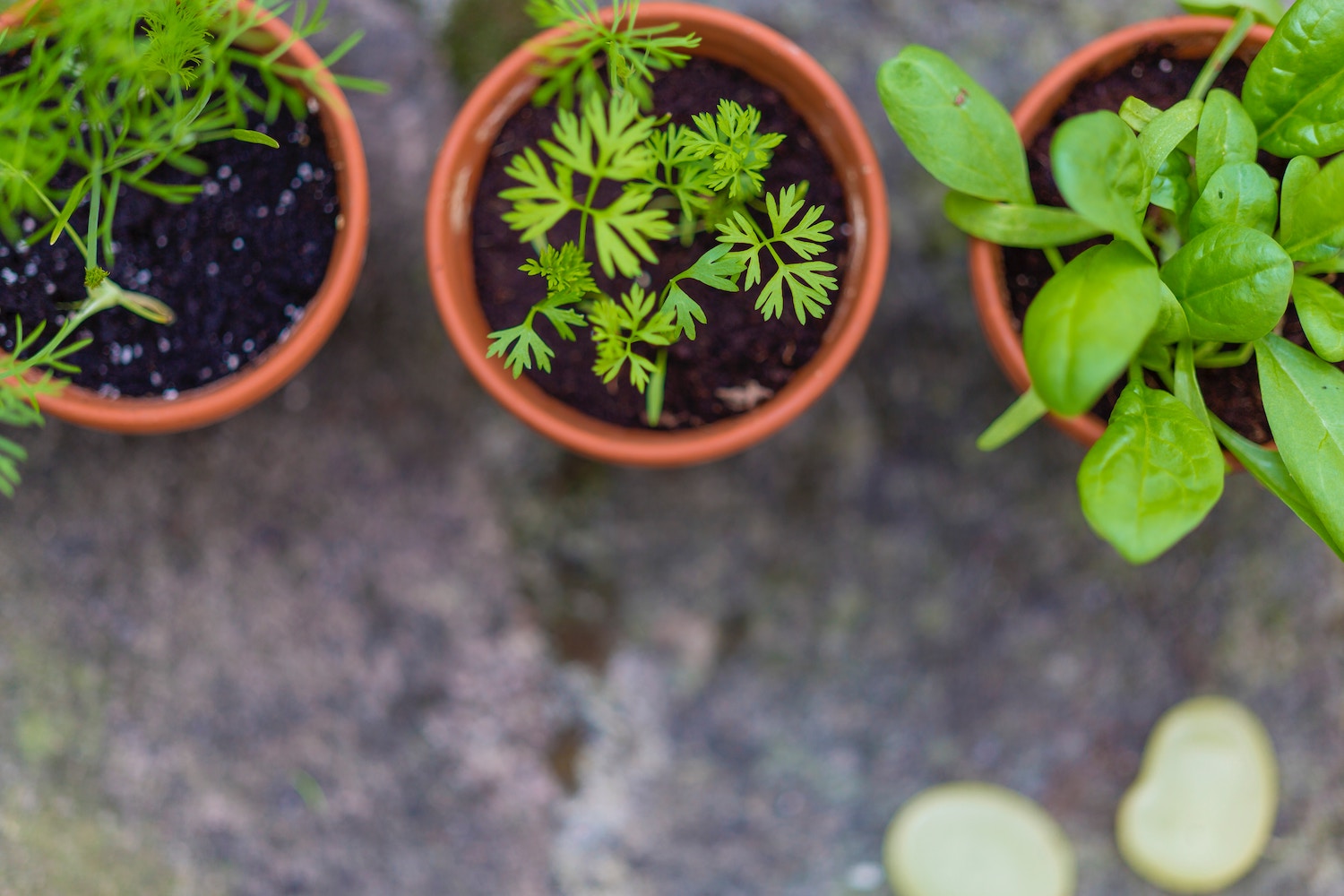 6. What to Plant?
During the winter we have less access to delicious, fresh vegetables and relying on squash, brussels sprouts and potatoes can become dull. This is where herbs come in. Culinary herbs can help to add welcomed flavor to many winter dishes, having fresh ones on hand throughout the winter can enhance your winter menu.
If you want to grow culinary herbs indoors successfully, it is important to select plants that will do well throughout the winter months. Fortunately, herbs are ideal for indoor gardens because they are low maintenance. While most herbs are easy to garden, there are a few that thrive during the colder, lower sunlight days. Think rosemary, a hardy, perennial herb that blooms throughout the year, or parsley a resilient, yet underrated herb that is great to have on hand to freshen up dishes. Thyme, mint, and even basil can be great options for your indoor herb garden that provide you with ample room to be creative with seasonal dishes.
As winter sets in, I love coming home to a cozy home and my office garden, covered in greenery. From the ivy trailing up the large southeast facing windows, the small succulents quietly sitting in the corner, and the culinary herbs on the sill—my indoor garden is one of my favorite places to be. There is nothing like chopping fresh basil, the licorice smell, a reminder of warmer months to come. Trimming and watering my plants is a ritual I look forward to throughout the week, and the smell of the dirt in the pots is grounding. Indoor gardening is a complete joy, reminiscent of growth and summertime—a process to ease us comfortably through the darker days ahead.