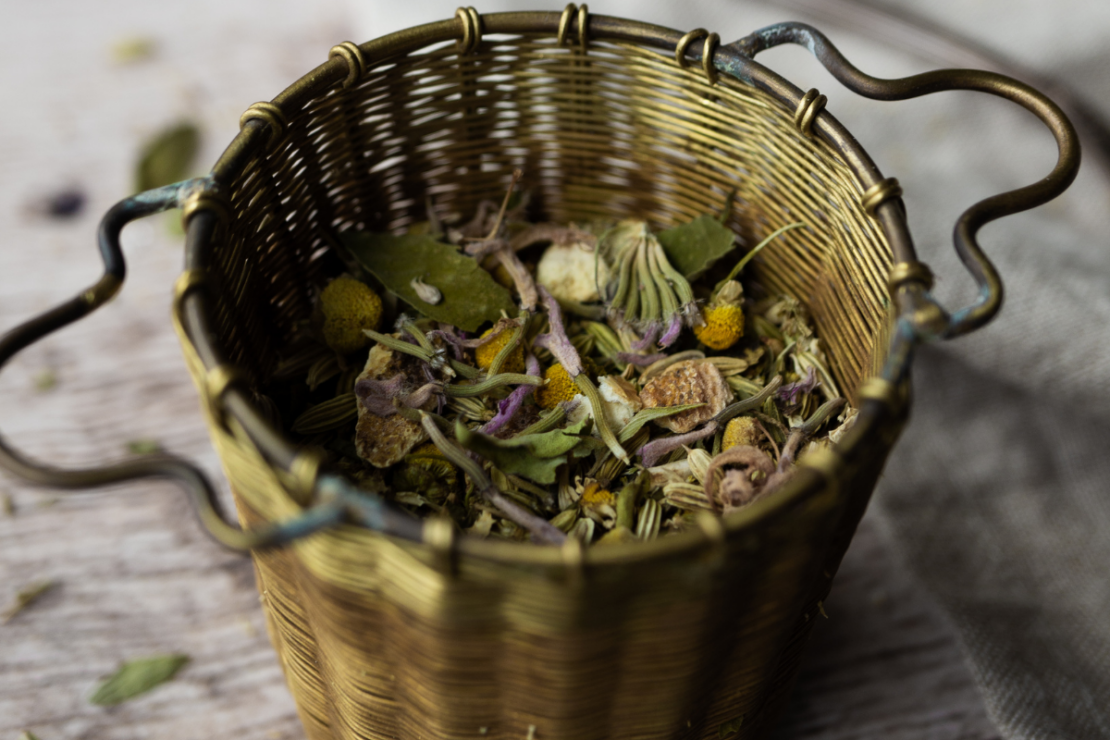 After-Dinner Tea Recipe: Chamomile, Fennel, and Orange
'Tis the season for digestive problems and the perfect time to try making your own fennel tea with chamomile, orange, and bee balm. Help your body by harnessing the digestive benefits of fennel tea to combat the less than ideal side effects of a rich and varied diet. 
Fennel (Foeniculum vulgare) seeds are renowned for their function as a carminative. Carminatives typically have an aromatic quality, which encourages circulation to and movement of the muscles of the GI tract. This can reduce cramping, bloating, and the buildup of gas. Fennel seeds have been used for centuries to help the body process food without leading to symptoms like flatulence (Frawley and Lad, 1986). Fennel also acts as a great anti-nauseant, stimulates appetite and digestion, and is useful for colic and constipation. It aids a nursing mother's flow of milk, and, through the milk, it can soothe the baby's digestion. (Alexandrovich et al, 2003).
Combining fennel with chamomile (Matricaria chamomilla) flowers and bee balm (Monarda spp.) flowers makes this after-dinner fennel tea a true gift to digestion. The bitter constituents in chamomile stimulate healthy digestive processes and aid in relieving symptoms of stomach ache and diarrhea (Justis, 2015). Bee balm has a high thymol content, is an antiseptic, and is used for a variety of issues including gas, diarrhea, and nausea (Johnson, 2015). Add these herbs to your after-dinner routine and your stomach will thank you for it.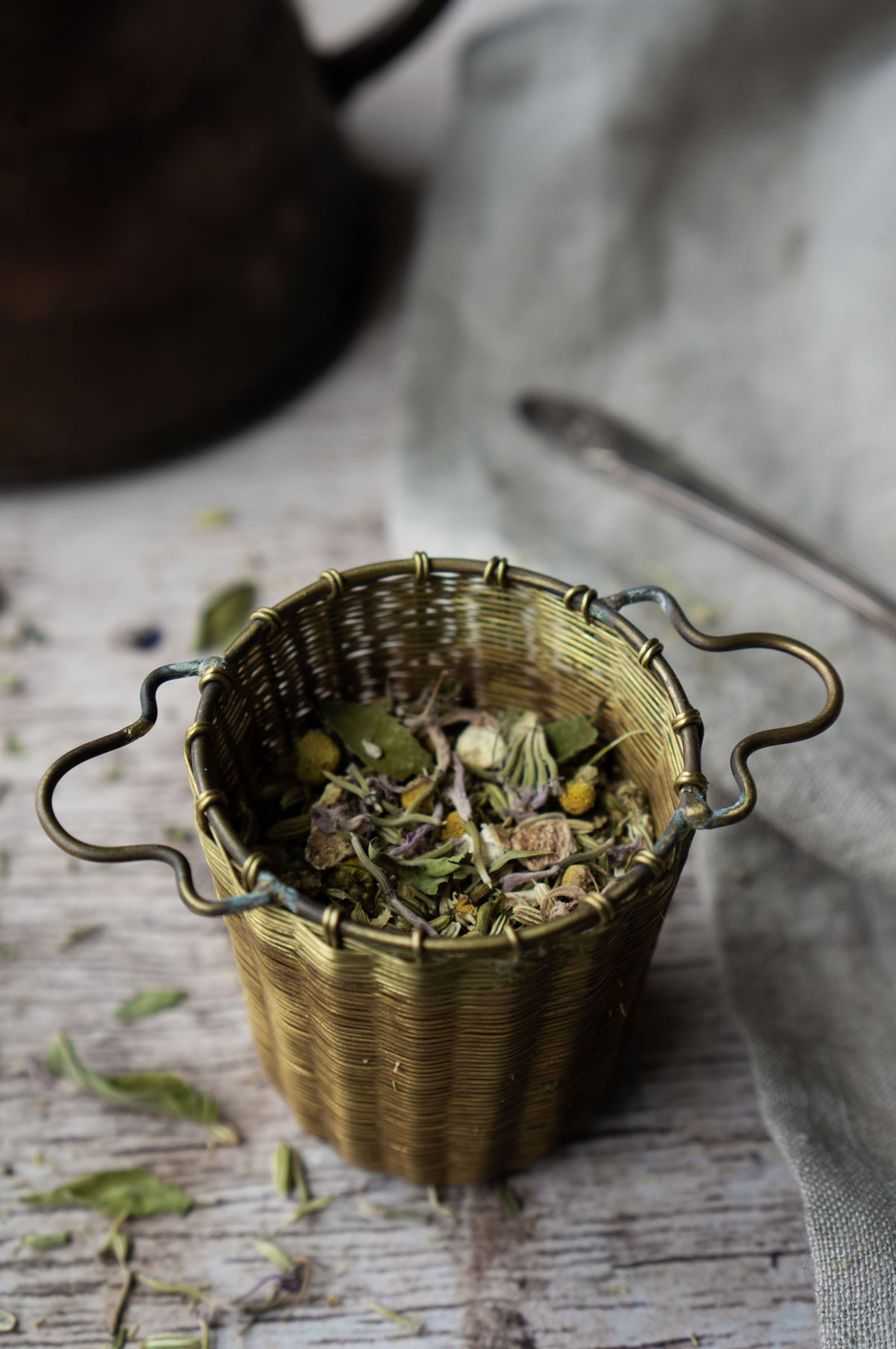 After Dinner Fennel Tea Recipe
Perhaps the only thing that's better than the gentleness with which fennel helps our digestive processes is the simplicity of how we can enjoy its benefits. The following delicious tea recipe comes from our Intermediate Herbal Course's Digestive System unit. If you don't have a scale to measure grams, then you can substitute "grams" for "parts." Yield: 8 ounces.
Ingredients
2 grams dried chamomile (Matricaria chamomilla) flowers
1 gram dried bee balm (Monarda spp.) flowers
1 gram dried orange (Citrus x sinensis) peel
1 gram ground fennel (Foeniculum vulgare) seed
Directions
Combine the herbs, mix, and store in a labeled, air-tight container.
Place one tablespoon of the tea blend in a tea strainer inside a jar or mug.
Pour 8 ounces of hot water over the tea strainer and cover.
Steep for 25-30 minutes.
Remove tea strainer and enjoy.
To make a larger batch, simply multiply ingredients (for a pint of tea double the amount of each). Larger batches can be stored in the fridge and re-heated (covered) for up to three days.
In Closing,
Fennel is one of nature's many presents to humanity. Your digestive system will benefit from more fennel in your daily diet. If you want to spend a little more time creating fennel-based beverages, be sure to check out Herbal Academy's Dandelion and Fennel Kombucha recipe.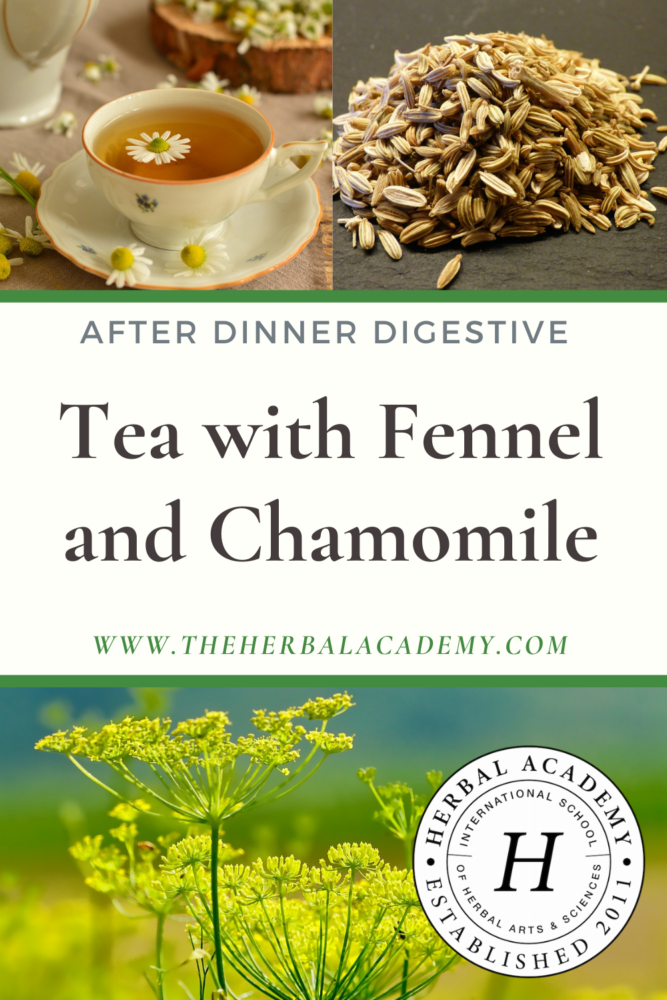 REFERENCES 
Alexandrovich, I., Rakovitskaya, O., Kolmo. E., Sidorova. T., Shushunov, S. (2003). The effect of fennel (Foeniculum vulgare) seed oil emulsion in infantile colic: a randomized, placebo-controlled study. Alternative Therapies in Health and Medicine 9(4), 58-61.
Codekas, C. (2016). How to make dandelion and fennel kombucha [Blog post]. Retrieved from https://theherbalacademy.com/how-to-make-dandelion-and-fennel-kombucha/
Frawley, David., & Vasant, Lad. (1986). The yoga of herbs. Twin Lakes, WI: Lotus Press.
Herbal Academy. (2014). Benefits of fennel: relief for you know what [Blog article]. Retrieved from https://theherbalacademy.com/benefits-of-fennel-relief-for-you-know-what/
Johnson, J. (2015). Benefits of bee balm: monarda fistulosa and m. didyma [Blog article]. Retrieved from https://theherbalacademy.com/benefits-of-bee-balm-monarda-fistulosa-and-m-didyma/
Justis, A. (2015). A family herb: chamomile flower [Blog article]. Retrieved from https://theherbalacademy.com/a-family-herb-chamomile-flower/