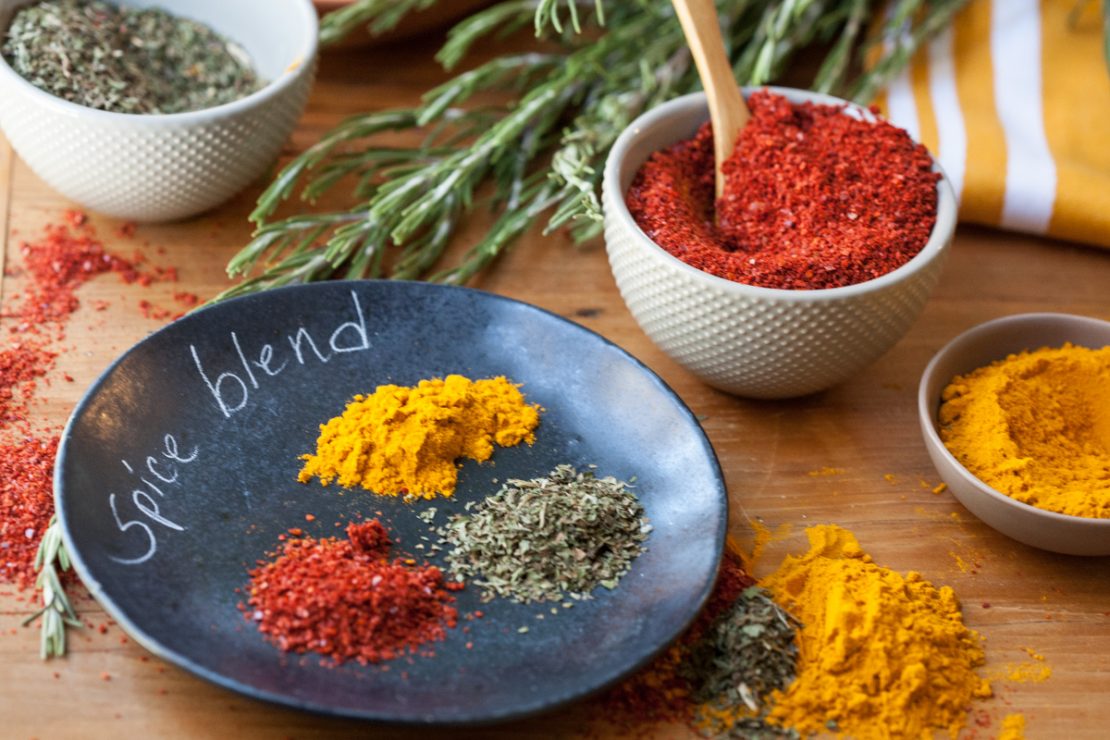 5 Herbal Spice Blends To Make And Use
Throughout human history, herbal spice blends have been the stuff of legend, wars, and poetry, they have served as valuable currency, and in medieval times were the driving force behind world exploration (Dalby, 2000). These aromatic herbs have crisscrossed national and cultural boundaries over and over again as those who cook (and those who eat) have created rich local cuisines and family recipes to be passed down through the generations.
And for good reason! Spices heighten and complement the taste components of foods and help to preserve and extend the life of some dishes. Herbalists also know that many, if not most, spices used in our everyday cooking are carminative, and thus support the digestive process in a number of ways.
That doesn't mean that every spice works for every dish—or for every palate for that matter. While kitchen experimentation is always a great idea, there are also some tried-and-true spice blends that have stood the test of time and in some cases become cross-cultural superstars. We'll explore a few of these, below. For the most part, these blends are composed of dried herbs and spices and will be prepared in similar ways. There are also a few guidelines to keep in mind about working with dried spices that will apply across to all of these blends. Let's discuss these first.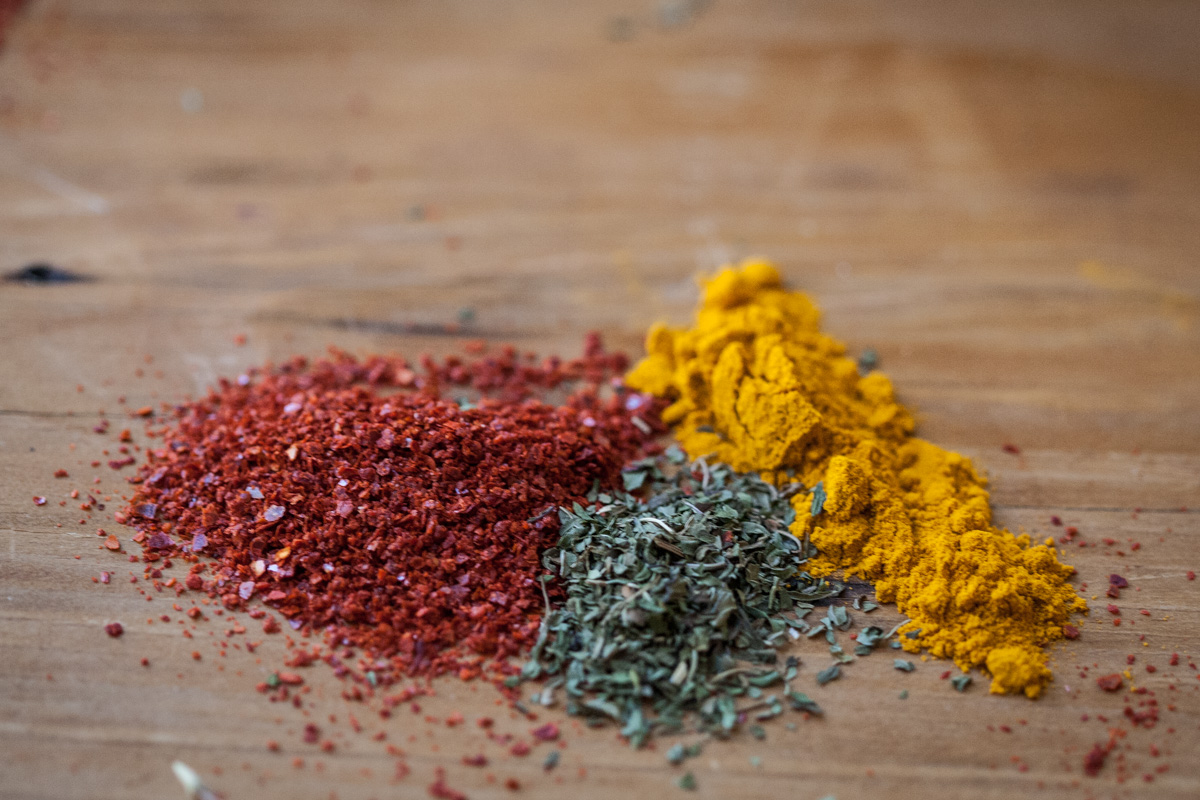 When you purchase spices, note their appearance. Do they appear bright, vibrant, and uniform in color? If they are ground or powdered, do they clump up inside their packaging (depending on the spice, this could indicate that they've been exposed to moisture or condensation)? If you can smell them, is the aroma prominent or subtle? Asking these questions can provide some clues about the quality of the spices you purchase and the flavors that will result.
Like all herbs, spices lose their taste and aroma over time; this is accelerated when they're exposed to heat or direct sunlight. That's why it's not the best idea to keep your dried herbs in that cabinet directly over or next to the stove (or near the dishwasher or on top of the refrigerator, for that matter). Your best bet to preserve color and flavor is to store spices in a cool, dry place, away from windows (and/or in dark glass containers or tins).
Volatile oils are what makes spices aromatic and provide rich flavor. In this case, volatility refers to the ease with which molecules of aromatic compounds can disperse out of a plant and into the air. To retain peak flavor and aroma, purchase high-quality, whole spices whenever possible, and then grind them yourself as needed using a mortar and pestle, a hand-operated spice mill, or a coffee grinder. This will minimize the surface area exposed to the air, and maximize the aromatic oils within the plant.  
Another tip for keeping your spices fresh is to store them in airtight containers, like glass jars with screw tops, plastic containers with snug-fitting lids, or tins. What not to do: store spices in paper bags, or exposed in the refrigerator.
5 Herbal Spice Blends To Make And Use
Some of the most pungent spices are found in some of the hottest climates in the world—cayenne and other chile peppers, cinnamon, and peppercorns among them (Dalby, 2000). This is convenient, because interestingly, the diaphoretic (sweat-inducing) action of these heating herbs actually serves as a means for cooling the body. The spice blend recipes below are great for heating up your taste buds.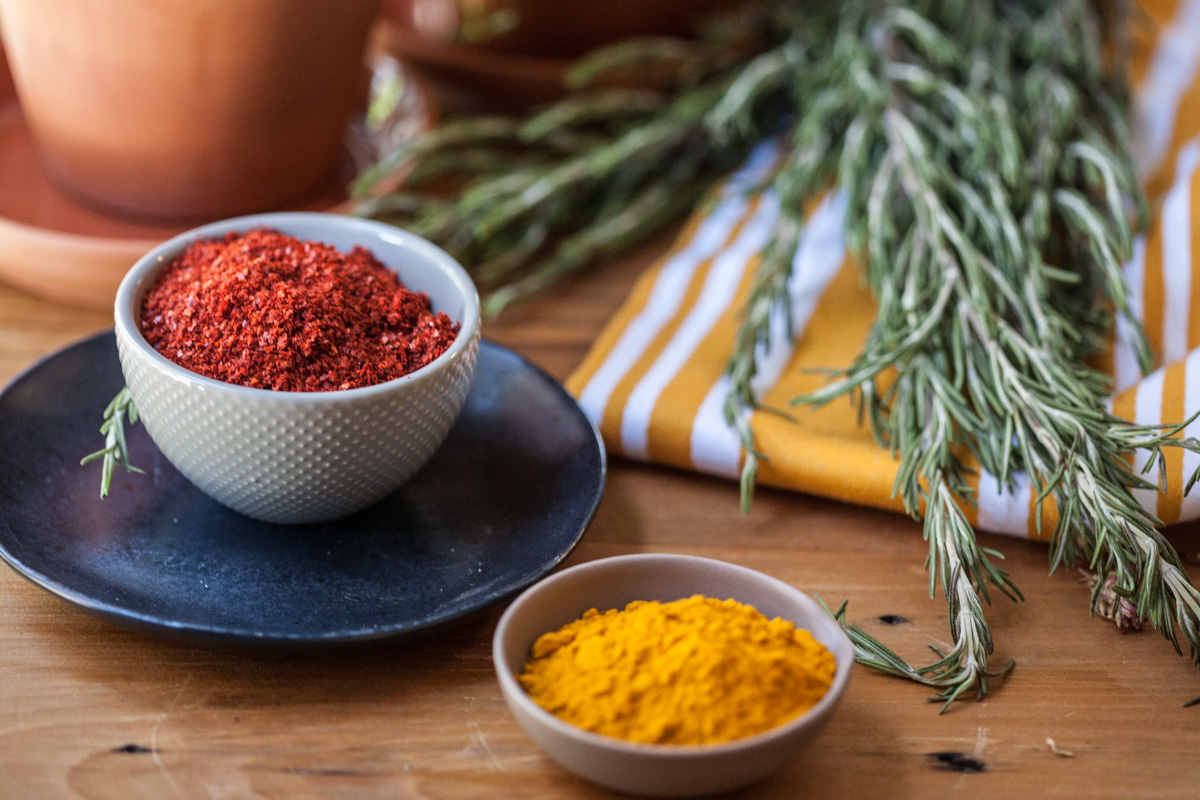 1. Spicy Dry Rub
Speaking of heat, it's barbeque season in the United States (and in some parts of the world it's always time to fire up the grill!) and one winning way to prep foods for the fire is to use a dry rub. This kind of a blend is kind of a variation on marinating. These spices are literally massaged into the meat to be cooked and left to sit for several hours, or overnight, allowing the spices to penetrate.
Dry rubs don't have to be limited to meat, however. I use this blend in grilled corn on the cob. To do this, soak the corn in water for 30 minutes, gently peel back the husks to remove the cornsilk, mix the spices with butter or coconut oil, and replace the husk before placing on the grill.
Spicy Dry Rub
Ingredients
Directions
Mix all ingredients and store in an airtight container in the refrigerator for 3-4 days before using. (Tip: Wait for 3-4 days before using the blend, to allow flavors to marry.)
2. Berbere 
Berbere could be described as the National Spice of Ethiopia (and Eritrea), whose cuisines depend heavily on this rich, spicy reddish-brown blend. Berbere is used to season meats, beans, and is sometimes mixed with oil and used as a dip for the spongy teff-based sourdough bread known as injera which accompanies meals.
Berbere
Ingredients
Directions
Mix all ingredients and store in an airtight container in the refrigerator.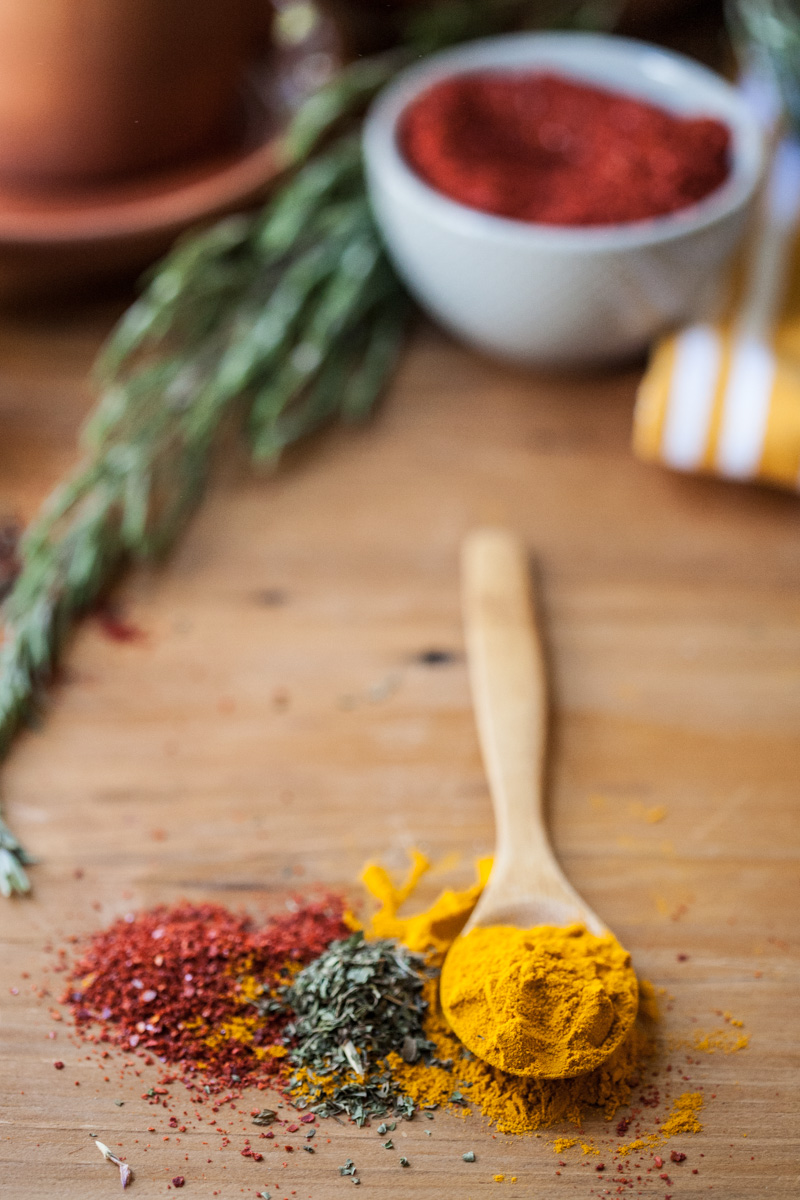 3. In a Pickle
Like many blends, pickling spice is one that people adapt to their own taste. This is mine—heavy on the garlic, with a little red pepper for a kick. With cucumbers coming into season, this is the perfect time to try this blend. I also love this blend for pickled green tomatoes and okra.
Pickling Spice
Ingredients
Directions
Combine mustard seeds, allspice, coriander, and red pepper in a small glass jar with a tight-fitting lid. Shake to combine.

Add ground ginger, clove and garlic powder to the mix and shake again.

Sprinkle crumbled bay leaves over the mixture, seal the jar, and shake one last time.
Just as berbere is particular to one part of the globe, every place has its go-to spices. The following two recipes are distinctive ones with global flavor to add to your cooking repertoire.
4. Herbes de Provence
The herbs of Provence in southeastern France (there are many!) are a mainstay in kitchens of that region and are used to flavor everything from cheeses to savory main dishes to desserts (Brennan, 1998). This is one version, but feel free to play with proportions to suit your tastes or add other herbs native to the region, including chervil, fennel, mint, even orange zest.
Herbes de Provence
Ingredients
Directions
Combine ingredients well in a small mixing bowl. Store in an air-tight container.
5. Za'atar
Za'atar is a popular Middle Eastern spice blend that is tangy, zesty, and textured all at once. Traditionally, it is used to season everything from grilled kebobs to bread, but it brings out the best in lots of foods. (For a Western twist, try sprinkling it over popcorn—yum!). Because this combines fresh and dried ingredients, be sure to use it within a week for optimum freshness.
Za'atar
Ingredients
Directions
Mix ingredients well in a small mixing bowl or use a mortar and pestle to blend. Store refrigerated in an airtight container or plastic bag.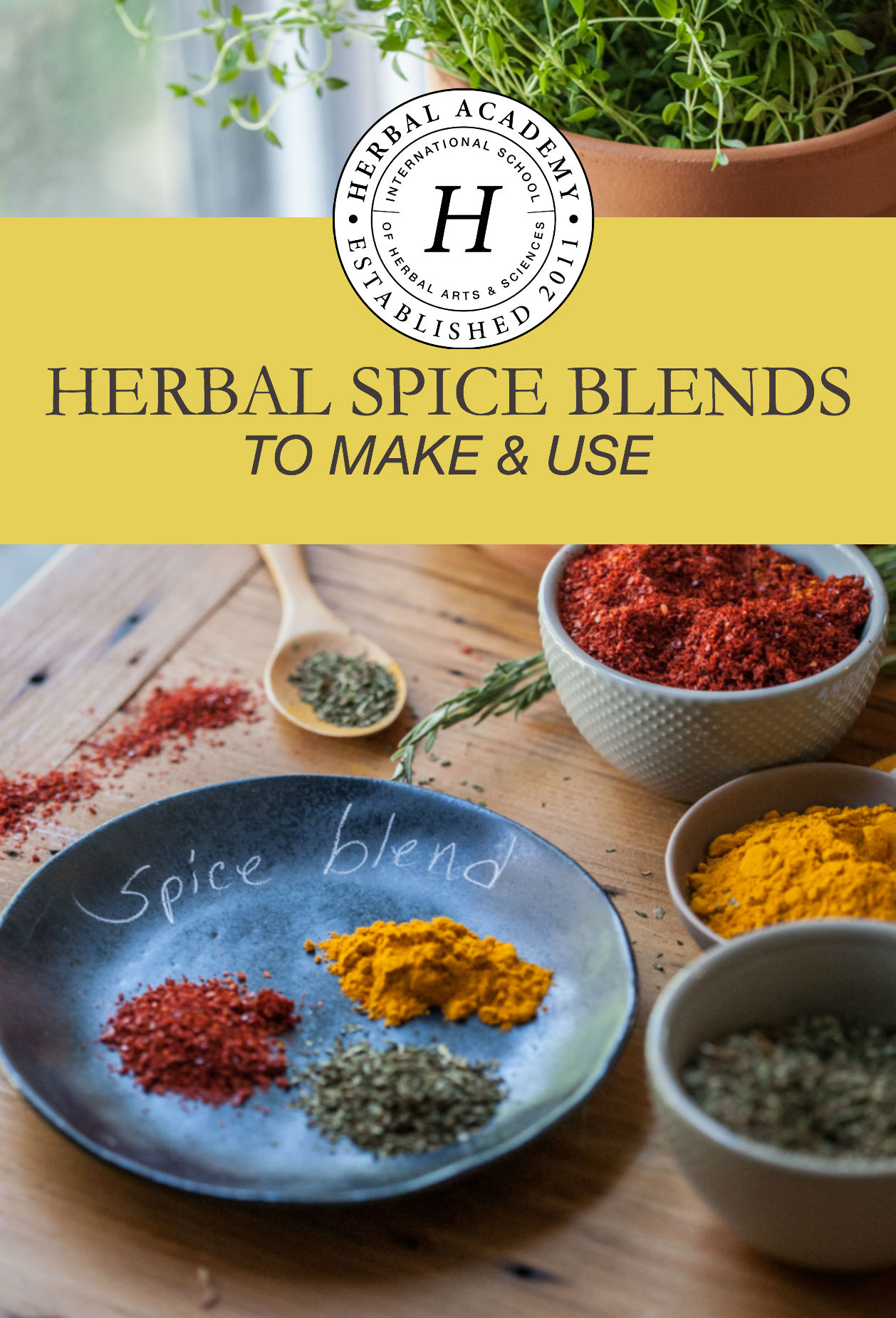 Have fun personalizing these blends to your own tastes, or try using them in surprising ways or in recipes that you already make regularly. Consider giving these blends—or mixtures of your own creation—as gifts in lovely decorative jars. And remember that when it comes to spice blends, a recipe is only a suggestion!
Do you have a spice blend that is a hit with family or friends? Share it with us on Instagram with the tag #myherbalstudies and let us know how you use it!
REFERENCES
Brennan, E. (1998). Herbes de Provence: Cooking with the herbs of southern France. San Francisco, CA: Chronicle Books.
Dalby, A. (2000). Dangerous tastes: The story of spices. Berkeley and Los Angeles, CA: University of California Press.