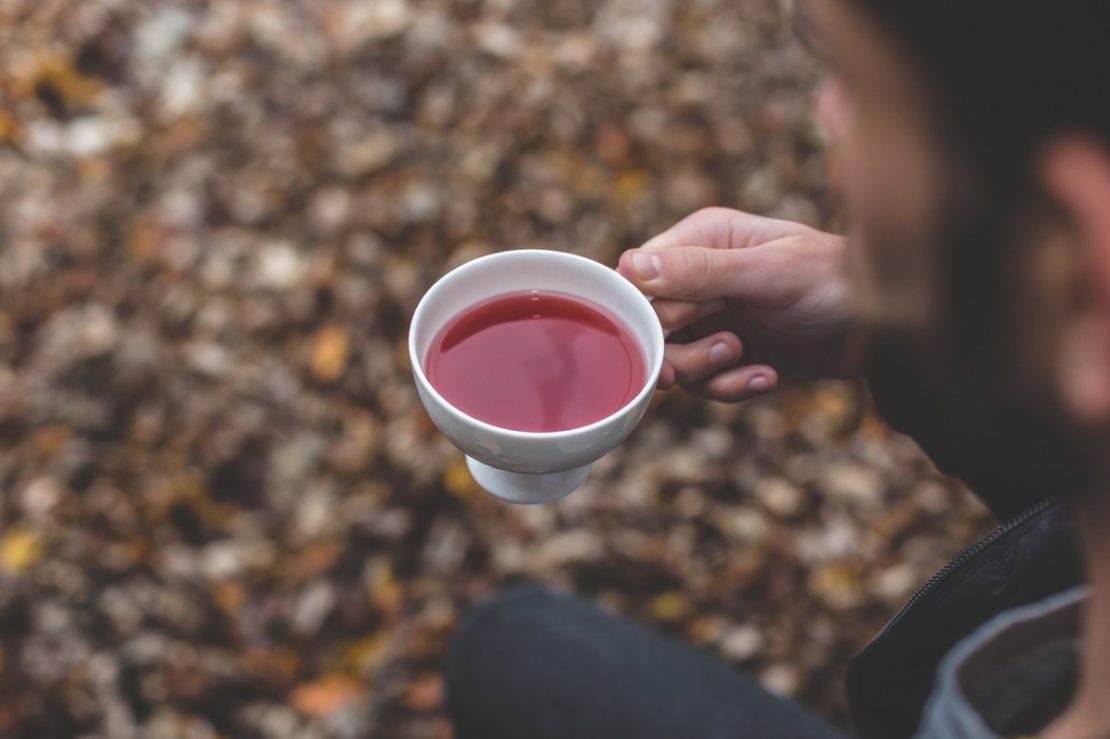 4 Fall Herbal Tea Recipes To Cozy Up With
It's easy for herbalists to rejoice with the turning of fall since cooler weather invites warm tea back into our daily routine. Whether you love to cozy up with a good book and a warm mug of tea, prepare an entire nourishing quart of tea to sip throughout the day, or enjoy a simple cup of tea as part of your morning ritual, herbal tea is a fall staple. In this article, I'm sharing four fresh, new, and flavorful fall herbal tea recipes to cozy up with soon.
4 Fall Herbal Tea Recipes To Cozy Up With
1. Vanilla Rooibos
The first of my fall herbal tea recipes is an herbal twist on a classic fall favorite. This vanilla rooibos herbal tea recipe brings in a couple new and tasty ingredients with no artificial or natural flavorings. The immune-boosting, floral aromatic of the elderflower (Sambucus nigra) is a surprisingly wonderful pairing with the naturally energizing and tannic red rooibos (Aspalathus linearis), (Hoffmann, 2003). The lightly toasted coconut flavor with the subtle sweetness of the vanilla (Vanilla spp.) extract makes for a delightful tea to cozy up with this fall.
2. Goddess Drink
The next of my fall herbal tea recipes was spontaneously created years ago, and I jokingly called in my "goddess drink" since it felt so nourishing to yin energies and the entire quality of the tea reminded me of something a goddess herself would regularly drink. The name stuck, and the tea continues to provide a sense of "goddess-like" nourishment to all who have enjoyed it. White peony (Paeonia lactiflora) root and shatavari (Asparagus racemosus) root are both classic tonics for the female reproductive system while carrying a neutral flavor. The aromatic from the rose (Rosa spp.) buds offers a subtle floral note and a heart-relaxing effect while the nut milk creates a delightful creaminess.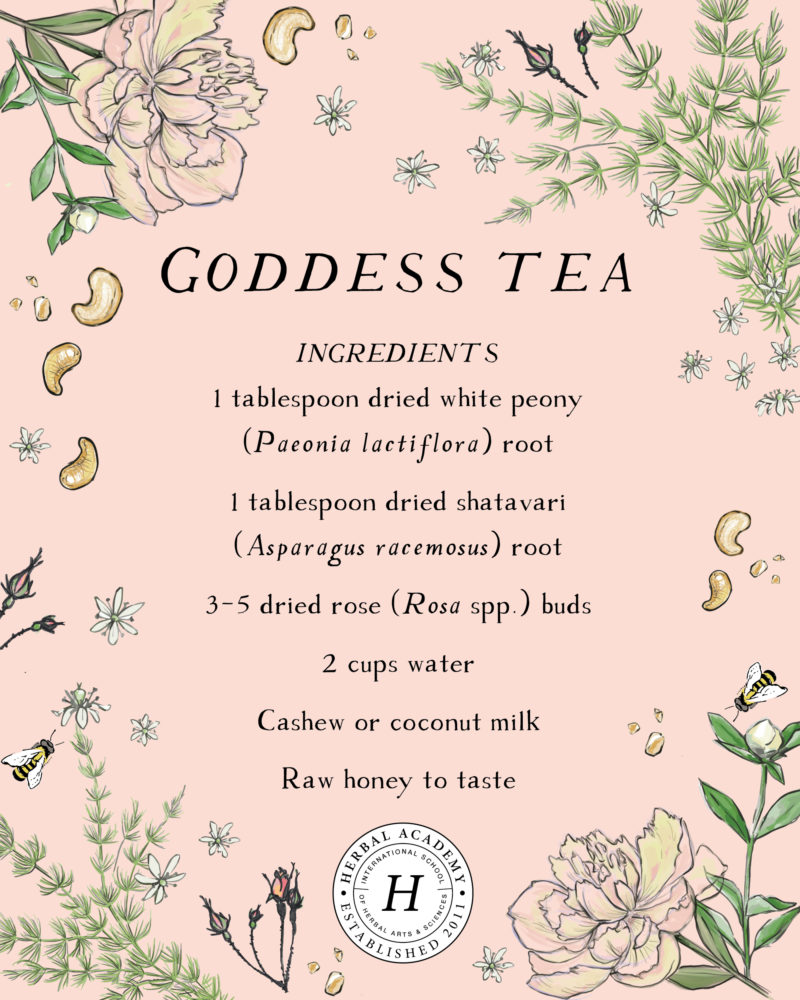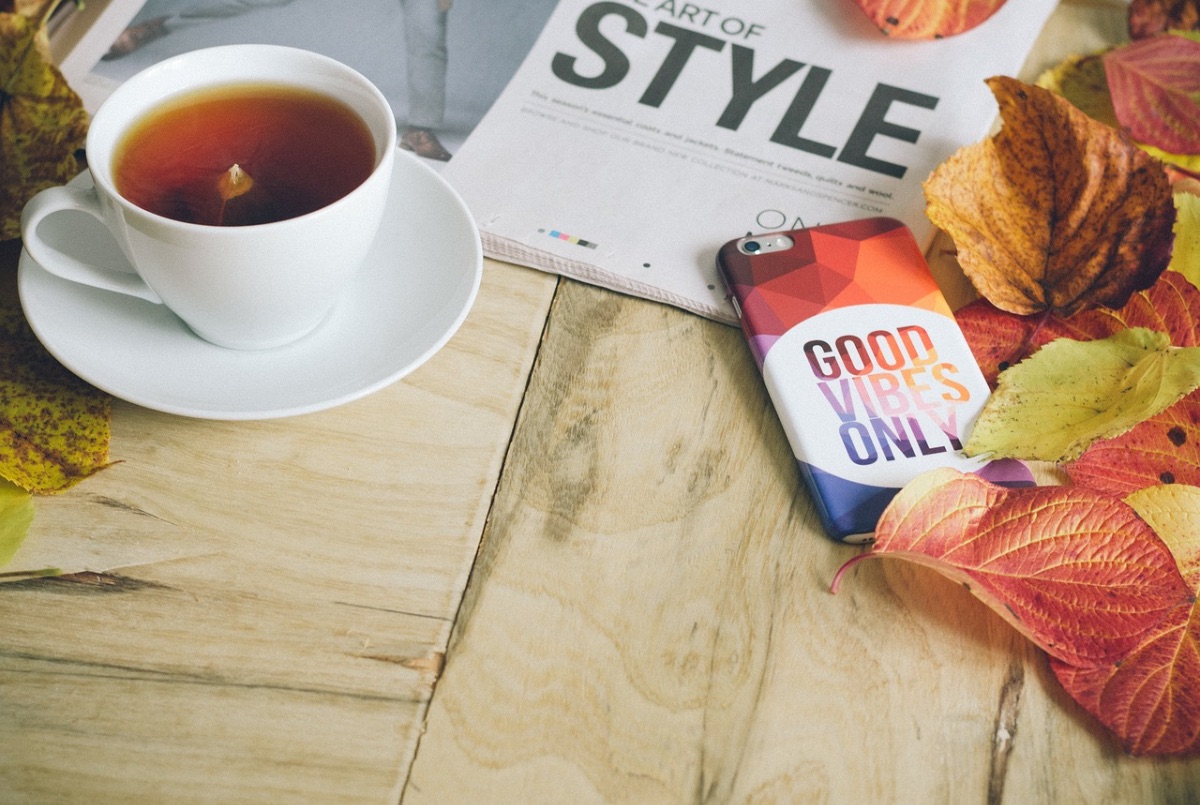 3. Tulsi Sunrise
Another of my favorite fall herbal tea recipes is this part sweet, part spicy golden tea that truly feels like a warm cup of sunshine on a cool fall day. Tulsi (Ocimum tenuiflorum) is considered a mild adaptogenic herb, helping boost our body's ability to both defend against and adapt to the effects of stress (Hoffmann, 2003), making it an ideal herb to draw from as you transition seasons and in the morning to set the tone for the day ahead. The remaining herbs lend an inflammation-soothing, antioxidant-rich, and flavorful complement to the tulsi base. Feel free to play with the amount of lemon juice and honey you add depending on the amount of sour versus sweet you prefer.
4. Cinnamon Oats
Sometimes a simple trio of herbs is all you need to make a delicious tea perfect to cozy up with this fall. The last of my fall herbal tea recipes combines cinnamon (Cinnamomum spp.) and oatstraw (Avena sativa) — two of my go-to "comfort" herbs for their naturally sweet and soothing aromatics and flavors. This tea replicates the warming, cozy feeling of preparing a steaming bowl of oatmeal on a crisp fall day. Oatstraw is a wonderful herb to nourish the nervous system while the cinnamon chips provide a warming, circulatory boost (Hoffmann, 2003). Adding a pinch of licorice (Glycyrrhiza glabra) root helps tie the two together with a touch of sweetness.
Time To Start Brewing
After learning 4 new fall herbal tea recipes to cozy up with, now it's time to start brewing in the kitchen! Curious to learn more about which herbs are great to use during fall? Read my post on 5 Herbs To Help You Transition Seasons From Summer To Fall.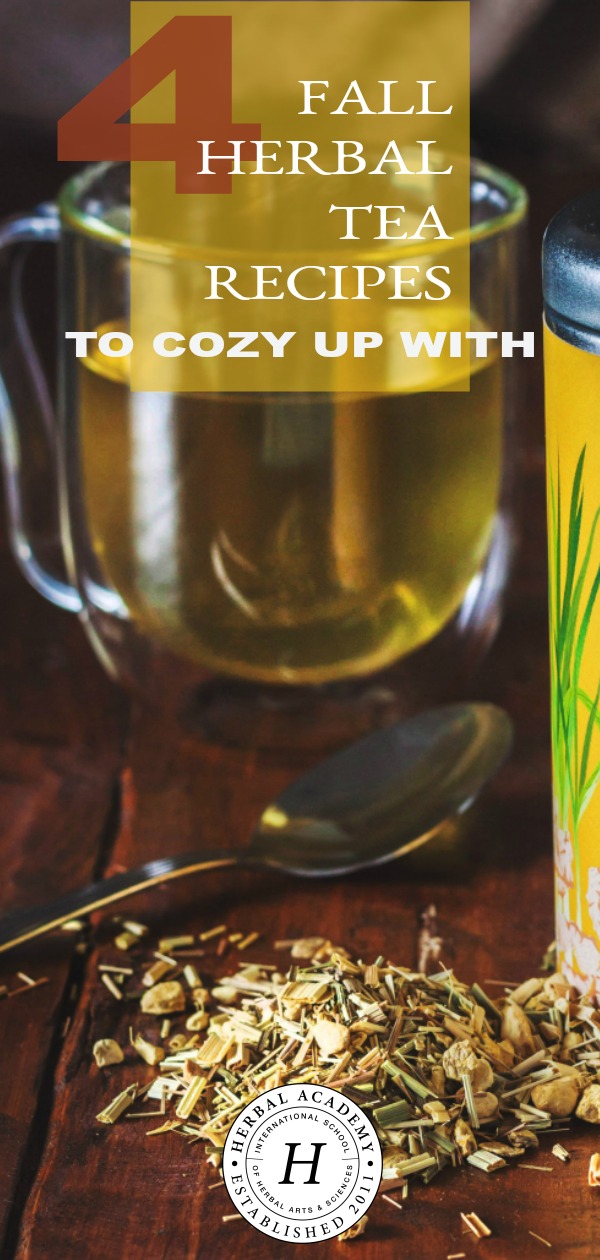 REFERENCES
Hoffmann, D. (2003). Medical herbalism. Rochester, VT: Healing Arts Press.