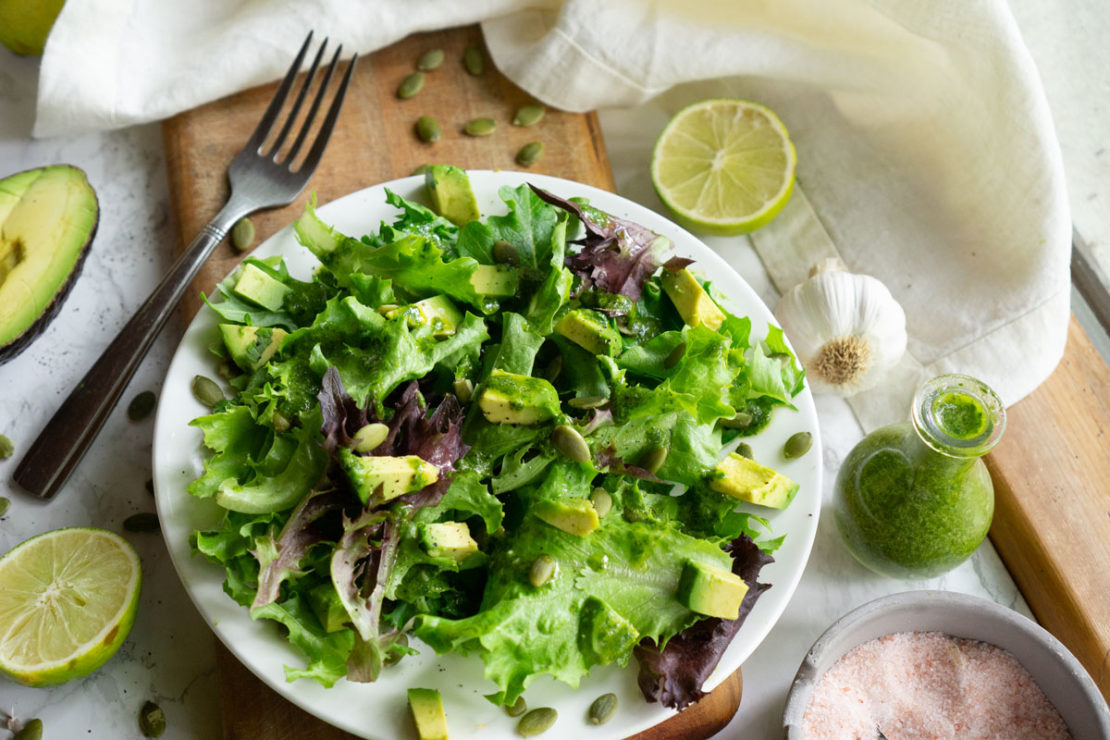 3 Cooling Salads for Summer
As summer days grow warmer and longer, you may find yourself reaching for cooling, refreshing foods that require less time in a hot kitchen and allow more time to enjoy the long, lazy days of summer. These inclinations speak to the innate wisdom of the body; when temperatures heat it up it is better to focus on foods with cool energetics, especially those with a sweet, bitter, and/or astringent taste. According to Ayurveda, foods and beverages with this particular profile are soothing to pitta dosha, which predominates in summer. Plus, portable dishes, like these cooling salads, work great on the go. Prep at home and then pack up for a picnic, beach trip, or afternoon at the park. In this post, I share three cooling salad recipes for summer—all kitchen and taste-bud tested!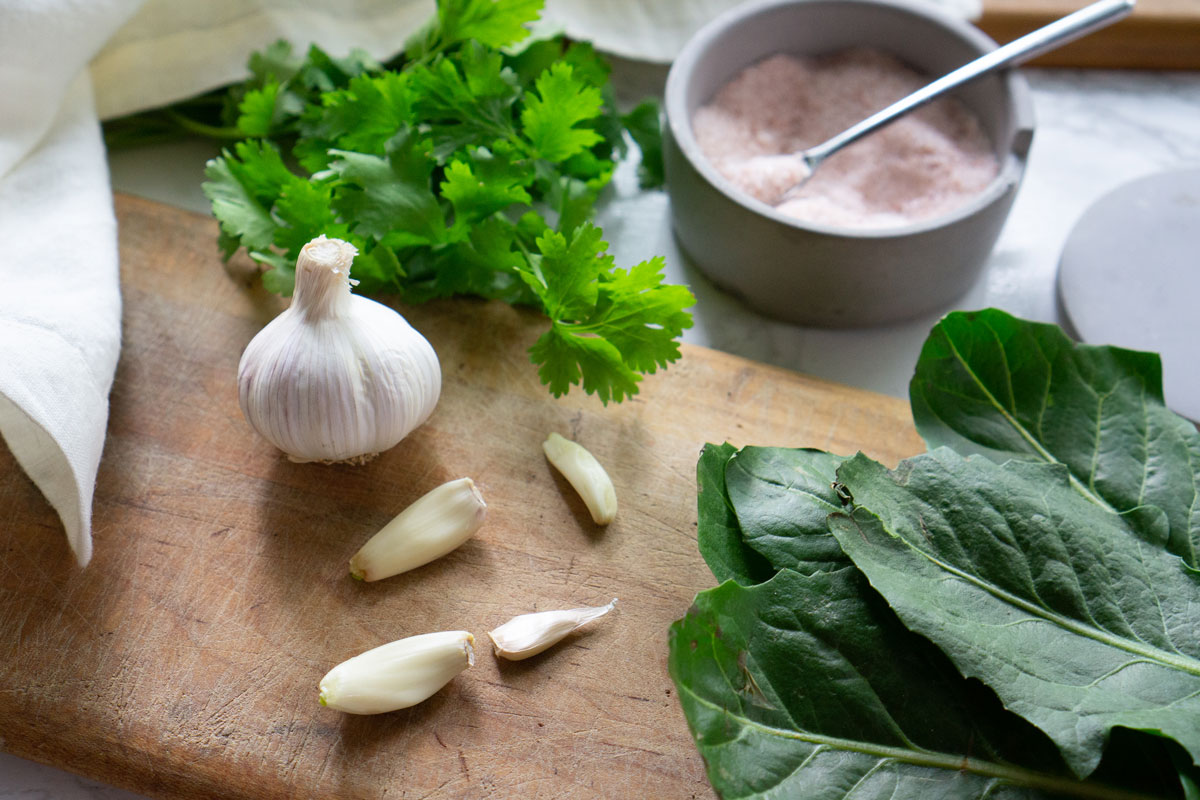 Blanched Dandelion Greens and Rice Salad
Adapted from chef, forager, and entrepreneur Mia Wasilevich
This salad can definitely serve as a main course—it is hearty, cooling, and refreshing all at once. The combination of bitter dandelion greens, spicy jalapenos, and soothing rice, along with the classic combination of sesame oil, sesame seeds, and rice vinegar make this a harmonious and delicious combination. 
Substitutions are allowed! The original recipe calls for one cup of cooked rice noodles rather than basmati rice, but I made use of what I had in my pantry…something we are all getting practice with these days! Also, if you can't obtain fresh dandelion (Taraxacum officinale) greens, any other dark leafy green will work well. Yield: 2 large plates. 
Ingredients
3/4 cup white basmati rice (uncooked)
6 cups coarsely chopped and washed dandelion (Taraxacum officinale) greens
1 tablespoon salt (for rinsing the greens)
1 tablespoon coconut or avocado oil
2 cloves garlic, peeled
1 tablespoon minced, pickled ginger or pickled horseradish
1 teaspoon toasted sesame oil
1/2 teaspoon coconut aminos or tamari
2 tablespoons rice vinegar
2 tablespoons white sesame seeds
2 tablespoons fresh chopped cilantro (Coriandrum sativum) leaves
1/2 medium sized jalapeno pepper (for garnish)
Coconut or avocado oil
Directions
Begin by cooking the rice on the stovetop or rice cooker. (Or, this recipe can be a great way to make use of leftover rice)!

While rice is cooking, wash and coarsely chop the dandelion greens. Remove any thick stems. Place in a large bowl or colander, add salt, massage the salt into the greens and let sit for 15 minutes.

Rinse the greens to wash out the salt.

Blanch the dandelion greens by placing in a large pan filled 1-inch deep with boiling water. Cook for 3-4 minutes. Remove from heat and rinse with cold water to stop the cooking process. Pat dry with a cloth.

Finely chop the garlic. 

Add 1 tablespoon of coconut or avocado oil to a pan over medium-low heat. Add garlic and toast until golden brown on the edges. Remove from heat.

In a large- to medium-sized mixing bowl, combine pickled ginger (or horseradish), sesame oil, coconut aminos, and rice vinegar.

Once rice is cooked, fold greens and rice into the large bowl with the pickled ginger and liquids. Add sesame seeds, cilantro, and toasted garlic. Garnish with finely sliced jalapeno pepper.

Enjoy cold or at room temperature!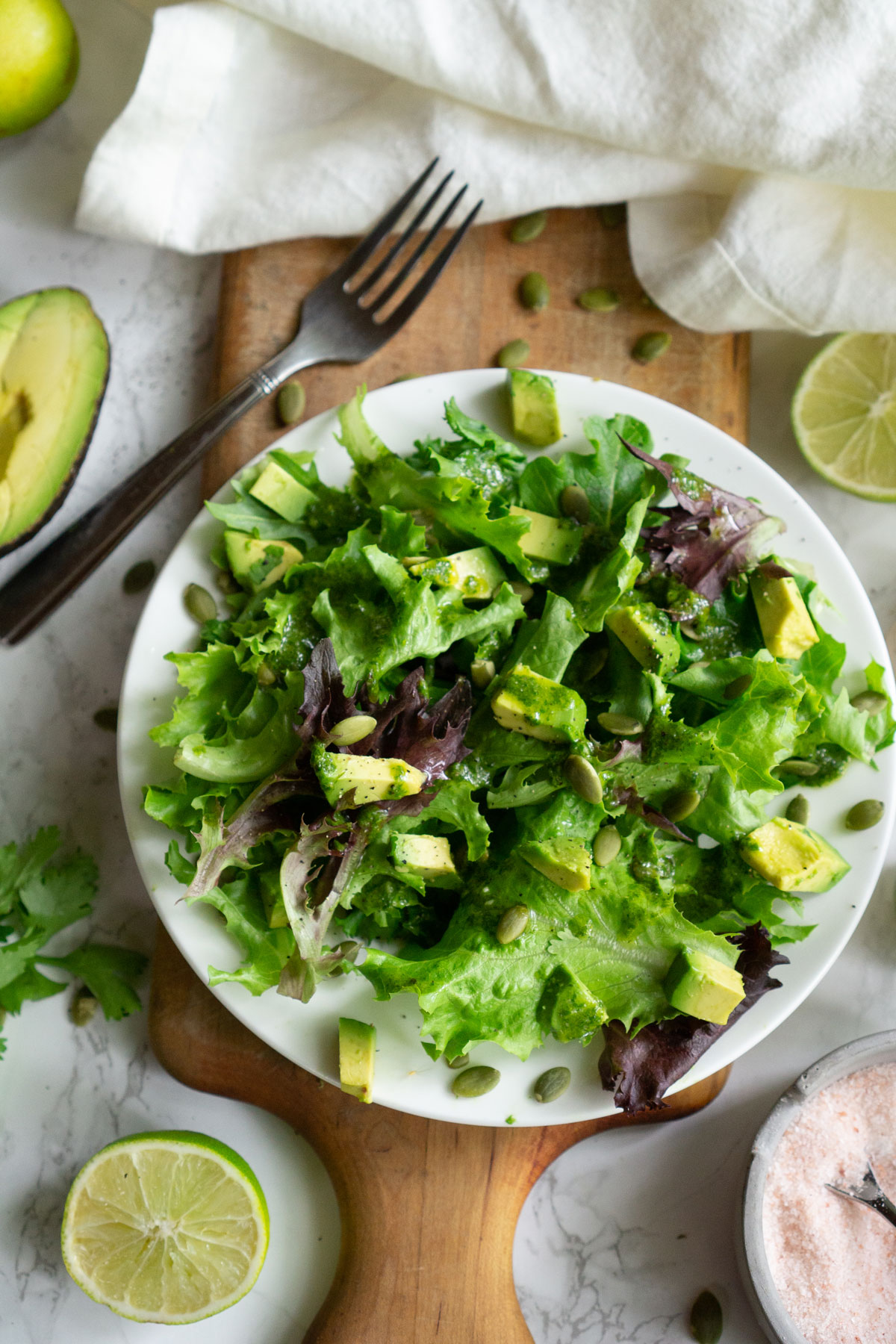 Days of Greens Salad with Cilantro Lime Dressing
Adapted from Love and Lemons
This cooling summer salad exhibits monochromatic delight…hence its nickname, "days of greens." Cilantro lime dressing, avocado, and salad greens are full of green goodness that will satisfy the appetite and taste buds. 
The magic of this salad is truly in the dressing. Cilantro (Coriandrum sativum) leaves are a key ingredient. With a sweet and astringent taste and a cool energy, cilantro is a wonderful summer herb. It enkindles the agni (digestive fire) without overheating, and balances all three doshas—vata, pitta, and kapha. Cilantro is also useful for skin inflammation and redness (Lad & Lad, 2009). Poured over fresh, crispy green leaf lettuce, arugula, or other salad greens with a bit of avocado and pepitas for healthy fats and a satisfying crunch, this dish can be eaten as a side or stand-alone. Yield: 4 small plates.
Ingredients
2 cups fresh, chopped cilantro (Coriandrum sativum) leaves
1 garlic clove, peeled
¼ cup lime juice (can substitute lemon juice)
2 teaspoons maple syrup or honey
½ teaspoon ground coriander (Coriandrum sativum) seeds
½ teaspoon salt
½ cup extra virgin olive oil
1 head green leaf lettuce or salad greens of choice
¼ cup raw or roasted pumpkin seeds
1 ripe avocado
Directions
Blend all ingredients except the lettuce, pumpkin seeds, and avocado in a blender until evenly mixed.

Chop the salad greens and pat dry. Peel and dice the avocado.

Pour dressing over salad greens and garnish with diced avocado and pumpkin seeds.
Cabbage Salad with Herbie Yogurt dressing
I am a huge fan of cabbage, and according to Ayurveda this nutritious cruciferous vegetable has cool and astringent qualities (Lad & Lad, 2009), making it a great basis for this cooling salad. The combination of yogurt, garlic, and fresh herbs balanced by the satisfying crunch of cabbage and the sweet tartness of raisins makes this cooling salad nourishing and zesty. I made the dressing with curly parsley (Petroselinum crispum) leaves, but you can experiment with other fresh herbs such as mint (Mentha x piperita.) leaves, dill (Anethum graveolens) or cilantro (Coriandrum sativum) leaves. Yield: 2 servings.
Ingredients
1/2 cup full-fat, plain yogurt
1/8 cup chopped fresh curly parsley (Petroselinum crispum) leaves, mint (Mentha x piperita) leaves, dill (Anethum graveolens) or cilantro (Coriandrum sativum) leaves
1 clove chopped and peeled garlic
1-2 teaspoons lemon juice
1/8 teaspoon ground black pepper (Piper nigrum) fruit
salt to taste
2 1/2 cups finely chopped or shredded red cabbage
1/4 cup seedless raisins
Directions
To make the dressing,  place all ingredients except cabbage and raisins in a blender or food processor and blend until evenly mixed.

If you don't have a blender, just shake all the ingredients up in a well-sealed mason jar (you'll have to do an especially good job at chopping the garlic and parsley in this case).

In a medium-size container or salad bowl, add cabbage, raisins, and dressing. 

Stir well to evenly mix in the dressing. If storing in a container with a lid, you can seal the container and give it several good shakes for easy mixing. 

Refrigerate and let sit for a few hours to allow yogurt dressing to slightly soften and blend with the cabbage. Eat cool or at room temperature.
READY, SET, CHILL OUT!
Whether you are craving crunchy cabbage, zingy cilantro and lime, or bitter dandelion, the heat of summer offers plenty of inspiration for nourishing your body while keeping the recipes cool and simple. I road-tested all of these cooling summer salads, and I invite you to try them out, experiment, and make them your own. Feel free to make substitutes using fresh ingredients that you have access to. Follow your intuition and tastes to perfect your own cooling summer salads!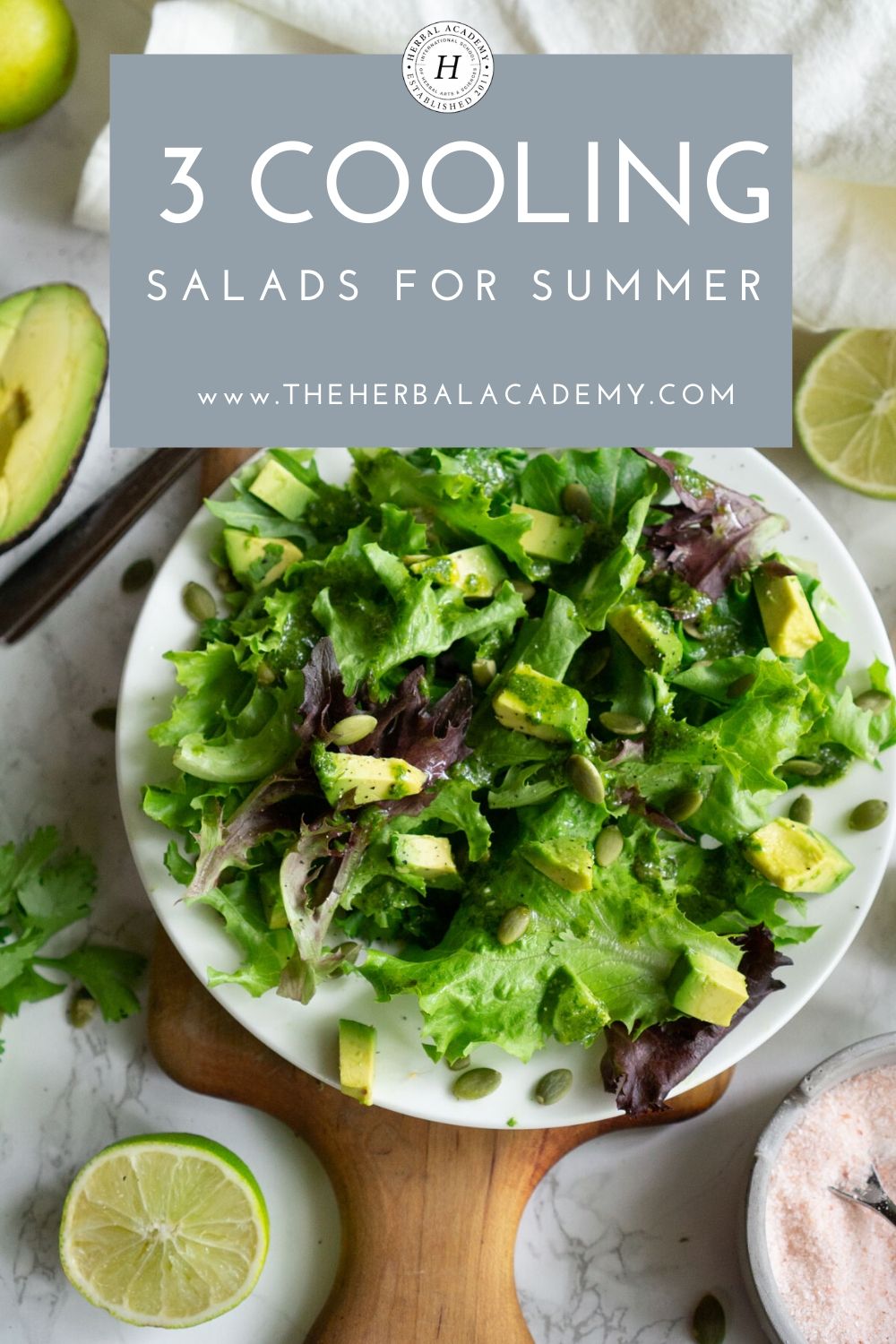 REFERENCES
Lad, V. & Lad, U. (2009). Ayurvedic cooking for self-healing. Albuquerque, NM: The Ayurvedic Press. 
Love and Lemons. Cilantro lime dressing recipe. Retrieved from https://www.loveandlemons.com/cilantro-lime-dressing/
Wasilevich, M. (2017). Ugly little greens. Salem, MA: Page St. Publishing Co.