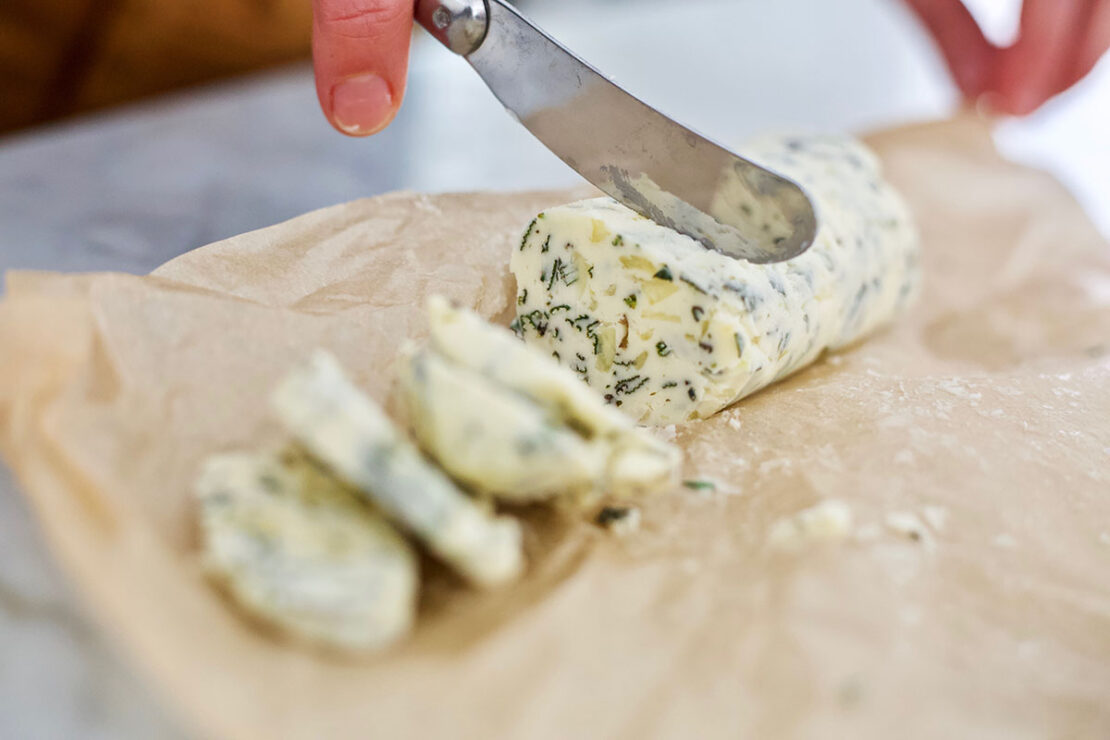 DIY Savory Herbal Whipped Butter Recipe for Holiday Cooking
If you are looking for a special herbal indulgence to enjoy this season, herbal whipped butter is just the thing! You can make this ahead of time and store it in the fridge or freezer to have on hand when cooking or entertaining. Use it to cook in, spread it over squash before baking, dot the butter over veggies in a savory galette, or spread it on bread, biscuits, and cornbread—yum! 
A Simple Savory Butter Recipe for Bringing Herbs to the Holiday Table
Savory Herbal Whipped Butter
This spicy-sweet herb-filled butter is lip-smacking delicious and perfect for adding herbs to any meal that calls for butter. 
Ingredients
½ cup softened butter or butter substitute
1 heaping tablespoon fresh sage (Salvia officinalis) leaves, finely chopped
2 teaspoons fresh rosemary (Rosmarinus officinalis) leaves, finely chopped
2 to 4 cloves fresh garlic (Allium sativum), minced
½ teaspoon salt
1 to 2 tablespoons honey
Directions
Crush and mince the garlic. Combine with salt. Exposing crushed garlic to air before combining with the butter will help activate a beneficial compound of garlic called allicin.

Whip the butter or butter substitute with a mixer or food processor. 

Add the sage, rosemary, minced garlic and salt, and honey to the butter. 

Whip the butter again until all the ingredients are incorporated. 

Store in a tightly-closed container in the fridge until ready for use. You can even shape the butter using small molds or as a rolled log to slice pieces from and make serving easy! 

Your butter should last for up to a week properly stored in the refrigerator. It can be wrapped tightly and frozen for up to 6 months as well. 

Enjoy! 
The aromas and flavors of herbs bring together the ingredients in a recipe into a memorable experience. This herb-whipped butter recipe is part of life's tapestry, weaving together moments and memories with each tasty bite. Herbs are a welcome addition to cooking that can enrich each special moment. We hope you have fun this season creating your own herb-enriched foods to share and enjoy!
Happy butter-making!
For more on holiday cooking with herbs, see: How to Enhance Holiday Cooking with Herbs