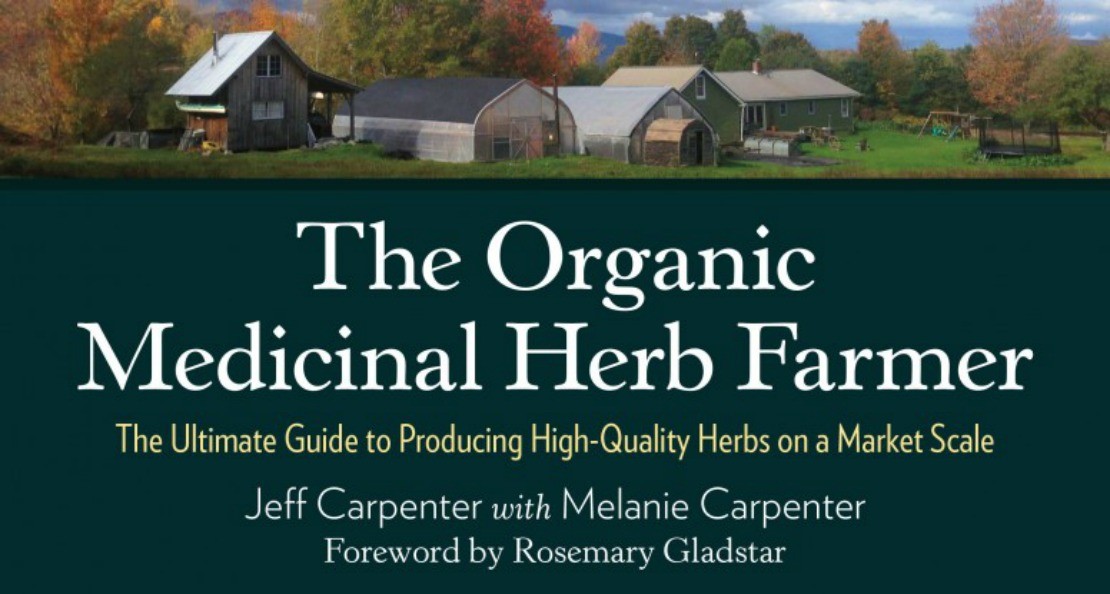 The Organic Medicinal Herb Farmer
It comes as no surprise that a fascination with plants was the driving force behind many an herbalist's chosen path. And while herbalism has many expressions, a strong connection with plants and access to high quality herbs is of paramount importance to all herbalists. For some, the desire to get their hands in the soil and grow herbs themselves satisfies both needs and offers an opportunity to turn their passion into an income whilst supplying plants to the wider community. Farming is a demanding endeavor, though, so how does one get started? Or perhaps you've already started and are ready to take it to the next level – what are the next steps? This is where an experienced mentor comes in.
Your Herb Farming Mentor
Prior to developing Zack Woods Herb Farm in Hyde Park, Vermont, Jeff and Melanie Carpenter owned a successful herbal products business. When they found themselves having difficulty sourcing high quality, locally grown herbs from which to make their products, they chose to follow their desire to work outside with the land and produce herbs for others. The accumulation of years' worth of herb farming knowledge eventually culminated in their book.
In The Organic Medicinal Herb Farmer (giveaway below), Jeff and Melanie Carpenter offer up a how-to on growing medicinal herbs for the commercial organic market. The book is a thorough, soup-to-nuts exploration of both the business and farming aspects of being a medicinal herb grower, answering both the questions a budding farmer could think to ask and those only an experienced farmer would know to ask. Having spent 16 years in the trenches of building a successful herb farm, the authors have earned their know-how the hard way. They're not content to rest on their laurels, however; they exemplify the spirit of herbalism by sharing what they've learned with the hope that others will duplicate their success.
The topics they cover are as vast as the endeavor they describe: from big considerations such as managing the business side of things, configuring the layout and design of the farm infrastructure, using permaculture concepts to design a more diverse farming landscape, and choosing tools of the trade; to obvious herb gardening topics such as bed preparation, plant propagation, weed control, pest and disease prevention and control, and harvest.  There is a thorough treatment of postharvest drying and processing along with packaging and storing recommendations. And finally, there are 50 medicinal herb plant profiles that each include the plant description, medicinal uses, growing conditions, propagation, planting considerations, pests and diseases, and harvest, processing, and pricing information. It's a lot of information, carefully organized and thoroughly described in a logical and straightforward manner.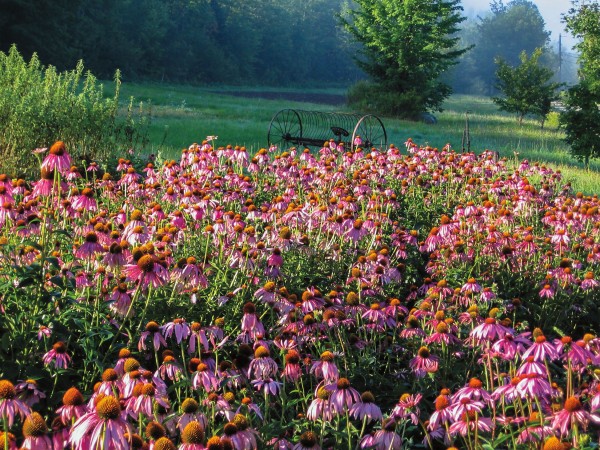 Why Grow Medicinal Herbs
The most rewarding thing about our work growing medicinal herbs is working outside with nature to grow plants that bring health and well-being to people.
– Jeff and Melanie Carpenter
With the resurgence of herbal medicine, there is a demand from consumers and the herbal products industry for high quality herbs. Unfortunately, there are only a handful of commercial medicinal herb farms scattered throughout the US – and these farms do not produce enough to meet the demand on the commercial herb market, so the majority of herbs sold in the US are imported from other countries. While in some cases this is good, as the demand for maca creates a viable living for Peruvian farmers who cultivate this plant in its native niche, in the case of many medicinal crops that can be grown in different bioregions it makes sense to grow them closer to home. In the case of popular plants such as American ginseng and goldenseal whose native wild plant populations have plummeted due to overharvesting, growing these plants offers a sustainable alternative while protecting the native population.
From a farming standpoint, most medicinal herbs are perennials that have been selected from the wild and are thus more resistant to disease and pest pressure than annual vegetables and culinary herbs. Unlike fresh vegetable crops, medicinal herbs can be dried for long-term storage, thus alleviating the pressure to get them to the consumer within days of harvest. And since medicinal herb farming is less common than growing fruits and vegetables, this leads to reduced market competition and increased profitability.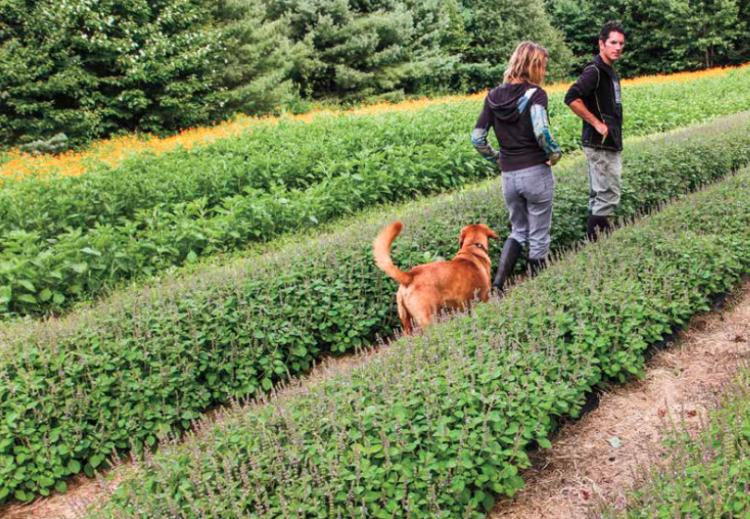 A Call to Action
The Carpenters have bigger plans than just the success of their own herb farming business: they are planting the seeds for an herb farming revolution on a larger scale. In turn, their book is definitely more than a how-to manual,  it's a call to action. By publishing this extensive manual on medicinal herb farming, the authors are empowering herbalists, fruit and vegetable growers, and anyone with a passion for farming and/or herbs to grow and supply high quality medicinal herbs to neighbors and friends, herbalists, farmer's markets, natural food stores, herbal product manufacturers, and hopefully in the future to an herb cooperative that acts as a source for buyers seeking large quantities of herbs. At a recent workshop I attended, Melanie declared their goal was to encourage "an herb farmer in every county!" in order to cooperatively meet the market demand for high quality herbs as well as bring herbs and herbal education to more areas.
While farming is far from an easy endeavor with its long days, arduous work, and challenging trials, the joy the authors exude at choosing this profession is palpable, and their vision inspires some thoughtful questions. What if there was an herb farmer in every county? What if the herbs we use in our food and medicine were grown in our home ecosystem, by a vested member of our own community? Perhaps the more perplexing question is: why are they not? Ponder this as you read and consider whether growing medicinal herbs may just be the way you choose to express your love of the plants and herbalism.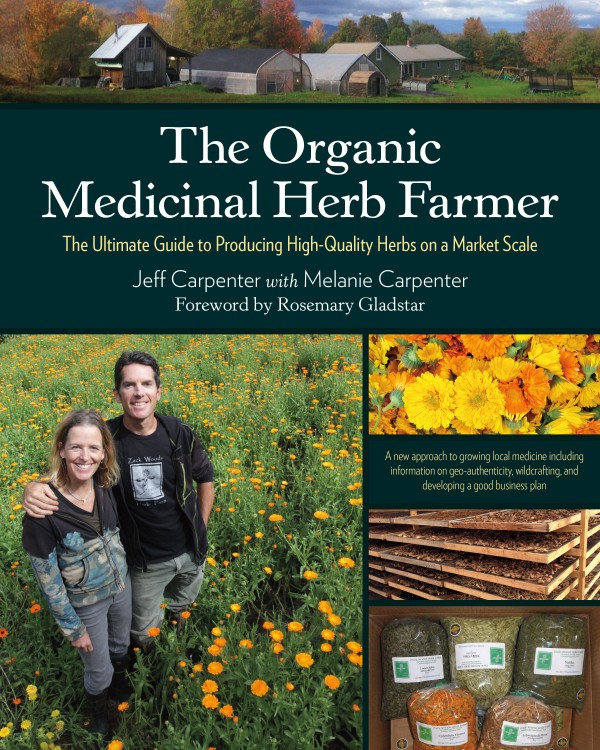 Enter The Organic Medicinal Herb Farmer book giveaway!
In partnership with Chelsea Green Publishing, we're giving away a copy of the book, The Organic Medicinal Herb Farmer to one of our readers in the US! Enter the giveaway by using the Rafflecopter app below. You can enter daily by tweeting! The winner will be announced in this post and by email on July 1, 2015. Good luck!
a Rafflecopter giveaway

Photo Credits: Copyright 2015
Author Photo – 
Photo by Alden Pellet / 
Cover 
–
 courtesy of Chelsea Green Publishing / 
Echinacea – Photo by Jeff and Melanie Carpenter / 
Melanie_DryingShed – 
Photo by Jeff and Melanie Carpenter / 
JeffMel_inthefield 
–
 Photo by Alden Pellet
Books and resources listed in the Herbal Bookshelf, as well as in references, citations, and book reviews on the Herbal Academy website may contain titles and language that include words and phrases such as "healing," "treat," and "medicinal." Herbal Academy web pages that include book reviews, products, references, citations, periodicals, or other publications and links should not be construed as medical claim, diagnosis, or treatment. The Herbal Academy is not responsible for the content of these outside resources. The Herbal Academy makes neither medical claim, nor intends to diagnose or treat medical conditions.