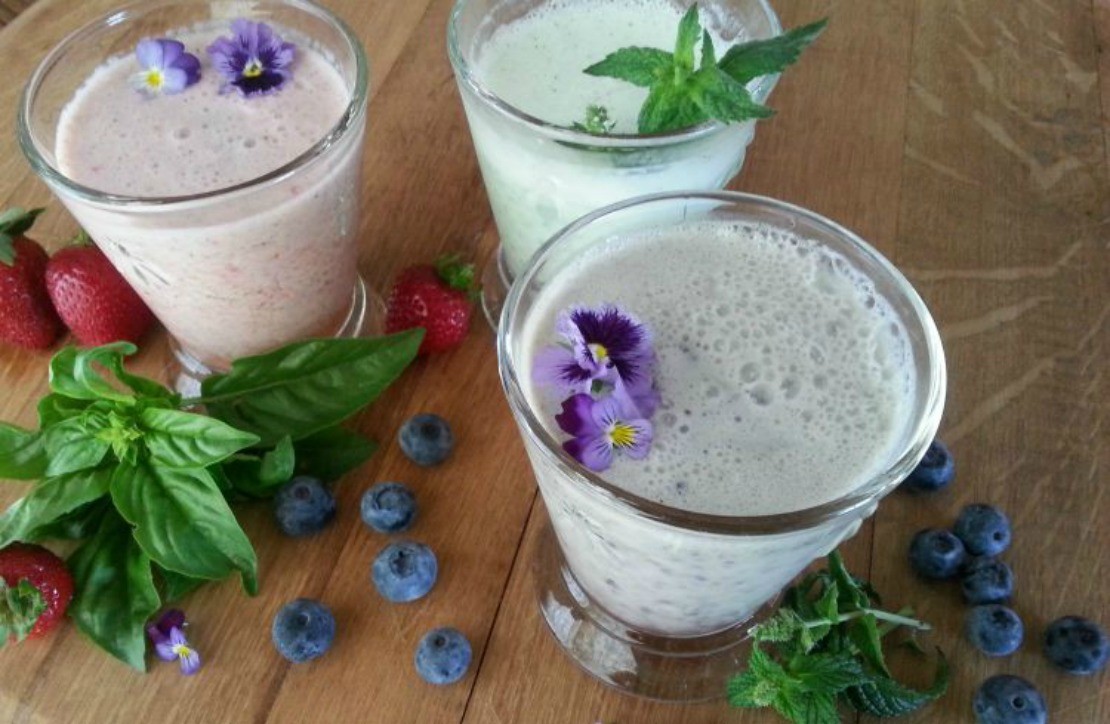 Refreshing Basil and Mint Smoothie Combinations
During the height of summer, cooling smoothies are especially welcomed by families as a tasty snack or light meal. The abundance of fresh produce available makes it easy to take advantage of the best of summer by blending up a tasty treat! Fresh herbs are a surprising and delightful addition to smoothies. Favorites include a variety of mints, lemon balm, anise hyssop, and even basil. These basil and mint smoothie combinations are a delicious way to cool off and enjoy the bounty of summer!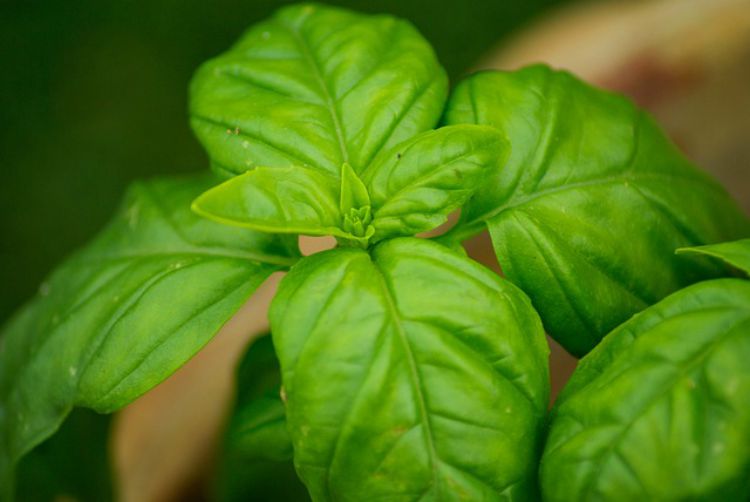 Delightful Sweet Basil (Ocimum basilicum)
Many culinary herbs offer more than delicious flavor to food and basil is no exception. As a member of the mint (Lamiaceae) family, fragrant basil is rich in antimicrobial and anti-inflammatory aromatic oils. Basil's carminative action can help to stimulate healthy digestion and alleviate cramping of the digestive tract. It also has antidepressant properties that can help to lift the spirits! High in vitamins and minerals, basil is a wonderful green food that is particularly high in vitamin K and beta carotene.
Basil combines well with berries such as strawberries, blueberries, blackberries, and raspberries as well as cherries, peaches, apricots, watermelon, lemons, and limes.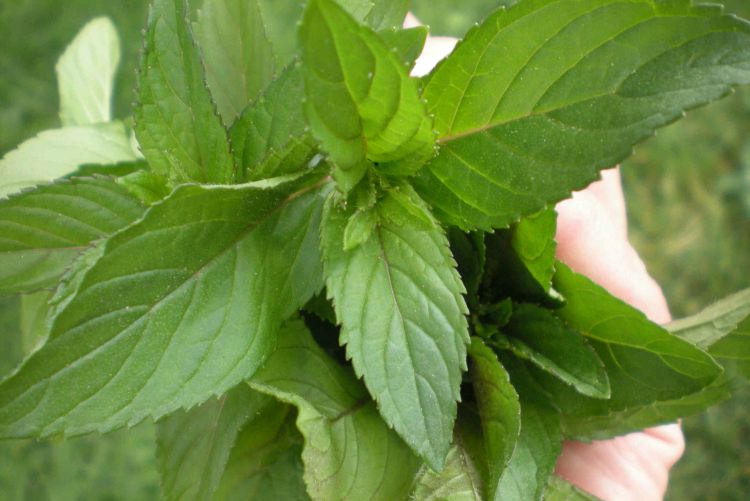 Invigorating Mint (Mentha species)  
Cooling and refreshing, mint is a beloved plant the world over. Lovely smelling mint is also chock full of essential oils that help soothe digestive woes, fight infection, and calm the nerves. The antispasmodic and carminative actions in mint are particularly helpful for helping to relieve gas and cramping. Mints are cooling to the body while also helping to uplift the spirits, easing away stress and tension. This makes mint a great addition to summer foods for a little extra help on those hot days when folks are cranky from the heat.
Favorite mints for smoothies: peppermint (M. piperita), spearmint (M. spicata), apple mint (M. suaveolens), orange mint (M. citrata), and chocolate mint (Mentha x piperita piperita).
Mints combine well with almost any fruit. Favorites include watermelon, pineapple, strawberries, blueberries, blackberries, raspberries, peaches, and citrus fruits.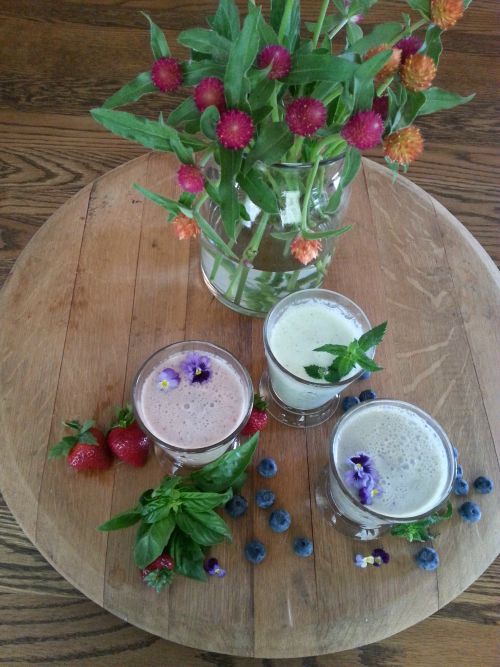 Follow this simple recipe for making your own tasty smoothie creations at home. Choose either herb along with a variety of fruits to make tasty, refreshing basil and mint smoothies for your family. My family's favorite combination? Fresh peppermint with tangy, juicy strawberries!
Fresh Herb and Fruit Smoothies
Adapted from
Giada De Laurentiis
Ingredients
1 ½ cups of plain yogurt
1 cup of packed herbs, either basil or mint
1 + cup of ice
1 ½ cups of fruit of your choice, see recommended fruit/herb combinations under the herb descriptions above
½ cup homemade cooled honey syrup, plus more to taste if desired (see recipe below)
Directions
Place everything in a blender and process. Use extra ice and frozen fruit if you want your smoothie to be nice and icy.
Taste your smoothie and add more syrup if desired.
Pour into glasses and enjoy!
This recipe makes enough for four good size servings.
The smoothie is tasty even without fruit, give it a try!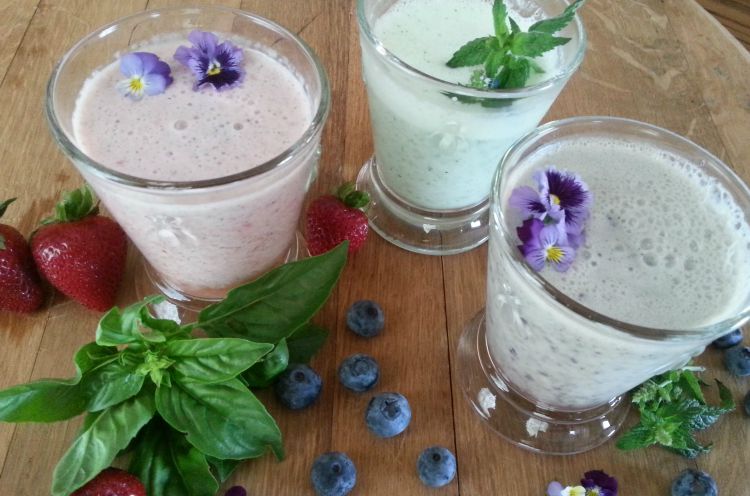 Honey Syrup
This syrup is great for sweetening iced teas too!
Ingredients
1 cup of honey
1 cup of water
The zest of 2 lemons
1 inch piece of ginger, grated, optional
Directions
Place the honey, water, lemon zest and for an extra little kick, ginger (if you wish) into a saucepan.
Carefully warm over low heat until the honey just melts.
Whisk the water, honey, and zest together.
Pour into a bottle, label and store in the refrigerator until ready to use.
Bring the bounty of the season right into your kitchen and enjoy a nourishing, refreshing basil or mint smoothie this summer!
Want more herbal smoothie recipes for the summer? Look here:
REFERENCES
Basil. (n.d.). Retrieved on 7/20/15 from http://www.whfoods.com/genpage.php?tname=foodspice&dbid=85
De Laurentiis, Giada. (2008). Sweet Basil Smoothie. Retrieved on 7/21/15 from http://www.foodnetwork.com/recipes/giada-de-laurentiis/sweet-basil-smoothie-recipe.html
Mars, Brigitte. (2000). Lecture notes from The Rocky Mountain Center For Botanical Studies. Boulder, Colorado.
McCabe, Sarah. (2011). The Amazing Health Benefits Of Basil. Retrieved on 7/20/15 from http://www.motherearthliving.com/natural-health/amazing-health-benefits-of-basil.aspx