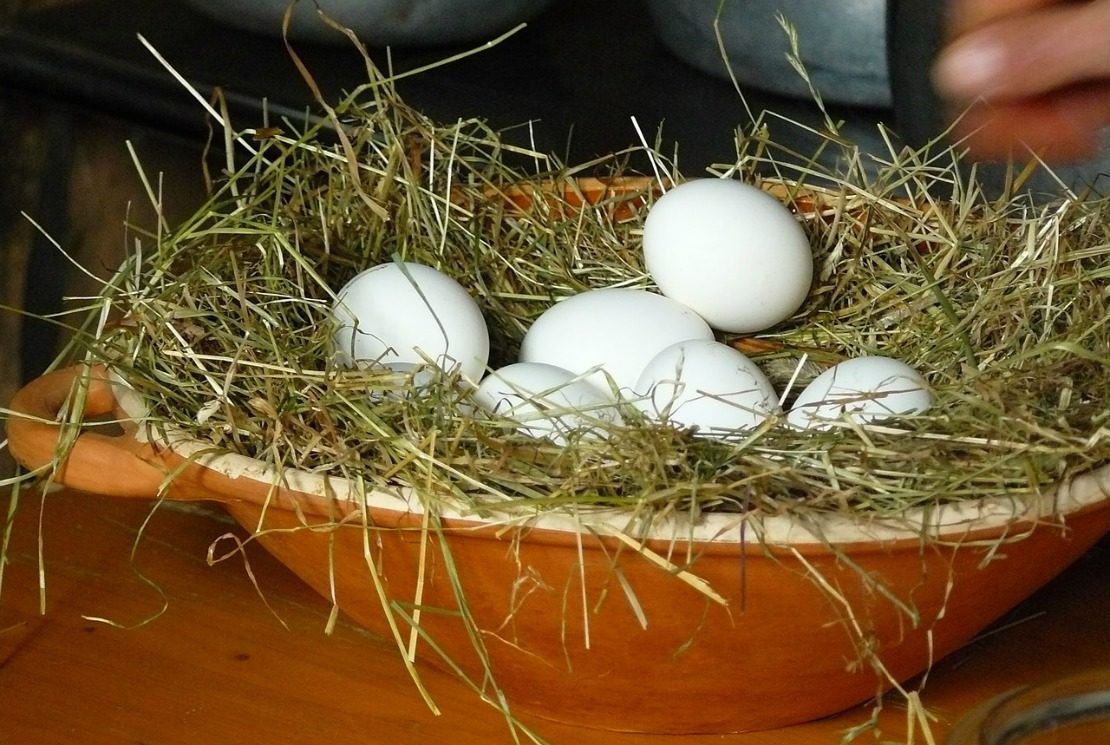 Raising Happy, Healthy Chickens with Fresh Eggs Daily
I'll just say this up front: if I were a chicken, I'd want to be a chicken in Lisa Steele's flock. Fortunately for the backyard chickens of the world, in her book Fresh Eggs Daily: Raising Happy, Healthy Chickens…Naturally the author shares her unique approach to the care and tending of chickens so we all can have healthy, happy flocks. The author teaches us that herbs and natural products can be used to nourish and maintain chickens' health in lieu of chemicals or antibiotics.
Despite its relatively diminuitive size, this book packs a surprising amount of information into its pages in a very readable format. While I have been tending my own flock of chickens for five years and thus am beyond the novice stage, I gleaned a great deal of useful information from this book. In fact, the book is not meant to be a beginner's guide to keeping chickens but is geared for those who have the basics down and are ready to add herbs and natural treatments into the mix. That being said, there is a lot of great basic information included, as well – everything from raising chicks, setting up a coop, and supplying a dust bath to dealing with broodiness and resolving disease.
Nourishing Foods and Herbs Support Health
As an herbalist, I am particularly interested in the power of nourishing food. It's interesting that I started reading this book at the same time I was researching holistic nutrition for our family cat – and it comes down to the same principles for cats, chickens, and us – just eat wholesome food (with the addendum that it be appropriate for your species, of course). We can do better than just dry kibble for cats or dried layer mash for chickens, and not just because we want to spoil them a bit – but also because it contributes to their long-term health and helps avoid illness down the road by building strong immune systems and keeping the body in balance.
The book is arranged into thirteen chapters on accommodations (the coop, run, nesting boxes, dust bath area), nourishment (food, water, and treats), seasonal considerations (summer, winter), natural cycles (molting and broodiness), common illnesses, and raising chicks. Each chapter describes the why and the how of the author's approach to providing what the chickens need and supporting their natural cycles and intermittent illness, and offers recommendations for herbs that can be offered routinely to not only nourish chickens, but calm laying hens in the nestbox, drive away pests in the coop and the run, supplement the dust bath, support hens during broodiness and chickens during molting, and resolve common chicken ailments. Along with being described in the text in each chapter, herb recommendations are summarized in tables at the end of each chapter and in the appendix for easy reference.
Being the softie who makes warm oatmeal for her chickens on particularly cold winter mornings and hand delivers grubs from the garden, I immediately turned to the chapter on spoiling them. It includes an assortment of ideas for treats – fruit, grains, vegetables, flowers, weeds – as well as foods to avoid, and recipes for a homemade seed blend and chicken salad (and by chicken salad we're talking a green salad with berries and apple cider vinegar dressing, not that other chicken salad). I think my favorite recipes in the book are the Breakfast of Champion Layers feed mix using layer mash supplemented with oats seeds, herbs, and probiotics, an electrolyte drink to keep them hydrated on hot summer days, and protein-rich molt muffins to support regrowth of their feathers. I also like seeing how the author delivers these foods to her flock – not just dumped in a heap like yours truly does, but offered in lovely hanging baskets, wide bowls, and creative feeders. It's clear she really loves tending to her hens and roosters.
I've already mixed up some Breakfast of Champion Layers feed mix for my hens and have been supplementing my chicks' diet with oats, oregano, and other herbs. It's not only good for them, it makes me feel good to know I am supporting their health and preventing disease using the same philosophy I use for my family – deep nourishment with whole foods and herbs. It's the way nature has always done it, after all!
Breakfast of Champion Layers
From Fresh Eggs Daily: Raising Happy, Healthy Chickens…Naturally, St. Lyons Press, 2013.
Ingredients
1 50 pound bag layer feed
1 large canister old-fashioned rolled oats
2 cups cracked corn
4 cups shelled sunflower seeds
4 cups dried seaweed
2 cups flax seed
2 cups assorted dried herbs (read more here about herb choices)
1 1/2 cups garlic powder
1 1/2 cups probiotic powder
1 1/2 cups food-grade diatomaceous earth
1 cup brewer's yeast
Directions
Mix all ingredients together thoroughly and serve!
Enter the Fresh Eggs Daily Giveaway!
In partnership with Fresh Eggs Daily, we're giving away a signed copy of the book to one of our readers! Enter the giveaway by using the Rafflecopter app below. You can enter daily by tweeting! The winner will be announced in this post and by email on June 2, 2015. Good luck!