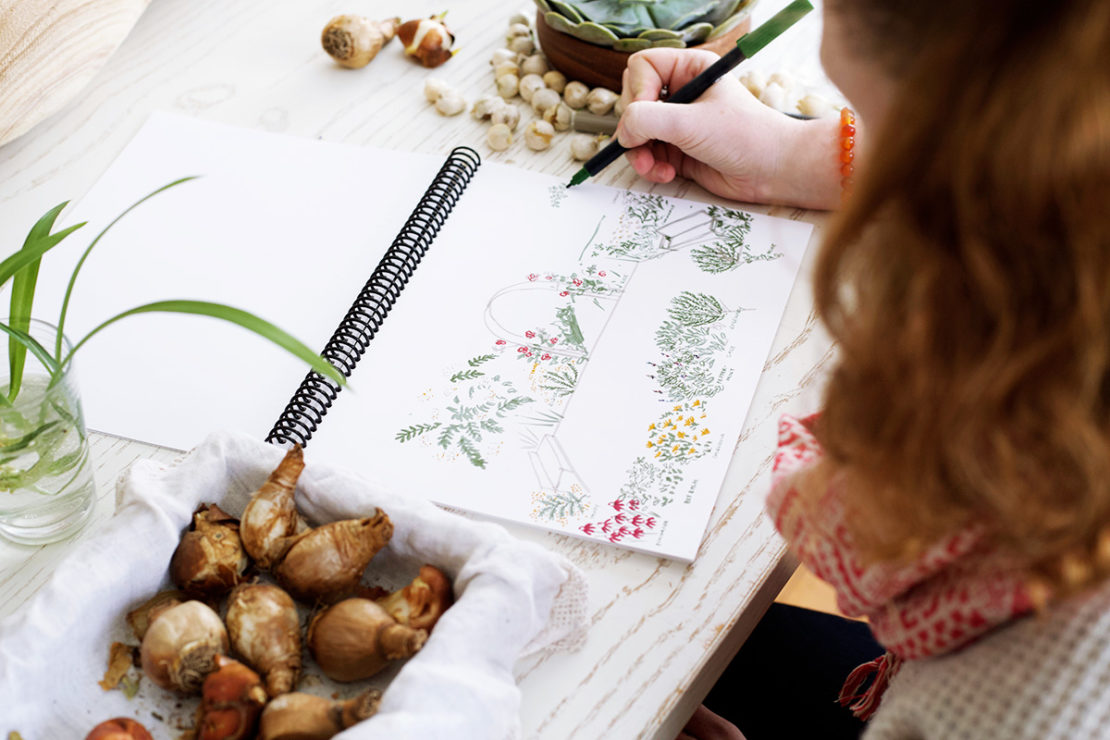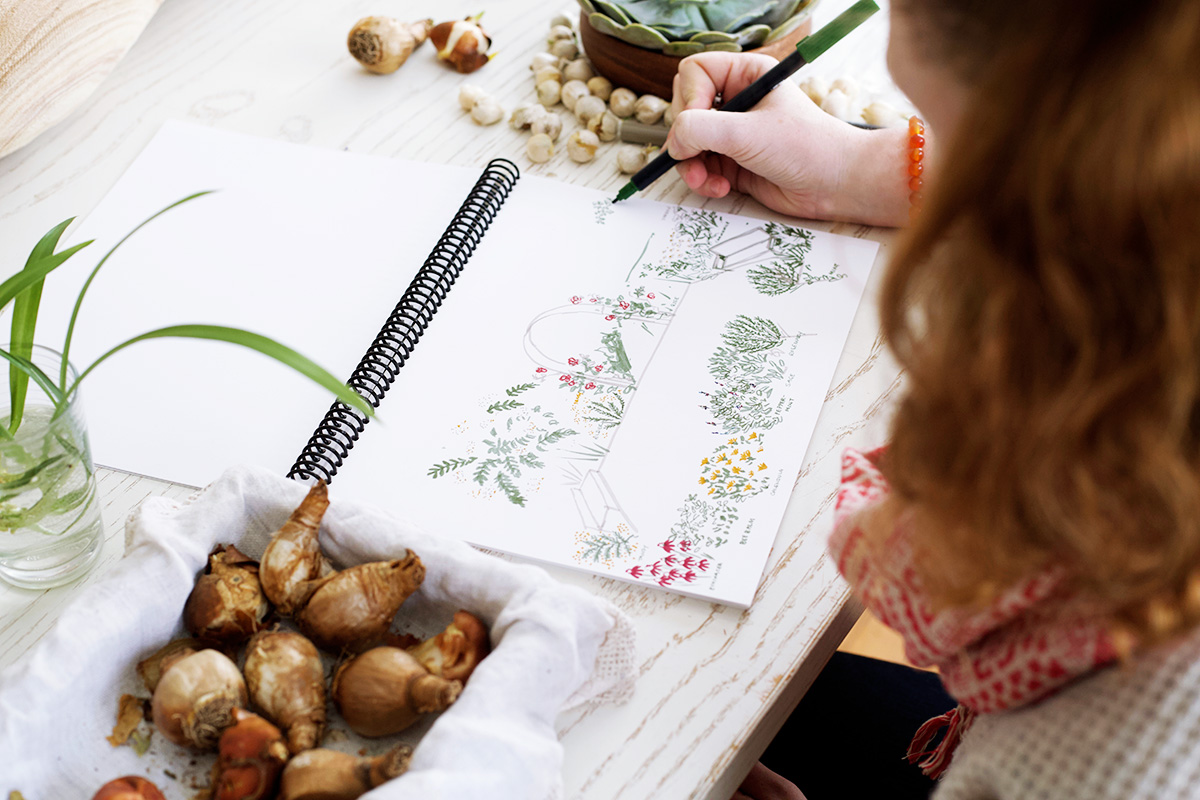 12 Permaculture Principles to Use When Planning Your Herb Garden
Permaculture is not just a way of growing things. It is a movement — a way of life. Permaculture has its origins across many cultures, spanning the history of humanity. In the 1970s Australians Bill Mollison and David Holmgren defined and organized it into what we now know by the term "permaculture," which means "permanent agriculture."
Defined by Mollison in his text, Permaculture: A Practical Guide for a Sustainable Future, permaculture is "the conscious design and maintenance of agriculturally productive ecosystems which have the diversity, stability, and resilience of natural ecosystems. It is the harmonious integration of landscape and people providing their food, energy, shelter, and other material and non-material needs in a sustainable way" (Mollison, 1990).
Put more simply, the whole crux upon which permaculture stands involves working with, rather than against nature. Many of its practices and concepts overlap with those of organic and biodynamic agriculture.
Permaculture follows a set of ethics that are given equal weight: care for people, care for the earth, and fair share, which refers to an equal distribution of resources. There are also a set of 12 permaculture principles, coined by Holmgren in his book, Permaculture: Principles and Pathways Beyond Sustainability, that guide the practitioner in applying permaculture to their desired system.
As you endeavor to plan your herb garden using permaculture practices, a great place to start is by aligning the principles with your plans. Below I'm sharing each permaculture principle with some suggestions for how this can assist in your herb garden planning — whether you are a beginner or experienced grower.
12 Permaculture Principles for Herb Gardening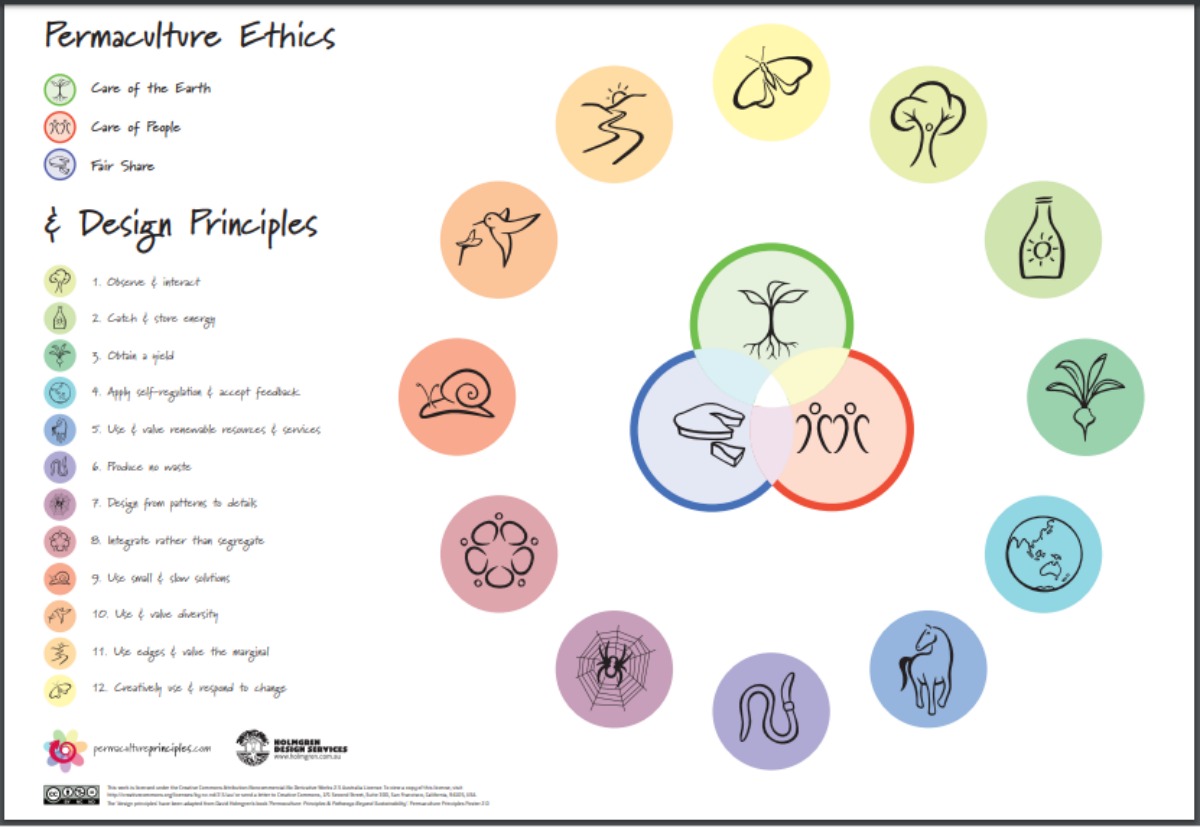 Creative Commons Attribution-Noncommercial-No Derivative Works 2.5 Australia License
1. Observe and Interact
—
"Beauty Is In The Mind Of The Beholder"
While these principles aren't technically in order of importance or chronology, this first one should precede the others. The reason for this is that we want to observe and interact with the land to understand things like how water moves through the property, which areas get sun and which don't, and what might already be growing there.
Once we have this information, we can design our herb garden with confidence knowing we are putting plants where they will thrive. Many gardeners and farmers alike skip this step because they are eager to plant in their first season. Ideally, a grower would spend the first year observing and interacting with the land. While it is difficult to delay cultivation and planting, the pain and challenges you save yourself will be worth it! You can make a holistic, educated plan based on your own observations, which will likely save you a great deal of time and struggles over many seasons.
Action Tip: Whether you've already started to garden or you've not broken ground yet, create an "Observation Notebook" in which you will record observations for one full year in the garden/on your land. Some examples of what data to record include: precipitation amounts, a map that shows where water goes after rainfall and where gets the most sun, what plants are growing, how the wind moves through the garden, and any critters or pests.
2. Catch and Store Energy
—
"Make Hay While The Sun Shines"
There are times in the year where your garden will produce abundantly and times when this is not so. Those who work with the land understand this natural ebb and flow. In your garden planning, it is wise to create a schedule that allots more time to being in the garden harvesting during the time of abundance, usually toward later summer and early fall. If you'd like to most effectively catch and store the energy you've put into your garden, which eventually comes in the form of plentiful fresh herbs, give yourself plenty of time to process this abundance so as little as possible goes to waste.
Action Tip: Gather recipes and any necessary equipment (canning jars, freezer bags, food mill, etc.) well in advance of harvest time, and invite friends or family to help process your harvest when the time comes.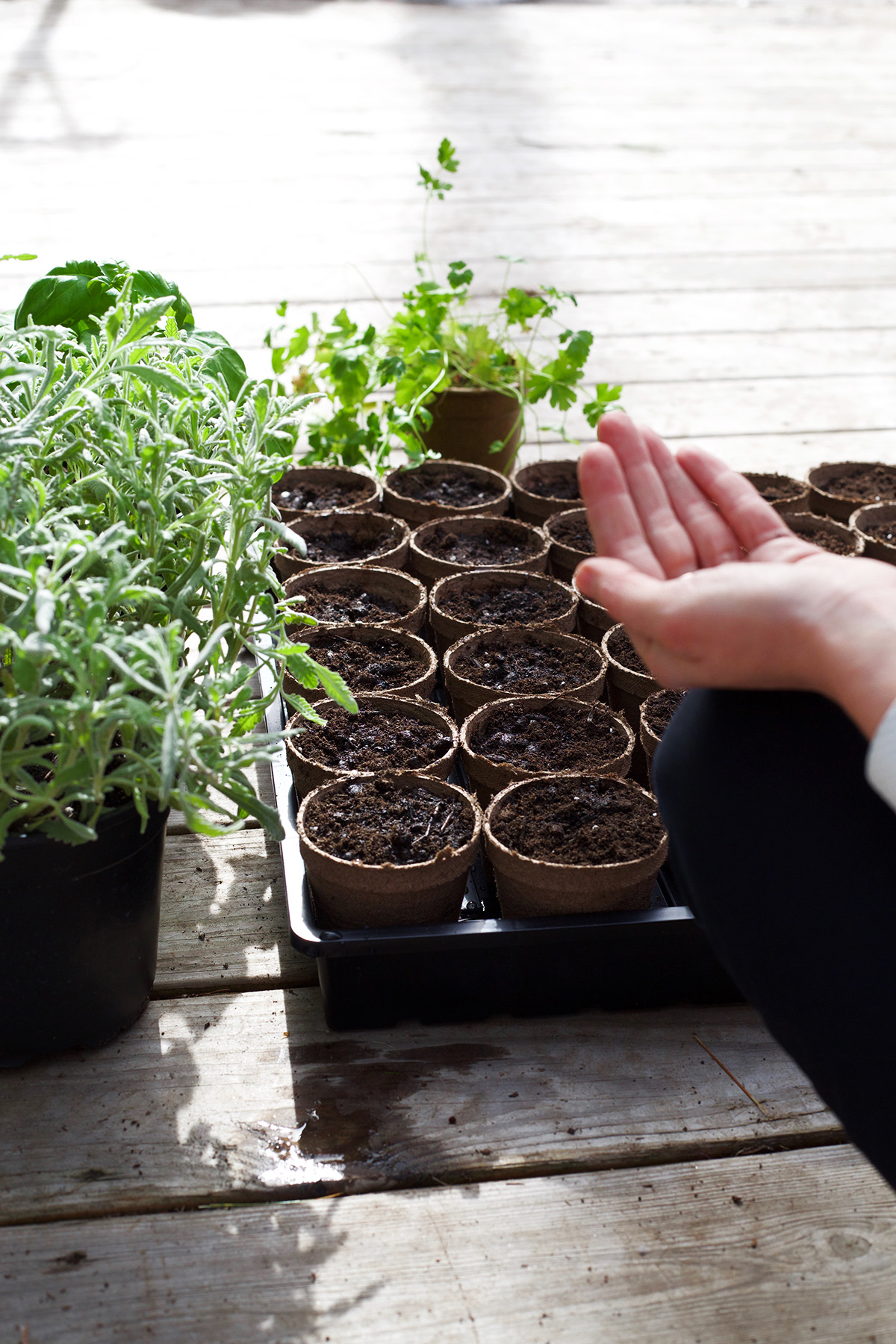 3. Obtain a Yield
—
"You Can't Work On An Empty Stomach"
Of course, one of the most exciting parts about growing your own garden is obtaining a yield! Whether you are growing herbs for profit or simply for your own use and enjoyment, it can be disappointing when plants don't produce as expected.
While this principle might seem like a no-brainer, it is important to be included as a reminder to not get so caught up in the process that we forget about the end goal. As gardeners, we very much enjoy the process of planting seeds, weeding by hand, and watering our plants. At the same time, we would like all this hard work, time, and money to produce a yield that feels equivalent to the work we put in. This is an important piece of a sustainable system.
Action Tip: Record how much yield each crop produces and how much time (roughly) you've spent on each crop. This will give you an idea where your time is going and where you might want to devote more (or less) time. This is especially important if you are running your garden as a business.
4. Apply Self Regulation and Accept Feedback
—
"The Sins Of The Fathers Are Visited On The Children To The Seventh Generation"
This principle concerns learning from our mistakes and the mistakes of those who've come before us. This might look like reading books on gardening or reading articles such as this one to become better informed before diving in. Perhaps you have a friend or family member who is an experienced gardener who can act as a mentor in your gardening pursuits and provide feedback on your garden.
It is very helpful to learn from others in these ways; however, ultimately you have to learn from your own experience in and with your own unique garden. As the seasoned gardener can attest, some of the best lessons from the garden come from our failures. Though difficult, we must experience these mistakes so that we can then learn and adjust accordingly, or, self regulate. We can view things that didn't go as planned in our garden as rich learning experiences that help us improve our garden for the next season, and so on.
Action Tip: Create a spreadsheet just for things you will do differently next season. In it, record at least two things each month in the growing season that were learning experiences for you, then research and record the best methods for improving.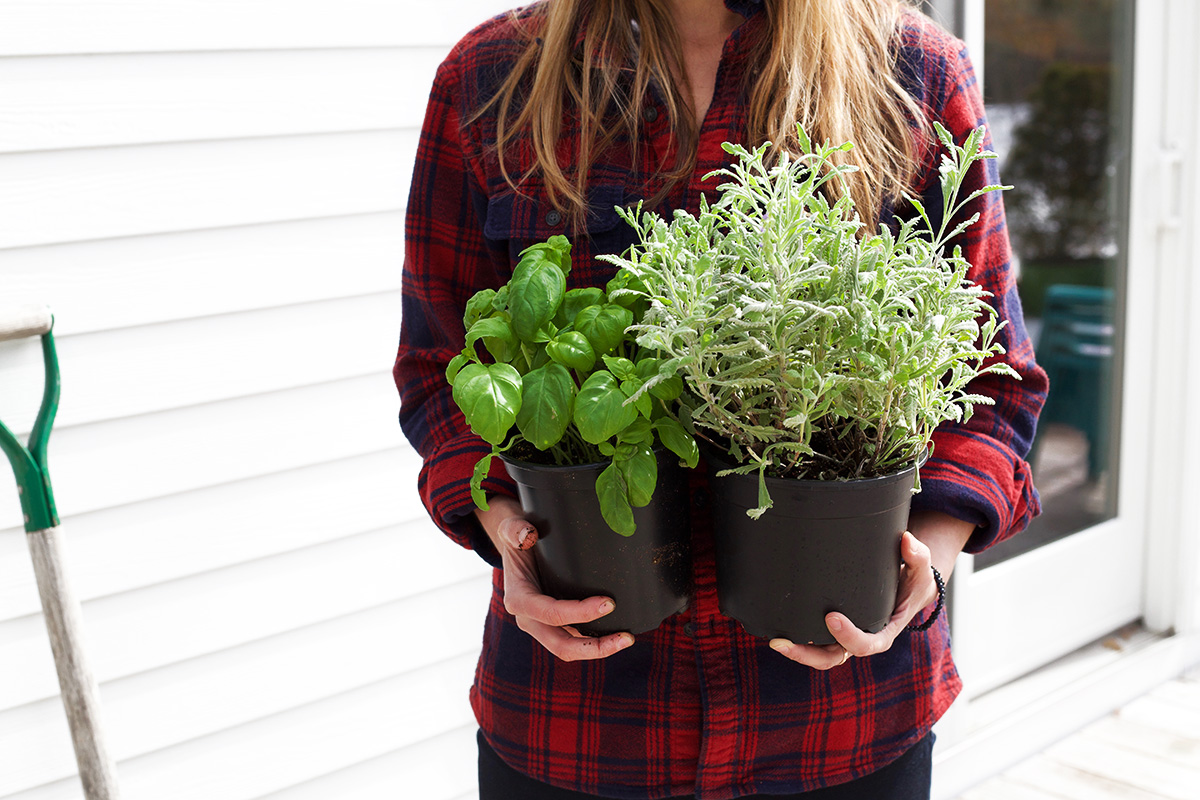 5. Use and Value Renewable Resources and Services
—
"Let Nature Take Its Course"
As you plan your herb garden, it is worthwhile to consider the ways you might utilize natural resources like sun, wind, and water for energy. This may look like putting up solar panels to charge your garden fence, installing rain barrels to capture water to be used in irrigating your garden, or having a small wind turbine for power.
For larger projects that incorporate structures, you might consider utilizing natural building techniques, such as straw bale or cob, and designing the structure to most effectively store energy – e.g., south facing windows.
Action Tip: Develop a plan for one way to use renewable resources in your garden.
6. Produce No Waste
—
"Waste Not, Want Not" or "A Stitch In Time Saves Nine"
While it may feel like a lofty goal to produce zero waste, it is one to aspire to in a healthy permaculture system. This principle is focused on finding creative solutions for waste diversion. It asks us to consider how we can use something that we may have otherwise thrown out, thus saving the space in a landfill and providing us with something useful. This can look like composting our kitchen scraps, not only so we divert that waste from going in a landfill, but so we can actually utilize it as future fertilizer in our herb garden.
Action Tip: Start a compost system at home.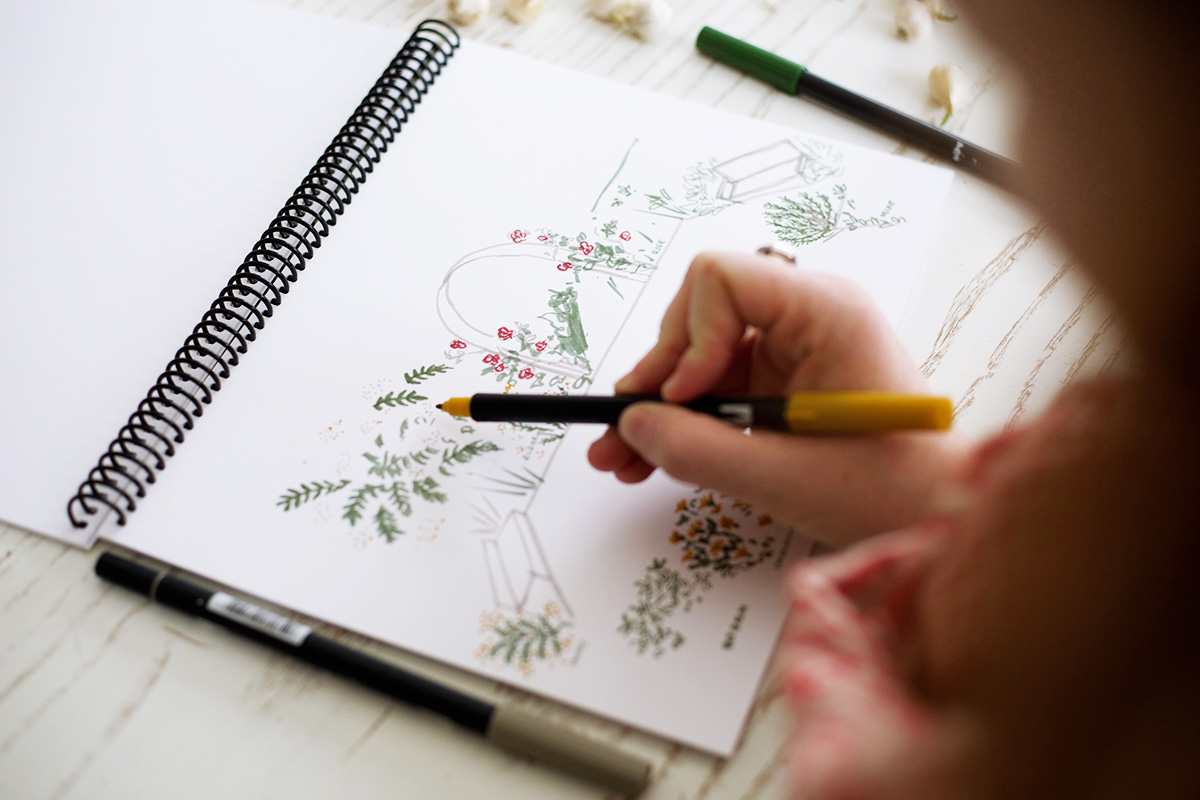 7. Design From Patterns to Details
—
"Can't See The Forest For The Trees"
Relating to the first principle of "Observe and interact," this principle asks us to step back and focus on larger patterns as we plan our design, and then fill in the details. Designing our herb garden with this in mind helps the gardener start with what is most important and work their way toward the details — seeing how everything fits together in the system.
Additionally, this principle addresses a key element of permaculture that involves choosing plant species that would naturally be found in your ecosystem, and doing so in a way that mimics nature. For example, in nature, plants often grow in layers and permaculture recognizes these layers as follows:
Canopy: large fruit & nut trees

Low tree layer: dwarf fruit trees

Shrub layer: berries

Herbaceous layer: herbs, vegetables, flowers

Rhizosphere: root crops

Soil surface: ground cover crops

Vertical layer: climbers, vines
You can find more information on the seven layer system here.   
The benefit to growing in this way, aside from it aligning with the way nature works, is that one layer supports another layer. Your berries may have thorns that protect your herbaceous layer from getting eaten by hungry critters. Cover crops make key nutrients available to surrounding plants like root crops and trees. Trees provide necessary shade to plants that prefer to avoid full sun.
Action Tip: Using the system of planting in layers, create an area of your garden where you incorporate at least four of the layers together.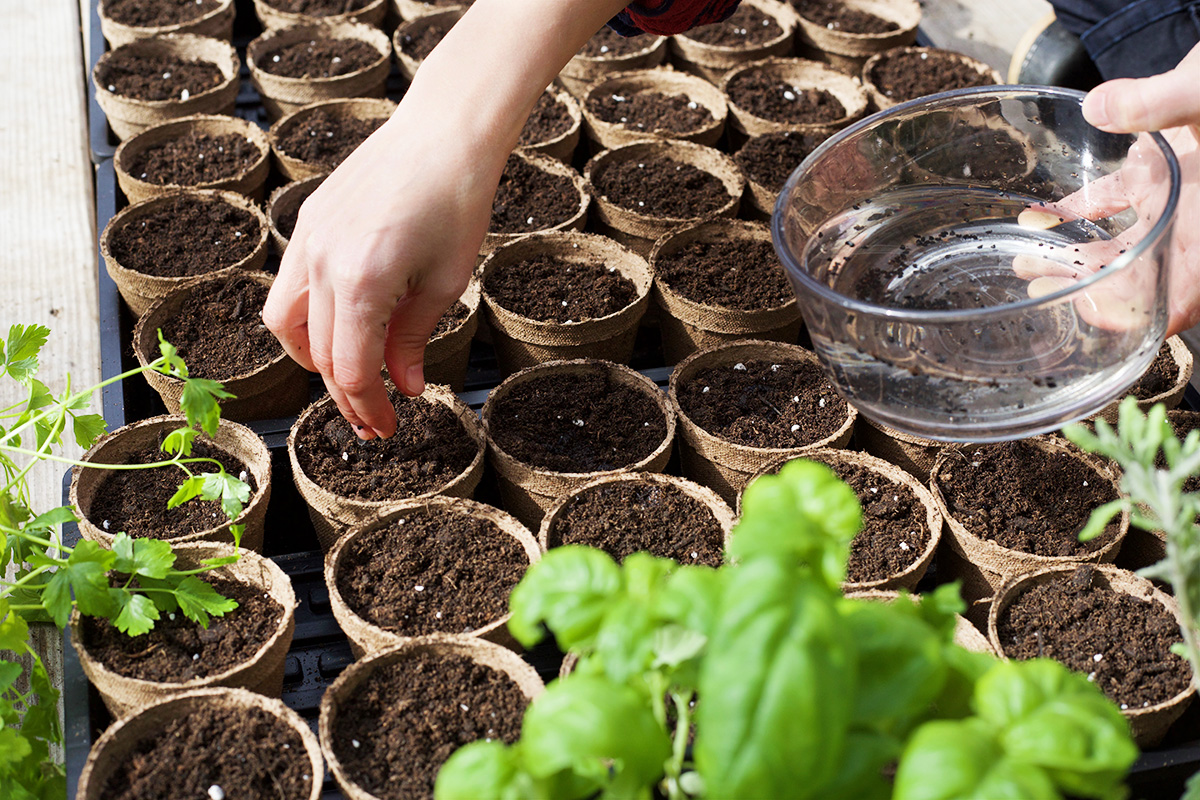 8. Integrate Rather Than Segregate
—
"Many Hands Make Light Work"
It is easy to see this principle not being honored in large-scale monocultures where crops like corn are segregated from any other plant, so much that there's not even a weed in sight. This may seem like a good thing, but plants properly combined can work together in relationship to not only keep pests away but develop healthier and more abundantly than if they were planted alone.
Integrating plants that can help one another in this way will ultimately make your job in the garden easier.
Action Tip: For every crop you plant, plant one companion to it. For example, many gardeners plant basil around their tomatoes, as it can help deter insects looking to snack on the ripe fruit. Additionally, basil can be combined with tomatoes for the perfect pairing on a homemade pizza or pasta dish.
9. Use Small and Slow Solutions
—
"Slow And Steady Wins The Race" or "The Bigger They Are, The Harder They Fall"
Using small and slow solutions is likely a very familiar practice to the herb gardener, they just might not know it! This principle asks us to look at what is best for our garden in the long run rather than always choosing a quick fix.
An example of this principle at work, that the seasoned herb gardener knows all too well, is planting perennials. Many perennial herbs take a while to get established, growing at a snail's pace compared to annual crops. However, once they have made a nice home in the garden, they are worth the wait. Perennials don't need to be replanted each year, their yield is often terrific, and many perennial herbs such as dandelion, chicory, sorrel, and nettles are the first to make an appearance in the spring garden.
Action Tip: Plant three new perennial herbs in your garden this season.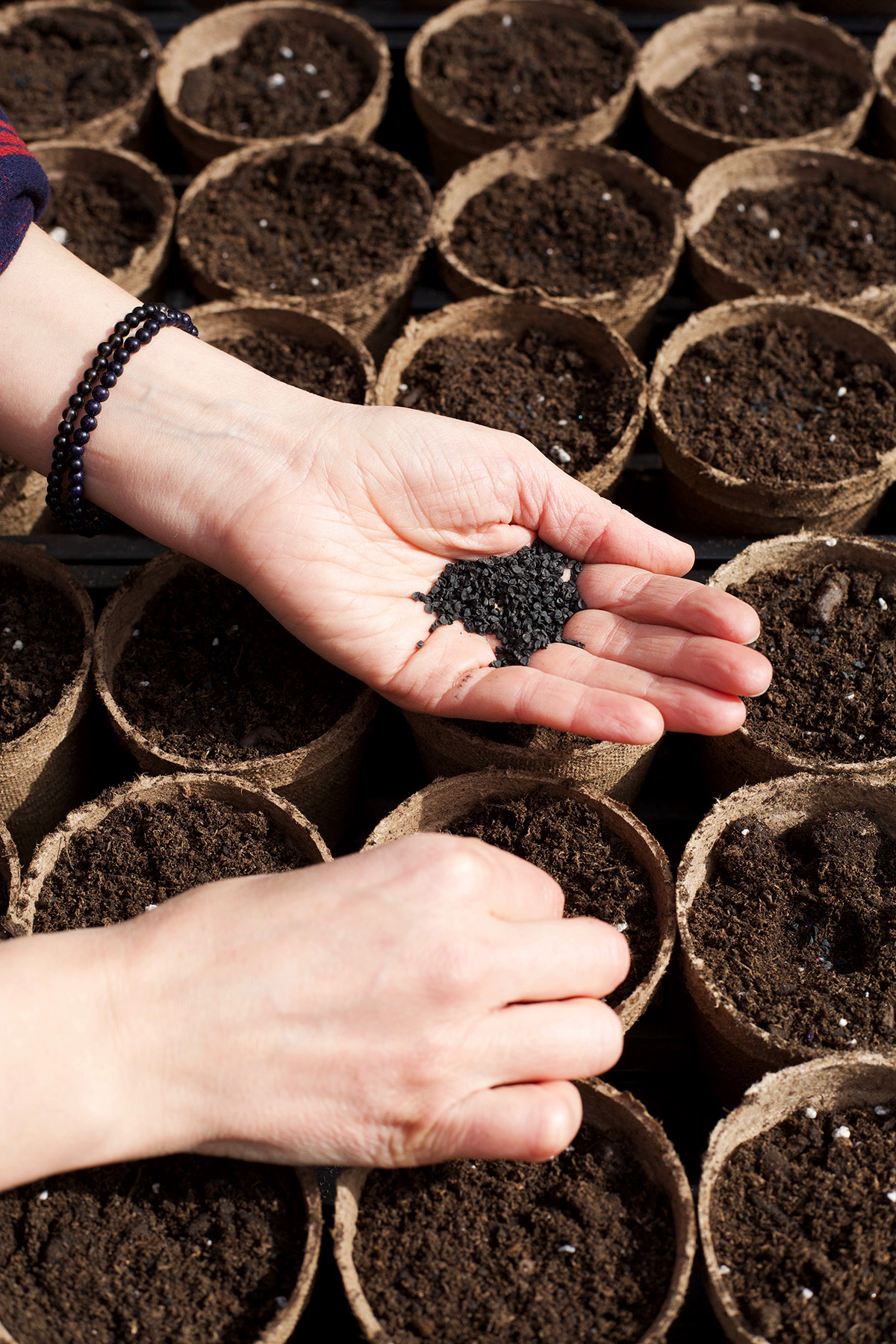 10. Use and Value Diversity
—
"Don't Put All Your Eggs In One Basket"
Diversity is an important word to reflect on in the garden. Incorporating a variety of plants is a wonderful way to increase sustainability and production in the garden. Having a diverse layout of plants will create a balanced system that can withstand some loss due to weather, disease, pest pressure, or some other issue without your whole garden going down.
Not only do different plants play an important role in deterring pests, but it can really help if one of your crops fails to have other similar crops to turn to. One way the herb gardener can avoid putting "all eggs in one basket" is to plant more than one of each herb with similar properties or uses so that if one herb doesn't do as well, you have backups.
Action Tip: Choose one property you want from your harvest (e.g., calming, digestive aid, stimulant), and plant three different herbs that have the same action.
11. Use Edges and Value the Marginal
—
"Don't Think You Are On The Right Track Just Because It's A Well-beaten Path"
This permaculture principle involves using the marginal spaces that would often be overlooked — maximizing the area you have in your garden. This might look like growing vining crops on the side of your garden shed or home, dark nooks and crannies utilized to cultivate mushrooms, and planting on the edge of a forest.
Action Tip: Identify one area on your property that is not a "well-beaten path" that you can look at in a different way and utilize as a growing space. Plant at least one crop here.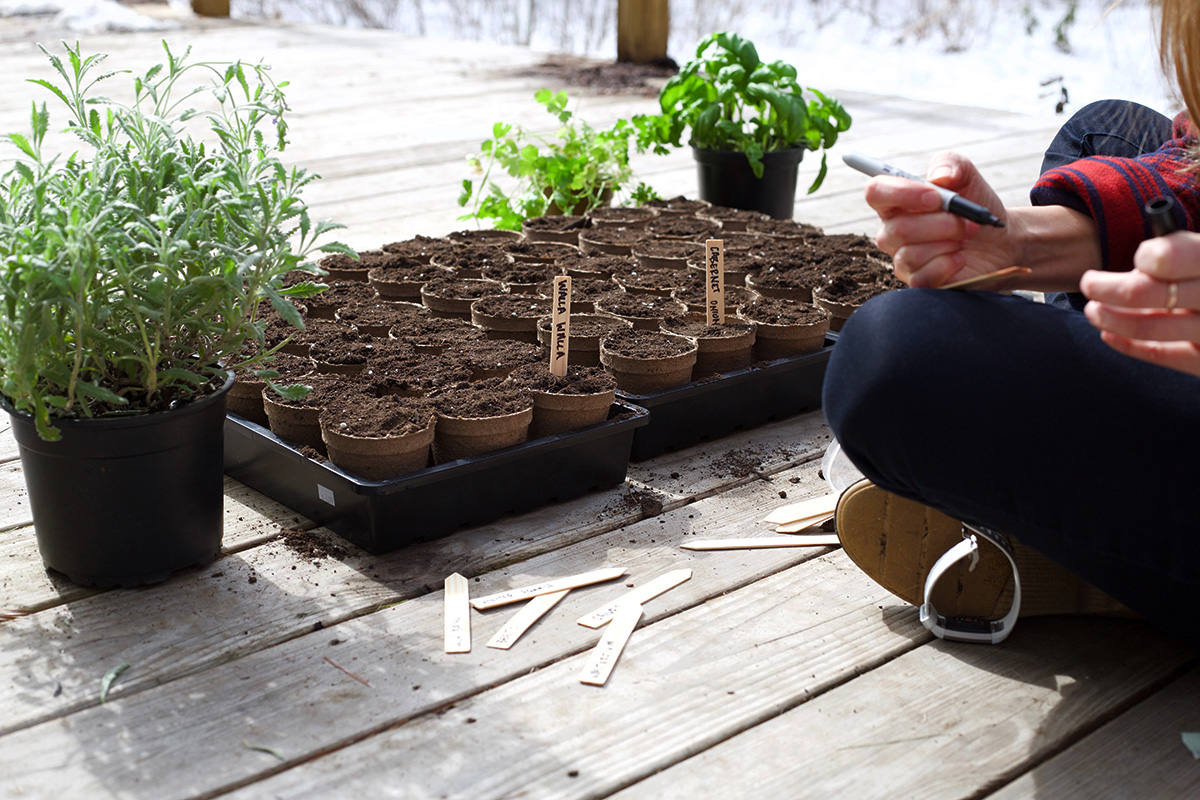 12. Creatively Use and Respond to Change
—
"Vision Is Not Seeing Things As They Are But As They Will Be"
This connects with Principle 4 of applying self-regulation and accepting feedback but has more to do with understanding the inevitable changes in nature and creatively responding. In permaculture, our goal is to work with nature rather than trying to control it. We must adapt to shifts in temperature, pest pressure, rainfall, and other forces out of our control. This requires attentiveness and the ability to make quick, informed decisions. It also asks us to have vision — to be able to see things as they may be in the future.
Action Tip: Create a document that includes responses to "what ifs" — your plan if/when certain forces out of your control behave differently or come on stronger than expected. For example, if your area is somewhat prone to flooding, what is your plan if there is a flood? Conversely, what if you don't experience rainfall for an extended period of time? What if a crop is infested with pests? What if a gopher gets into your garden?
Finally
All of the above may feel daunting, but spending your growing season moving through these twelve permaculture principles as they apply to your herb garden will be well worth the effort. You will inevitably learn about your garden, the natural forces that influence it, and how to make everything work together more symbiotically. Over time, following these principles should make your job as a gardener easier, smoother, and best of all — more enjoyable!
RECOMMENDED READING: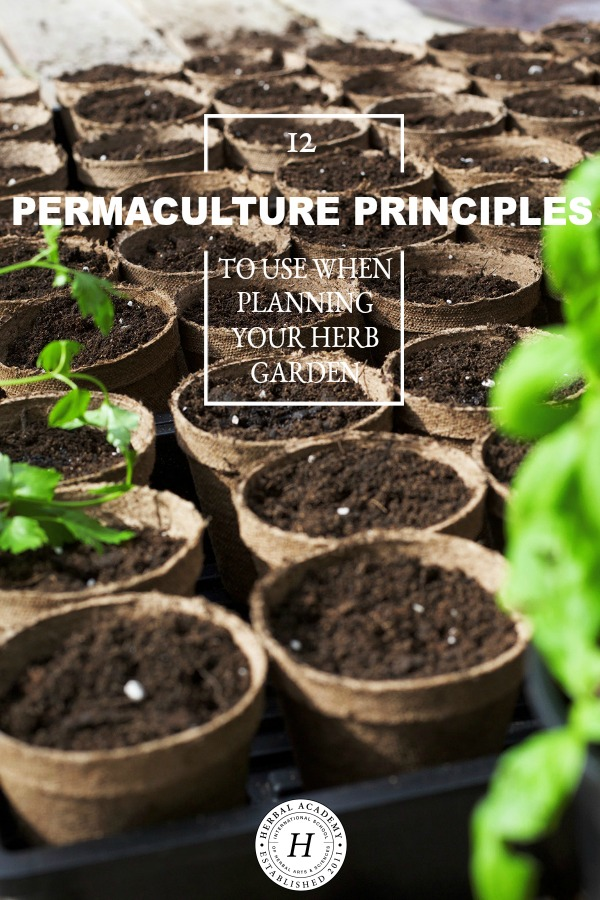 REFERENCES:
Holmgren, D. (2002). Permaculture: Principles and pathways beyond sustainability. Hepburn, Victoria: Holmgren Design Services.
Mollison, B. (1990). Permaculture: A practical guide for a sustainable future. Washington, D.C.: Island Press.