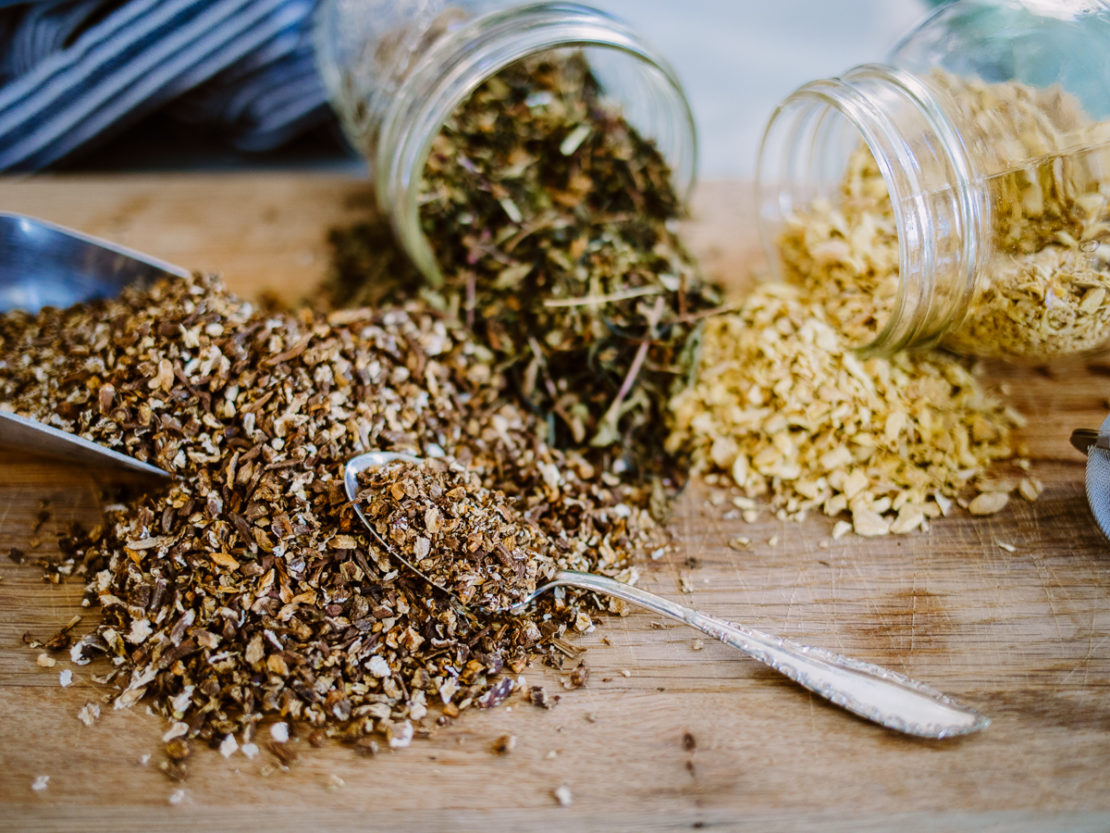 7 Herbs to Include in Your Morning Routine
Starting your day with a well-planned, thoughtful morning routine that incorporates herbs can help to set the tone for your day, and what better time to create a new rhythm in your life than the New Year? 
Robin Sharma's book, The 5 AM Club, touts the benefits of creating a morning routine focussed on what he calls "Mindset, Heartset, Healthset, and Soulset" (Sharma, 2018, p. 1258). Throughout the book, he suggests how incorporating small practices, such as 20 minutes of exercise, meditation, and reflection, into your morning can contribute to a life well-lived. While it may take some time for these changes to stick, gradual shifts, over time, can contribute to a healthier, more positive and productive lifestyle. 
Exercise, meditation, and reflection are all mainstays of Sharma's early morning routine, but the beauty of creating a routine like this is the ability to tailor it to your preferences. 
Incorporating Herbs Into Your Morning Routine
Herbs can make a great addition to your morning routine, as they not only help to support a person's physical wellness, but they can be used to support emotional self-care as well. 
Starting small by incorporating herbs in your morning can lead to gradual changes in your life. Setting up a new routine does not happen instantly, but rather through persistent daily practice. By beginning your day with a nourishing routine, you're setting yourself up for ease throughout the day. It's easy to think about a new morning routine at the beginning of the year, but when it begins to get colder outside and the motivation of the new year has faded, routines can provide a level of consistency. Ayurveda encourages practitioners to build slowly on their goals, not seeking to do everything at once but rather taking small steps toward a robust routine. 
Herbs can help with this process. The smell, taste, and texture of herbs are enough to evoke an emotional response. Incorporating them into a morning routine will set the tone for your morning and act as a form of positive feedback, helping to remind you why you began in the first place. Harnessing the beauty of herbs in meditation can be particularly powerful as the two work synergistically to soothe the nervous system and calm the mind. 
On a practical note, it's easy to forget to take herbal supplements. Incorporating them into a morning routine is a great way to remember to take them as it simply becomes part of your day. 
Even if you're not into the idea of waking at 5 am to implement a new morning routine, integrating some of the following herb-infused practices into your mornings can make a big difference in your overall wellbeing throughout the day. 
3 Easy Ways To Incorporate Herbs Into Your Morning Routine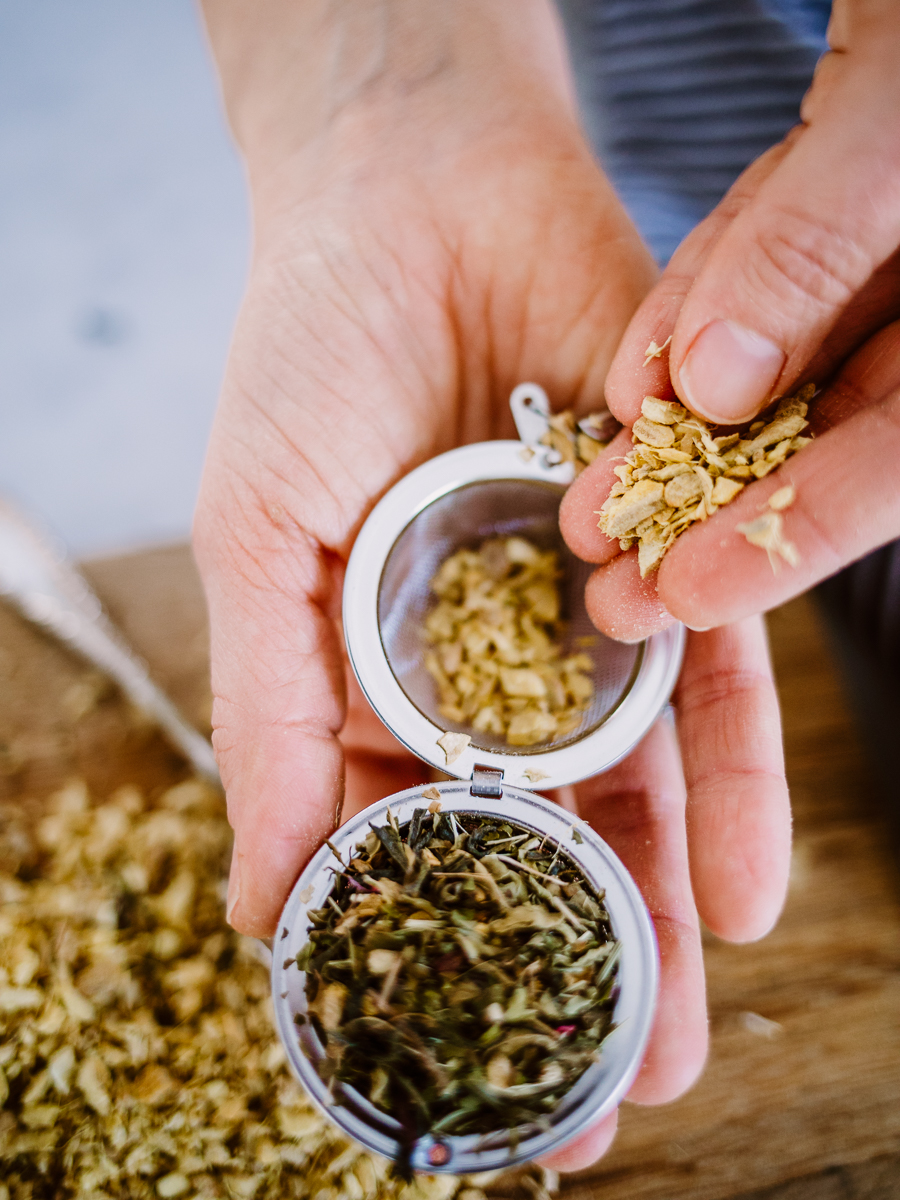 Gratitude Practice with Tulsi, Dandelion, and Ginger
One way to begin your morning is with a gratitude practice that has you thinking about 3 things you are grateful for and writing them down in a notebook or journal. Like any consistent self-care routine in your life, cultivating a gratitude practice can help to replenish your energy each day. Similar to spending time with loved ones to intentionally foster relationships, spending time in gratitude can add joy to your life and provide an opportunity for a consistent appreciation of life's little joys, even when life becomes challenging. 
A great way to use herbs in your morning gratitude practice is to make a tea that includes tulsi (Ocimum sanctum) leaf, dandelion (Taraxacum officinale) root, and ginger (Zingiber officinale) rhizome that you can sip on as you do your morning gratitude practice. 
Tulsi has gentle adaptogenic properties that give the body what it needs to come back into balance during stressful situations (Cohen, 2014). Dandelion root is a powerful digestive aid that can be used as a morning tonic to detoxify the system (Easley & Horne, 2016). Chicory (Cichorium intybus) root is another herb that is often used as a morning drink and digestive bitter; it makes a great addition to any tea, especially in the morning. Ginger is a warming herb that is beneficial to include in tea for its ability to soothe and promote digestion, increase circulation, and warm the body from the inside out (Ravikumar, 2014). Due to its invigorating, warming properties, ginger can wake the body up, making it a perfect catalyst for a gratitude reflection. 
Consider trying these three herbs in your morning gratitude practice with this Grounding Gratitude Tea.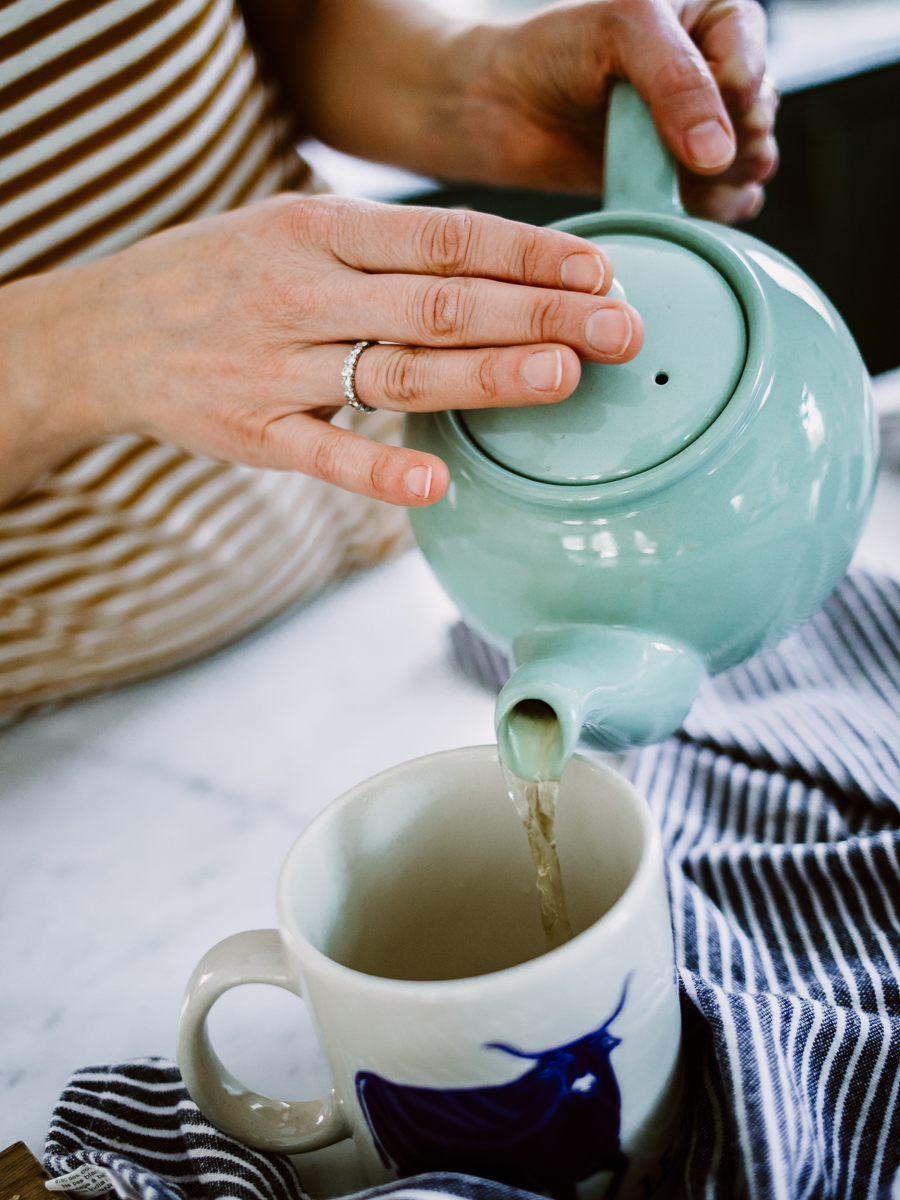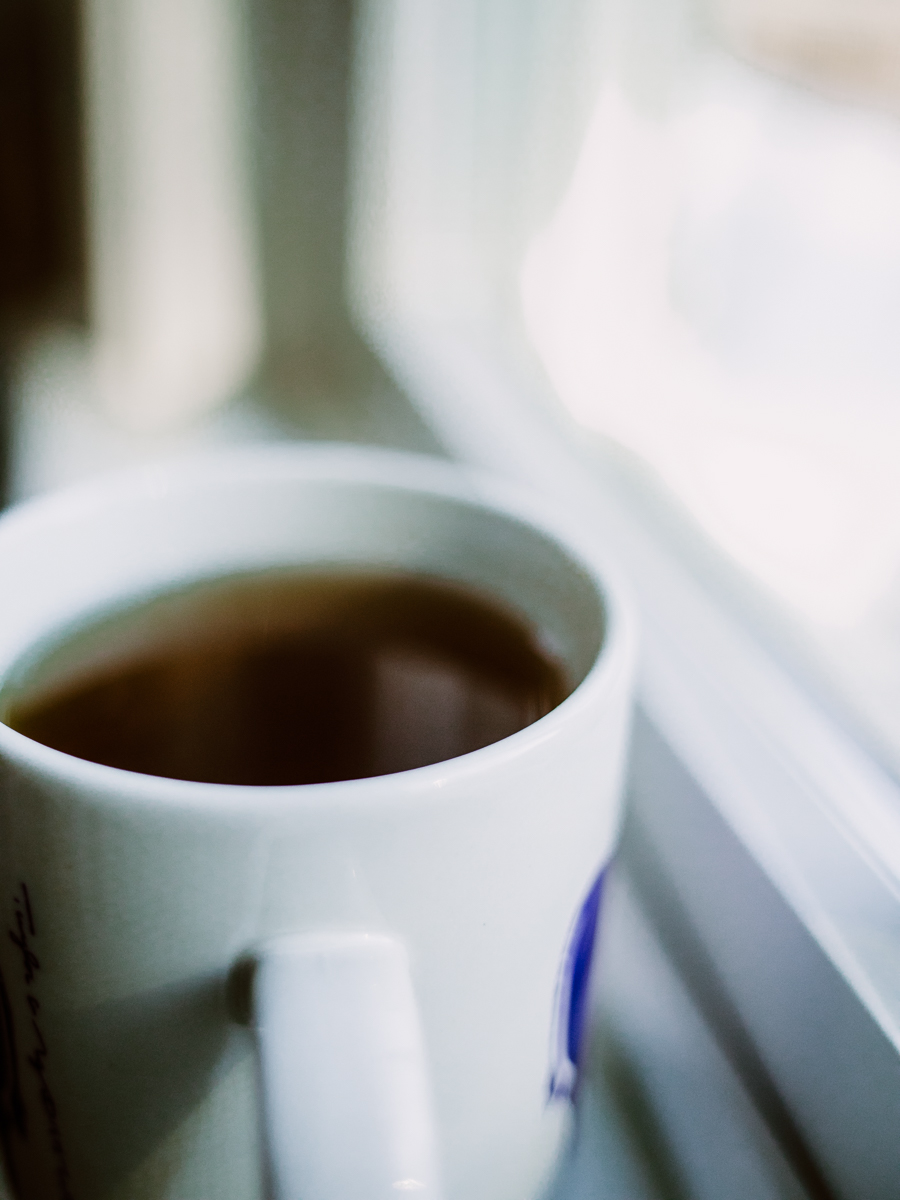 Grounding Gratitude Tea
Ingredients
1 cup of water
1 tsp dried tulsi (Ocimum sanctum) leaf (or a handful of fresh tulsi leaves and flowers)
1 tsp dried dandelion (Taraxacum officinale) root
½ tsp dried ginger (Zingiber officinale) rhizome (or two thin slices of fresh ginger)
Directions
Place the dried herbs into a tea ball or bag, and place it into a ceramic mug. If using fresh ginger, slice 2 thin pieces and place them directly in the mug. 

Bring the water to a boil. Remove from heat and pour over herbs. Allow the tea to steep, covered, for 15-20 minutes.

Remove the herbs from the cup and compost. Sweeten if desired, and enjoy with your morning routine. 

Early Morning Exercise with Ashwagandha
Moving the body can be an impactful part of morning routines. There are many options, from vivacious yoga flow or gentle stretching to a high-intensity-interval-training [HIIT] workout or another high-intensity exercise. There are many benefits that come from regular exercise, particularly morning movement. Along with increased cardiovascular health, enhanced energy levels and detoxifying capabilities, morning exercise can improve your immune system (Kumar & Jhajharia, 2018). In fact, including aerobic exercise in your morning routine can help to produce more white blood cells, leading to enhanced immunity (Kumar & Jhajharia, 2018). 
Did you know that ashwagandha (Withania somnifera) can support the movement practices you do?
Ashwagandha root can act as an adaptogen, like tulsi, helping the body to cope with the challenges experienced during exercise. It also has anti-inflammatory properties and can provide immune system support, making it a wonderful herb to incorporate into your daily routine. Ashwagandha is generally safe to take in fairly high amounts, as the recommended consumption is somewhere between 3 to 9 g per day (Dass, 2013). 
Ashwagandha is most often found in powdered form, so adding it to low-temperature foods or taking it in capsules is best. To begin working with ashwagandha, try adding a teaspoon to your morning smoothie, adding it to the Grounding Gratitude Tea above, or sprinkling it on top of porridge. Personally, I enjoy ashwagandha with my morning green smoothie after a yoga flow. I have also found ashwagandha helpful in my effort to wake up at 5 am. For more on the benefits and uses of this herb, visit our article, The Beginners Guide to Using Ashwagandha. 
Morning Skin Care with Red Clover, Calendula, and Turmeric
Once you have reflected on the things you are grateful for and worked up a bit of a sweat with some morning exercise, it's time for some topical self-care. Spending some time caring for the physical body in an intentional way in the morning can help to create a positive mindset and facilitate feelings of self-worth. Incorporating herbs into self-care practices can enhance the experience of taking some "YOU" time. 
The skin, the body's largest organ, provides a barrier to the outside world and protects us from toxins and pollutants. The skin's appearance can also serve as an indication of general health, with internal problems being expressed as dryness, inflammation, or bacterial infections. Caring for our skin on the inside and outside is self-care projected on the surface. 
A sluggish lymph system caused by a sedentary lifestyle or even sitting at an office desk for hours on end can lead to congestion on the skin as well as fatigue, swelling, sinus infections, and more 
(Daneshmandi et al., 2017). Often, when the lymph system is slowed, it can result in congestion on the skin. Brushing the skin in the morning before a bath or shower can help to get the lymph moving under the skin's surface, encouraging proper bodily detoxification, fluid movement, and reduction of swelling—as well as more radiant skin. To indulge in this traditional Ayurvedic practice known as garshana, use a body brush made of natural bristles and brush the skin toward the heart to encourage the appropriate flow of lymph. 
To further support lymph drainage, consider herbs like red clover (Trifolium pratense) flower, which helps to increase the body's ability to drain fluid. It also has significant anti-inflammatory properties and can help the body's natural detoxification processes (Groves, 2016). Red clover flowers can be picked and steeped in hot water as a tea, but to make the most of this herb's lymph-draining properties, try a daily tincture. Take 25 to 50 drops of tincture three times daily in some water to experience the skin-clearing and lymph-draining effects of red clover (Groves, 2016). Getting tinctures in on an empty stomach (to boost absorption) can be challenging throughout the day, which is another reason to be proactive about incorporating herbs into your morning routine. 
After treating yourself to garshana, consider applying calendula oil to the skin before stepping into the shower. Calendula (Calendula officinalis) flower is anti-inflammatory, antiviral, anti-fungal, anti-microbial, and astringent, making it an herbal wonder. It can help soothe dry skin, burns, scrapes, and itchy skin. Slathering some calendula oil before entering the shower will help your skin to repel the water and prevent it from drying out. 
To manage inflammation, supplement with turmeric (Curcuma longa) rhizome. This golden spice has been traditionally used in India for hundreds of years for a wide range of ailments, such as bursitis, arthritis, back pain, and overall inflammation in the body (Rathaur et al., 2012). Turmeric reduces inflammation by lowering histamine levels, increasing natural cortisone production, and by inhibiting cytokine, an inflammatory gene (Rathaur et al., 2012).
Turmeric can also be used topically. Studies have shown that turmeric has vulnerary properties as it reduces inflammation and supports the skin's natural healing process (Akbik et al., 2014). Turmeric can be a wonderful support for those who have acne or psoriasis. Once or twice a week before washing in the morning, mix one tablespoon of raw honey (preferably manuka honey) with one teaspoon of turmeric powder. Apply this mixture to the facial skin as a mask and leave on for 15-20 minutes, while you're doing your meditation. Remove the mask in the shower or with a dark face cloth. Be careful as turmeric does stain!
For more information on using herbs in your morning skin care routine, check out our article, How to Find the Best Holistic Skin Care Routine for You.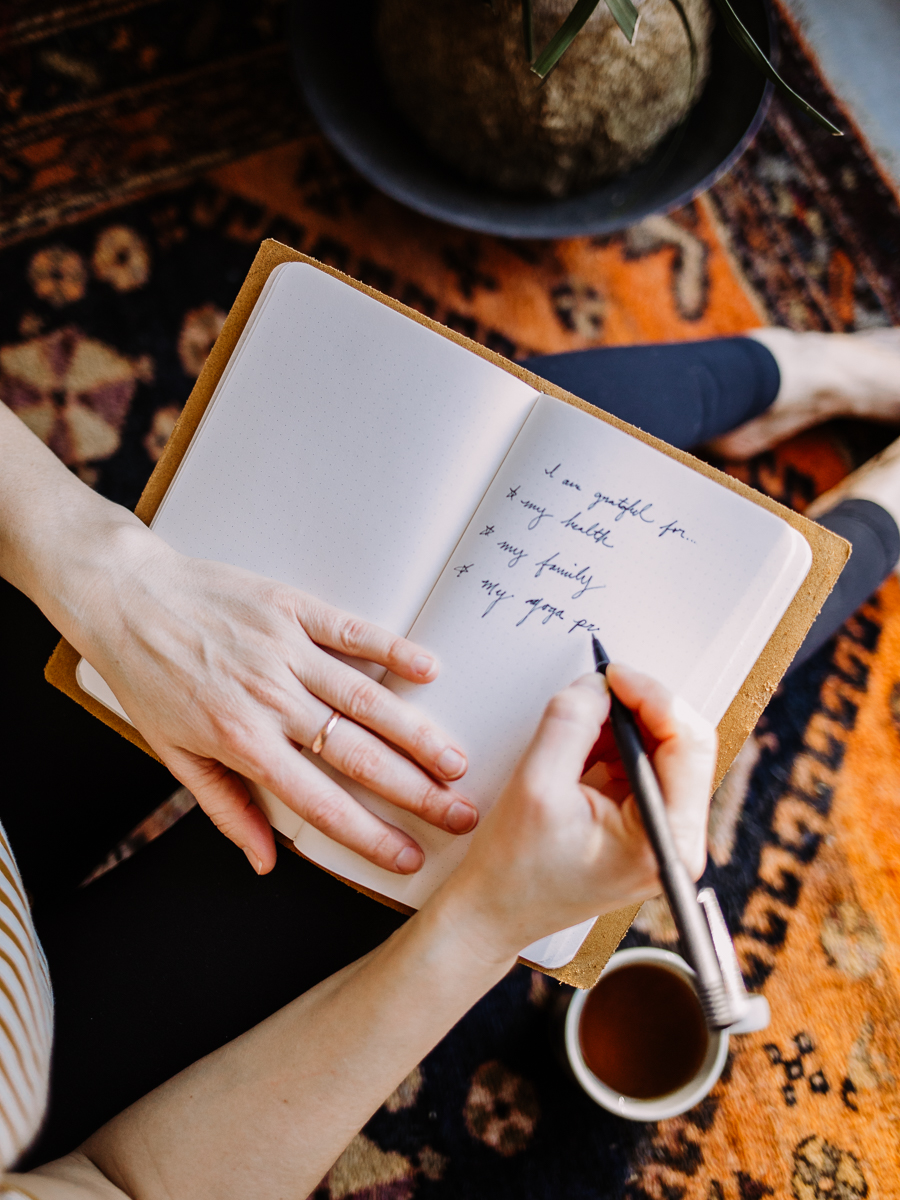 Customize Your Morning Routine
Make your morning routine truly yours by incorporating herbs for joyous self-care and wellbeing. Perhaps you already practice gratitude on a daily basis; maybe it's time to add a special tea or tonic to that practice. There is no need to establish a perfect morning routine tomorrow; take your time and decide what works best for you. Ground yourself into the ritual of rising early, working with herbs, exercising, and becoming mindful, and before long it will become second nature. Remember, cultivating a morning routine is a practice, a daily reminder of what the world has to offer and what you have to offer the world.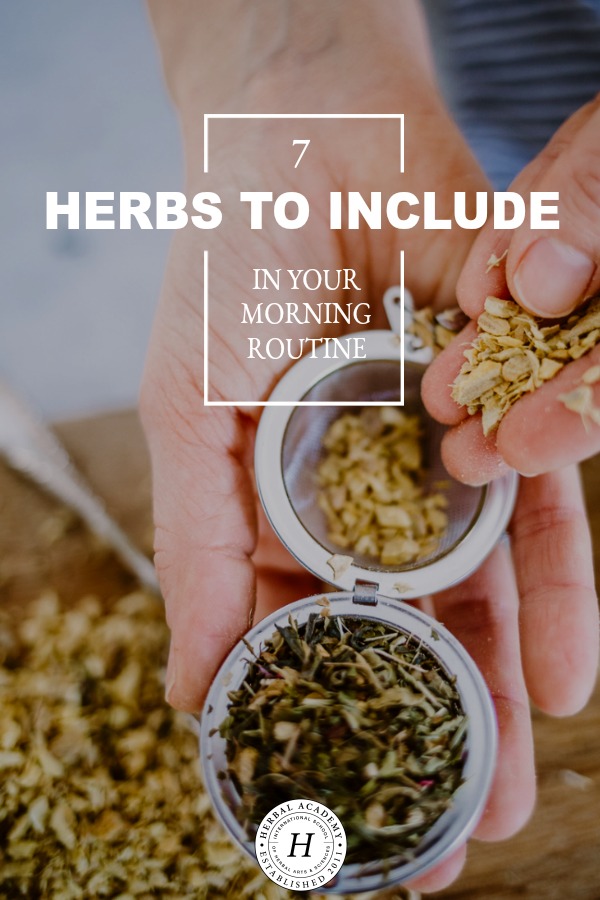 REFERENCES
Akbik, D., Ghadiri, M., Chrzanowski, W., & Rohanizadeh, R. (2014). Curcumin as a wound healing agent. Life sciences, 116(1), 1-7. https://doi.org/10.1016/j.lfs.2014.08.016
Cohen, M.M. (2014). Tulsi – Ocimum sanctum: A herb for all reasons. Journal of Ayurveda and
Integrative Medicine, 5(4), 251-259. https://doi.org/10.4103/0975-9476.146554
Daneshmandi, H., Choobineh, A., Ghaem, H., & Karimi, M. (2017). Adverse effects of prolonged sitting behavior on the general health of office workers. Journal of lifestyle medicine, 7(2), 69. https://doi.org/ 10.15280/jlm.2017.7.2.69
Dass, V. (2013). Ayurvedic herbology East and West. Twin Lakes, WI: Lotus Press.
Easley, T., & Horne, S. (2016). The modern herbal dispensatory: A medicine-making guide. Berkeley, CA: North Atlantic Books.
Groves, M. N. (2016). Body into balance: An herbal guide to holistic self-care. North Adams, MA: Storey Publishing.
Kumar, A., & Jhajharia, B. (2018). Effect of morning exercise on immunity. International Journal of Physiology, Nutrition and Physical Education, 3(1). Retrieved from: http://www.journalofsports.com/pdf/2018/vol3issue1/PartAI/3-1-432-841.pdf
Rathaur, P., Raja, W., Ramteke, P.W., & John, S.A. (2012). Turmeric: The golden spice of life. International Journal of Pharmaceutical Sciences and Research, 3(8), 1987. https://doi.org/10.1201/b10787-14