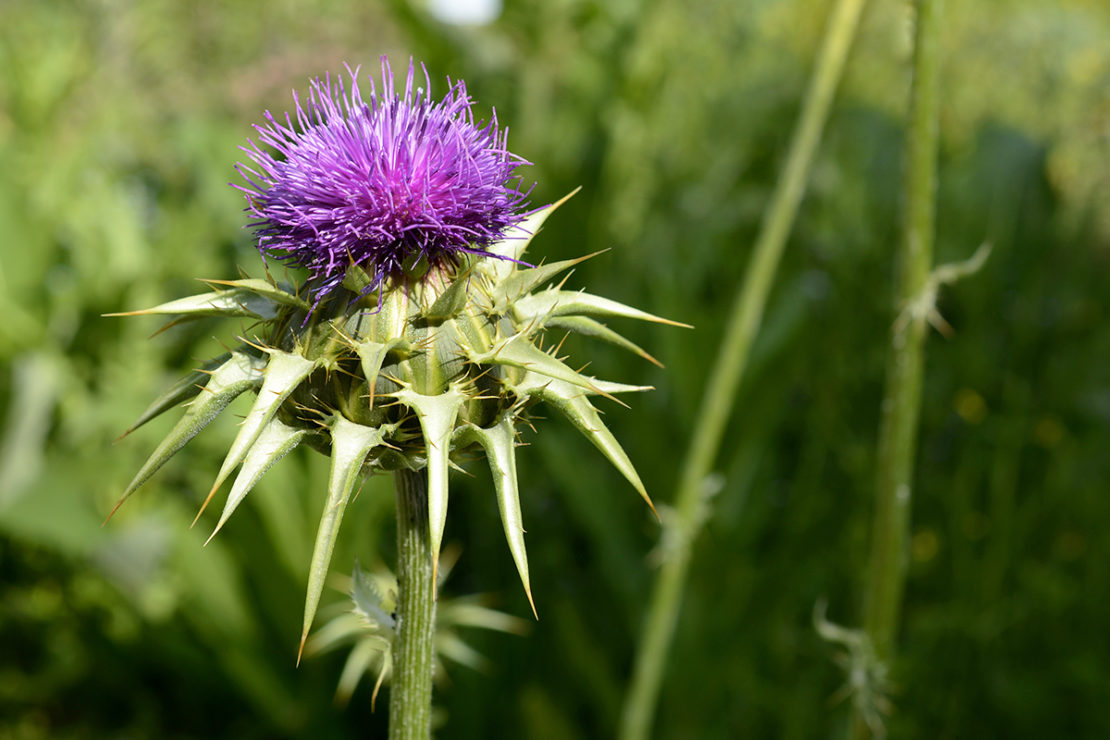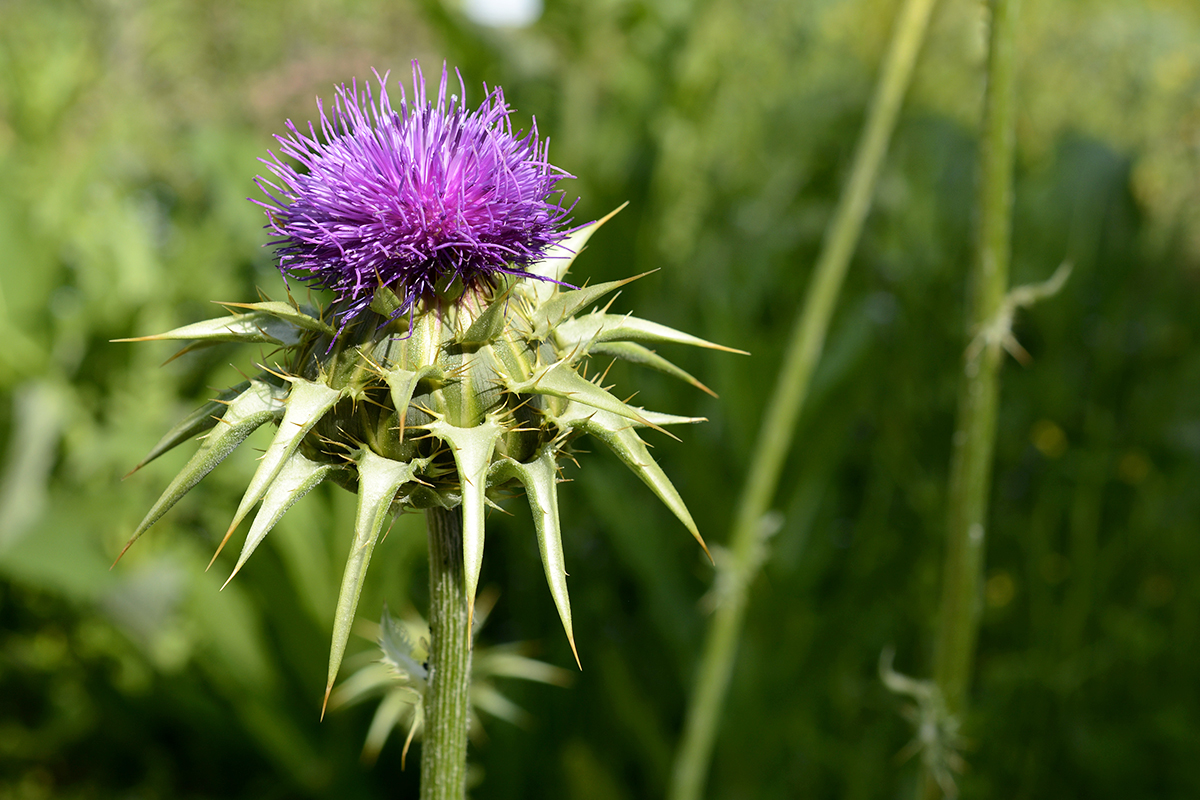 Milk Thistle: A Spring Herb Your Liver Will Love
A number of herbal allies are especially well-suited for spring, such as alterative, bitter, and hepatic herbs. These categories of herbs are a great support to the liver and digestive system and are useful for gentle cleansing and detoxification. They can be incorporated into your daily wellness routine throughout the spring to support and aid the body as it moves from one season to the next. 
Many of these herbs may be consumed as foods or simple herbal preparations, which makes them fairly easy to include as part of a daily regimen. Since Ayurveda and Traditional Chinese Medicine often attribute liver congestion to heat trapped in the liver, you'll find that many liver-supportive herbs are cooling in nature. These are used to aid the body in clearing trapped heat and improving liver function.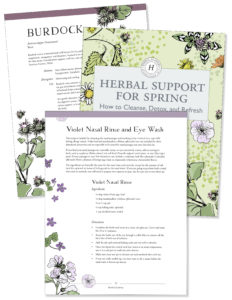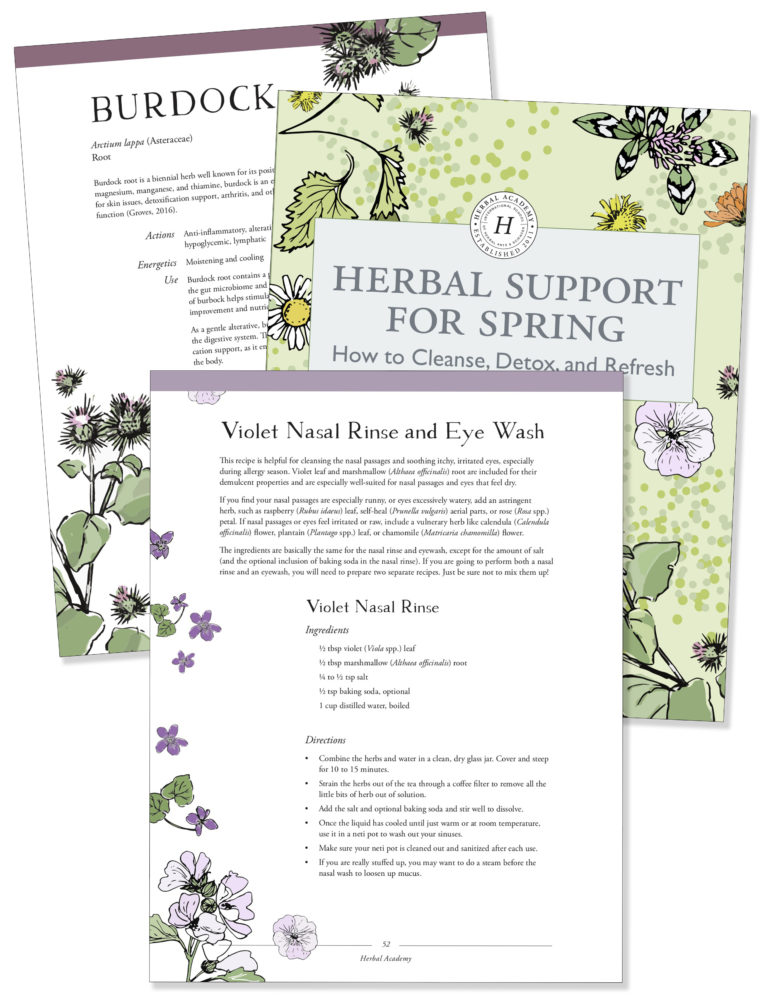 In our newest FREE ebook, Herbal Support for Spring: How to Cleanse, Detox, and Refresh, we dive into the topic of spring cleansing and detoxing and how herbs can assist us during this seasonal renewal. We will look deeply at the custom of spring cleansing and examine how herbal and lifestyle practices can help us boost vitality and wellbeing after a long winter. We'll also look closely at 6 key herbs you can use to support your body during the spring season, and we offer 9 recipes that incorporate these herbs and help you refresh during the inspiring days of spring.
You can download this ebook for FREE right here: https://theherbalacademy.com/get-herbal-support-spring-ebook-herbal-academy/
Hepatic Herbs For Spring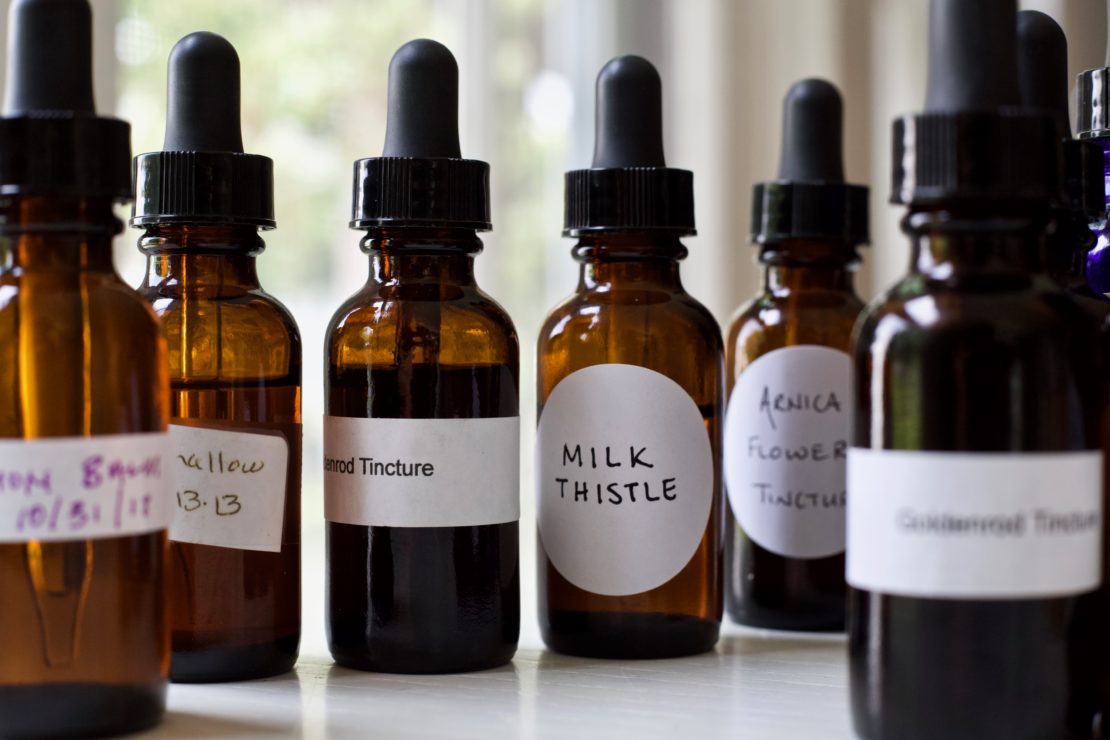 One type of spring herbal ally we explore in Herbal Support for Spring: How to Cleanse, Detox, and Refresh is hepatic herbs. 
Hepatic herbs provide a broad range of holistic liver support. Some hepatics increase bile flow, while others work to tone and strengthen the liver, supporting and protecting the overall function of the liver. Many hepatic herbs have multiple actions on the liver and can also be considered liver tonics, meaning they can help restore healthy function of the liver. 
Hepatic herbs include (not an exhaustive list):
Barberry (

Berberis

spp.) root

Dandelion (

Taraxacum officinale

) root

Milk thistle (

Silybum marianum)

seed

Oregon grape (

Berberis aquifolium

) root

Schisandra (

Schisandra chinensis

) fruit

Yellow dock (

Rumex crispus

) root
One of the most well-known hepatic herbs is milk thistle (Silybum marianum). Below, you will find a snippet from our ebook, Herbal Support for Spring: How to Cleanse, Detox, and Refresh, all about milk thistle, its role in spring cleansing and detoxing, and how you can put this spring herbal ally to use in your life. 
We hope you enjoy this mini herbal monograph. If so, you can get even more where this came from by downloading our ebook, Herbal Support for Spring: How to Cleanse, Detox, and Refresh, for free!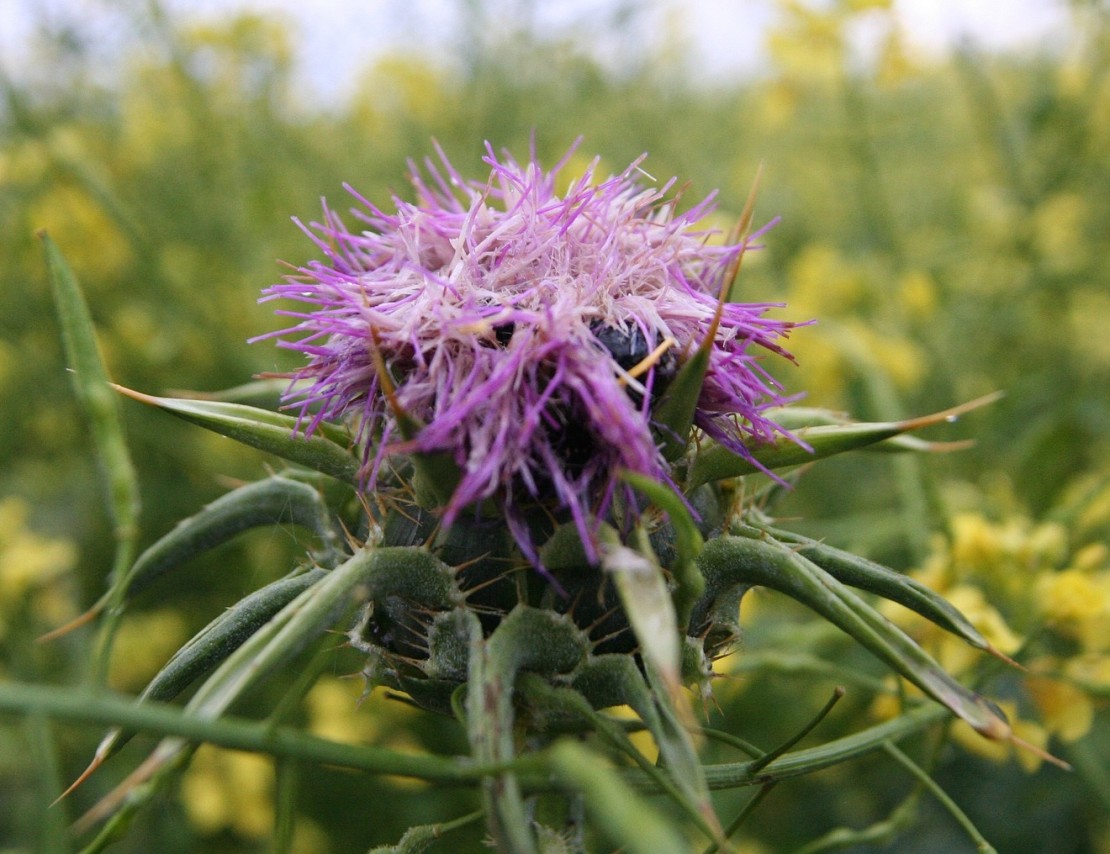 Milk Thistle
Silybum marianum (Asteraceae)
Seed and aerial parts
A well-respected liver protector, milk thistle is considered useful in stoking the digestive fire of the liver, which is key in overall digestive function (Dass, 2013; Kent-Stoll, 2019b). The spiky purple blooms house a multitude of nutrient-rich seeds. These may be added to foods on a regular basis or taken as a supplement in tincture or capsule form. 
Actions​: Anti-inflammatory, antioxidant, cholagogue, galactagogue, hepatic, hepatoprotective
Energetics​: Cooling
Use​: Milk thistle is well-known as a hepatoprotective and is often employed to protect against damage to the liver. It has long been recommended by herbalists to support serious conditions such as hepatitis and cirrhosis. It is also used by those with painful liver enlargement, liver congestion, and alcoholism (Young, 2019).
Even though milk thistle is often incorporated into wellness support for acute issues, it is also useful as a tonifying herb and aids in general avoidance of liver damage.
Herbalist Rosemary Gladstar notes that milk thistle is a powerful antioxidant that is useful in fighting free radicals and stimulating the liver. She also states that milk thistle may be useful in rebuilding liver cells which have been damaged by the previously mentioned diseases, but also by rich food (Gladstar, 2008). This last note is one reason why it is so useful to include milk thistle in the spring diet as a way of encouraging restoration and refreshment after the smorgasbord of treats and heavy foods that are often consumed over the winter and holiday season. 
As an herbal preparation, milk thistle is often included in herbal tea blends but may also be tinctured or powdered and encapsulated.
It is also possible to add ground milk thistle to foods such as granola, oatmeal, energy balls, and smoothies. In fact, Rosemary Gladstar notes that grinding the seeds is one of the most effective methods of extracting the active ingredients (Gladstar, 2008). 
Safety​: Milk thistle may speed the metabolism of certain therapeutic drugs, therefore, one should check with a pharmacist or the prescribing physician before combining prescription medications with milk thistle, particularly medications which should be kept at very consistent levels within the body or those for very serious health conditions. This concern is based on the action of silymarin, a group of milk thistle constituents on the cytochrome P450 system of the liver, in an animal model, and because of milk thistle's liver promoting action (Mills & Bone, 2005). Cautiously, milk thistle is also avoided for those who have any allergic reaction to aster family plants, and it is generally avoided during pregnancy as well (Brinker, 2010).
Dose​: Extract: 175-600 mg/day of a 30:1 seed extract standardized to 80% silymarin (Hoffmann, 2003); Tincture: 2.5-5 mL (1:3, 70%) 4x/day (Moore, n.d.); Glycerite: 4.5-8.5 mL (1:1, no alcohol) daily (Bone, 2003).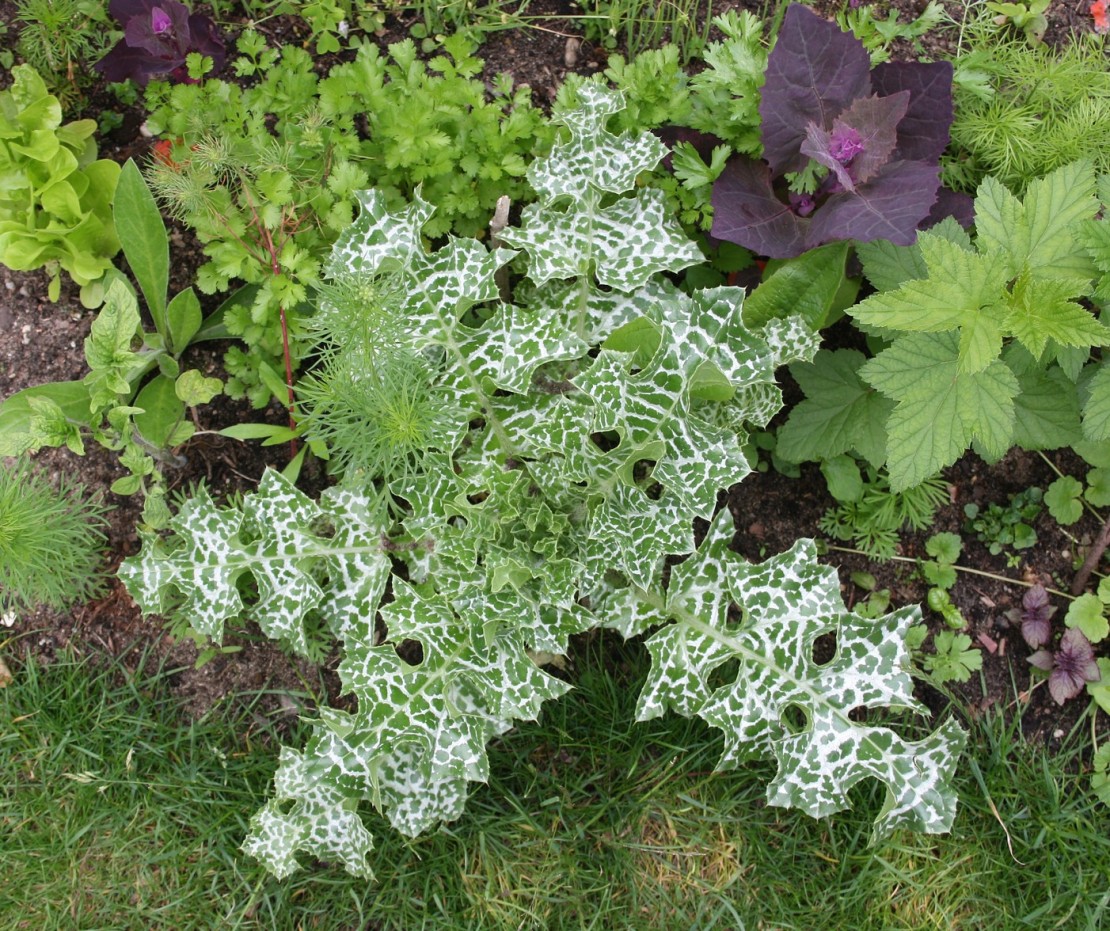 Herbal Support for Spring: How to Cleanse, Detox, and Refresh
If you would like to learn more about the tradition of spring cleansing and detoxing, plus herbs that can be supportive during the spring season, and also get your hands on some lovely herbal recipes to help you live well during spring, be sure to download our free ebook, Herbal Support for Spring: How to Cleanse, Detox, and Refresh!
This 64-page ebook is full of helpful herbal information, beautiful photos, and practical lifestyle tips to help you live your best life during spring. Enjoy!
You can download Herbal Support for Spring: How to Cleanse, Detox, and Refresh for free here: https://theherbalacademy.com/get-herbal-support-spring-ebook-herbal-academy/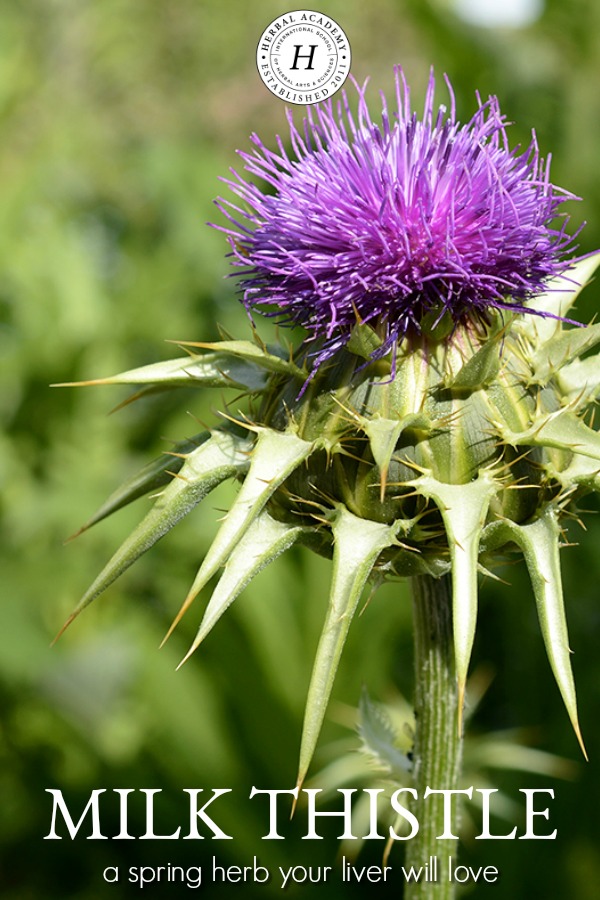 REFERENCES
Bone, K. (2003). A clinical guide to blending liquid herbs. St Louis, MO: Churchill Livingstone.
Brinker, F. (2010). Herbal contraindications and drug interactions plus herbal adjuncts with medicines. Sandy, OR: Eclectic Medical Publications.
Dass, V. (2013). Ayurvedic herbology East and West: A practical guide to ayurvedic herbal medicine. Twin Lakes, WI: Lotus Press.
Gladstar, R. (2008). Rosemary Gladstar's herbal recipes for vibrant health: 175 teas, tonics, oils, salves, tinctures, and other natural remedies for the entire family. North Adams, MA: Storey Publishing.
Kent-Stoll, G. (2019b). Liver care 101: Key wellness practices for liver support. Retrieved from https://theherbalacademy.com/liver-care-101/
Mills, S., & Bone, K. (2005). The essential guide to herbal safety. St. Louis, MO: Elsevier.
Moore, M. (n.d.). Herb formulas for clinic and home. Retrieved from http://www.swsbm.com/ManualsMM/Formulary2.pdf
Young, D. (2019). The backyard herbal apothecary: Effective medicinal remedies using commonly found herbs & plants. Salem, MA: Page Street Publishing Co.