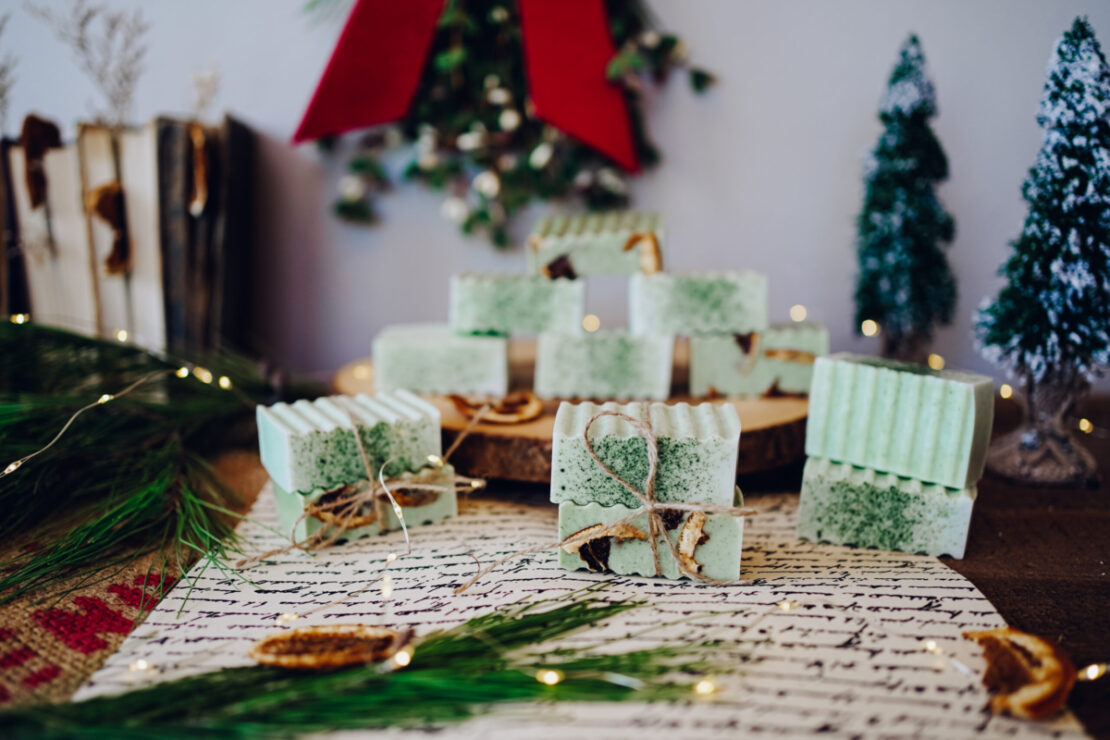 How to Make Holiday-Inspired Melt and Pour Soap for Easy Gift Giving
Pour out a batch of holiday cheer perfect for someone you think is very dear! This easy-to-make (and customize) melt and pour soap is an herbal gift everyone will enjoy. Simple ingredients, handcrafted techniques, and a touch of plant power make this herbal DIY a wonderful way to ring in the season.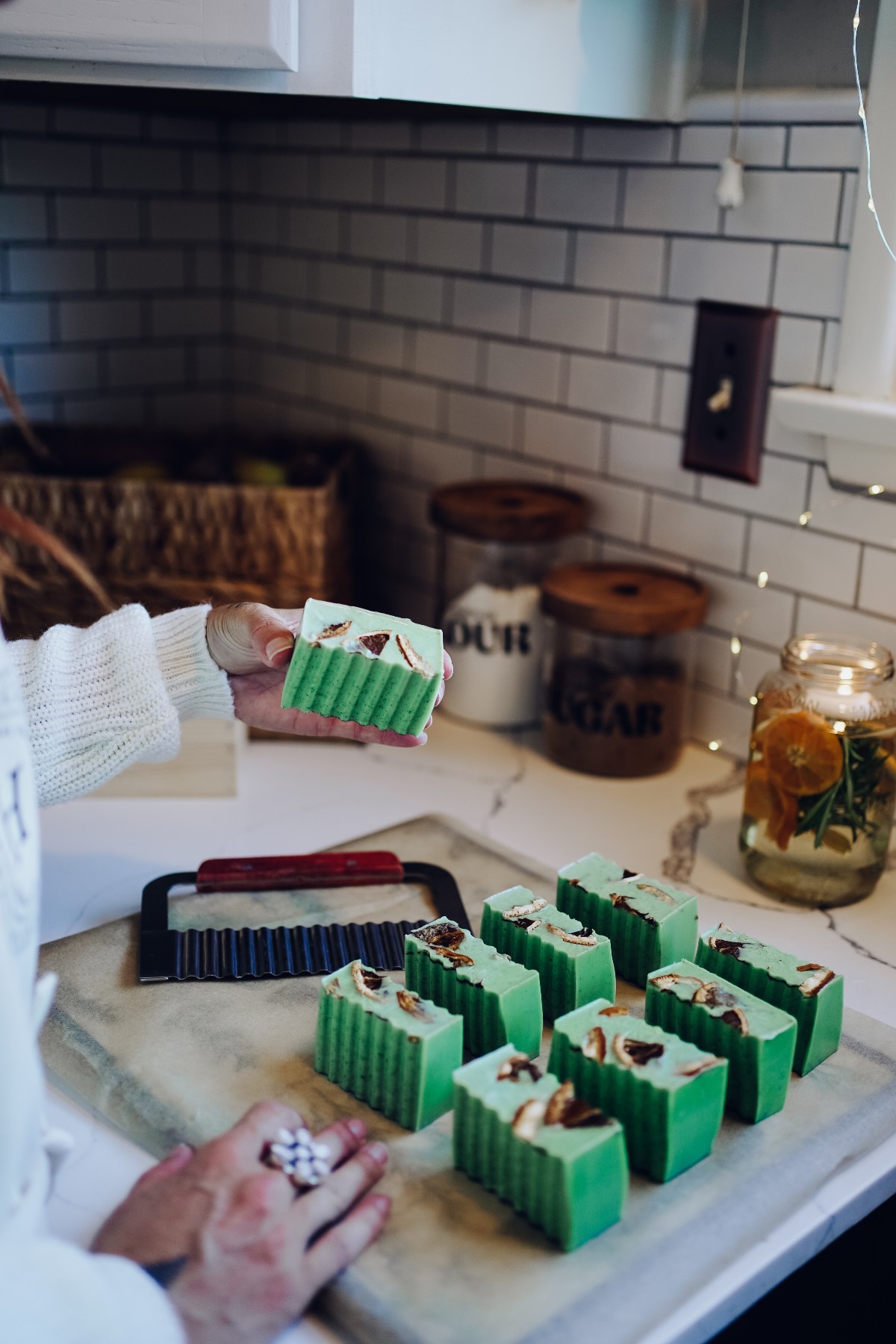 Soap Making For Beginners
This recipe is beginner-level friendly. Typically when making soap, you'll need to craft the base from scratch using ingredients that may seem daunting and unfamiliar. However, in this recipe, no lye is needed, and since the base that is used for the soap is already made, it is pretty much foolproof!
Botanical body care products are always a hit for the gifting season. As the gifter, there's no better feeling than wrapping up a creation you proudly made yourself. As the receiver, how wonderful it is to be gifted something handmade? 
To begin your botanical soap-making journey, start here! To start, you'll need a melt and pour soap base. In this recipe, we are using goat's milk. Known for its nourishing and moisturizing qualities, goat's milk soap is a great choice for the harsh winter season. However, if you prefer a vegan option, there are other animal-free bases to look into, such as shea butter, glycerin, and oatmeal. Secondly, you will need an infused herbal oil. 'Tis the season for all things pine (Pinus spp.) and in this recipe, we will use an uplifting infused oil made of fresh pine needles and olive oil. To read more about how to create an easy herbal oil, take a look at this article here.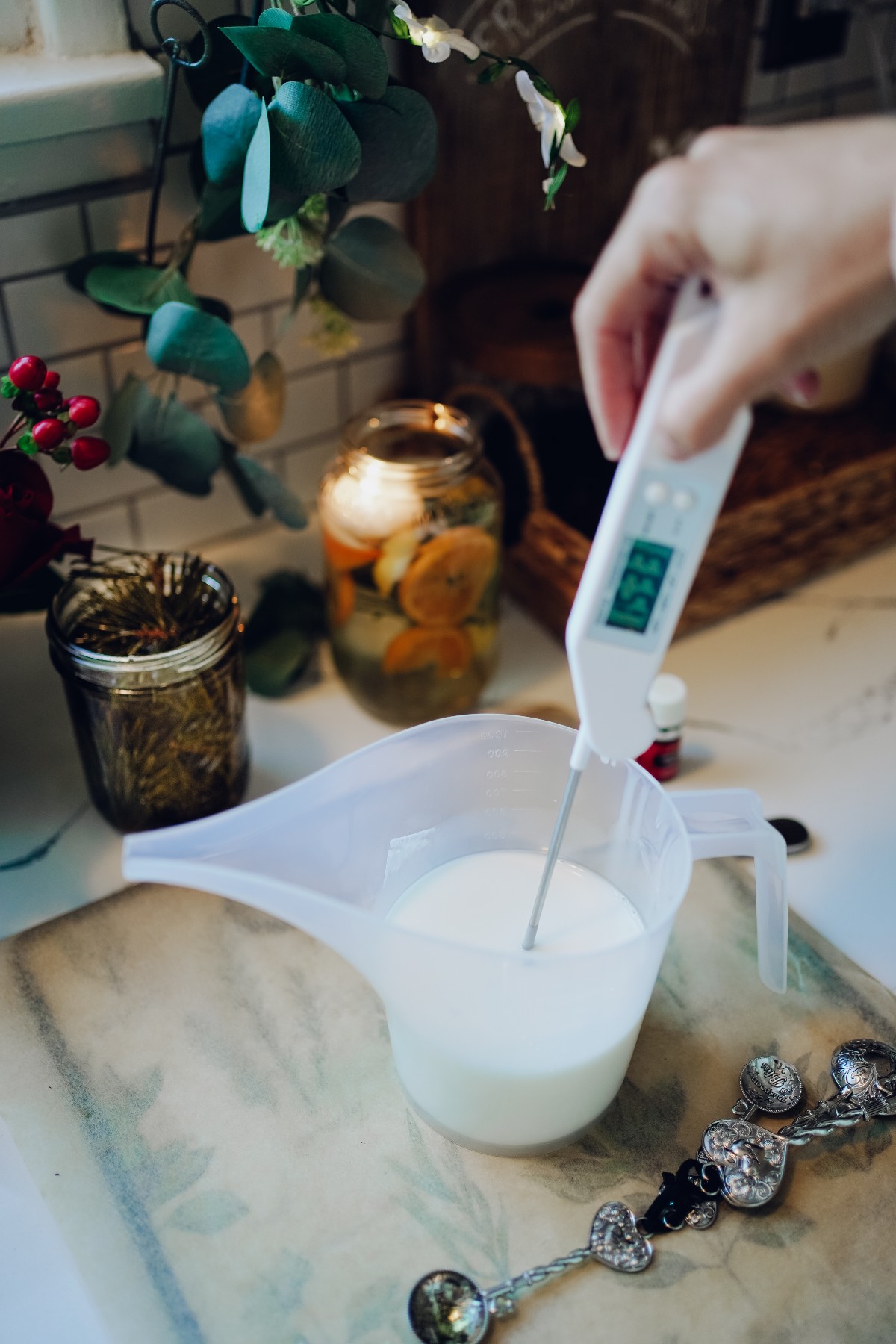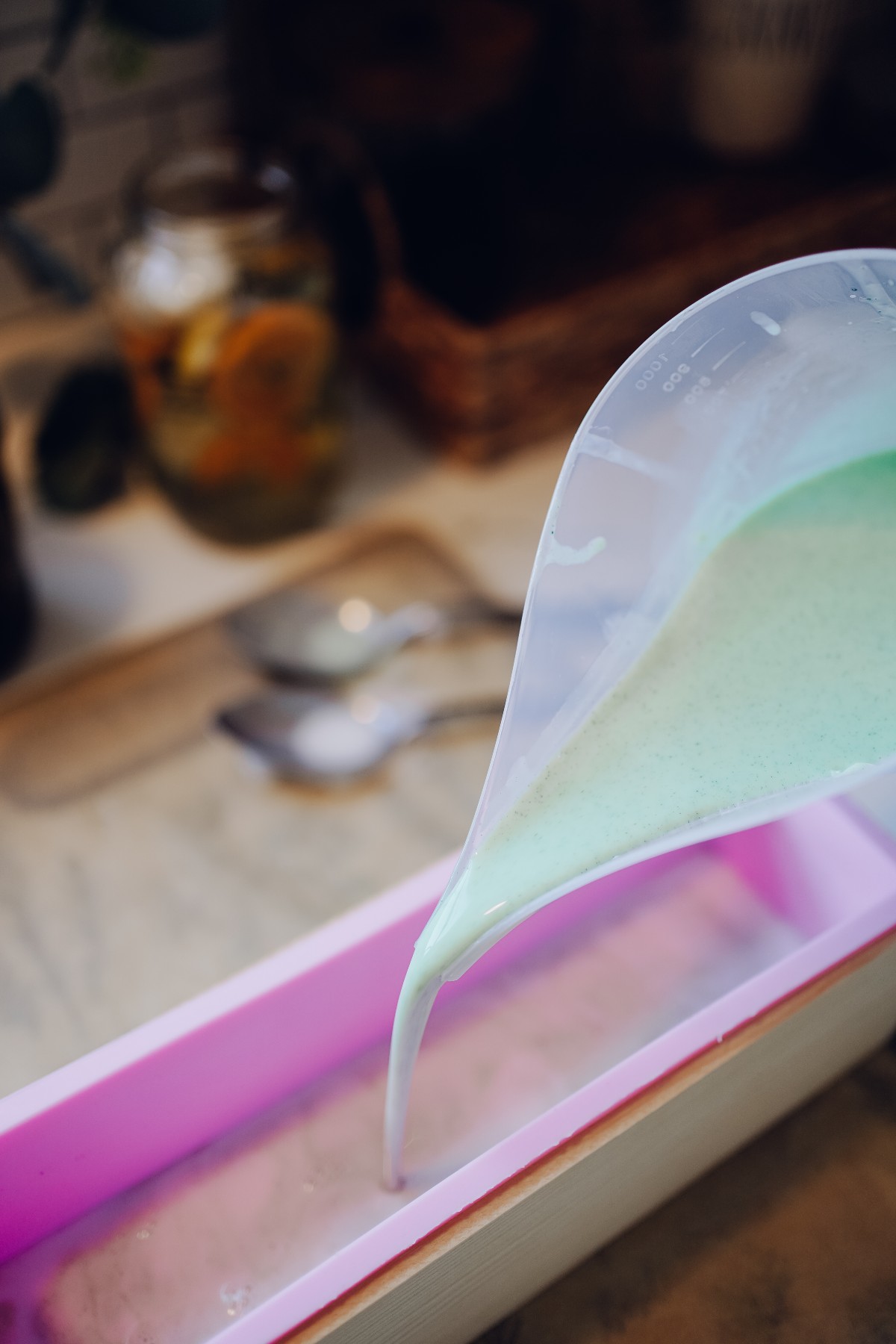 Beginner Melt and Pour Soap Tips
Before you start on your soap-making project, here are a few useful tips to keep in mind. These tips will help your herbal creation stay hiccup free! 
The soap base for melt and pour is already perfectly crafted to lather, clean, and keep its shape. When adding anything to your base, follow this simple guideline–

add no more than 1 teaspoon of liquid per pound of base.

 This will prevent separation or change the chemistry of the soap base. 

Never let your soap base boil. Make sure to heat in short time increments if using the microwave. If using a stove and double boiler, watch your base carefully. 

When adding fragrance, let the soap base cool slightly to avoid causing the volatile oils to volatilize. 

When adding a natural colorant or any powdered color additive, mix first with alcohol to avoid clumping. 

Melt and pour soap is different from cold-pressed soap. In order to achieve a swirl-like pattern keep two things in mind: use contrasting colors and don't start to pour your soap into the mold until it cools to about 130-135 degrees Fahrenheit. The swirls may not be as dramatic as a cold pressed soap, but a design can be achieved. (A thermometer is a handy tool to have when making melt and pour soap.)

A silicone soap mold is preferable to a plastic mold as it will be easier to remove your soap after it has hardened.  

To remove any air bubbles after you've poured your soap liquid into the mold, use a spray bottle with rubbing alcohol and give the top a light spray. Watch the bubbles disappear!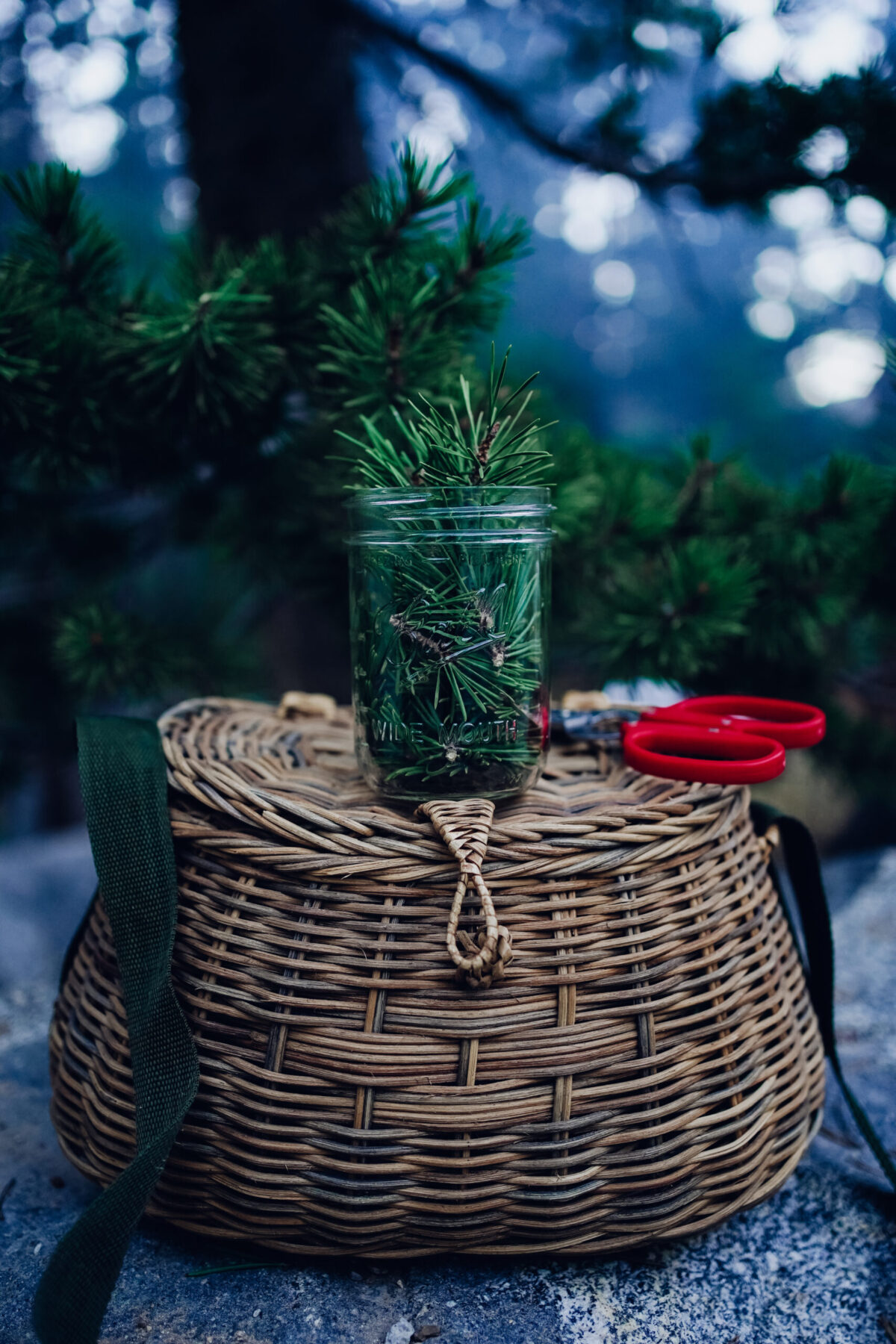 Botanical Benefits
With an array of botanical choices, sometimes it's hard to decide how you want to craft your soap. This particular melt and pour soap recipe has a wintry holiday feel and aroma. Here are the ingredients and their benefits! 
Pine (Pinus spp.)– One benefit that we can enjoy when using body care products with pine is that it has an uplifting and invigorating scent that lends itself to clearing the mind and helping with sinus congestion. Pine is also antimicrobial and antiseptic, which makes it a great choice as an ingredient in soaps (Worwood, 2016).  
Olive oil (Olea europaea)– There are so many bases out there, but a tried and true one is olive oil. Wonderful to use on the skin because of its high antioxidant properties, olive oil helps with cellular damage and protects the skin from environmental factors (Gorzynik-Debicka et al., 2018).
Essential oils add an all-natural fragrance to the recipe, it is a great way to craft a personal touch. Not only do you get to customize the essential oil blend you use, but you will also eliminate the harsh chemicals from synthetic fragrances that many store bought soaps have. Essential oils allow you to get creative and use blends and scents that really align with the season or person you're giving to. For this recipe, a favorite oil blend is Christmas Spirit. Filled with orange (Citrus × sinensis) peel oil, cinnamon (Cinnamomum spp.) bark oil, and black spruce (Picea mariana) leaf oil, the blend has a warm, spicy, and comforting aroma that evokes the coziness and cheer of the holiday season when you lather up. 
Natural colorant– To bring your soap to life visually, there are a few natural options you can use. To achieve a subtle wintergreen color in this melt and pour recipe, spirulina (Arthrospira spp.) is one great option. Spirulina is a plant-based powder made from algae. When mixed into the soap blend, you'll achieve a wonderful pop and swirl of color, unique to each cut of soap. Note that even though spirulina is a vibrant color, the green itself doesn't get on your skin. Much like using essential oils for a natural fragrance, colorants can be chemical-free too. Other options for a natural touch of color are turmeric (Curcuma longa), charcoal, hibiscus (Hibiscus sabdariffa), and mica powders. A safety precaution when working with any powder additive, is to wear a mask to limit the inhalation of any particles. Please note that when working with turmeric, it may stain towels and fabrics (not skin).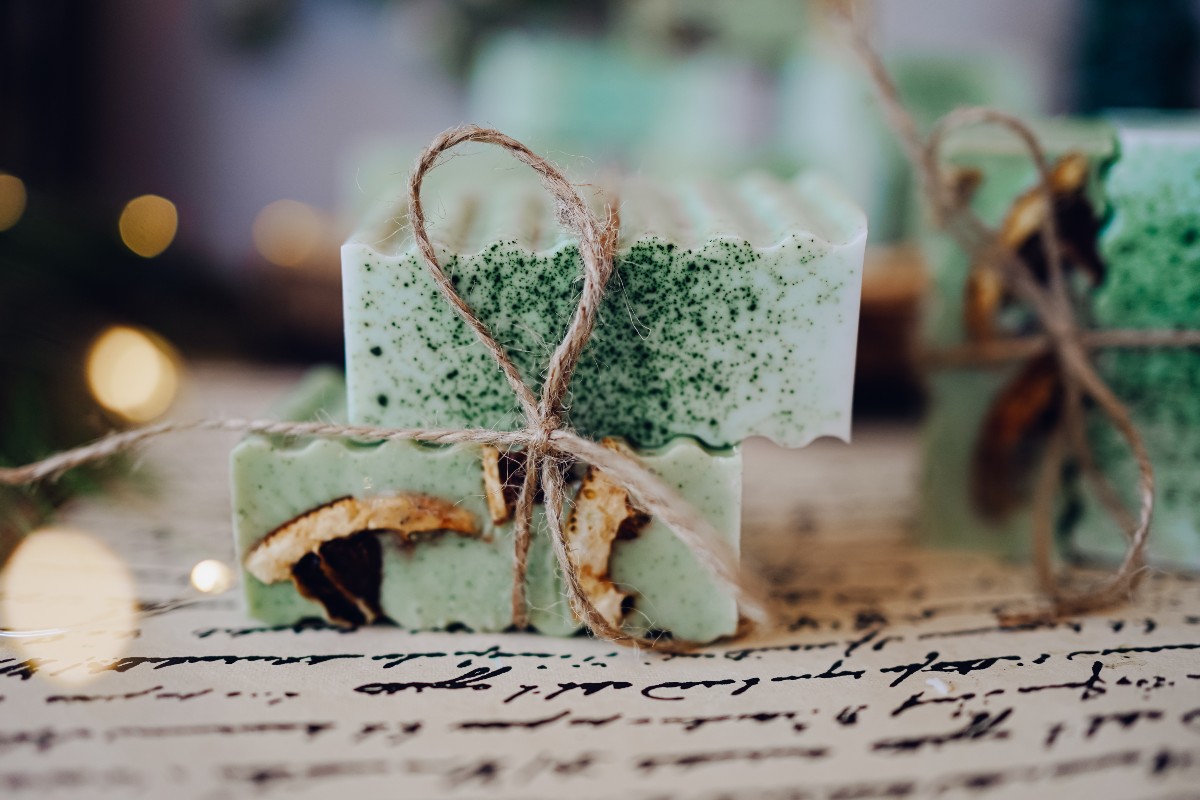 How to Make Holiday-Inspired Melt and Pour Soap for Easy Gift Giving
Holiday Pine + Goat's Milk Melt and Pour Soap
Feeling ready to make your own melt and pour soap? Follow along with this recipe for a nourishing, moisturizing, and oh-so-wonderful-smelling DIY!
Ingredients
2 pounds goat's milk melt and pour soap base
½  teaspoon spirulina (Arthrospira spp.) powder, diluted in 1 teaspoon of rubbing alcohol
½ teaspoon pine (Pinus spp.) infused olive oil
½ teaspoon Christmas Spirit essential oil blend, or create your own using orange (Citrus × sinensis) peel oil, cinnamon (Cinnamomum spp.) bark oil, and black spruce (Picea mariana) leaf oil
Directions
Prep your natural colorant by adding spirulina or color addition of choice into a small bowl or ramekin. Next, add in the rubbing alcohol and whisk/mix until the clumps are smooth. 
To achieve a swirl-like or contrasting pattern, cut the 2-pound soap base in half, keeping the two halves separate for melting. Continue to cut down the soap block into small cubes, placing them into two large measuring cups. You will have 1 pound in each measuring cup. 
Using 30 second increments in the microwave, heat the soap base until it melts into a liquid. If using a double boiler on the stove, watch carefully to avoid any boiling. 
Once the liquid is melted down, in the first measuring cup, add in the spirulina or other colorant liquid, and mix well. Your soap base will turn a pretty light green color if you used spirulina. 
Once the second measuring cup of melted soap slightly cools, it is time to add in your pine-infused oil and the essential oil blend. Mix well to incorporate the oils into the base. 
Using a thermometer, keep checking your soap liquids until they've reached about 135-130 degrees Fahrenheit. This cooler temperature will allow you to achieve a slight swirl pattern once the soap hardens. 
Pour each measuring cup into the soap mold little by little in a swirl-like pattern, alternating back and forth between each measuring cup. 
Let your soap sit on the counter and harden for several hours. 
Remove the soap from the mold by gently flipping it upside down and giving it a light pat to help release from the mold. 
Slice the soap into 2-inch thick pieces and be sure to store them in an airtight container or shrink-wrap each individual piece. 
To Use:
These holiday-inspired melt and pour soaps are a wonderful gift! They are useful for anyone and have a great nourishing feeling after you've washed your hands. Since this soap recipe calls for essential oils, follow guidelines for essential oil safety and keep in mind that it is preferable to use for your hands rather than your face. The soap will last roughly 6 weeks. 
In Closing, 
Soap making can be so creative and fun during the holiday season. By removing the need to craft the base and not having to handle lye, you can feel confident in making this all natural, holiday-inspired melt and pour soap, perfect for gift giving!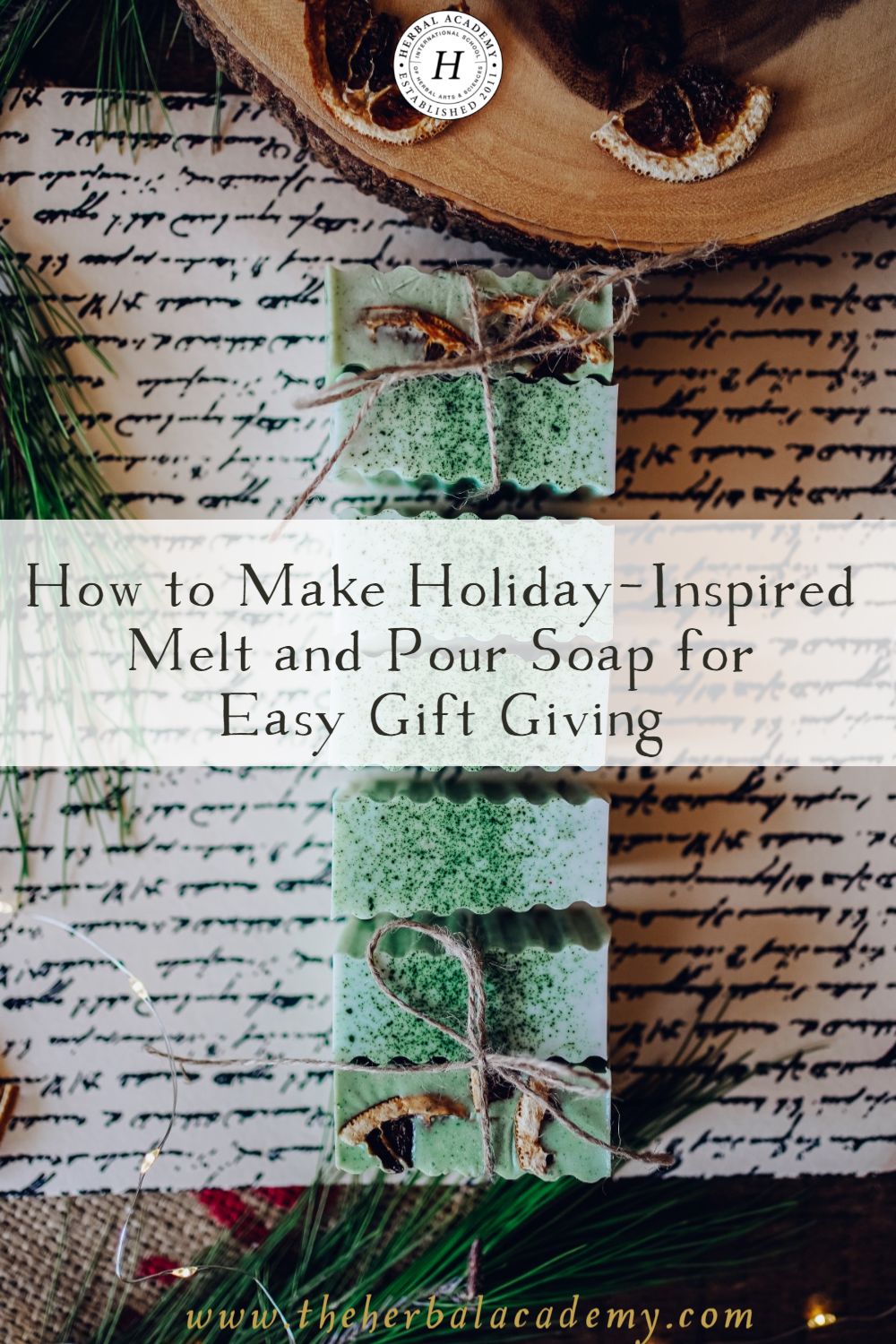 REFERENCES
Gorzynik-Debicka, M., Przychodzen, P., Cappello, F., Kuban-Jankowska, A., Marino Gammazza, A., Knap, N., … Gorska-Ponikowska, M. (2018). Potential health benefits of olive oil and plant polyphenols. International Journal of Molecular Sciences, 19(3), 686. https://doi.org/10.3390/ijms19030686‌
Worwood, V. A. (2016). The complete book of essential oils and aromatherapy: Over 800 natural, nontoxic, and fragrant recipes to create health, beauty, and safe home and work environments. New World Library.‌