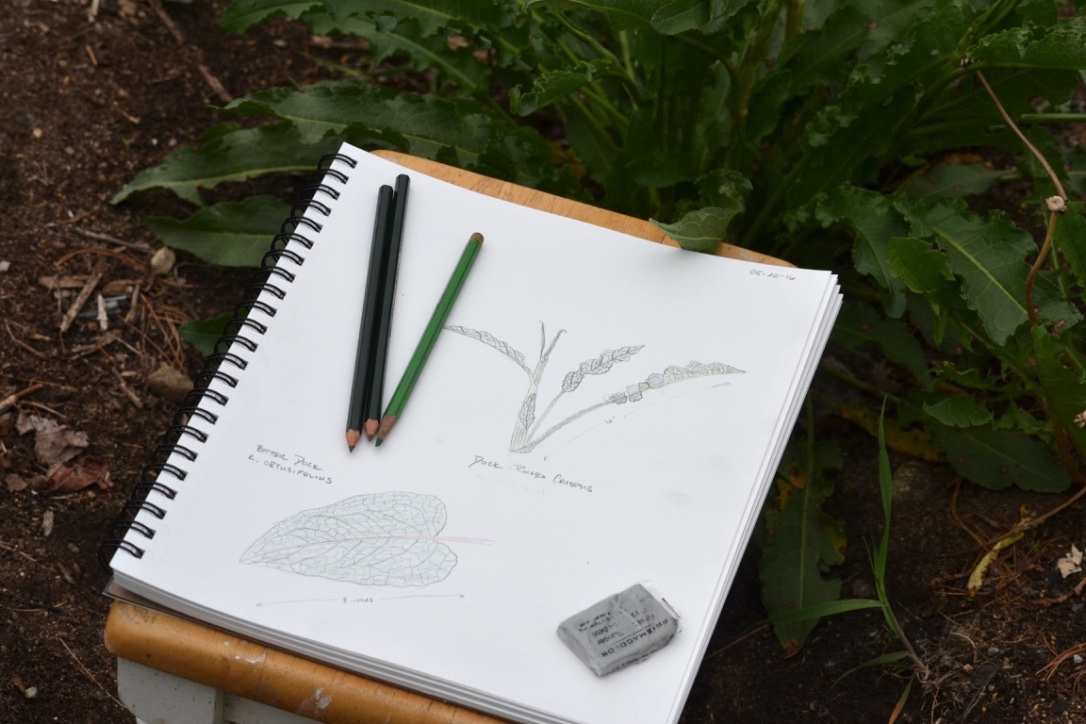 Creating a Local Materia Medica with Yellow Dock
I had originally intended to write this month's local materia medica about another herb entirely, but then I replaced the fence around the patio and stumbled upon a new plant to my land – yellow dock. Join me as I explain how to identify and use yellow dock in your local materia medica!
Discovering Yellow Dock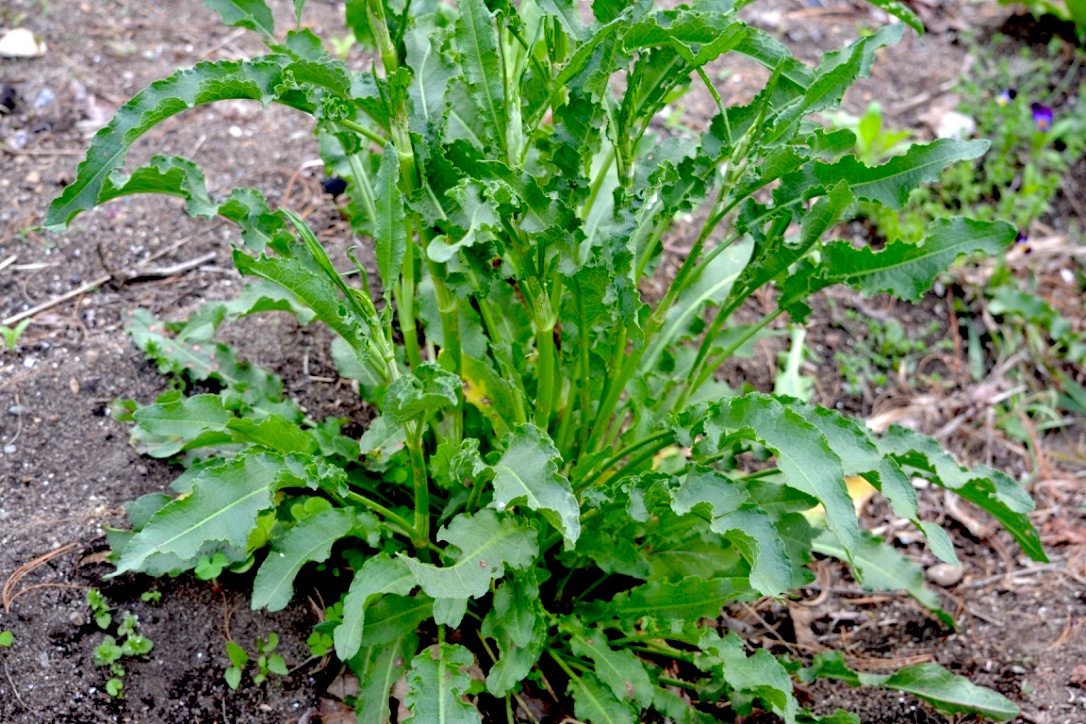 The aforementioned fence surrounds a garden that has undergone several iterations over the last several years. When we moved into the house, there was a young Norway maple in the center of the patio and the garden was full of perennials of the former owner's choosing. As the maple grew (rapidly, as Norways are wont to), the garden became increasingly shady, so I moved shade-loving plants there as needed.
This seemed like a sound approach until a Halloween ice storm that coated the trees, in full leaf, with a thick layer of ice that proved too much to bear for many. The trunk of our patio maple split three ways and crashed into the fence and garden, effectively ending its tenure as a shade garden.
So we patched up the fence and next spring moved the shade-loving plants elsewhere, replacing them with a hodgepodge of various perennials – whatever I had on hand. I didn't love it. But life as it is, I just left it for a few years.
This spring, we replaced the old, gray, lichen-covered fence due to obvious structural reasons. The new spruce fence looks great and soon will age to the gentle gray pickets I so enjoy as a backdrop for the flowers and plants.
But not those flowers and plants – that garden was a total mess, and several plants got walked all over in the process of replacing the fence. I knew it was time to start the garden rehabilitation project I had been envisioning – a sunny herb garden chock full of my favorites.
Before I could add more Echinacea, wild bergamot, holy basil, and yarrow, I had to remove plants to create space. This proved to be nothing short of a surgical extraction, as I carefully removed plants and weeds that had wound their way amidst everything. In the process, I discovered that wild bergamot has quietly been establishing itself for the past few years, much to my delight. I also discovered something else completely unexpected: yellow dock (Rumex crispus).
Inviting Dock In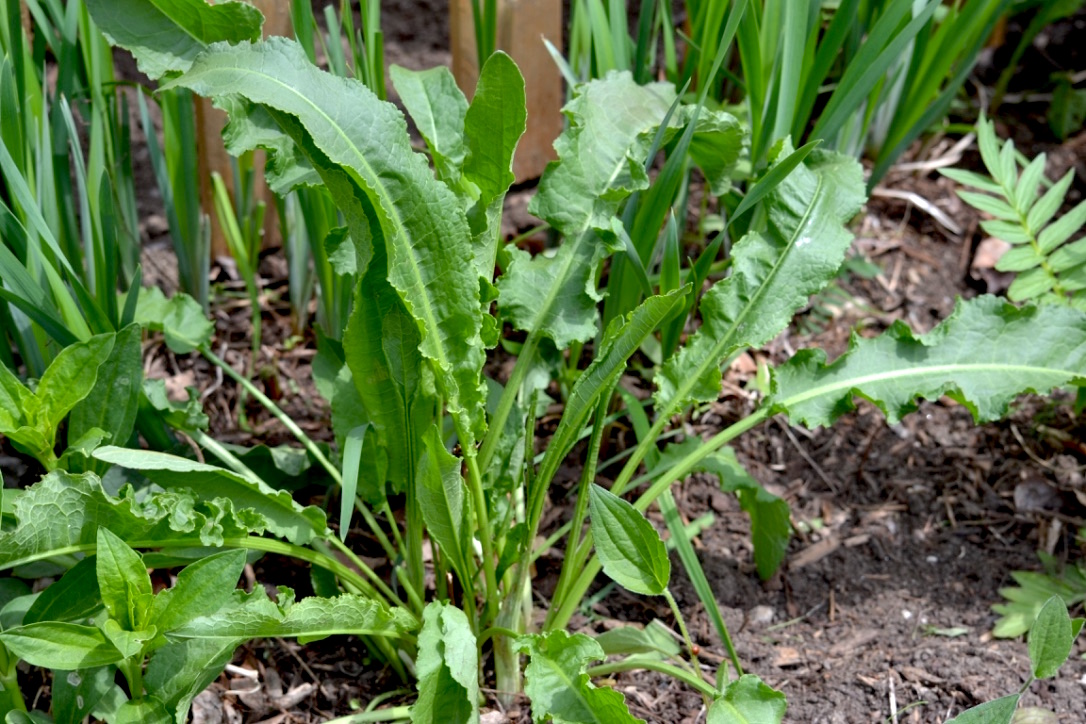 I didn't plant that yellow dock. In fact, I have been searching for it all over my land for the past few years.  Unfortunately, all I found was yellow dock's rather aggressive cousin, bitter dock (Rumex obtusifolius), which has established a foothold in the gardens years ago and seeds itself widely and freely. With a long, sturdy tap root, it is hard to remove, and while it is edible and medicinal, it is bitter with a capital B and just not the dock I was hoping for.
In addition to the herb garden, I have also yellow dock in the vegetable garden. There must have been something in the wind – or the compost, or the mulch – over the past couple of years, because I am happy to report yellow dock has come to stay.  Judging by reports of its prolific nature, there may come a day when yellow dock makes itself a little too welcome – but that's nothing that some judicious harvesting on my bit of land can't keep in check.
I often find that plants make themselves available to me when I am yearning for them. Sure, it might just be that my awareness shifts enough to recognize their presence. In the case of dock, and nettle before it, their appearance post-dated my awareness, and the wide-eyed child in me likes to imagine they asserted themselves into my local materia medica for good reason. The mystery of this is half the fun.
Yellow Dock Identification
Yellow dock's latin genus name, Rumex, means "lance", and indeed, the leaves are lance-shaped. The species name, crispus, refers to the "crisped" nature of its leaf margins. (Pedersen, 2012) Crisped in this case meaning curled in short, wavy folds, hence yellow dock's other name – curly dock. Bitter dock's leaves, on the other hand, are broad, heart-shaped, and have a red stem; curly dock is more likely to have a pale green stem.
The leaves on both plants grow in a basal rosette, which persists for a year or longer, storing energy in the root until it is ready to send up a flower stalk. The stem leaves alternate on the flowering stalk and the petiole of each leaf consists of a papery sheath called the ocrea that becomes dry and brown as it ages (Thayer, 2010). Interestingly, this papery sheath holds a slimy mucilage that acts as a lubricant to keep new leaves from tearing as they emerge – and in a pinch can provide soothing relief from stings and bites to our skin (Drum, n.d.).  After a recent run-in with a nettle plant, my son agreed to try dock "slime" and reported noticeable relief.   
Freshly emerged and unfurled leaves will have two faint paler green vertical lines running down each side of the leaf (indicating where they were tightly curled), fresh mucilage, and greenish white ocrea – these are the mildest and tastiest leaves.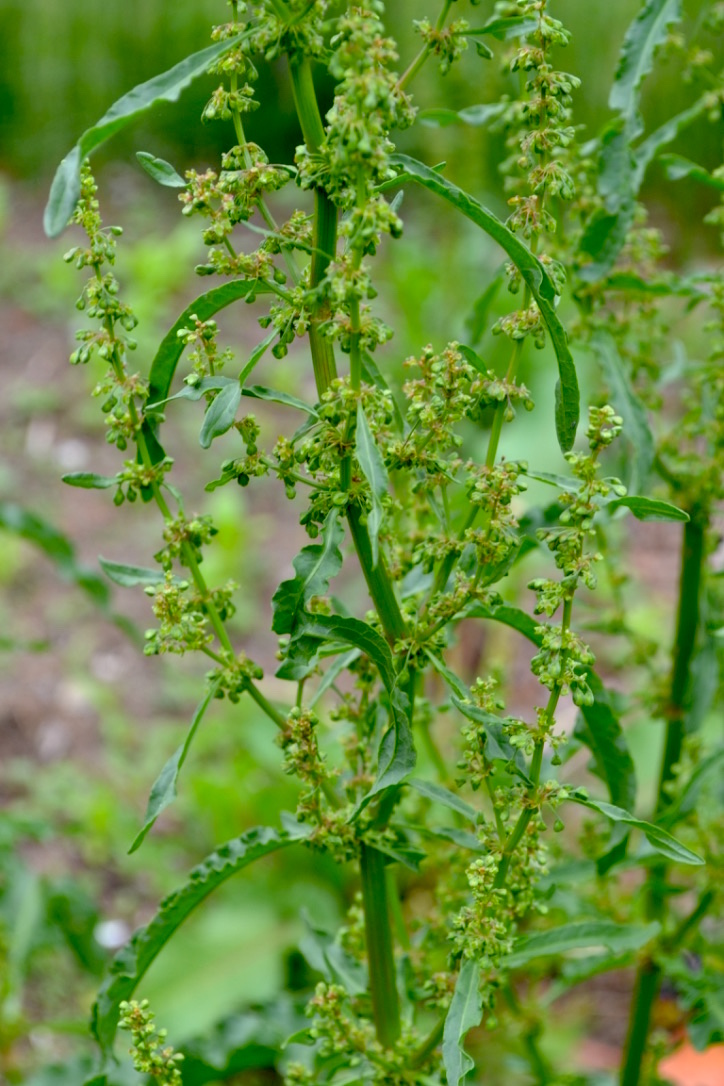 The flower stalk produces numerous whorls of tiny flowers with three green and three red sepals, but no petals. These ripen to a fruit enclosed in a papery husk, turn to a dark reddish brown color in summer, and the seed-laden stalks persist through the fall and winter. They are hard to miss. (Thayer, 2010)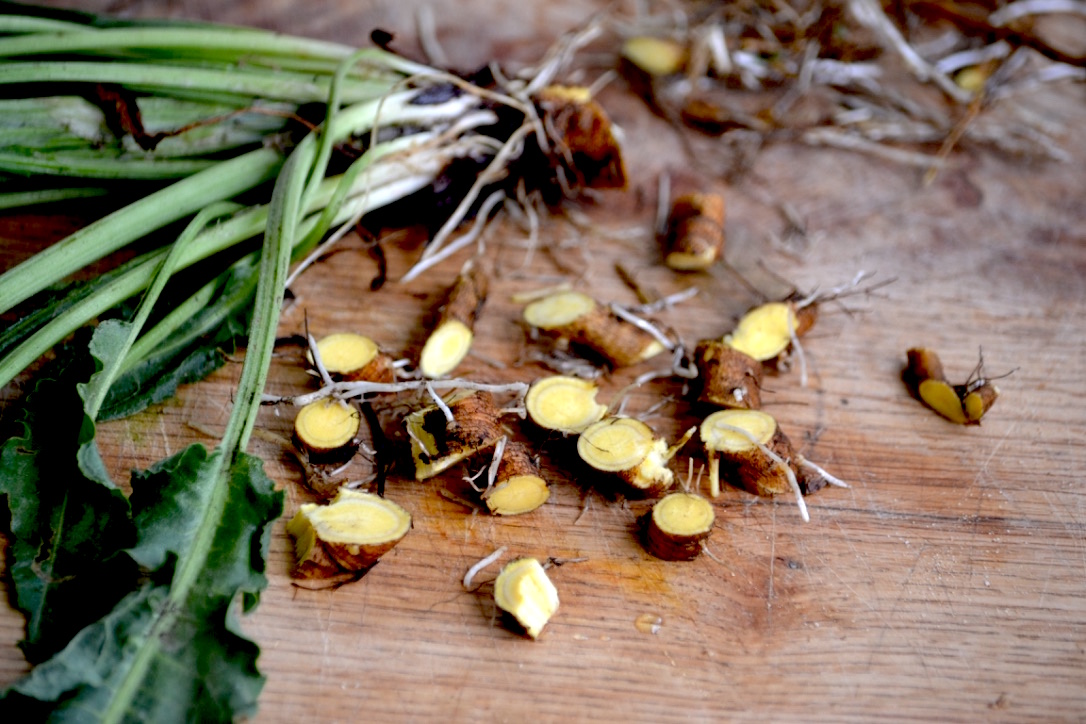 Clearly, the name yellow dock has nothing to do with its leaves, stems, or flowers. Instead, it refers to the unmistakable yellow flesh of its thick, multi-branching, deep taproot. Roots are at their peak potency and juiciness in the fall of their first year or spring of their second year. While dock plants will live for many years, their roots become pithy and dry with age. Learn more about harvesting yellow dock root here.
Eating Yellow Dock Leaves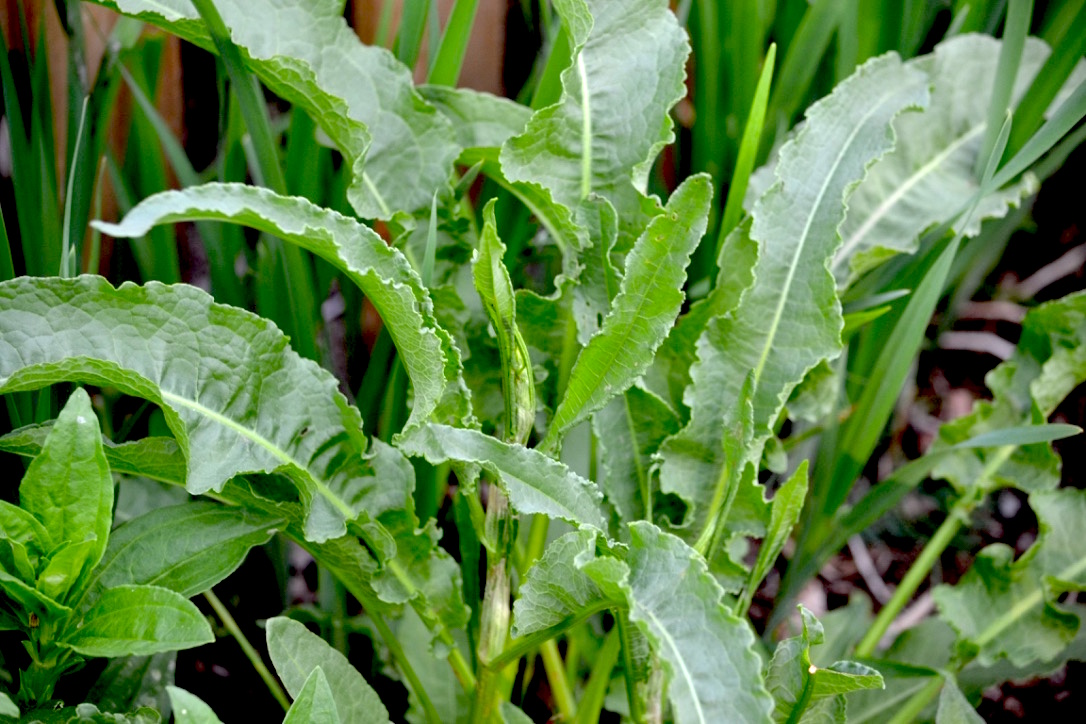 The newly unfurled leaves of yellow dock can be used as a nutritious green in soups and salads.  Dock leaves have a sour and bitter taste due their ascorbic acid (vitamin C) content, and in fact were used for scurvy.  
Ascorbic acid metabolizes to oxalic acid – spinach, rhubarb stems, and purslane are other common edibles high in oxalic acid. Oxalic acid can bind to minerals such as calcium, magnesium, and iron, precipitating oxalate salts that can lead to kidney stones and gout, so dock should be avoided by anyone prone to those conditions. (Blair, 2014; Pedersen, 2012; Eat That Weed, n.d.)  
Oxalic acid-containing foods are fine in moderate quantities, just don't overdo it. You can also remove the soluble oxalic acid simply by blanching dock greens for a minute or two in boiling water and disposing of the water. Gather only young dock leaves, as oxalic acid content increases as they mature. Your tongue will tell you! In fact, oxalic acid will cause a slight irritation to the tender tissues at the back of your throat. Interestingly, dock grown in moister environments may produce more mild tasting leaves than dock grown in harsh, dry conditions. (Blair, 2014; Pedersen, 2012; Eat That Weed, n.d.)  
Medicinal Benefits of Yellow Dock Root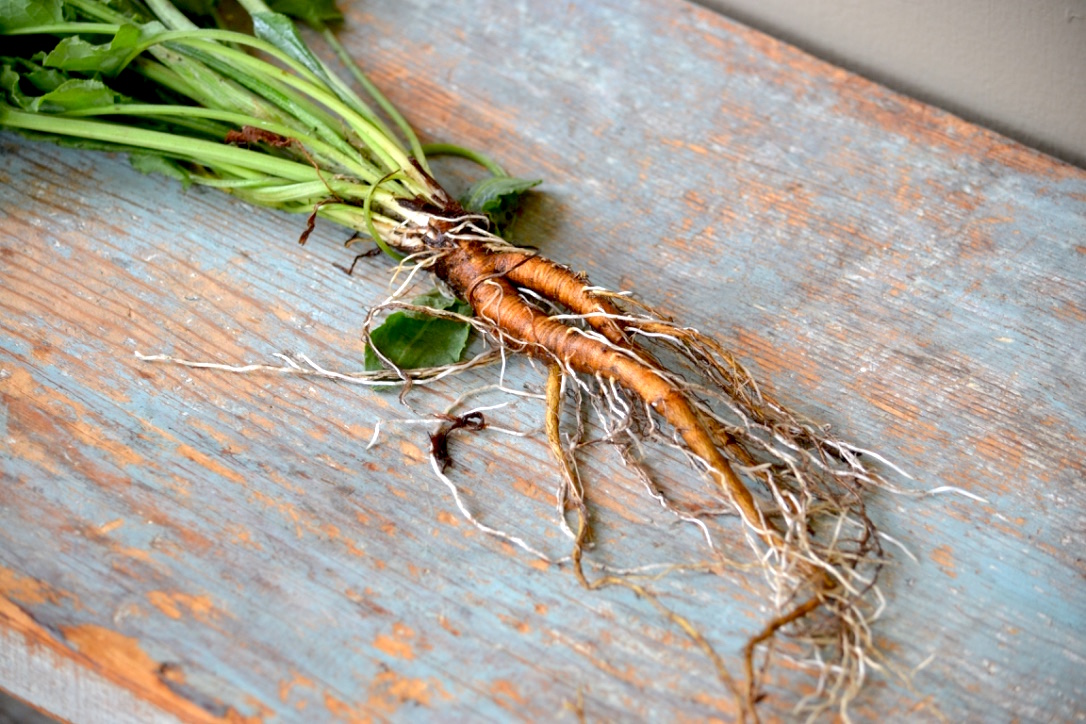 Yellow dock root is highly regarded by herbalists as a source of iron and is used in the case of anemia and low hemoglobin levels in the blood. Herbalist Robin Rose Bennett (2014) recounts yellow dock's ability to bring up low iron counts more quickly than iron supplements and aids the body's assimilation of iron, and she is not alone in this regard. Interestingly, in his comprehensive study of nutrient, vitamin, and mineral contents of herbs, Pedersen (2012) concluded that while yellow dock root contains an above average level of iron, it's not off the charts.
Bergner (n.d.) cites an unpublished study that measured the effect of nettle, burdock, yellow dock, chickweed, and molasses on iron levels, showing that dock actually caused a worsening of iron uptake in 4 of the 5 blood parameters measured, although dock plus molasses fared better than just molasses alone. The study used a yellow dock tincture, and ethanol is far from the best menstruum with which to extract minerals – in fact, when analyzed, the iron level in the tincture was zero! It is interesting that the tincture seemed to improve the absorption of iron when paired with molasses, suggesting that yellow dock improves the bioavailability of iron in iron-rich foods.  
Indeed, yellow dock is quite beneficial in supporting iron assimilation, and many of the iron tonic remedies I've seen include dock along with other iron-rich herbs. My favorite is a decoction of dock, dandelion, burdock roots, and nettle mixed with molasses, which I take to supplement my vegetarian diet.
Iron-Rich Root Tonic
Adapted from The Gift of Healing Herbs by Robin Rose Bennett
Ingredients
1 cup dried burdock root
½ cup dried dandelion root
½ cup dried yellow dock root
½ cup dried nettle leaf
6 tablespoons blackstrap molasses
Directions
Add herbs to a half-gallon jar, fill jar with boiling water, and cap.

Let infuse for 8-12 hours, then strain.

Add infusion to a saucepan and simmer until volume is reduced by half and approximately 1 quart of decoction remains. Turn off heat and let cool.

Mix decoction with molasses, transfer to a jar, and cap.

Store this tonic in the refrigerator, where it will last 1-2 months.

Take 2 tablespoons twice daily, or as needed.
Another way to consume yellow dock regularly was suggested by herbalist Ryan Drum (n.d.), who recommends adding yellow dock powder into curry powder for use as a cooking spice.
Yellow dock root supports healthy digestion and elimination via its bitter, laxative, astringent, and alterative actions. Its mildly laxative anthroquinone glycosides and bitter compounds stimulate digestive enzymes, while its astringent tannins tone digestive tissues. With both laxative and astringent actions, yellow dock can relieve both constipation and diarrhea. As an alterative, yellow dock roots and leaves help support liver function and elimination of excess wastes and can, in turn, ease eruptive skin conditions such as eczema and psoriasis. Its cooling and drying nature lends well to topical applications on inflamed, weeping skin conditions. (Carpenter, 2015; Kuhn & Winston, 2008)
Yellow dock can be used in small amounts for short periods of time and should not be used in large quantities for children or pregnant or lactating women. (Kuhn & Winston, 2008)
Start Building your Materia Medica with these free pages!
If you want to get started compiling some herbal monographs for yourself, we're including a free download of the materia medica pages from our beautifully designed 
Materia Medica Journal
. You are welcome to download and print this black and white herbal monograph spread to
get your materia medica started
!
REFERENCES
Bennett, R.R. (2014). The gift of the healing herbs. Berkeley, CA: North Atlantic Books.
Bergner, P. (n.d.) Rumex crispus and iron. Retrieved from http://medherb.com/Materia_Medica/Rumex-crispus-and-iron.html
Blair, K. (2014). The wild wisdom of weeds: 13 plants essential for human survival. White River Junction, VT: Chelsea Green.
Carpenter, J. (2015). The organic medicinal herb farmer. White River Junction, VT: Chelsea Green.
Drum, R. (n.d.). Rumex crispus [Video]. Retrieved from  https://www.youtube.com/watch?v=p693JHH5yFo
Eat That Weed! (n.d.) Some notes on oxalic acid for foragers. Retrieved from http://www.eatthatweed.com/oxalic-acid/
Kuhn, M. & Winston, D. (2008). Winston & Kuhn's herbal therapy and supplements [2nd ed.]. Philadelphia, PA: Wolters Kluwer Health.
Pedersen, M. (2012). Nutritional herbology. Warsaw, IN: Whitman Publications.
Thayer, S. (2010). Nature's garden: A guide to identifying, harvesting, and preparing edible wild plants. Birchwood, WI: Forager's Harvest.