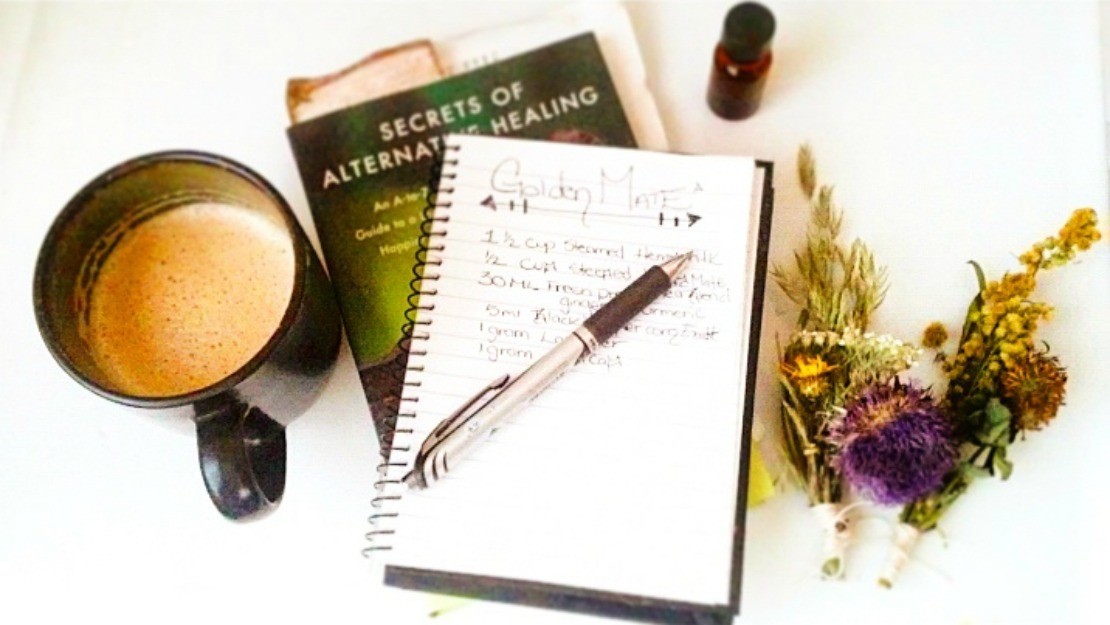 How to Make Gold Milk with a Spin!
Have you been enjoying the #myherbalstudies community on Instagram? We are building community with fellow classmates, teachers, members and fans and readers by using the hashtag #myherbalstudies in Instagram uploads. We welcome you to join in the fun. Share your herbal adventures – what are you making, foraging, gardening, studying, creating, eating, preserving? Nothing is off limits!
From one of our community membership, this post is written by @tarasmedicinals:
Enjoying a little beverage (and oils ????) that is a fun spin on an ancient recipe while doing some light reading. I like to call it Golden Mate.

How to Make This Tea-Formally known as "Gold Milk" with a spin!
This is incredibly soothing, great during illness or as an everyday immune booster. It's easy to make and kids usually like it. To double this recipe to make two mugs:
Golden Mate
Ingredients
Use All Organic, GMO-Free:
3 cups of Hemp Milk
4 tablespoons of fresh pressed Turmeric juice
2 tablespoon of fresh pressed Ginger juice
1 teaspoon Raw Cinnamon
1 teaspoon Coconut nectar
2Ml of Black Pepper extract
Half a teaspoon of Cayenne pepper
4oz of strongly brewed herbal tea (approximately 3 gram total Yerba Mate, Skullcap and Lavender)
Directions
Blend all ingredients in a high speed blender until smooth.
Pour into a small sauce pan and heat for 3-5 minutes over medium heat until hot but not boiling.
Pour into your favorite mug and enjoy!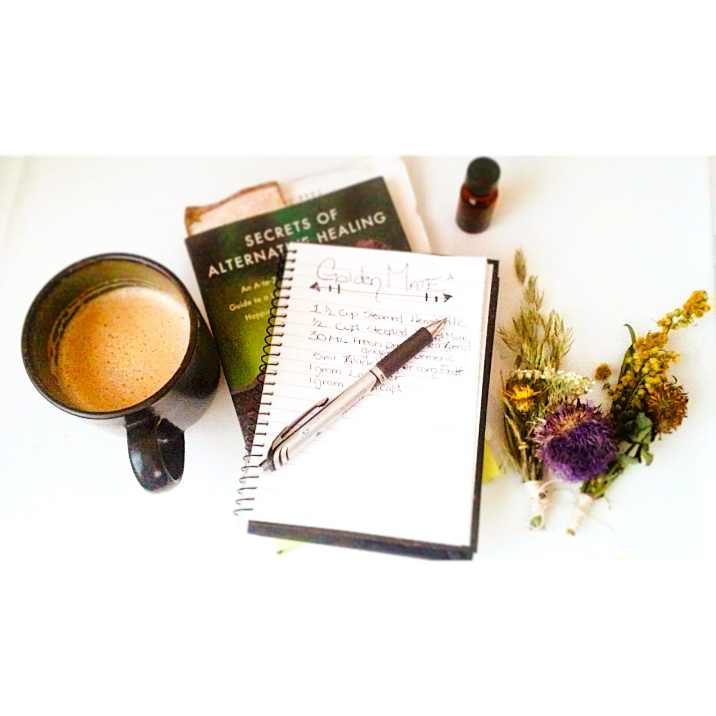 "From WebMD: Turmeric is used for arthritis, heartburn (dyspepsia), stomach pain, diarrhea, intestinal gas, stomach bloating, loss of appetite, jaundice, liver problems and gallbladder disorders. It is also used for headaches, bronchitis, colds, lung infections, fibromyalgia, leprosy, fever, menstrual problems, and cancer. Other uses include depression, Alzheimer's disease, water retention, worms, and kidney problems. Some people apply turmeric to the skin for pain, ringworm, bruising, leech bites, eye infections, inflammatory skin conditions, soreness inside of the mouth, and infected wounds. 
Important For Women Seeking Pregnancy:
Turmeric should be taken in moderation or used in foods. Some medicinal history info suggests that it was used in ancient times as a birth control and it should not be taken by women who are pregnant or trying to become pregnant (though using it in cooking is fine). As with any herb or supplement, consult your doctor before using. When used externally, it will give the skin a light yellow hue for a little while after use and this can easily be washed off. This is not harmful just a temporary stain. #MyHerbalStudies"
For more reading on turmeric and to get the original Golden Milk recipe, stop by this blog post.
Write up and images provided by @tarasmedicinals. Follow along with our community with the #myherbalstudies hashtag!