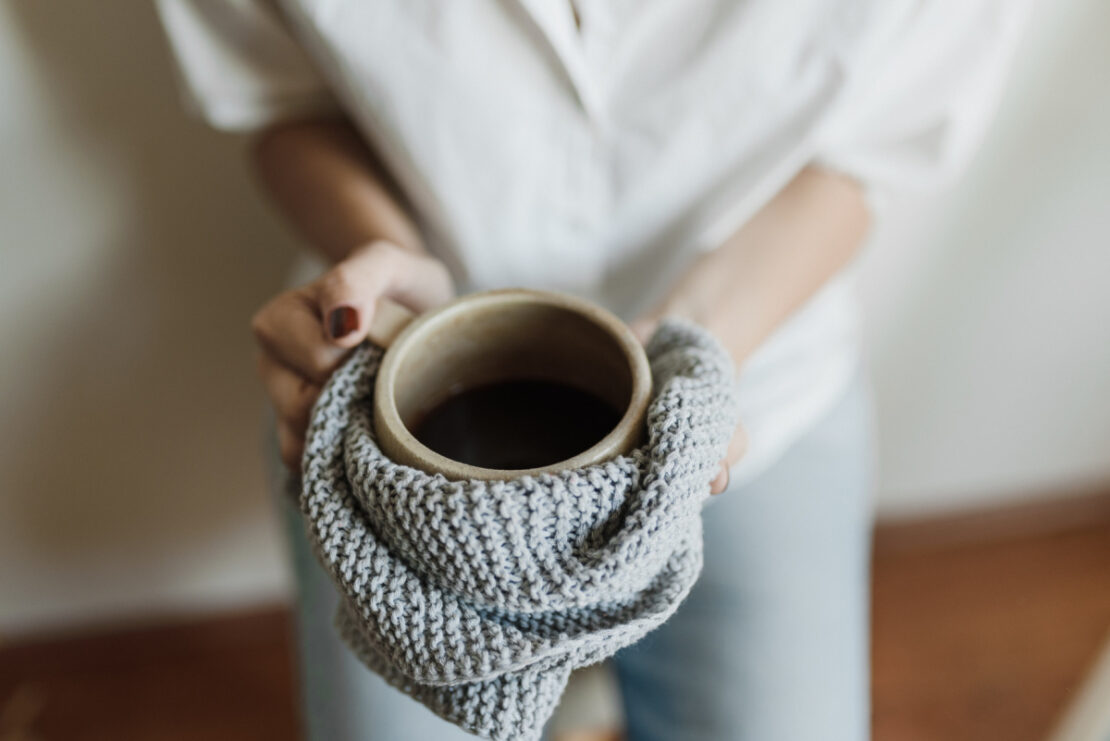 Homemade Hot Toddy for Cold and Flu
My first memories of a hot toddy are from childhood. One of my family's home remedies for cold and flu, hot toddies were something my mother prepared for me and my sister when the seasonal sniffles got the better of us, and something her grandmother, my mamaw, had made for her family in similar situations. Hot toddies are effective and deeply soothing in a way over-the-counter, store-bought cough medicines just aren't.
I was completely astonished to learn, in adulthood, that this family recipe was a widely known cocktail that people consumed for enjoyment, rather than as a kind of homemade cough syrup. There is certainly nothing that can drive out the chill of a cold day or ease cold symptoms like this traditional home preparation, which is (I'm sure) how our family tradition became so well and widely known. 
The origins of this beverage are a bit tangled; with a name that originated in India, some say the combination of ingredients came from Scotland, and Ireland also has claims to its origins(Hines, 2017). As far as I'm concerned this beverage originated in my great, great, great grandmother's kitchen, and was faithfully handed down from generation to generation in my family's repertoire of seasonal solutions to what ails ya.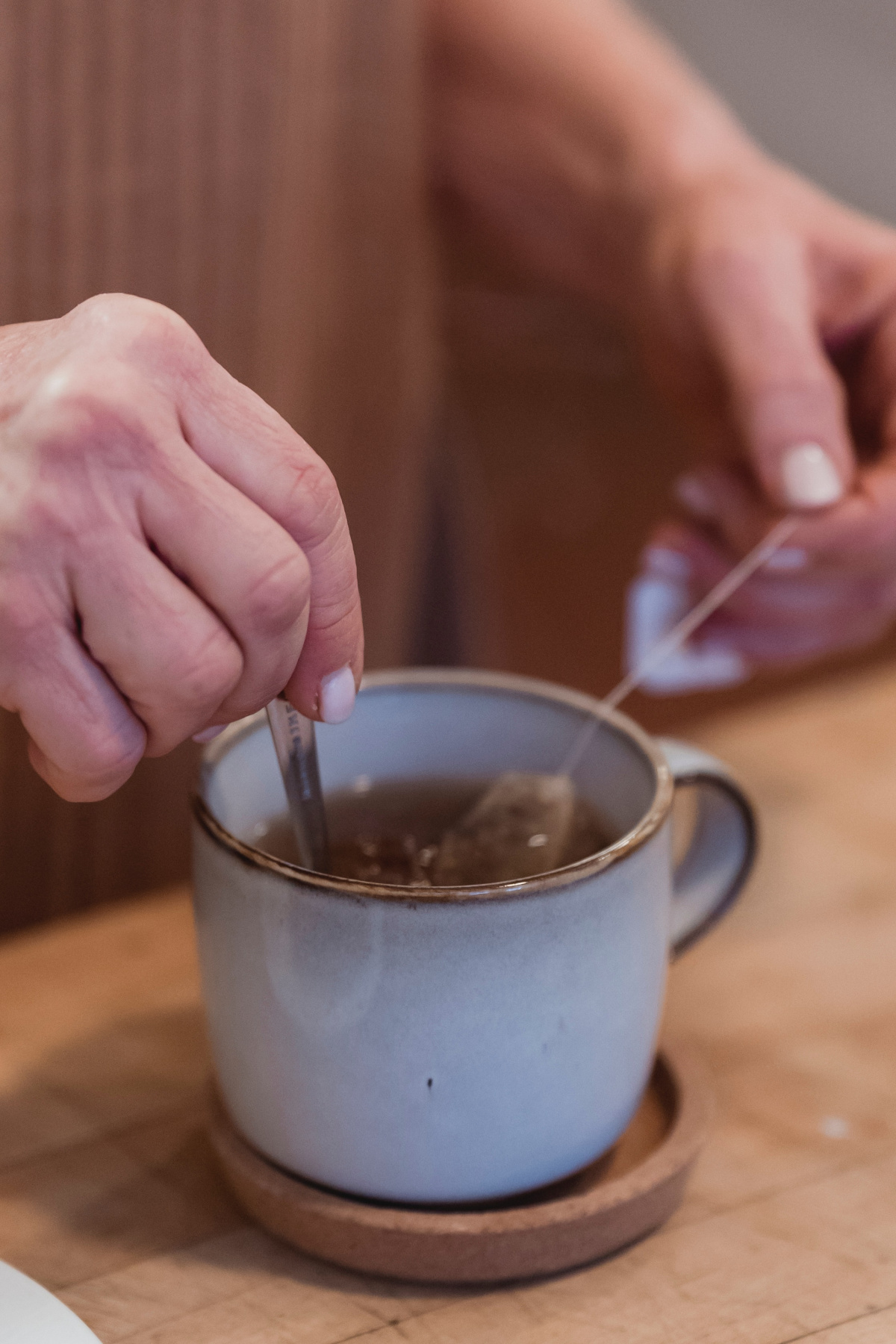 The Original Hot Toddy Recipe
This original, time tested, mamaw-approved recipe for a hot toddy is sure to drive out the chill of a cold day or cold symptoms.
Ingredients
1 black tea bag
1 mug of water
1 good glob of honey (to taste)
¼  lemon
1 approximate ounce of dark liquor (True to Southern tradition, in my family, we made it with bourbon. Whiskey is another popular option, and I'm sure dark rum would do just fine as well.)
Directions
The first step is to brew your tea bag in the water for a few minutes. 
After the tea has been brewed, remove and express the teabag. 
Add one ounce of dark liquor (or less if it's for a kiddo). 
Squeeze the lemon wedge into the mug. 
Sweeten with honey to taste.
Stir, and enjoy.
The reason for the Hot Toddy's continued popularity as both a home remedy and cold weather libation isn't hard to guess. Hot tea is soothing and the tannins offer some astringency which can help to tonify and astringe weepy tissues. The lemon is brightly flavored, as well as an expectorant, and can help cut through phlegm. Honey is sweet, soothing, vulnerary, and antimicrobial. Dark liquor adds complexity to the flavor as well as giving the beverage mild pain-relieving benefits. In short, this beverage is both delicious and effective.
Building on Tradition
A good tradition should grow and become more full of life and wisdom as it passes from generation to generation. One fateful autumn day, as I was scheming up ideas for what to bring to Friendsgiving that year (remember when social gatherings and communal food sharing was fun and exciting—not scary and questionable), a stroke of creative lightning hit my brain, "What if you made hot toddies with herbal teas?" 
Wow! Immediately a thousand other questions flooded to mind, "What herbs would you use? What flavors would pair well with dark liquor? What herbs are also beneficial for the body in coping with cold and flu symptoms?" 
I was so excited to find herbs whose actions helped aid the body through managing cold and flu symptoms, that also tasted good in the original mamaw-approved recipe. It was my turn to grow and evolve this tradition with the wisdom I had learned along my plant journey, and to share that with the people that I love. 
Spicing Things Up
With these considerations, I began to narrow down my options for crafting herbal hot toddies. After the process of taste-testing these herbal hot toddy hypotheses, I found a few favorites I have gone back to time and again. 
The flavors are simply wonderful together, and the benefits are ample as well. I also find that taking the time to slow down and craft something with love and care to nurture myself in times when I am feeling under the weather is a tender kind of support in and of itself.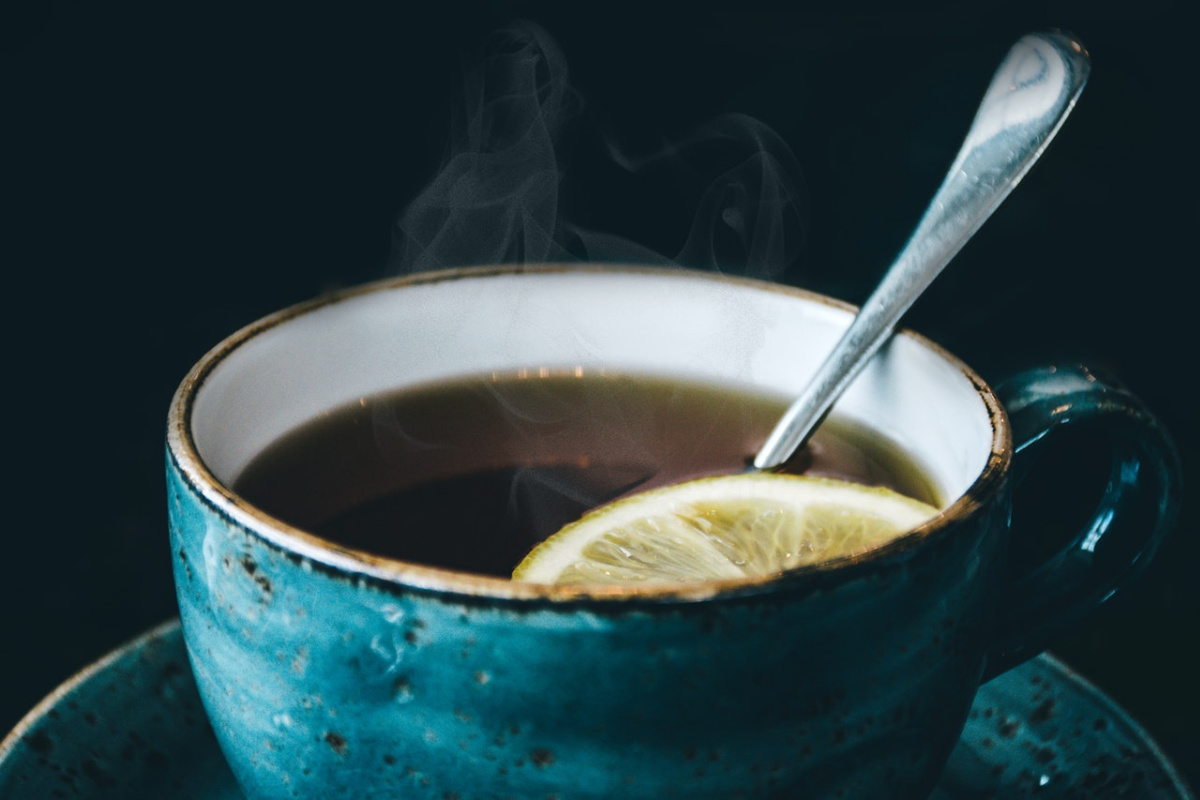 Thyme Hot Toddy
Thyme
(Thymus vulgaris)
is an excellent herb for assisting the body in managing cold and flu symptoms, and a perfect hot toddy addition.
Ingredients
1 tablespoon dried thyme (Thymus vulgaris) leaves
8 ounces water
1 glob of honey (to taste)
¼ lemon
1 approximate ounce of bourbon
Directions
Steep the thyme in hot water to make tea. (Use an infuser  to allow for easy filtration.)
Remove and express the thyme once it has been brewed. 
Add about an ounce of bourbon.
Squeeze in your lemon.
Add honey to taste.
Stir and enjoy.
Thyme is antiseptic and tonifying, making it a powerful ally for throat and chest infections. It is also expectorant and antispasmodic. The rich, earthy flavor of thyme tea complements all of the traditional players in the hot toddy recipe (Chevallier, 2000).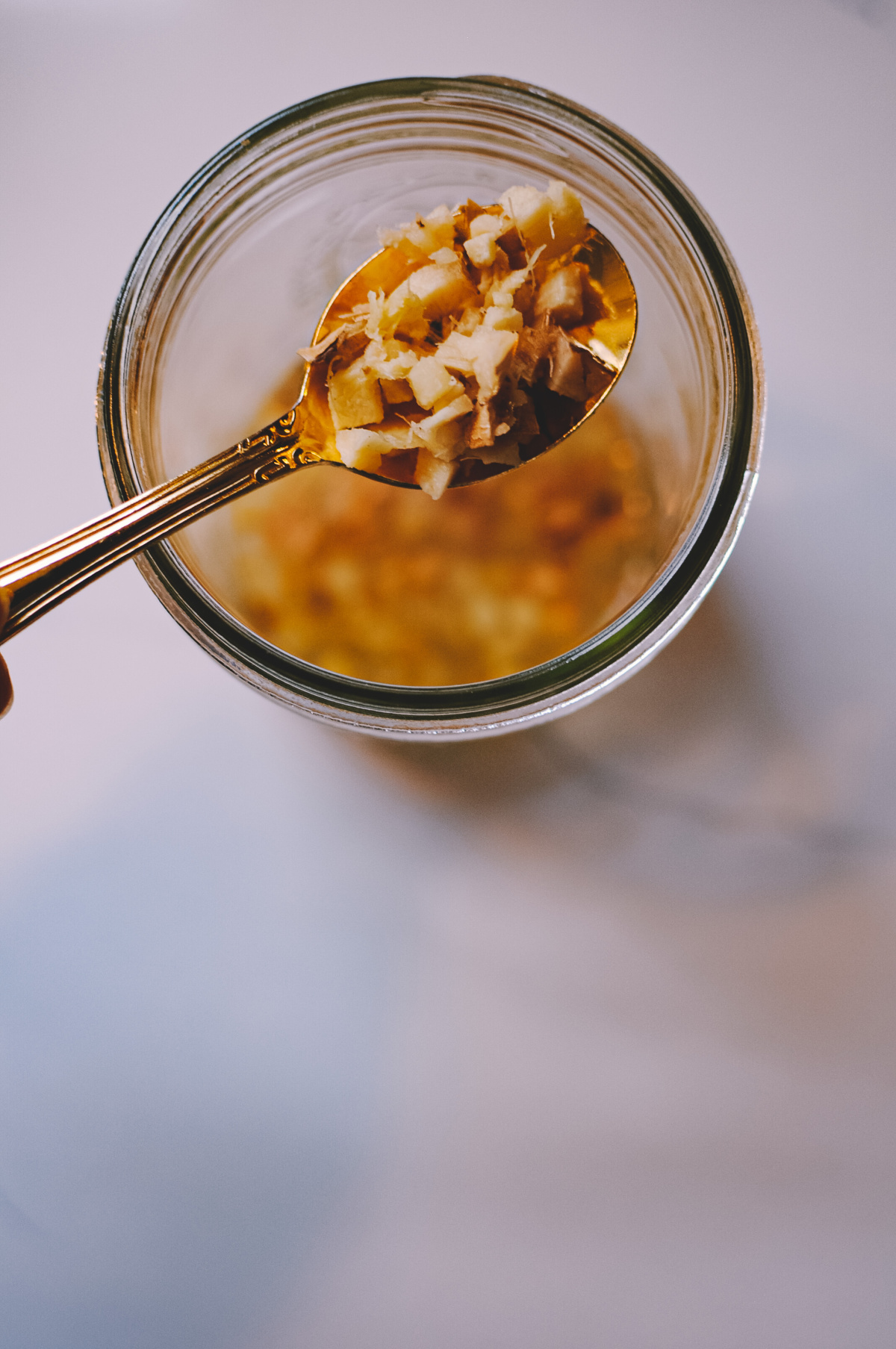 Ginger Hot Toddy
Ginger
(Zingiber officinale
) adds a spicy warmth to the classic recipe while boasting antimicrobial, diaphoretic, and expectorant capabilities.
Ingredients
2 inches fresh ginger (Zingiber officinal) rhizome
8 ounces water
1 glob of honey (to taste)
¼ lemon
1 approximate ounce of bourbon
Directions
Chop the fresh ginger into small chunks.
Place ginger in a mug, and cover with hot water to steep. 
Once the ginger tea has been brewed, add your bourbon.
Squeeze lemon into the mug.
Add honey. 
Stir and enjoy.
This beverage will turn up the heat on the creepy crud this cold and flu season. Since ginger is also a powerful ally for soothing and stimulating the digestive system, this could also be a good combination to help encourage the appetite—when you feel under the weather, or any time the digestive fires need a little stoking (Hoffmann, 2003).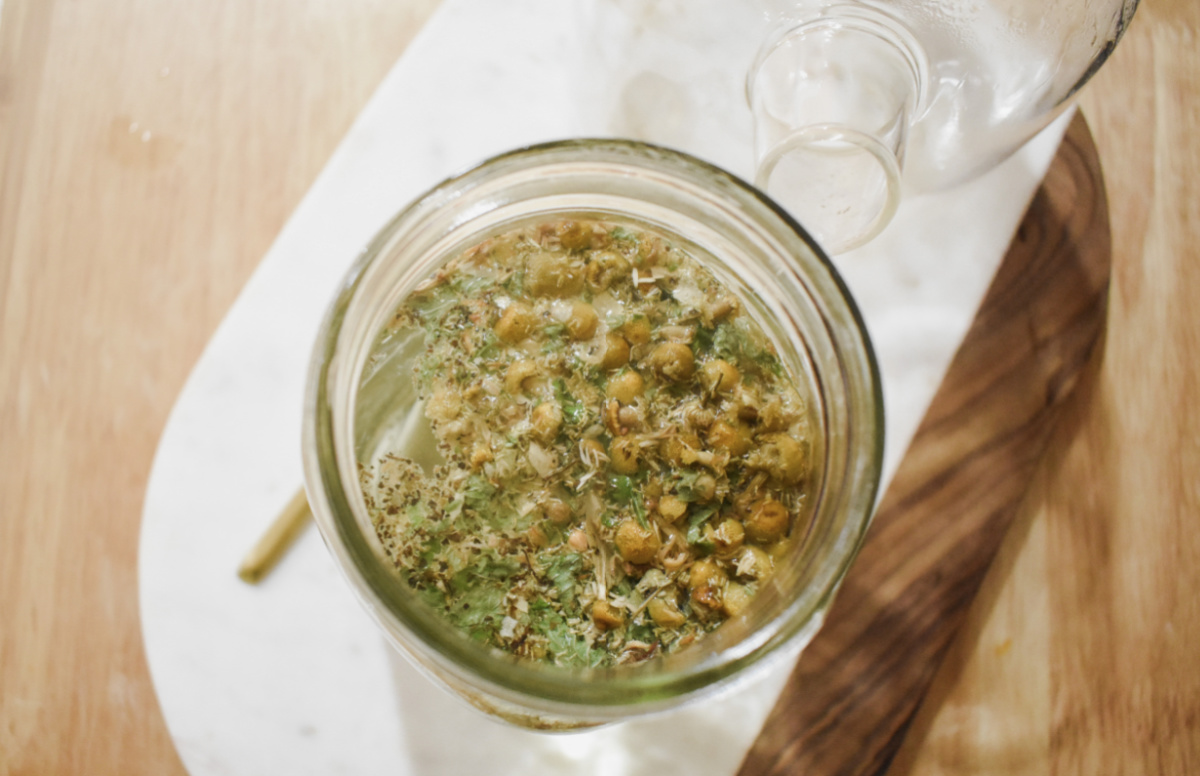 Chamomile Hot Toddy
The uplifting floral-fruity flavors of chamomile
(Matricaria recutita)
in this toddy are sure to lift your spirits when you're not feeling well.
Ingredients
1 tbsp chamomile (Matricaria recutita) flowers
8oz water
1 glob of honey (to taste)
¼ lemon
1 approximate ounce of bourbon
Directions
Steep the chamomile flowers in hot water to make tea. 
Remove and express the flowers once it has brewed. 
Add about an ounce of bourbon
Squeeze in your lemon.
Add honey to taste. 
Stir and enjoy.
Chamomile is a cheerful plant ally that can both promote and curb sweating, an important factor in body temperature regulation when coping with fevers (Wood, 1997). Its antimicrobial and vulnerary actions make it reliable in addressing pathogenic microorganisms. Chamomile can also help rid the body of excess mucus in the sinuses (Hoffmann, 2003). 
In Closing,
These were the winners of my taste kitchen experiments in creating herbal hot toddies. It makes me warm and fuzzy inside to be able to build on this family tradition and share my ideas for a new twist on an old favorite. I hope that you try one or all of these, and I also strongly encourage you to experiment with other herbs that you enjoy and can access.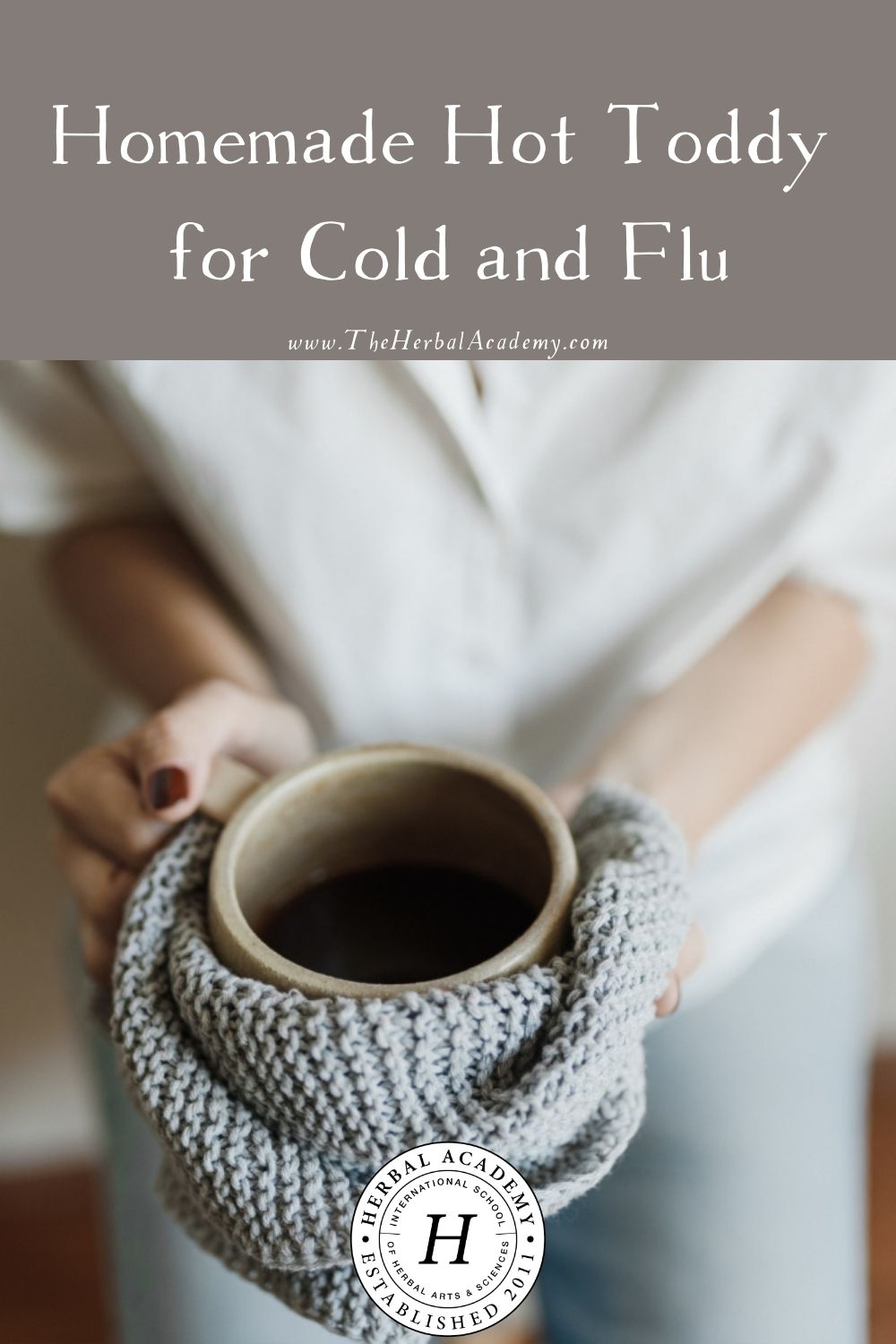 REFERENCES
Chevallier, A. (2000). Encyclopedia of herbal medicine: The definitive reference to 550 herbs and remedies for common ailments. New York, NY: Dorling Kindersley.
Hines, N. (2017). The history of the hot toddy [Website]. Retrieved from https://vinepair.com/articles/history-of-hot-toddy/
Hoffmann, D. (2003). Medical herbalism: The science and practice of herbal medicine. Rochester, VT: Healing Arts Press.
Wood, M. (1997). The book of herbal wisdom. Berkeley, CA: North Atlantic Books.