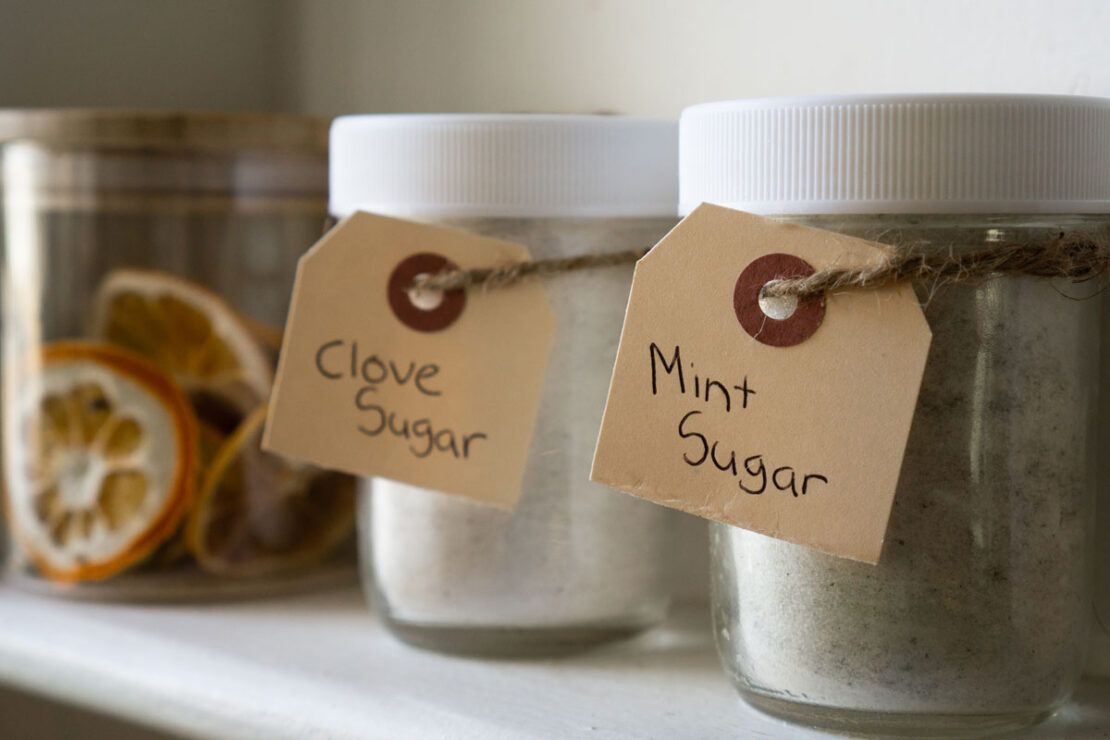 Winter means spending more time indoors, but that doesn't mean we can't enjoy the abundance from our herb garden long after the last bloom and the first frost. Many of us feel the need to surround ourselves with comfort when snow blankets the ground and the weather turns cold. Baking in the kitchen is one of my favorite ways to keep my toes warm by the oven, my hands busy, and my senses delighted (there's nothing like the smell of fresh-baked lavender brownies) during the wintertime. What better way to enjoy herbs from your garden than with herbal sugars for baking? 
Are you ready for a game-changer in your baking? 
Adding fragrant, flavorful herbal sugars to your favorite wintertime recipes will change the way you bake! Similar to high-end herbal salts and infused extracts, herbal sugars can intensify the flavors in your baking. Bread, cookies, tarts, hot cocoa, or tea make the perfect palette for herbal sugars. And many types of herbal-infused sugars can be made at home with ingredients you already have on-hand. Keep this project in mind during the holidays as a last-minute gift idea that you—and your recipient—won't soon forget. 
Which Herbs are Best in Herbal Sugars?
When it comes to choosing herbs for herbal sugars, look to those often found in your spice or tea cupboard. To get you started on the right path, here are five herbs that can give an extra boost of flavor to a variety of beverages, dishes, and desserts. Each is surprisingly simple to create with our recipes, below, and will make a wonderful addition to your kitchen staples. 
Lavender (
Lavandula
spp.) buds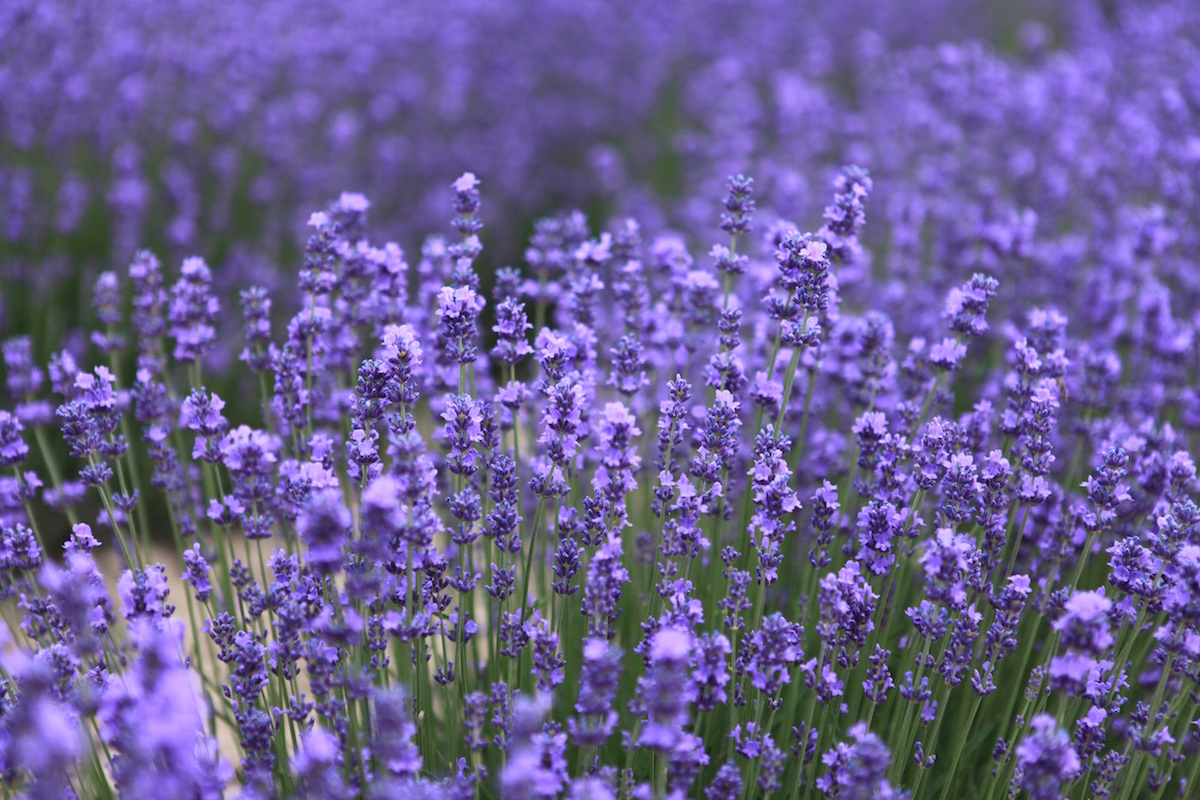 Hailed from the "lavender alps" and washed in the rich hues of purple and pink of southern France, lavender is one of the most well-known herbs. In fact, I think it's safe to say that everyone has encountered the scent of lavender, be it in a soap, sachet, or a bundle of dried lavender itself. Yet, few in my experience have ever tasted it. While the largest percentage of lavender blooms harvested today go into the production of perfume and fragrance products, a small percentage are cultivated for culinary use. Lavender's flowers and leaves are used in bread, teas, vinegar, salads, jellies, and various confectionaries (Kowalchik et al., 1987). 
Peppermint (
Mentha
×
Piperita
) leaf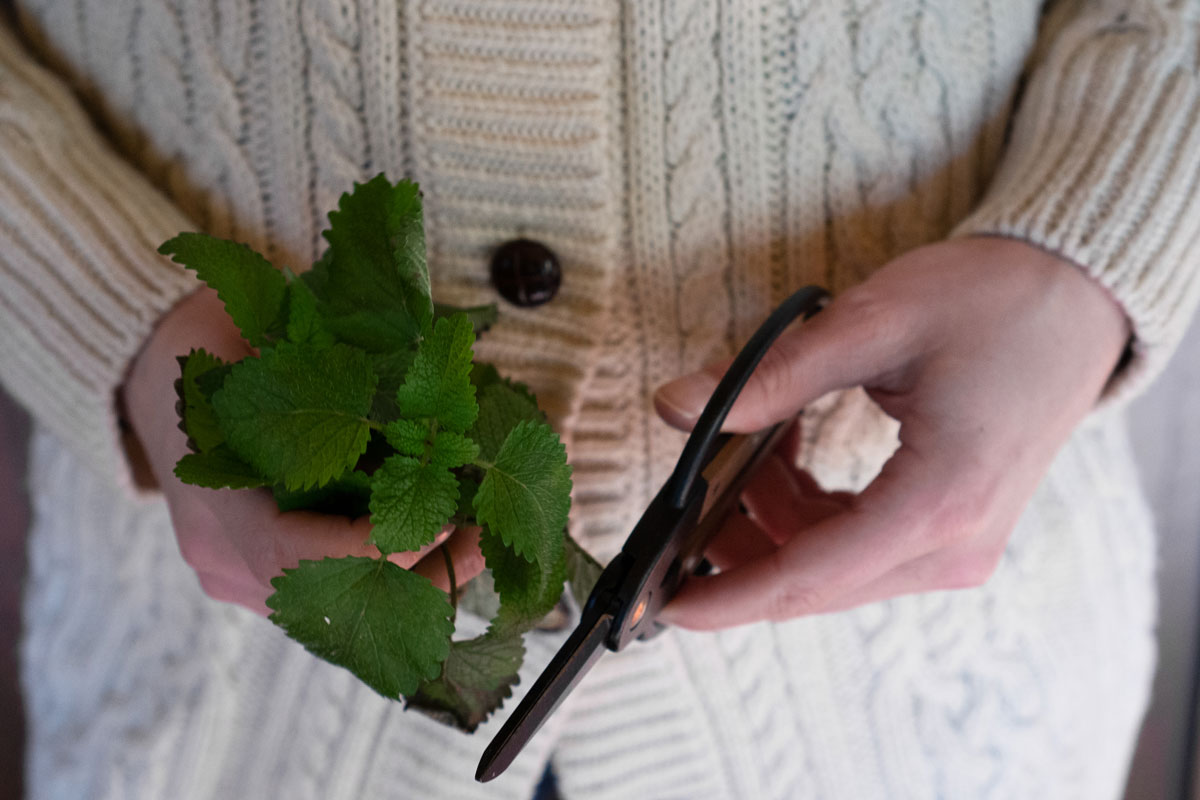 Recognized for its strong, uniquely fresh aroma and taste, peppermint is a cool blast to the senses. Peppermint leaf is the part that's traditionally used, and it contains magnesium, phosphorus, calcium, iron, niacin, potassium, riboflavin, vitamins A, and C to name a few (Edwards, 2000). With a rich history of herbal use, peppermint makes quite a splash today in all types of edible products, including beverages, pestos, jellies, and ice cream (Kowalchik et al., 1987). It's perhaps used most notably for flavoring candy and gum. 
Rose (
Rosa
spp.) hips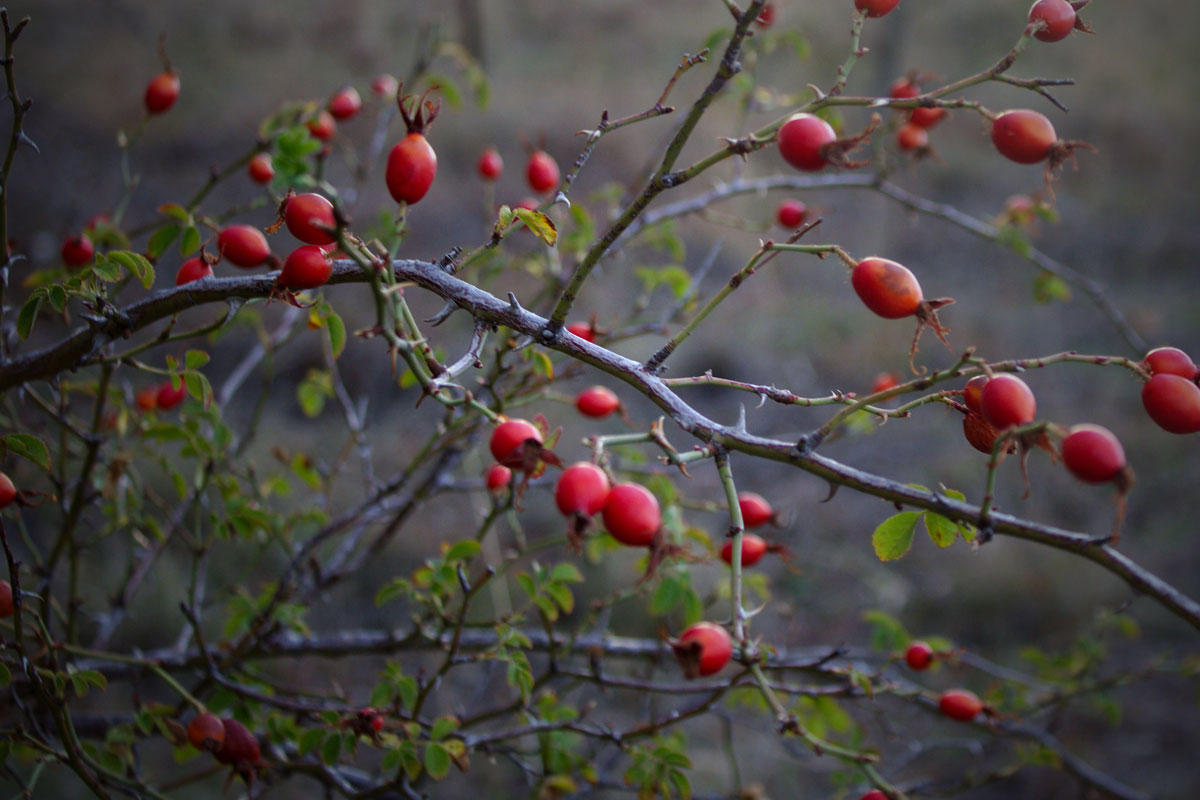 Loved around the world, the rose is a timeless symbol of love and beauty. Yet, similar to lavender, many are unaware that it bears fruit. Rosehip is a berry-like hard hip that contains true fruit (Kowalchik et al., 1987). The hips vary in size and turn from green to yellow and then shades of pink and red. Interestingly, 1 serving size of dried rose hips (100 grams) contains about 68% of the recommended daily value for vitamin C and 63% vitamin A (SELF Nutrition Data, n.d.).
Many refer to the taste of rosehip as tart, similar to that of cranberry, and it can be substituted in recipes that call for cranberries. You'll find rosehips in wine and tea, syrups, jams and jellies, as well as pies, muffins, and bread. 
Clove (
Syzygium aromaticum
) buds
Did you know that what most of us consider as whole cloves are actually the immature flower buds of the plant? Found in small clusters, the buds shift in color from pale green to red as they mature and bear triangular sepals at their tips (Royal Botanic Gardens of Kew, n.d.). Maturity aside, clove was historically used in ancient China to freshen the breath before appearing in front of the emperor (Brooks, 2017). Therefore it should come as no surprise that it is still used today as a breath freshener in candied mints,chewing gum, and even some toothpastes. 
Many think of Christmas ham when they hear of whole cloves, as it is poked into the sides of ham for added flavor. Others may bring to mind mulled wine shared during the fall and winter months. Cloves' sharp, distinctive flavor is one not to miss in widely popular pumpkin spice! From America's favorite pie (pumpkin!) to our pumpkin spice latte obsession, clove is a warming herb cherished during the cooler months. It's also one you'll certainly want to make herbal sugars with! 
Spearmint (
Mentha spicata
) leaf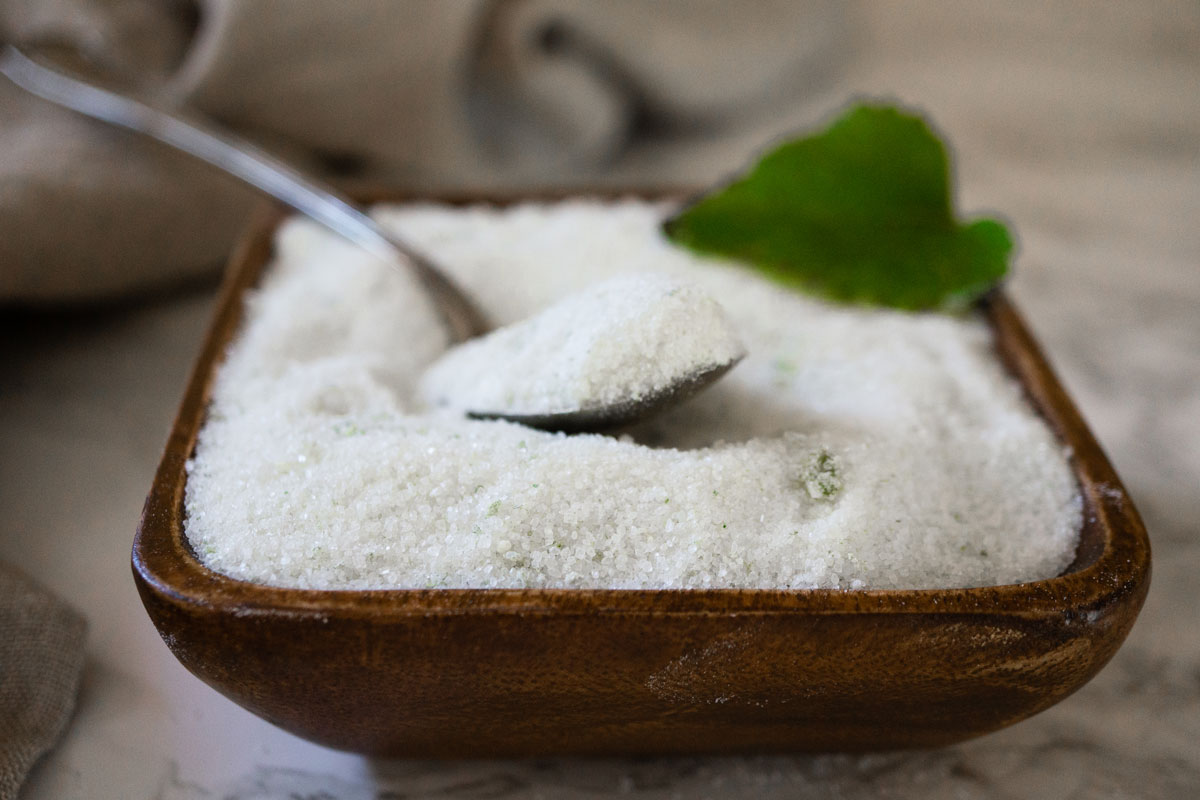 Easily recognized by its cool, refreshing, and classic minty aroma, spearmint, like many members of the mint family, spreads easily in the garden (Flora of China, 2008). I often find it growing several feet away from where I planted it in my herb garden. For this reason, many herbalists see it as an invader, its vines growing out like soldiers on a war march. But, I find it a delightful surprise, as I love to add its leaves to my lemonade and sweet tea in the summer. 
As it so happens, I'm not the only one who enjoys adding spearmint to my drinks. In the 1800s following the birth of Kentucky straight bourbon, the art of the mint julep came to rise (Kowalchik et al., 1987) and was touted as a sophisticated drink for southern gentlemen. Which type of mint is used in a mint julep? None other than spearmint! It has a milder flavor compared with peppermint. And when you combine it with sugar, bourbon, water, and crushed ice you have yourself a sophisticated cocktail still prized to this day. A quick search on Google for a mint julep will result in over 10 million entries! 
Outside of beverages, spearmint is used to enhance fish, meat, and vegetable dishes including new potatoes, split pea soup, and lamb. Similar to its cousin peppermint, spearmint has also made its way into jellies, chocolates, chewing gum, and other candies. 
Herbal Sugar Storage and Gift Ideas
How are herbal sugars best stored? The recipes below make one cup of sugar and can be stored for several months. You'll want to store each in an airtight container as you would any other kitchen staple. I prefer clear jars as herbal sugars are as pretty as bath salts in a jar. With a simple ribbon and labeled tag, they make a lovely, unique last-minute gift. Herbalists and foodies alike will appreciate this sweet and simple gift idea!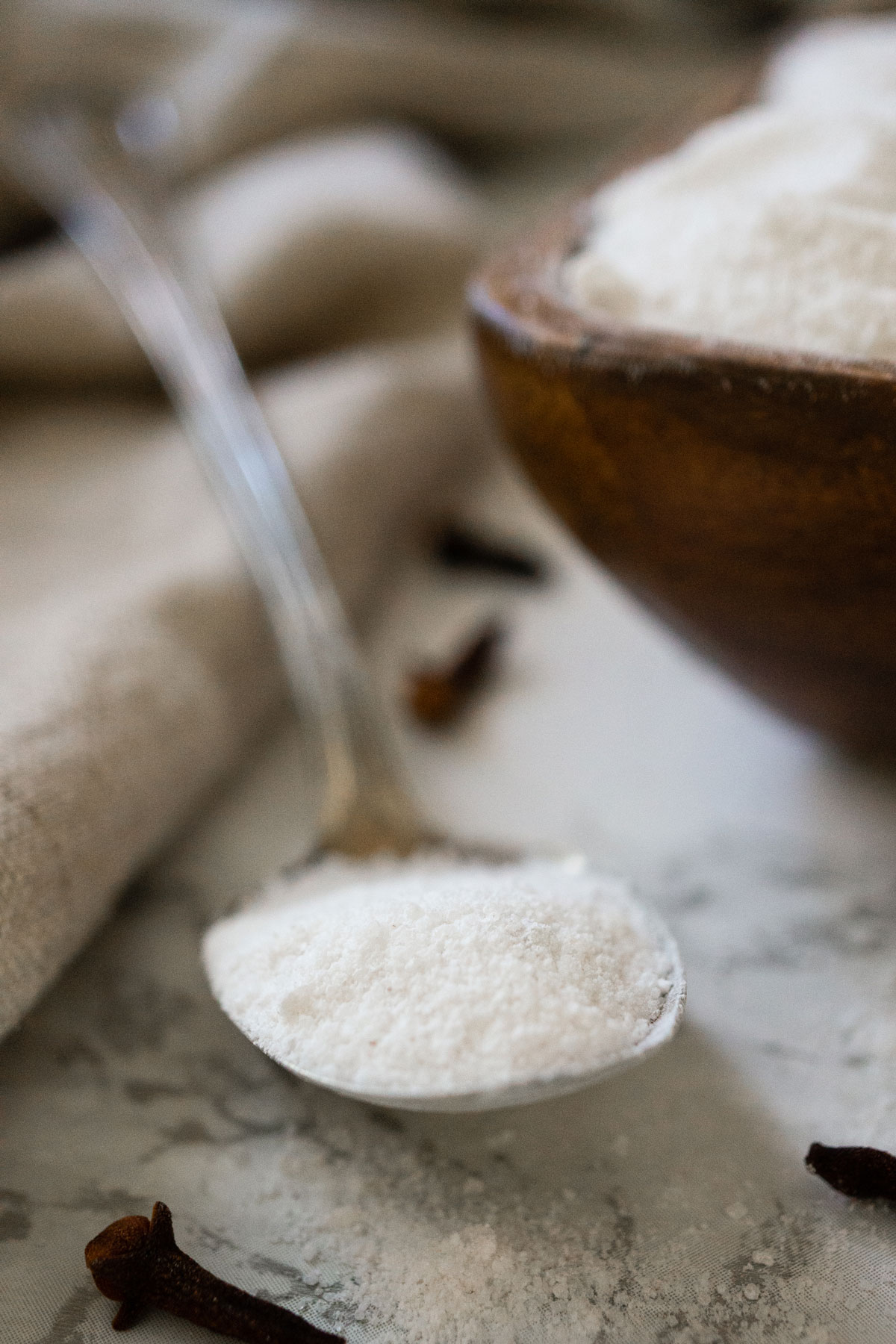 Here's How to Make this Herbal Game-Changer in the Kitchen
This herbal game-changer is impossible to mess up and the possibilities are, well, endless! Combine different herbs with different types of sugar. Choose from:

whole cane sugar

coconut sugar

turbinado sugar 

brown sugar

granulated sugar
Another option is to blend more than one herb into your sugar choice to suit your taste buds. You might just never make the same herbal sugar twice. 
The recipes below are easy to double for a larger amount or a single cup can be divided into several small spice jars to make a handful of sweet gifts from the kitchen. But truth be told, I have a hard time not keeping them all to myself! After you've processed the herbs and sugar granules into a fine sugar, you can infuse just about anything with a unique flavor. Let's get started! 
Recipe Notes: 
Dried or fresh herbs may be used to make herbal sugars. 

Herbal sugars can be used immediately or stored for 48 hours to increase the flavor and aroma.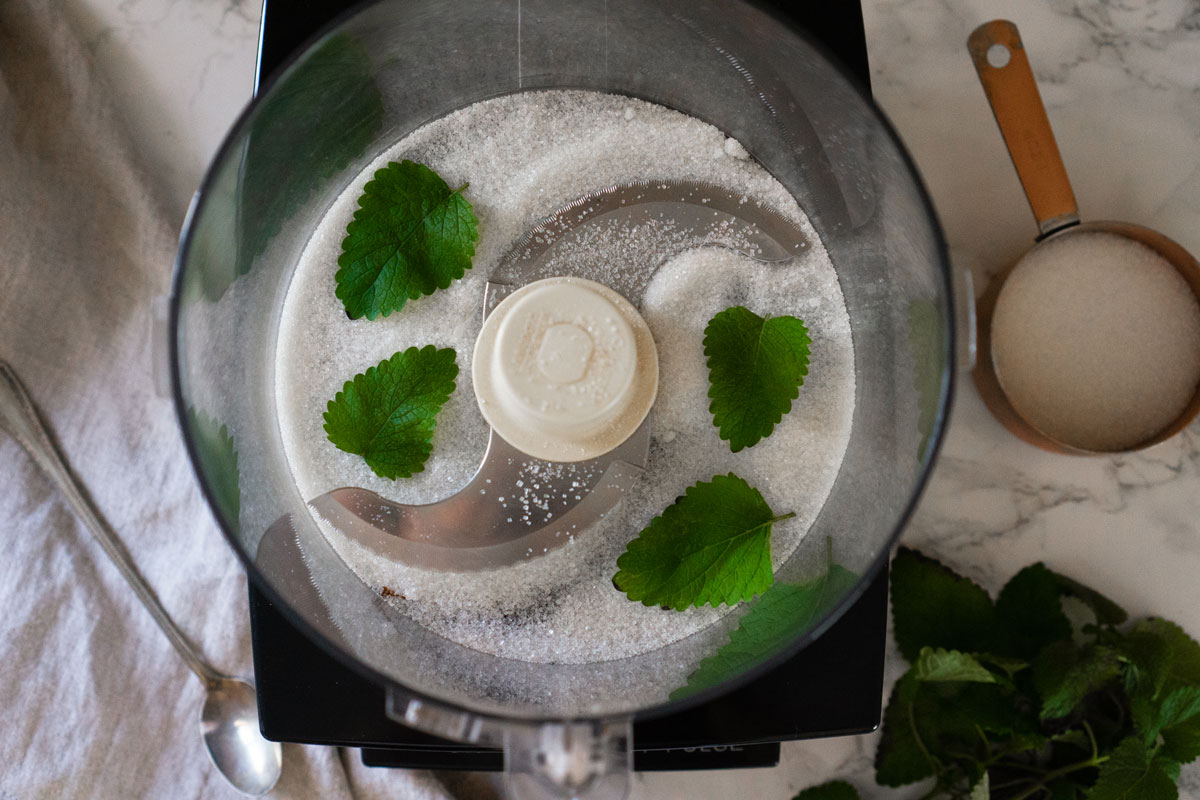 Mint Herbal Sugars
Mint sugar is delicious sprinkled on fresh fruit or stirred into hot chocolate in winter and iced tea in summer. Before you know it, you'll find yourself sprinkling mint sugar on all sorts of homemade treats! Yield: 1 cup.
Ingredients
4 peppermint (Mentha x piperita) or spearmint (Mentha spicata) leaves
1 cup sugar 
Directions
Pour ¼ cup of sugar into a food processor. Add mint leaves and process on the chop setting for 10 to 20 seconds to finely chop leaves into the sugar.

Add an additional ¼ cup of sugar and process for another 15 seconds.

Repeat, adding remaining sugar a ¼ cup at a time until a fine grain mint herbal sugar is created. 

Pour the mint herb sugar into an airtight container and store in a cool, dry place for up to two months.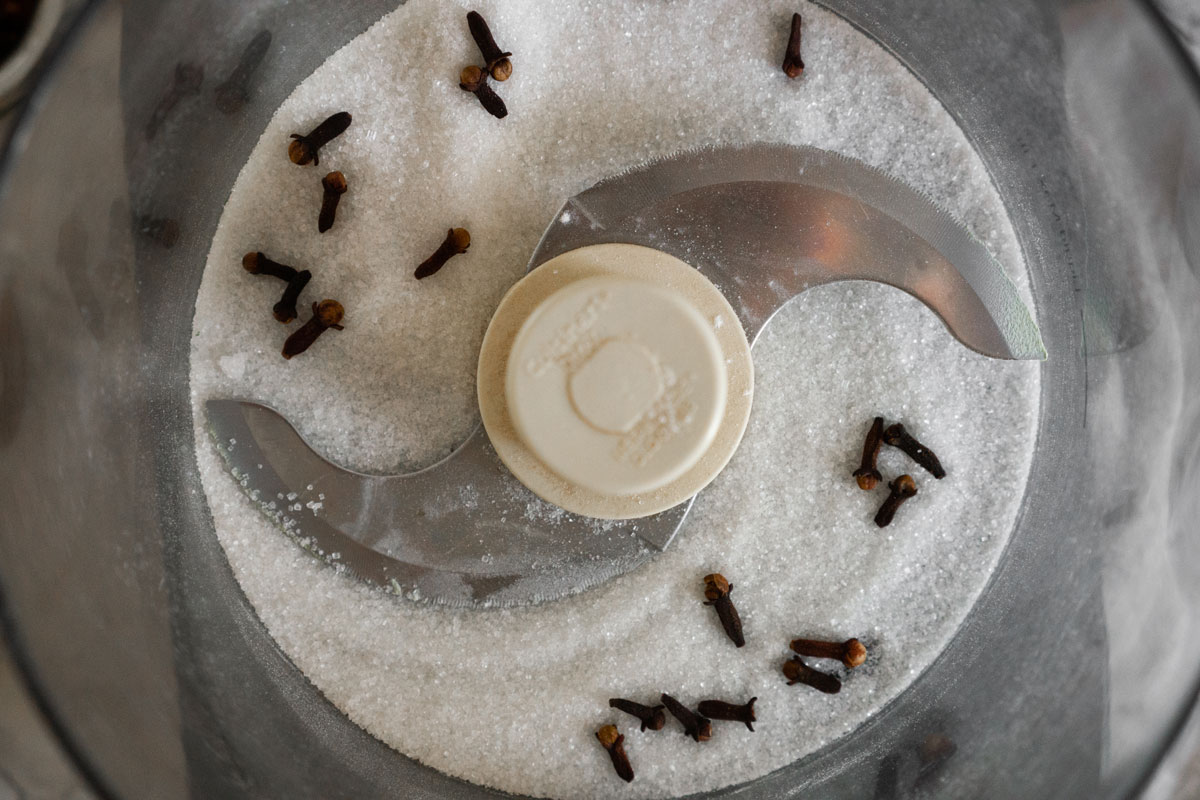 Rosehip or Clove Herbal Sugars
Rosehip sugar is a perfect addition to rose latte blended with vanilla and topped with dried rose petals. As for clove sugar, you'll find it adds a wonderful taste of spice to cinnamon rolls, pumpkin bread, and other cold weather favorites. Yield: 1 cup.
Ingredients
1 teaspoon rose (Rosa spp.) hips or whole clove (Syzygium aromaticum) buds
1 cup sugar 
Directions
Pour ¼ cup of sugar into a food processor. Add 1 teaspoon of herbs and process on the chop setting for 10 to 20 seconds to finely chop herbs into sugar.

Add an additional ¼ cup of sugar and process for another 15 seconds.

Repeat, adding remaining sugar a ¼ cup at a time until a fine grain herbal sugar is created. 

Pour the herbal sugar into an airtight container and store in a cool, dry place for up to two months. 
Lavender Herbal Sugar
Lavender sugar will lovingly make its way to your buttery shortbread, sweet vanilla cupcakes, and rich chocolate brownies recipes with its familiar soft floral scent. As well as becoming a staple in your basic honey wheat bread recipe.  Lavender sugar has a unique taste you won't soon forget! Yield: 1 cup.
Ingredients
2 teaspoons lavender (Lavandula spp.) buds
1 cup sugar 
Directions
Pour 1 cup of sugar into a small bowl. Add 2 teaspoons of lavender buds and whisk to thoroughly combine.

Pour the lavender sugar into an airtight container and store in a cool, dry place for up to two months.

  
How to Use Herbal Sugars For Baking
Using herbal sugars for baking is very simple. These flavorful, herbal-infused sugars can be used in nearly any recipe. Simply replace the sugar in a recipe for an herbal sugar of the same type. For example, if a recipe calls for 2 cups of brown sugar, replace it with 2 cups of your herbal-infused brown sugar.
Other options include sprinkling over rolled-out cookie dough or pie crusts. You can also sprinkle herbal sugars over a hot bowl of oatmeal, create sugar rims for cocktails, or add a teaspoon to hot cocoa, tea, or cider. 
Quite possibly what we love most about herbal sugars is that you only need a few simple ingredients to make each. And all can be customized to suit your taste and used in a variety of ways. No matter what type of herbal sugars you create, each is a treat to bake with a game-changing ingredient in your recipes for years to come. We know you'll find they make the perfect last-minute gift for the baker or herbalist in your life, for all occasions. 
Try substituting your herbal sugar for regular sugar in one of these cookie recipes!

Floral Cookies
Sunbutter Cookies: A Tasty Winter Treat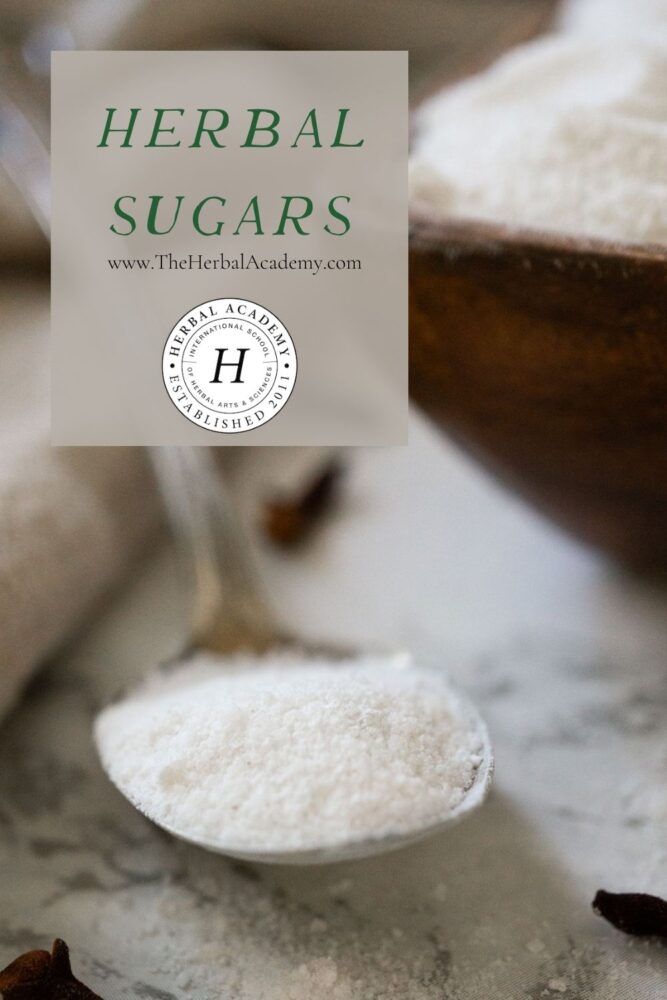 REFERENCES
Boskabady, M.H., Shafei, M.N., Saberi, Z., & Amini, S. (2011). Pharmacological effects of Rosa damascena. Iran Journal of Basic Medical Science, 14(4, 295–307.
Brooks, L. (2017). The herbal apothecary. Morton Grove, IL: Publications International Ltd.
Edwards, G.F. (2000). Opening our wild hearts to the healing herbs. Woodstock, NY: Ash Tree Publishing.
Flora of China. (2008). Mentha spicata Linnaeus. Missouri Botanical Garden & Harvard University Herbaria. Retrieved from http://www.efloras.org/florataxon.aspx?flora_id=2&taxon_id=200019821
Kowalchik, C., Hylton, W.H., & Carr, A. (1987). Rodale's illustrated encyclopedia of herbs. Emmaus, PA: Rodale Press.
Royal Botanic Gardens of Kew. (n.d.). Syzygium aromaticum L. Plants of the world online [Database]. Retrieved from http://www.plantsoftheworldonline.org/taxon/urn:lsid:ipni.org:names:601421-1
SELF Nutrition Data. (n.d). Rose hip dried nutrition facts and calories. [Database] Retrieved from http://nutritiondata.self.com/facts/custom/2340250/2?quantity=0.15