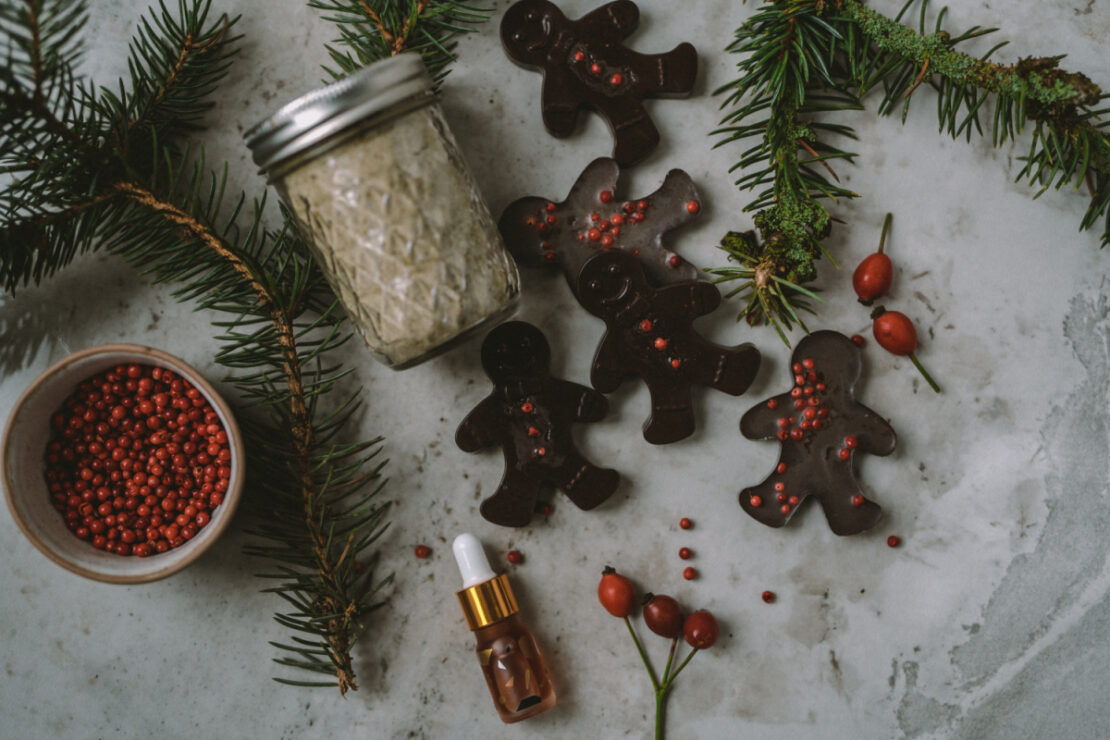 3 DIY Herbal Skincare Gifts for the Holiday Season
As this year is coming to an end, we are busy getting ready for the holidays. To show appreciation for our loved ones in a more meaningful way, creating DIY herbal skincare gifts during the holiday season is a wonderful option! Furthermore, it is a great opportunity to take time for yourself to slow down and enjoy the creative process. These three DIY herbal wellness product ideas are amazing holiday gifts for your friends and family, or even just a lovely treat for yourself over the holidays!

3 DIY Herbal Skincare Gifts
Christmas Tree Bath Powder
The scent of evergreens evokes a festive, seasonal feeling for many. How about bathing in it? This Christmas Tree Bath Powder comes with moistening, soothing and relaxing ingredients and smells like a cozy Christmas Eve. Definitely a treat for mind and body throughout the holidays and a great option for skincare gifts for your family and friends!
Powdered Oats
This simple ingredient has a reliably soothing effect, leaving your skin feeling moisturized and nourished (Kurtz & Wallo, 2007). When ground and soaked in water, oats create a thick, soothing demulcent emollient that is perfect to create a milky bath and calm dry, irritated, or itchy skin (Romm, 2003).

Epsom Salt
A magnesium salt, also called Epsom or bitter salt, can be particularly helpful for soothing muscular pain or tension and joint inflammation, as this mineral gets absorbed through the skin (Low Dog, 2016). It's beneficial for overall recovery, leaving you feeling wonderfully relaxed over the busy holidays.

Spruce Needles
The smell of spruce after a good rain is soothing and reminiscent of nature in its purest form— the same if used in a bathtub. In addition, the containing volatile oils allow you to breathe freely and also soothe the spirit, leaving you feeling calm and grounded.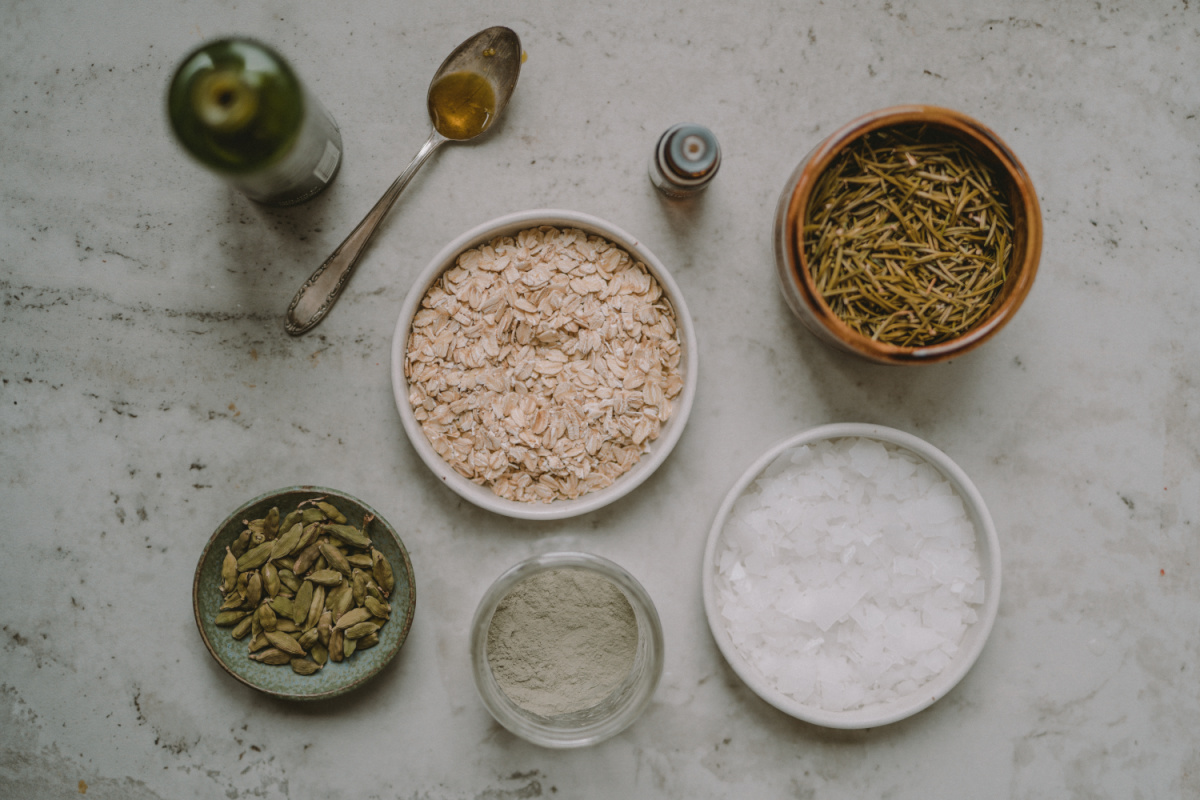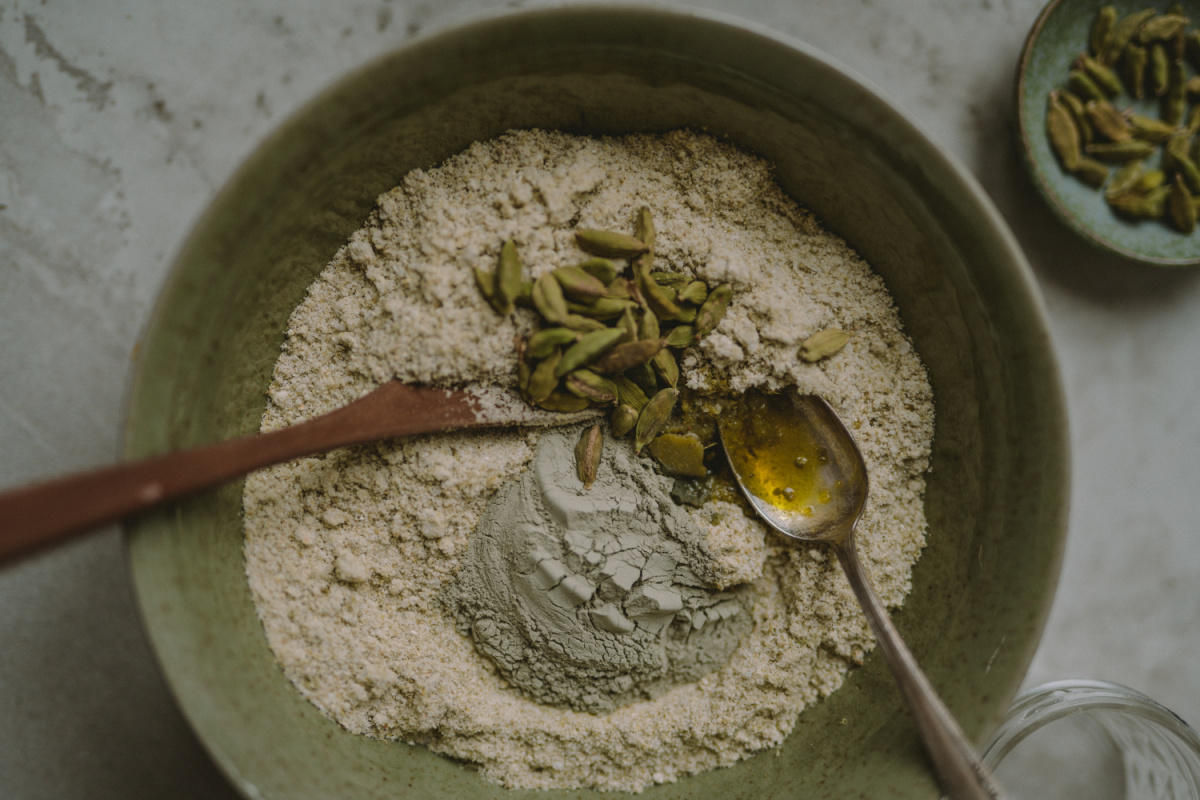 Green Clay 
Clay powders can be used to cleanse, nourish, exfoliate, and purify the skin, drawing out excess oil and impurities (Williams & Haydel, 2010). Green clay is even more detoxifying and toning, but any other clay would work too.

Olive Oil 
As a carrier oil, olive oil moisturizes without adding heaviness and works great for all skin types.

Pine Essential Oil
To add an uplifting and clearing scent that gets you in the holiday mood, this essential oil is a great choice. Pine is traditionally known as a support for coughs, colds, allergies, and urinary tract and sinus infections. Topically, pine is used to address skin infections and to lessen joint inflammation in arthritic conditions (Moore, 2003). Of course, it is always a good idea to be mindful of essential oil safety. You can read this post, A Guide to Essential Oil Safety if you are looking for an overview of essential oil safety.

Cardamom 
To finish up this blend, cardamom (Elettaria cardamomum) seed pods add not only a lovely festive smell to the mixture but also make this powder mix even more beautiful!
This herb fully unfolds its aromatic, moving, and relaxant properties when added to the warm bath water, creating a wonderfully comforting atmosphere.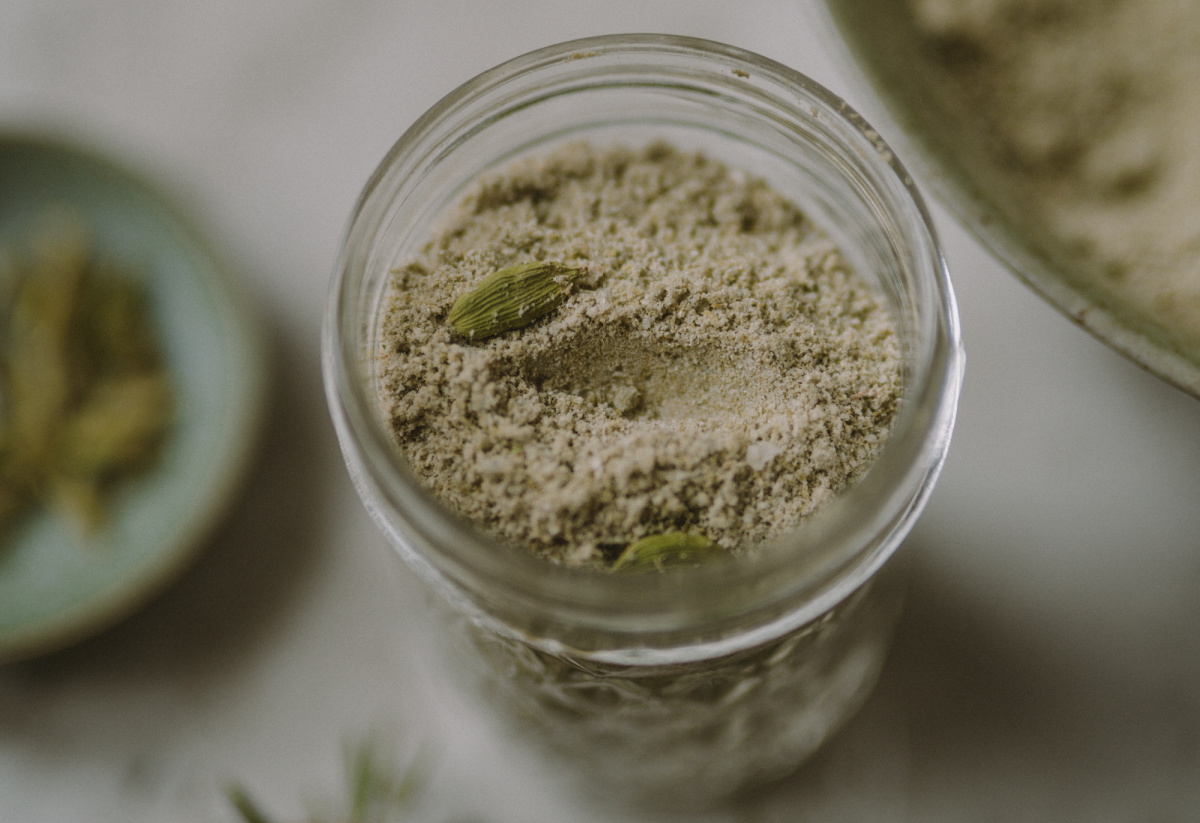 Christmas Tree Bath Powder
This lovely bath powder is a great addition to your hot bath ritual and a festive way to relax and soothe stress away! Yield: 9-ounce container. 

Ingredients
1/2 cup oats
1 cup Epsom salt flakes
1/2 cup spruce (Picea ssp.) needles, dried
1/2 cup green clay
1 teaspoon olive oil
10 drops pine (Pinus ssp.) essential oil
1 tablespoon cardamom (Elettaria cardamomum) seed pods
Directions
Add the oats, salt flakes, and dried spruce needles to a high-speed blender. Blend on high until you have a fine powder. 
Add the powder to a bowl, then stir in the green clay, olive oil, essential oil, and cardamom pods. Combine well.
To Store: Place the powder in a jar, label it, and store it in a cool dark place. 
To Use: Take out 4-6 tablespoons of the bath powder into your hot bathwater. Make sure to rinse your body off well at the end of the bath, and rinse all of the sediment down the drain. If your tub piping is sensitive, consider using the powder in a cloth.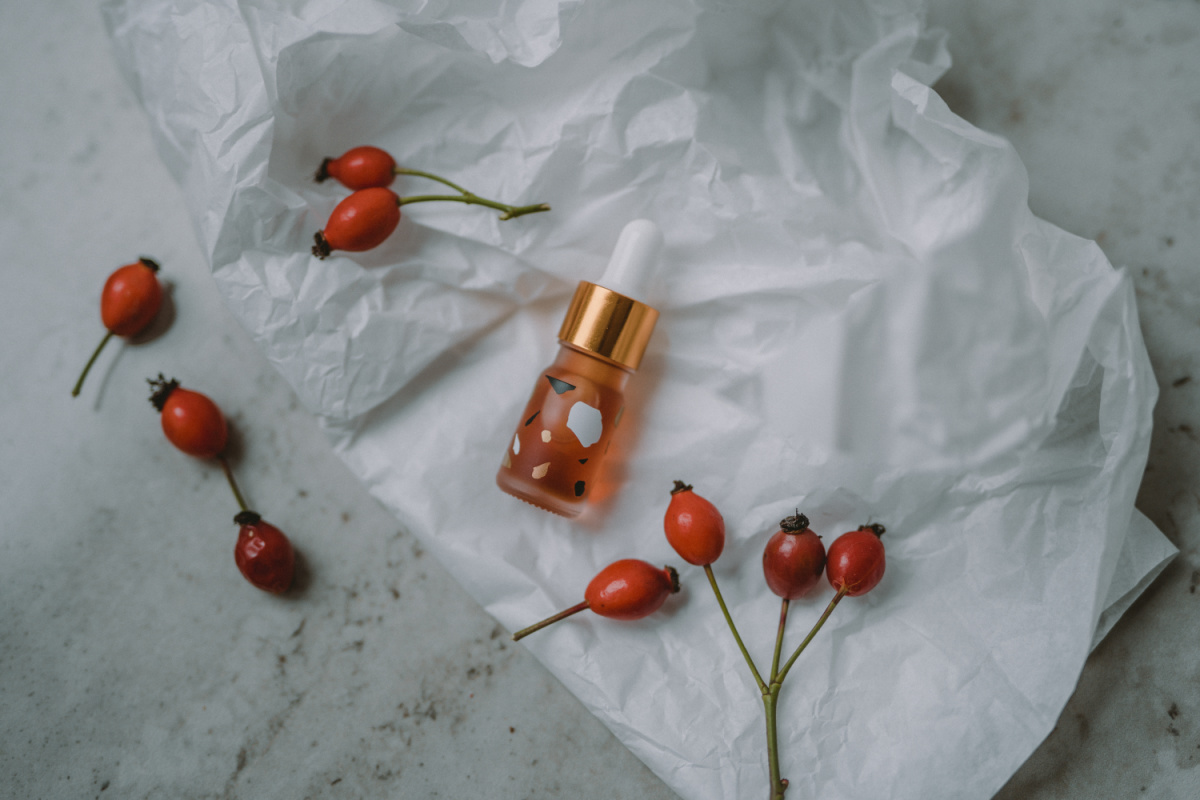 Rosehip Face Serum
For everyone who struggles with keeping their face feeling fresh and moisturized during the cold winter season, this powerful serum will be a true blessing, and creating it as part of your DIY skincare gifts this season will bless your loved ones too!

Rosehip Seed Oil & Sea Buckthorn Seed Oil

These deeply nourishing seed oils are rich in unsaturated fatty acids, which help to decrease inflammation and boost overall skin health. The containing vitamin A and C help to delay the effects of skin aging, assists with cell regeneration, and increases collagen and elastin levels (Concha et al., 2004).

Besides that, sea buckthorn seed oil adds a lovely golden tint to the blend, which leaves your skin looking naturally sun-kissed and healthy.

Alkanet 
This colorful root adds a special red color to the blend, creating a perfect holiday look! However, rest-assured, the small amount of red tint of the oil, used in this recipe, will not leave any redness on your skin. Furthermore, alkanet has antimicrobial, demulcent, and vulnerary qualities, making it an excellent addition to the serum (Miczak, 2001).

Vitamin E Oil
As a powerful antioxidant, vitamin E helps to stabilize cell membranes and prevent oxidation to the fatty acids found in the skin. This inhibits collagen cross-linking which contributes to the appearance of aging (Schagen et al., 2012).

Rose Geranium Essential Oil
This essential oil not only adds a beautiful smell to the blend, but its antibacterial, antimicrobial, and antiseptic properties make it beneficial for reducing breakouts and skin irritation in general (Orchard et al., 2017).
Rosehip Face Serum
This beautiful herbal oil blend, full of vitamins and antioxidants, will provide extra anti-inflammatory support to calm & nourish the skin, creating a glowing and supple face!
Ingredients
2 tablespoons rosehip (Rosa canina) seed oil
1 tablespoon sea buckthorn (Hippophae rhamnoides) seed oil
1 tablespoon dried alkanet (Alkanna tinctoria)
¼ teaspoon vitamin E oil
5-10 drops geranium (Geranium) essential oil
Directions
Place the alkanet and rosehip seed oil in a jar. The red pigments of the alkanet root will begin to saturate the oil immediately. You can adjust the time of infusion based on the depth of color you would like to achieve. (It's not meant to be strong enough to leave a red color on the face, just to tint the oil red for the appearance of the serum. About 30-60 minutes should be enough.) 
Strain with a sieve or cloth.
Combine the alkanet-infused rosehip seed oil with the remaining ingredients (sea buckthorn seed oil, vitamin E oil, geranium essential oil). 
To Store: Place the oil blend in a small glass dropper bottle.
To Use: Apply 1-2 drops onto the face or mix with your favorite face oil or moisturizer.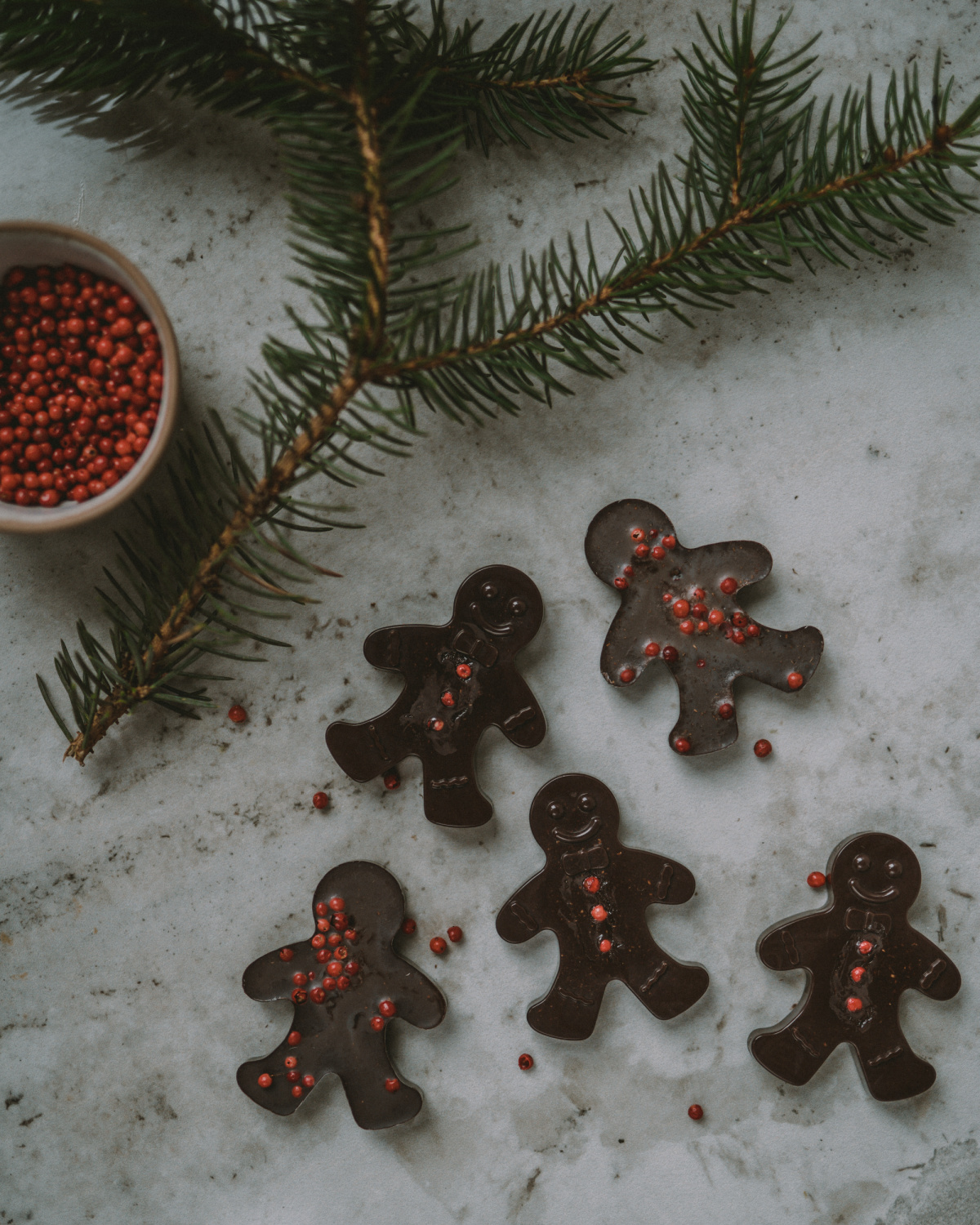 Gingerbread Chocolate Bath Melt
This recipe might be too delicious to only use it for bathing and as part of making your DIY skincare gifts—it's also perfect for all the chocolate lovers and sweet tooths out there! 
Cocoa Butter & Coconut Oil
These two ingredients are often used for winter holiday desserts but also work wonderfully to treat the skin from the outside. They are known to nourish the skin and improve elasticity. The fat in these two solid seed oils forms a protective barrier over the skin to hold in moisture.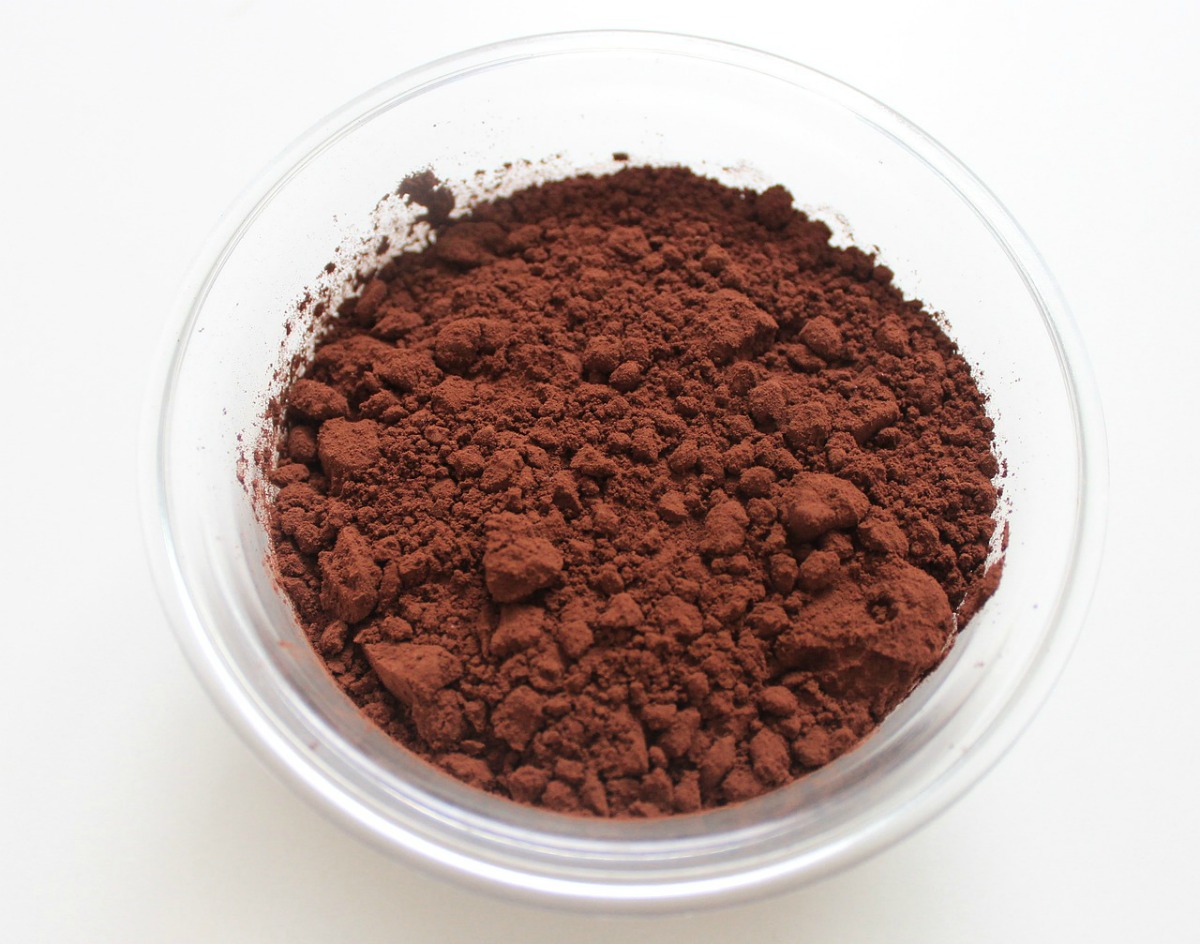 Cocoa Powder
Chocolate is not only a delicious holiday treat—pure cocoa powder is rich in antioxidants, essential fatty acids and nutrients, which fight free radicals and can support the renewal of skin cells.
Gingerbread Spices
Warming herbs such as cloves, allspice, nutmeg, ginger, cinnamon, and red peppercorn can help the body feel comfortable, and the scent will lift your mood. 
Pink peppercorns (Schinus terebinthifolia)
Pink Pepper is the fruit of the Brazilian pepper tree. The berries have a pleasant fruity aroma with "woody" tones of pine needles. In terms of taste, the pink pepper is not at all spicy like regular black pepper and tastes resinous, fruity almost a little like the juniper berry.
It's important to note that the fruit has an allergen possibility, especially from repeat exposure to skin. For anyone with allergies to cashew, mango, or severe reactions to poison ivy or poison oak, this ingredient should be avoided.
Gingerbread Chocolate Bath Melt
The emollient cocoa butter and flavorful gingerbread spices create a truly silky and skin-soothing delight! A perfect option as part of your DIY skincare gifts this season. Yield: 6 Bath Melts.
Ingredients
100 grams cocoa butter
3 tablespoons coconut oil
1 tablespoon cocoa powder
1 teaspoon pink peppercorns (Schinus terebinthifolia)
1 teaspoon  clove (Syzygium aromaticum) buds, ground
½ teaspoon allspice (Pimenta dioica) berries
½ teaspoon nutmeg (Myristica fragrans) fruit, ground
½ teaspoon ginger (Zingiber officinale) rhizome, ground
2 teaspoons cinnamon (Cinnamomum verum) bark, ground
Optional: 5-10 drops cinnamon, clove or any other essential oil to increase the aroma

Directions
Gently heat the cocoa butter and coconut oil in a double boiler over low heat (or a glass or ceramic bowl over a small saucepan of simmering water) until melted.
Remove from heat and allow to cool down for a few minutes. Then add the cocoa powder, gingerbread spice blend (and essential oils if wanted), and stir to combine.
Once everything is incorporated, pour the mixture into a silicone gingerbread-man mold. You can add the pink peppercorns on top or into the mold. Those with allergies to plants in the cashew family should skip the pink peppercorns (Schinus terebinthifolia) or substitute with another decorative ingredient. 
Allow the bath melts to cool down (best in the refrigerator) before removing from the mold.
To Store: Place in an airtight glass jar and store in a cool and dark place.
To Use:  Add one bath melt to the tub when you begin to draw the hot bathwater.
In Closing,
Creating these skincare gifts and embracing all the lovely seasonal aromas will definitely get you into the holiday mood! Plus, these gifts will be one-of-a-kind you can't buy anywhere! So what are you waiting for? The holidays are around the corner and this is a wonderful opportunity to treat your loved ones with some comfort!
For more inspiration and ideas, check out the Botanical Skin Care Recipe Book, which features 194 favorite tried-and-tested herbal skin care recipes.
Happy Holidays!
For more DIY herbal gifts, check out: 9 Herbal DIYs for the Holidays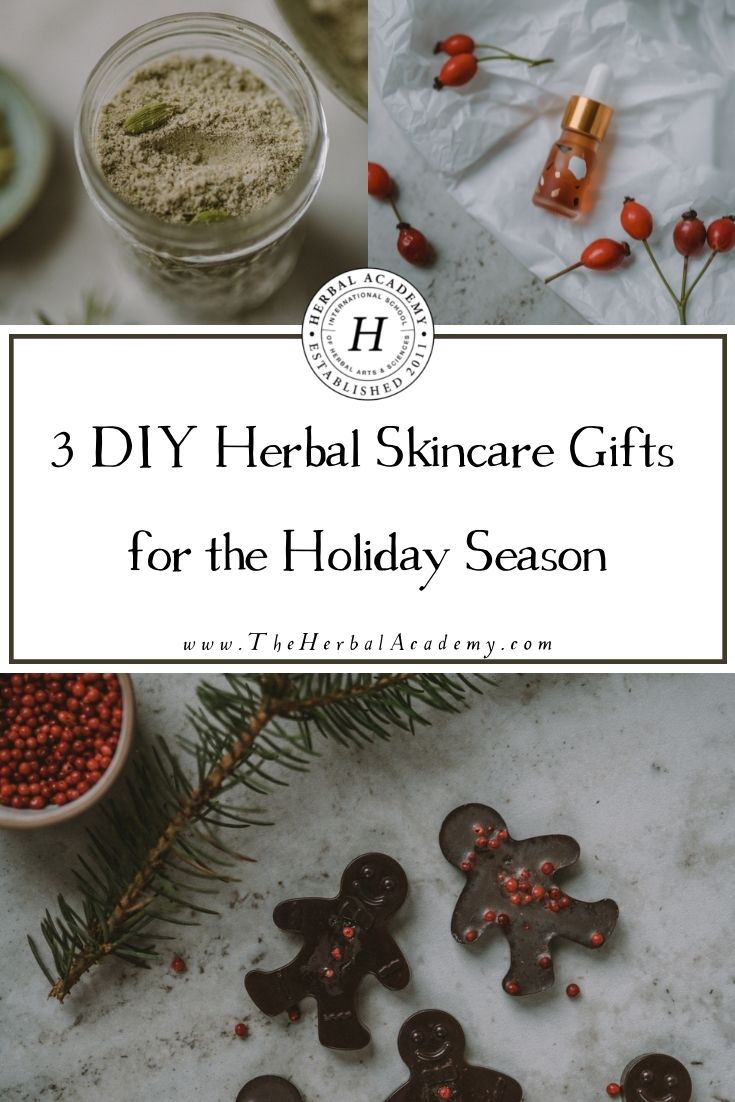 REFERENCES
Concha, J., Soto, C., Chamy, R., & Zuniga, M.E. (2004). Enzymatic pretreatment on rose-hip oil extraction: Hydrolysis and pressing conditions. ​Journal of the American Oil Chemists' Society, 81(6), 549–552.​https://doi.org/10.1007/s11746-006-0939-y
Kurtz, Ellen & Wallo, Warren. (2007). Colloidal Oatmeal: History, Chemistry and Clinical Properties. Journal of drugs in dermatology : JDD. 6. 167-70.
https://www.researchgate.net/publication/6434542_Colloidal_Oatmeal_History_Chemistry_and_Clinical_Properties

Low Dog, T. (2016). Fortify your life. Washington DC: National Geographic Society.
Miczak, M.A. (2001). Henna's secret history: The history, mystery and folklore of henna. San Jose, CA: Writers Club Press.
Moore, M. (2003). Medicinal Plants of the Mountain West. Museum of New Mexico Press.
Orchard A., Van Vuuren S.(2017). Commercial essential oils as potential antimicrobials to treat skin diseases .Evidence-Based Complementary and Alternative Medicine, 2017, 1–92. https://doi.org/10.1155/2017/4517971
Romm, A. (2003). ​Naturally healthy babies and children​. Berkeley, CA: Celestial Arts.
Schagen, S K.., Zampeli, V. A., Makrantonaki, E., & Zouboulis, C. C. (2012). Discovering the link between nutrition and skin aging. Dermato-Endocrinology , 4(3), 298–307.
https://doi.org/10.4161/derm.22876
Williams, L.B., & Haydel, S.E. (2010). Evaluation of the medicinal use of clay minerals as antibacterial agents. International Geology Review, 52(7-8), 745–770. http://doi.org/10.1080/00206811003679737