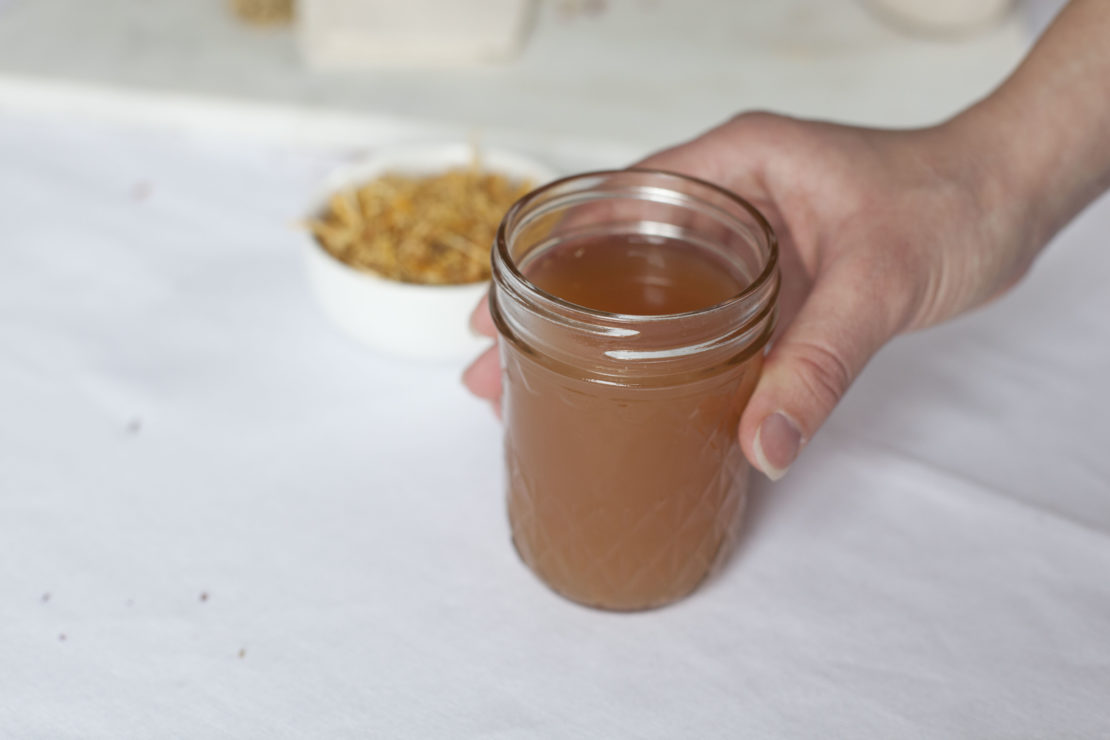 DIY Herbal Pet Shampoo and Rinse for Healthy Skin & Fur
As the ground begins to thaw, we will be spending more time outdoors with our pets enjoying the warmth of early spring.  And, just like us, our pets will be transitioning from the dryness of winter to the freshness of spring. Since different seasons have different effects on skin, pet owners should be aware of any changes in their pets' skin, fur, and coat. To help keep your furry friends clean and healthy, you can rely on this simple herbal dry shampoo and rinse to help maintain a healthy coat.
Important Research and Safety Measures
When it comes to do-it-yourself pet care products, there are two important things to consider:
Proper research regarding ingredients that are pet-safe.

Your intimate knowledge of your pet or pets.
All of the herbs listed for use in the recipes below are considered pet-safe; however, if your dog or cat has specific allergies or sensitivities, their individual needs should always be the top consideration when creating any pet shampoo or rinse. If you have any questions, consult your veterinarian.
Seasonal Concerns
While in the summer your pet might need a deep cleanse or flea treatment, wintertime pets can suffer from dry and itchy skin that requires soothing and hydration.
Now that the weather is finally starting to warm, why not freshen up your pets as part of your spring cleaning rituals. Although both of these recipes are gentle enough for use all year round, remember that cold-weather baths should be limited since over-washing can lead to further dryness and irritation.
According to the ASPCA, "bathing your pets too often can remove necessary oils from their skin and fur, and can increase the chance of skin irritation. Bathe your pets as little as possible during cold snaps" ("Winter Is Here," 2014). Since we are not quite out of the cold yet, proceed with caution.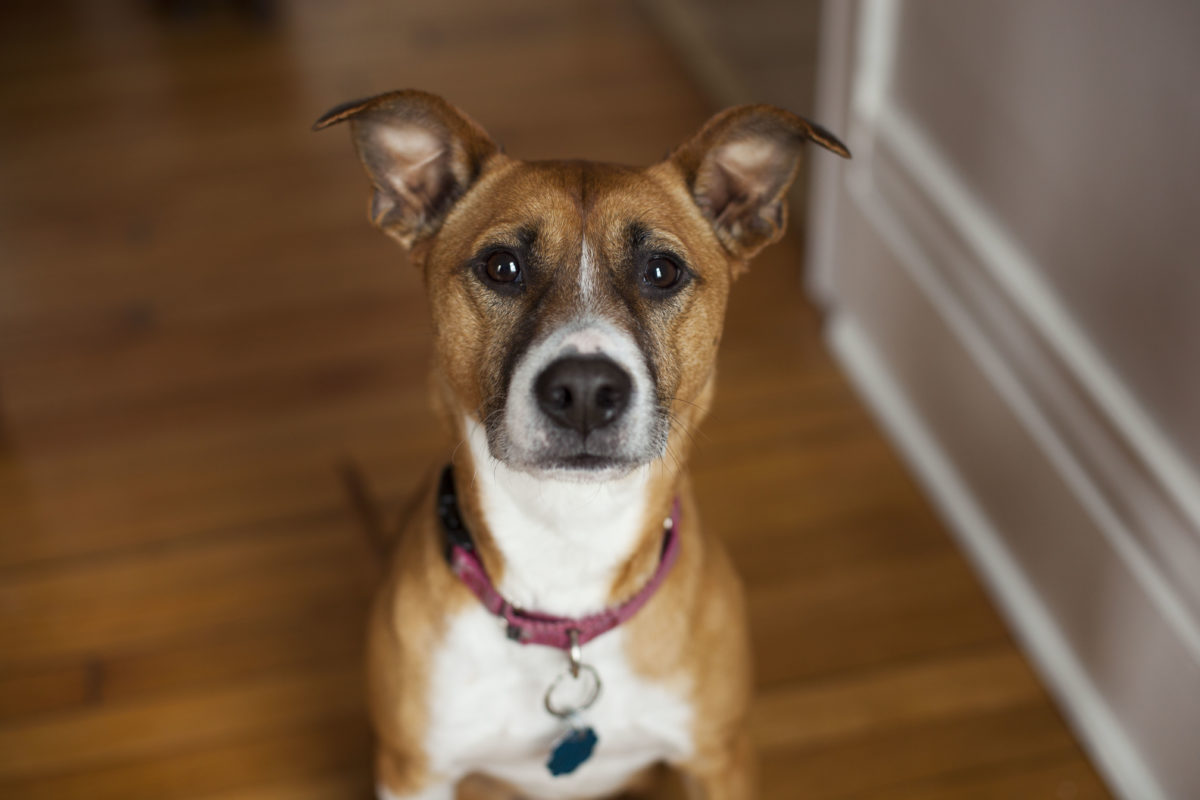 Why You Should Make Your Own Herbal Pet Shampoo
Most conventional pet care products on the market, including shampoos and rinses, contain questionable ingredients, including those that you would not put on yourself or your family. Ingredients such as polyethylene glycol (PEG), sodium lauryl sulfate (SLS), and sodium laureth sulfate (SLES) can cause skin irritation, eye issues, itching, dryness, and diarrhea in animals (Leonardi, 2012). Parabens and other preservatives are a no-no for pets and the planet, so going green is good for everyone.
Herbal Dry Shampoo
Adapted from Herbal Dry Shampoo by Jan Berry
Yield ¼ cup herbal dry shampoo
This recipe is great to use in between water baths to help freshen your pet's coat without over drying it. It can be used refresh smelly fur and to help soothe itchy, irritated skin on cats and dogs.
Ingredients
1 tablespoon dried lavender flowers
¼ teaspoon neem* powder (finely powdered dried oxeye daisy flowers may be used instead)
¼ cup arrowroot powder
Directions
Using electric coffee grinder or mortar and pestle, grind lavender flowers to fine powder.

Mix lavender powder with neem and arrowroot powders until thoroughly mixed.

Store finished dry shampoo in a tightly sealed jar.
Scoop or grab a handful and rub a small amount all over your dog's or cat's fur. Avoid the face and eyes. Brush thoroughly. Although, this can be vacuumed up easily indoors, it can get messy, so you might want to do this outside on a nice day. If you are creating an herbal dry shampoo for cats, you can also include or substitute dried catnip or goldenseal (Baker, 2013).
* Neem should not be used on/by pregnant or nursing animals or humans.
Soothing Spring Herbal Skin Rinse
Adapted from Itchy Skin Rinse by Jan Berry
Yield 2 ½ cups
This post-bath herbal itchy skin rinse was developed with dogs in mind and is not intended for use on your feline friends.
Ingredients
1 ½ cups apple cider vinegar
1 cup warm water
Fresh dill
Calendula flowers (fresh or dried)
Yarrow (fresh or dried)
Lavender (fresh or dried)
Rose petals and leaves (fresh or dried)
Directions
Heat apple cider vinegar to a gentle simmer.

Meanwhile, fill a 1 quart canning jar halfway with the herbs and flowers. Fresh dill is preferred, although dried may be used if that is all that is available to you.  

Cover the herbs and flowers with the hot apple cider vinegar.

Let cool, then strain into a large bowl or pitcher.

Add the warm water to the infused apple cider vinegar.

Pour the mixture over your dog as the final rinse of their bath.
Note: When using any shampoo or rinse on your pets, take care not to get any near their face, eyes, or ears as even the gentlest formula can cause irritation.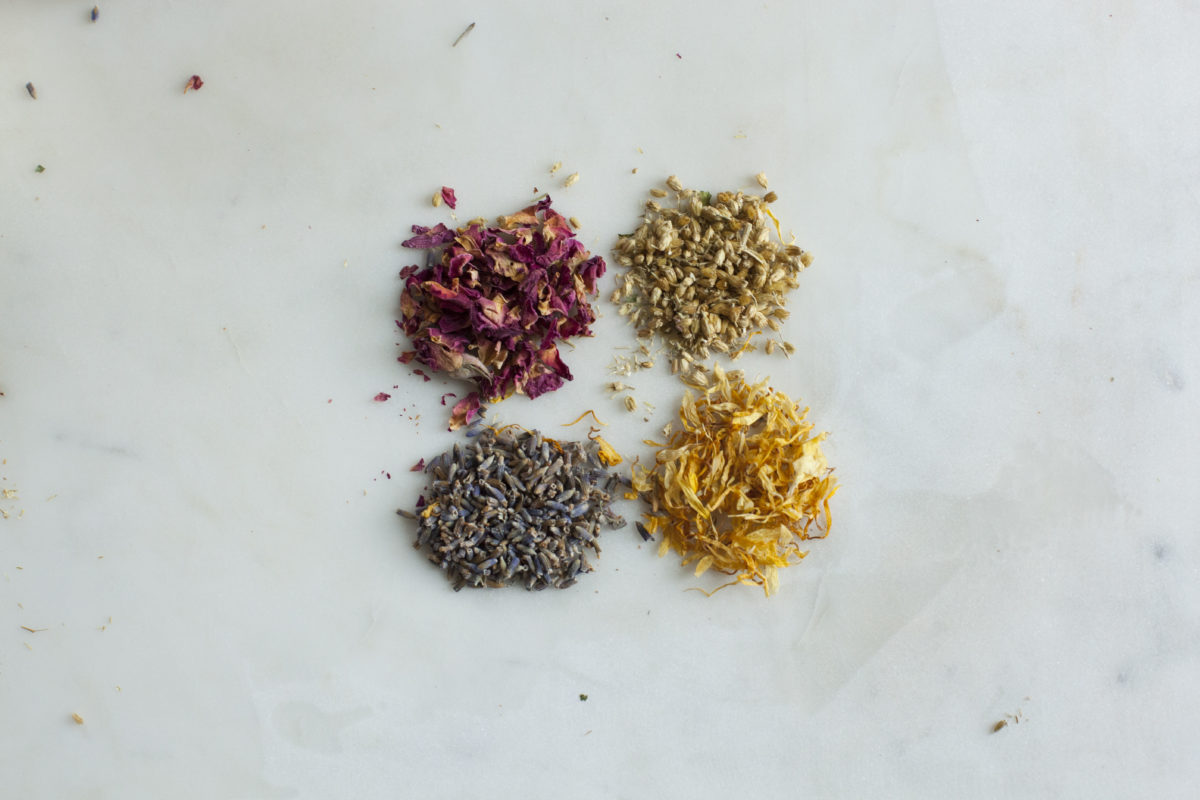 Pet-Safe Herbs
The herbal skin rinse recipe above contains beneficial dog-friendly herbs. Dill contains limonene, which has been known to have flea-killing properties. Rose, lavender, and Calendula can help calm irritation and reduce inflammation (Berry, 2016). Calendula has also been shown to help with itchiness and minor abrasions (Berry, 2016) due to its antiseptic and antifungal qualities (Khalsa, 2015). Yarrow also possesses antiseptic qualities that can help with scratches or raw spots on your dog's skin (Berry, 2016).
If you want to try a variation on the recipe above, you could infuse the herbal rinse with peppermint for itch relief (Tilford & Wulff, 2009) or rosemary to help make your dog's coat nice and shiny (Safe Herbs for Dogs, n.d.). Rosemary is a great addition to the herbal rinse as it brings out the natural luster and tones in your dog's fur and helps promote hair growth (Khalsa, 2015, p. 86).
For itching accompanied by redness, a cooled rinse of chamomile, plantain, and Calendula tea may be applied to dogs or cats (Tilford & Wulff, 2009). Chamomile can help soothe skin rashes and increase wound healing, plus it is particularly useful for itchy allergic dogs (Khalsa, 2015)
In addition to those listed, other pet-friendly herbs include basil, lemongrass, lemon balm, turmeric, spearmint, nettle, and oregano (Shipman, 2015), as well as aloe, dandelion, Echinacea, fennel, parsley, sage, and thyme (Khalsa, 2015). Although the herbs listed here are all considered safe for dogs, not all are suitable for apple cider vinegar infusion. Read more information about infusions in A Deeper Look at Herbal Infusions.
Since there are so many problematic ingredients in commercial pet care products, making your own herbal creations is a healthy and safe alternative. That way you know exactly ingredients are going into the shampoo or rinse, and exactly what is going on your beloved pet.
Download Our Free Herbs For Animals Chart!
Herbalism is for everyone – including your furry friends! Herbs can be a wonderful addition to your pet's meal plan and first aid kit, and the best news is that they can be used safely and effectively to support your pet's health.
Click Here to Download Your FREE Chart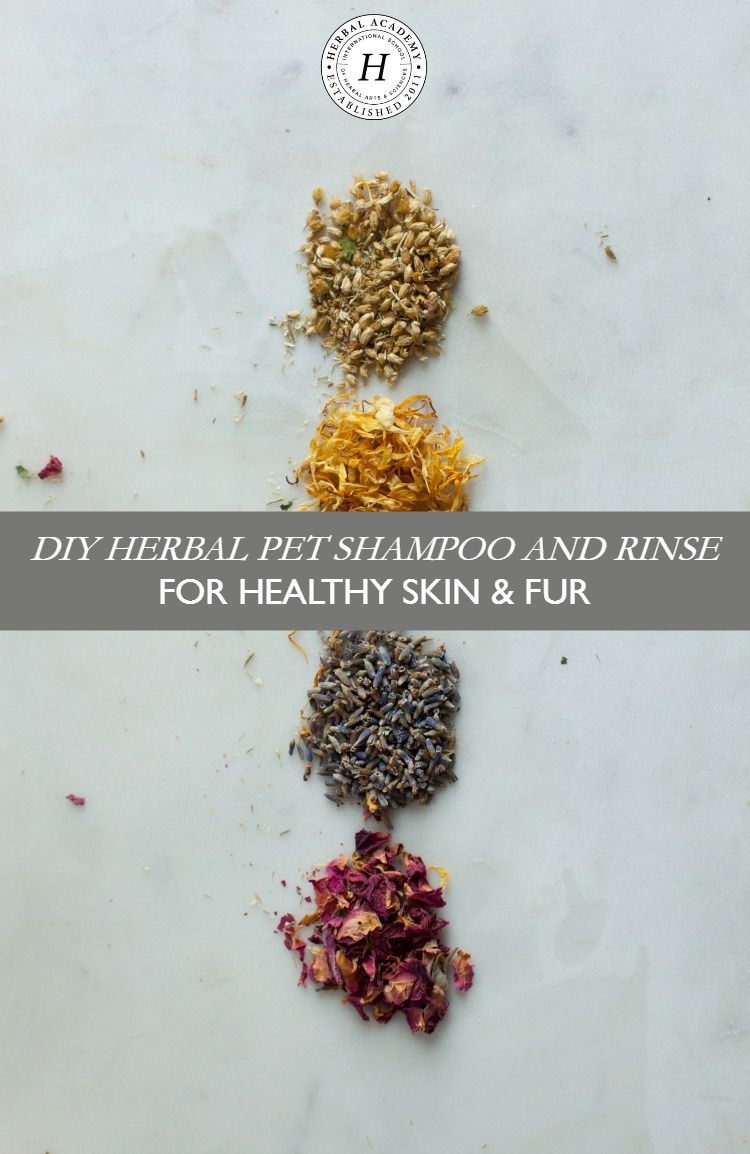 REFERENCES
Baker, Karen (2013, December 4). Herbs: A Simple "Green" Way to Help Boost Your Cat's Health and Happiness. Retrieved on January 19, 2017 from http://healthypets.mercola.com/sites/healthypets/archive/2013/12/04/growing-cat-friendly-herbs.aspx
Berry, Jan (2016). 101 Easy homemade products for your skin, health & home. Salem, MA: Page Street Publishing.
Khalsa, Deva, VMD (2015), Dr. Khalsa's natural dog. Irvine, CA: i-5 Publishing.
Leonardi, L. (2012, April 20). Natural and Homemade Shampoo for Dogs. Retrieved January 4, 2017, from https://www.petcarerx.com/article/natural-and-homemade-shampoo-for-dogs/199
Safe Herbs for Dogs: An Index. (2017). Natural Dog Health Remedies. Retrieved on January 6, 2017 from http://www.natural-dog-health-remedies.com/safe-herbs-for-dogs.html
Shipman, J. (2015, April 10). Safe and Beneficial Herbs for Dogs. Retrieved January 10, 2017, from http://www.beaglesandbargains.com/herbs-safe-beneficial-for-dogs/
Tilford, Gregory J. and Wulff, Mary L. (2009). Herbs for pets: The natural way to enhance your pet's life. Irvine, CA: Bow Ties Press.
Winter Is Here! Protect Your Pets This Season with These Tips. (2014, December 30). Retrieved January 5, 2017, from http://www.aspca.org/news/winter-here-protect-your-pets-season-these-tips