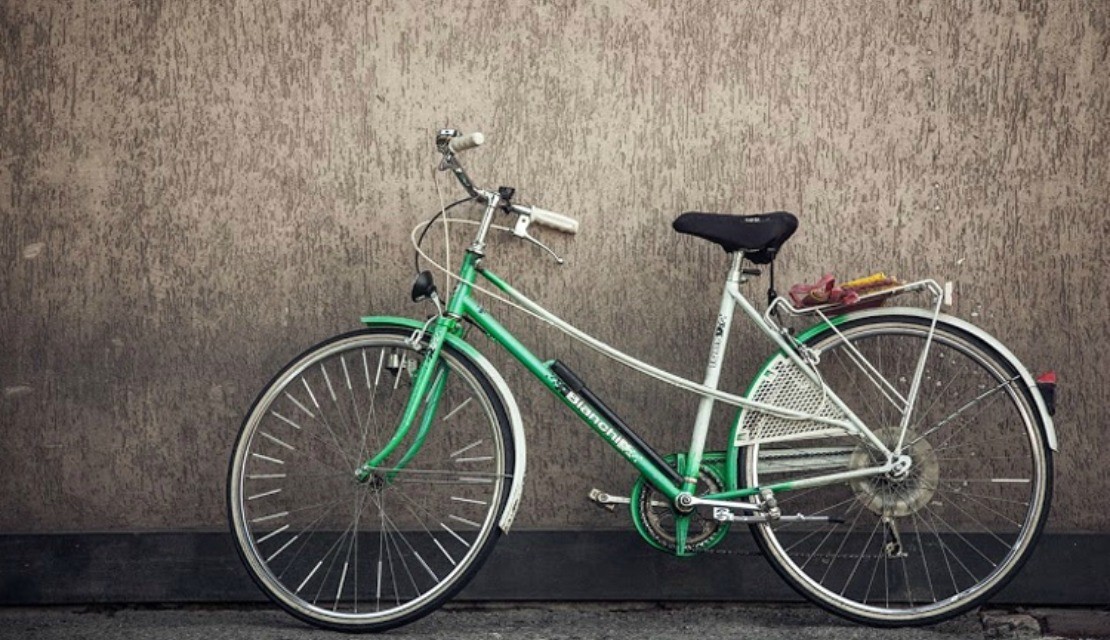 Green Travel Tips for Happy Vacationing
For me, travel can be a double-edged sword—relaxing and blissful yet stressful and anxiety-inducing. With that in mind, I used a recent vacation as an experiment in being green and staying sane while traveling.
Planning ahead may sound obvious, but simple things are often overlooked in the face of excitement and spontaneity. Feeling unprepared can frazzle even the most Zen traveler, but simple tips can ensure enjoyment and minimize negative impacts on the planet, your wallet, and your soul.
Saving Money and Resources with Water
I am a hydration freak, so I always carry a refillable bottle of water with me. Since I could not bring water through TSA security, I researched and purchased a reusable bottle with a built-in filter that I could fill up. A standard reusable bottle would work fine, but I chose to use a filter for peace of mind. I used my bottle post-security, on my flights and throughout my entire 7-day trip. Based on the amount of water I drink, I saved an estimated $30 just on water.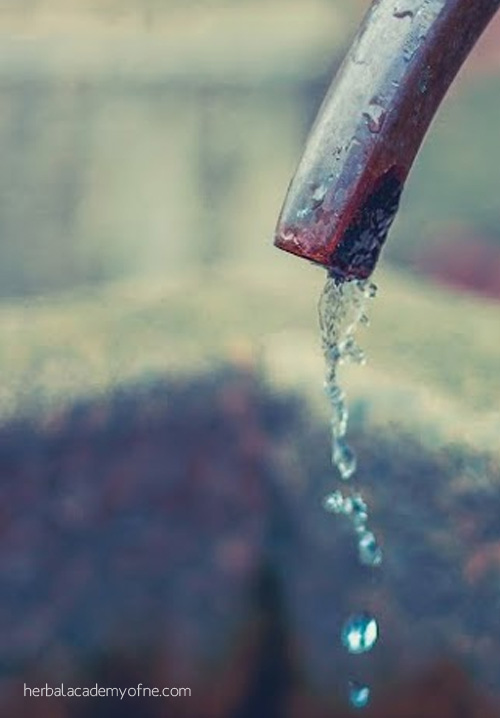 Eco Tip: Drinking local tap water is a great way to save money and help the environment. EPA regulations and tests ensure the safety of tap water (water.epa.gov). Bottled water is a strain on natural resources and your wallet. To learn more, see RESOURCES below.
Zen Tip: Forgot your bottle? Don't panic. Pick up a reusable option at the airport or as soon as you land. If you must buy a disposable bottle in a pinch, just be sure to recycle it since only 23 percent of bottles are recycled in the US annually (Fischman, 2007).
Food For Thought: Part 1
Food can pose some of the biggest travel-related challenges, especially when flying. Airport/airline food is limited, expensive, and typically not very healthy. All too often, people arrive at their destination starving and inhale the first food option, disregarding cost and wellness. Simple planning will prevent this, saving money, and reducing stress.
Prior to my trip, I stocked up on some nuts, seeds, and sundries to make my own snack mix. For less than $10 I got several great options in bulk (less packaging!) from a local store and knew exactly what I was eating en route. Other healthy, cost-effective options: apples, food bars, baby carrots, and pretzels.
Eco Tip: Pack a snack! Bringing your own snacks is a great (and delicious) way to ensure food quality and save money. In addition, it reduces food packaging waste as well as food-related travel pollution and costs.
Zen Tip: Besides snacks, herbal teas are a travel must! Good options include chamomile (relaxing), mint or ginger (tummy tamers), green, and herb blends. Plus, it is easy to get hot water just about anywhere. Read more about Flying and Traveling with Herbs.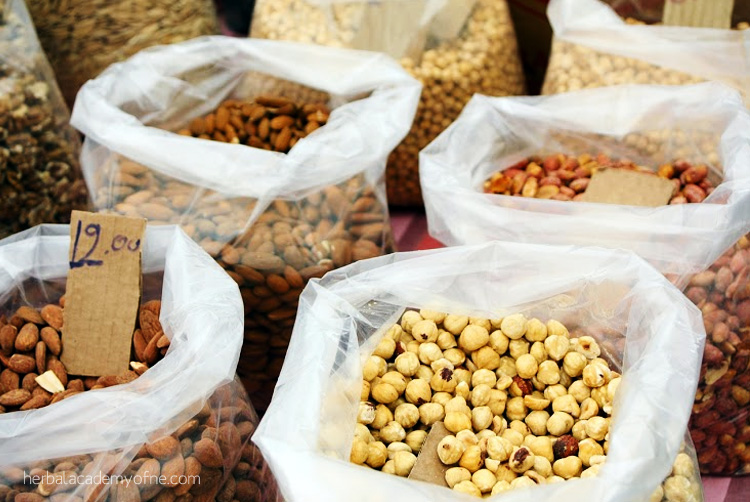 Food For Thought: Part 2
Travel is all about exploring a new place, so once you've reached your destination, stay "local." Supporting locally owned/operated restaurants and stores is a great way to boost the community and discover new foods. Ask around—most people are happy to give advice and residents know the hidden gems in their town or city. When you green travel, it is important to support the destination you have chosen and help preserve its unique culture and landscape.
Eco Tip: Find a local farmers' market and explore! These markets often have lots of handmade goodies besides food, allowing access to area artists and craftspeople. When shopping at larger chain grocery stores, look for locally or regionally grown produce.
Zen Tip: Keep it simple! On vacation, you want quick, easy, and healthy food options. Get basic provisions for when you are at your condo or hotel and explore regional delights when dining out. Apps such as Yelp and Urban Spoon can be helpful and allow you to specify search area and cuisine.
Getting Around Town the Green Way
Exploring new territory is great, but often the process of getting there can be harrowing—cars, planes, trains, buses. All of this transport takes a toll on our environment and our well-being, so once you reach your destination, get outside. Eschew (more) driving and get some fresh air by taking a long walk or a bike ride. Beach nearby? Even better!
Bikes are a great option for getting around, especially in tourist areas. In addition to reducing air pollution and saving money on gas, you can stumble upon lots of cool stuff that you would otherwise miss. Plus, it is fun and such good exercise.
Eco Tip: If bikes are not an option, consider public transportation, shuttle services, or group tours. All of these options help reduce the number of cars on the road the increase the amount of money in your pocket. If you have to rent a car, opt for a hybrid or a compact gas-saving model. With minimal driving on my trip, half of a tank of gas lasted the whole week.
Zen Tip: When walking, biking or hiking, know your surroundings. You don't want to stress about getting lost or stranded. Be sure to get a map of the local area and take advantage of maps and GPS on your phone.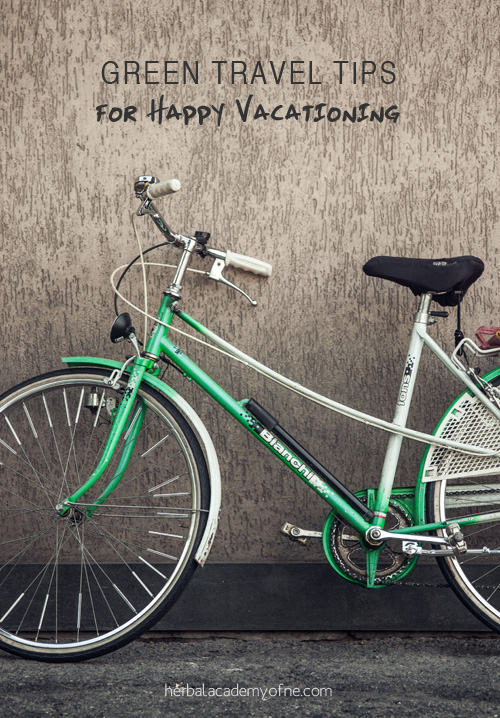 Planning for Peace of Mind
Being green and eco-conscious on vacation can be simple and satisfying, but travel should also be fun and relaxing. Make sure you find a comfortable balance—you want to be happy and healthy not stressed out over every detail.
Conducting research, writing lists, and being prepared helps save time, money, and resources. It also helps ensure peace of mind. Since travel concerns are often personal, be sure to focus on things that are important to you. Pick a few areas of awareness—water, food, transit, recycling, community concerns—and focus on those while enjoying new experiences.
Green Travel Resources
Ban The Bottle: http://www.banthebottle.net/
Tapped, the Movie: http://www.tappedthemovie.com/
EPA water regulations: http://water.epa.gov/
Farmer's Market Finder: http://search.ams.usda.gov/farmersmarkets/
How to easily get through TSA Airport Security: https://upgradedpoints.com/tsa-airport-security/
REFERENCES
Fishman, C. (2007). Message in a bottle. Retrieved from www.banthebottle.net.
Elliott, A. (2013). The 10 best water filtration bottles. Retrieved from www.mashable.com/2013/09/01/filtration-water-bottles.