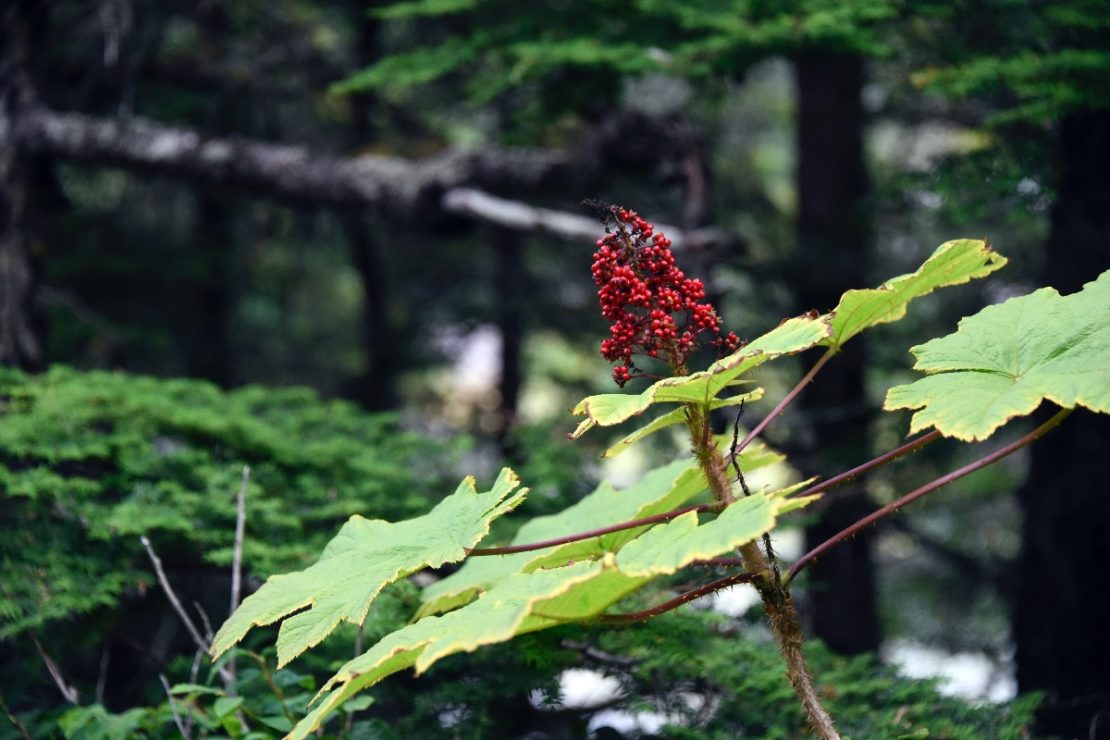 Adding Devil's Club to your Materia Medica
When I first saw devil's club in the wild woods, I had no idea what it was, but I was immediately entranced by it. The thick, yellowish-white stalk, wrapped in huge spines, was taller than me, and at the top, there sprouted several foot-long, alternate, umbrella-shaped leaves that also had numerous spines along the top and underside. To me, this plant covered in spikes symbolizes strength and protection. If you have ever crossed paths with devil's club, you may have had a similar experience. In this post, we will deepen our knowledge and understanding of this powerful plant.
Getting to Know Devil's Club
Devil's club, Oplopanax horridum, is in the Araliaceae family and is related to ginseng. It is common to find it growing along the edges of bogs, creeks, and streams. It thrives in moist woods, with deep, wet, well-drained soil, and grows in northern Oregon, Washington, British Columbia, and Alaska. It can also be found growing sporadically in the forests of northern Idaho, Montana, western Wyoming, and along Lake Superior (Moore, 1993).
The spiny stems range anywhere from 3-10 feet in height and grow up from spreading rootstocks under the earth (Moore, 1993). Compact heads of numerous small, whitish flowers bloom in pyramidal terminal clusters in the spring and mature into flattened, bright red berries in late summer (Pojar & MacKinnon, 1994).
The root bark, lower stem bark, and greenish inner bark are the parts used in herbal preparations. Sweet, spicy, saponaceous, and pungent, this plant is a slightly warming expectorant supportive to the adrenal and respiratory systems (Kloos, 2017).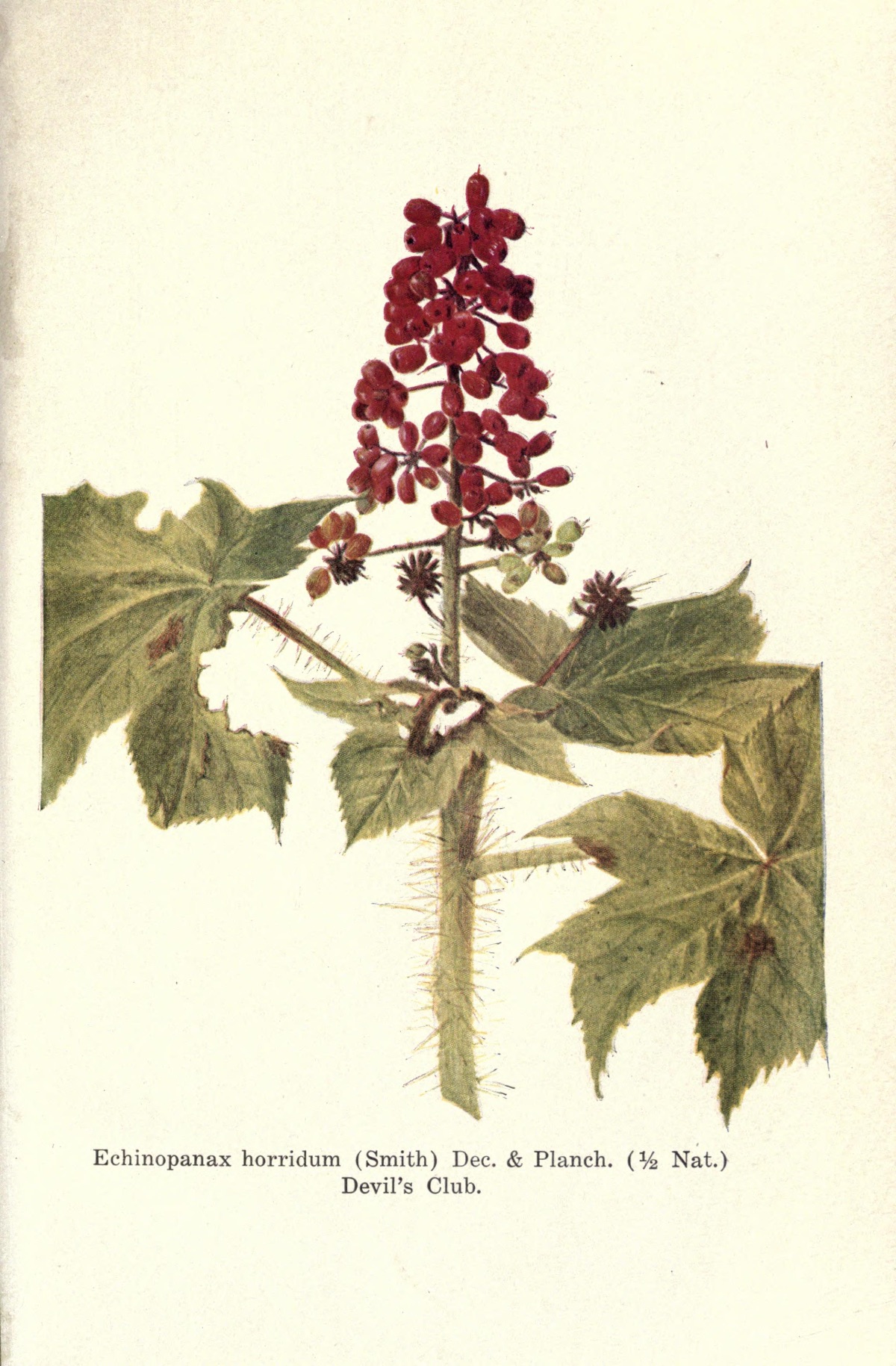 Traditional Use and Folklore
When diving deeper into the details of an herb, it is important to acknowledge and respect the awareness and information passed on to us from indigenous people. Native cultures across northwestern North America address health and wellbeing in two main ways.
Physically, with the use of herbal preparations, and/or

Spiritually, with the work of shamans that deal with the energy associated with illness rather than the physical manifestation.
Devil's club has and continues to play a big part in both of these types of approaches, and in some instances, the two are so closely entwined that separating them would be difficult (Turner, 1982).
Turner (1982) says that devil's club was traditionally used to soothe a variety of ailments, from arthritis, ulcers and digestive tract issues, to diabetes. The Cree, Haida, Halkomelem, Heiltsuk, Metis, Nlaka'pamux, Nuxalk, Sechelt, Secwepemc, Squamish, Stl'atl'imx, Straits Salish, and Tsimshian have all been documented to use it for diabetes, and it has often been used as a purgative or laxative, as well as a soothing aid to the common cold and other respiratory ailments (Turner, 1982).
Most likely, because of its dangerous, devilish spikes that symbolize protection, it is considered a highly powerful plant that can protect against outside evil influences. Devil's club sticks have often been used as protective charms. Some burn the plant and use its charcoal to make protective face paint (Pojar & MacKinnon, 1994). John Thomas of the Nitinaht considers devil's club to be a sacred link between the ordinary and the spiritual world (Turner, 1982).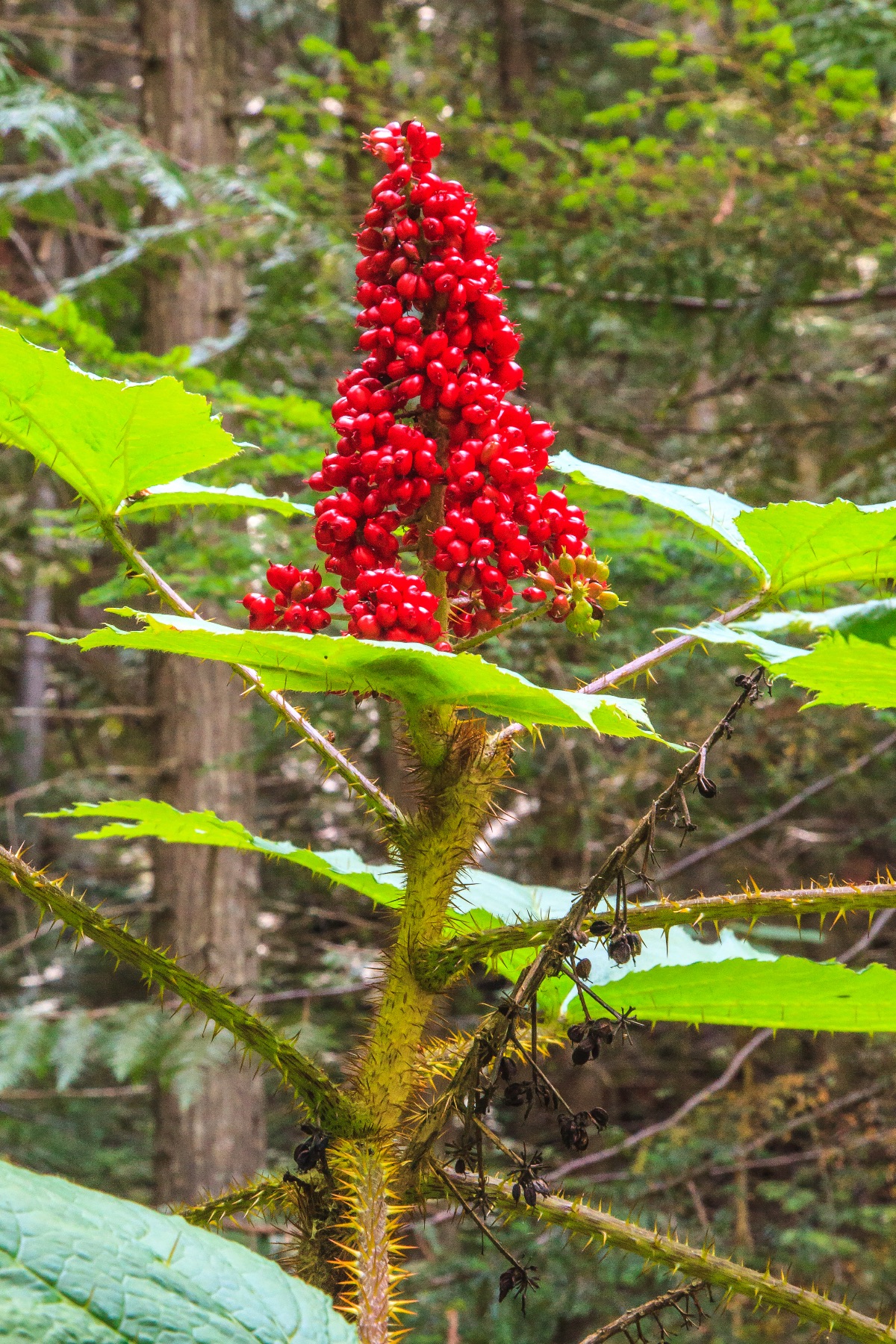 Clinical and Contemporary Use of Devil's Club
Adaptogen & Anti-inflammatory Agent
Devil's club is known as an adaptogen, as it supports the adrenals by moderating the body's reaction to stress. The tea or tincture can nourish and relax a hypervigilant nervous system (Kloos, 2017). A cold infusion or tincture is reported to be helpful for rheumatoid arthritis and other autoimmune disorders when taken regularly and with proper diet (Moore, 1993).
Respiratory Expectorant
Devil's club is traditionally used as a strong expectorant and respiratory stimulant. It can increase or loosen mucus to initiate helpful coughing and speed the healing of respiratory infections (Kloos, 2017).
Moderate Blood Sugar Levels
As already mentioned, devil's club has a long history of use in native cultures for those with adult-onset type 2 diabetes. Early clinical research inspired by its widespread use by indigenous peoples found that an isolated extract of devil's club root bark showed a hypoglycemic effect in lab rabbits with no observed toxic effects (Large, & Brocklesby, 1938). However, additional studies provide data that do not support the hypoglycemic activity reported previously (Thommasen, Wilson, & McIlwain, 1990). Either way, devil's club is still widely used for support with type 2 diabetes and additional research and clinical trials are needed to determine its effectiveness.
Michael Moore reports that his observations, as well as those of other herbalists and physicians, have been that "the herb works better for stocky, mesomorphic, anabolic-stress-type, middle-aged folks with elevated blood lipids, moderately high blood pressure, and early signs of adult-onset, insulin-resistant diabetes. Furthermore, it seems to decrease the lust for sugars and binge food of those with this physical type who deal with generally elevated blood fats and glucose" (Moore, 1993, p.128).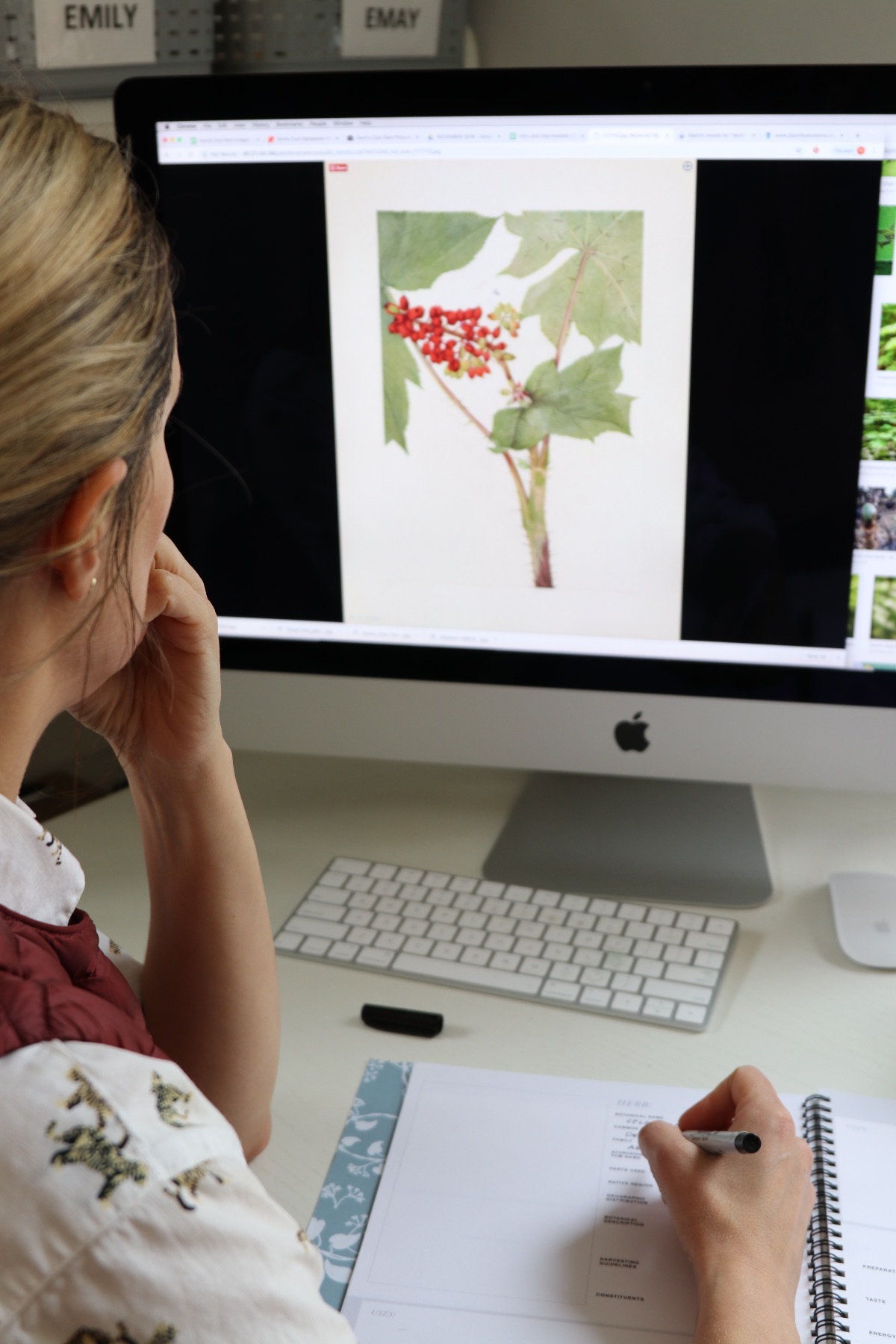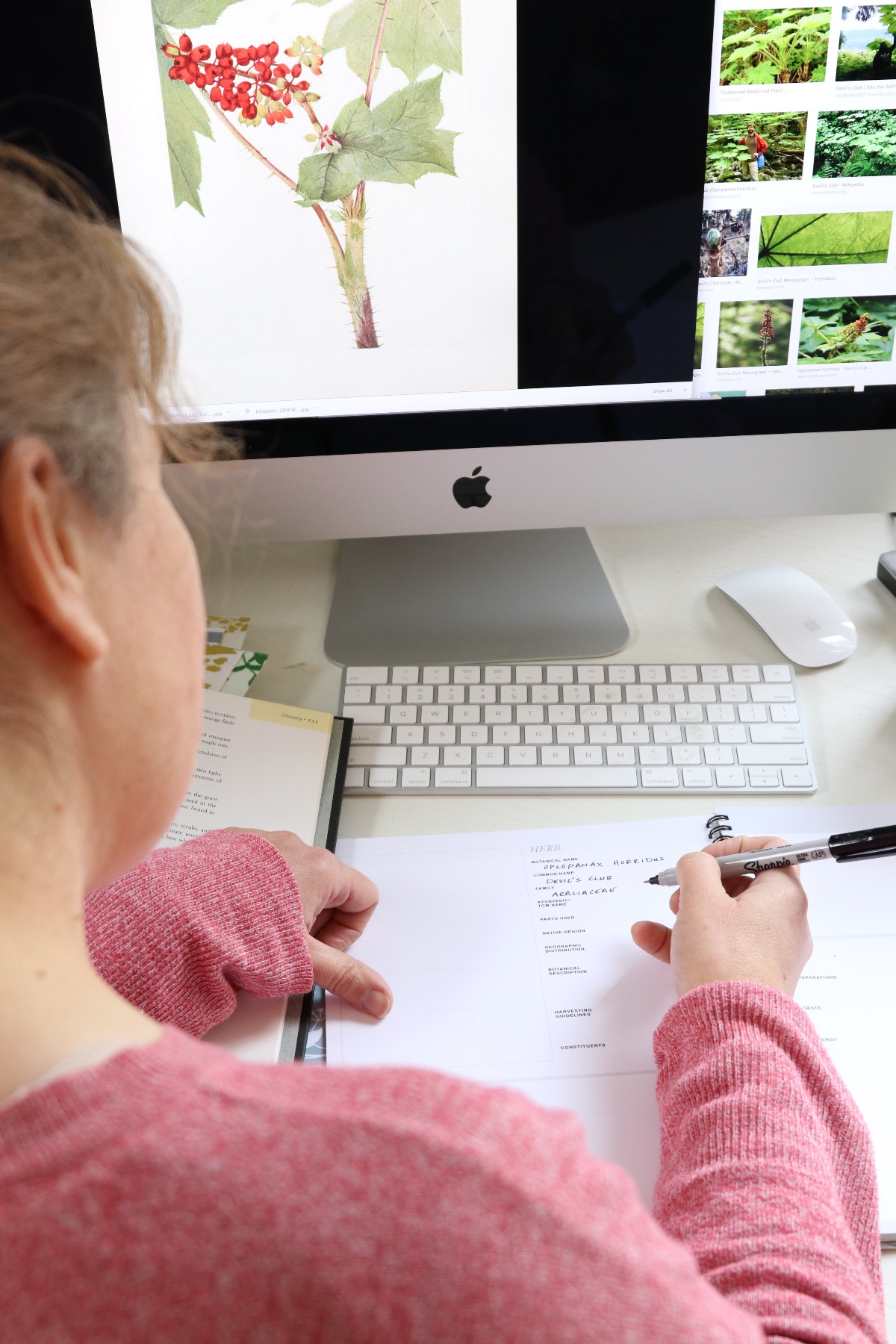 Safety and Precautions
The berries have been reported to be toxic. As always, if you attempt to harvest the plant, make sure you have properly identified it first. Harvest sustainably by only taking the root bark from the roots that connect each plant underground, so that the established plant can continue to grow and thrive. Take care not to prick your skin on the spikes of devil's club, since it can sometimes lead to infection (Kloos, 2017).
Start Building your Materia Medica with these free pages!
If you want to get started compiling some herbal monographs for yourself, we're including a free download of the materia medica pages from our beautifully designed 
Materia Medica Journal
. You are welcome to download and print this black and white herbal monograph spread to
get your materia medica started
!
Closing in Gratitude
Native Americans have used devil's club for over one hundred years for many different physical and spiritual reasons. We are honored and privileged to have learned from indigenous people about the traditional uses of devil's club for nourishing the adrenals, the respiratory system, and supporting healthy blood sugar levels. Many modern-day herbalists and energy workers also attempt to respect and call upon the protective spirit of devil's club in their practice, drinking the tea or taking a few drops of the tincture during challenging times. As its appearance suggests, devil's club seems to be a powerful and protective plant after all.
REFERENCES
Kloos, S. (2017). Pacific Northwest medicinal plants: Identify, harvest, and use 120 wild herbs for health and wellness. Portland, OR: Timber Press.
Large, R.G., & Brocklesby, H.N. (1938). A hypoglycemic substance from the roots of devil's club (Fatsia horrida). Canadian Medical Association Journal, 39, 32-35. Retrieved from https://www.ncbi.nlm.nih.gov/pmc/articles/PMC536608/?page=1
Moore, M. (1993). Medicinal plants of the Pacific West. Sante Fe, NM: Museum of New Mexico Press.
Pojar, J., & MacKinnon, A. (1994). Plants of the Pacific Northwest coast (revised). Vancouver, BC: Lone Pine Publishing.
Thommasen, H.V., Wilson, R.A., & McIlwain, R.G. (1990). Effects of devil's club tea on blood glucose in diabetes mellitus. Canadian Family Physician, 36, 62-5. Retrieved from https://www.ncbi.nlm.nih.gov/pubmed/21249104
Turner, N.J. (1982). Traditional use of devil's club (Oplopanax horridus; Araliaceae) by native peoples in Western North America. Ethnobiology, 2(1): 17-38. Retrieved from https://ethnobiology.org/sites/default/files/pdfs/JoE/2-1/Turner1982.pdf