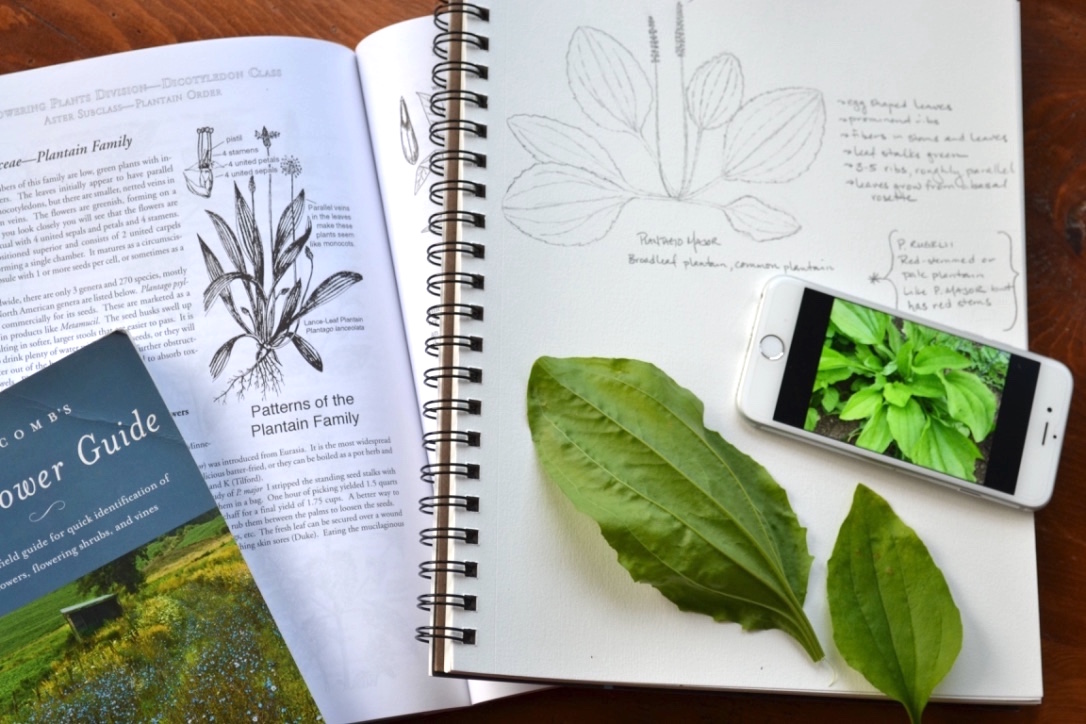 Creating a Local Materia Medica With Plantain (+ Plantain Salve Recipe)
Part of the beauty of a local materia medica is its humility, and you can't get much more humble than plantain (Plantago spp.). Considered a weed the world over, this tenacious and resilient plant steadfastly grows in lawns, fields, roadsides, disturbed land, sidewalk cracks—you name it. And while plantain is often overlooked today (saved by we herbalists who celebrate it), it has long been a folk remedy. In fact, one of plantain's common names is Englishman's foot or white man's foot, as it has followed on the heels of European settlers worldwide. With edible and medicinal uses and widespread availability, plantain is a fantastic addition to your local materia medica list.
Creating A Local Materia Medica With Plantain
Identifying Plantain
Plantain is fairly easy to identify thanks to a few identification tricks. There are dozens of species of plantain, including common plantain (Plantago major), lance-leaved, English plantain, or ribwort (P. lanceolata), and narrow leaf plantain (P. minor). P. rugelli is similar to P. major but has purplish-red petioles instead of green.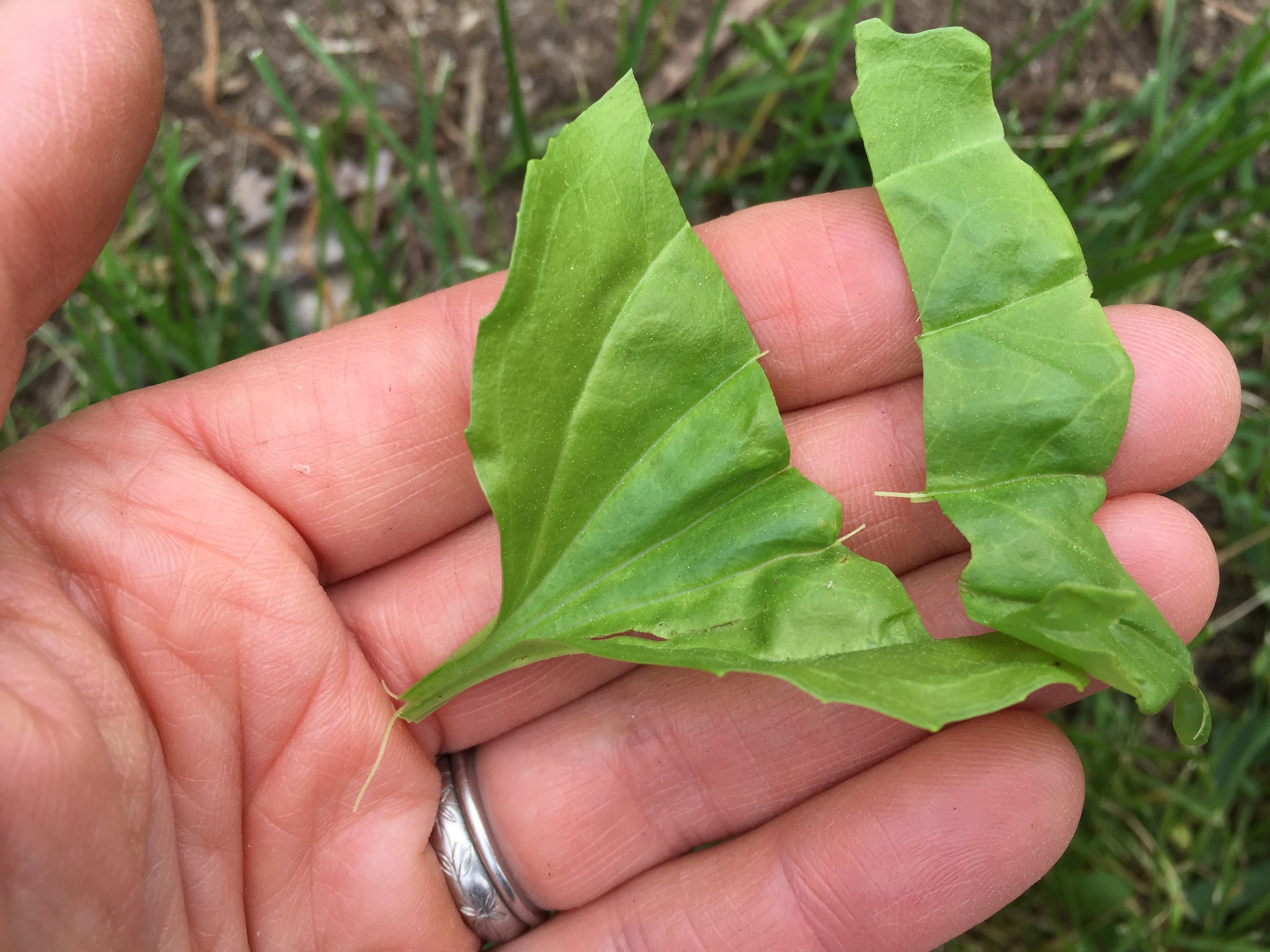 The 4-10 inch long leaves of each of these species grow from a central point in a basal rosette and vary in shape from the more oval, egg-shape of P. major to the narrow, lance-shaped P. lanceolata. The tough, sturdy leaves are smooth-edged or gently toothed and have 3-5 prominent, deep veins that run the length of the leaf roughly parallel to one another. If you break off the leaf petiole or tear apart the leaf, you'll find white, stretchy fibers running through those veins.  
Multiple flower stalks that are up to 20 inches tall rise from the central base and terminate in a cylindrical spike encircled by whorls of tiny green four-petaled flowers. Four stamens with prominent anthers burst forth from each flower-like tiny fireworks. Thousands of small, green seeds develop along the spike, turning light brown when ripe and falling to the ground or sticking to unwitting passersby, reseeding plantain readily (Blair, 2014; Grieve, 1931).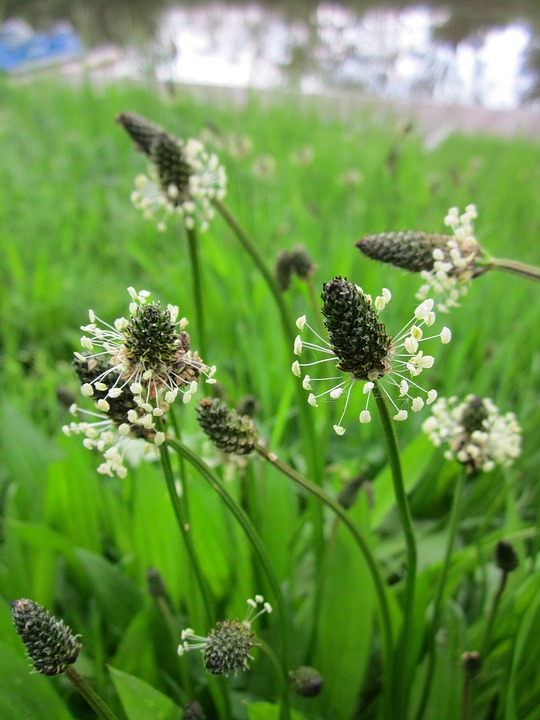 Plantain Is For Wounds
The word that comes to my mind to describe plantain is soothing. With its demulcent nature and cooling energy, it soothes and cools tissues throughout the body, both internally and externally.
Perhaps plantain is best-known is as a wound dressing. A great first-aid plant, plantain leaves can be chewed or mashed into a poultice in short order to provide relief from cuts, sores, burns, itchy rashes, insect bites, nettle stings, and bee stings. Another plantain leaf or two can be used whole to hold the poultice in place. Reapply a fresh poultice as needed to provide continued relief until no longer needed.
No wonder plantain is such an effective vulnerary—it is analgesic (relieves pain), demulcent (moisturizing and soothing), astringent (tones tissues and staunches bleeding), antiseptic (anti-infective), anti-inflammatory and cooling (relieves heat and swelling), relieves itching, is an antidote to poisonous bites and stings, and helps to draw splinters as well as venom from the skin.
Plantain was one of nine sacred herbs suggested to be included in a salve as an antidote to poison and infection in the pagan Anglo-Saxon "Nine Herbs Charm" recorded in the Lacnunga, a 10th-century herbal (Penn State, n.d.). Plantain was called waybrede, expressing the habit of the plant to grow along waysides and cart paths, and the broad-leaved nature of P. major's leaves (Mountain Man Traditional Healing, n.d.).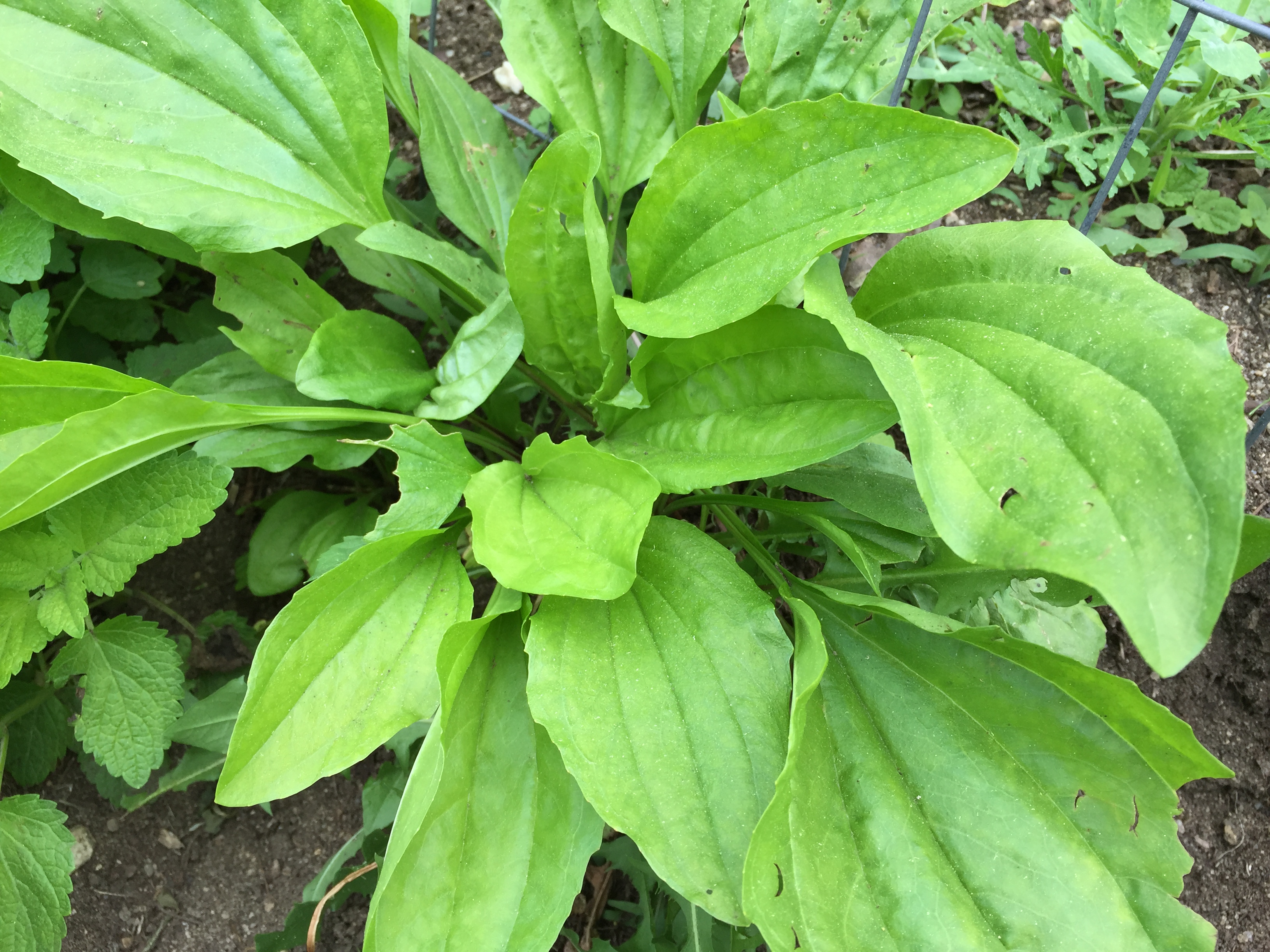 "And, you, Waybrede, mother of herbs,

open to the east, mighty within;

Over you carts rolled, over you queens rode,

over you brides cried out, over you bulls snorted.

All you withstood then, and were crushed;

So you withstand poison and contagion

and the loathsome one who travels through the land."
My herbal first aid kit always contains a Wild Plant Healing Salve made with plantain-infused oil. I often add comfrey, calendula, St. John's wort, or violet infused oils in some combination, but I always, always add plantain. I've included my recipe below so you can add it to your local materia medica under the section on plantain. 
Wild Plant Healing Salve
Ingredients
1 cup herb-infused oil (plantain, comfrey, calendula, St. John's wort, and violet leaf are all nice options)
¼ cup beeswax (grated or pastilles)
Directions
For plantain oil, fill a jar ¾ full with clean, fresh chopped plantain leaf and then oil, making sure plantain leaf is covered. Using

this tutorial

, infuse oil using a heated method – on the stovetop, in the oven, or in a crockpot.

Melt ¼ cup beeswax in a bowl or large glass measuring cup in a double boiler.

Add warm herb-infused oil and stir to mix and melt the oil and beeswax together.

Pour into prepared tins or jars and let cool. Cap tins or jars.

Store in a cool, dry place.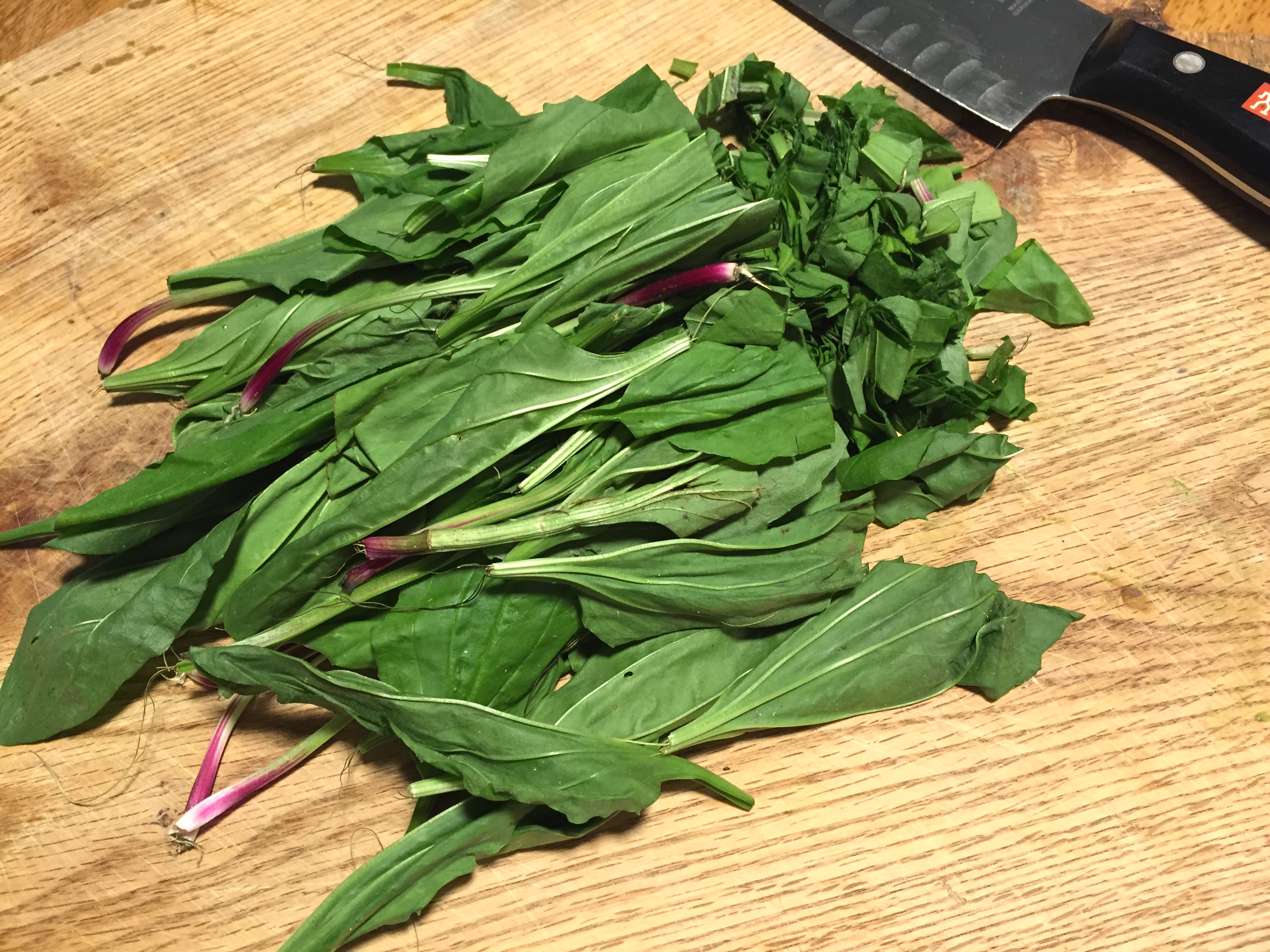 Plantain Is Edible
Plantain is edible, the leaves having a strong taste and a slight bitterness. Young leaves can be enjoyed chopped up in a salad, used to make an energizing, phytochemical-rich green juice (like I do with violet leaves), or added to green smoothies. More mature leaves can be steamed as a cooked green and enjoyed once the leaf fibers are removed.
Seeds can be chewed fresh off the stalk! The high mucilage content of the seeds is good for the digestive system, soothing and cooling tissues and gently relieving constipation as a bulk laxative (consumed with plenty of water). In fact, the husks of psyllium seeds, which are a widely used bulk laxative, are also a Plantago species (P. ovata). Plantain is also effective in the case of diarrhea, absorbing excess water.
Plantain's demulcent and astringency properties make it a soothing and toning tonic for the digestive system, relieving inflammation, irritation, and spasm. The same properties recommend it for soothing the urinary tract during infections or the respiratory system during colds, coughs, or allergies (McIntyre, n.d.).
For more information on plantain's use as a wound healer and ally for respiratory, urinary, and digestive health, see our Plantain monograph in The Herbarium!
Plantain Is Safe
Plantain is a very safe herb with no known toxicity.
Plantain Is For Play
As a child, I delighted in plantain flowerheads as a projectile plaything, good for hitting targets or for playing impromptu plantain "wars." Simply make a loop with the stem, slip below the base of the flowerhead, and tighten. Then slide the loop up with your fingers and POP – the plantain flower spike flies off with respectable velocity!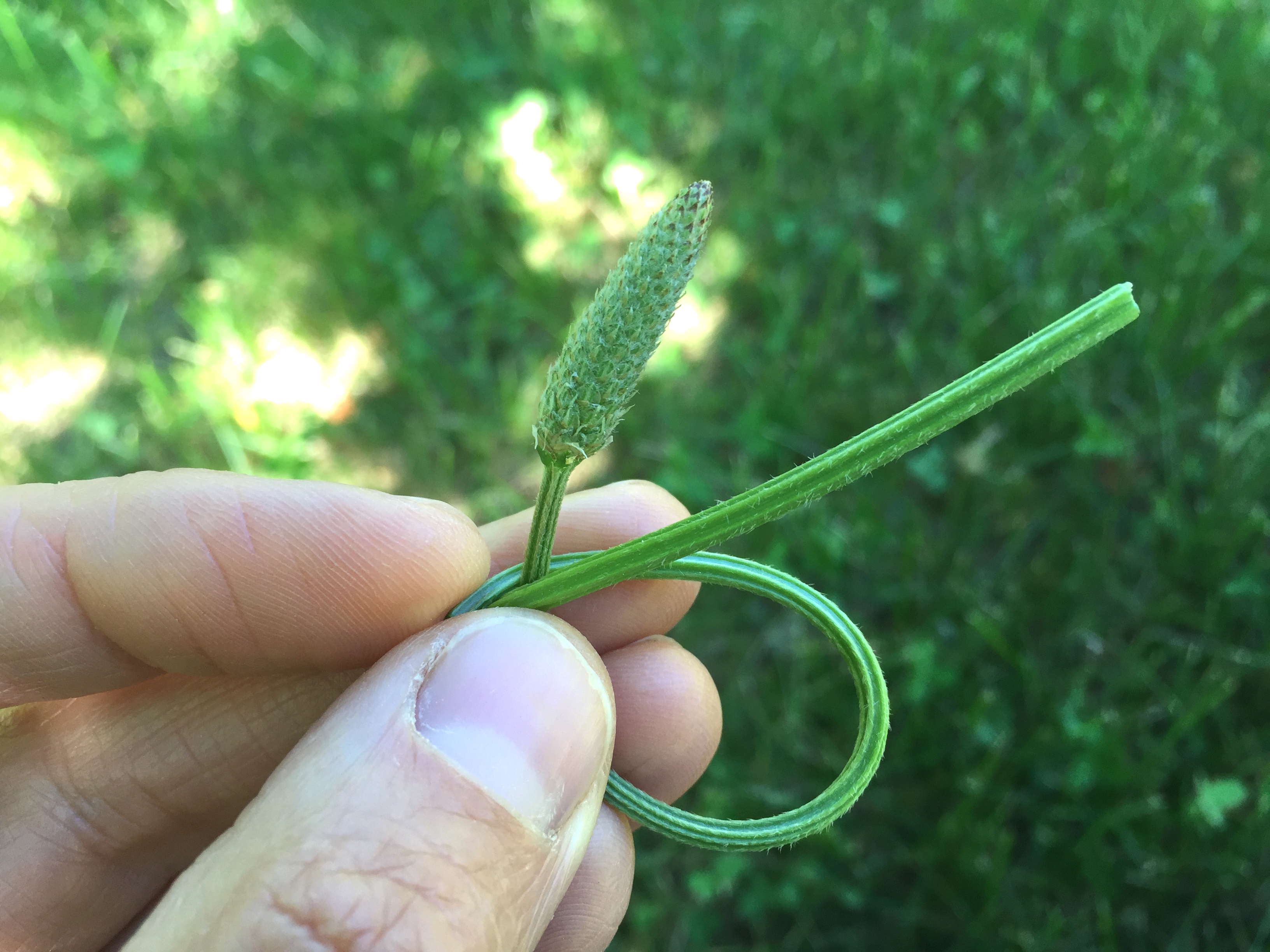 Whether you need plantain for a wound, a salad, or for fun, this is one plant that is easily accessible and beneficial for many different uses. It's a great herb to include in your local materia medica!
Start Building your Materia Medica with these free pages!
If you want to get started compiling some herbal monographs for yourself, we're including a free download of the materia medica pages from our beautifully designed 
Materia Medica Journal
. You are welcome to download and print this black and white herbal monograph spread to get your materia medica started!
How do you use plantain for your family?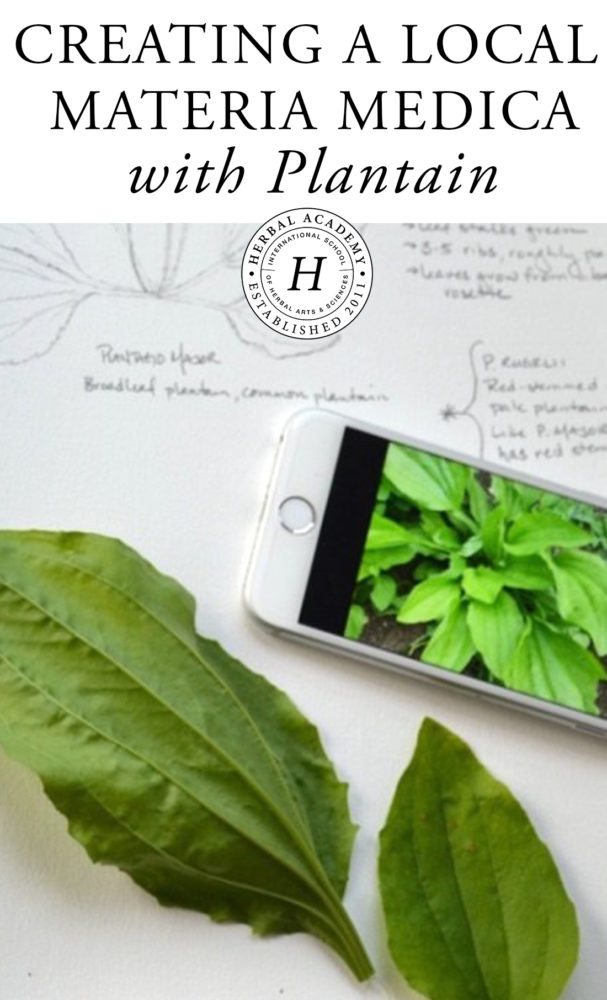 REFERENCES
Blair, K. (2014). The wild wisdom of weeds: 13 plants essential for human survival. White River Junction, VT: Chelsea Green.
Grieve, M. (1931). A modern herbal. Retrieved on 06/21/16 from http://www.botanical.com/botanical/mgmh/p/placom43.html
McIntyre, A. (n.d.) Plantago major: Plantain. Retrieved on 06/21/16 from http://annemcintyre.com/plantago-major-•-plantain/
Mountain Man Traditional Healing (n.d.) Addendum to "Day 56″: on the name "Plantain". Retrieved on 06/21/16 from https://magicscreeches.wordpress.com/tag/plantago-major/
Penn State (n.d.). The Penn State Medieval Garden, Commentarius, Plants in the Saxon World. Retrieved on 06/21/16 from  http://www.psumedievalgarden.com/sacred_saxon_herbs.html
Slade, B. (2002). Woden's nine herbs charm. Retrieved on 06/21/16 from https://www.heorot.dk/woden-9herbs.html