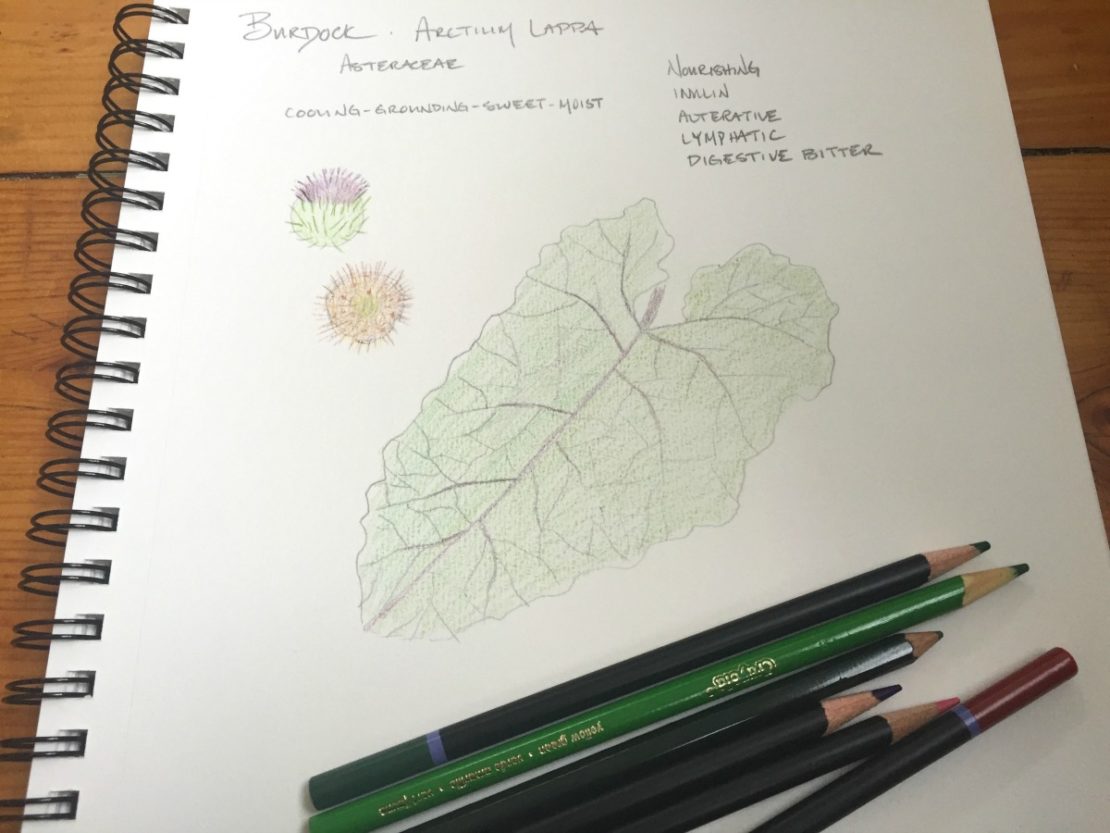 Creating a Local Materia Medica with Burdock
Most of us know burdock, even if we don't realize we know burdock. This plant's ingenious seed dispersal system—its clingy burrs—demands we pay attention eventually, for example, when removing them from our clothes, our hair, or deep in our dog's plush fur. Inconvenience aside, you've got to give burdock credit for ingenuity. Swiss engineer George de Mestral did just that, using burdock's burr design as the inspiration for Velcro, which he patented in 1955 (Goodrich, 2013).
While to most that may seem like legacy enough for any plant, burdock has many other virtues as well. Read along to learn how you can use this common "weed" for food and medicine as part of your local materia media.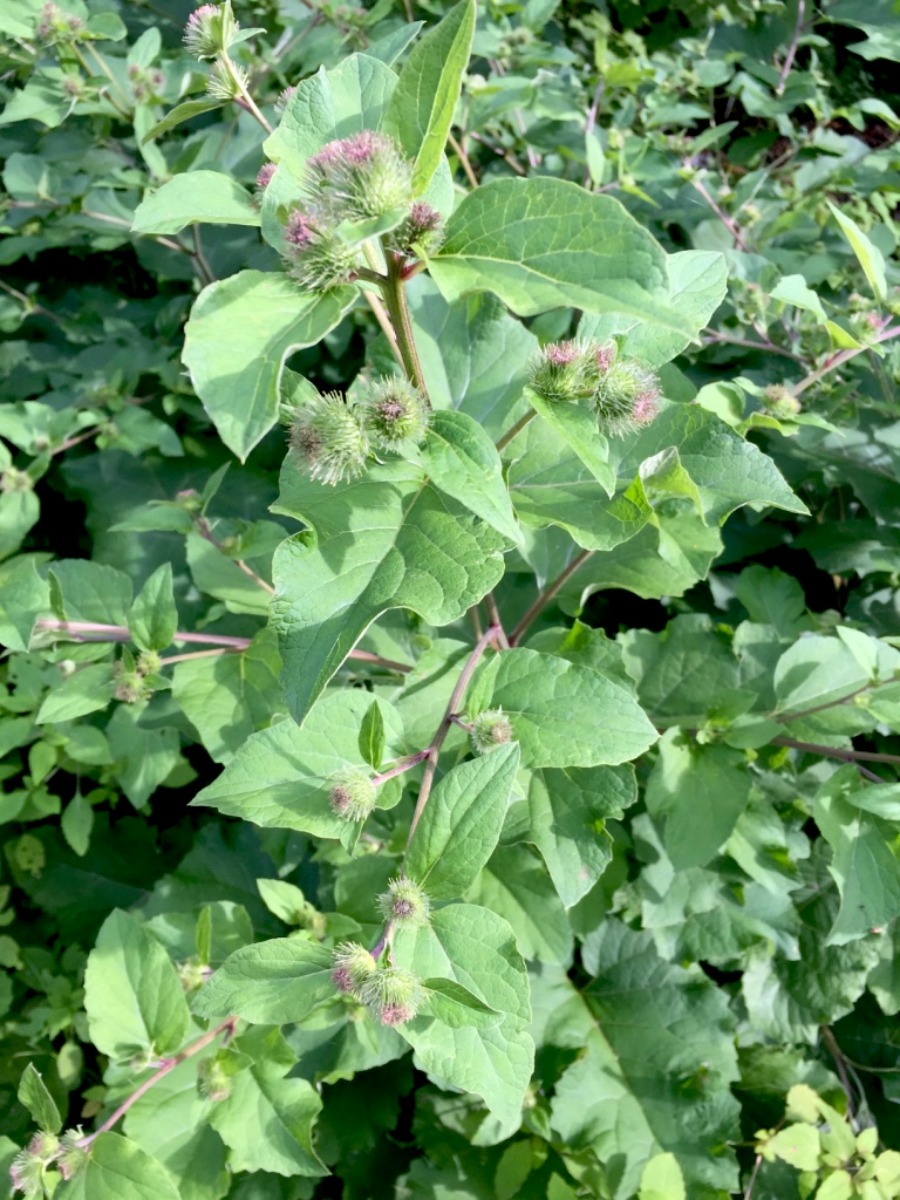 Creating a Local Materia Medica with Burdock
Identifying Burdock
Burdock (Arctium lappa) is a member of the Asteraceae family. The large, wavy, heart-shaped leaves grow as a basal rosette in the first year and are arranged alternately on the tall, erect second-year stem (3-4 feet tall is common). The upper leaves become more oval-shaped. Leaves are dull green on top with tiny hairs on the bottom which give a whitish appearance.
The purple flowers, which bloom during the second summer, are tubular disc florets arranged in a dense cluster and surrounded by a globe of overlapping hooked bracts (called the involucre)—which eventually turns from green to brown as autumn progresses and becomes the familiar burrs who love our sweaters. The long taproot is dark brown on the outside and creamy white on the inside and can be up to 2-3 inches in diameter and 3 feet long. (Grieve, 1931/1971; Edible Wild Food, 2015)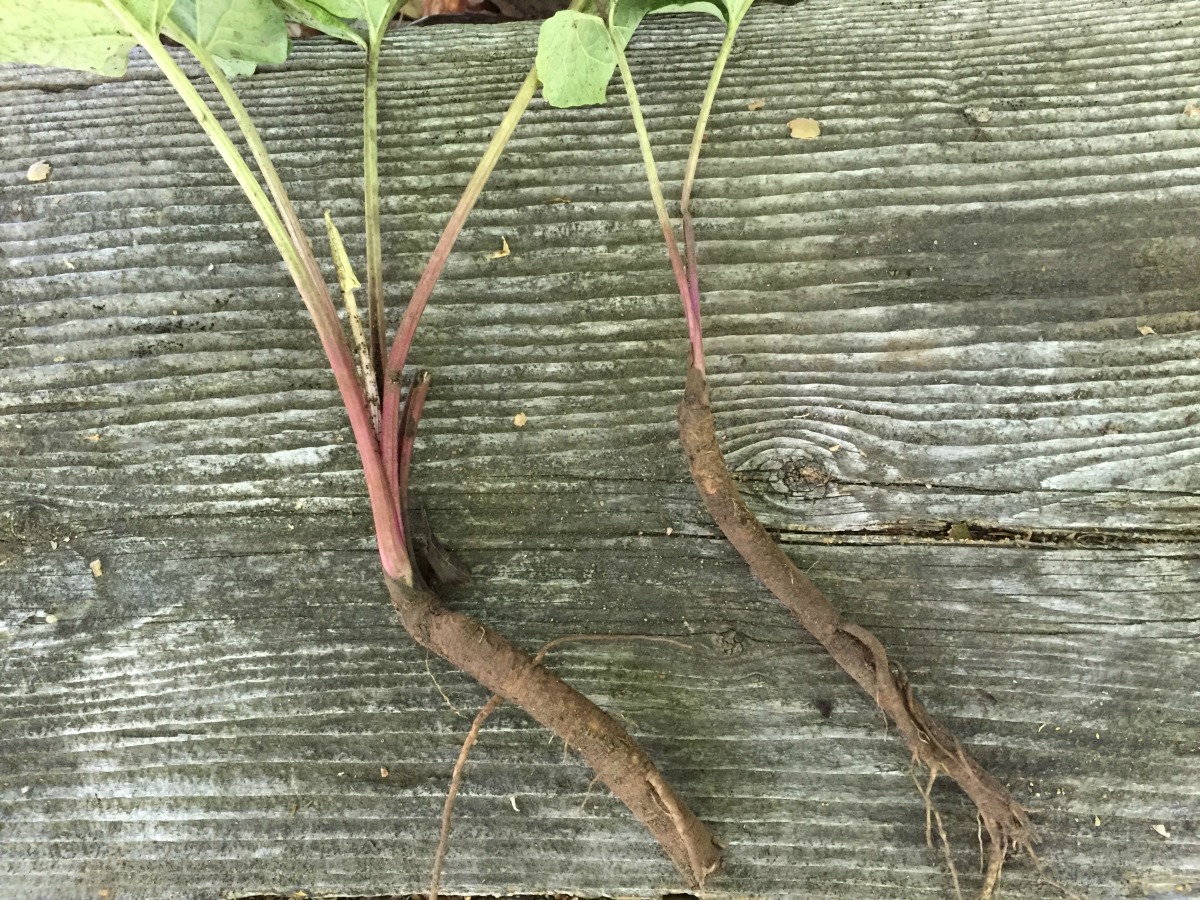 Harvesting Burdock
Burdock is a biennial plant, meaning it flowers in the summer of its second year. The first year, burdock directs its energy and nutrients into growing its basal leaves and establishing roots. The second year, burdock directs its energy and nutrients into producing seeds, so will grow to many feet tall, producing more leaves, flowers, and ultimately, seeds.
Late summer or autumn of the first year is the best time to harvest burdock root as the plant has been putting its energy and nutrients into the root for months. Alternatively, the root could be harvested in the spring during the second year.
Harvesting burdock root is not a light commitment! Its long taproot can grow to several feet in length and does snap easily, so the key is to dig around the root gently, loosening and removing the soil with depth. Because burdock root harvest does require excavating a large hole, disrupting soil structure and microorganisms, it's important to only harvest the number of roots that you truly need, only take a small portion of plants in an area, and take care to fill in the hole and restore the area as much as possible after harvest.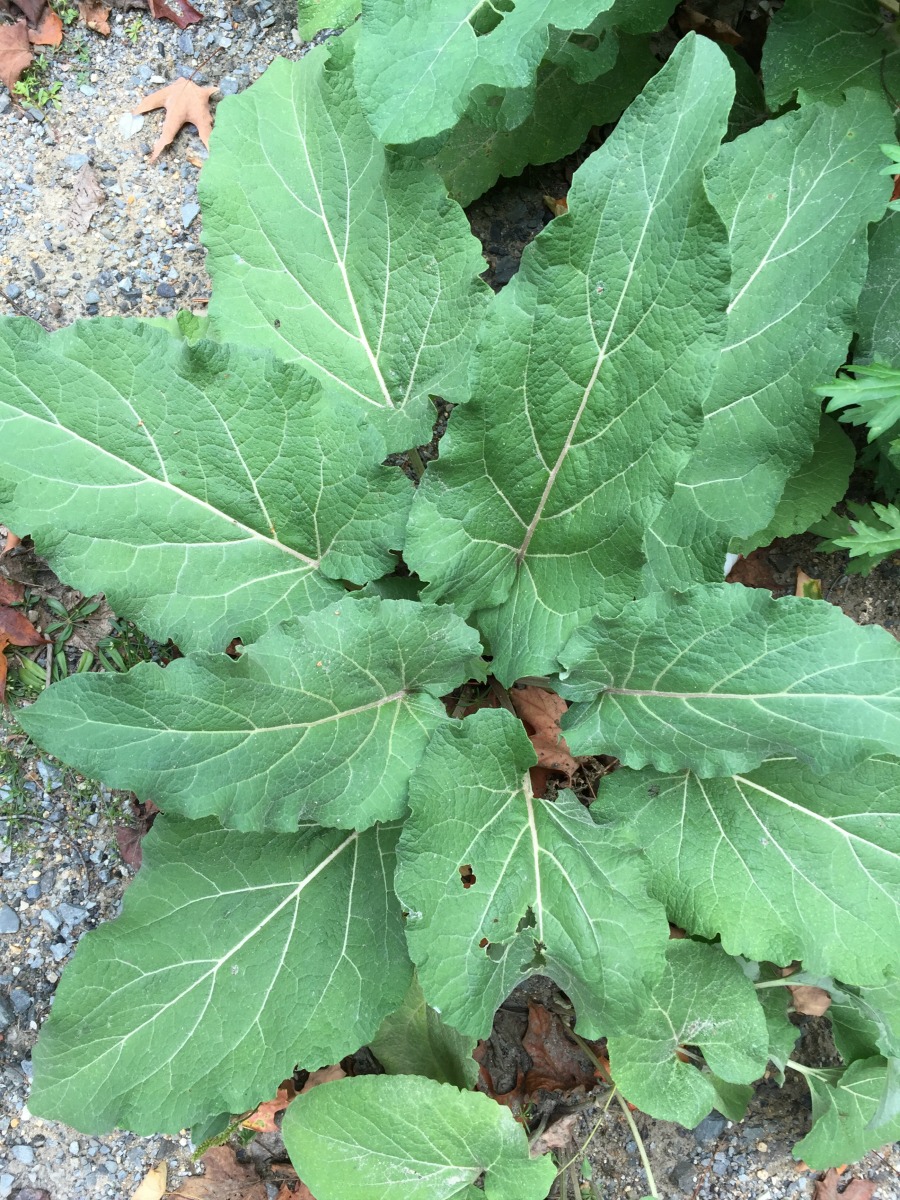 Using Burdock as Food
Burdock leaves can be cooked and eaten like a vegetable when they are young and tender.
Burdock stalks harvested from second-year plants before flowering can be eaten as a vegetable by peeling and then boiling for about 20 minutes, with reports of the taste varying from that of asparagus to artichoke. (Grieve, 1931/1971; Edible Wild Foods, 2015).
Burdock root is also called gobo and is a well-known vegetable in Asian cuisine. After harvest, scrub the root well to remove dirt. Peel the root with a carrot peeler to reveal the white flesh beneath. Chop or julienne depending on your recipe. Since it tends to oxidize and turn brown, you can submerge burdock root in water with a few teaspoons of vinegar or lemon juice prior to cooking in stir-fries or soups.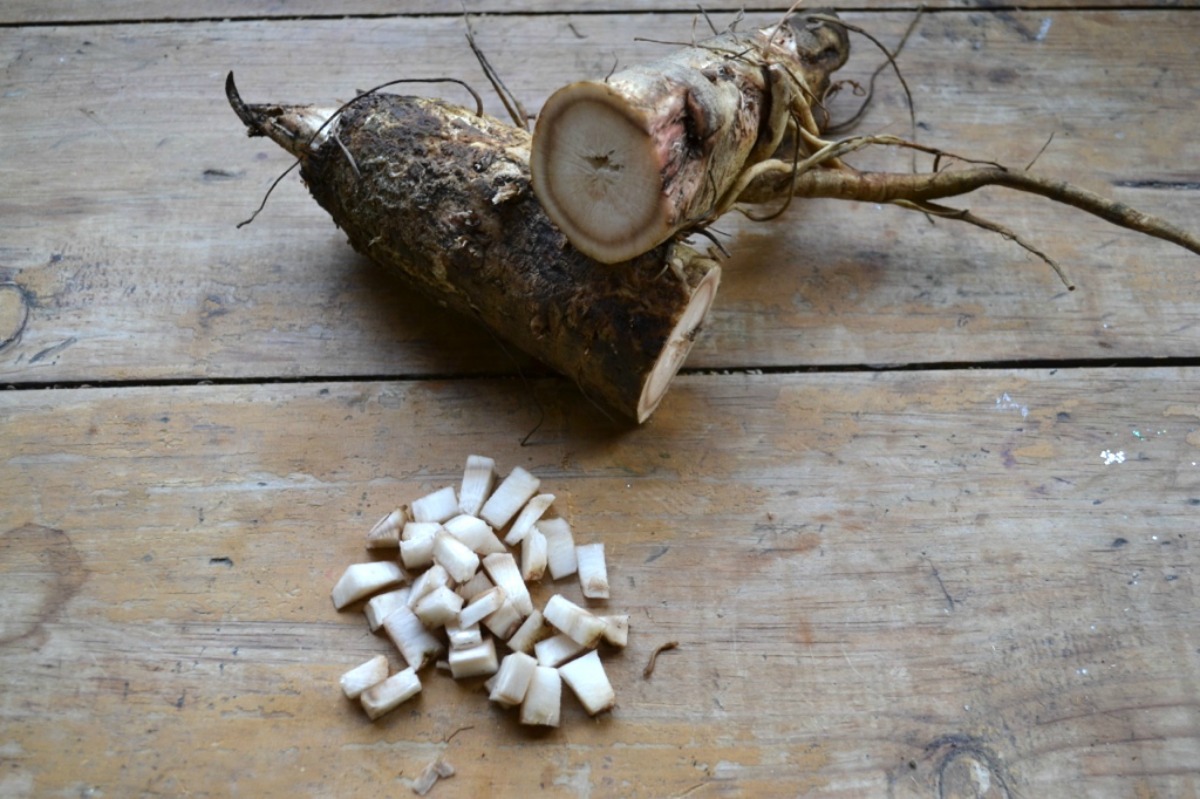 Using Burdock to Support Wellness
Burdock root is cooling and grounding, with a sweet, starchy taste that pegs it as nourishing and building. This is a root chakra plant that I turn to for centering, grounding, and connecting to the earth, enjoying it regularly as a decoction. You'll find that the rehydrated pieces of burdock root in the decoction are juicy and refreshing, and worth nibbling from the bottom of your cup.
Burdock root is a great ally for the digestive system. It is rich in inulin, a pre-biotic that feeds our gut bacteria and supports a healthy gut microbiome. Inulin also helps our bodies regulate blood sugar levels. If you make a tincture of burdock, you will see the inulin settle to the bottom as a white precipitate. Burdock is also a mild bitter, stimulating digestive secretions to help improve appetite, digestion, and absorption of fats.
As an alterative and lymphatic herb, burdock root nourishes and strengthens the body's filtration systems (kidneys, liver, and skin) to aid in cleansing the blood and supports the flow of the lymph, supporting the movement of wastes out of the body. This can support clearing of eruptive skin conditions such as acne, psoriasis, and eczema.
Burdock can also be used externally. Leaves can be blanched and used as antimicrobial and anti-inflammatory poultices for burns or skin sores.
Start Building your Materia Medica with these free pages!
If you want to get started compiling some herbal monographs for yourself, we're including a free download of the materia medica pages from our beautifully designed 
Materia Medica Journal
. You are welcome to download and print this black and white herbal monograph spread to get your materia medica started!
Are you interested in learning more about burdock? Check out our plant monograph for burdock in The Herbarium for additional discussion on burdock's therapeutic actions, energetics, and the body systems and imbalances which it can support.
REFERENCES
Edible Wild Food. (2015). Burdock. Retrieved on 9/16/16 from http://www.ediblewildfood.com/burdock.aspx
Goodrich, R. (2013). Who invented Velcro? Retrieved on 9/16/16 from http://www.livescience.com/34572-velcro.html
Grieve, M. (1971). A modern herbal. Vol. 1. New York: Dover Publications. (Original work published 1931)