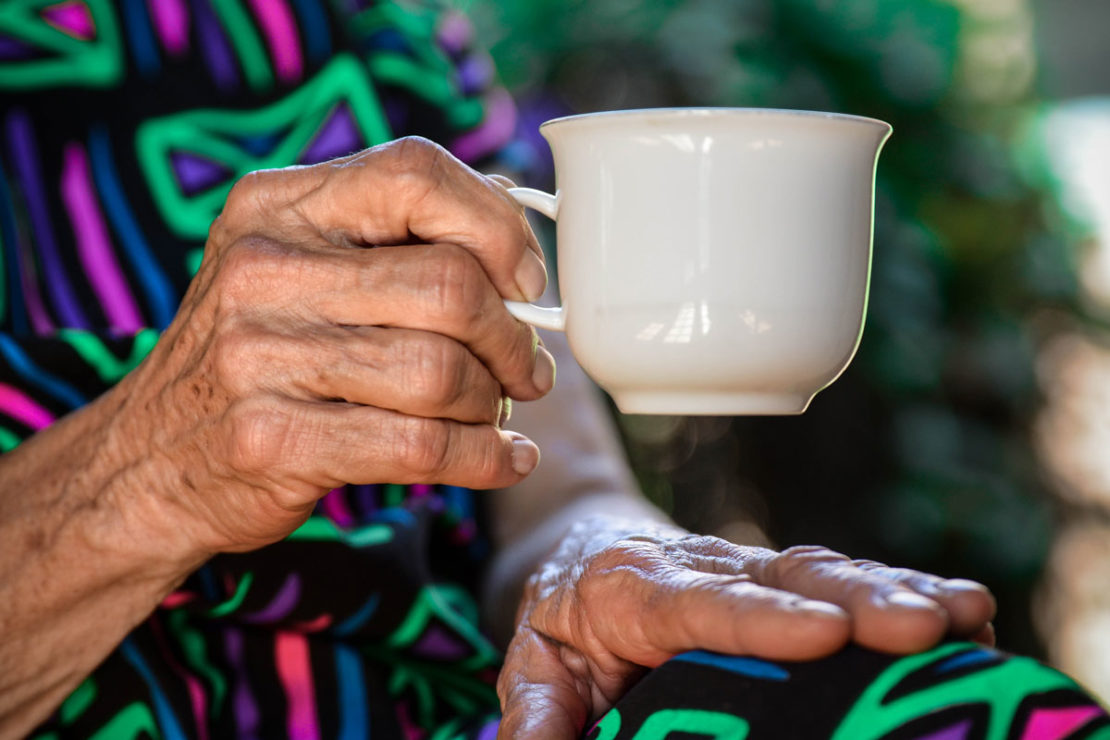 4 Common Types of Tea To Know And How to Enjoy Them
I can't recall the exact moment when I first began to enjoy tea. However, I do know that even as a child I was drinking strong, unsweetened iced tea. I actually enjoyed (and still do!) the tannin-rich, astringent and slightly bitter taste of the ice-cold drink. However, it wasn't until adulthood that I started delving into hot tea.
I had no idea the wonders that awaited me in the world of tea. Even now, many years later, I am still delighting in the excitement of new-to-me flavors and types of tea, and my love of this drink has grown exponentially. Just thinking about a warm cup of honey-sweetened tea makes me smile, and I automatically start to relax. There's just something so soothing and cozy about a nice, hot cup of tea. 
I am of the mind that given the opportunity, most individuals can find a tea they enjoy. Most of the time, if a person says they don't like tea, I believe it is very likely that they have not found a tea that suits their tastes. And if I'm being completely honest, I would even venture to say that they were most likely drinking inferior quality tea, which really does make a difference. Many people don't realize just how many qualities and types of tea there are and how many flavors and options are available to explore!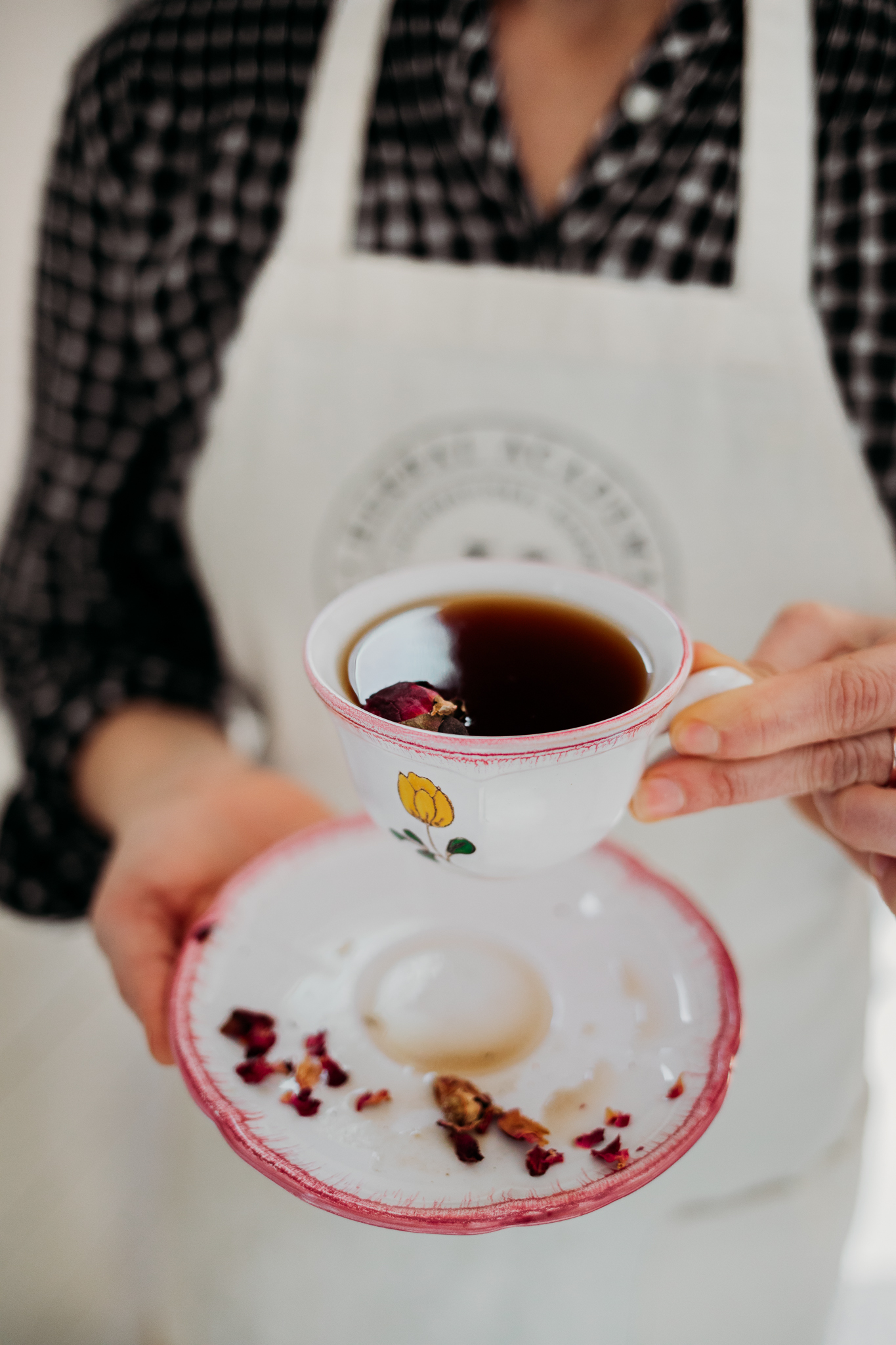 Why Drink Tea?
So, you may be wondering what the big deal is about tea. Why do so many people drink it? Well, aside from the fact that it can taste delicious, there are actually many benefits to drinking a cup or two of tea regularly. Some of the benefits of tea include:
Tea time can be a very enjoyable, relaxing experience;

Tea is high in antioxidants and other wellness-promoting constituents (Leonard, 2018);

Tea may be beneficial for specific health issues (Rasheed, 2019);

Tea can help you increase your fluid intake;

And so much more! 
As you can see, there are many reasons to drink tea on a regular basis. However, while there may be wellness benefits linked to consuming tea, the fact remains that enjoying a fantastic cup of tea can be one of the most enjoyable parts of the day.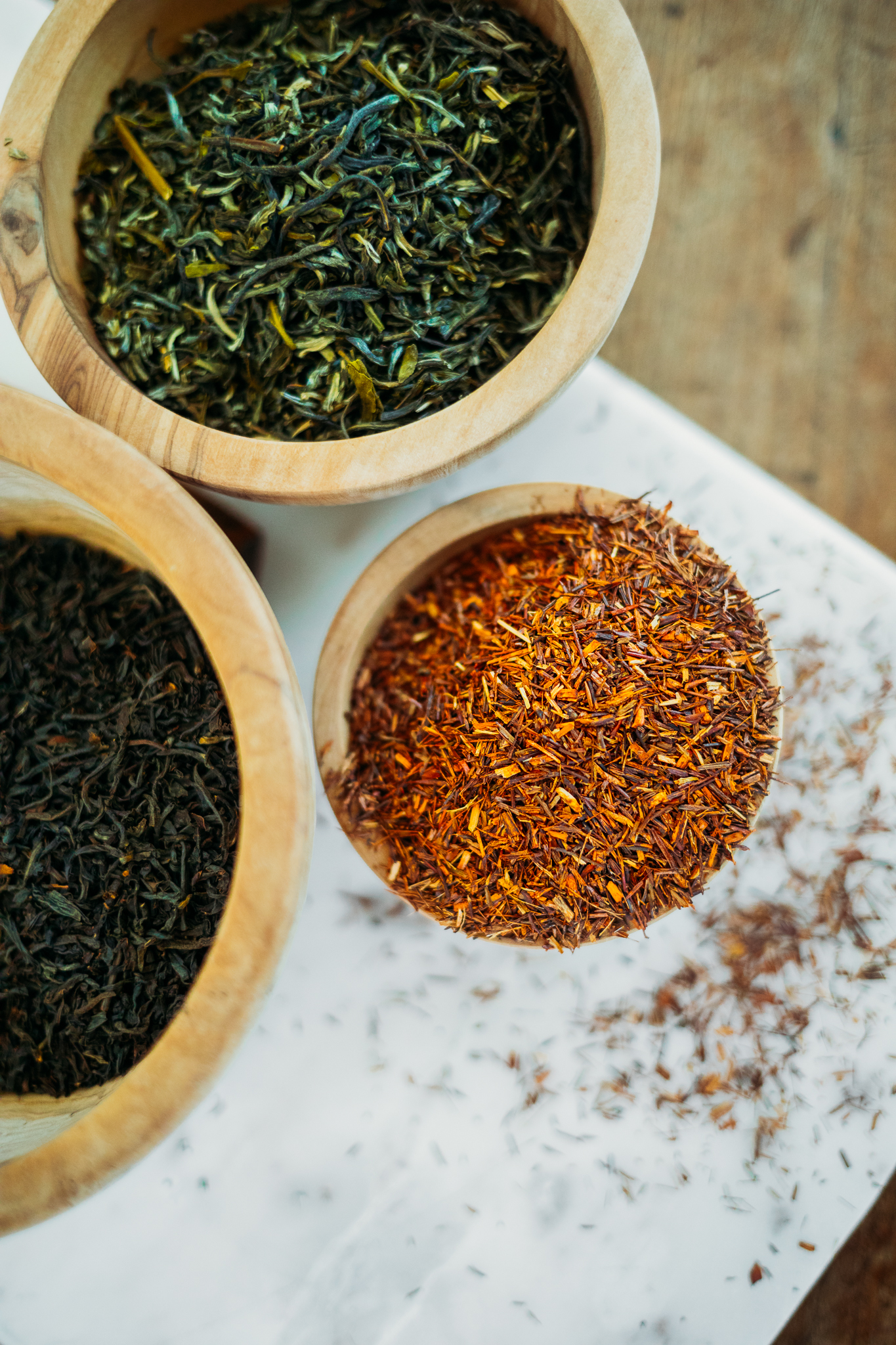 4 Common Types of Tea
While there are many types of tea, only those harvested from the Camelia sinensis plant are considered true teas. This plant is the source of black, green, and white tea—as well as a few other varieties (National Center for Complementary and Integrative Health, 2017).
Each type of tea is produced differently, with varying processing times and methods of handling the tea leaves. The end result is a finished product with a distinctive flavor, benefits, and caffeine content. It's important to note that all true teas contain caffeine. 
While tea purists may only be interested in true teas from the Camelia sinensis plant, there is also much to be said for drinking herbal teas. Not only do they contain beneficial nutrients and have a myriad of wellness benefits, but often the flavor can be more pleasing to those who don't enjoy the taste of true teas. Additionally, most herbal teas are naturally caffeine-free and are a great option for children or for those who wish to avoid caffeine. The fact is, there are many unique flavors among the different types of tea including fruity, floral, spicy, herbaceous, sweet, citrusy, and many more. 
When choosing teas, remember that not all teas are created equal. For instance, I prefer loose leaf teas to the powdered tea found in tea bags. Since powdered tea goes through more processing, the quality tends to be inferior to that of loose leaf tea. What's more, it can be a thoroughly enjoyable experience to watch the loose tea leaves unfurl and expand while steeping. I also prefer organic teas that don't contain artificial ingredients. Quality teas will not need artificial ingredients to mask or enhance the flavor. I encourage you to experiment with many different types of tea to find which ones suit you best.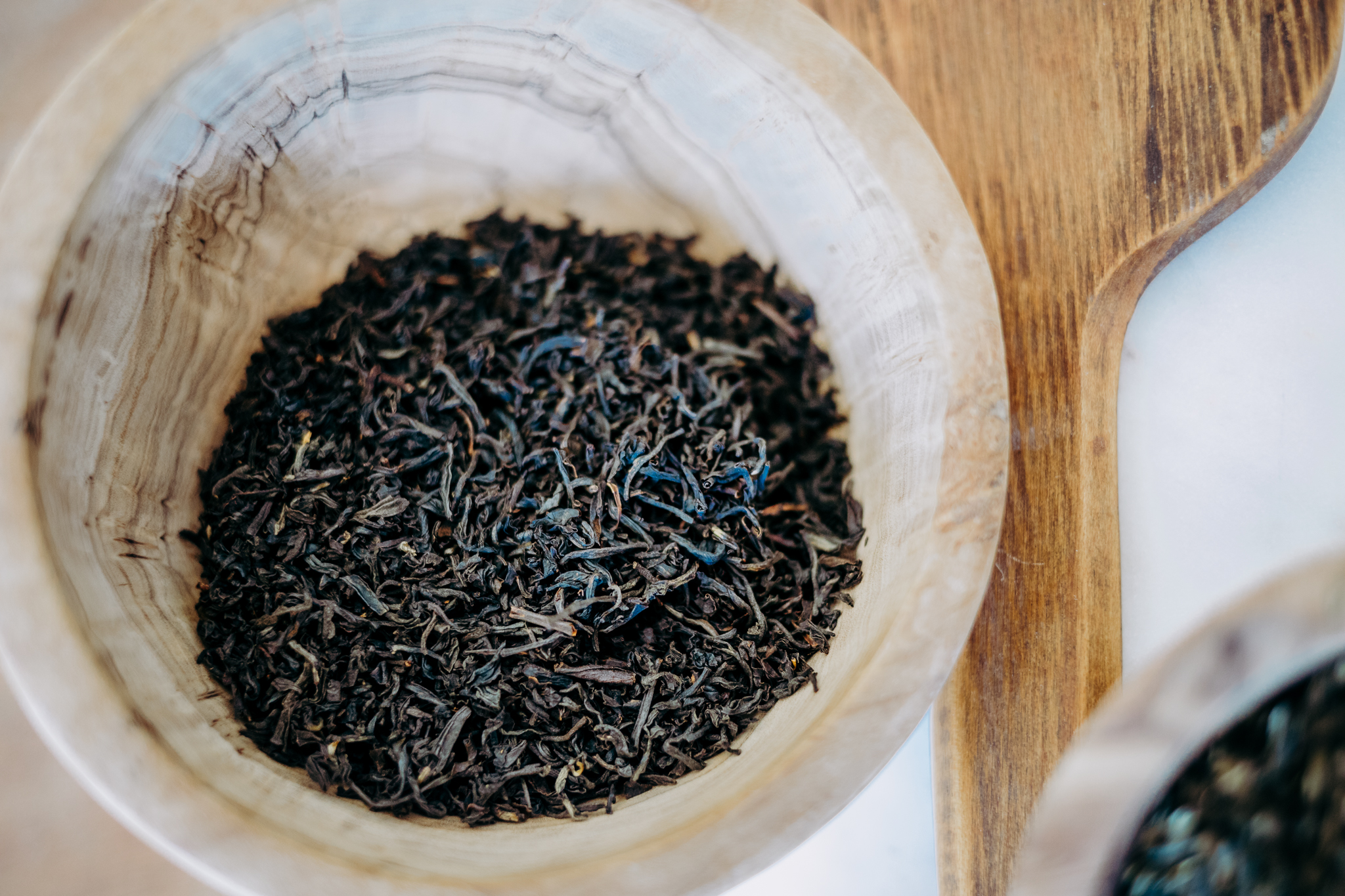 Black Tea
Black tea is one of the most popular types of tea in America. It is traditionally the tea used to make iced tea, and it's also used to make chai and earl grey lattes. While it contains less caffeine than a cup of coffee, black tea does contain caffeine, although the specific caffeine content can vary greatly among black teas. 
During the production of black tea, the tea leaves are rolled to trigger oxidation which is what gives black tea its dark color and intense, rich flavor (Gascoyne et al., 2018). Once oxidized, the leaves are then dried and sifted.   
Black tea is believed to have many wellness benefits. In addition to being high in tannins, black tea is very rich in antioxidants. In fact, due to the action of antioxidants in black tea, studies have found that regular consumption may help reduce the chances of onset of cardiovascular disorders, may support improved blood pressure, and may help neutralize the effects of free radicals (Rasheed, 2019).  
One of my favorite ways to enjoy black tea is by combining it with rose petals. There's something about the delicate aroma and taste of roses mixed with the rich flavor of the black tea that is just so satisfying. When combined with milk and honey, it's an absolutely delightful way to drink a cup of black tea. 
How to Brew Black Tea
Although personal taste will ultimately determine the ideal brewing time, black tea should be steeped for no more than 3-5 minutes (doing so for longer may result in bitterness and excess astringency). To prepare a cup of black tea, simply bring 8 fluid ounces of filtered water to a boil and pour over 1 teaspoon of loose-leaf black tea, then let steep. If desired, add honey or sugar to sweeten and a splash of milk or cream.  
Green Tea
The popularity of green tea has grown exponentially over the last several years with more people realizing the many wellness benefits that it provides. 
Green tea is rich in polyphenols and flavonoids as well as other properties such as anti-inflammatory properties that support cardiovascular and mouth health (Gupta et al., 2017). It also contains catechins, including epigallocatechin gallate (EGCG) (Higdon and Frei, 2003), which have potent antioxidant actions and can be beneficial when dealing with health conditions such as viruses, diabetes, obesity, and cancer (Suzuki, Miyoshi, and Isemura, 2012). Additionally, green tea contains caffeine, although the amount varies. 
The flavor of green tea varies from that of black tea, being "greener" in taste and less intense.  When processing green tea, the leaves are plucked and heated to prevent oxidation, and then rolled, dried, and sifted (Gascoyne et al., 2018).  
My absolute favorite tea is jasmine green tea. To produce jasmine tea, the tea leaves are infused with the aroma of jasmine flowers, and the final result is pure bliss, in my humble opinion. I stumbled upon this gem of a tea when I was presented with a mysterious gift from Myanmar. The branding on the box was not in English, so I had no idea what type of tea I had received—even the person who bought the tea didn't know! Little did I know that it would be the BEST tea I have ever tasted. 
Needless to say, I strongly encourage you to taste different brands and types of tea—it may make all the difference in taste!
How to Brew Green Tea
Green tea should be brewed with water that is just short of boiling, such as when you hear the tea kettle just start to rumble. Steep 1 teaspoon of loose leaf tea in 8 fluid ounces of filtered water for no more than 1-3 minutes. Sugar or honey can be used to sweeten the tea. Milk and cream are not generally used with green tea, however, the choice is ultimately yours. 
White Tea
Although white tea doesn't share the popularity of black or green tea, at least in Western culture, it is renowned for its light, subtle flavor. As you can likely guess, this difference in flavor is due to the processing of the tea leaves.
White tea is harvested when the tea leaves are still buds and have white, downy hairs on them, and then the buds (and young leaves in white teas that include these as well) are dried and sifted (Gascoyne et al., 2018). Some would argue that because there is minimal processing with white tea, it retains the most nutrients and wellness-promoting benefits (Lovell, 2019). Like both black and green tea, white tea contains caffeine, though the amount varies.    
The subtle flavor of white tea blends well with fruity flavors. I especially enjoy white tea when it is paired with berries such as raspberries or blueberries. A good-quality blueberry white tea is especially delicious. I find that I like it best plain or sometimes sweetened with a bit of honey. The flavor is so delicate that I don't personally like to dilute it with milk. But truthfully, in my opinion there is no wrong way to enjoy a cup of tea.   
How to Brew White Tea
To brew a great cup of white tea simply steep 1 teaspoon of loose leaf white tea for 1-3 minutes in 8 ounces of filtered water that is just short of boiling. Enjoy as-is, or sweeten with honey or sugar and add milk or cream if you desire.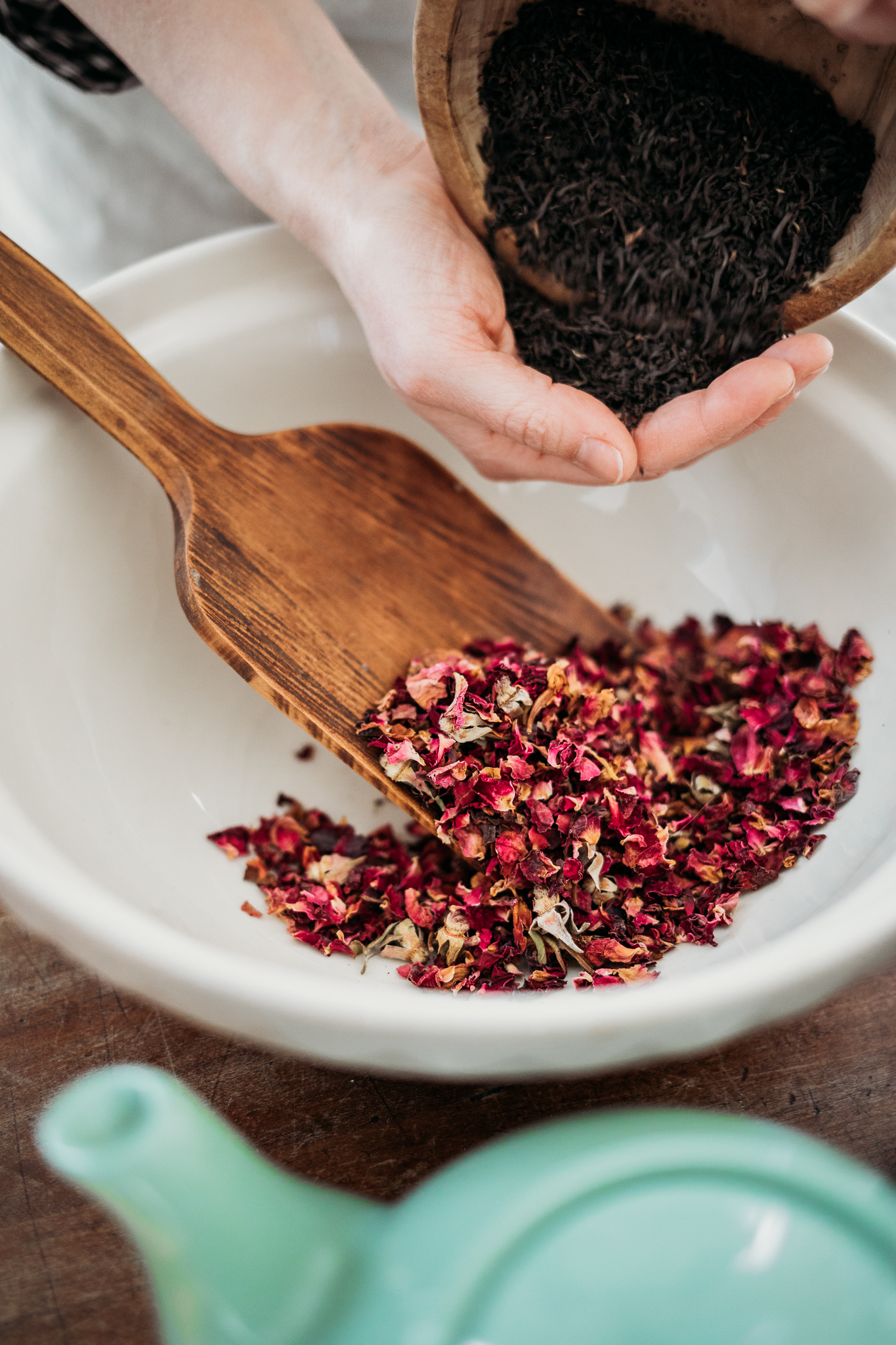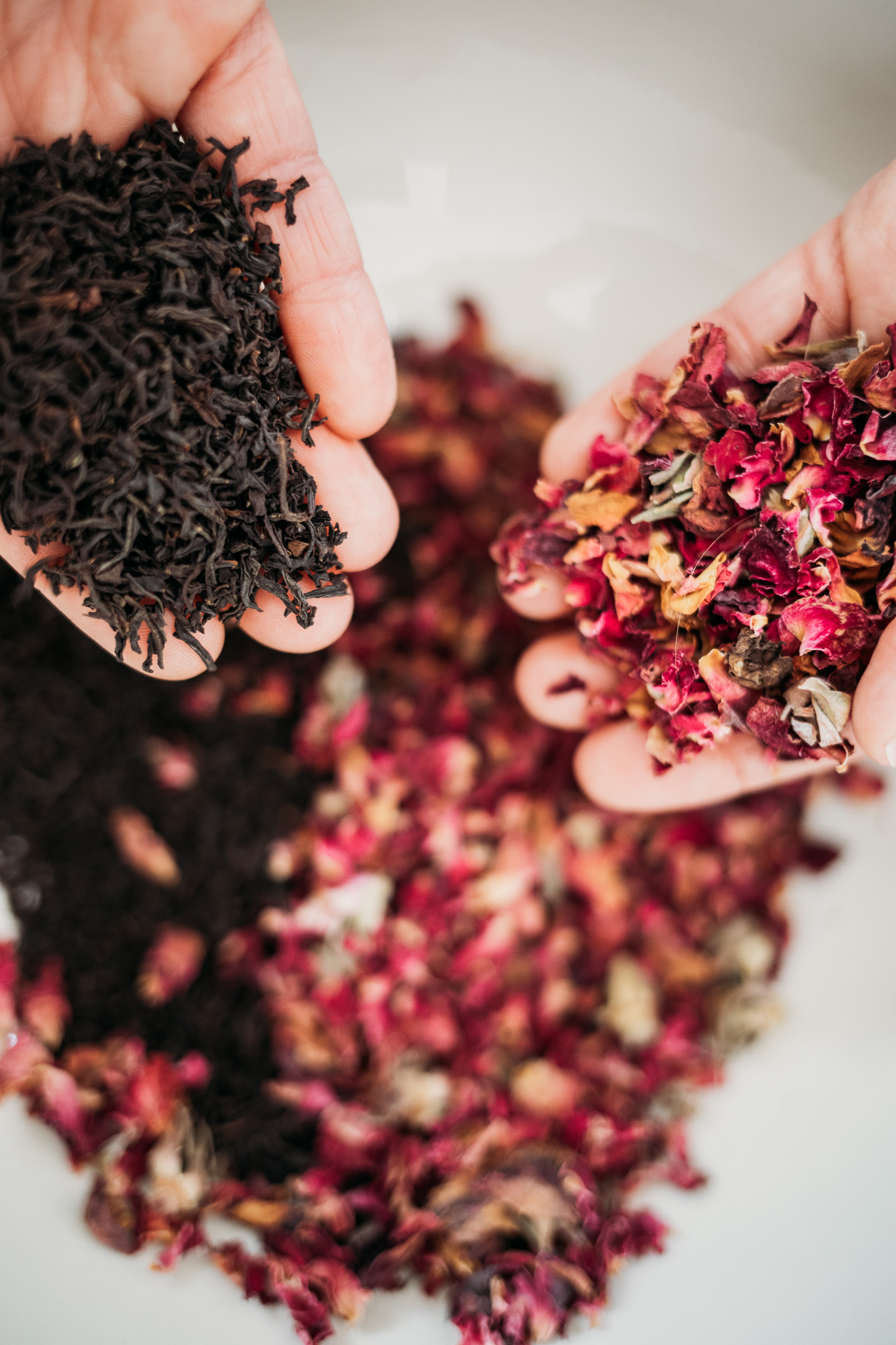 Herbal Tea
Although herbal teas may not be considered true teas, they simply cannot be overlooked. As herbalists, we've come to know the herbs we work with intimately, and many herbs make amazing-tasting, nutrient-rich teas. 
There's no denying that herbs contain numerous wellness benefits. In fact, we often choose our herbal teas based on what's ailing us, such as peppermint (Mentha x piperita) tea for digestive issues, or lavender (Lavandula angustifolia) and chamomile (Matricaria recutita) tea for nervous system support when we are feeling anxious. However, it's important to remember that herbs can also be consumed as a tea simply for the enjoyment of it. Tell me, how many things are more comforting (or delicious!) than a cup of chamomile tea? I would venture to say not many!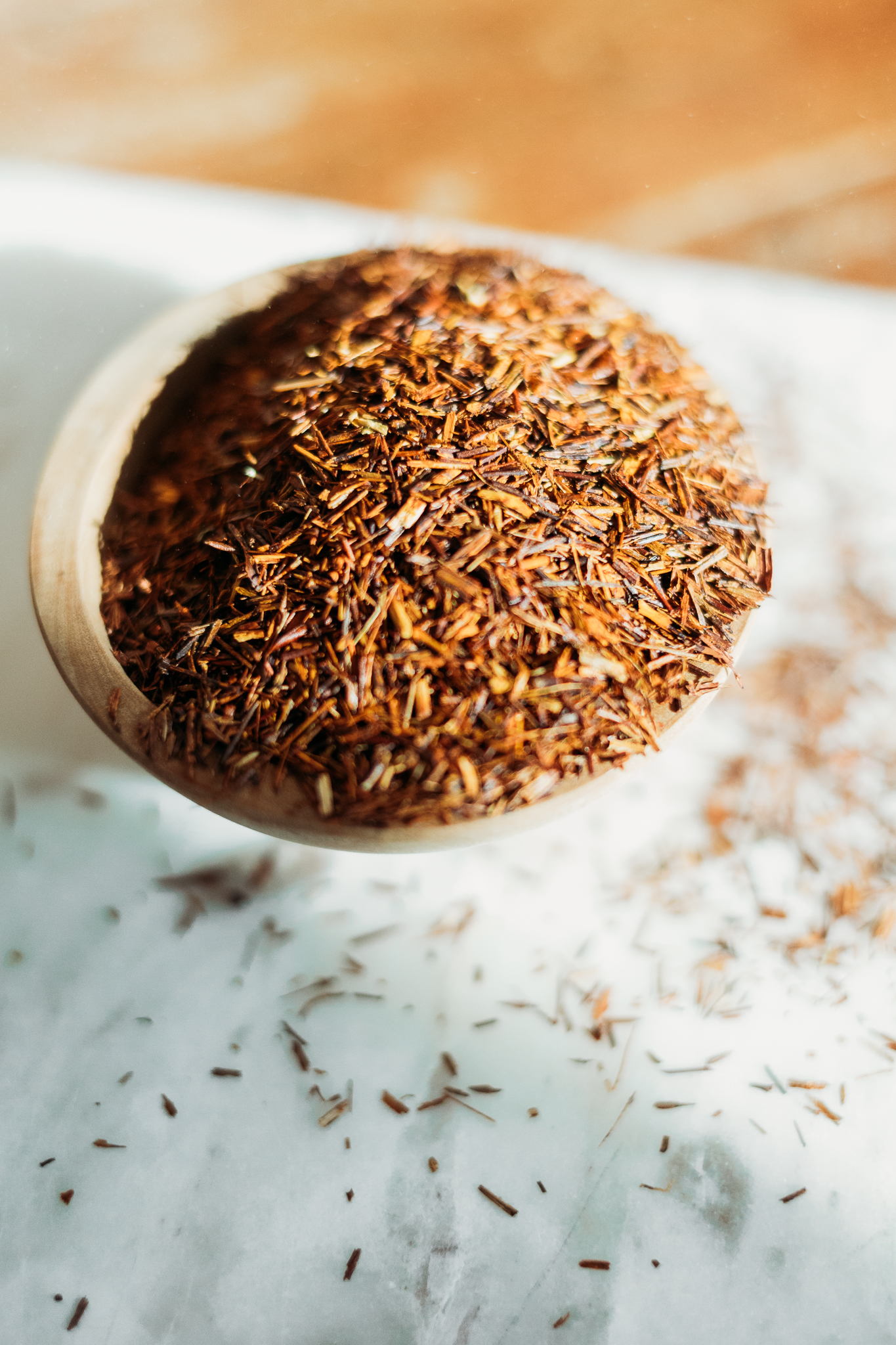 One of my favorite herbal teas happens to be rooibos tea. Rooibos (pronounced "Roy-boss") is a caffeine-free tea that is red in color and comes from the leaves of the South African shrub Aspalathus linearis (Leonard, 2018). The flavor of rooibos tea is deep, mellow, and sweet, and completely different than black, green, or white tea. It is low in tannins and high in antioxidants and is believed to contain many wellness-promoting benefits, some of which include cardiovascular benefits (Mahomoodally, 2013; Marnewick et al., 2011). 
Additionally, rooibos is a great tea option for kids and others who don't have a fondness for the astringent flavor of the true teas, or for those who simply want to avoid caffeine. In fact, rooibos is my children's favorite type of tea, and we drink it frequently in our house.   
Most of the time, I keep preparation simple with my herbal teas and just use a bit of honey. However, sometimes I will add milk or cream, especially if I want a nice creamy rooibos tea to enjoy. I find that rooibos is especially delicious when it's in a blend that contains vanilla, coconut, or berries. 
How to Brew Herbal Tea
Herbal teas require various steep times depending on the plant being used, and some herbs will be used in larger amounts. For hard herbs like barks, roots, or berries, use 1 tablespoon and steep for 15-30 minutes in boiling water. For herbs like flowers or large leaves, steep 1 tablespoon for 5 minutes. For herbs with a finer texture, use 1 teaspoon. Drink your herbal tea as-is or sweeten with honey or sugar and add milk or cream if desired. 
Additionally, herbal infusions are equally as simple to prepare and share many similarities with herbal teas. The main differences between the two are that herbal infusions require more plant matter and a longer steep time. If you haven't already, I highly recommend you try both herbal teas and herbal infusions. Both are great ways to get more herbs in your diet!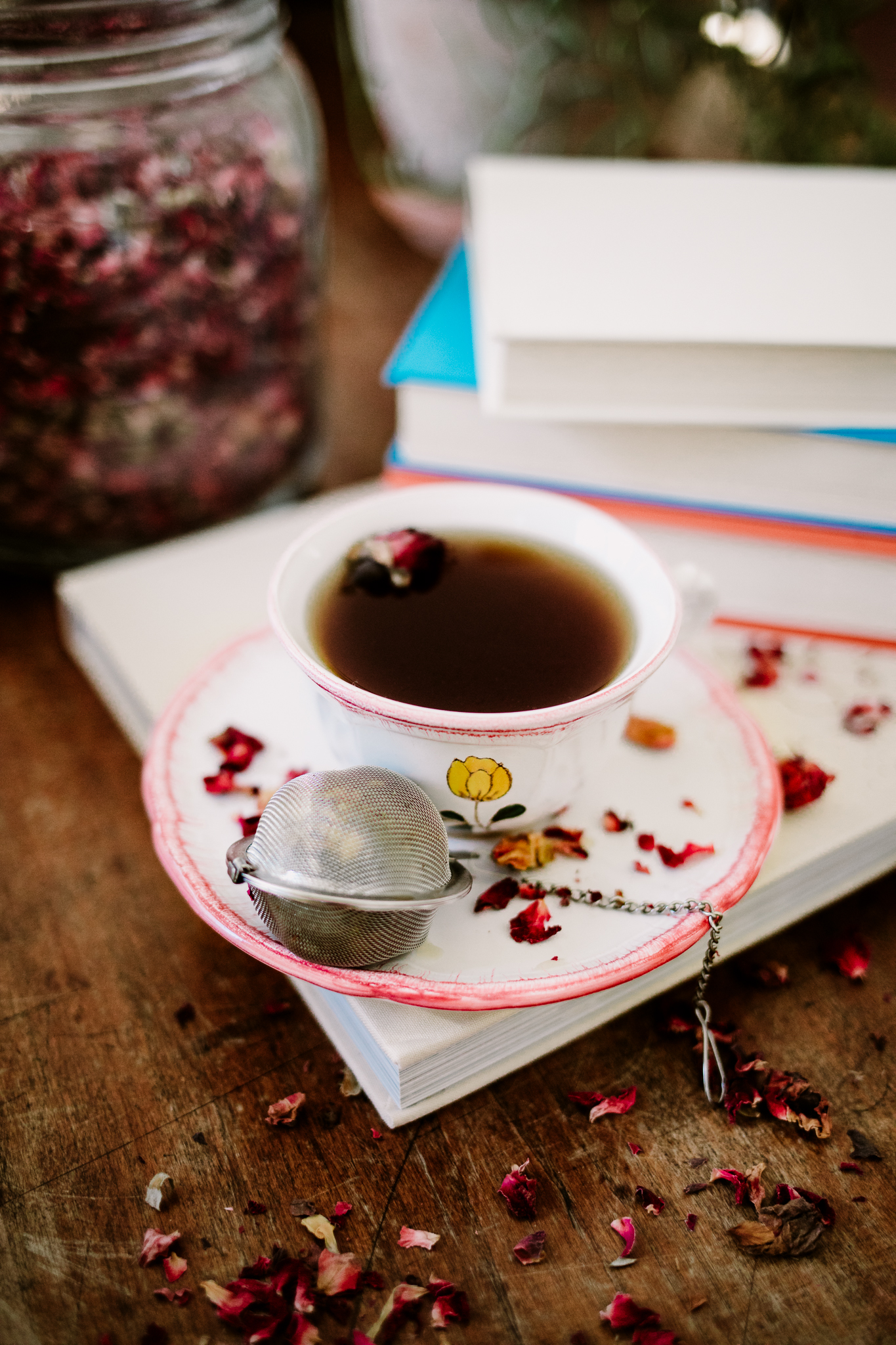 In Conclusion
Up to this point, you may not have considered yourself a "tea person," but I would guess that if that is the case, you simply haven't found your special tea yet! There are so many types of tea that are just waiting to be enjoyed. With all of the different varieties and flavors available, I'm convinced that most people can find at least one tea that they enjoy. 
With that in mind, I encourage you to explore the wonderful world of tea. See if there are any common types of tea that resonate with you. If you've tried a couple of different types of tea and haven't found one you love, don't give up. Keep trying! Trust me when I say that it's completely worth it to find that perfect type of tea for you.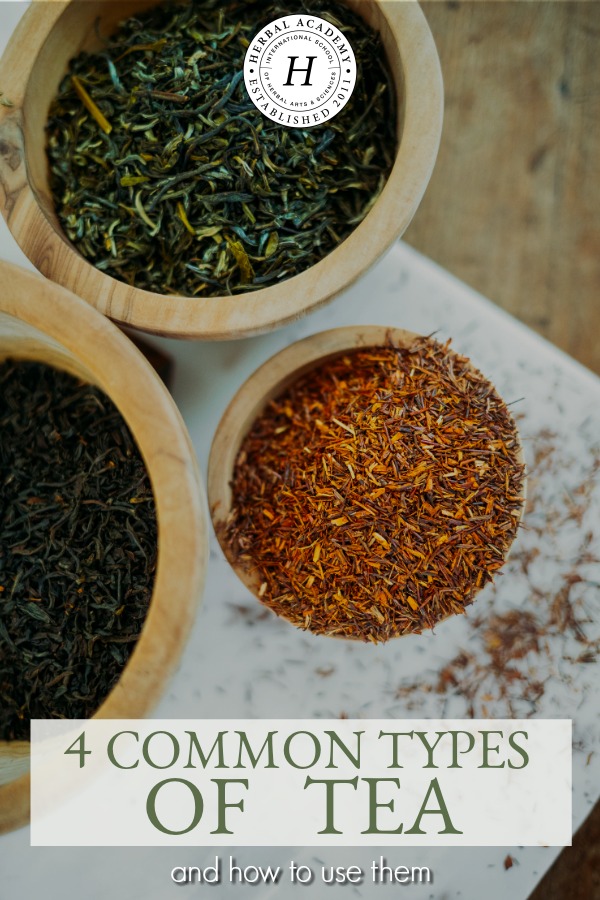 REFERENCES
Gascoyne, K., Américi H., Desharnais, J., Marchand F., Bourlier, K., & Gascoyne, K. (2018). Tea: History, terroirs, varieties. Richmond Hill, Ontario: Firefly Books.
Gupta, K., Singhal, K., Raj, N., & Singh, S. (2017). Probable benefits of green tea with genetic implications. Journal of Oral and Maxillofacial Pathology, 21(1), 107.
Higdon, J.V., & Frei, B. (2003). Tea catechins and polyphenols: Health effects, metabolism, and antioxidant functions. Critical Reviews in Food Science and Nutrition, 43(1), 89–143.
Leonard, J. (2018). Rooibos tea: Benefits, nutrition, and how to drink it. Retrieved from https://www.medicalnewstoday.com/articles/323637.php.
Lovell, H. (2019). Infused: Adventures in tea. London: Faber & Faber.
Mahomoodally, M.F. (2013). Traditional medicines in Africa: An appraisal of ten potent African medicinal plants. Evidence-Based Complementary and Alternative Medicine, 2013, 1–14.
Marnewick, J.L., Rautenbach, F., Venter, I., Neethling, H., Blackhurst, D.M., Wolmarans, P., & Macharia, M. (2011). Effects of rooibos (Aspalathus linearis) on oxidative stress and biochemical parameters in adults at risk for cardiovascular disease. Journal of Ethnopharmacology, 133(1), 46–52.
National Center for Complementary and Integrative Health. (2017). Tea. Retrieved from https://nccih.nih.gov/health/tea.
Rasheed, Z. (2019). Molecular evidences of health benefits of drinking black tea. International Journal of Health Sciences, 13(3), 1-3. Retrieved from https://www.ncbi.nlm.nih.gov/pmc/articles/PMC6512146/
Suzuki, Y., Miyoshi, N., & Isemura, M. (2012). Health-promoting effects of green tea. Proceedings of the Japan Academy, Series B Physical and Biological Sciences, 88(3), 88-101.