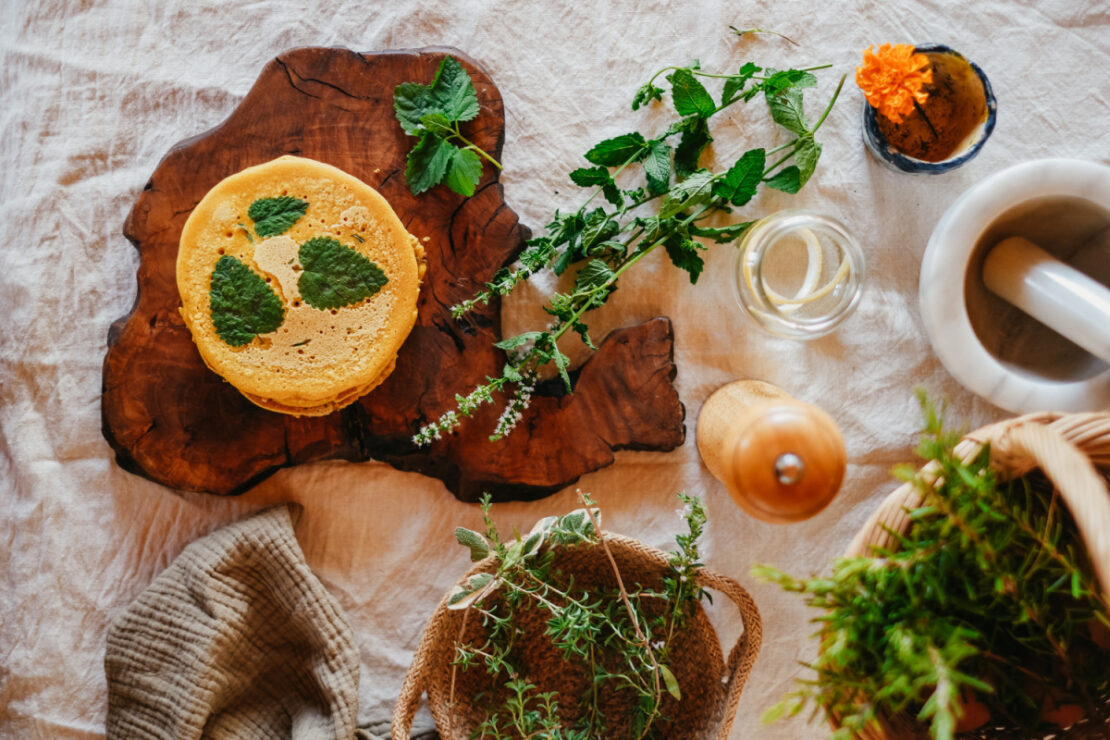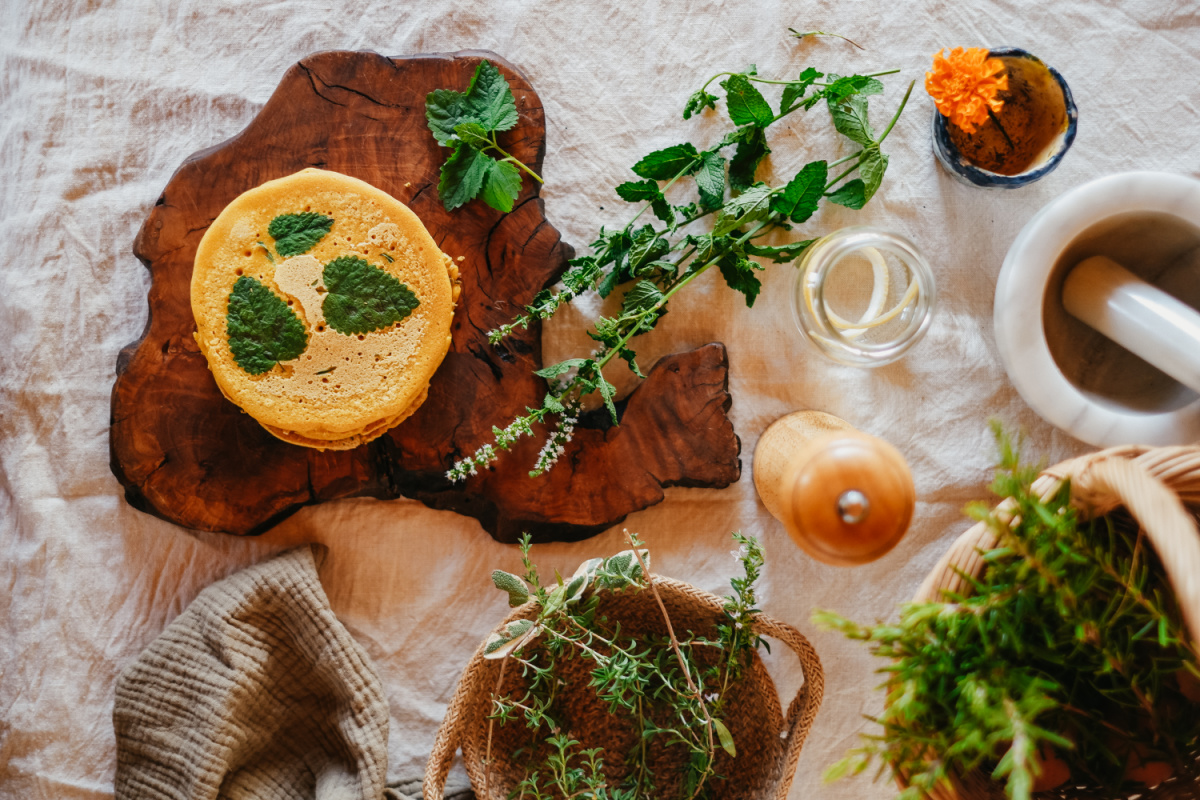 Savory Chickpea Flour Pancakes With Garden Herbs
If you are looking for a gluten-free, protein-rich, high-fiber, nutritious alternative to bread or conventional pancakes, chickpea flour pancakes may become a new mealtime favorite! Several years ago, I started making chickpea flour pancakes for their ease, taste, and nutritional value. I have made many iterations over the years and have landed on this tasty, simple recipe as my go-to.
Why Chickpea Flour? 
Of course, I didn't invent chickpea flour pancakes. Also called besan, chickpea flour is used with prevalence in Indian cuisine and can be found in various sweet and savory dishes throughout the world. The Italian chickpea flour bread, socca, is quite similar to these chickpea flour pancakes. Interestingly enough, chickpea flour has become increasingly popular in the United States as a staple in gluten-free fare, though as food writer Priya Krishna (2019) points out, "Indians have been experimenting with this alternative flour for centuries" (p. 90). Gluten-sensitive or not, these savory pancakes tend to be a crowd-pleaser! Also, I like simplicity and efficiency when it comes to culinary creations, so rest assured that even the busy or impatient cook can handle this chickpea flour pancake recipe.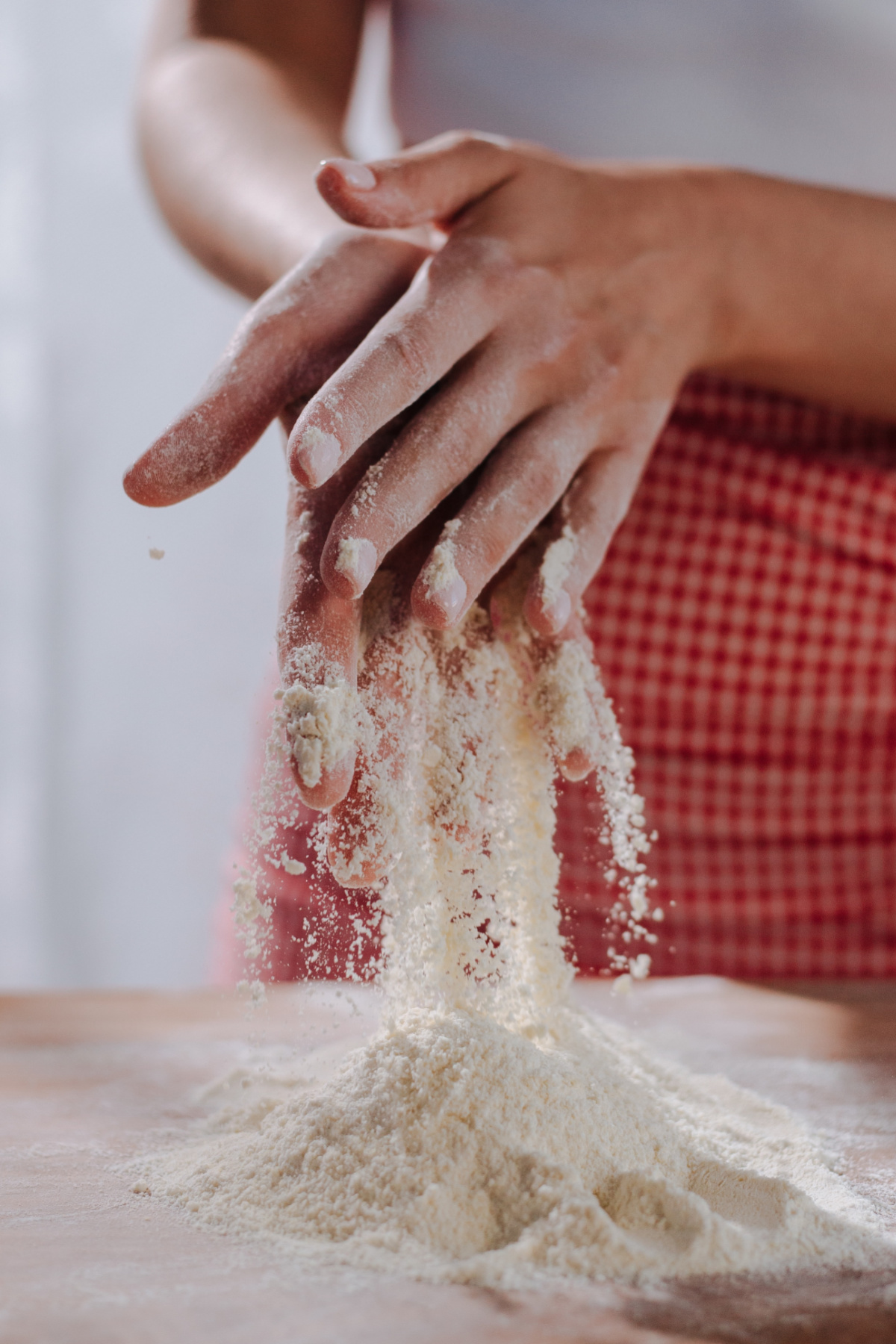 The Benefits Of Chickpea Flour
According to Ayurveda, chickpeas have a sweet taste, a cooling energy, and though highly nutritious, an overall purifying effect on the body (Lad & Lad, 2009). Their cooling energy and slight astringency make this little legume perfect for spring through early fall—kapha and pitta seasons. During spring, kapha dosha is predominant and during summer and early fall, the qualities of pitta dosha are at the forefront. Therefore, it is helpful to focus on foods that are somewhat astringent during this time of year as kapha and pitta share the quality of moistness. (Of course, much of this also depends on one's individual constitution, but focusing on kapha-reducing foods during spring and pitta-balancing foods during summer and early fall is a good general seasonal guideline.)
In addition to being seasonally appropriate, chickpeas and chickpea flour offer many health benefits and are incredibly versatile. A good-quality organic chickpea flour will contain only chickpeas. Just as a point of reference, 1/4 cup of Bob's Red Mill chickpea flour contains 5 grams of fiber, 5 grams of protein, 10% of the daily recommended amount of iron and 8% of the daily recommended amount of potassium. Furthermore, chickpeas support the pancreas, stomach, and heart and are a richer source of iron than most other legumes (Pitchford, 2002).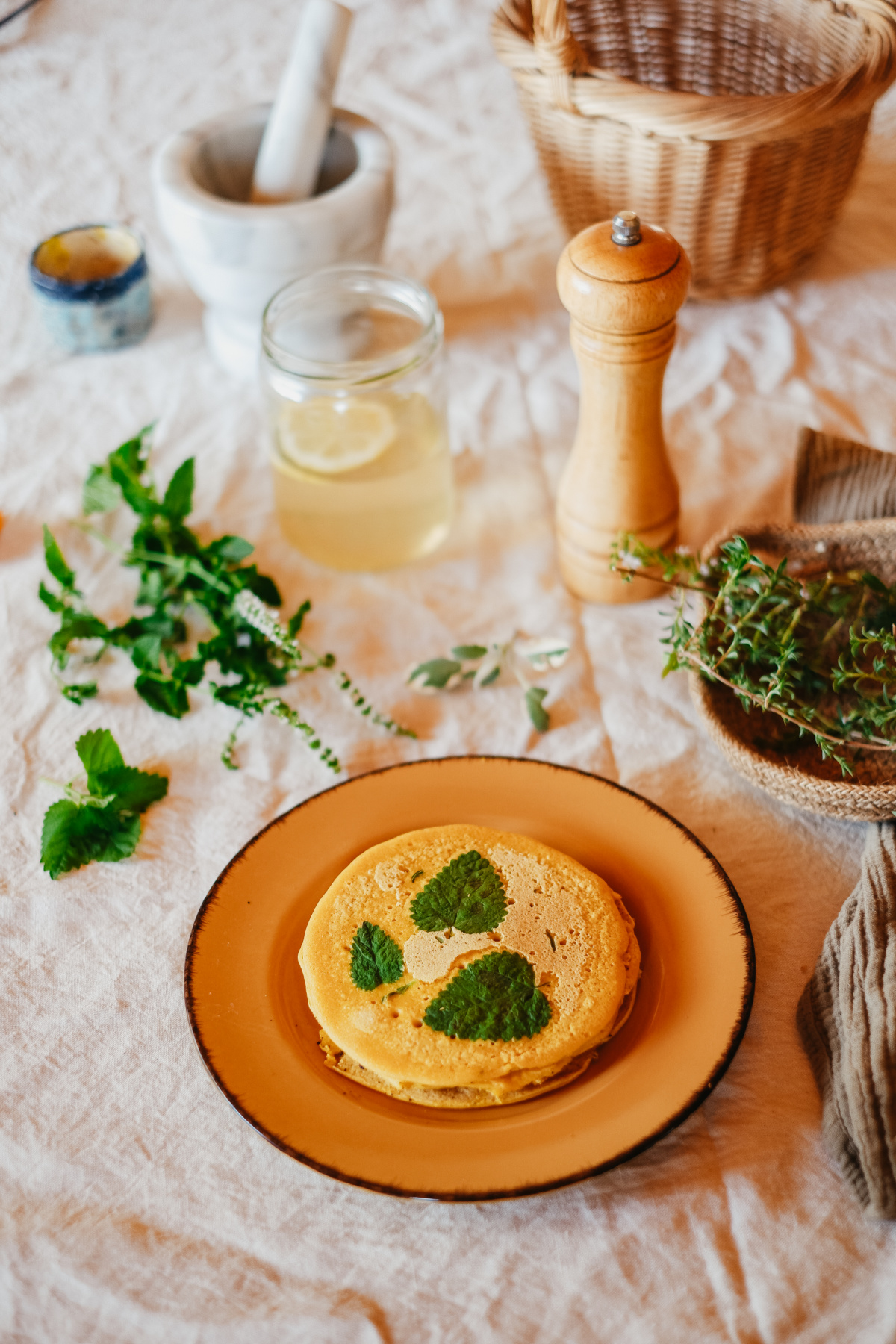 Savory Chickpea Flour Pancakes With Garden Herbs
The beauty of this recipe is its versatility. You can experiment with different spice combinations and garden herbs to find your favorite chickpea flour pancake variation. Treat this recipe as a launching point! Also, big hint: these pancakes are twice as good when eaten hot and fresh, so best to enjoy them right away! Yield: 5 medium-sized pancakes. 
Ingredients
1 cup chickpea flour
1 cup water
Pinch of salt
1 tablespoon olive oil, avocado oil, or ghee
1 teaspoon yellow curry powder (or substitute 1 teaspoon plain turmeric (Curcuma longa) powder and 1/8 teaspoon black pepper (Piper nigrum), ground)
Oil or for the skillet
A handful of fresh garden herbs, chopped: choose from curry tree (Murraya koenigii) leaves, cilantro (Coriandrum sativum) leaf, parsley (Petroselinum crispum) leaf, spearmint (Mentha spicata) leaf, lemon balm (Melissa officinalis) aerial parts, sage (Salvia officinalis) leaf, nettle (Urtica dioica) leaf, green onions, or whatever you have growing!
Directions
Add chickpea flour, oil, water, salt, and spices (curry powder or turmeric and pepper) to a blender and blend until smooth.
Pour out roughly ⅓ cup pancake batter onto a hot skillet (keep on medium-low to avoid smoking the oil). 
Now the fun part! While the pancake batter is on the griddle, sprinkle on fresh garden herbs of choice. I am a big fan of fresh curry leaves. They are wonderfully tasty and aromatic and lucky for me, this little tropical tree grows easily as a house plant in the southeastern United States where I live. However, you can use whatever you have on hand. Try out any of the above suggestions…or come up with your own ideas! Stick to one herb or use a garden variety to create an herbal chickpea flour pancake sampler. 
The pancake batter should bubble slightly. When the edges become firm, flip and cook until both sides are golden brown. The herbs may sear slightly, but this is fine. The addition of garden herbs will serve as both decoration and a tasty flavor accent. 
Remove from heat and put the next batch on the griddle. 
To Use:
These savory delights are best eaten hot and fresh. Enjoy with yogurt, chutneys, curries, stews, slathered with butter or ghee, or plain!
In Closing,
I love this chickpea flour pancake recipe for many reasons. It is a nourishing go-to staple that works great as a snack, breakfast food, or adds heft to light, plant-based meals. For the creative cook or kitchen herbalist, use this recipe as a springboard. Once you get familiar with the basic recipe, try experimenting with different spice and herb combinations. For instance, I have substituted garam masala for yellow curry powder and it came out quite nicely. Topping with fresh curry leaves is definitely a tried and true favorite of mine. You can also try mixing herbs such as cilantro leaves directly into the batter. These pancakes tend to be a hit with friends and family and you can adjust the quantity to make it a meal for one or many!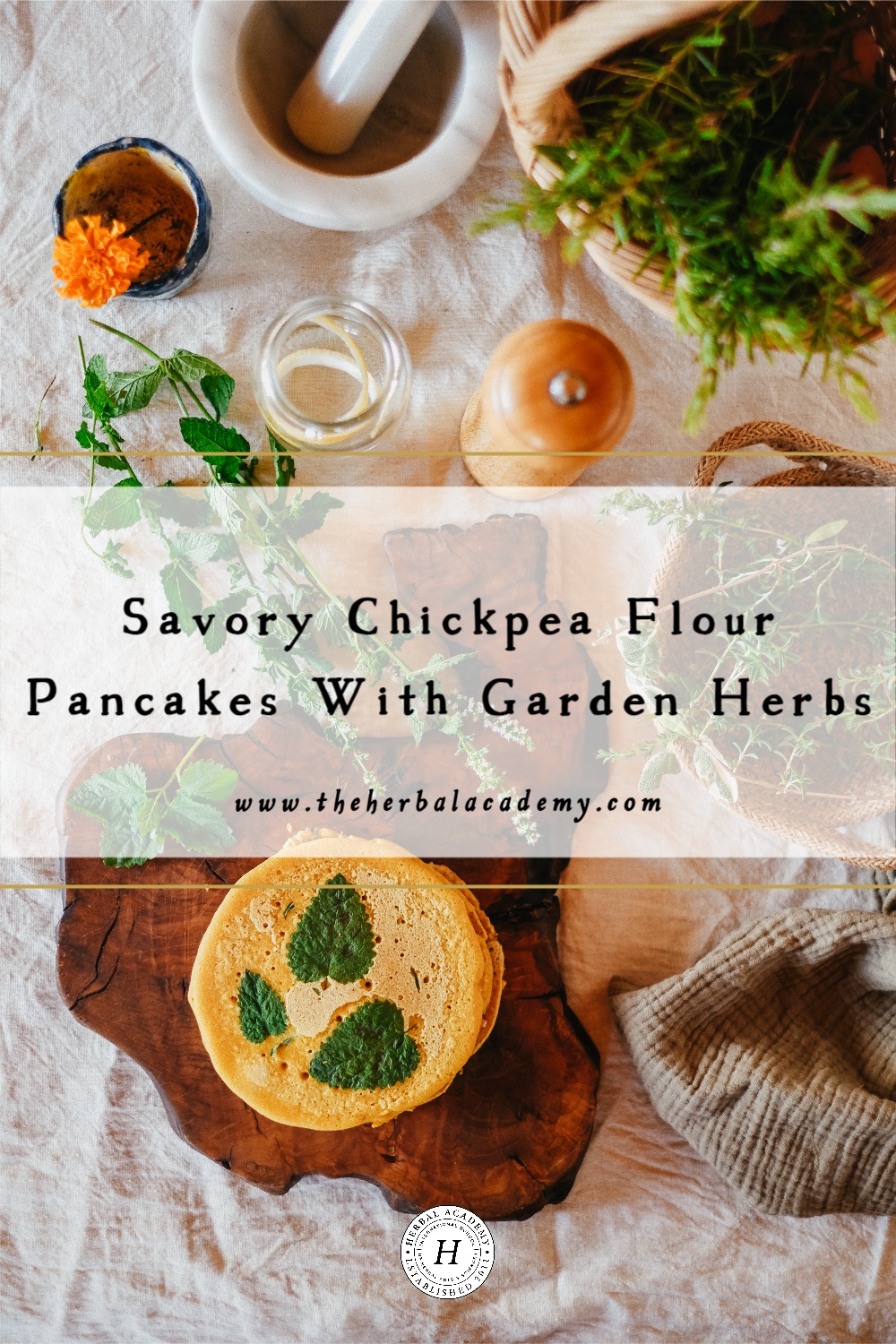 REFERENCES
Krishna, P. (2019). Indian(-sh): Recipes and antics from a modern American family. Houghton Mifflin Harcourt. 
Lad, V., & Lad, U. (2009). Ayurvedic cooking for self-healing (2nd ed.). The Ayurvedic Press.
Pitchford, P. (2002). Healing with whole foods (3rd ed.). North Atlantic Books.