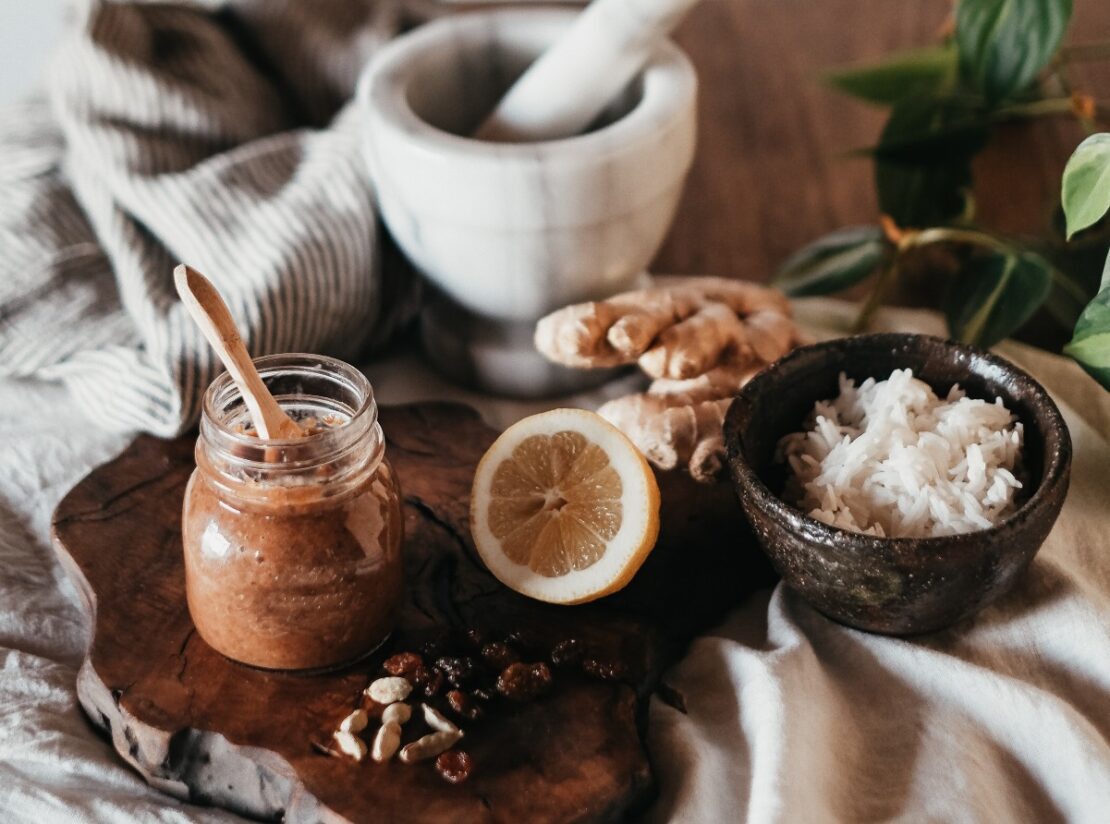 Two Easy Chutney Recipes: Red and Green
Spices, pickles, chutneys, and condiments certainly make food more flavorful and fun. Homemade chutneys are a great way to provide a flavor accent to your everyday dishes. Also, there are a plethora of easy chutney recipes that utilize a host of beneficial herbs, veggies, fruits, and spices. Every time I make chutney I remember how fun and simple it is and wonder why I don't do it all the time. Here are two easy and delicious chutney recipes that are especially fitting for late winter and spring.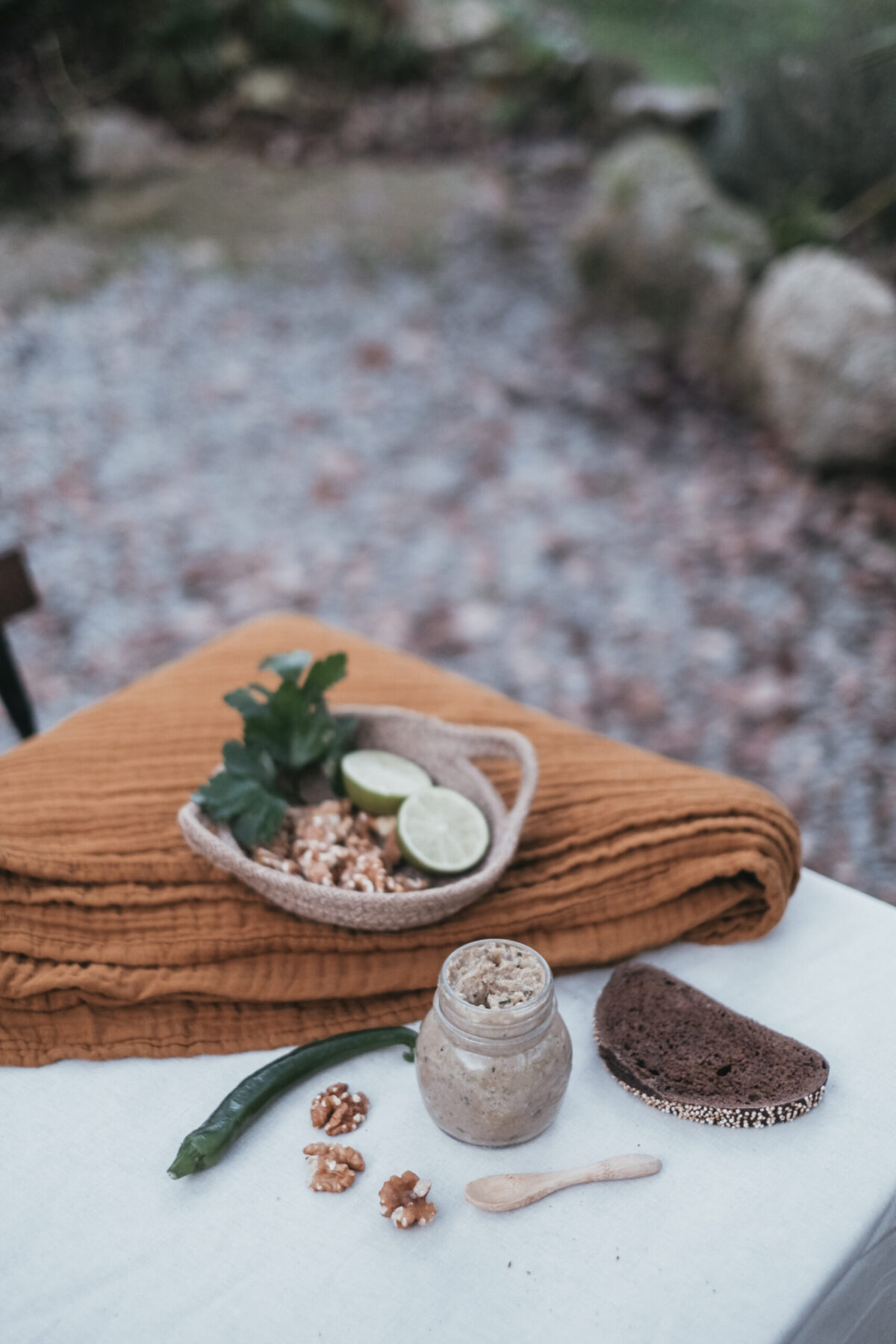 Green Pea Chutney: Cooling, Nourishing, and Nutty
If you love Indian and South Asian food but don't feel quite confident about dipping into traditional Indian cooking, I highly recommend the lively cookbook, Indian-ish: Recipes and Antics from a Modern American Family. Compiled by New York dwelling food writer, Priya Krishna, this book pays tribute to the author's savvy, hard-working mother, Ritu, and features easy-to-make Indian-inspired recipes that Ritu developed after immigrating from India to the United States. The recipes are non-traditional, often exhibit a blending of East and West, and offer a great flavor profile with relatively few ingredients and minimal prep time.
When I came across this green pea chutney recipe, I thought, "Yes! This is something I can do!" This hearty chutney recipe ranks as one of my new favorites. It can serve as a condiment and at the same time is substantial enough to stand in for hummus or other spreads. In the book, the recipe suggests enjoying this chutney along with roasted cauliflower (great idea!) and you can also spread it on toast and rice cakes or use as a dip.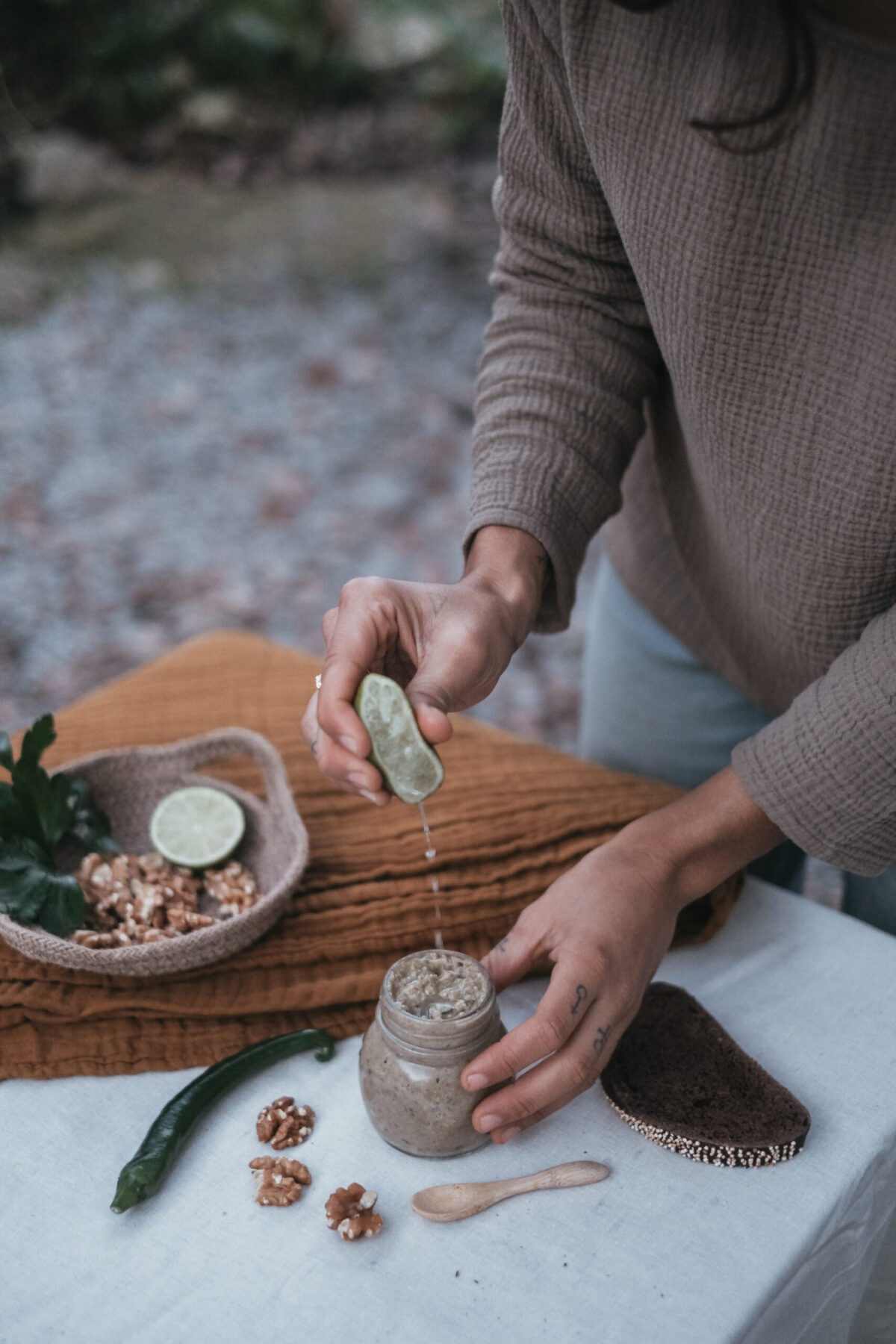 Green Pea Chutney Recipe
Adapted from Priya Krishna
Green peas are astringent, cooling, and purifying (Lad & Lad, 2009), which makes them a perfect food for kapha-dominated spring. This chutney recipe also incorporates cilantro and lime, which creates a refreshing quality, as well as a few nuts for heartiness.
Ingredients
3 tablespoons olive or avocado oil
1/2 teaspoon fenugreek (Trigonella foenum-graecum) seeds
1/2 tablespoon whole black peppercorns (Piper nigrum)
1 small green chile (serrano or choose jalapeño if you are sensitive to hot, spicy food), chopped
2 raw garlic cloves, minced
1 small yellow onion, peeled and chopped
1 cup frozen peas
3/4 teaspoon salt
1/2 cup fresh cilantro leaves, chopped
a few walnuts or cashews (raw or roasted)
2 tablespoons fresh lime juice
Directions
Warm the oil in a large skillet. Add fenugreek seeds and black peppercorns and heat for a couple of minutes just until the fenugreek seeds are light brown.
Add the green chile, garlic, and onion. Cook on medium heat until the onions start to become translucent.
Add the peas and cook on low-medium heat for another 3-4 minutes.
Add 1/2 cup water and bring the mixture to a boil. Once the water starts to boil, remove from heat, add cilantro and salt and let sit for 5 minutes, covered.
Transfer all ingredients to a blender. The mixture should be warm but not hot. Add the nuts and lime juice and blend to a smooth consistency.am
To Use:
Enjoy this fabulous green pea chutney as a condiment, spread, or dip. Put leftovers in a capped Mason jar and store them in the fridge for up to a few days.
Tart, Sweet, and Astringent: Red Fruit Chutney 
With more of a jammy taste and texture, this chutney recipe offers a different texture and flavor profile compared to the green pea chutney. It features raisins, which have a cool energy and sweet taste, but are also slightly astringent. Astringent foods help combat the dampness of late winter and early spring (Lad & Lad, 2009; O'Donnell, 2015). In addition, pomegranate is sweet, sour, and astringent and reduces kapha dosha (which is predominant in spring) (Lad & Lad, 2009).
I have tried this chutney recipe with pomegranate juice and tart cherry juice. Both are good and offer a level of astringency that is balancing and pleasing to the palate when blended with the sweetness of honey and raisins.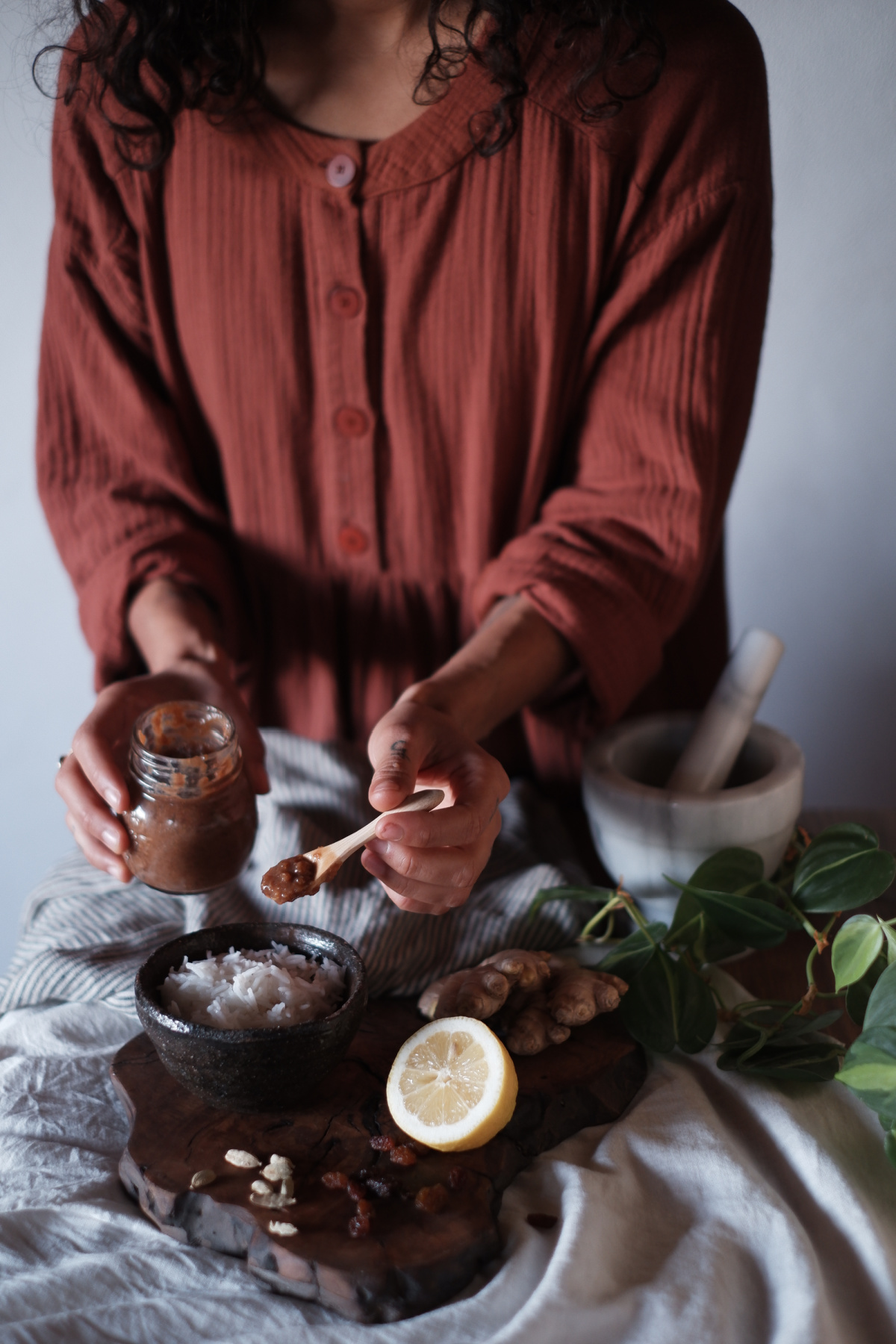 Raisin-Pom Chutney Recipe
Adapted from Kate O'Donnell
Without being overly sugary, you might find that this sweet and tart chutney helps quell dessert cravings. It makes a great accent to savory dishes.
Ingredients
1 cup raisins
1/2 inch fresh ginger (Zingiber officinale) rhizome, peeled and minced
1/2 cup pomegranate juice
juice of 1/2 lemon
1 tablespoon honey
1/4 teaspoon cardamom (Elettaria cardamomum) powder
Directions
This recipe couldn't be easier! Add all ingredients to a blender and pulse until evenly blended.
To Use: 
Eat 1 tablespoon with meals. Consider eating this chutney with rice, roasted veggies, chapati, samosas, or chickpea flour pancakes. Store leftovers in a lidded glass jar for up to three days.
In Closing,
I hope that this post has helped give you confidence and inspiration when it comes to making chutney. If I can do it, so can you! Chutney is so enjoyable to make and there are a wealth of fabulous, easy chutney recipes out there to explore. Try out this green pea chutney and raisin-pom chutney to liven up your fancy meals or everyday fare while adding beneficial fruits, veggies, herbs, and spices. Also, homemade chutneys are a great way to impress and delight guests!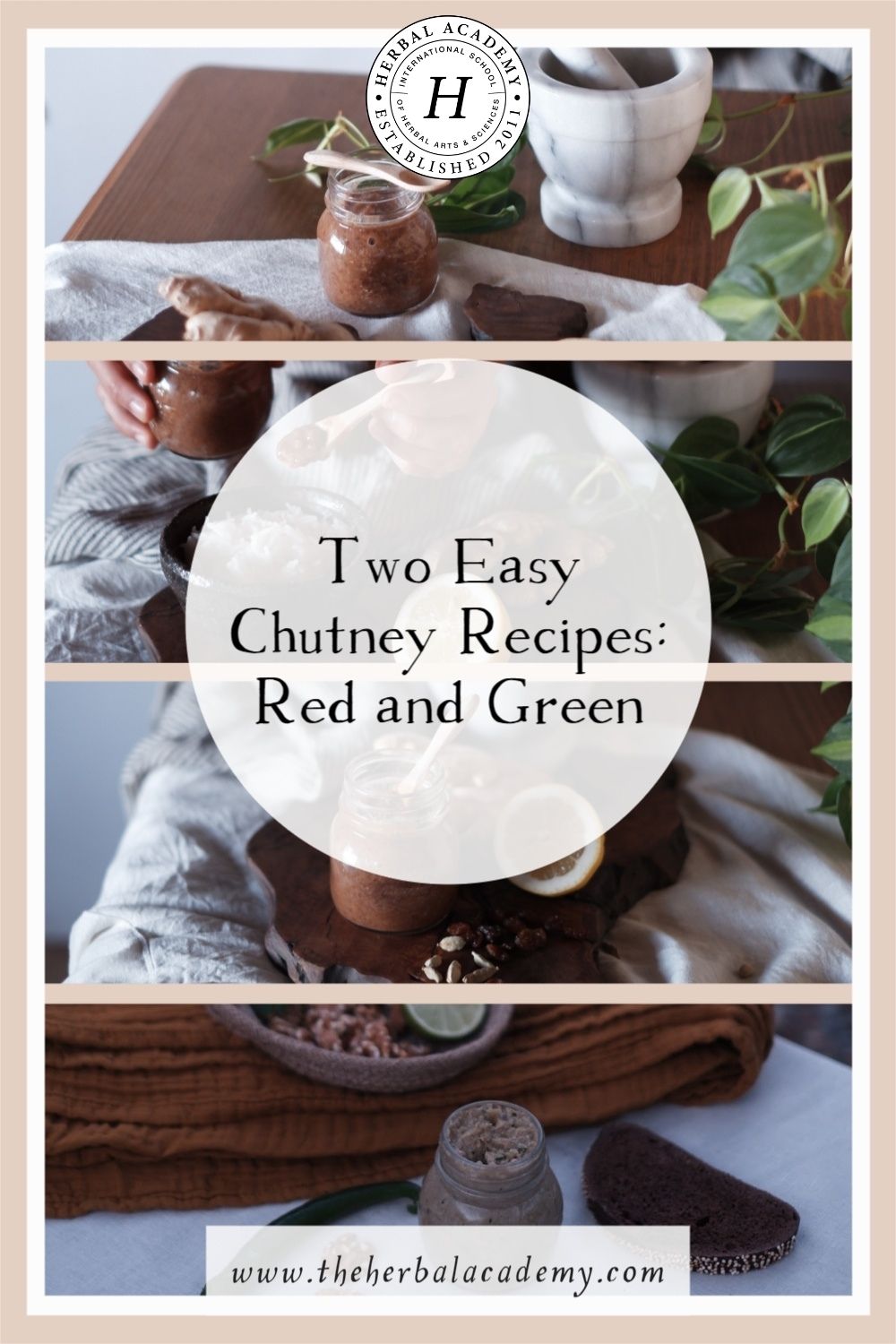 REFERENCES
Krishna, P. (2019). Indian-ish: Recipes and antics from a modern American family. New York, NY: Houghton Mifflin Harcourt.
Lad, V. & Lad, U. (2009). Ayurvedic cooking for self-healing. Albuquerque, NM: The Ayurvedic Press.
O'Donnell, K. (2015). The everyday Ayurveda cookbook. Boulder, CO: Shambhala.