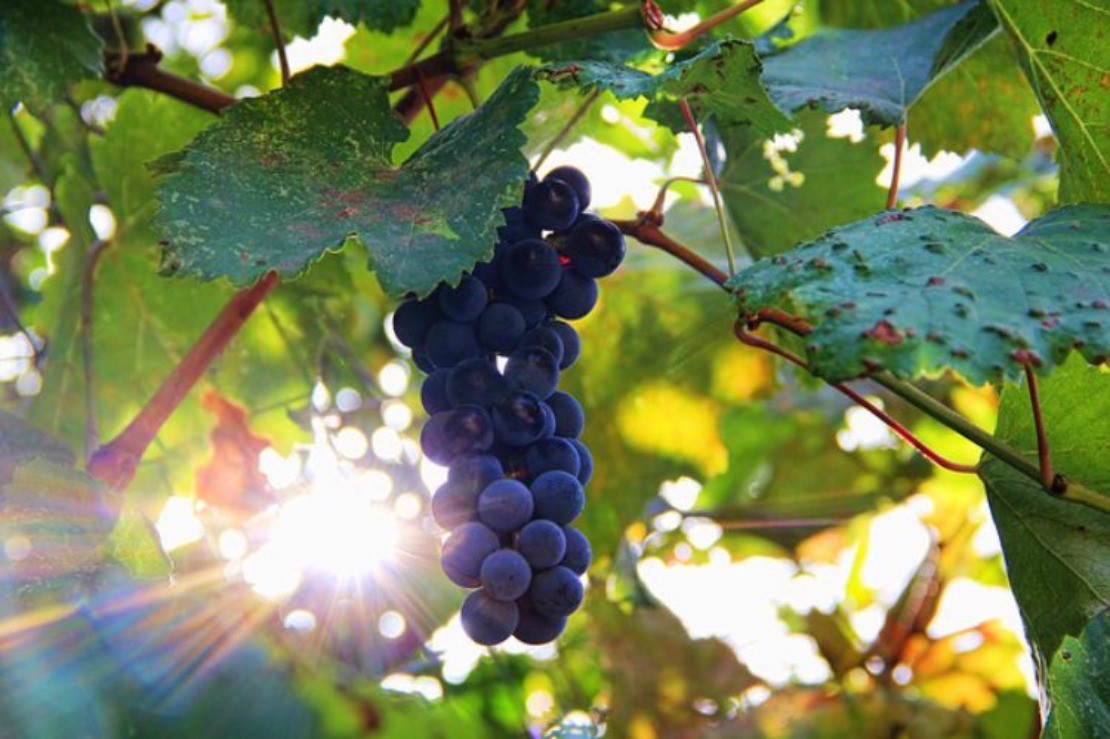 Benefits Of Grapes In A Tasty Herbal Syrup
Early fall means that my lovely, vivacious grapevine is heavy with clusters of dark purple abundance. These are the kind of grapes that are so flavorful it is almost painful to eat more than a few. For years I have grappled with finding a way to harness and enjoy the benefits of grapes from our amazing grapevine. Until one day when a wonderful, wise friend of mine told me about making grape syrup with plenty of my favorite things – herbs! We enjoy making and using herbal syrups in our home so this was the perfect solution to my dilemma.
Grapes, especially those with rich, dark purple skin, are full of antioxidants that promote longevity. These phytonutrients help to nourish wellness, lower overall inflammation, and prevent many of the prevalent diseases in our society such as heart disease and cancer ("Grapes," n.d). Grapes are also said to offer antiviral and antibacterial actions as well as the ability to help build the blood and immune system (Mars, 2004).
 
Herbs To Choose
One of the wonderful things about this recipe is that it is flexible. You can use whatever herbs you have on hand. Perhaps the herbs growing in your garden are spent and ready to come join the grapes in your syrup making pot? Alternatively, if you want, you can pick herbs for a specific purpose. If you know your family is susceptible to coughs during the winter you may want to use herbs to address lung function such as mullein, elecampane, wild cherry, codonopsis, and red clover. Or perhaps you would like to craft a syrup for boosting immune function in which case you might choose to include astragalus, lycium berries, and calendula. For a longevity and stress relieving tonic, consider herbs such as hawthorn, holy basil, and schizandra.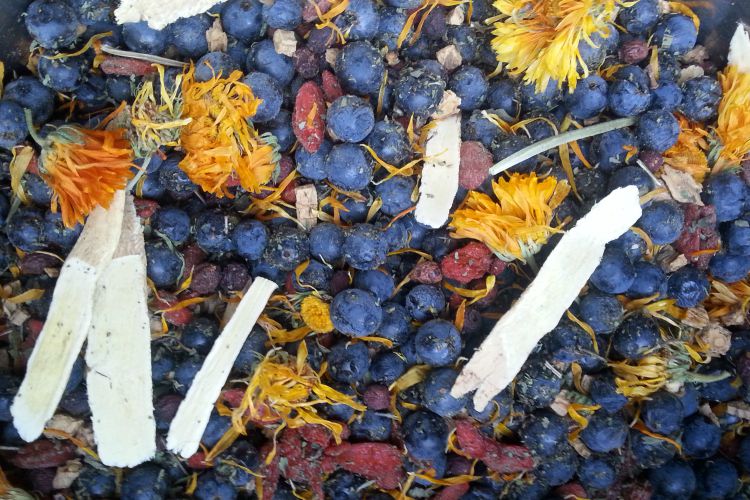 Delicious Grape Syrup With Herbs
Delicious Grape Syrup With Herbs
Follow this basic recipe using the herbs that call to you or that you simply have on hand!
Ingredients
4 cups of grapes, stems removed
1 ½ to 2 ½ cups of herbs – you may want to use more if you are including lots of fluffy herbs like calendula or red clover
Water
2 cups of honey or brandy
Directions
Wash and sort the grapes and place them in a big pot.

Add the herbs that you have chosen to the pot.
Cover the plant material with water. You will probably need 6 to 8 cups of water to do this.
Simmer the grapes and herbs for at least 1 hour.
Once all the plant material has softened take a potato masher or big spoon and smash up the plants to release the healthy goodness.
Simmer for another hour, add water if needed.
Strain out the plant material and place the liquid back in the pot
Add the honey or brandy or a combination of the two to liquid and gently heat until the honey just begins to melt.
Stir everything together until well incorporated.
Place the syrup in bottles and label. Include the date. Your syrup should last in the refrigerator for 2 to 3 months.
Use the syrup to make soda pop by combining with sparkling water, add to hot water for a quick cup of tea, or use it to top pastries. If you added brandy, enjoy small amounts as a healthful sipping beverage.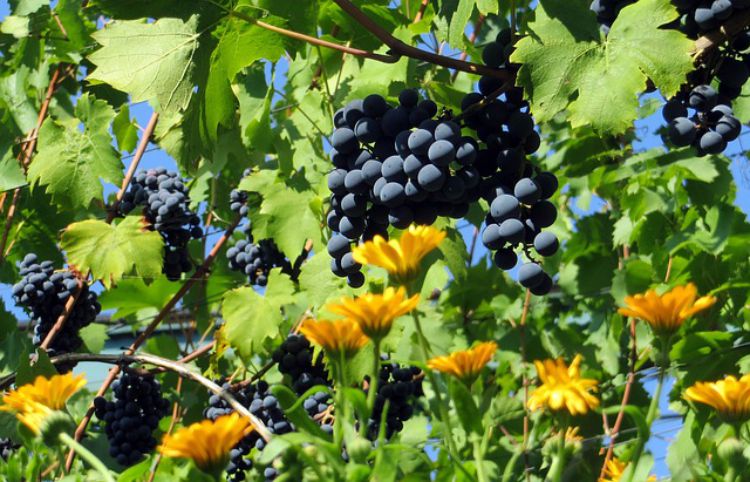 Perhaps like me, you have an abundance of highly flavorful grapes in your backyard or maybe you stumbled upon a lovely patch of wild grapes while foraging. Either lucky way, making grape syrup will help you capture the bounty of the season and the benefits of grapes right in a bottle.
Do you love crafting herbal syrups too? Visit these links below for more ideas and recipes!
REFERENCES
Grapes (n.d.). World's Healthiest Foods. Retrieved from http://www.whfoods.com/genpage.php?tname=foodspice&dbid=40
Mars, B. (2004). Rawsome. Laguna Beach, CA: Basic Health Publications.