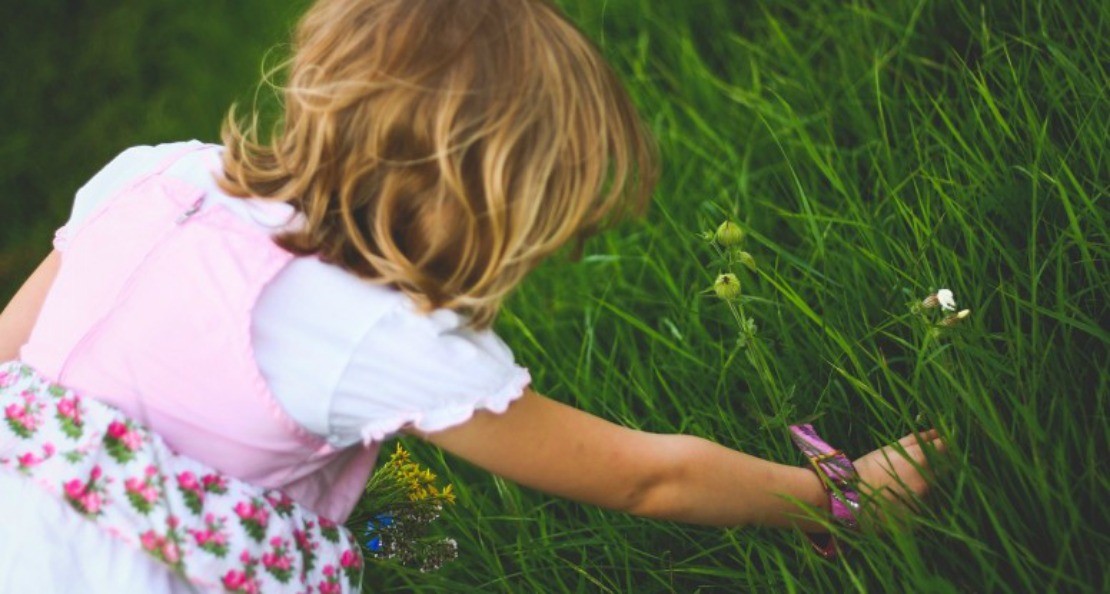 7 Herbal Preparations For Kids
Delightful herbal preparations make using herbs pleasant and fun. Every parent knows that it can be difficult to get kids to try new things let alone to consume something that may be less than enjoyable. We are lucky indeed that there are many wonderful herbal preparations that will leave your kiddos asking for more while inspiring a love for herbs.
As a parent it is wonderful to be able to turn to herbs for family care. Herbs can be of great help for kids who are under the weather and they can also be a wonderful addition to a healthy lifestyle that promotes wellness. When using herbs with kids it is of the utmost importance to consider safety both in choice of herb and in dosage. Please visit Choosing Safe Herbs For Your Kids as a guide for the safe use of herbs.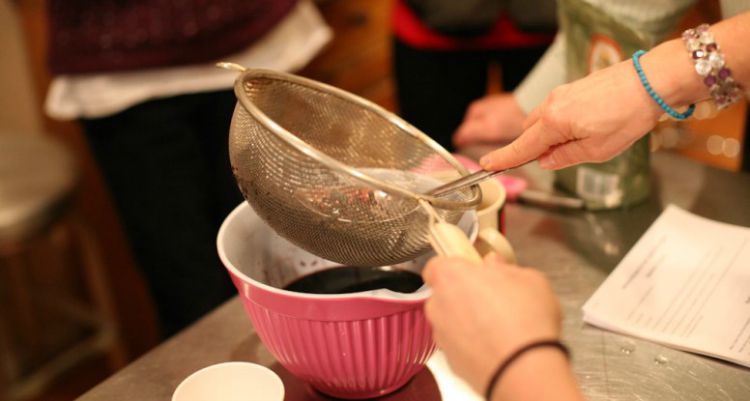 Herbal Syrups
Syrups are among the most beloved herbal preparations for kids. They are lip-smacking tasty and easy to prepare. Syrups are basically made from teas or decoctions that have been gently concentrated through a process of slow simmering. The resulting liquid is then preserved with honey or sugar by using a 2 to 1 ratio of liquid to honey/sugar. (Do not give honey to children under one year old, substitute sugar.) Colds, flu and coughs are wonderfully soothed by syrups and depending on which herbs you use, syrups can also be of help as a prophylactic during cold and flu season.
A classic syrup for the winter is made from elderberries. Elderberries are used by herbalists as an antiviral that is specific for the flu though the benefits of elderberries extend beyond the flu finding use as an antispasmodic, alterative, diuretic, laxative, and even as a nervine making it helpful for soothing digestive distress, easing rheumatism, and calming the nerves. Learn how to make your own tasty, simple elderberry syrup here.
Other tasty syrups that kids will love include:
Dandelion Flower Syrup
Double Rose Syrup
Ways to enjoy syrups:
Take by the spoonful

Add to hot water for a quick cup of tea

Add to sparkling water for a homemade herbal soda pop

Pour over treats such as pancakes, waffles, biscuits, and ice cream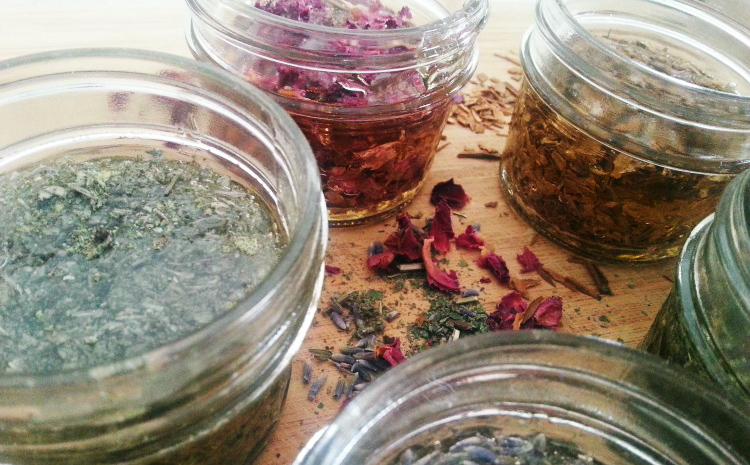 Herbal Honeys
Another extremely tasty and gentle herbal preparation that kids will love is herbal honeys. Happily, these are even easier to make than syrups. Herbal honeys are made with either dry or fresh herbs. The herb is mixed into the honey which help to preserve the herb. After a few weeks the herb can be strained out of the honey if desired and then the honey is ready to enjoy. Please visit Herbal Honey Recipes For Kids for further instructions.
A spoonful of herbal honey is wonderful for coating a sore throat and gently soothing coughs. Herbal honey can also be used to make other herbal preparations such as tea more palatable for kids.
Keep in mind that honey is considered unsafe for children under one year of age due to the possibility of toxic botulinum spores being present in the honey. Because babies have immature digestive systems, they are not able to safely deal with the spores.
Ways to enjoy herbal honey:
Use to sweeten tea

Enjoy on toast, biscuits, and more

Use it in cooking

Lick it off the spoon

Glycerite Tinctures
Tinctures are concentrated liquid herbal preparations typically made by extracting the virtues of plants with alcohol. Generally, parents aren't keen on giving their child alcohol and children tend to be just as averse to taking them. However, tinctures can be made using vegetable glycerin instead of alcohol. Glycerite tinctures are sweet and tasty without the disadvantages of alcohol. Glycerite tinctures can be of great help when issues arise such as colds, allergies, headaches and tummy aches. You can make your own glycerite tinctures to give to your child, just visit our tutorial here.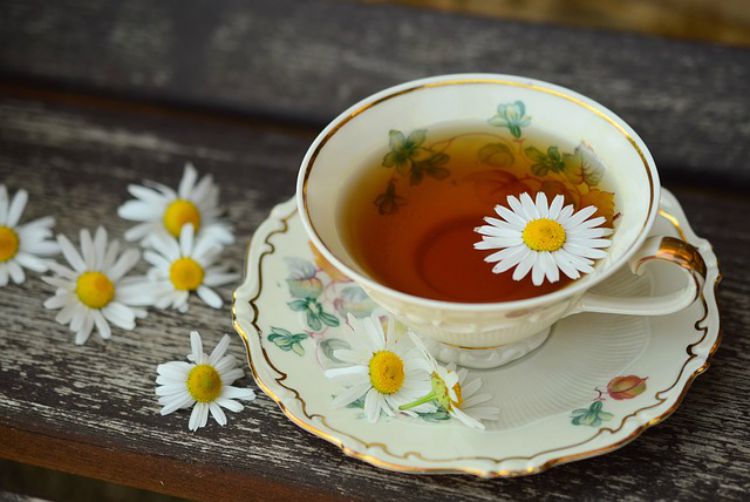 Herbal Drinks
Many herbs love to play in water easily giving over their helpful constituents, making them readily available to the body. Water based preparations such as teas and infusions also have the added benefit of hydration. Many herbs make tasty teas and infusions that kids will enjoy. Lemon balm, chamomile, rose, elderberry, cinnamon, and peppermint are among favorites that most kids like.
Teas are made by steeping 1 to 2 teaspoons of herb per cup of hot boiling water in a covered vessel for 4 to 15 minutes depending on the herb used. While infusions are steeped for longer and typically made in larger amounts such as a quart. To make an herbal infusion place a handful of herb in a quart jar and cover with hot boiling water. Place a lid on top and leave to steep for 1 to 4 hours or even overnight. The extra steeping time for infusions pulls more of the vitamins and minerals out of the herb and into the liquid than when making a tea, and so are generally made with vitamin-rich nourishing herbs such as nettle, oatstraw, and violet.  
Make It Fun For Kids
Whether you choose to make a tea or infusion for your child, a few simple things can make it more fun for your child to drink. Get your child involved in making the tea. When appropriate let them choose the herbs to make their tea with. Brew it up in a little personal teapot that is just for your child. You can also serve the tea room temperature or cold with a straw if that is how they like to drink beverages most.
Herbal teas can be used as the base for other delicious beverages such as lemonade or for tasty treats like ice pops. For kids that are sick especially with a sore throat, ice pops are a welcome cooling way to get the goodness of herbs into a child's body.
Herbal milks are another herbal preparation that kids enjoy. A favorite at our house is cinnamon milk from Kid's Herb Book by Lesley Tierra. We warm 1 cup of milk per person and whip in ½ teaspoon of ground cinnamon and 1 to 2 teaspoons of honey. This is a great night-time drink before bed. My kids find it to be particular soothing after a tough day. Also adding herbs such as cinnamon, peppermint, lavender, and ginger to hot cocoa gives the traditional treat a tasty and healthy boost!
Other delicious herbal beverages:
Garlic Lemonade

, particularly helpful during respiratory illness

Immune Boosting Hot Apple Cider, simply steep 2 cups fresh pressed apple juice with 2 cinnamon sticks, 4 to 6 cloves, the peel of one and a couple of pieces of astragalus.

Immune Boosting Chai, don't worry it's caffeine free!

Herbal Baths
In an herbal bath skin absorbs the nourishing quality of herbs while the aroma of flowers and leaves is soothing and relaxing to the spirit. This can be wonderful for both parents and kids when a little one is feeling wound up and fractious. Herbal baths are great to use on a regular basis with kids for wellness. Yet, baths are also helpful at the beginning of illness to promote healing sleep and ward off illness. Also during illness, a nice herbal bath can assist in calming restlessness while helping the body with infection.
Having your kiddo help to craft their own herbal baths with you will get them excited to bathe and perhaps help to coax even the most reluctant bathers into the tub. Herbal sock baths are great for to make with kids, visit our tutorial here to learn how to make them.
Bath salts are another great herbal preparation for kids. This Lavender Bath Salt recipe incorporates the relaxing benefit of lavender essential oil with skin soothing powdered milk. Foot baths are another favorite for many kids. Find a lovely Rosy Peppermint Soak for kids here!
Infused Herbal Oils
Massage offers a special time for parents to lovingly connect with their child. Right before bed is a wonderful time for such a ritual. Using special infused herbal oils for massage-time is another way to enjoy the benefits of herbs with kids. This is also wonderful tool for helping kids at the beginning of an illness. When your child is getting sick, a nice bedtime massage with herbal infused oil can aid in relaxation while promoting the healing movement of lymph.   
Infused herbal oils are made by using oil to extract the goodness of herbs from the plant material. These oils can then be used for all manner of things including skin care and massage. Please visit our tutorial here to learn more about herbal infused oils including instructions for making your own to enjoy with your child.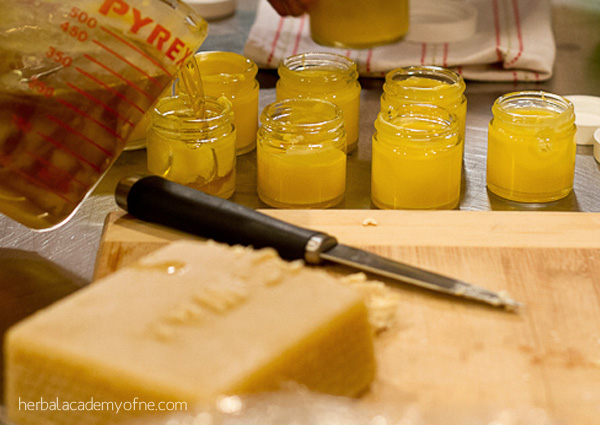 Salves
Kids tend to get hurt, sometimes often and having a soothing, healing salve in the first aid box can make these common childhood occurrences easier to bear for both the child and their parents. Herbal salves are used by herbalists for a variety of things such as to promote skin healing and to soothe sore muscles. They are made with a combination of herbal infused oil and beeswax. There are many different combinations and recipes available and the herbs used are based on the intended purpose of the salve. For kids, a good skin salve for helping to heal minor scrapes, wounds and rashes is the perfect choice. Herbs to include in a skin salve include calendula, lavender, chamomile, St. John's wort, and comfrey. Learn how to make a healing salve here.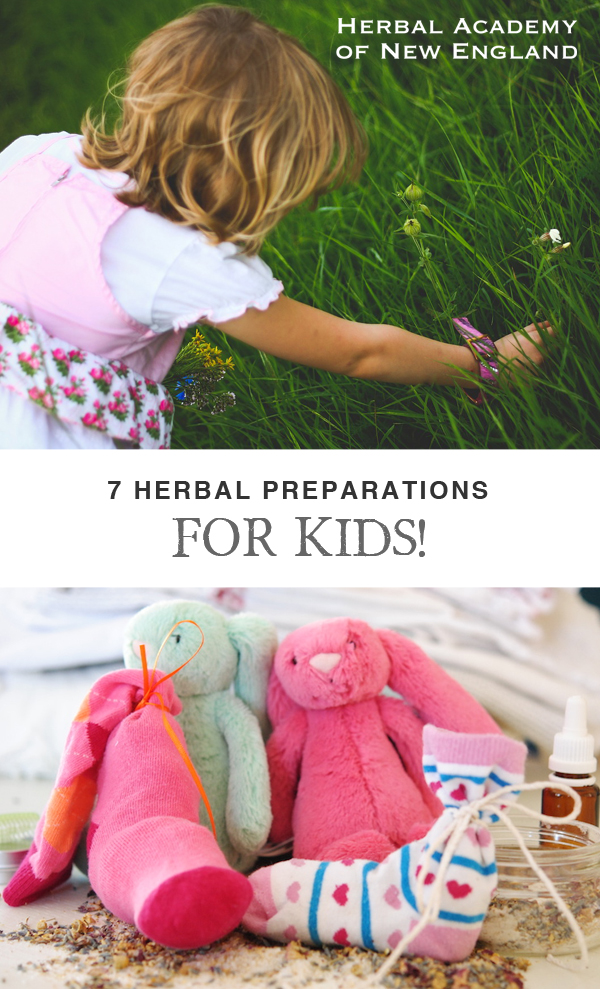 Many parents are concerned about the alcohol content of some traditional herbal preparations. The ideas above are all alcohol free. For even more ideas visit Art Of The Alcohol Free Apothecary. Also, remember that getting kids involved in making herbal preparations is not only a lot of fun, but it helps get kids excited to try what they have made. Our Kid's Herbal Pharmacy lesson will give you additional ideas for helping kids to make their own remedies. Plus there is a fun crossword puzzle you can print out!
This information is in no way meant to take the advice of a doctor. If you child is very ill or not responding to your efforts, please seek medical advice. You know your child best and a parent's intuition is often best at knowing when something is wrong. Listen to that voice and visit a doctor when appropriate.
REFERENCES:
Tierra, L. (2000). Kid's Herb Book. San Francisco, CA: Robert D. Reed Publishers.